Many talk about living their dreams, but what happens when you finally say no to fear and yes to your true calling? You get to live a life of purpose and fulfillment.
xoNecole's Living My Dream series takes you behind the scenes of the movers, shakers and risk takers who decided that good wasn't good enough and chose to bet on themselves, both in life and in their careers. The stories of the fearless women featured in this series will both inspire and empower those who are striving to live their best lives, and give the encouragement that they need to create their own destiny.
Ade Samuel Is Living Her Dream As A Celebrity Stylist
In Episode 1, we are introduced to stylist Ade Samuel as she slays behind the scenes to bring the biggest star's style identities to life. After starting out as an intern at Teen Vogue, Ade eventually made the big leap to L.A., where she worked on Rihanna's Styled To Rock, Essence's "Black Girl Magic" cover shoot and Beyonce's infamous "Formation" video. Samuel now has her own shoe line and spends her days putting the finishing touches on everyone from Yara Shahidi to Kelly Rowland, Big Sean and Jhene Aiko!
Ready.. Set.. XO(Man!) This week we kick off the debut of of our version of "Man Crush Mondays," exclusively entitled "xoMan." The new feature puts a spotlight on men who are more than just eye candy, but who also strive to be the difference in the world through career achievements, community outreach, and more.
Recently we had the chance to spend the day with handsome Jay Ellis of "The Game" fame, who is currently playing Lawrence, Issa Rae's boyfriend in the HBO series, "Insecure."
Directed by Jasmine Waters (aka Jas Fly), the shoot took place in L.A. and was sure to include a wide range of looks courtesy of stylist Ugo Mozie, who helped captured the actor's style, which from the looks of it, is somewhere between GQ and casual (although our personal favorite is "shirtless!") Photographer Ashley Nguyen was also on set, helping to create some amazingly, unique moments, including a rural barn-inspired loft and impromptu snaps of Jay in a vintage bathtub.
In the interview, we learned that Jay is so much more than a 6'2 frame and a cute smile (although that helps too- whew!)
Whenever Myleik Teele posts a podcast, I'm all ears—soaking up every word of wisdom that I possibly can.
There's something about her transparency and realness that draws me in as she touches on topics that many at her level of visibility would shy away from. With every new post she reminds me that I'm not alone in my pursuit of purpose and leaving behind a legacy that will inspire and impact generations to come. Nor am I the only one attempting to navigate the world of dating without letting my biological clock rush me into the wrong arms, or allow my work to overwhelm me into an early grave.
To put it simply, Myleik is that home girl that you want to call up whenever you're going through a crisis and need a gentle reminder that "you've got this, boo!"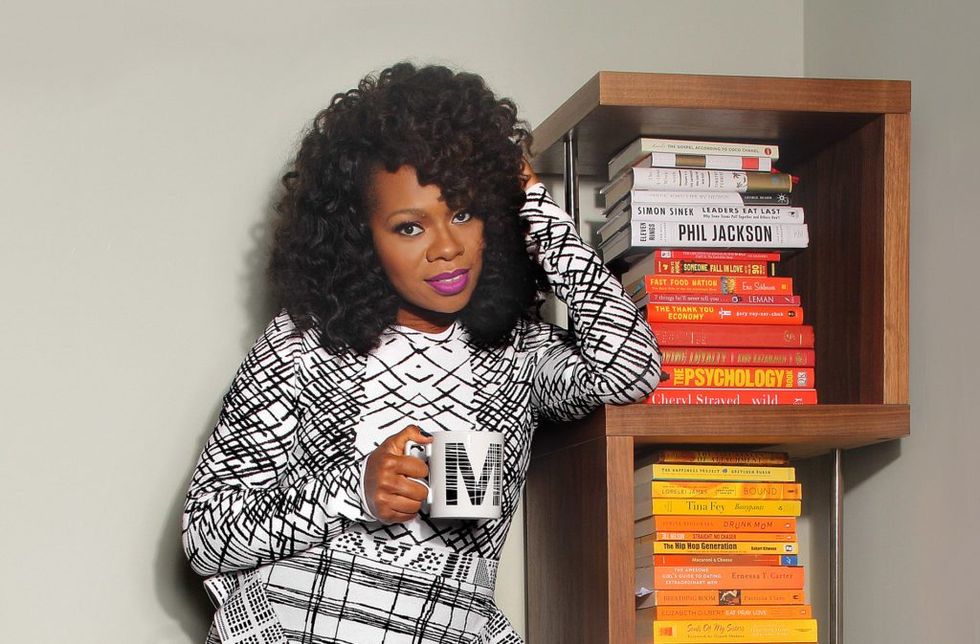 When I hop on a call with the founder and CEO of curlBOX—a subscription service that allows women of color to explore natural hair by delivering quality products to their doorstep every month—she brings that same level of realness to our conversation as if she were at home recording another #MyTaughtYou lesson from the school of hard knocks.
I confess to her that I almost reached out after shutting down my former website, Necole Bitchie in July 2015. It was four weeks after I called it quits and decided to create a platform that was positive and uplifting for women of color—a bold step that left me tripping over my emotions—broken and having to risk going broke as I was dumping every dollar I made back into a site I wasn't sure would work. I wasn't sure who to turn to for support during my confusion, so I tuned into Myleik's uplifting podcasts. It left me wondering who she reached out to as an entrepreneur during her times of struggle.
"Honestly, Necole, I go to a licensed psychotherapist," she says. Revealing her secret as to how she deals with the pressures of running a business without letting it ruin her life. "I got to a point where I kind of had outpaced my circle. I had a circle of girlfriends. And then you start complaining like, 'I'm making too much money and I'm unhappy,' and they're like 'f-ck you.' Nobody wants to hear that. I've been in psychotherapy; this month makes three years; every Tuesday I go."
It reminds me of the article that I read in Inc. Magazine on "The Psychological Price of Entrepreneurship," and how many entrepreneurs battle depression and succumb to suicidal thoughts due to long hours, mounting debt, and no guarantee that your risk will come with reward. It's no secret that being your own boss isn't always glitz and glamour. Sure there are the successes and the wins—the press opportunities from respectable magazines, red carpet appearances, and award banquet invitations. But there's also the side that is often less visible but highly experienced—a subject that up until recently has been so taboo that many die masking their pain. I, too, know that taking a leap of faith means free falling before spreading your wings and soaring to success. Myleik is familiar with it as well.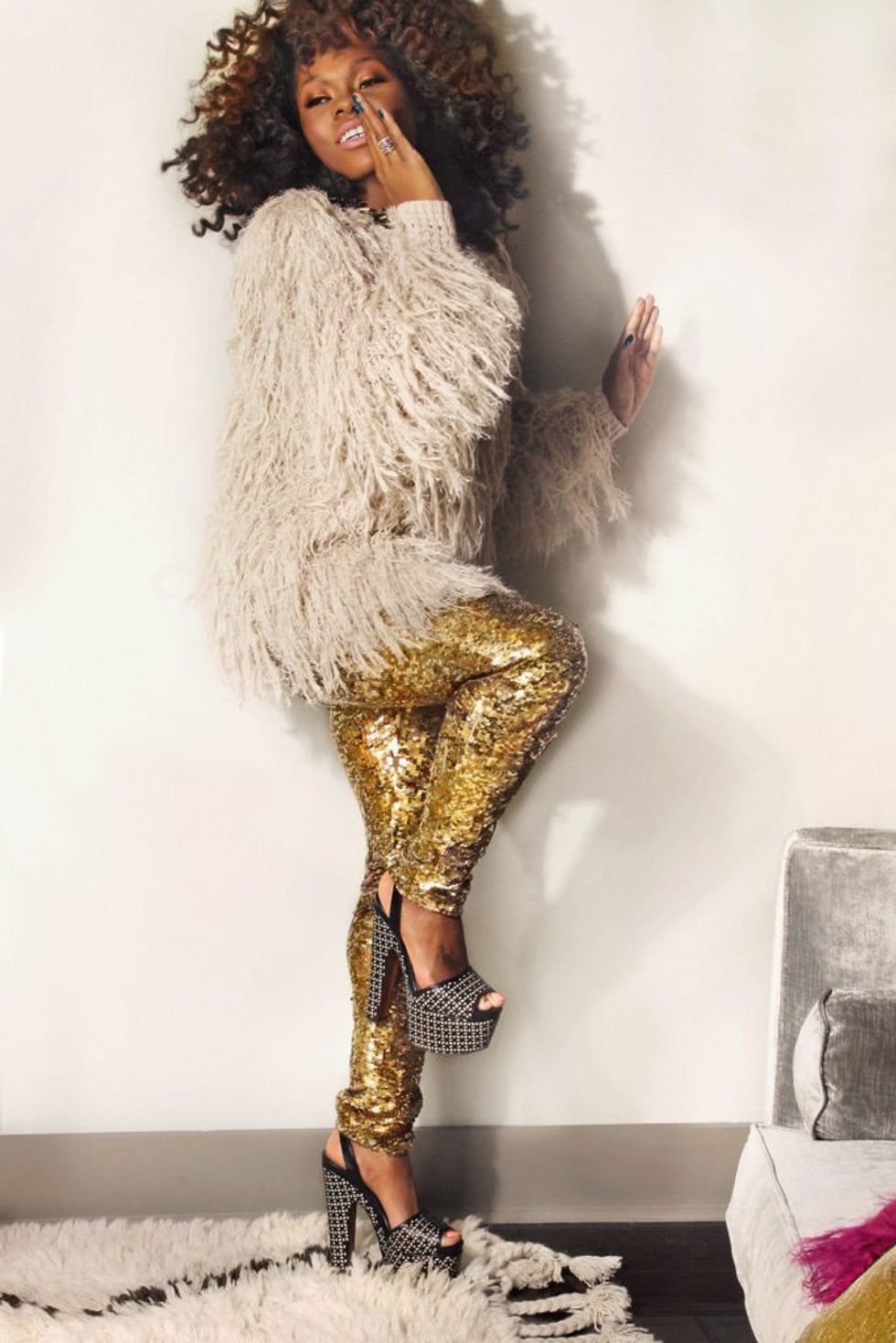 Growing up in Los Angeles, CA, Myleik always knew that she would be successful, and made a point to be around people who reflected the success that she desired. Her résumé is a reflection of her hustle—working in PR for The Grammy Awards, American Idol and celebrity clients such as Prince and Linkin Park before snagging a job with Travis Barker to work as his personal publicist. But when the musician and his band mates were involved in an unfortunate plane crash that left four of the six passengers dead, it caused her to rethink her own path in life and whether or not she was living her life to the fullest.
"My friend died in that crash, and at his funeral I don't know what happened, but I had this huge light bulb moment where I was like this could be you. How many times are you going to sit and promise to live the life you've always wished for and do all the things they say you should do before you die and not do it? And that was my wake up call. It was basically like "ride or die" until you're in that casket. I've never went back since then."
With $7,000 cashed out from a 401K, she moved to Atlanta, but couldn't find a job due to the recession. Desperate for money, she signed up for babysitting service Care.com, and was contacted by Kim Zolciak from The Real Housewives of Atlanta for a job. She worked as a personal assistant to the reality star for a year before branching off in 2010 to launch her boutique PR firm, snagging celebrities, apps and beauty brands as clients. When friend-turned-client Ken Burkeen, founder of the Huetiful Hair Steamer, hired her to do PR, she started attending hair meet ups and shows, where she noticed a lack of sample products geared towards black women.
It sparked the idea for curlBOX, and after seeing her own massive collection of hair products that were piling up under her sink, she decided it was time to create the product that she always needed. "I was like white girls get samples all of the time. They can go to Macy's and get their own, but what about us?"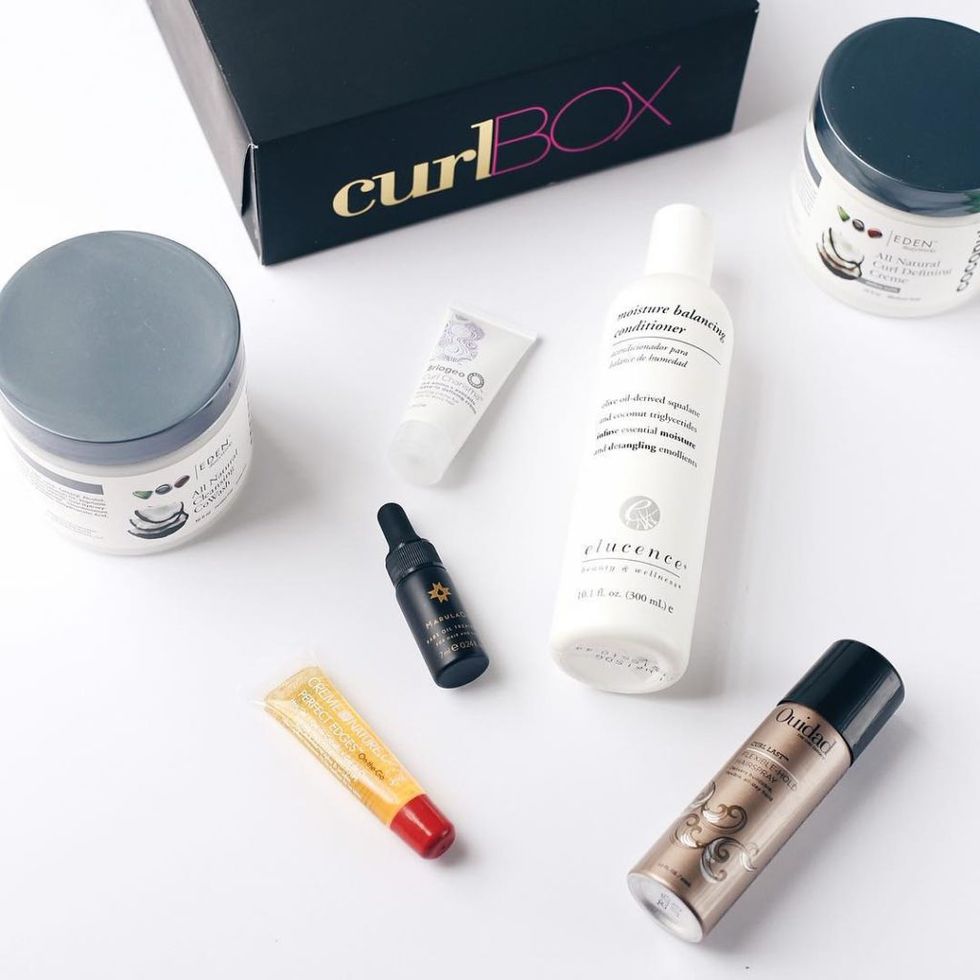 Photo Credit: Instagram
The product junkie took her passion and knowledge for beauty and hair products from a thought to reality, utilizing her connections to help her with the foundations of her business from logo design to photos for her website, which launched in November 2011. In January 2012, she put the first box on sale for $20 per month. In her first month she made $4,000, and has continued to be profitable for the last three years.
At this point, I'm curious, because many business owners will attest to losing money for the first few months (or even a few years) before becoming profitable. Within 10 months Myleik was already moving her booming business into a warehouse. She credits her gift of gab to being a big part of her financial success.
"I think that some of the skills that I gained as a PR person is just relationships. I figured out how to do it. I spent a lot of time traveling; I spent a lot of time connecting with my brand. What's so funny is I think a lot of people wonder how I get this network or why people like me so much and this is just what I do, so people who I befriend really love me. They really take care of me, and I do my best to take care of them."
Though she's churned a profit, she's also made some costly mistakes—such as kicking out $6,000 for a website that wouldn't work for her e-commerce platform. But one thing about Myleik is that she's made a point to never go back to broke and always has a plan. In this case, it's an exit plan for when she reaches the dollar amount that she's comfortable with retiring off of.
"I have two wealth managers and they know what my goal is. If I don't figure out what my next move is, I am planning to retire early, so I know how much it cost me. I'm saving to be able to have the option to quit one day, so that in the event that I get sick of this and I don't know what's next, I can live off of interest. I try to convince the girls that work for me to get $10,000 saved up, because I think that's kind of a minimum to get a good investment account going, and just work from there."

Noted. Not to mention that she has investors reaching out to cash in on her curlBOX product line. But she's in no rush to share a slice of the pie with anyone who can't bring more to the table.
Between managing her team of full-time staff and interns, on top of building the curlBOX brand, her mentoring site MYTaughtYou.com, and her social media, it's no wonder why Myleik is up at the crack of dawn.
"Successful people have this insane amount of discipline and do things when they are tired or they don't feel like it. I've seen so many people do so much in a day with very little complaining. I always say that I don't know a successful person that doesn't wake up early."
But don't get it twisted; taking care of self is numero uno on her agenda—something that I personally have just begun to master. She references one of my previous blogs where I confessed to taking my first break in three years and I can feel the side eye through the phone.
"I was like she's crazy! I will take a break on you so fast! I realized that I'm useless or I would get sick and would hate this if I don't stop and take a break. Last year I took like 15 vacations. I love massages; I am the queen of the spa."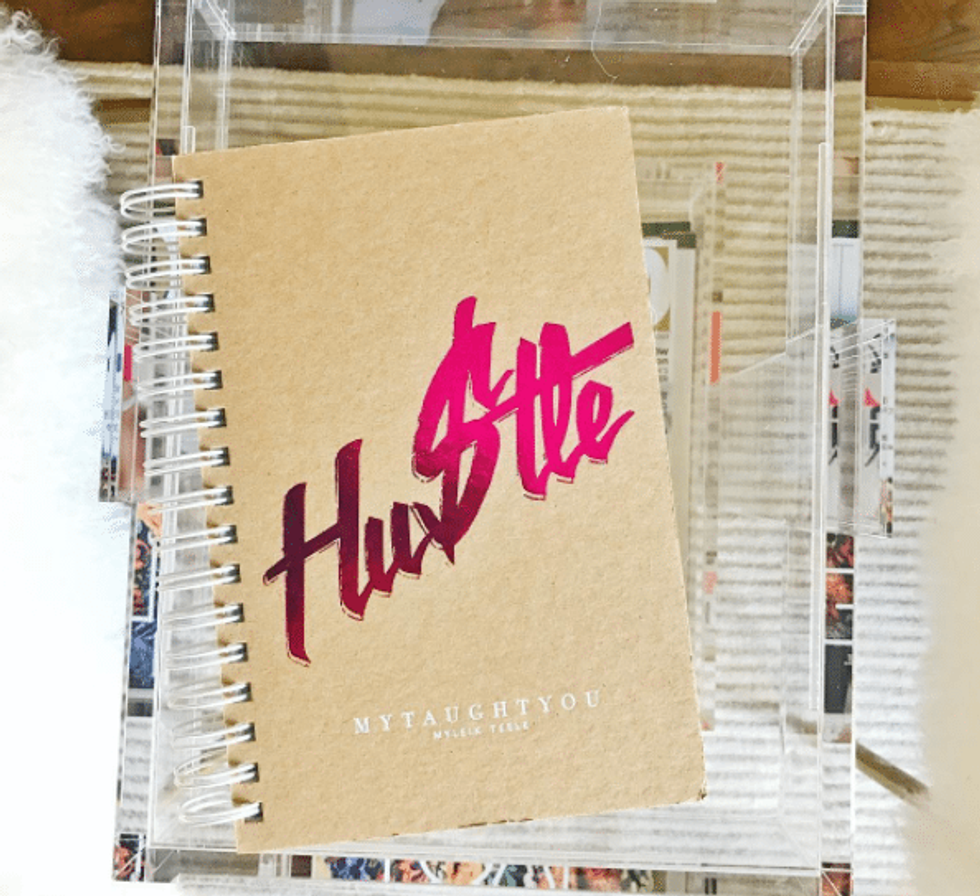 We both agree that if you don't take care of you, nobody else will. It's easy to burn out in this business, and if you don't know your limits someone will surely push you beyond them. Going to psychotherapy is part of what keeps Myleik mentally and spiritually sound. So much so that not even a man can come in and disrupt her peace. We talk about dating at our age as independent girl bosses with me sharing that throughout the years, I've sacrificed my love life to completely dedicate my time to growing my brand, and her keeping it real and admitting that she doesn't want to have "all of this and nobody to share it with." When her friend Melody McCloskey, co-founder and CEO of StyleSeat, encouraged her to get on Tinder, she gulped down two glasses of wine, hooked up her profile, and started swiping right.
"Dating is just like a trial period. It's going to take you time to see if this person has all your points or if you like them. You just never know when you might find a gem; be open to everybody and everything. Take it serious. If you do, there's no way you'll be single."
She's on her second Tinder boyfriend and is learning the art of balance in a relationship. With both her and her partner working (he's a curator for a museum), making time is just as important as making money. Between traveling and work they find time in their down time to nurture their relationship.
"I own my business; I won't turn the ringer off. I'm just not there yet, and he completely respects that. I'm reading this book and it says that once a woman has a good circle of friends and is in a career that she's satisfied with and happy, she should begin to date. I just decided to make dating a priority like I do everything else. I was like okay, at least two nights a week, I will block my calendar off for a date, you have to do it. I used to have this anxiety that I was going to be single forever; Tinder taught me that that's not true. I told myself 'you will never get to the end. It's an endless supply of men, you have never gotten to the end of it and you never will. Until you have gone through every single man on Tinder is when you can officially say you're going to be single forever.' There's plenty on there."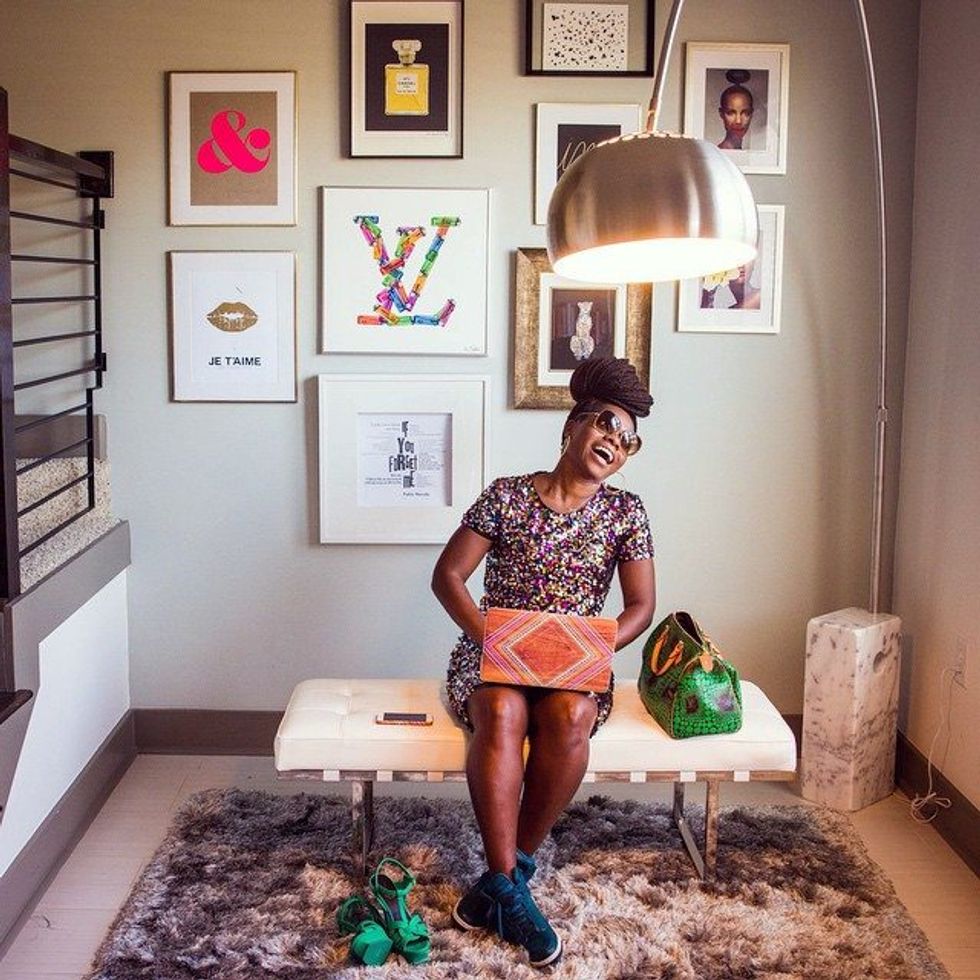 Photo Credit: Instagram
Of course I had to admit to Myleik that I sometimes wonder if I sacrificed having kids for a demanding career, and whether or not she was concerned about not being able to have babies. Being in your 30s, you can hear your biological clock loud and clear, and even if you ignore it, there's always someone else there to remind you. That's when I felt a little sadness as Myleik detailed going to the doctor a year ago. At age 35, they told her that her eggs were dying and that she wouldn't be able to have a baby if she didn't act soon. She had a no-pregnancy scare, and talked to the fertility doctor about freezing her eggs. $12,000 and five shots a day later, she was informed that her Anti-Mullerian Hormone (AMH) levels were too low, and that she had a year before her chance at being a mommy would run out.
"I went through a really dark period because I just did all of this stuff only to find out that I may not have the opportunity," she says. "And then, I think it was a conversation I had with a friend who said, 'if this is the worst thing that happens to you in your life, you're actually doing well. And what we know is that the statistics and all of the stuff that they say is not accurate.'"
Like always, Myleik has a plan for if she runs into the issue of infertility. There are donor eggs, which will still allow her to have the whole pregnancy experience, and then, of course, there's adoption, which has been the option for many successful businesswomen.
"There are so many ways that I think that a woman can become a parent, and whatever this wave that is about to happen to us career women that decide to have children later, it's going to be a different type of motherhood that I'm excited for us to experience."
In the meantime, I remind her that through her podcasts—her honest revelations—that she's birthing the next generation of female entrepreneurs. I can recall countless times when I tuned in just in time to hear the words that I needed to keep going, and her 76,000 followers are proof that she's speaking life into people.
"I do it because at the end of the day what I know now is what I wish I knew [before]. I'm sure somebody can benefit from it. When I hear people like you and other people telling me 'I listen to your podcast,' I feel like thisthat is the greatest gift anybody could ever give me. That beats any kind of cash, just knowing that somebody now has success. Because we will all benefit from what you are going to do next."
Catch up with Myleik on her MyTaughtYou website, and subscribe to her podcasts on Itunes for priceless entrepreneural gems and life lessons each and every week.
– Interviewed by Necole Kane, penned by "as told to" Kiah McBride @writeonkiah
Republished
I once read a quote that said, 'I always wondered why birds can stay in the same place when they can fly anywhere on earth. Then I ask myself the same question.' That quote alone made me want to travel and see the world, and not only share my experiences as a traveler, but also share those of others who have explored different cities and cultures.
Michelle A. Smith @Theshiftstarter, a frequent traveler who took a 16 day, 6 country trip by herself. This is her story.
Hello, My name is Michelle from Brooklyn, NY. In my 33 years of life, I have already visited 6 continents, 32 countries and 104 cities. My most memorable travel story was last year when I decided to not wait for a travel companion or friends, picked up and decided to take a 16
day, 6 country trip by myself. I started in Moscow, Russia to Singapore to Bali, Indonesia, to Thailand to Hong Kong and ended in Dubai.
The thought of traveling by myself was terrifying, much less actually doing it. As a black female from the city, I stuck out like a sore thumb, especially in Russia where they stared at me as if I was an alien from outer space. However, I decided before I started this journey, that I was going to be open, courageous, embrace change and be still enough to absorb the experience. My trip went from me being "the cheese that stood alone" to "the life of the party." I had dinner with Balinese children for Christmas, dressed in Royal Thai garb for New Years, scuba dived in Kho Phi Phi Islands and rode on camels in the desert of Dubai.
There are a few things that made this thee most memorable trip:
1. You learn so much about yourself being alone. What you think are your weaknesses actually evolve into your strengths.
2. Your navigation and memory skills are sharpened because you have no one to depend on to help you find your way (I watched the movie "Taken" several times.)
3. You wake up on your own time, make your own plans and never have to worry about someone's opinion on what you should/not do.
4. Your 'cultural awareness' bucket starts to overflow, making you eager to learn different languages, try new foods and different ways of life.
5. People gravitate to you because they are just in "AWE" that you are brave enough to roll solo in a foreign country. You meet people from all walks of life and make new friendships and connections.
Once I returned home, I was proud of myself for conquering another fear. I encourage others, if you are going to get to the next level in life, to move out of your own way, get out of your comfort zone and DO.IT.AFRAID.
Here are some tips I have for people who are interested in traveling to the countries I visited:
1) As an avid traveler the key to getting the most bang for your buck is to find airlines and flights with multiple and long layovers. That allows you to leave the airport and tour a country you may not necessarily want to stay at.
2) Moscow, Russia - You need a visa to leave the airport. Unfortunately, due to the weather, my flight was delayed coming in so I didn't have enough time to leave, tour, and get back in time for my connecting flight. I learned the hard way that this culture is not very warm and friendly. If you look different they will stare. Don't expect small talk or/and English translation while you wait either. I spent 3 hours there and couldn't wait to board my flight to Singapore and put such an unfriendly experience behind me. This is not a "tourist friendly" country.
3) Singapore - The Singapore airport gives a free 3 or 5 hour tour from the airport to the river with a cruise around the city. My phone died before I got on the boat...no pics captured. Singapore is what I describe as the Mr. Clean version of New York. The entire city is spotless. While it was a pleasure to visit, I didn't absorb the culture.
4) Bali, Indonesia - I arrived here on Christmas Eve. This country is like one big, outdoor spa. Depending on your interests and tastes, there are certain parts of the country, like Ubud,  dedicated to yoga and meditation (where they shot the movie Eat, Pray, Love). Then there are parts like Nusa Dua for rest, relaxation and beaches, where you get $10 full body massages for 2 hours! Bali is also big on the fish manicure and pedicure! I didn't last more than 1 min! After 4 days here you definitely leave with clear mind and your body feels rejuvenate.
5. Thailand - I brought in New Years in Bangkok and while I am a New York City gal, this city was a little too gritty for me. The one thing to know about Bangkok is that food is prepared outside on the street. The inner OCD in me was very skeptical at first because my thoughts were, "Where is the food being cleaned and prepared?" However,  ironically, there are very few cases where people actually get sick from eating the street food.
If you grab a hotel along the Sukhumvit, you will be right in the middle of everything,
including Bangkok's very immaculate train stations. Take the river ferry and visit 'The Grand Palace' in Wat Pho, where you will see the largest reclining Buddha. Remember, this is a temple and very sacred to the Buddhist religion, so arms and legs have to be covered to even enter the gates. On your way back, be sure to get off the river boat and visit the Lubua Hotel. Their rooftop is AMAZING and it's also where the scene was shot for the "Hangover 2" (on those infamous steps overlooking Bangkok).
I also flew to a small island called 'Krabi'  and rented a room in a small guesthouse. Krabi is similar to Phuket, a small beach town. There I took a catamaran to go scuba diving in the Kho Phi Phi islands. For anyone who is a certified scuba diver, the reef here is AMAZING! I saw my first large octopus ever, no sharks siting though. Also, in Thailand, elephants are considered sacred animals. Here you will get a chance to ride one, which was so cool!
6. Hong Kong - I had a 15 hour layover in Hong Kong, so I stored my luggage in an airport locker, grabbed a train map, bought a train ticket, converted some money and
headed into the city. The cool thing about Hong Kong, much like Singapore, is that mostly everyone speaks English. It is a metropolis with lots of ex-pats who are there to work. I didn't notice much fog but the city was buzzing. 'Lan Kwai Fong' is similar to midtown Manhattan, lots of bars, restaurants and music blasting into the streets. A great place to meet people and have China's largest jello shot! I partied at a club here, until the wee hours of the morning, then hopped in a cab and went back to the airport to catch my flight to Dubai.
7. Dubai - I LOVE Emirates Airline. I flew them to Dubai and South Africa before, so I knew what to expect on my 2nd visit here. Emirates put me up in a hotel since my flight back home wasn't for another 23 hours. I went to the travel desk and booked a desert trek for 8 hours. There was ATV riding, camel riding, then a dinner and show right in the middle of the desert. What caught me off guard was how cold the desert gets at night, so always look at temperatures and don't assume warm places don't get cold.
My stats are:
16 days
6 countries
7 cities
9 flights
68 hours of flying time
4 country visas
6 currency conversions
3 language translations
1 helluva jet lag to recover from
...this trip was so worth it and I would do it over in a heartbeat!
If you have any questions or comments regarding the different cities or Michelle's travel experience, feel free to drop them in the comments!
There was a point of time when I thought I knew it all.
Then, I soon realized, I knew nothing.
Over the past year, instead of pushing myself to the forefront and packing my schedule with appearances on panels, podcasts, radio shows, and TV outlets while disguising myself as an expert in my field, I decided to instead go back to school.
And not in a literal sense.
I went back to the drawing board. Book reading, researching, and catching up on my field, studying trends (so I could know what bandwagon to not hop on), listening to educational podcasts, seeking out mentors, and putting myself in a position where I could learn from those trailblazers who aren't just dreamers, but who are doers.
I am a student, ready to be taught.
It is for that reason that I was thrilled to be able to spend a day with four women entrepreneurs that I looked up to as part of xoNecole's "Living My Dream" series sponsored by the 2017 Toyota Corolla. As the executive producer of the series, I traveled to LA where I caught up with Rosa Acosta, Devi Brown, and Nikki Chu, before making my way down to Atlanta where I spent the day with my entrepreneur shero, Myleik Teele.
So what did I learn?
From Nikki Chu, I learned: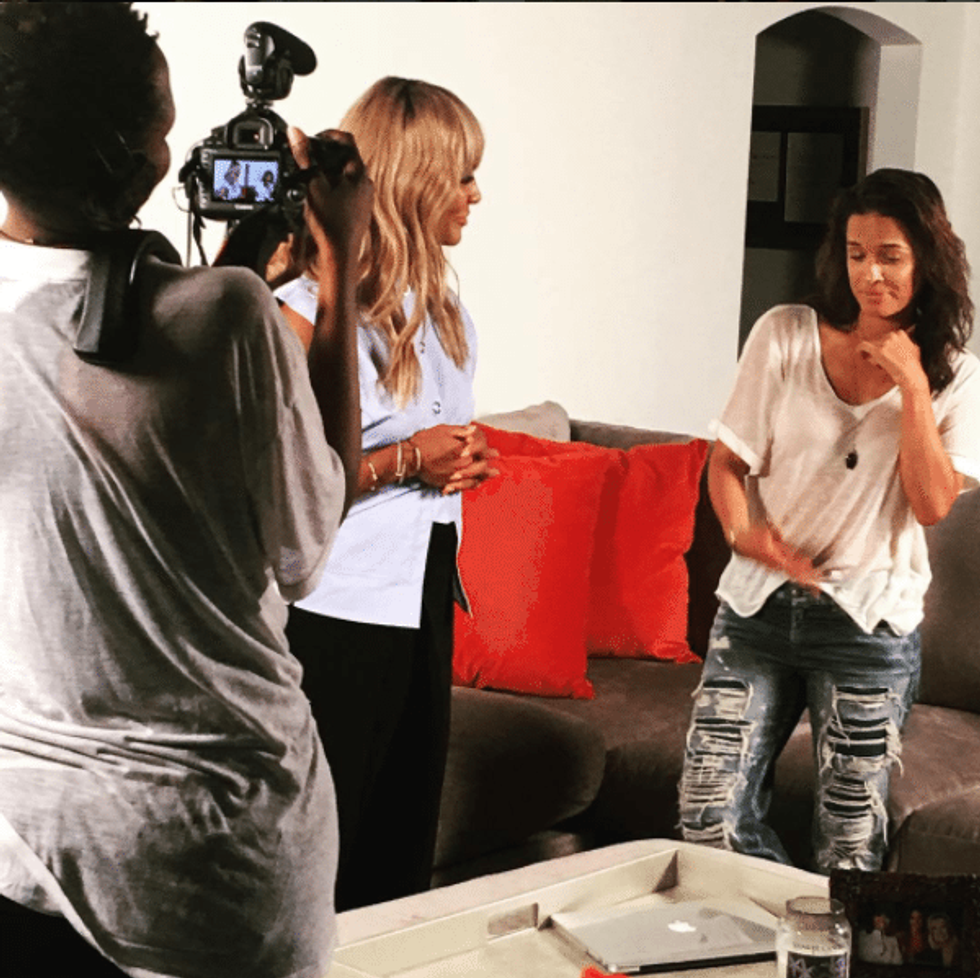 You shouldn't place limitations on yourself
Nikki has been hailed as one of the top African-American interior decorators in the country. What I love the most about her story is that, she could have settled with just a career as an interior decorator and be content with that, but she decided to also venture into product design and now has her own paint line, bedding collection, and furniture collection that can be found on Amazon, Bed Bath & Beyond, and Wayfair. Even when we achieve a dream, there's always the opportunity to break the plateau and go to a higher level.
From Rosa Acosta, I learned: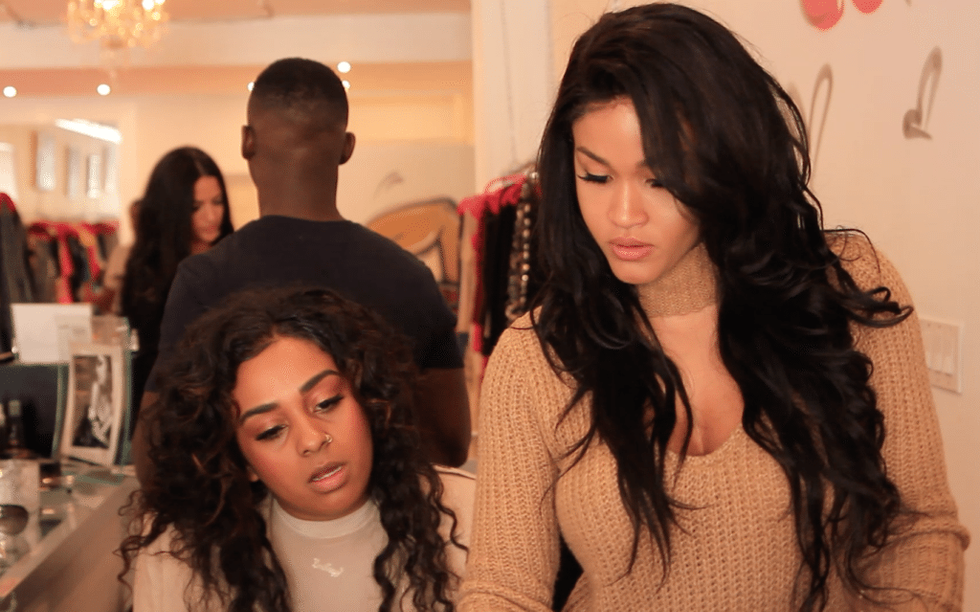 Done is better than perfect.
There's so many times I have not completed a project -- whether it was to launch an event series, a podcast, a workshop, an online store, etc., because I wanted it to be perfect, and I wanted it to be the best quality. I felt as someone who had already achieved a level of success, that I couldn't half-ass anything, but sometimes, while attempting to achieve perfection, those things put a stand-still on our ability to produce amazing work.
[Tweet "It doesn't have to be perfect as long as it's done."]
During our interview, Rosa (who came to America just eight years ago as an immigrant from the Dominican Republic) reflected on the day she opened her storefront on Melrose Avenue in Los Angeles:
"I have never let perfection get in the middle of good enough. I opened Cossamia online five years ago. I wasn't waiting for the website to be perfect to launch it. And even the store, it wasn't packed with inventory. Somebody had reached out to me and said, 'I would love to help you.' The person disappeared right after I signed the lease and everything. I opened the store with not enough money to sustain it but I was able to profit my first month."
From Myleik Teele, I learned: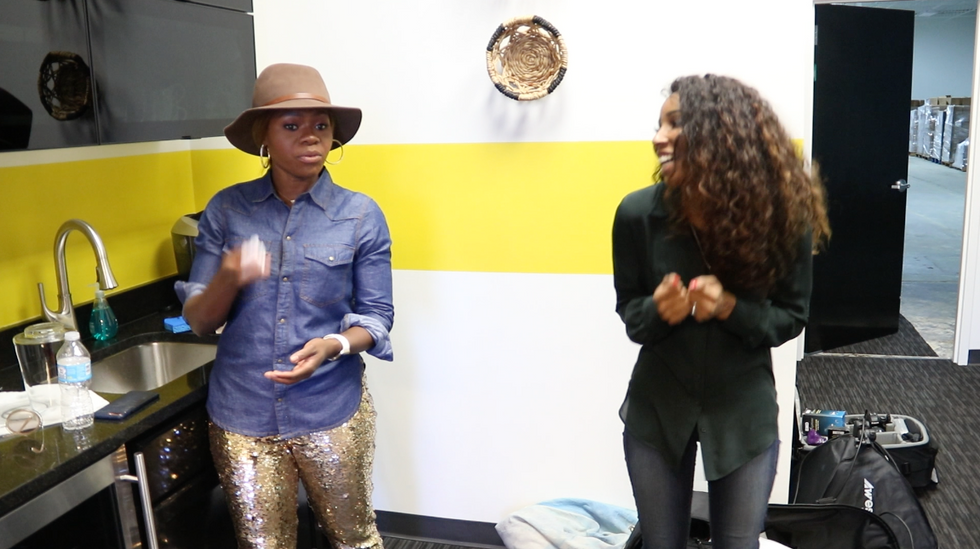 Just because it's too much for them, doesn't mean it's too much for you.
During a side conversation with Myleik, while we were setting up cameras, she mentioned how a few people were concerned about her opening her own warehouse versus allowing a distribution service to manage the handling of her subscription boxes.
This reminded me of the chapters on bullies in the book, The Dreamgiver. Your bullies a lot of times won't even be people who don't like you, but instead will be people who are closest to you like your family and friends. They will say things to discourage you from knocking down the wall of fear and chasing your big dream because they are acting on their own fear. It's not that they don't want what's best for you, but their discouragement can come from many places, including wanting to protect you from getting hurt or failing. Meanwhile, we think to ourselves, Why isn't this person more supportive and encouraging of me achieving this big dream?
At the end of our interview, Myleik said it best: "Feel the fear, we all feel it. Then do it anyway."
We cannot allow other people to push their limitations, fears, and emotional blocks onto us. If you know you can do it, do it! That's ultimately what separates the dreamers from the doers, right?
From Devi Brown, I learned:
If you don't keep shedding your skin, and evolving, you will die inside
During our sit-down, Devi (who is a radio host and has her own self-discovery platform where she sells journals, crystals and more), compared evolution to a snake. She said, "The snake that does not shed its skin will perish. If you don't keep shedding your skin, and keep evolving, you will die inside." I looked into this further and learned that snakes shed their skin for further growth and to remove parasites that have attached to their old skin. How symbolic is that? If we refuse to push ourselves out of our comfort zones and give ourselves permission to evolve, the outdated version of ourselves will attract things that aren't healthy. Whether it's bad relationships, toxic friendships, or jobs that we hate, we will never be happy because there are things we are attached to that are holding us back, and preventing us from operating at our highest potential.
[Tweet "If you are not growing, you're dying"]
This just scratches the surface of the things I learned from these amazing women. I hope you are as inspired by them as I was.
Catch the "Living My Dream" series below and let me know your thoughts!
Myleik Teele
Nikki Chu
Devi Brown
Rosa Acosta
xo, Necole
Opportunity is the name of the game in this episode of Living My Dream, sponsored by the new 2017 Toyota Corolla.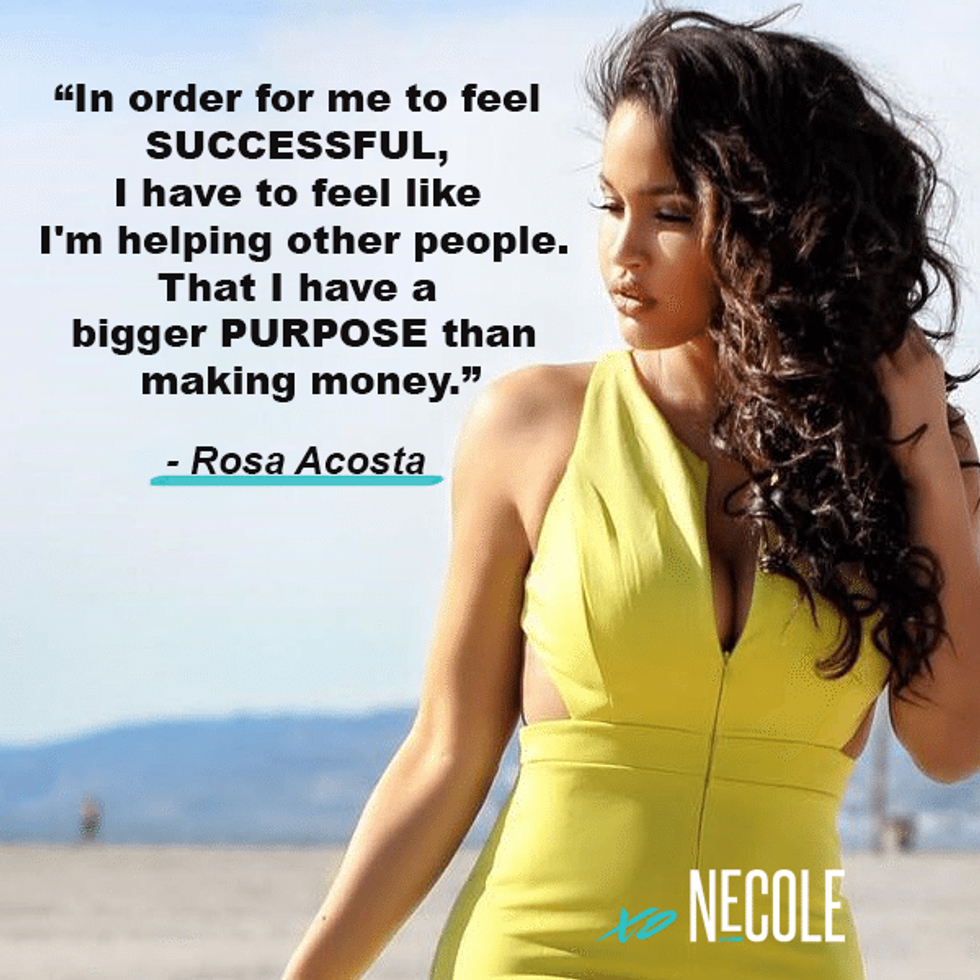 You may be familiar with the name Rosa Acosta. The Dominican-born former ballerina came to America in pursuit of purpose and her dream as an immigrant 8 years ago and quickly made a name for herself in the industry as a video and cover model.
It started after a stretching video of hers went viral, which led to her being requested to do videos, including a role in Drake's first ever single, "Best I Ever Had." And although it was a launching pad for her career, a video model was never her end goal.
Through hard work and determination and lots of struggle, Rosa gathered up a few designer friends and decided to started her online store, Cossamia, which sold fitness apparel and club attire. Within a few years, Rosa bet on herself even more and decided to open up a storefront on Melrose Avenue in Los Angeles without knowing if the store would make enough revenue to sustain itself.
It all paid off as she turned a profit her first month.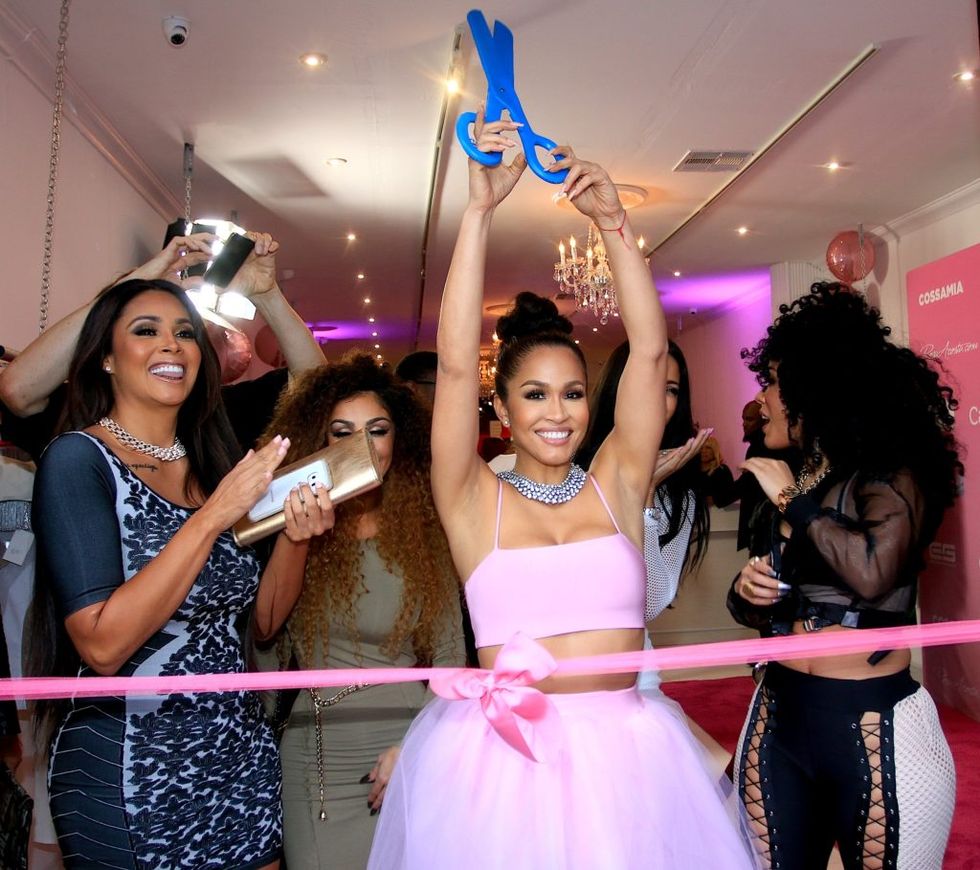 "I have never let perfection get in the way of good enough. I opened Cossamia online five years ago. I wasn't waiting for the website to be perfect to launch it. And even the store. It wasn't packed with inventory."
Watch below as Rosa chronicles her journey from coming to America searching for an opportunity, to the successful entrepreneur she is today.