---
As Told To is a recurring segment on xoNecole where real women are given a platform to tell their stories in first-person narrative as told to a writer.
This is Amanda Hampton's story, as told to Charmin Michelle.
I am currently pregnant with my second child. A joyous time, yes. But honestly, I'm terrified. Almost traumatized.
Bringing forth life is supposed to be a time when I am at peak happiness. And don't get me wrong, I have moments where I am. There are times when I am absolutely over the moon. But I also have moments where societal stress triggers get the best of me. Being pregnant is stressful within itself—you've adopted a new normal of constant hospital visits, body changes, and hormone imbalances. But doing so during a pandemic, a time of extreme civil unrest and economic uncertainty, is almost cruel.
I wasn't quite sure how to express my angst.
So, here I am...
—
Currently, hospitals have a restrictive entry policy in place as doctors and nurses stand on the frontline of a deadly disease, and cities such as New York City digging mass graves and placing lost bodies in a box carts, (basically tossing them with no regard for family), are taking on a new meaning of uncertainty. So much is going on outside of the walls of my highly-guarded home and now I'm more concerned with lack of hospital space, or bringing my child into a contaminated America. On a personal level, my OBGYN retired and I had a hard time finding a good fit for my family and have limited options for doctors at my preferred delivery hospital. And my out of sync hormones and emotions that spike through the roof aren't helping.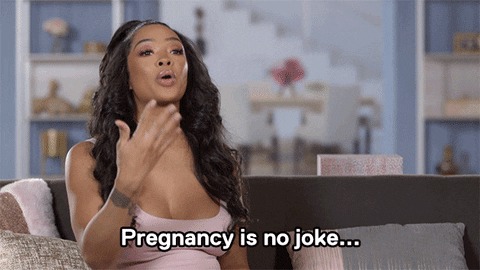 Pregnancy is supposed to mean baby showers, and gender reveals, and choosing fricking nursery room decor. But it admittedly hasn't always been that way for me. There have been far too many moments of fear, and worry, and too many questions that I cannot answer.

Have any of my pregnant ladies felt this way? How do I find the joy in being pregnant without guilt or anxiety?
These days I've completely taken on the role of an empath, carrying the emotional weight of every news story—another black man killed for no reason; another black woman neglected by doctors and dies during childbirth. I feel so much guilt trying to find joy for my growing blessing when people are dying. I feel helpless because I donate, sign petitions, send emails. I have the hard conversations, and raise awareness. But is that enough? Or, is it just buying us time until the next hashtag gains traction? How can I find joy in my pregnancy, when I feel so guilty for bringing a child into this type of world? My people are dying.
Should I take on the burden of feeling selfish enough to even get pregnant during this time?
I think of how every lost soul was once nurtured and protected in the womb of his or her mother until they took their first breath in this world, wholly oblivious to what life had in store. I grieve for those families— especially the young kids that lost their father or mother in the process.

George was once a child too.
Tamir actually was a child.
Sha-Asia was supposed to be here to be a mother to her child.
My pastor once told me, as long as children are being born, God is still blessing us. My daily fight in this climate, is to try and enjoy this pregnancy and not worry about the things I cannot control. All is strenuous, but all is not lost.
I was ultimately boiled down to determining how I could relieve myself of all stress to secure a full-term, healthy pregnancy.
I find myself trying to weaponize my mental health with a few coping mechanisms to stay sane. It's not as safe for us to go out into the Wild Wild West, so I intentionally thought of what we can do right at home.
Try to find new hobbies to pick up, ones that we've never done before. Feeding our inner creativity and taking up coloring and painting or redecorating a room, is an easy, low physical means of staying busy.
Find other pregnant women to vent with. Because I guarantee they are going through the same emotions.
Discuss your feelings with your partner. Do not suffer in silence, and allow open communication lines with your partner during your pregnancy. Let them know if you struggled mentally that day, or how they could help you unpack your thoughts. Be open, be assured.
Embrace the caution! Listennnnnn! Girls, we are saving so much money on maternity clothes, we get to stay in the house and look a mess if we want to, and we don't have to deal with so many people rubbing our belly, asking a million questions, or handing us their germs. And most of all, we don't have to explain why we chose to do something "that way" because we are in the confines of our own home. And nothing is more satisfying than that!
Breathing exercises and meditation. Turn the news off, put the phone down and allow your mind to not be infiltrated with the constant chaos of information fed to us. Ladies, 60-80% of doctor visits are due to stress, which is only amplified during pregnancy. Take moments to breathe and meditate to level out. Download the Calm App, throw on a YouTube video, or simply lighting a candle goes a long way.
But most importantly take care of self and speak UP. There's now a new means of virtual check-ups and doctor visits versus what society is generally accustomed to. But if you don't feel well, speak up. If you feel as if your doctor isn't listening, switch doctors. For every 100,000 women giving birth, 25 black women die, in comparison to the only 6 white women.
Not to say that this is a competition, but too many of us are unnecessarily dying at the hands of tone-deaf physicians. Let them know your symptoms loudly, and if they don't take you seriously, move to someone who will.
—
In the end ladies, this is our new life, our new normal. Finding out what works for us is all a part of the game, as long as we are actually doing so. We may not know what the future holds, or the perfect way to balance current events and pregnancy, but this journey is ours, and we have to do what's best for our mental health, our physical, and the well-being of our babies.
So, take back our happiness. You are bearing a human who you will teach to be the best person that they can be. And as hard as it may be, we must declare with every fiber within us, that we cannot allow anything steal that away from us.
Featured image by Shutterstock