Let's be real. Moms are superheroes, no cape necessary. Not only do moms spend nine months cooking and creating a whole human life, but the pressure to snap back could make a woman literally… snap. Luckily, celebrities like Beyonce, Teyana Taylor, and Porsha Williams have made it a point to let women around the world know that they are not alone in their postpartum journeys and offer comfort by way of sharing their own experiences.
---
Real Housewives of Atlanta star Porsha Williams and her soon-to-be hubby, owner of The Original Hot Dog Factory, Dennis Mckinley recently gave birth to their first child, Pilar Jhena', via c-section, and the couple couldn't be happier. The 37-year-old mother of one recently took to the internet to let everyone know that her post-baby body won't stop her from getting her sexy on. In a recent Instagram story, she said:
"As a new mom, you can't wait to get to back to your sexy. So I am super excited for Savage X Fenty's launch. Yes! They have sent me some amazing products: Panties, bras, loungewear, lingerie, I have it all."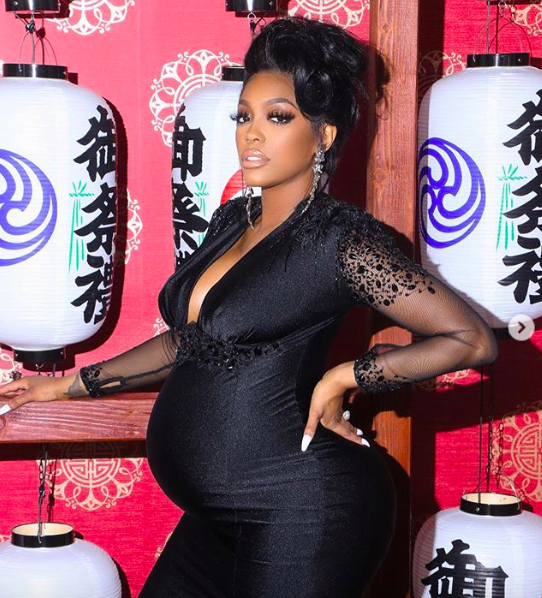 Instagram/@Porsha4Real
Don't get me wrong, living a healthy lifestyle and finding time to work out is extremely important, especially as women of color. But on the other hand, Porsha reminds us that there's no reason you should feel obligated to head straight from the delivery room to the gym. She continued:

"[It's important for] us women to feel comfortable in our own skin. Yes, I just had a baby, I'll be working out whenever I get to it. Savage X Fenty just makes me feel good in my skin, what can I say?"
Porsha also let it be known that her sexy doesn't stop in the bedroom. She and her fiance recently celebrated becoming new parents with a night on the town and joined the campaign to #MakeParenthoodSexyAgain. When a fan commented, thanking Porsha for being brave enough to put her postpartum body on display, the reality star replied:
"Chile, it is what it is we gotta enjoy life."
Well said, sis! Porsha isn't the only celebrity that's been transparent about her postpartum journey. Here's what other celebrities said about adapting to their bodies as new moms:

Chrissy Teigen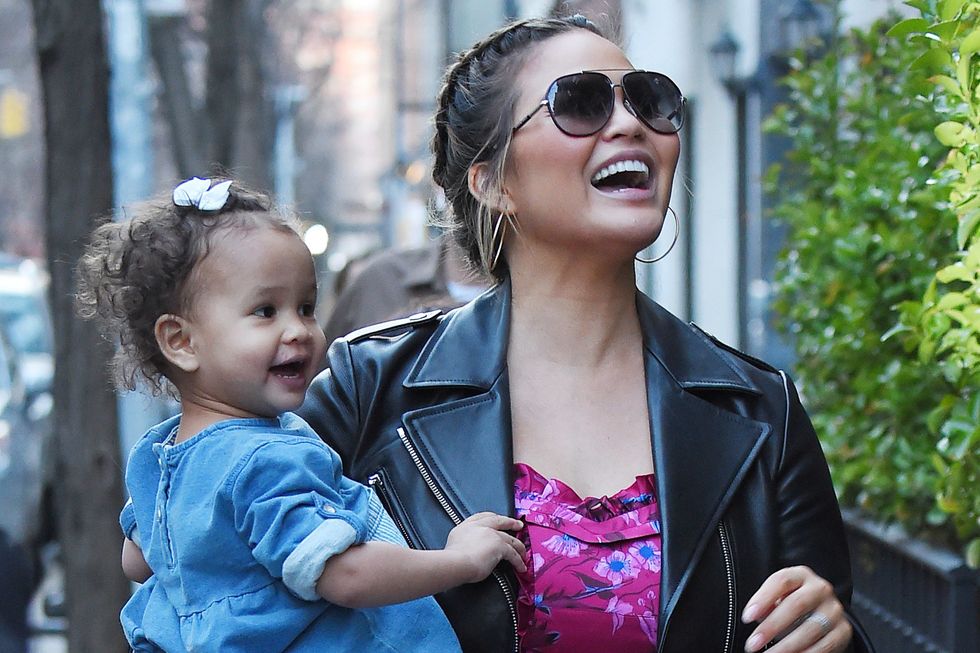 Chrissy Teigen is the queen of clapback, the wife of R&B superstar John Legend, and an iconic fashion icon, but most importantly, she's a mother to two adorable little people. Last year, Chrissy gave birth to her and John's son, Miles, and she told Twitter that this postpartum journey was much different than life after her first pregnancy. She explained:
"Basically I am 20 pounds heavier than I was before Miles. He's 10 months old, I never lost the last bit because I just love food too much. Just coming to terms with my new normal, when I had this certain number for so long!"
"The thinnest I've ever been was right after Luna. Postpartum depression. I'LL TAKE THESE POUNDS AND THIS FEELING!"
Life happens, our bodies change. Part of creating a life means a number of changes to your own, and usually, that can come in the form of a few pounds. Take it from Chrissy, change doesn't always have to be a bad thing.
"After I came out [of the hospital], I had a stomach but I thought, this is kind of cool. I have a stomach because the baby was there."
Tia Mowry-Hardrict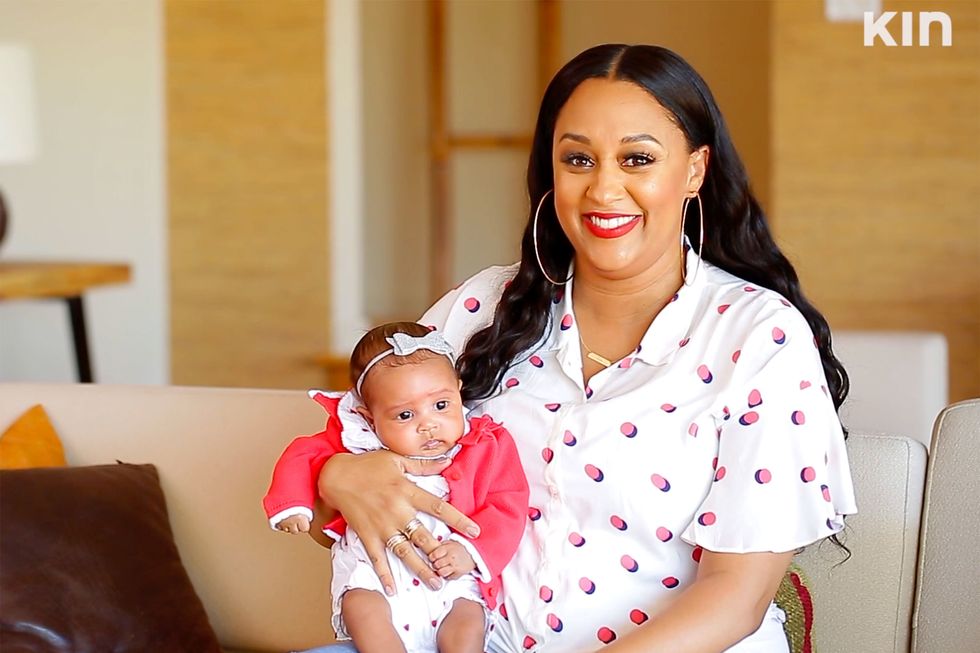 Tia Mowry's Quick Fix
Tia Mowry-Hardrict did not come to play with the body shamers of the world. In the past, the 40-year-old mother of two has not been shy about sharing how the pressure to lose her post-baby weight can sometimes be overwhelming. She told Self:
"People ask, 'Oh, are you pregnant?' It's like, 'No honey, I had a child.' This is what it looks like after you have a baby. This is who I am, and I love it."
Tia also wants women to know that perfection is unrealistic. It's important to define your OWN #BodyGoals and stay true to them. She continued:
"Ladies, it's okay that our bodies are not PERFECT after our babies are born. Give yourself time. Go at your own pace. Don't allow people to put a time limit on YOUR body. You've just accomplished a miracle! #Love yourself, love your new body, embrace it. It you want to make changes than that's your desire and no one else's."
Teyana Taylor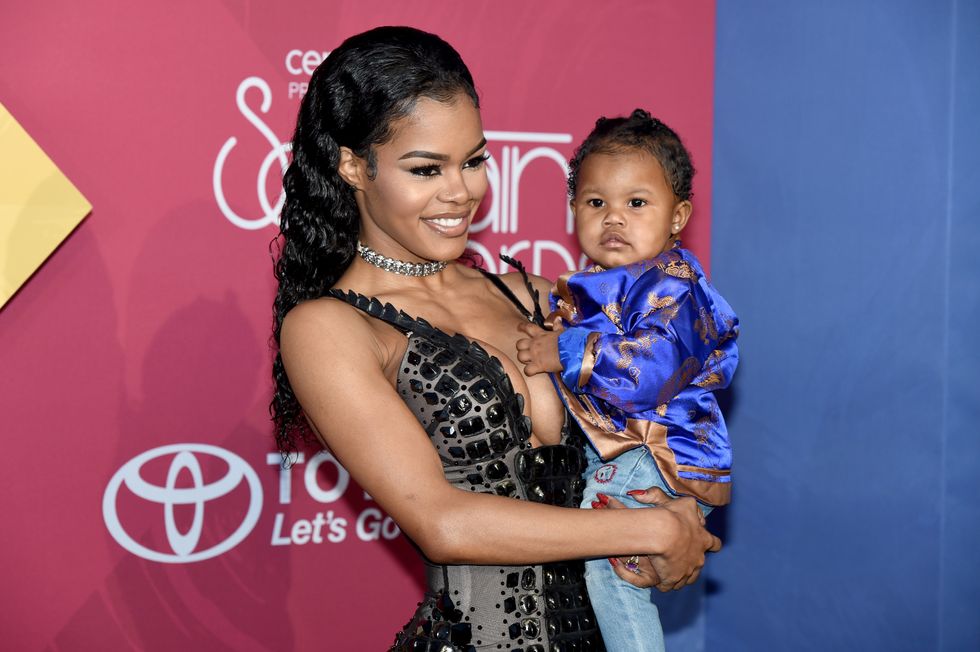 Ethan Miller / Getty
The world was shooketh when Teyana Taylor appeared in Kanye West's "Fade" video looking like a hot piece of fresh baked apple pie only months after giving birth to baby Junie. "How'd she do it," you ask? The 28-year-old artist shared that her method was simple:
"Dancing is my workout. I just dance. I almost feel like dance is so underrated in the fitness world."
I don't know about you, but I've twerked in my bedroom mirror for days on end and not seen those kinds of results. But according to Teyana, genetics play a huge role and even she has to conquer her own insecurities on a daily basis. She told The Cut:
"People see me and think that I have the most perfect body, but they don't realize that I have struggled just like they do. If I lift up a weight, I automatically get super strong. That's why I get intimidated and stay away from the gym — I'm already naturally so strong that if I were to work out I would look like a bodybuilder. Sometimes I can even photograph a little bit harsh. Some people will be like, 'Oh girl, stop!"'But everybody has their own personal struggles, and when I want to gain weight, it's hard."
Beyonce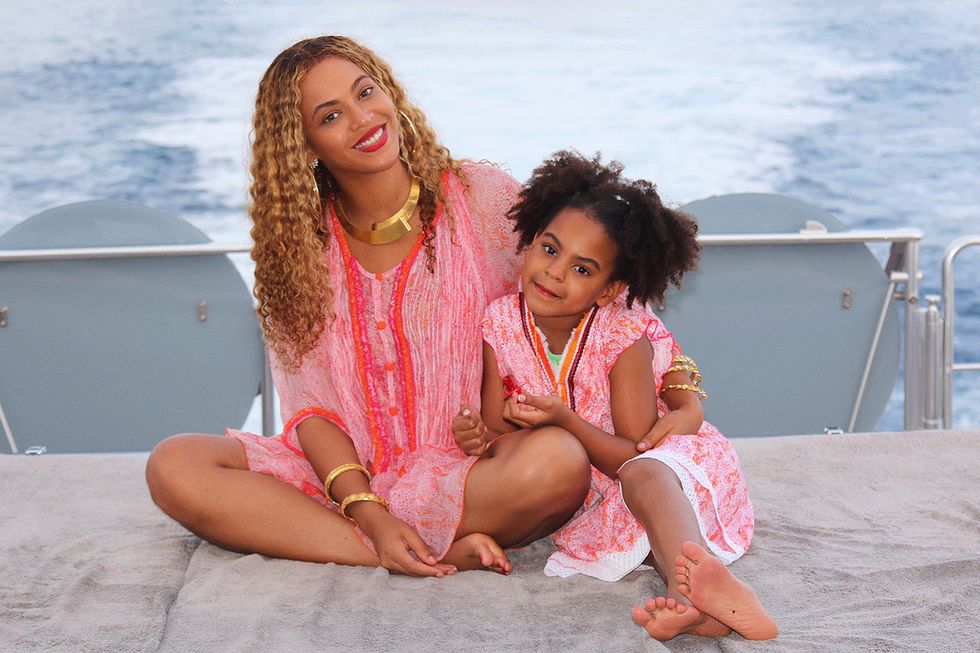 Beyonce.com
*Cue the music from Coming To America* "She's your queeeeen!" That's right, even Queen Bey felt the pressure to snapback after giving birth to twins Sir and Rumi. In an interview with Vogue, Beyonce shared how she learned to embrace her post-partum body and reminded us all of the true beauty that comes with having a FUPA:
"To this day my arms, shoulders, breasts and thighs are fuller. I have a little mommy pouch, and I'm in no rush to get rid of it. I think it's real. Whenever I'm ready to get a six-pack, I will go into beast zone and work my ass off until I have it. But right now, my little FUPA and I feel like we are meant to be."
Beyonce shared that she weighed 218 pounds the day she went into labor with the twins, and after spending days in the NICU, she really just needed a break. She explained:
"I needed time to heal, to recover. During my recovery, I gave myself self-love and self-care, and I embraced being curvier. I accepted what my body wanted to be… I was patient with myself and enjoyed my fuller curves. My kids and husband did, too."
Featured image by Instagram/@porsha4real.