---
Between mid-March and early June, we kept our eyes and ears glued to the news waiting on the bat signal permitting us to go outside and play again. We even listened to our governors' guidelines for three different reopening phases trying to figure out how soon we can schedule a happy hour with our girls or a wax, nail, and hair appointment at our favorite spas and salons.
But naturally, we also second-guessed these initial dates that our governors set because the 'Rona hadn't disappeared, it was way too soon especially when the numbers were still rising and our common sense warned us it's probably best to stay in our cribs.
None of that has changed yet. And when I really think about it, 'the Rona has every intent to take over our hot girl summer and with an anticipated second wave in the fall, are we destined to stay inside until this time 2021?
To be honest, I can't quarantine that long. I have moves to make and my introversion won't allow me to remain sane in a group setting for such an extended period. In no way am I dismissing anyone's circumstances or the seriousness of this virus, though. To date, we've lost over 132K of our fellow neighbors right here in the U.S and this virus disproportionately affects us. We're three times as likely to become infected and twice as likely to succumb to the virus. So, this isn't something I take lightly.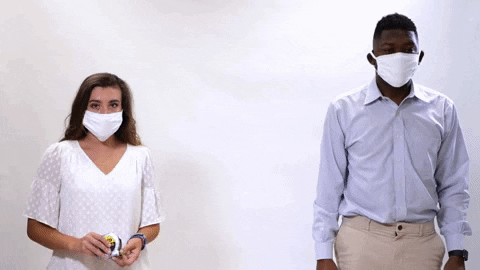 media.giphy.com
Nevertheless people are slowly returning to their homes if they've been quarantined with others as well as venturing out to regain some semblance of a "normal" life. Besides, I've seen the fresh box braids and manicures on my newsfeed and I'm like, sis, you didn't do that yourself.

I've also seen a video clip of our people, masks off like the Future song, frolicking in a freakin' pool inside of an Atlanta nightclub. This was before Mayor Keisha Lance Bottoms announced that she has tested positive for coronavirus.
Yet, instead of stressing, "Stay home!" to the party-goers with a period and the added "T" when people are steadily going out anyway, I'm taking a different approach to highlight the gravity of COVID-19.
Let's take a look at various non-essential spaces, examine how sanitary or risky they are right now and explore alternative options and precautions to maintain our health.
Disclaimer: This article is not a directive to be reckless and engage in high-risk behavior during a pandemic. Instead, it is a comprehensive breakdown of how to navigate spaces outside of your home and minimize your chances of exposure while doing so. None of these methods are 100% effective at avoiding coronavirus. Return to your new "normal" at your discretion.
Hair and Nail Salons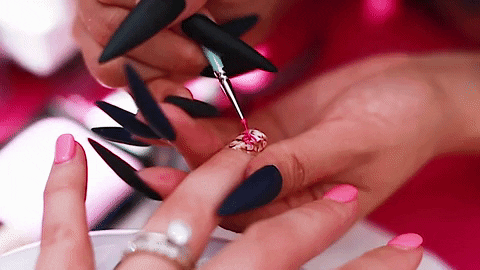 Unfortunately, the risk for a COVID-19 infection remains high at salons and barbershops regardless of any safety precautions because clients and employees can't realistically maintain a distance of 6 feet between one another. And if you're the one providing the service, you face an even greater risk because of the number of clients entering the shop daily. What's even more disturbing is that one person who enters the shop with COVID-19 symptoms can easily expose at least 100 clientele depending on how busy the establishment is, which is what happened at a St. Louis salon.
Safety tip: If you do go to the salon, stick with services that don't require you to remove your mask. In other words, that lip wax would have to wait. And only request one or two "emergency" services, not the full works, so you can shorten your time at the establishment. Check to be sure stylists are disinfecting chairs including headrests between clients and wearing single-use gloves.
Also, while it may be normal for you to chat with your stylist, it's suggested you refrain from your usual conversations. And don't grab a magazine to pass the time. In fact, they should already be removed from the waiting area and work stations.
You may also want to check to see if your fave shop offers extended hours to minimize the number of clients who are in the space at one time or a private room to accommodate clients who seek extra precautions.
And if you go to the nail shop, don't expect to test any colors. Better yet, take your own polish or get you some Kiss Luxe press-ons from Target or CVS.
Restaurants and Bars
Full disclosure: My cousin and I ate in a restaurant during lunchtime in mid-June. There was a maximum number of patrons who could dine at once and no one was seated behind us or next to us. Additionally, all condiments like ketchup bottles and salt and pepper shakers were removed from the tables and our menu was disposable. And if I remember correctly, so was our silverware.
While the sign on the door mandated that all patrons wear masks, not everyone who entered the establishment had one on. Granted, you can't eat and drink with your mask on but this is why restaurants and bars (and clubs, too!) will continue to be high-risk.
Safety tip: Outdoor or patio seating is a tad bit safer than inside dining, provided the seating isn't along a sidewalk where potentially unmasked people are constantly walking by. If your state allows you to dine-in, choose large, well-ventilated restaurants that can abide by the 6-feet social distancing rules as well as operate with fewer staff (with masks!) and patrons. And if you enter a restaurant and there's a full-on buffet, exit immediately.
It's also safer to dine out with those you've quarantined with rather than meet up with friends you haven't seen in the past four months. And, of course, there's definitely the carryout option or no-contact delivery where the driver leaves your food (protected) at your front door.
Gyms And Spas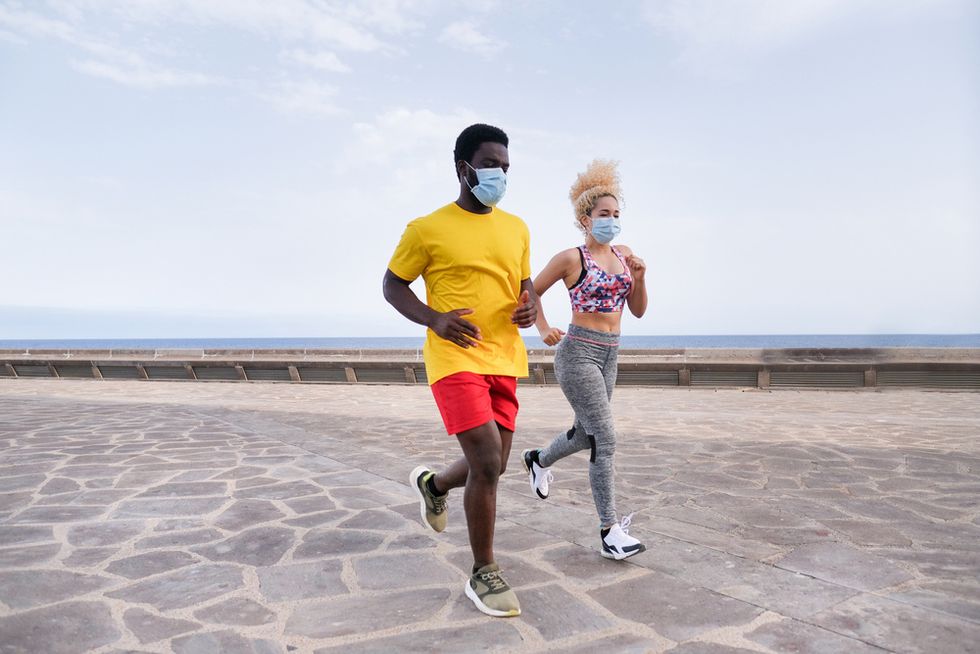 Shutterstock
Gyms are danger zones. They can be tricky because the equipment is practically side-by-side and then there's moisture from sweat. Furthermore, how plausible is it that the gym staff can sanitize every bit of equipment between each use? Spas are also iffy with skin-to-skin contact. And while I'm yearning to get back in the yoga studio, I realize it's too tight and that community equipment like the yoga blocks are also hard to clean.
Safety tip: One word: towels. Plural. And wipes. Next, check to be sure that the gym has restricted access to every other machine and possibly placed barriers around equipment. Some gyms may even require members to reserve a block of time to use the gym and staff will clean in between blocks.
Also ask about the facility's updated policies regarding the usage of locker rooms. And although it's not the same as being on-site, there's also an option to workout virtually. Or outside.
If you book an appointment for a massage, ask the spa about their laundry policy for linens, towels, and other washable items. Also, ensure that your massage therapist follows hand-washing and hygiene protocols like definitely wearing a mask and maybe some clean gloves.
Airports, Airplanes, Hotels, and Airbnbs
Airports and airplanes are high-traffic areas. No pun intended. But apparently they're not as high-risk as gyms, salons, restaurants, and churches. Although now I can't get the thought out of my head that, as one of my friends recently pointed out, everyone stands up and crowds one another once the plane lands.
Safety tip: Before you book your flight, check travel advisories with both your airline and your destination. The last thing you want to do is arrive in another state and find out you need to self-quarantine for 14 days. Also, ensure that the middle seats on your airline are empty and find out for how long. (For example: Southwest isn't opening the middle seat until after September 30th.)
You're currently allowed to carry on 12 ounces of hand sanitizer so take advantage of it. Bring your wipes and wipe down the seats, trays, and armrests, although the airlines are supposed to disinfect between every landing and takeoff. And don't look for magazines, pillows, and blankets.
When you check-in to your hotel, find some cleaning supplies and disinfect high-touch surfaces such as doorknobs, light switches, remotes, and faucet handles. And if you opt for an Airbnb, reserve the entire property or ask how many people will be in and out of the residence during your stay.
Churches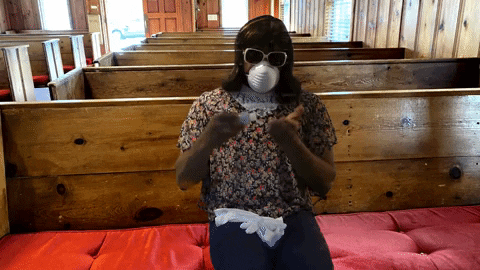 While places of worship are traditionally safe spaces, they are considered among the unsafest when it comes to COVID transmission. Right now, I'm fine with Bedside Baptist. In fact, I just "attended" church online with viewers of the 2020 Virtual Essence Fest. I still got the word and some praise and worship with Tamela Mann. Hallalu! (In my Tamar Braxton voice.)
Safety tip: Some churches are hosting parking lot services where everything takes place outside and parishioners can remain in their cars. But if you're attending service inside of a church, check to see if there's a limit on the size of the congregation. Maybe the church will add services and clean in between. But still avoid touching hymnals and the collection plate. Use apps on your phone to read scriptures and tithe or use a stationary collection box.
As the weeks progress, guidelines may change and perhaps our governors will simply shut down establishments all over again. While that might be the downfall of many small businesses, it'll be a windfall for us who are doing way too much, way too fast.
However, if and when we do go outside, I just need us to remain well-informed and exercise extreme caution. Always wear your masks, scrub your hands and maintain those six feet like our lives literally depend on it because, well, they really do.
Want more stories like this? Sign up for our newsletter here to receive our latest articles and news straight to your inbox.
Featured image by Shutterstock.