This past year has been nothing short of a roller coaster for Cardi B. With hit records, welcoming a new life into the world, feuds for days, and Grammy nominations, the road has been filled with many highs and some lows.

---
Despite moving past a separation from husband Offset, then getting back together it seems like Offset has found himself in the midst of cheating allegations once again.

While most of us side-eye their situation, this isn't the first time this has happened (and we don't know if it'll be the last). Last year when she broke the news of her separation from her husband via Instagram we were shocked at her transparency as she explained:

"It's nobody fault. I guess we grew out of love but we are not together anymore... it might take time to get a divorce and I'm going to always have a lot of love for him because he is my daughter's father."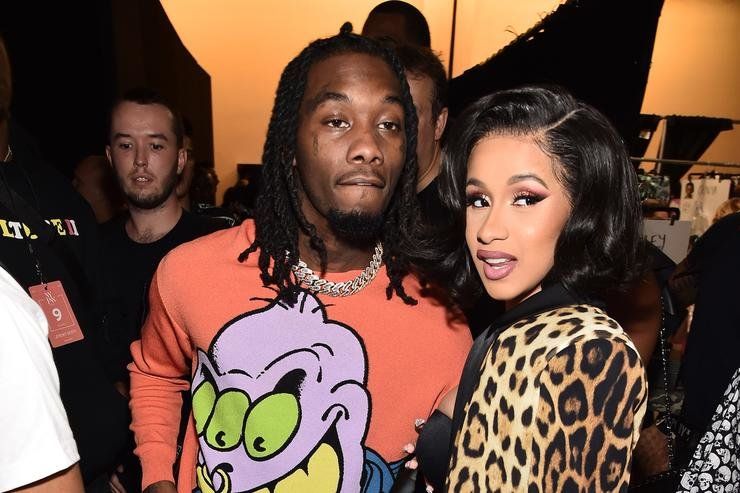 Theo Wargo/Getty Images
I personally was shocked by Cardi's tact and poise when addressing this new life event, given her refreshingly explosive nature, but days later, we found out that it was just the calm before the storm. Each day, there seemed to be more details released in reference to Offset's alleged infidelity, and given the history of this whirlwind romance, it is not surprising.

However, I was shocked by the responses of many people urging Cardi to take her husband back amidst all this scandal, mainly after her husband's public Instagram plea for her to forgive him and to take him back as a birthday wish. Derrick Jaxn, Author and Self Love Ambassador, weighed in and said:
"People are talking about 'Take him back Cardi B!'... People are talking about 'Offset I am rooting for you bro, praying for you bro,' and it's like, in the beginning, it was a joke. People were talking about take Offset back, which is a mockery of the shit that a woman goes through whenever she gets betrayed and she gets her heart broken. At this point, all of those types of comments are downright disgusting because they totally disregard what Cardi B is going through."
But the question is, when are we going to stop glorifying dysfunctional relationships especially at the cost of a woman's heart? Are we so caught up on being his peace, that we are willing to encourage our women to be in pieces for the sake of romance? Is it that important?

What gets me hyped up in the gist of couples being broken apart because of a man's infidelity, is the disregard that others have for the woman on the receiving end of the behavior. I hear much more advice along the lines of "people make mistakes" and "you can't let this get in the way of your love" than I hear people telling women that they deserve better and that there is an abundance of men out there that will respect your commitment on the first try.

Let's not ignore the bruise that cheating leaves on a woman's heart and self-esteem and how embarrassing the whole ordeal is. The decision that a woman makes to continue a relationship after infidelity is her own, however, let's not make 'struggle love' the standard for relationships because it is not inclusive. There are a scarcity of men that will take back a woman after infidelity, so there is no shame in a woman making it a deal breaker as well.
media.giphy.com
It is time to start holding men to a higher standard in relationships, and at the very least require that the apology be as loud as the disrespect before even considering reconciliation. Cardi deserves better, just as most women who deal with similar problems in their relationships and if the behavior of a man does not change, there is no shame in moving forward. There is no better apology to self than knowing better and doing better.
Feature image by Frazer Harrison/Getty Images