Zaniah Boykin
New Jersey native creating a life that she loves while living in gratitude. She loves using beauty, and fashion to create a balanced lifestyle while prioritizing wellness. A devoted fur mom, and a full-time lover of laughter. She is out for revenge against the darkness by being light, taking her own advice, traveling the world, and letting you know that you are so lit! Connect with her via IG @iamzaniah and please visit Zaniahsworld.com
Anxiety is a word we as a society throw around a lot, and with good reason. While someone who watches and reads up on the daily news is justified in being on high alert, in my life, I had the opportunity to use therapy to observe my anxiety as something outside of me, a different version of me, if you will. And it helped me make major shifts in my overall quality of life.
The whole process required me to get incredibly curious about myself. I listed the things I was anxious about and got clear about what I thought caused me anxiety. I had to get curious and asked myself the way a four-year-old would ask, "Why?" I also had to research the true meaning of the word "anxiety" and discovered it means "to be excessively worried, nervous, and uneasy." This feeling usually arises when the outcome of an action is uncertain. This is a very understandable concept in my mind, but I wondered if someone could please tell my body that.
In the past, anxiety kept me in an endless loop as opposed to a standstill, which is how some people experience the sensation in a physical sense. Mentally, when I looked at every area of my life, from my jobs to the relationships I chose to participate in to my body, I could only see a roller coaster. In other words, being anxious kept me in a circular motion with the same highs and lows, and I felt and thought I was moving forward safely because I could predict the outcome.
At that point, life had taught me:
Feeling "safe" was predictability and the avoidance of negative emotions and outcomes. Feeling "unsafe" was the discovery through different experiences, uncomfortable feelings, and unpredictable outcomes.
In my life, feeling safe and feeling unsafe looked like staying in a less-than-ideal relationship because I wouldn't be alone equated to safety, but it was making me feel more anxious overall; staying at a job that did not offer me resources or opportunities to connect and grow equated to safety because at least I wasn't unemployed, but I felt like my career was passing me by; staying in the house eating comfort food three times a day and avoiding the heavy lifting and sweaty workouts that could transform my health for the better equated to safety because healthy food and exercise stressed my body out, but my health was declining.
With support in each example in the above categories of relationships, career, and health, I was able to meet with people who advised me to basically stop putting up with bullshit and trying to intellectualize why those people, places, and things are the way they are and instead, move on. Figuratively and literally get to steppin'! Just straight up hopping off of emotional and physical roller coasters and on my two feet.
I've learned that anxiety is not something I can just think away. I have to allow my body to connect to my mind and deal with it that way. This is where that whole "exercising is nature's antidepressant" cliche comes true. Through simple tasks like walking around the block, going to the gym, and generally moving my body, I realized when I'm in the moment, focusing on what I'm doing or on music, anxiety doesn't override my basic instinct to be present.
In the present is where everything makes sense.
If I put one foot in front of the other, eventually, I end up very far down the street unless I'm at a dead end. If so, it's time to redirect. If I lift something heavy slowly every other day, eventually, I will get stronger, and the weight would feel lighter to me. If I keep on putting myself out there professionally, I will get an amazing opportunity. If I keep dating high-quality partners, eventually, I will find the right person for me. This list goes on.
Though life is never linear, by finding a physical way to channel my anxiety, my mind is calmer, and I can see a brighter future ahead. It's not predictable and safe by my older standards, but now that I've grown wiser, I think standing still and not moving forward is the most unsafe thing we as human beings can do for our health. Mentally and emotionally.
After observing myself doing things like tearing it up on the dance floor, excelling at public speaking, killing my form at the gym, and just doing other ridiculously cool tasks, I had to question why I felt so comfortable letting the anxiety I sometimes felt hijack my mind and body instead of pushing past it with the help of professionals and holistic teachers along with methods I could independently use.
And the answer to most of my "whys" was that embracing who I really am at some point in my life felt "unsafe." So then, the fact I had a real social side of me still felt unsafe. It defied what most people who believed they knew me well would think of me, and to show up as myself left me vulnerable to ridicule and rejection. I judged myself as hard as I was judged by important people in my life who also judged themselves harshly, so then they, in turn, judged… See? Another endless cycle.
I worked on getting clear on what felt good to me and what did not. What I wanted out of life and what I did not.
However, once I admitted those truths to myself and others, that virtually meant most things in my life will have to be adjusted to better suit me. I would ultimately be leaving my comfort zone, my safety net, for good. That was unsafe because where in the world could I find a better job, better friends, and a better lifestyle for myself….? What do you mean I have to be more flexible and broaden my horizons? What do you mean a past version of me must die so that I can be reborn? That is... anxiety-inducing.
Trust me, though I would love to write this admittance in the past tense, it's still a script that plays in my head during my fearful moments.
However, with assistance, I realized my answer to many of my whys (because it's safe) was just not true. The past is not the present, and I'm in the driver's seat of my life now. I was never safe, I was, in fact, dying on the inside and in my comfort zone. Until I decided my joy was worth taking a calculated risk. Because naturally, without all the overthinking, living in the past, and caring more about what other people thought about me than I did, I am pretty badass.
The trick, though is continuously surrounding myself with resources and community to remind me of that whenever I get scared to be my highest self.
Featured image by FOTOGRAFIA INC./Getty Images
If friendships came with instruction manuals, it would take all of the fun out of the relief you feel when finding your tribe. However, with respect to all of the evolving we do in life, the idea that your day ones will be there your whole life is unrealistic and exhausting. That concept does not honor that we all grow at different paces, and some of us reach major milestones like marriage, children, and our dream careers at different times. Some people serve their purpose and move on.
For me, friendship is a very complex subject because I went through more than half of my life having a very superficial and hateful relationship with myself, so many of those that I gravitated to reflected that sentiment to me. However, by some miraculous miracle, when I had those glimpses of times when I was being the highest, most authentic version of myself, I was able to offer support and be supported by like-minded individuals. I am lucky enough to call these women my sisters now. With that sisterhood still comes challenges.
A benefit of going through the hard stuff at an early age is I learned about different aspects of life and human behavior way before people who hadn't faced those challenges yet.
It used to be intoxicating to look at my friend group as I conquered each obstacle with a finger pointed at them as if I was superior. Life had a way of humbling me, though. I felt I exemplified an idea of what a woman my age should look like and didn't give a damn about how one-dimensional I was. That just mirrored back how I didn't value my authentic self outside of a performative persona…and then I was just mirroring that back to people who didn't deserve to be alienated just because they didn't approach life the way I did.
Now, I am not at all advocating for you not to shed dead weight when it comes to friendships. I've experienced crying and begging for those I thought loved me to show basic levels of support, concern, and respect for me (which I do not advise). For those types of friendships, you can just cancel and get a new one like Nino Brown.
Friendships that you look at like your favorite purse that just might be out of season for the moment are worth carefully putting in its protective duster bag and placing on its respective shelf in good view for when the right season arises. What am I saying exactly? Though each friend may not be of use to you at the moment, they are still very valuable, and your life can benefit from regarding them as such.
How? Well…
Feature image by valentinrussannov/ Getty images
I don't know what it is about turning 30 that made me super interested in vitamins and routines, but I love it here. Gone (well, not completely) are the days I let the day turn into night with my makeup, lights, and TV on with my laptop by my head. I blamed burnout on an undesirable work culture, a busy schedule, etc., but growing wiser, I realize the responsibility to set aside time to restore my mind, body, and soul is entirely mine.
When it comes to anxiety, the way I look at the dilemma of the mind is as living in the past and being fearful of what is to come. To combat that, intentionally cultivating routines that involve tapping into my five senses as a grounding technique helps me to become more present and realize what a gift the current moment is. Not only am I able to let go of the feelings of frustration that I carry around stemming from what (or what did not) occur in the day, but I also get to regulate my nervous system to the point my mind can start imagining a better future.
I think of my aura as a glass mirror that picks up fingerprints during the day, and I get to find different ways to wipe it clean at night so that I can see myself clearly the next day. Creating a sensual nighttime routine for myself does exactly that. Here's how I start:
With Prayer
In my younger days, I used to save this step for right before bed, but I find getting spiritually grounded for a few minutes better assists me in switching from productivity mode to giving myself permission to just be. These days instead of defining myself by external factors like what I do for a living, how much I can produce, and accolades, I take a few minutes to express my gratitude through prayer to my higher power, the universe, my ancestors, and my everyday angels I'm lucky enough to call my friends and family. I am reminded that I am part of something way bigger than I often realize.
This then makes it easier to take time to take care of myself.
Sound: Self-Care Playlist 
I'm getting back to my teeny-bopper days when each of my moods has a custom playlist. But this seriously works wonders by listening to music that affirms and uplifts me while soothing me into a restful mood. Don't get it twisted, I do include a little bit of upbeat music in my playlist to ignite some passion and endorphins needed to carry out this process while I'm exhausted. Hearing my favorite songs at this time just takes the monotonicity out of my routines and inspires creativity. Hey, even a little jig every once and a while never hurts.
Smell: Burning Incense, Candles, and Using Oil Diffusers
Aromatherapy is a part of my routine that I refuse to skip. It's really hard to think about all the annoyances that occurred during the day when I smell the fragrance of citrus or berries in my vicinity! Almost every step of my nighttime routine has scents that are either soothing or delicious to me, from my skincare to the essential oils that I use. This just brings to my attention that often the simplest pleasures in life are free or at least super affordable. Plus, certain essential oils like eucalyptus, lavender, and lemongrass are great for calming down one's nervous system enough to fall asleep.
Touch: Taking the Day Off
Touch involves quite literally getting my day clothes off, getting in the shower, and changing into some comfortable night clothes. I take my playlist into the shower for some karaoke, inviting laughter and tears. My favorite shower products are great for my sensitive skin, but also layer different scents so that my perfume doesn't have to work so hard the next day. Exfoliating and applying body oils ensure that my skin feels soft.
My skincare routine ensures that when I look at my skin, it's bright and rejuvenated in the morning. I focus on glowing before bed because the nighttime is the only time my skin has to repair and regenerate hence the phrase "beauty sleep." However, skincare does not stop at the face, so I am exploring new body care products to make sure the skin on the rest of my body has an even texture. The self-massage pays off because, by the time I lay down, I'm relaxed.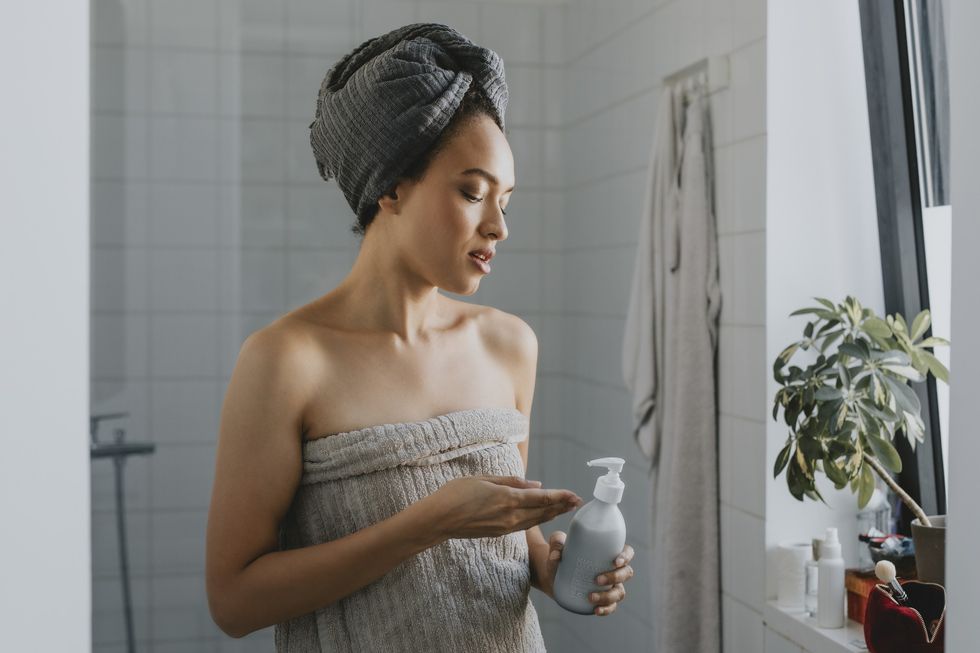 FreshSplash/Getty Images
Taste: Decaffeinated Sweets
Health is wealth, and healthy snacks are imperative to my overall happiness. I try to stay away from foods that are too sweet or caffeinated at night, so I reach for rich and creamy textures and my favorite liquids. Decaffeinated teas, sugar-free ice pops, fruity-tasting sparking water, and fruit and veggies with peanut butter or salad dressing are my favorites.
Sight: Journaling And Reading
Journaling allows me to truly release and reflect on what's bothering me. Guided journals are a great way for me to stay consistent and motivated by answering prompts. It's so funny that writing about what caused me the most stress in the day and then being asked what I need to release helps me realize I'm in the driver's seat of my joy, happiness, and destiny. All that I desire is often a decision away.
With my overthinking, I find it better to put my sight and mind to use to read and experience an alternate reality. I'm an audiobook lover during the day, but at night my bed is a no-phone zone. With dosing off and missing a few sentences, it's tempting to get up and grab my phone/tablet, and the next thing I know it's 3 a.m., and I'm on TikTok. Holding my favorite book, flipping through pages, and fighting to keep my eyes open in excitement to figure out what is on the next page somehow knocks me right out.
When I wake up in the morning, I feel well-rested and like I had a much better quality of sleep than if I would have skipped my routine. It's easier for me to be way more resolute and productive because I'm running on a lot of positive energy instead of fumes. As I continue to practice my routine, I am starting to realize whatever it is that I thought I was gaining by working behind a computerized screen after 10 p.m., I am losing my quality of life the next day. I proudly put my Bedtime setting on my phone, confidently assured that whatever it is can wait until the next business day.
I know my energy budget, and these days, I'm hella bougie.
Let's make things inbox official! Sign up for the xoNecole newsletter for daily love, wellness, career, and exclusive content delivered straight to your inbox.
Featured image by FreshSplash/Getty Images
I come to you fresh off of a vacation that I used my tax refund to pay for, delieverdt! I am advocating for you to consider group travel to get the most bang for your buck. Often, traveling with a group is way more budget-friendly to split high-end accommodations rather than to pay for a hotel for one person (when solo traveling). And if you didn't know, rooming in a vacation home as opposed to a hotel room affords you the luxury of more privacy with features like a private pool, a whole kitchen, the ability to have your own room in a house, etc.
Yes, after watching a few reality TV episodes with people being bunched into a beautiful home only to start shaking tables and throwing drinks, it's tempting to let your imagination run wild with all of the negative scenarios that could play out when you travel with friends. I know mines did! However, with a little maturity and self-awareness and making an investment into having more effective communication skills when it comes to the hard stuff, I respectfully suggest that if you are reading this: You don't really have a problem with group travel, you need to learn how to navigate traveling in a group setting.
Below are some tips I applied to my recent trip to maintain my autonomy while traveling with friends:
Set your personal intentions on why you are attending before agreeing.
The best way to enjoy group travel is to set one's intentions before going. Get your "why" defined because it's super important! Though you may have been invited to celebrate a friend's birthday or another occasion, I think it's imperative to pair why you're coming to show support for another person with finding ways to take actions that will also benefit you. Unless you are one of the lucky ones getting an all-expense paid trip to celebrate with your friend, you are under no obligation to stick around your travel group every waking moment.
So let's explore your other intentions for saying yes to the trip. Is it to try some local cuisine, an excursion that you haven't participated in, or get into photography? Set that intention and stick to it because you deserve to feel fulfilled by the trip you're going on after spending your hard-earned money and PTO.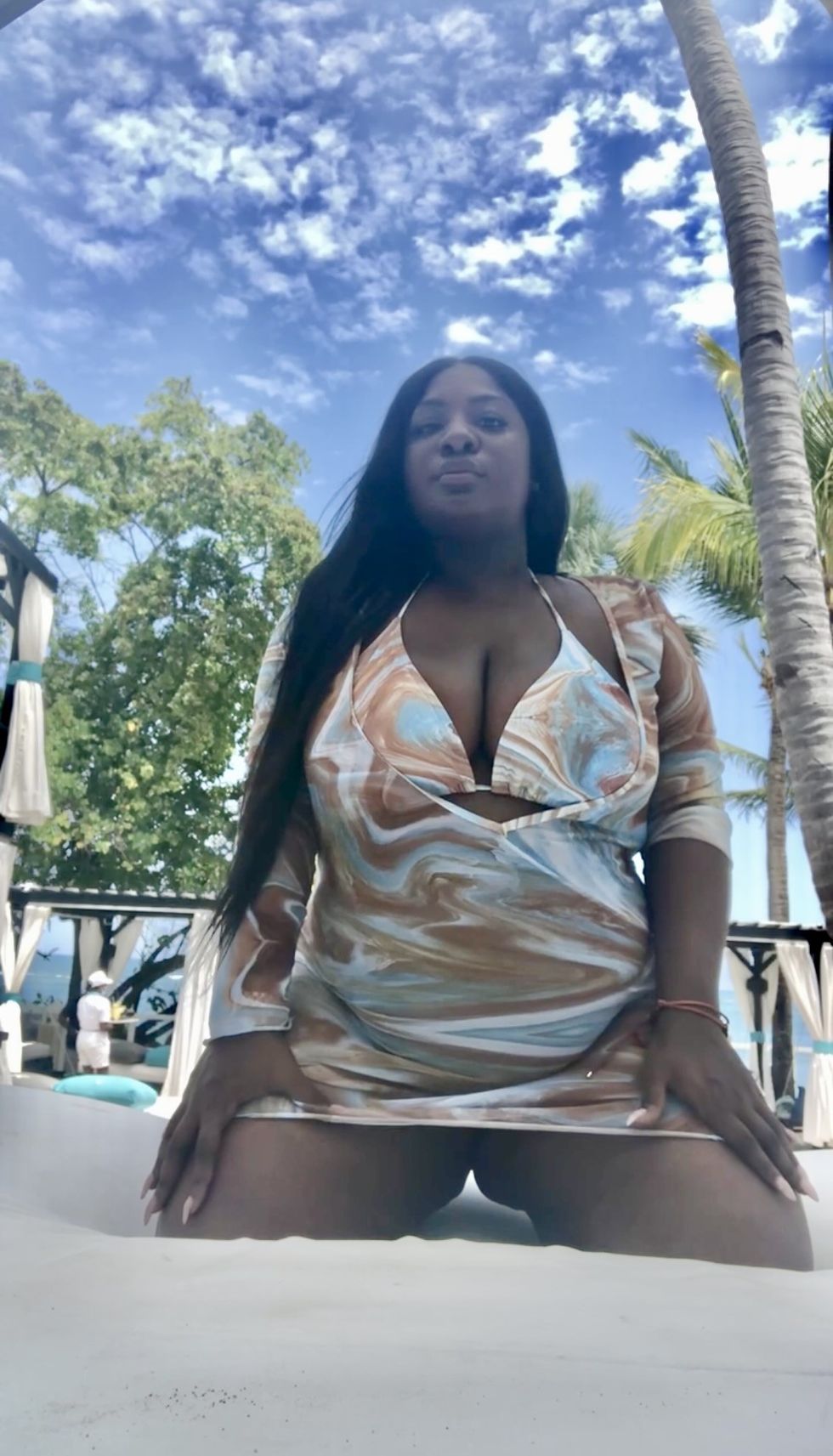 Courtesy of Zaniah B
Manage your trip mates' expectations by setting boundaries before the trip.
Effective communication is a major key; this is your chance to give the trip organizer a fair warning of what you are and are not interested in doing before they feel blindsided on the trip. For example, if you know you don't feel like ziplining this time around, let the group know ahead of time to manage the expectations of everyone being together on the trip, and this also creates an opportunity for some alone time.
And while you set your boundaries, make sure you are also planning time together with the group too! Meal time is a great way to regroup throughout the day to check in and allow yourself to say "yes" to an unexpected invitation to do something spontaneous with your girls! Give yourself just as much time to be with your group as you spend away from them. Balance is another major key!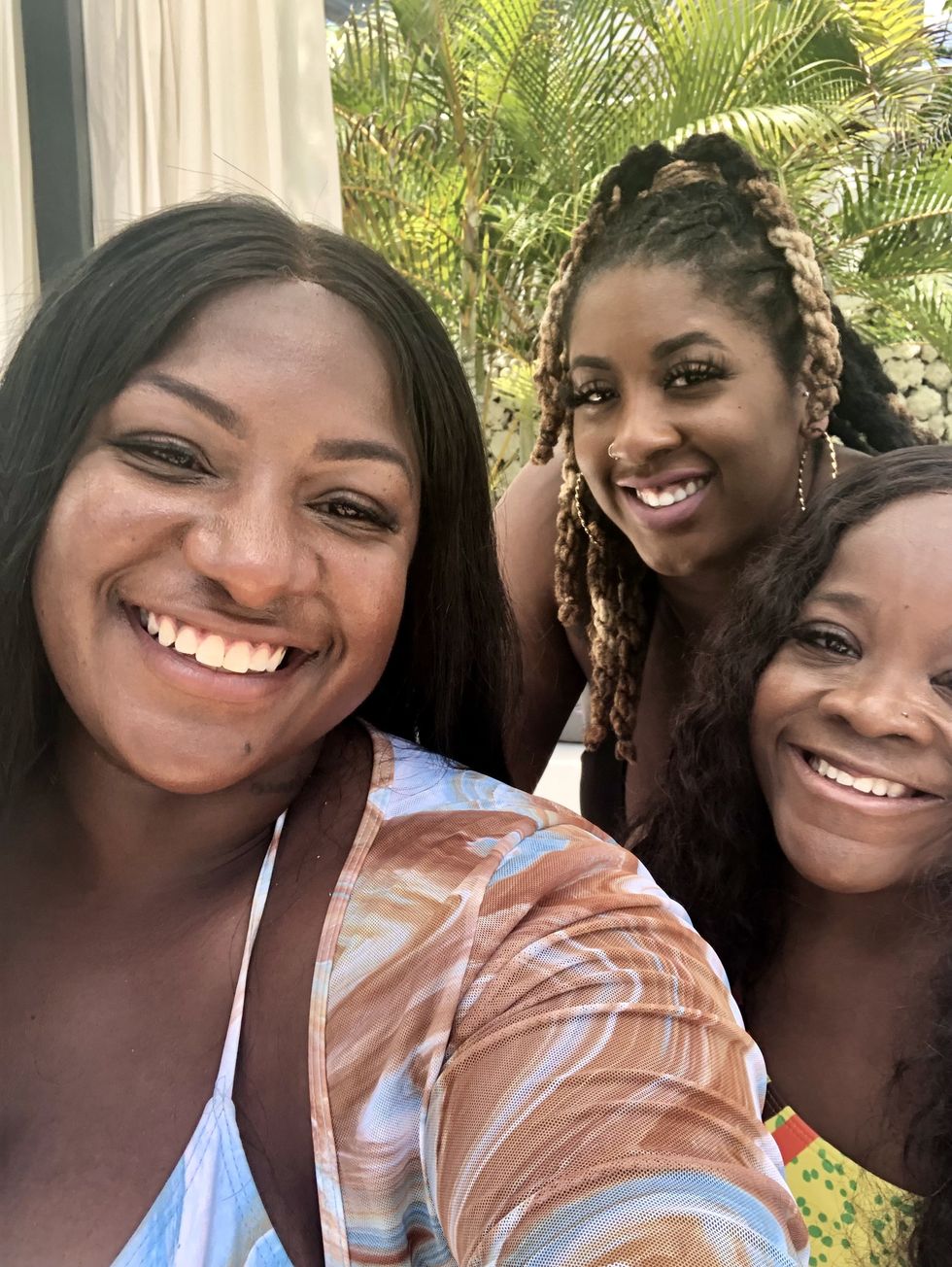 Courtesy of Zaniah B
Be prepared to give grace. 
No matter how great the personalities are, there are some moments when everyone won't mesh too well with each other. It's not personal, and it doesn't have to ruin a person's trip. We are all imperfect human beings, and traveling can bring an additional level of stress you wouldn't have encountered in a more casual setting like brunch. This makes it easier for miscommunications and misunderstandings to happen. Practice as much empathy as possible, listen more than you speak, and work on responding and not reacting.
There are so many factors at play, like alcohol consumption and being forced out of one's comfort zone in many ways that can amplify situations that you would otherwise be able to smooth over. Most importantly, give yourself grace too! I personally use group travel to improve my ability to connect and co-exist with people whom I may have never considered having much in common. It helps me brush the chip that I have on my shoulder of being " different" by exposing how random women have more in common than not.
Group travel recharges me through the mutual compliments, shared experiences, and bonding that occurs with women on these trips. The seriousness of adulting can be isolating, and planning an independent getaway can be a daunting task; a girls' trip may just be just what you need.
Let's make things inbox official! Sign up for the xoNecole newsletter for daily love, wellness, career, and exclusive content delivered straight to your inbox.
Featured image by Klaus Vedfelt/Getty Images
I'll never forget the day a good friend of mine I met at work finally got her acceptance letter from medical school. I was one of her biggest cheerleaders along the way, her "Oprah," as she called me endearingly, her supportive cast, the person that nurtured her through her anxiety of facing the unknown of leveling up. In turn, she helped me, the sheepish girl in the cubicle next to her wearing all black and covered in cat hair, to embrace my inner badass along the way.
She exposed me to a new way of life, actually going into the world doing things that I wanted to do, wearing the clothes that I wanted to wear, and simply not giving a damn about how other people felt. I got to see that the present was a gift and I was dope in real life, not just the internet. She coached me from only feeling comfortable posting mirror pics to flexing in full-body pictures embracing every curve on my body, and knowing that I am a baddie. She encouraged me to go for opportunities I thought were way out of my league, like this one right here…being paid to share my thoughts with you.
So, you could imagine my confusion as I jumped and screamed "congratulations" on the other end of the phone upon hearing the news of her acceptance, like she just won a Grammy, and hung up in just about tears asking her, "What does this mean for me?"
At that moment, it just felt like she received her golden ticket out of the position that we hated, and I was just being left behind. The feeling wasn't jealousy. I couldn't fathom treating her badly because she accomplished her goal, but I felt less than her and stuck in my circumstances.
I was envious.
Featured image by Vladimir Vladimirov/Getty Images
I knew I fucked up when I woke up sharing a bed, apartment, and life with a man whose morning routine was to lazily have a sex session and to start watching conspiracy theory videos. At that moment, I had to ask myself, why am I stooping so fuckin' low?
I was new to the city, tired of the dating scene, and peeped my first grey hair under my wig, so I freaked out and rushed into a whirlwind romance. Yes, like a weakling, I took a man who I barely knew at face value after a few dates and some bomb ding-a-ling without properly vetting or testing him for longevity and true compatibility. I went against my instincts to keep it player after our first sexual encounter and stuck around for the love bombing, future faking, and in retrospect, very predictable abuse soon to follow.
I may have been dumb, but at the time, I figured at least I was "high maintenance" with a man who provided for me. He was so addicted to my feminine energy and my coochie that he wanted me to quit my job so I could be more supportive of his endeavors and have the time to tend to my wifely duties while carrying his 4th child. I wasn't going to be like his exes, I was taken ring shopping because I was different, and I made him want to settle down, and… you see how delusional I was?
This relationship was a counterfeit, and it was just enough to match the low level of self-love I had at that time. Ironically, to find the strength to leave required me to remember who the fuck I was.
Not my accomplishments, not my looks, not my possessions but underneath all of that, a divinely feminine woman that has the power to create the life that I desire. To be honest, at the time, I did not do the work needed to heal from a traumatic past, and lazily imagined a relationship where, like some fairytale, a man was going absolve me from that. By sweeping me off my feet romantically and being a provider of safety and love, I would reach the promised land as long as I stayed submissive and I played my role as the virtuous, self-sacrificing woman.
Now at this point, you are probably wondering who was the fan of conspiracy theories here... me or him? Well, life ain't no fairytale, and I allowed myself to be pushed to the edge until I had no choice except for choosing between this all-encompassing relationship or myself.
I Spartan-ed up, kicked his dusty ass off the mountain like I was in the movie three hundred, got myself to my place, into therapy, and head down into the life-transformative book, Why Men Don't Love Women Like You by G.L. Lambert. And, would you like to know exactly why men didn't love women like me?
Because I didn't love myself enough to devote the time to become whole and confident in my worthiness of a healthy relationship beyond my ability to endure abuse, be selfless, sacrificing, and subservient.
What I loved about the author is that he is a womanist at his core and points out how a woman's value in a relationship, does not lie in what she can do for a man. A woman is at her peak of power when she realizes her priority is self-preservation and self-care. He explains that with each failed relationship there is a certain level of personal responsibility we must take to access our true power:
"A man will only fuck you over if you let him, but so many women refuse to take responsibility. Their egos paint this picture that they fell for a man who had no warning signs, who was a master manipulator, and they were nearly an unsuspecting victim in his dishonest game.
"If you think a man can gain mental power over a woman without her giving it, you are either delusional or stupid. You control who gains access to your heart, but the first step is preventing these bums from gaining access to your ears."
I've learned that when it comes to love and relationships, it's so common and incredibly easy to point the finger at the person who is doing dirt without airing out the ways I am doing myself dirty. The relationships we choose closely mirror the ones that we have with ourselves. After much healing of my feminine energy (and my energy in general) in the form of seeking professional therapy, I realized I constantly betrayed myself by settling out of fear and desperation. I spent so much time angry at others for not prioritizing me while I was constantly putting myself in the passenger seat of my own life.
In his book, Lambert explains:
"You are a woman. You can withstand immeasurable amounts of pain, show unconditional love, and give birth to life...you are the shit! Men kill, wage wars, lie, steal, pay, beg, and betray each other for women. Are you really going to believe the bullshit that you are soft, replaceable, are just a sexual release? You are the most powerful of all human beings.
"It is time to embrace this fact and shake off the habits and traditions that men have settled you with in order to keep you obedient and unsure of your place in this world. Take some time to appreciate how important you are in regard to the role that you play in this universe. Spend a moment basking in how potentially great you could be once you had the self-esteem of not giving a fuck."
Show a man that you will stick with him through His worst behavior, and he will keep showing you his worst behavior. Struggle love doesn't lead to change. It leads to more struggle...

— G.L. Lambert (@8plus9) February 5, 2021
Lambert's work ultimately helped me realize that the mindset and actions of "me comes before he or she" will ultimately lead to both the life and relationship that I desire because I am allowing space for the caliber of men to enter my life and show up. When it comes to the men that I am attracting, they are not supposed to take over my life. They are meant to enhance it for the better.
I am balancing my feminine energy by pouring way more into my self-care rituals, reflecting and releasing the past by daily journaling, and forcing myself to evolve instead of running back to people, places, and mindsets that have proven not to be beneficial to me. My garden is starting to bloom again. Less and less, I feel the need to prove what I bring to a relationship by exerting masculine energy walking around advertising myself like the latest model of an iPhone and am instead focused on leaning back and observing, giving men space to reveal themselves and their character. I am more focused on letting men (yes, dating more than one at a time) prove themselves to me and continue to show their feelings through actions instead of just words.
Self-love does not happen overnight. It takes practice, acceptance, consistency, compassion, and intentionality. By doing the hard work to consciously reach and maintain a certain level of self-love, I cannot accept less than that level of energy from a man wanting my romance. I'm learning that self-love is the very foundation of my dating process because if 'I loved myself as much as I loved the idea of a man's validation, I would be unstoppable.
'I've learned that while dating, if I find myself having to justify a man's behavior to my loved ones, then that's enough reason for me to release that fish back into the sea because that's a huge red flag. I learned it is very important to date a man who is secure within himself. Saying I am the prize is not enough. I have to live like the prize that I am. I have to be out here doing my own thing, keeping the mystery, continuing to have my own life, continuing to love myself. I have to continue to discover myself and not be afraid to show my personality.
Putting myself on a pedestal is something that I will never regret. The key is putting myself on a pedestal for things that people cannot take away, like my fearlessness and my character.

Let's make things inbox official! Sign up for the xoNecole newsletter for daily love, wellness, career, and exclusive content delivered straight to your inbox.
Featured image by LaylaBird/Getty Images