Not many people can say they grew up with a mom who doubled as their very own dermatologist. That is unless you're Davlyn Mosley, founder of the skincare brand Namesake, who grew up with clinical and motherly advice, right within the comfort of her home.
---
Davlyn was introduced to the world of skincare and dermatology — quite literally — from the womb. Her mother, Namesake advisor, and board-certified dermatologist, Dr. Lynn McKinley-Grant was pregnant with Davlyn during her residency at New York University. As Davlyn grew older, she continued to visit her mother's lab and developed an interest in the space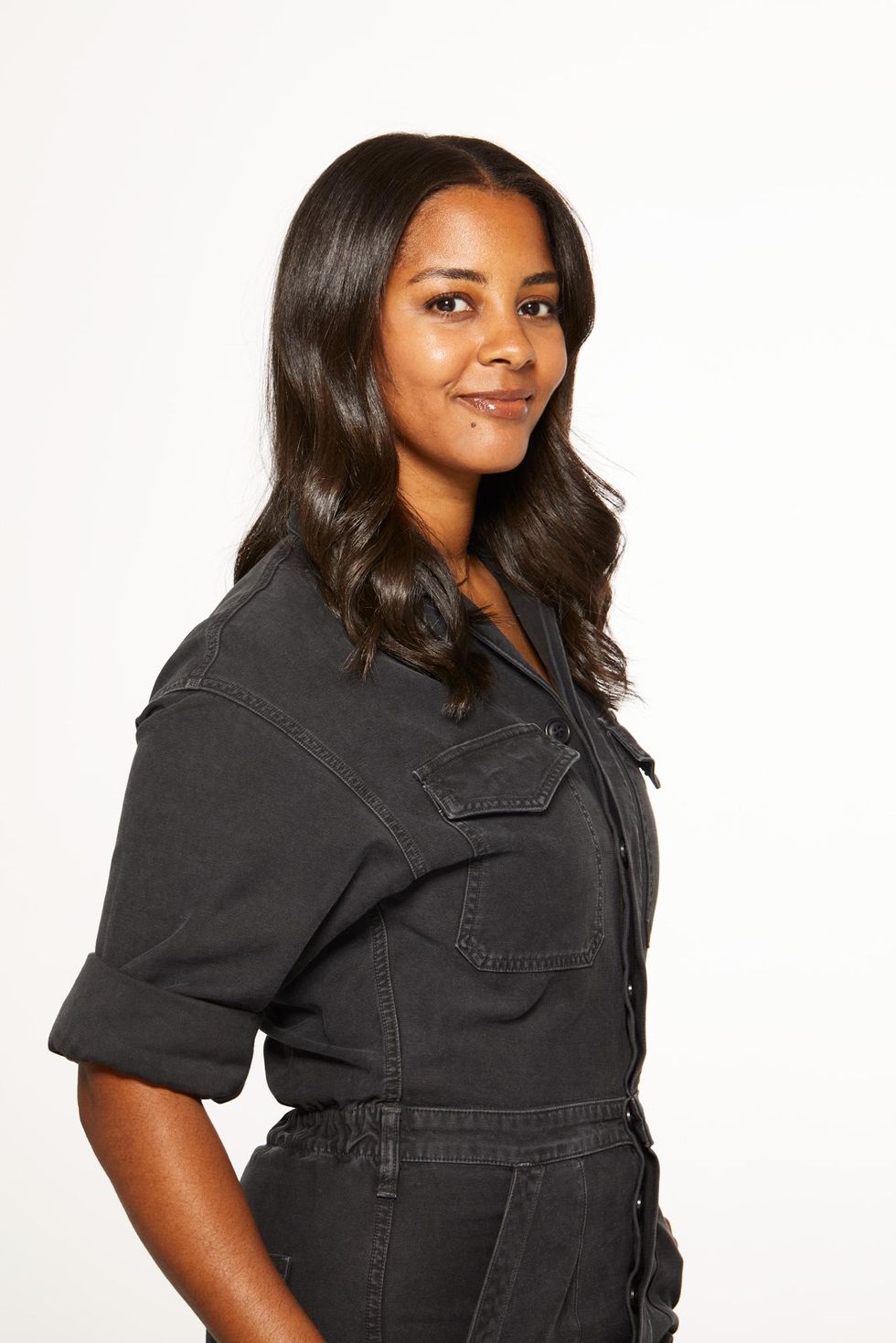 Davlyn Mosley
Photos courtesy of Davlyn Mosley
"I spent my youth going with my mom to conferences, working in her practice, and along the way learning the ins and outs of skincare," Davlyn tells xoNecole. "I was always fascinated by new, innovative products and treatments that would come into her office."
While the early exposure was initially out of the necessity that comes with balancing motherhood and a full-time career, Dr. McKinley-Grant shares how the influence it left on her daughter was enduring. "Now I know that exposing her to [dermatology] was a great thing. These were experiences that I didn't even know would impact her but now I do," she says. "[By] creating a skincare product that requires lab work, a good work ethic, and a passion for her work."
While Davlyn's career path wasn't linear, the experience she picked up through marketing and storytelling later served her in a tangible way. "I spent 15 years working specifically at ad agencies and most recently Google, where I was before I launched Namesake," she shares. "All these years were the building blocks of what I am doing now… and when I look back it, all makes sense."
Davlyn's leap of faith landed her in the driver's seat as a beauty founder with products that prioritize the concerns of women with melanated skin and pay homage to her earliest and most cherished muse. "My mom is the inspiration behind Namesake," Davlyn says. "In building Namesake, I wanted to pass down all of the knowledge that I've learned from my mom and develop products that use some of our favorite ingredients that are amazing for melanin-rich skin."
Today, Davlyn continues to pass down her mother-daughter skincare do's and don'ts through viral TikToks. With advice ranging from putting sunscreen on your ears, not eating citrus in the sun, or rubbing your eyes too hard (or at all), Davlyn and her mother Dr. McKinley-Grant are now imparting their expertise to xoNecole.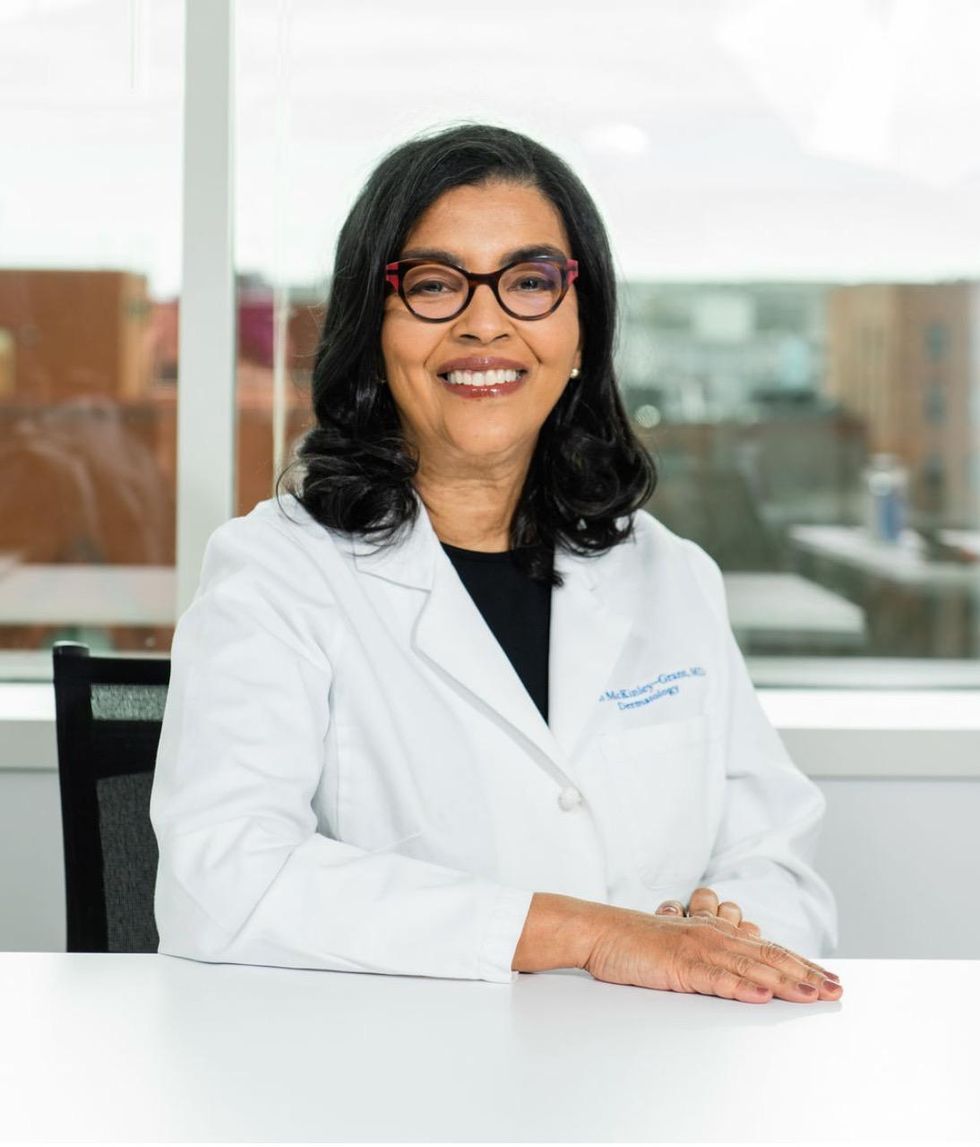 Dr. Lynn McKinely-Grant
Photo courtesy of Dr. Lynn McKinely-Grant
On Dr. McKinley-Grant's earliest memories of skincare, from one generation to another: 
"My introduction to skincare was very early on from my mother and my grandmother. Back then the two main products for the skin were POND'S Cold Cream and Vaseline," Dr. McKinley-Grant recalls. "All of the aunties used these their whole lives. We would cleanse our faces with water—we didn't use a lot of soap on our faces. We didn't use sunscreen but we were always under umbrellas at the beach protecting ourselves from the sun. I remember as a kid, Vaseline seemed to keep my face warmer in the winter, and after my acne resolved in my teenage years, it seemed to be great to use at night."
On the formulation behind Namesake's hero product, the Daily Moisturizer: 
"I wanted to create the perfect moisturizer, the one that I had always been searching for. Something that was not only luxurious and hydrating but also brightens and smoothes your skin without irritation, Davlyn explains. "I was constantly cross-checking our ingredient list with the National Eczema Society's List of Ingredients to Avoid, Sephora and Credo's Clean standards, and, of course, calling my mom about any new ingredient our lab would suggest. The whole process took two years, which also included extensive irritation testing in a 3rd party lab.
Dr. McKinley-Grant adds, "When creating products for skin of color, it's really important to use non-irritating and non-comedogenic ingredients. Any inflammation caused by a product can result in hyperpigmentation so we had to be very thoughtful about the formulation. Davlyn's skin has always been sensitive to certain ingredients so I was able to advise her on ingredients to avoid that I have seen patients react negatively to."
How Davlyn's challenges with her "sensitive and reactive" skin became a motivating factor in the creation of Namesake:
"I've gone through so many phases when it comes to skincare. My skin has always been sensitive but I always wanted to try the latest and greatest products," she shares. "As I got older I wanted to use products that were effective for the bright, glowy look that so many of us want but became frustrated when they broke me out or irritated my skin. This was a huge motivator in creating Namesake: finding this balance of effective, clinically-tested ingredients in a non-irritating formulation created with my skin tone in mind."
Of the many viral do's/don'ts her mom has imparted, Davlyn shares the one piece of advice you should pay attention to the most:
"I would say rubbing your eyes too hard, which is, I admit, a hard thing not to do," Davlyn shares. "It's something my mom used to tell me to stop doing, and still would if she caught me doing it today! Darkness around the eyes is a top concern for women of color, so it's really important to treat the delicate skin around your eyes as gently as you can. If you find that you're rubbing your eyes frequently, over time that may contribute to some of the darkness and loss of elasticity that we're experiencing."
She continues, "My mom always told me that it's important to figure out why your eyes are so itchy. Are they dry? Are you sensitive to the mascara that you're wearing? Do you have allergies in general? Try to figure out what the issue is and that's the first step."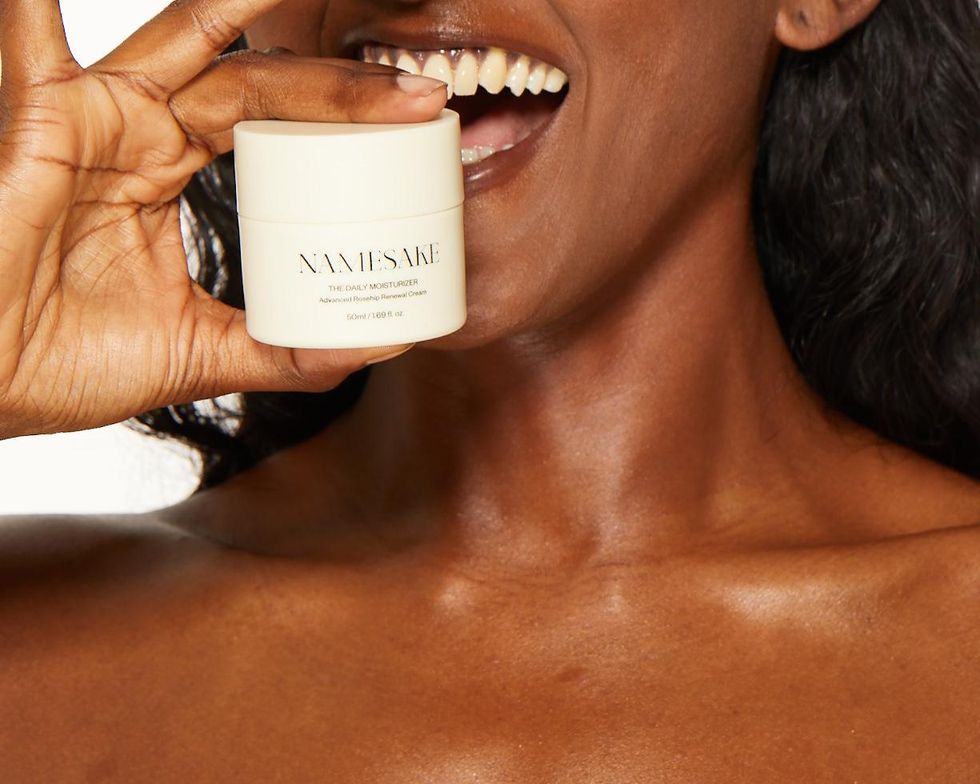 Photo courtesy of Davlyn Mosely
On how to tackle a common dermatological concern, traction alopecia, affecting Black women: 
"Prevention is key," Dr. McKinley-Grant explains. "Avoid tight ponytails, braids, and other styles that pull on your scalp. Brushing the hair causes more breakage; gently smoothing down your edges with a light oil is a good way to go. If you wear a weave, the cornrows shouldn't be too tight and the weight of the hair is also something to consider. Glues and other adhesives can also pull out your hair. Traction alopecia can become scarring hair loss. Once you get the scarring the hair doesn't come back. There are procedures to resolve this like scalp reduction surgery."
Their current skincare must-haves:
"I'm a fan of Clinical's ProHeal Serum. It's a great anti-aging, vitamin C serum that absorbs nicely and adds a bit of a glow to the skin," Dr. McKinley-Grant shares.
For Davlyn, "I've been loving this mineral sunscreen from Koa Skin. It's hydrating but not greasy and it doesn't break me out or leave a white cast on my skin. The packaging is super cute and I actually love using it every day."
On how to upgrade your skincare routine from winter into spring:
Dr. McKinley-Grant says, "Our skin needs extra moisture during the winter months but as we head into spring you'll likely find that your skin doesn't need as much. You may benefit from using lighter sunscreen than you would have used in the winter."
How keeping a simple, consistent skincare regime has been the key to Davlyn's timeless, youthful skin:
"People are always shocked when I tell them I'm 37. My audience on TikTok is younger anyway and assumed I was their age," Davlyn shares amusingly. "My whole life I've used skincare with ingredients that are highly researched and clinically tested. I've always tried to be very gentle with my skin and always keep it moisturized. I think consistency is really important. Having this simple, consistent routine most of my life has paid off, thanks to my mom."
Feature image courtesy of Davlyn Mosley and Dr. McKinley-Grant