As Told To is a recurring segment on xoNecole where real women are given a platform to tell their stories in first-person narrative as told to a writer. If you have a story you'd like to share, but aren't sure about how to put it into words, contact us at submissions@xonecole.com with the subject "As Told To" for your story to be featured.
This is Emily Williams' story, as told to Charmin Michelle.
There is a huge void in black travel not being exposed enough in mainstream media.
I remember being in a taxi in Spain, and the taxi driver was shocked to see me. He said, "We don't see a lot of black American people travel to Barcelona, we thought you guys just killed each other."
He wasn't malicious in his intent, but he went on to say that he was told "black people are angry, they fight, and will rob you."
Hearing this broke my heart. I knew that this was the image that we, and so many others, are often exposed to. I explained to him that yes, we have our complexities, but ultimately we are educated, innovative, beautiful, and we're just like anyone else—most times, better—because we have to be.
I don't know if our talk changed his views, but it was at that moment that I was convinced that we need to be everywhere in the world, and I was going to do my part to ensure our exposure.
As a travel agent, I've come across a variety of cultures, and I never even intended to start a travel company. I became passionate about traveling when doing so with friends. I always offered to plan our friend trips because I wanted to stay somewhere I considered nice, or sometimes authentic to the culture we'd be experiencing. So, it became the norm that whenever my friends and I traveled, I would plan the trips. Eventually, my friend's friends began to tag along and before I knew it, I was planning everything for everyone.
One day a friend asked, "Why aren't you getting paid for this? This is a lot of work."
And that's how I started my travel company.
Been Around the World Travels is a black-owned travel community that caters to black millennials and generation-xers, providing luxe redux travel experiences across the globe. Our goal is to get more of "us" traveling to see the world so we can break racial stereotypes and misconceptions of black people. We help educate about our culture and where it comes from because, yes, we travel, we're here, and our numbers within the travel community are only growing. We've visited many countries since our launch. And after my business partner returned from her 2018 trip to Afrochella, I knew it was next.
Initially, Ghana seemed like a great idea. We knew having a trip centered around the hottest concert in West Africa would be a whole vibe. But convincing people who had never even heard of Afrochella to sign up was difficult. Trip deposits were slow coming in and the trip was far from full. But on the day we planned to cancel the remaining rooms, there was a media push across the internet and Afrochella was suddenly the buzz in the US.

Our confirmations went from 12 people, to 20 in a matter of days. All Ghanaian hotels were booked to capacity shortly afterward.
If you're unfamiliar with Afrochella, it's an outdoor festival platform for new African artists to showcase their talent. People of the diaspora from all over the world come to celebrate their African lineage openly; with no apologies, and no limitations. The music and food is amazing, the people you meet are friendly, and the art installations are phenomenal.
This is what Afrochella does well.
All 19 of us arrived in Accra on an ironically sweltering December day. We checked into our rooms, got comfortable and began our Ghana adventures.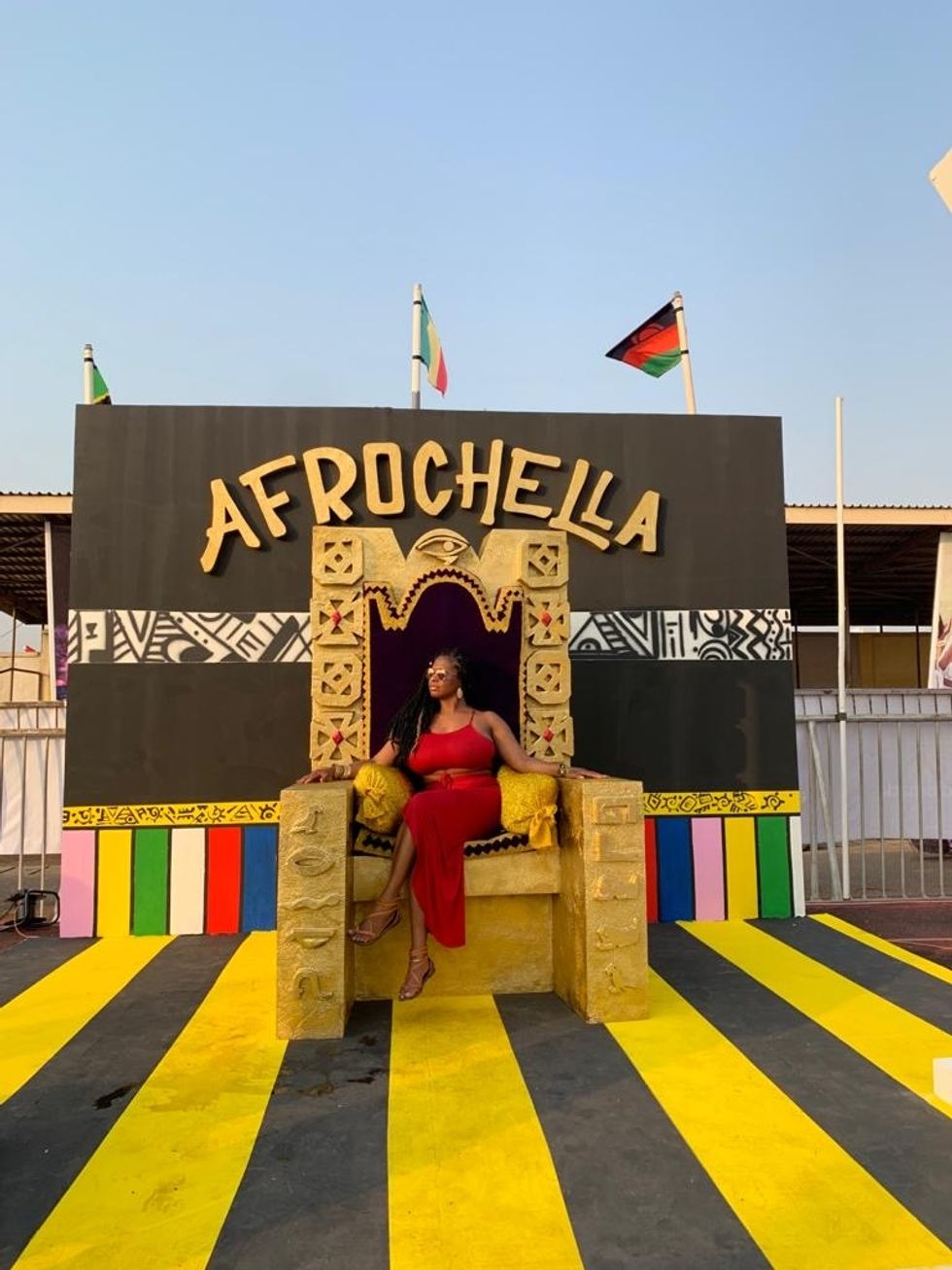 Courtesy of Emily Williams
Home is not where you rest your head. Home is where you belong.

Being Black in America, you're constantly told you have to be twice as good to succeed. You're told to go back to Africa. You're constantly told that your life doesn't matter.
Being on The Continent, and particularly in Ghana, I finally felt like I was good enough just as I am. I felt like I was home.
My stepmother is related to one of the kings of Accra of the Ga State, so some of the group and I were able to visit my stepmother's family members and learn about a few of the king's rituals. Everyone was friendly and we heard many times over, "welcome home" and "you belong here". I've never truly felt like I belonged in America, but I felt like I belonged in Ghana.
The fashion and the art is eye-opening.

What I loved most about the culture in Ghana is the fashion; Batik prints, the Kente cloths. I purchased several yards of fabric in beautiful bright prints to make pillows, table napkins, and possibly curtains. I purchased a picture of a woman with her hair in the shape of Africa, and some earrings with printed fabric on them. These aspects of the culture are woven into every single item, whether shirts, dresses, backpacks or even something simple as key chains.
Yes, it was disorganized, but they're still working out the kinks.
OK guys, yes there were a few mishaps with the organization of the event. And to be honest with you, I think most of it was due to not being prepared for the increase in popularity, and they just simply couldn't keep up with scale. People waited in various lines for more than an hour. The staff couldn't handle the sheer volume of people, so chaos ensued just from folks trying to get into the door. If you came late to an event, you'd likely lose everything you paid for in advance, such as a table, bottle service, and food (keep your receipts). It was...interesting.
The good news is, I think that this year's event, set a different expectation for the organizers. They now know what to expect.
Also, just know that time frames are off for literally everything. Afrochella started at 2pm, and ended at 4am, although it was slated to end at 9pm. Most people in Africa do not have the same sense of urgency as Americans, even for basic tasks. So, expect to wait.
There are celebrities, don't be that guy.
I had prepaid for a cabana for our group at Afrochella. When we arrived at the location, I was told we had VIP tickets but no cabana. However, luckily, I carry receipts with me everywhere and my receipt listed a cabana. It all worked out in the end because we were seated in the "only for media" section near the stage. This allowed us to be seated among Jidenna, Yandy Smith, Boris Kodjoe, and Mama Knowles. Some of our guests even took IG-worthy photos with these celebs. But guys, limit your fandom. They are more than happy to mingle with everyone, but ultimately they're there to enjoy the festival just like we are, outside of the confines of celebrity.
—
In the end, all 19 of us left the continent so enriched. Afrochella, and the entire trip to Ghana, taught us to stand in our greatness. We saw first-hand that we come from the most resilient of people and the challenges that we face today, are nothing like those our ancestors had to endure. It was a great reminder of what we've overcome and that we as young black international travelers are the embodiment of Black Excellence.
The diaspora gap is shrinking, and we are quite literally our ancestors' wildest dreams. And if you absolutely can't think of any other reason to visit, that should be reason enough.
To learn more about Been Around The World Travel Agency, you can follow them on Instagram. You can also sign up for their upcoming adventures by visiting their website.
Featured image courtesy of Been Around The World Travel Agency. Everyone on the trip is not pictured.