---
I suffer from SAD—social anxiety disorder. And while I'm self-diagnosed (I have anxiety about seeking medical help, because that would mean actually having to talk to someone about this. Not my strong suit), I've read up on SAD and I totally fit the profile: "Everyday social interactions cause irrational anxiety, fear, self-consciousness, and embarrassment."
I can go to a crowded club and be the life of the party if I really wanted to. But I will be the most socially awkward person at a game night of fifteen guests, some of which I know because, well, I'm not quite sure (see previous note about therapy above). My SAD manifests at different levels. Sometimes it's me stuttering to get out one simple sentence and, at my very worst, I've become paralyzed with fear sitting in someone's living room as if I were on stage at Madison Square Garden with no words at all.
This is a particularly debilitating diagnosis for me, not just because I spend most weekends in solitude or haven't been on a date in years, but because my career as a lifestyle/entertainment journalist requires me to mix and mingle, network and basically talk to people and get them to open up to me. Although I often put my big girl pants on and get the job done, I feel my work has definitely not lived up to its full potential due to my lack of ability to be more social. Recently, I've felt stuck in a rut and while going to therapy is on my long-term to-do list, in a jolt of inspiration, I decided to take more immediate action and booked my very first solo trip before I turn the big 3-0.
It would be my own little version of an Eat, Pray, Love journey, except I'm not a white, middle-aged woman leaving behind dreamy James Franco to eat pasta in Italy. I'm a millennial Nuyorican with no James Franco, looking to get my social mojo back. Now folks take solo trips for all sorts of reasons, but a solo trip to combat a phobia of socializing? How does that work? To be honest, I wasn't entirely sure either. But I flew out to Waikiki Beach, Hawaii on the morning of my 29th birthday by my lonesome for an entire week and from the very moment I landed, the mysteries behind my inner psyche began to unravel.

Here's how a solo trip to Hawaii helped break me out of my shell and nudged me to meet and interact with people, break away from my workaholic ways and content-driven anxiety (another "issue" of mine that comes with the job) and stop to smell the roses… or in this case, the Hawaiian Hibiscus.
I had activities for days.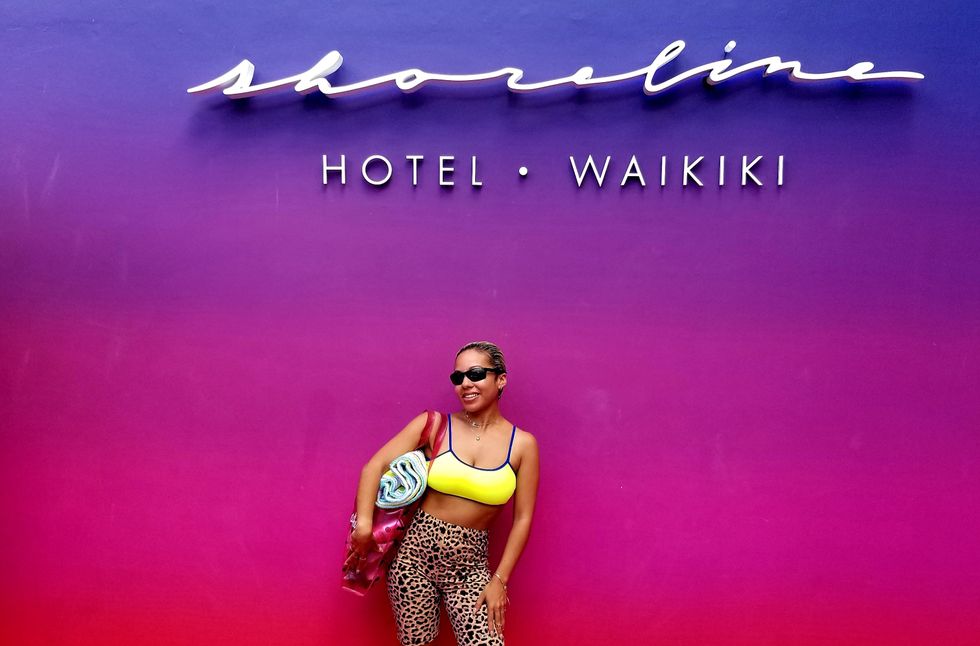 Courtesy of writer Jazmine Ortiz
I had a list of activities and sight-seeing lined up that by society's conventions you'd normally do as a group or at least as a pair—hike Diamond Head Crater, visit the Honolulu Zoo, attend Germaine's Luau in Kapolei, spend the day at Aulani, a Disney Resort & Spa in Ko Olina, and hit Waikiki Beach. Then there were the more commonplace outings—dinners, bars and shopping trips. A lot of things felt forced at first and then they just flowed. For instance, while trying to plan out my itinerary I reached out for tips via Instagram to an old college classmate who had moved to Hawaii two years ago with her husband. I let her know that I'd be traveling solo and that it might be nice to see a familiar face. So, for my first full day in Waikiki, she and her husband took me to dinner at Tiki's Grill & Bar where we had the best time.
I forged a path and found my way on my own.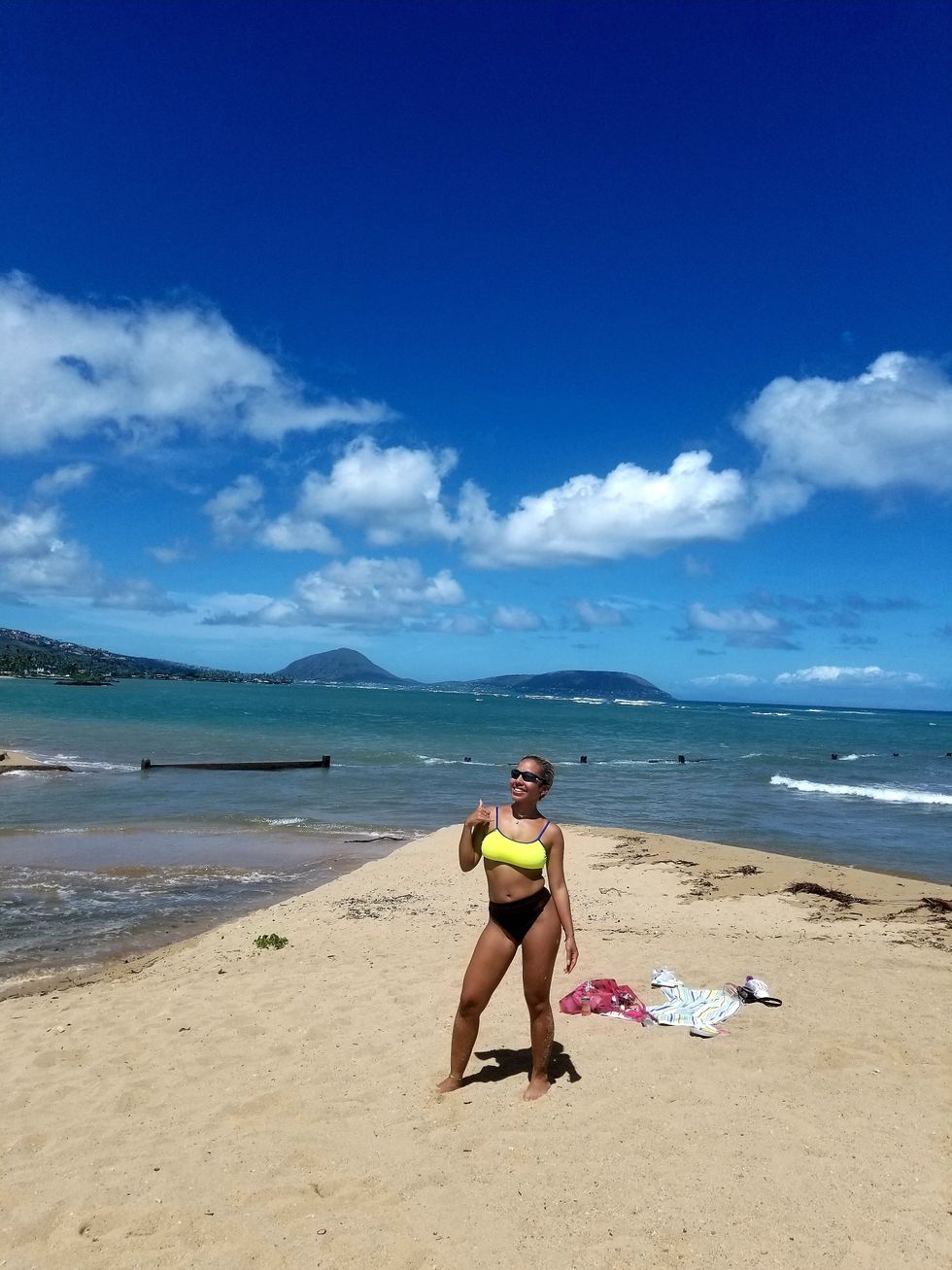 Courtesy of writer Jazmine Ortiz
Then there was my morning at Diamond Head. I love hikes and decided that I would do Diamond Head long before I arrived on Oahu. I flew out from Los Angeles since I was already there for work, so I cut costs there, but Hawaii is as expensive as everyone says it is so besides my big-ticket excursions like Disney and the luau, I wanted to keep everything else budget-friendly. Upon looking at the official state park website I learned it was only a $1 entry fee and a 15-minute local bus ride from where I was staying. I thought, "I could totally do this on my own!" My mom, however, wasn't having it so I complied and booked a tour at the last minute. Big mistake...or biggest blessing depending on how you look at it.
Long story short, my tour guide never came to pick me up like he said, so at 5:30AM still standing outside in the dark before sunrise, I decided to go with my original plan to do it without a stinkin' guide. I hopped on the bus, paid my $1 entry and hiked up the edge of that 300,000-year-old crater all by myself. When I got to the top, did I discover the missing link to my social gene? No. But I did get a pretty amazing view of the Pacific Ocean and Honolulu, and the way down I made friends.
I made new friends in unexpected places.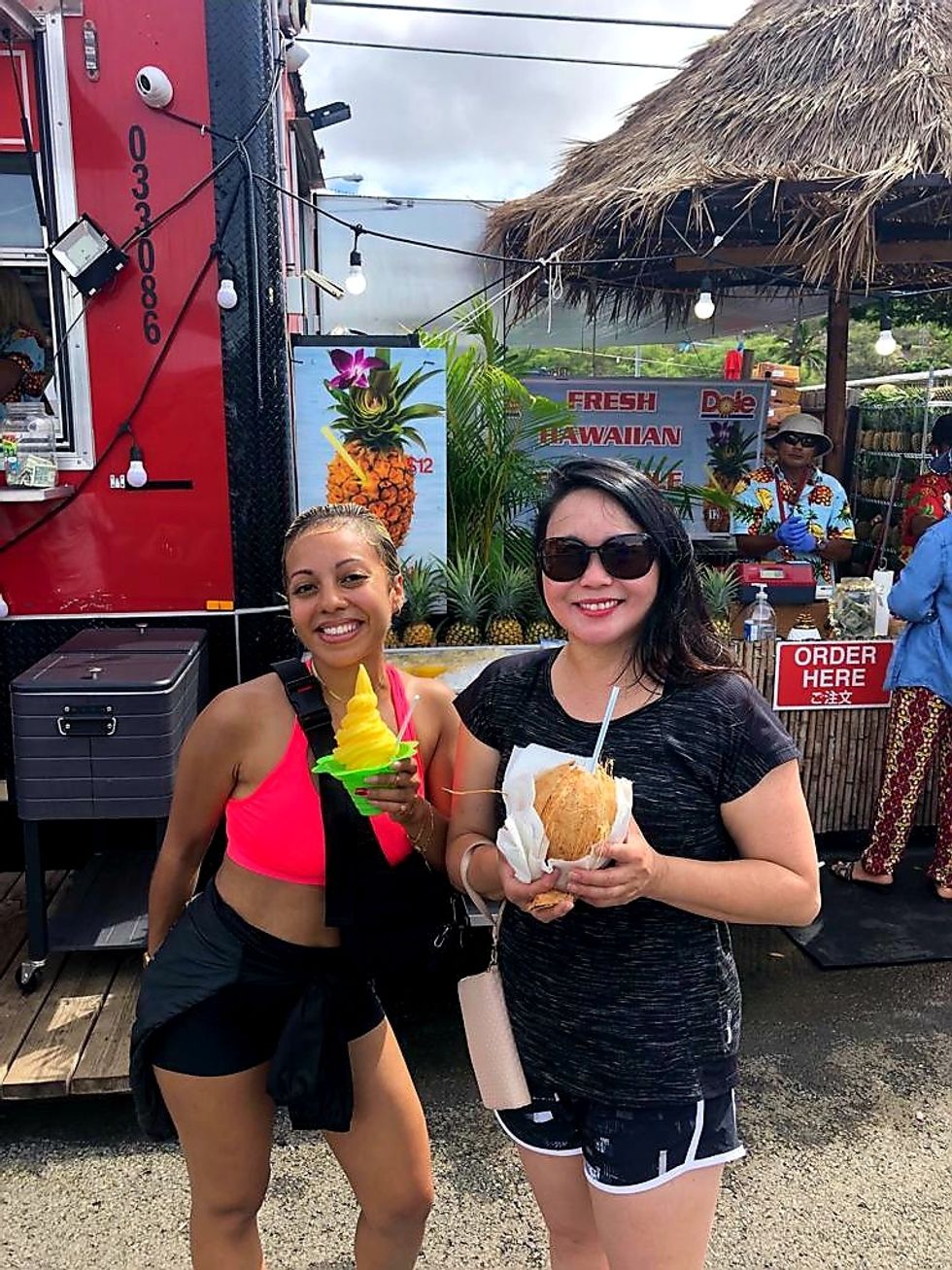 Courtesy of writer Jazmine Ortiz
While on Diamond Head, I saw a couple taking in the view on the hike downward, and I think because I appreciated the people that asked if I wanted a picture when they saw I was by myself, I decided to spread the love and offer to take theirs. Before I knew it, we were a trio talking, laughing, spilling travel stories and little did we know, making a new one. I learned they were not a couple at all, just life-long friends from San Francisco who shared wanderlust and a fun tongue-and-cheek dynamic. When we got to the bottom they treated me to some Dole Whip, a frozen dessert native to Hawaii, then we grabbed lunch and exchanged more travel tales. Now, I have two friends in The Bay to see whenever I make my way over there!
I channeled my inner Moana with a haku lei.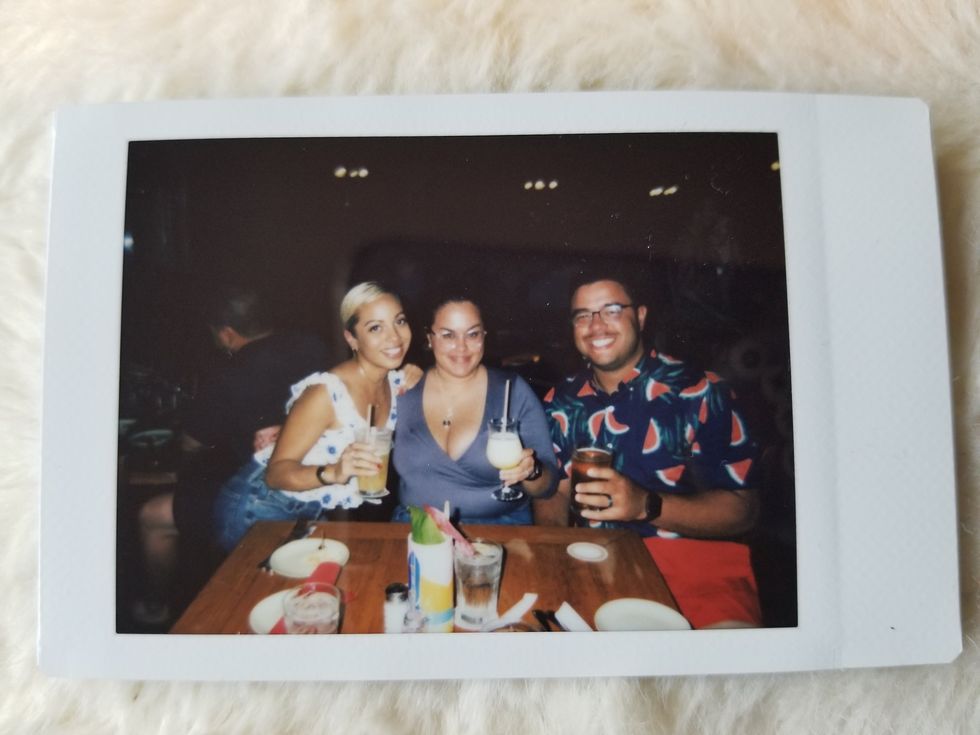 Courtesy of writer Jazmine Ortiz
Another highlight was a haku lei making class I took that was offered through my hotel, Shoreline Waikiki. A haku lei is what we on the mainland call a flower crown. I take arts and crafts very seriously and was on a mission to live out my Moana fantasies in an authentic haku. Little did I know the sweat and tears (on the inside) that went into making a perfectly crafted haku. Luckily, I had a tablemate who was on the same mission as me because as the rest of the tables cleared out, we wrapped, weaved and clipped away until roughly two hours later were Moana-fied. During our two hours in the struggle, being a native, she explained to me the even more complex process of making a traditional haku that had been passed down in her family. I cherish those two hours.
But perhaps, the most Julia Roberts-esque thing to happen to me during my solo travel was the very last day that I was there. I had stumbled upon a mostly deserted beach away from the swarms of tourists in Waikiki and was sitting atop a ledge that overlooked the sand when a James Earl Jones-looking character sporting dark shades and riding a trike motorcycle pulled up beside me to see if I was in need of any assistance. And I guess I was, but not in the conventional sense.
We got to talking and before I knew it, I had another buddy in Hawaii. He ended up giving me a ride on his trike to another part of the beach further down. If you're a Disney fan like me, this is where you cue "How Far I'll Go" off the Moana soundtrack. If you're my mom, this is where you cue the theme song to Law & Order: SVU. Thankfully, I lived to tell this tale and I'm able to share the words of wisdom he shared with me. Just as I hopped off his bike and thanked him for the ride, out of the clear blue he asked me, "What's your dream?"
Now this is a question that would normally make me freeze up and retreat into my SAD bubble but after seven days on island by myself, I had done a lot of thinking and knew the answer: "I don't have one."
Storytelling has always been my passion. I winded up going to school to become a journalist and was blessed enough to snag an internship which landed me my dream job. I'm currently living the dream I had, but never bothered to make a new one. I started explaining to him that I'm indecisive by nature and that eventually I'll figure it out, but as the words left my mouth they sounded like nothing but a lengthy excuse. He called bullshit on me right away and simply said, "Just make a decision." That's it.
And as I waved good-bye and walked the sand onto the most beautiful beach that I've ever seen, I realized that's how I got here. I decided to come. It really was that simple. I got so uncomfortable with being uncomfortable in social situations that I just decided to come to Hawaii and be more social. And I did.
I'm not saying that this is the case for everyone with SAD, or anyone dealing with any type of psychological disorder but for me it was. I'm also not saying I'm cured either. Since my return to the mainland, I'm trying to apply what I learned from my trip and it's not so easy when you're not operating on vacation brain, but I've decided to try.
It's a very peculiar thing what we let hold us back from reaching our full potential as if we are not in control of own lives. For me, the first step was as simple as deciding and I did that before I even got on the plane.
xoNecole is always looking for new voices and empowering stories to add to our platform. If you have an interesting story or personal essay that you'd love to share, we'd love to hear from you. Contact us at submissions@xonecole.com.
Did you know that xoNecole has a podcast? Subscribe on Apple Podcasts or Spotify to join us for weekly convos over cocktails (without the early morning hangover.)
Originally published on July 23, 2019