I grew up spending summers with my aunts and uncles in Brooklyn and Harlem, crushing hard on Puerto Rican boys and enjoying city escapades within the Puerto Rican diaspora community that had a major presence there. Back then, I'd hear Hector Levoe as often as I would Michael Jackson, and I'd crave traditional arroz con pollo just as much as a traditional pizza slice. I'd felt the Black and Brown connection of food, music, and traditions from a young age.

But even after years of traveling a lot for business and pleasure in my adulthood, I'd never actually been to Puerto Rico.
---
San Juan is always at the top of the list for popular vacation spots in PR, but when I was finally offered the opportunity to witness the true richness of Black culture via a trip with Discover Puerto Rico to Fajardo— a region in the East, just an hour's drive from San Juan—I jumped at the chance. The whole experience was eye-opening, cleansing, alluring, and life-changing.
And since it's Black History Month, I've created an itinerary full of cultural richness and adventure that you can add to your bucket list when you visit Puerto Rico.
Where I Stayed: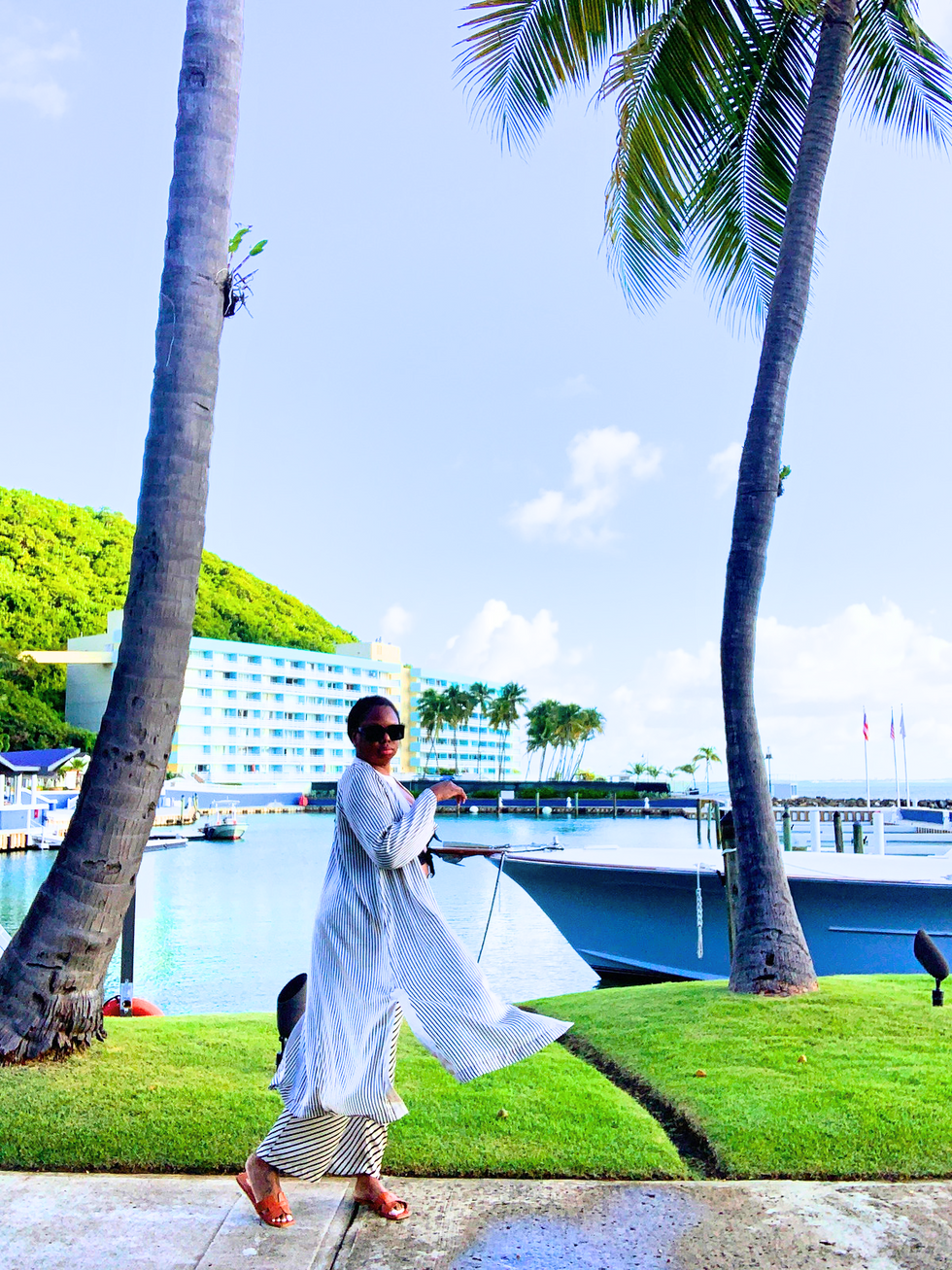 At El Conquistador Resort's La Marina
Courtesy of Janell Hazelwood
El Conquistador
Fajardo, Puerto Rico
This was just the perfect spot to not only be centrally located to take on activities and excursions but to get the quiet time I needed to reflect on all I saw and witnessed on the trip.

The resort is an expansive property with four pools, a massive golf course, a private island called Palomino, a water park, and beachfront restaurants. It still had a vibe that hugged you in a way no super-commercialized tourist trap ever would.
My room was located within their La Marina Village section, which was a Godsend because, from my private balcony, I could enjoy quiet mornings and sunrises with my cup of coffee. The room also included a king-sized bed, minimalist but modern decor, a waterfall shower, a workspace and seating area, a coffee station, and streaming and cable TV. The vibes were like living in an oceanfront gated community.
Fun Excursions
Bespoke Lifestyle Management
Carolina
The drivers and tour guides had us riding in style (a luxury Black SUV to be exact) while they transported us to and from each activity, sharing details on the history of the rainforest, the culture of the surrounding communities, and the best off-the-beaten-path spots to eat. (Because of them, there's a strip of restaurants in Fajardo that specialize in offering nothing but pork that I have to visit next time I'm in PR).
I highly recommend booking tours through a guide service or company because they usually know all of the off-the-beaten-path places to go. (But even if you don't book one like Bespoke, you can still hire your own driver or rent your own car.)
Mini-Boat & Snorkeling Tours With Kayaking Puerto Rico
Las Croabas
I'm nobody's swimmer (and I've never really enjoyed being in the middle of an ocean in a boat smaller than a cruise ship,) but this right here was a memorable tour that I'm glad I tried. You can get your Megan Thee Stallion on and drive the boat, or like me—the fearful non-swimmer in the group—opt to be a passenger, in pairs of twos or threes.
We were part of a small convoy riding along the beautiful coast of Fajardo. We stopped for guided snorkeling in La Cordillera Nature Reserve's amazing coral reefs.
Then we ventured to Icacos Beach (located on the small island of Cayo Icacos) where we enjoyed drinks and snacks. The team was informative, and fun, and made sure everyone (from experienced snorkelers to newbies) could enjoy themselves.
The Rainforest Zipline Park
Rio Grande
This location has five platforms with the first few being testers to prep you for the higher lines that take you through the lush greenery and nature. The staff was welcoming, fun, and super-attentive to ensuring everyone's safety, and this was key for me, a first-timer who has a fear of heights and has battled with vertigo in the past.
The groups were small, which made the experience feel intimate. I learned new things about pushing my own boundaries and recognized how fear literally is an avoidable roadblock to fully enjoying life. It sparked a new interest to do more extreme sports during my travels.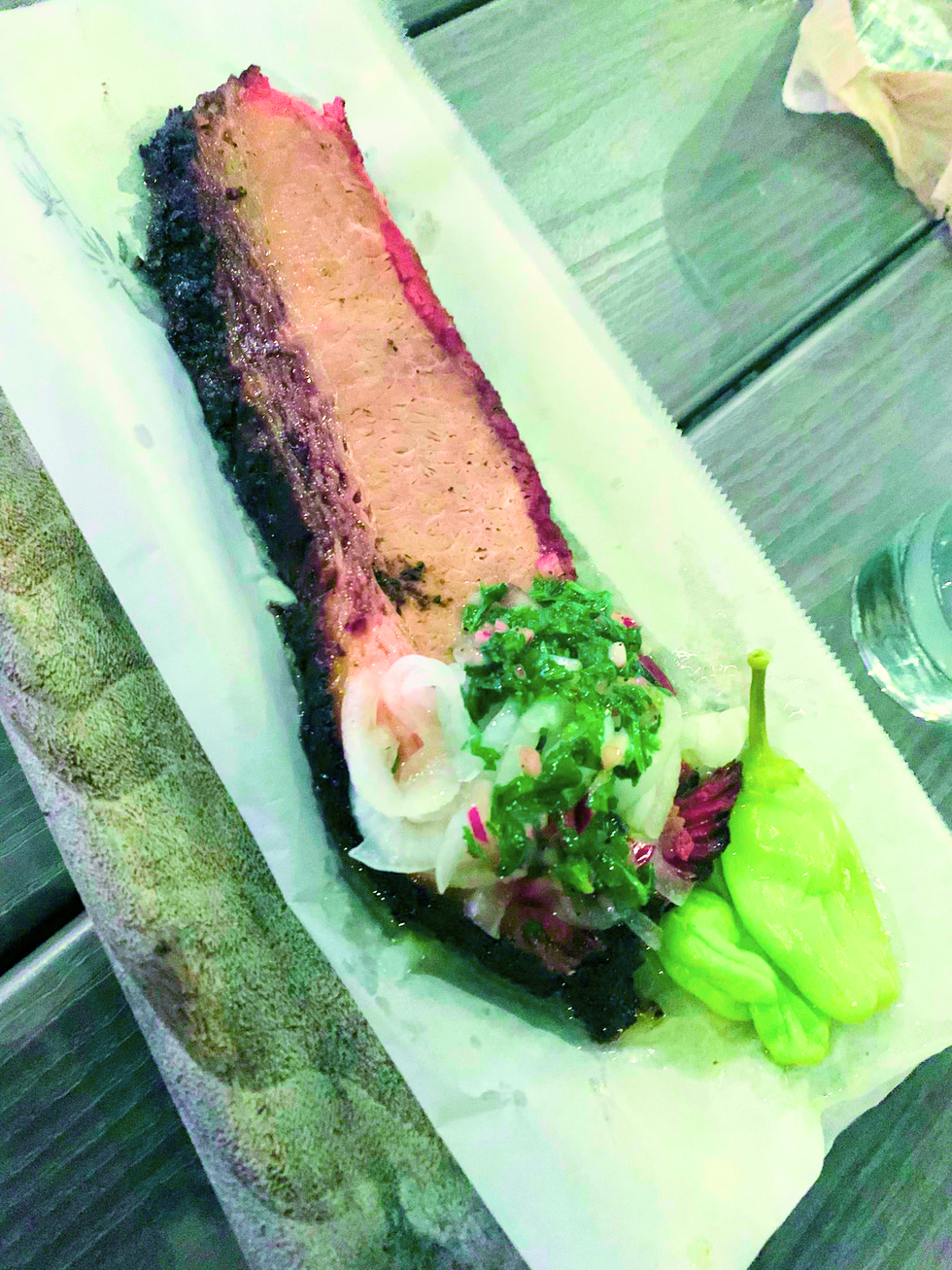 Brisket at La Estacion in Fajardo, Puerto Rico
Courtesy of Janell Hazelwood
​Where I Ate (My Favs):
Rio Grande
A local breakfast and brunch favorite, this cute restaurant had friendly staff, chic coffee-shop decor, and good food. Instead of going with the usual pancake or egg dishes, try the arepa benedicts, a Puerto Rican play on the Eggs Benedict that swaps out the English muffin with cornmeal cakes. It was a lovely mix of savory, creamy, and sweet.
Cinco Nudos
Fajardo
This is a casual waterfront seafood eatery that I absolutely loved. I highly recommend trying the croquetas de bacalao (traditional Puerto Rican cod croquettes), the Calamares Costeros (squid rings with lemon aioli), and the fresh whole red snapper with Creole sauce. Everything tasted like they literally caught it that day.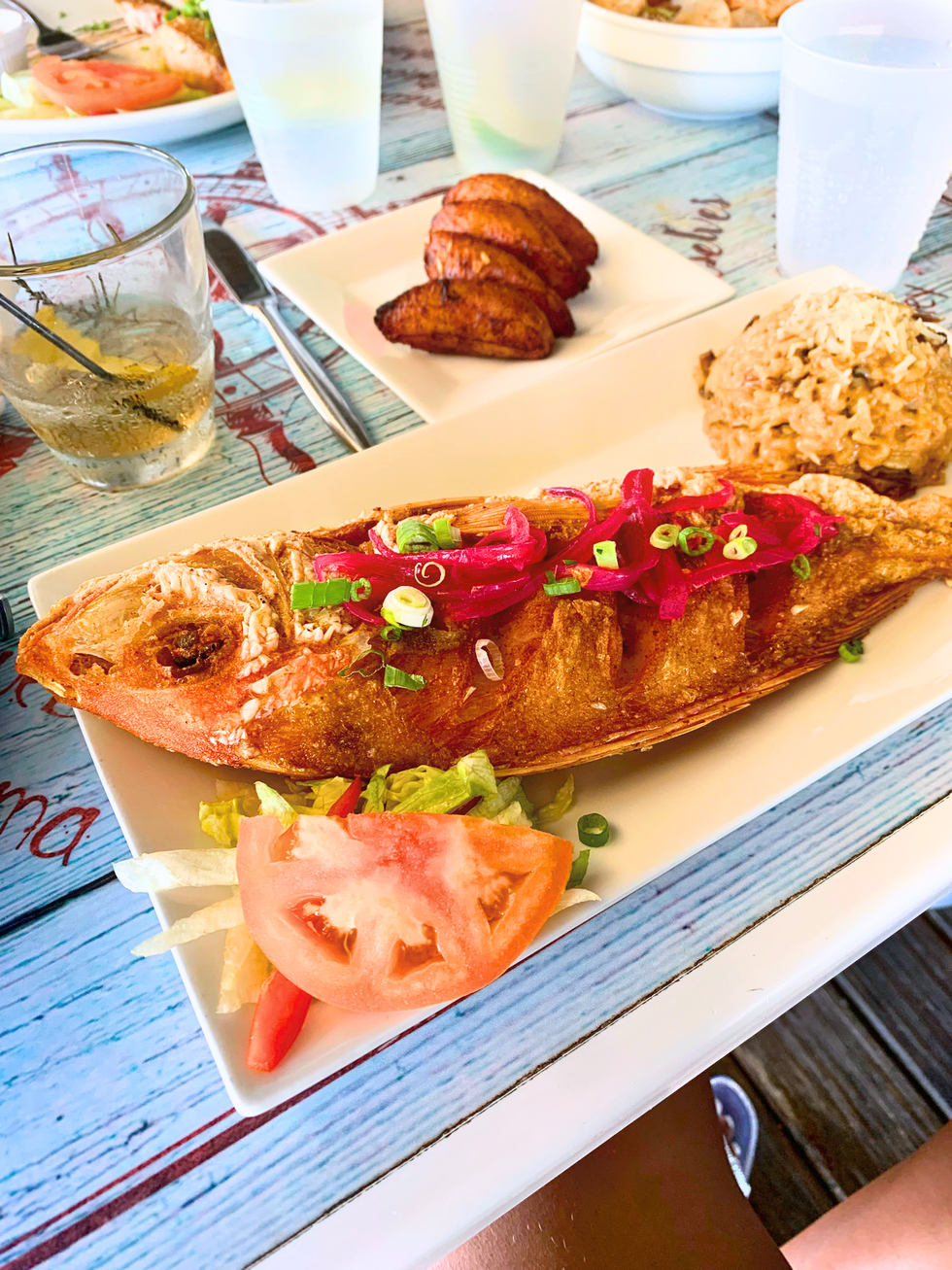 Whole snapper fish at Cinco Nudos
Courtesy of Janell Hazelwood
La Estacion
Fajardo
The Nuyorican BBQ here was more than amazing but what really intrigued me was the backstory of this restaurant being a former gas station revamped into a restaurant by a couple who relocated to their roots more than a decade ago.
Try the charcoal-grilled local spiny-tail lobster, the coconut arepitas, their traditional rice and beans, and the star of the table: their brisket.
The sticky, sweet, and tender meat almost melts on your tongue and the cilantro chimichurri adds just enough of a citrusy boost that leaves you yearning for more.
A bonus: The owners brought out something called pitorro, or "Puerto Rican moonshine,"—a fermented drink traditionally made with sugarcane, spices, and fruits and enjoyed during the holidays. (Coming from someone who can drink shots of Jamaican white rum straight, the name didn't scare me. It was a delish sweet closer for the night).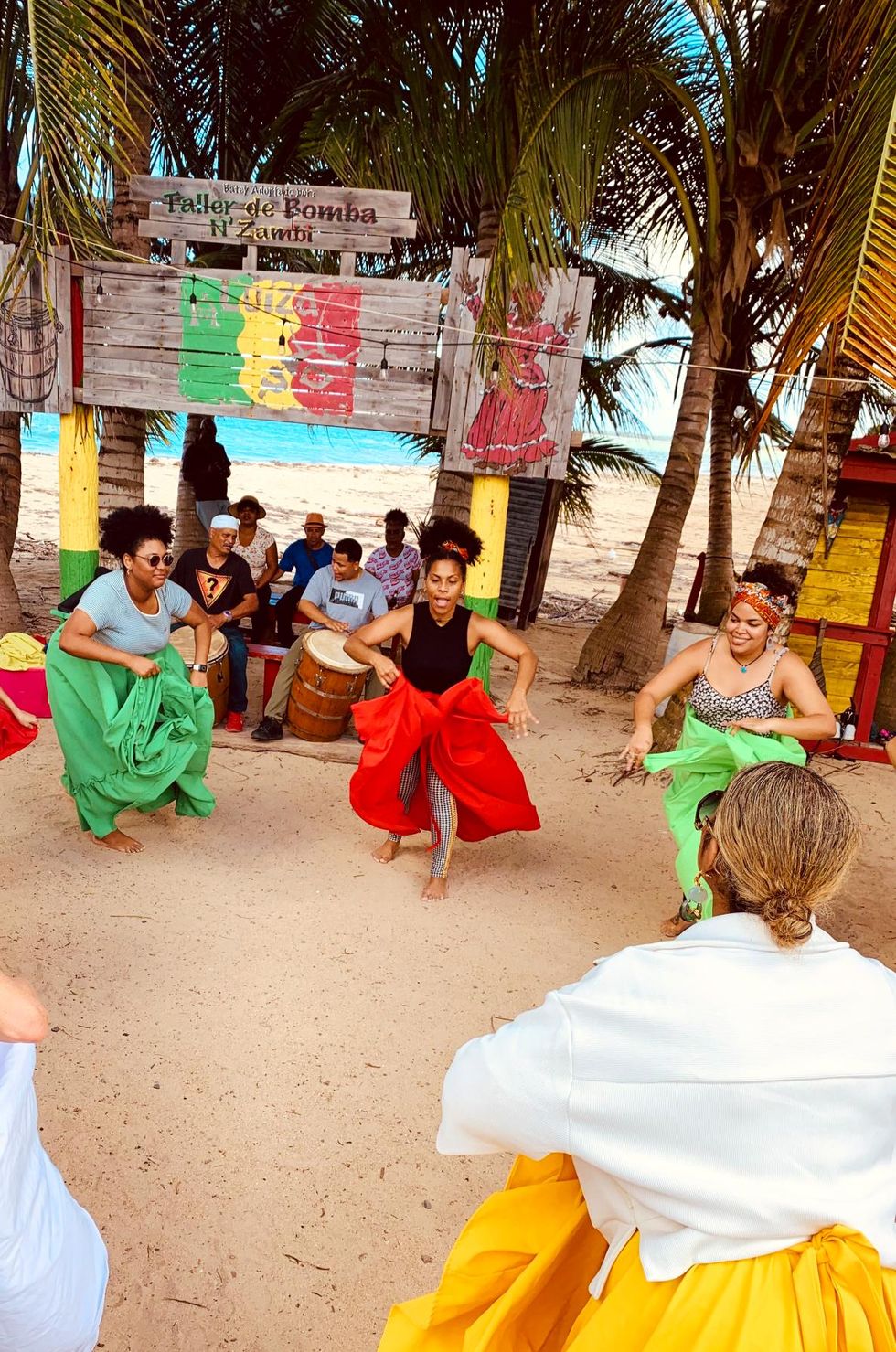 Bomba dancing in Loiza, Puerto Rico
Courtesy of Janell Hazelwood
​Must-Visit Black Culture Spots:
Bomba Dancing With Sheila Osoiro of Taller Nzambi
Loiza
Bomba dance has roots in African ancestry and the slave rebellion in Puerto Rico, and learning the steps along with participating in this activity was deeply connecting and spiritual. (And not in the 'Blood of Jesus, rebuke it!' way.) Her classes are taught at the oceanfront, near a small square of small shops and stands where everyday Loizans congregate. Sheila was bold and captivating in her movements as well as her detailing the relationship between the drummers and the dancer and the history of bomba's influential impact on generations of Afro-Puerto Ricans.
With every step of my bare feet in the sand and every sway of my hips, I felt not only a once-in-a-lifetime kinship with the land but with all the women who communed together in the dance circle with me, embracing both the living and the memories of those passed on.
This stop is mandatory when visiting Puerto Rico, especially as Black women of the diaspora.
Art Experience with Samuel Lind
Loiza
The three-story enclave—that by the way, gave alluring, mystical New Orleans Bourbon Street vibes—is located on a quiet narrow street in a community called Medianía Alta, and it serves as Lind's art studio and home.
His vivid realist depictions of Afro-Puerto Rican culture, festivals, spirituality, and traditions, especially of the people of Loiza, are colorfully divine and really intrigue you. I was so captivated that I bought a print on-site, which he signed.
I was happy to add a piece from an iconic artist, whose work has been featured at the Museum of Contemporary Art in Santurce, Puerto Rico as well as in Chicago, Philadelphia, New York, and Cleveland, to my own collection.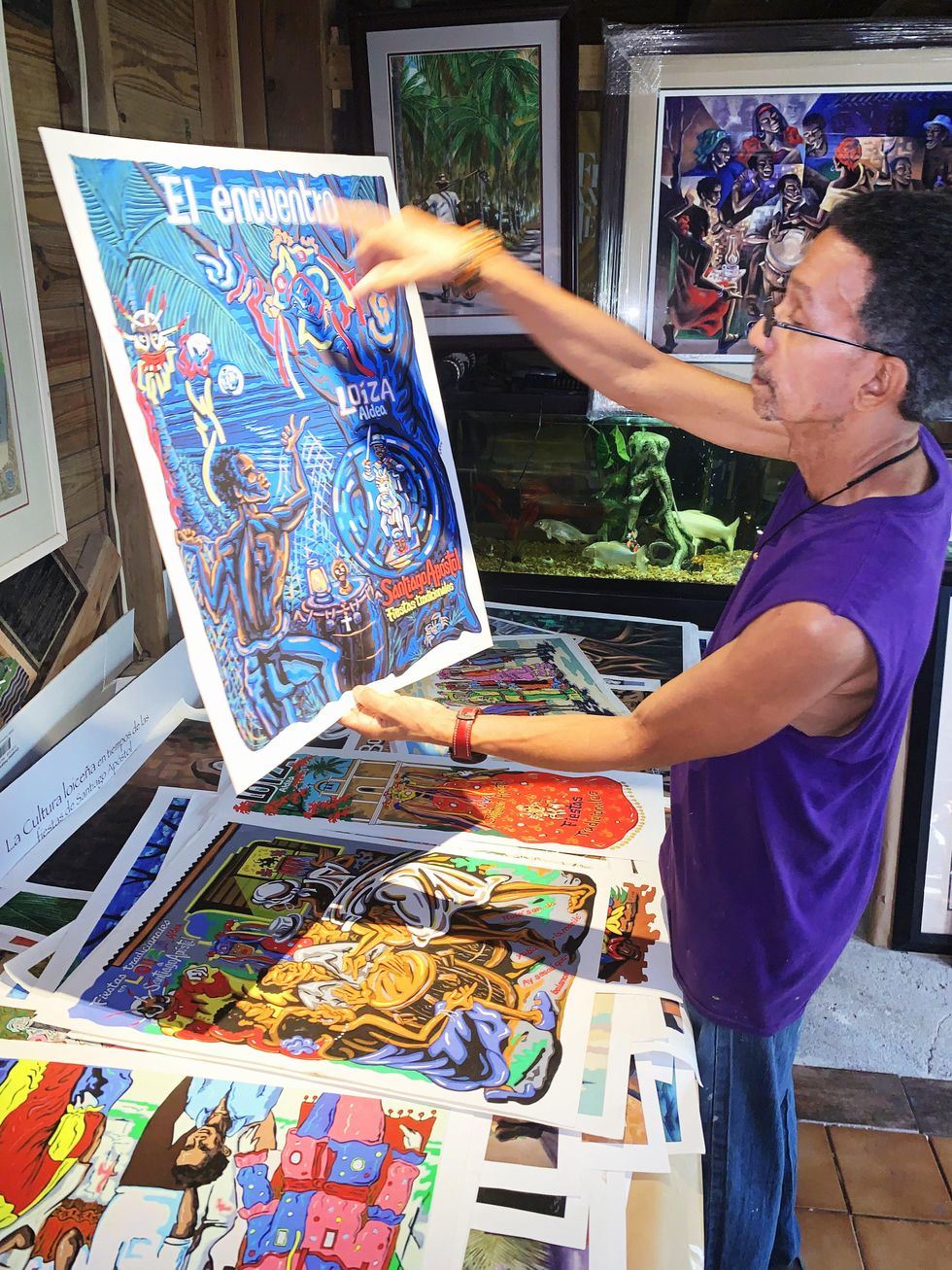 Iconic scultor and painter Samuel Lind, in his studio in Loiza, Puerto Rico
Courtesy of Janell Hazelwood
When I was told that I would be visiting Artesanias Castor Ayala, a shop that specializes in vejigantes masks (a horned mask that dates back to medieval Spanish folklore and is used in PR's Carnivals), I thought, 'Oh, hell no!' Any mention of demons and you can count me out. However, since the vejigantes masks are a huge part of Afro-Puerto Rican culture and, in today's uses, are said to be more about the "battle between good and evil," I took a deep breath, said a prayer, and gave it a chance. (And to be fair, a lot of our favorite American and Caribbean festivals and celebrations have less-than-savory undertones and history.) I was relieved when we went to this little house, just a few minutes' drive from the art gallery, because, who was there? A group of nuns. (Ha, look at God!)
By the time we left, I got a good sense of what goes into hand-making the masks and why they play such a huge role in Afro-Puerto Rican culture and folklore.
An added bonus: Tito, one of the hosts, took us in the backyard (where chickens were walking about unfazed) to show us photos and news clippings from his music career when he toured internationally with Latin bands. He chopped fresh coconuts for us to drink the water and eat the jelly (and shout out to all my fellow Caribbeans because I literally felt like I was back a ya'd at this guy's spot).
If you're looking to tap into African culture and heritage in Puerto Rico, or simply explore another part of the diverse island, this itinerary is for you, allowing the space for reflection, fun, good eating, and more.
Featured image courtesy of Janell Hazelwood