Weddings, for many people, are beautiful affairs where we celebrate and witness the blending of two people into a union of one. They are fairytale gatherings as old as time. While a wedding is not always a dream that each of us cherishes for ourselves — it is a celebration that we all enjoy being a part of. Hell, I think more people get ready to scrap it out or feel slighted when they don't get a wedding invite than they do about catching the bouquet. However, for those getting married, it can also be a stressful season for many reasons. But overall, it comes down to the planning process.
---
And, though I have yet to plan a wedding myself I imagine even the smallest details become some of the gravest stressors. One little detail that many of us may not consider when planning a wedding or even dreaming of one is tradition. Because if nothing else, weddings are often steeped in tradition. I think these traditions, and whether or not to participate, can prove even more challenging to decide on if you and your betrothed aren't a traditional pair or are on the more modern side of things. Being a modern gal, in a traditional world, can be frustrating. As a modern woman, I also find that the difficulty lies in really and truly not falling into the binary. I'm somewhere in the middle — I do enjoy the benefits of some gender roles and I do enjoy some tradition.
So what's a girl to do? First, you can know more about each of these traditions before you jump through hoops when the goal is to simply jump the broom. While there are some people who enjoy full-out tradition regardless of how they came to be, I'm not judging either way. Pinky promise. But for those who fall somewhere in the middle, being informed may be the key to ruling some of them out.
1. Getting the Father's Approval and the Giving Away the Bride Tradition
Both of these practices are rooted in the same patriarchal concepts of possession over women. Historically speaking, single women were viewed as property and their fathers "owned" them until they were married to another man. Asking for a woman's hand in marriage was a tradition born out of the necessity of the father approving the marriage and ensuring that the man asking for her hand could provide a good future for the daughter. In other customs, asking for a father's approval was also a way of establishing some sort of arrangement, like a dowry in exchange for "ownership" of the daughter. Giving away the bride at a wedding ceremony was seen as the person, usually, the father, walking the bride down the aisle and "giving her away" to the groom at the end was a form of blessing the unity.
While it can be a sweet gesture to ask for permission to marry your betrothed from their father or for a father to "give" the bride away at ceremonies, it's not entirely necessary. Both practices have evolved with the times, offering some creative freedom for ways to include important family members during the ceremony. For example, some brides opt to have their mother or even both parents walk them down the aisle as an honorable gesture for what they mean to them in their lives.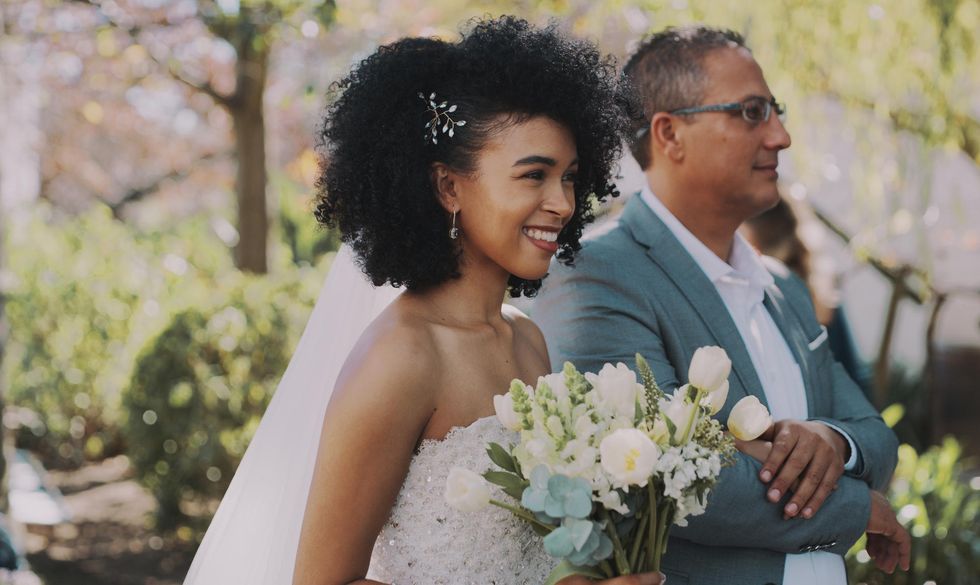 Delmaine Donson/Getty Images
2. The Tradition of the Bride Wearing White
Wearing white as a bride has been a tradition in Western culture that has spanned hundreds of years. And why do brides wear white? If you guessed that it's because wearing white is derived from purity culture, you were right. Traditionally, white was symbolic of virtue and purity and represented a woman's chastity upon walking down the aisle and meeting her betrothed. Again, the white dress is beautiful and I wouldn't necessarily mind keeping this particular tradition for my own vain reasoning. However, if you don't want to wear white because of what it represents or because you want to veer away from tradition, wear whatever makes you feel your best.
3. The Bridal Bouquet Tradition
This is going to blow your mind! But, you can do without your bouquets. Really both you and the squad. The purpose of a bouquet traditionally is that of a deodorizer for your B.O. The bridal bouquet came to be to mask the smell of body odor, obviously well before we had deodorant in the 20th century. This tradition is beautiful and does add a certain touch to weddings, but also floral arrangements are typically very pricey. Even the most bougie of deodorants is cheaper than bouquets, which run you anywhere from $80 - $200, according to Brides. Alternatively, if you don't want to forgo floral arrangements on your big day completely, you might opt for artificial flowers, feathers, or something else in the form of your bridal bouquet.
Yuri Arcurs/Getty Images
4. The Tradition of the Bride's Family Paying for the Wedding
Much like the first two points on this list, this tradition is predicated on women being the property of men. First, their fathers and then their husbands. Women were seen as chattel to trade, and because the most beneficial marriage arrangements were made if and when the bride's family was able to pay a suitable dowry to the husband-to-be (and his family). This is what I mean when I say marital arrangements were more often about financial gain for the parties directly involved and not love until relatively recently. This differs from now where the financial gain is also commercial – fancy rings, extravagant venues, etc.
5. The Wearing a Veil Tradition
Wearing a veil is yet another sexist and really odd, insignificant way of signifying a virginal or pure woman. Interestingly enough, an expert at Brides' indicates that this is one of the first and oldest "bridal ensembles." Wearing a white veil in combination with the white gown was the visual embodiment of delivering a bride to her groom as a "modest and untouched maiden." For the woo-woo girls, you might be interested in the fact that it was also thought to keep evil spirits at bay – particularly from attempting to rain on the bride's parade.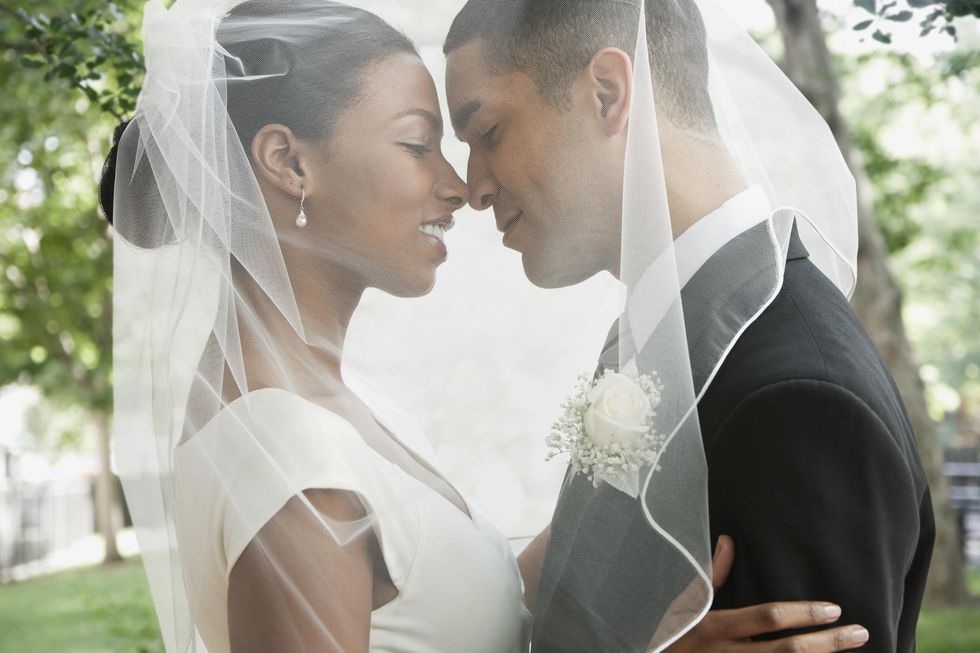 Jose Luis Pelaez Inc/Getty Images
6. Having a Wedding Party
The point of having people at your wedding was simply the need for witnesses. Back in the day, multiple witnesses (specifically 10 at minimum) were required for a wedding. Over time, this requirement evolved into a more fun, celebratory committee of peers known as the wedding party – made of bridesmaids and groomsmen. Though this is not the most costly arrangement since the parties typically pay for their own dresses – you are paying for flowers and even going through the motions of dealing with other people which can add to the intense planning process.
Let's make things inbox official! Sign up for the xoNecole newsletter for daily love, wellness, career, and exclusive content delivered straight to your inbox.
Featured image by Delmaine Donson/Getty Images