---
As Told To is a recurring segment on xoNecole where real women are given a platform to tell their stories in first-person narrative as told to a writer.
This is JaLisa Jefferson's story, as told to Charmin Michelle.
I have went from girlfriend to fiancée to wife...in less than one week.
My husband, Cory, proposed to me on May 14th in a carefully planned, highly anticipated—yet unexpected—evening. As soon as I walked through the door, there he was, down on one knee, asking me to spend my life with him.
We dated for almost a year prior to the proposal, and we even planned to get engaged in the near future, but due to the pandemic, and everything being shut down, I figured there was no way he could accomplish a special engagement or even get a ring, so I never suspected anything. But Cory worked with my parents and brother to set up a beautiful proposal at our weekly family Bible study.
Five days later, we were married.
Cory and I actually met "before we met", completely in the digital age, via Instagram. We finally came face-to-face while out with mutual friends, Jessica and Quincy (@itsjessicaacy, @quincyacy).
Ironically, we realized we had conversations with each other on Instagram over the last few years, but didn't make the connection until after the fact. And since that day, we've been together for almost a year, happily and blissfully living out our flourishing lives.
--
I grew up in a healthy, faith-based household, which I ultimately credit my success to. I was a focused youngster, didn't involve many in my world. My family is full of preachers and pastors, so we were often in the church, knowing and learning The Word. I was shy, somewhat quiet, and always desired to be married and have a family. However, I knew that processing was necessary; which included completing my education, reaching some personal and career goals, all while praying that God would send me the man He approved for my life. Several bumps in the road when it came to my dating life (I know we all can relate to that one), yet I waited on God.
After all, I always viewed marriage as an eternal and sacred commitment to God and to your spouse—a commitment to seek God and remain best friends forever.

So, I waited.
And then He brought Cory to me.
From the beginning of our relationship, we have taken pride in the fact that we over-communicate our thoughts, feelings and desires with one another. We are both Capricorns and natural planners, so as soon as we knew we wanted to do life together, we pretty much had all this planned out and agreed upon. And now that we have lived out our idea of a engagement and wedding, we have laid our trust and faith at each other's feet.
Even before the pandemic, neither one of us were interested in having a huge wedding. We wanted to keep it extremely small with our parents and then maybe later have a reception to celebrate with our friends and extended family. We initially planned to just go to the courthouse, however, it evolved to having some of our closest friends and family present via Zoom for the ceremony as well.
Our wedding was intimate and full of love. All we cared about was committing our love, relationship, and marriage to God in front of the people who loved us most. My pastor officiated the wedding and counseled us prior. I wouldn't call our engagement and wedding traditional or modern, honestly it was just what WE wanted it to be.
Of course, the people closest to us, meaning our parents and best friends who we speak with all of the time, already knew that this was how we wanted to marry, so none of them were shocked. Extended family and those of which we don't really talk to on a regular basis, were the most shocked. And social media. We were definitely questioned by some trying to figure out what the rush was.
And with me being a full-time influencer they just assumed in their head that I would have this big extravagant wedding. Clearly, they didn't really know me or my heart as it relates to marriage or weddings.
I actually asked Cory about his thoughts on the past few eventful days and he said:
"The engagement couldn't have been any more perfect. The in-laws really made it that much more special. I was just expecting a few balloons, but mom had a whole ceiling full of balloons with an archway setup with streamers, cupcakes and had a great playlist playing for the whole thing. The day of the ceremony wasn't any different. I'm not exactly sure what I was expecting, but our friends and family went above and beyond anything I was thinking it would be. The day couldn't have went any better."
I couldn't agree more.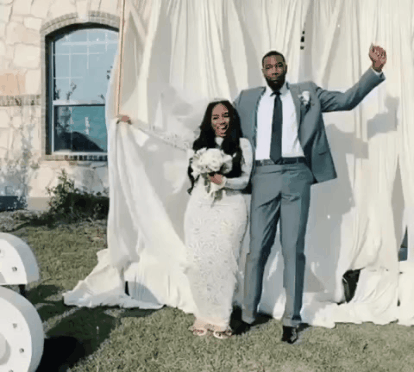 Courtesy of JaLisa Jefferson
My dress was stunning, my husband was dapper. Decorations were magical.

Case's "Happily Ever After" was blaring:

And you told me that you loved me
More than anything in your life
And I asked you would you do me
The honor of being my wife (yes I will)
We were so happily in love, wandering in euphoria and observing our joy radiate from person to person. The energy was so strong, so deep. Even with the ceremony being as intimate as it was.
Everything was perfect.
And now, it's time for us to live abundantly, ordained in the image of God.
"But seek first his kingdom and his righteousness, and all these things will be given to you as well. Matthew 6:33."
I say this to encourage any couples inspired by our story, or simply don't have the appetite to marry traditionally, to wed on their terms. Don't lose your vision. It's yours. And most of all, seek God.
Everyone's situation and relationship is totally different, so while I am elated that I was able to inspire people, ultimately, I just pray that I inspire you to get closer to God and seek what's best for you. Cory and I have prayed collectively, individually, and sought counsel from those who we know have our best interest at heart.
Which is most important.
We're so thankful for the outpouring of love and support in choosing to marry our way. It's so hard to explain how we even feel right now. It's a mixture of being elated, but also feeling like everything happened exactly the way it was supposed to—even greater than my dreams since I was a little girl. The entire process from engagement to wedding ceremony, with all of our closest people, just felt so natural. There was so much love and support around, it's hard to even put into words.
So, thank you for celebrating our union with us. Thank you for being just as happy for us as we are.
We're officially a couple of weeks in. With just a fruitful, dynamic, and loving lifetime to go.
To keep up with the Jeffersons' journey, visit their website. For more of JaLisa, follow her on Instagram: @jalisaevaughn.
Featured image courtesy of JaLisa Jefferson