Coming off of a hit like "Blinding Lights," a fan like myself couldn't help but wonder where The Weeknd would take his career. With every record, the Canadian singer-songwriter has evolved, taking over the pop music landscape and securing his spot in music history. His latest single, "Take My Breath," is the lead single from his upcoming album, as announced in his GQ global cover story this week. And after spending much of 2020 rocking facial prosthetics, fake blood and bruises, and ultimately being snubbed for it all, a new and clean Abel has re-emerged with a fresh look and music to back it up.
---
Through it all, and the many years of being in the spotlight for his dark demeanor, one thing is very clear, however: Abel and The Weeknd are two very different people.
In fact, in his latest (rare) interview with GQ, they label him as, "The Weeknd is the guy who destroys the suite at Caesars Palace like in The Hangover. Abel is the sweet guy whom they lose in the first 30 minutes and spend the rest of the movie trying to find." He too addressed the differences, directly, saying:
"The lines were blurry at the beginning. And as my career developed—as I developed as a man—it's become very clear that Abel is someone I go home to every night. And The Weeknd is someone I go to work as."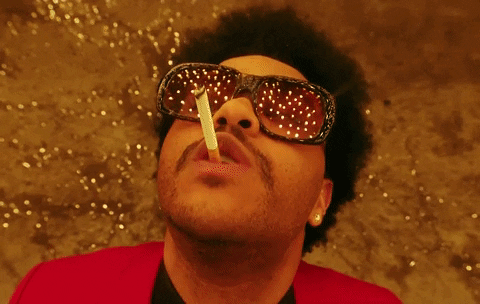 Giphy
Additionally, he addressed his past drug use, saying:
"Drugs were a crutch. It was me thinking that I needed it. And not doing the work to figure out how not to need it. And I've spent the last few years realizing that and thanking God that I don't need it. Because for a lot of people, it's hard to shake it. But I knew I didn't want it."
The Weeknd's interview shed the light on many artists who have struggled with the added demon of addiction. Below are just a few.
Jada Pinkett Smith recently opened up about her past addiction.
Jada Pinkett Smith recently detailed her past struggles with addiction on Red Table Talk. The actress used to mix alcohol, weed, and ecstasy to reach her ideal high. Eventually, she realized that she had a problem and quit cold turkey. She still struggles to be around certain drinks today. She shared on Facebook Watch's Red Table Talk:
"Drinking red wine for me was like drinking glasses of water. Because I'm used to that hard hit. I was drinking hard in high school, too, and when I got out here I was doing cocktails. So, ecstasy, alcohol, weed. Let me tell you, I was having myself a little ball. I wasn't doing things that I thought were addictive, but I would do those three together, that was my cocktail."
Sanaa Lathan says alcohol used to be a problem for her.
Sanaa Lathan, America's sweetheart and treasure, has recently revealed that she had to give up alcohol three years ago as she works to improve her physical and mental health. Although she was not an alcoholic, she did acknowledge that drinking for her was going in the wrong direction. She told PEOPLE:
"I stopped drinking about three years ago. Alcohol was not going well with me physically. Just, it was not working anymore. It affects everything, and that's part of the reason why I stopped, because even if you're going out a couple of times a week and you're drinking, it was starting to affect me throughout the week. It wouldn't be necessarily a hangover, but it definitely dimmed my energy. I didn't feel as good. It was affecting anxiety."
She added:
"So, I haven't missed it. My life has definitely become more of a morning life, but I can still go out and have fun."
T.I. used to take prescription pain killers. 
The Atlanta-rapper opened up about his addiction to prescription pain killers, telling Vibe:
"I had like five, six prescriptions. So I had, like 80 pills. Everybody else might have a drink or smoke a blunt, I took a pain pill. Times when I had 18-, 20-hour days, I'd take a pain pill."
Naomi Campbell joined Alcoholics Anonymous and Narcotics Anonymous.
According to a 2010 Vogue interview, Naomi Campbell didn't know if she'd make it through the early 2000s:
"The time between 1998 and 2005 was especially bad. During that time I avoided looking in the mirror, because I didn't like the person who was looking back at me. To be honest, there were times I thought I wouldn't survive. I used to have a lot of problems. Amongst others I drank too much so I joined Alcoholics Anonymous to get and stay sober."
Colombus Short opened up about his past addiction in 2014.
Colombus Short has revealed that drugs played a major role in his behavior while starring in Scandal. Additionally, he said in PEOPLE:
"To be honest with you, I struggle with medicating with alcohol, I think, and that's a real truth. I think that deserves more looking into. If I want to be truthfully honest, I think dealing with the stress of the situations that I've been going through, medicating with anything, I think, is dangerous because it becomes a crutch."
Oprah Winfrey had a problem with drugs in her 20's.
During one of her 1995 talk shows focusing on women who have drug problems, Oprah Winfrey admitted to her guests that she too struggled with addiction during her early 20s. "I did your drug," she said to Kim Davis, a recovering addict, and mother. Davis later went on to tell The Washington Post, "It threw me completely off guard. You would never dream she'd had a problem with the drugs."
Oprah told the audience and reporters who followed up on the story that her substance abuse was brought on during involvement with a man in her life. When they were together, they would both use it. And for her, one of the biggest regrets was that she had "handed over my power to a man."
Nicole Richie struggled with heroin.
Nicole Richie moved in with Lionel Richie when her biological parents admitted they couldn't afford to provide for their young child. Richie was raised in the spotlight alongside her adopted father, especially after his bitter split from his then-wife Brenda Harvey. She turned to heroin as a way to numb out the pain of the public eye on her parents' split.
Thankfully, Richie left heroin behind after a severe but short stint. She's remained clean from heroin, following her possession charges in 2003. She once said:
"Everything [about my past] is out there and I have no choice but to be honest with them. And you know what? That is very freeing to me."
Full circle moments.
Congrats to these guys for overcoming their obstacles, and congrats to The Weeknd for championing it all as well.
Watch his latest video "Take My Breath" below [note: epilepsy warning]:
Are you a member of our insiders squad? Join us in the xoTribe Members Community today!

Featured image by Rich Fury/Getty Images for dcp