The queen of everything Ms. Naomi Campbell, known for being a pioneer of every single element of what it means to be a super model, is now a mommy! She surprised fans with the news, accompanied by a photo of baby girl's tiny feet back in May, captioning the photo:
---
"A beautiful little blessing has chosen me to be her mother. So honoured to have this gentle soul in my life there are no words to describe the lifelong bond that I now share with you my angel. There is no greater love."
Additionally, she added "Mother" to her Instagram bio.

Details so far have been kept firmly under wraps, but that doesn't mean she didn't break the internet. She posted all the above three days before her 51st birthday, making her a mom for the first time much later in life, after spending decades living her life as a single woman, and unfortunately being subjected to having to answer to the reason why she doesn't have kids. But since 2018, she has hinted at her time coming, with possible babies on the way.
She admitted to the Mirror:
"I think about having children all the time. But now with the way science is I think I can do it when I want."
Of course, Campbell is referring to IVF or in vitro fertilization, a process where an egg is combined with sperm in vitro. Doctors monitor and stimulate a person's ovulatory process, removing an ovum or ova from their ovaries and letting sperm fertilize them in a lab. In Campbell's case, she likely had a surrogate inseminated, but this doesn't rule out potential adoption either.
"I'll see what the universe brings me. For now, what the universe has delivered is very much in the spirit of a 'chosen family.'"
And by 'chosen family' she means young celebs who she mentors, such as Ryan Destiny, who she endearingly refers to as her daughter, fashion model Adut Akech, who affectionately refers to Campbell as her "mama" in the fashion world, or the children from the Rising Sun, a Kenyan orphanage.
But now, Naomi is a true mama.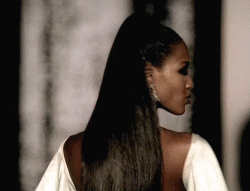 Giphy
Campbell joins the ranks of another supermodel, Tyra Banks, who welcomed a son via surrogate, with then-partner Erik Asla in 2016 after a similar years-long struggle to become a parent. Tyra had been dating the Norwegian photographer since 2013, and shared a photo captioned:
"The best present we worked and prayed so hard for is finally here. He's got my fingers and big eyes and his daddy Erik's mouth and chin. As we thank the angel of a woman that carried our miracle baby boy for us, we pray for everyone who struggles to reach this joyous milestone. York Banks Asla, welcome to the world."
For now, Naomi is extremely tight-lipped on the details and only showing off glimpses. But she did thank everyone for their well wishes, saying on Instagram:
"Never have I felt so much love like I have over these past few weeks , I am so thankful for the love that you've poured onto my daughter.and I Thank you all for the Warm messages of support and birthday wishes."
In other words, your next chapter in life starts when you want it to. No matter how old you are. Congratulations to this new mom!
Are you a member of our insiders squad? Join us in the xoTribe Members Community today!

Featured image by Kevin Mazur/Getty Images for Amazon Studios