---
It's no secret Naomi Campbell is living large, but did you know she had a relaxing Keyan retreat in addition to her other homes? Actually, the supermodel was just appointed the country's new tourism ambassador for her supreme adoration for all things related to the culture, including her estate there.
The open-air residence is located in Malindi and its sky-high Makuti roofs can't be missed. Naomi invited Architectural Digest inside to see the stunning, nature-inspired decor and gave fans a virtual tour of the impressive digs that also house a spa. "It's a beautiful place. This is definitely my go-to place [for] chilling, relaxing, and like completely shutting down...Kenya is just like a natural gem. It has the Safari, it has the bush, it has the coast, it has the dunes—it has all the elements," Naomi gushed mid-tour.
Inside Naomi Campbell's Luxury Villa In Kenya | Open Door | Architectural Digest
After going from room to room, which included shuffling across lush greenery and several outdoor pools, she concluded the tour on this note:
"I hope that you will all now look at Kenya with different eyes and come here and enjoy the gorgeous nature that it gives. The African continent is where it's at. Watch. Been saying it for a long time, but you'll see."
Now, if booking a ticket to Kenya is not in your future anytime soon, we did pull some key elements of the fashion legend's decor that will bring all the Kenyan vibes straight to you. From Moroccan light fixtures to wildlife art, below see how you can create your own naturistic oasis.
Coffee Table Books That Set The Mood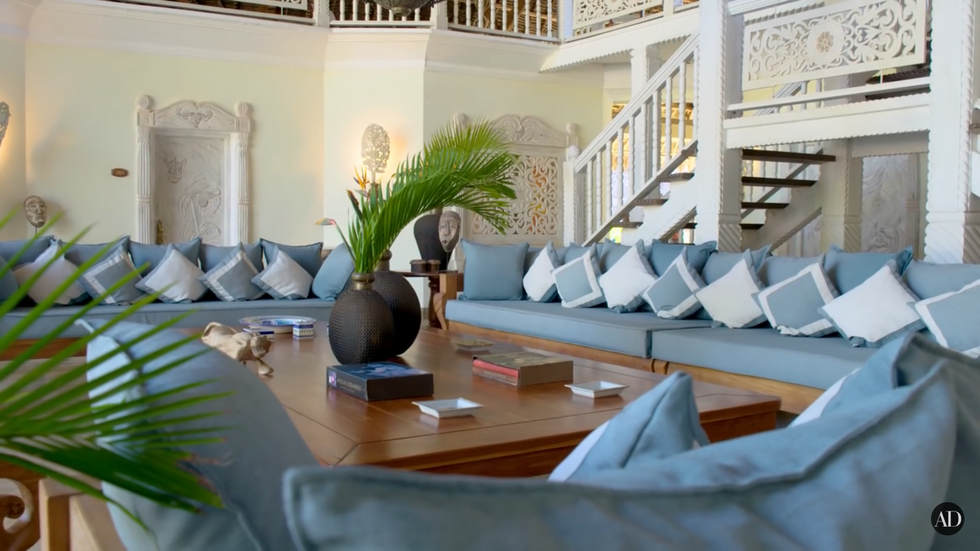 Architectural Digest/YouTube
"We have to give props to the two ladies which [are] Carol Beckwith and Angela Fisher who have been champions of Africa and Kenya for so long," Naomi says to the cameras before adding, "[They're] my heroes of the whole region because they've just done [so much for] and always [just showed] the beauty of Kenya."
We figured what better way to bring some authentic Keyan culture into your space than with first edition copies of Naomi's heroes. This beautiful set is filled with photos and stories to swipe through of the people Naomi holds so dear. This photographer and author duo's work can sit pretty on your coffee table that's most likely from Ikea, unlike Naomi's handcrafted Keyan woodwork. A girl can dream!
Fake a Green Thumb and Breathe Easy 
"What I love about being here is that you're really living outside, you know? Even if you're covered, it's still open...you still get the natural air and the breeze," Namoi talked up her space. Well, since most of us regular folk aren't living in enormous villas, you can bring a little piece of the outside inside. And while real plants have awesome benefits aside from your decor needs, some of us just aren't blessed with a green thumb. If that's you, save yourself the grief and adopt an artificial plant baby. You'll be glad you did when you're admiring its green hue all year long.
A Lush Bed Canopy to Cozy Into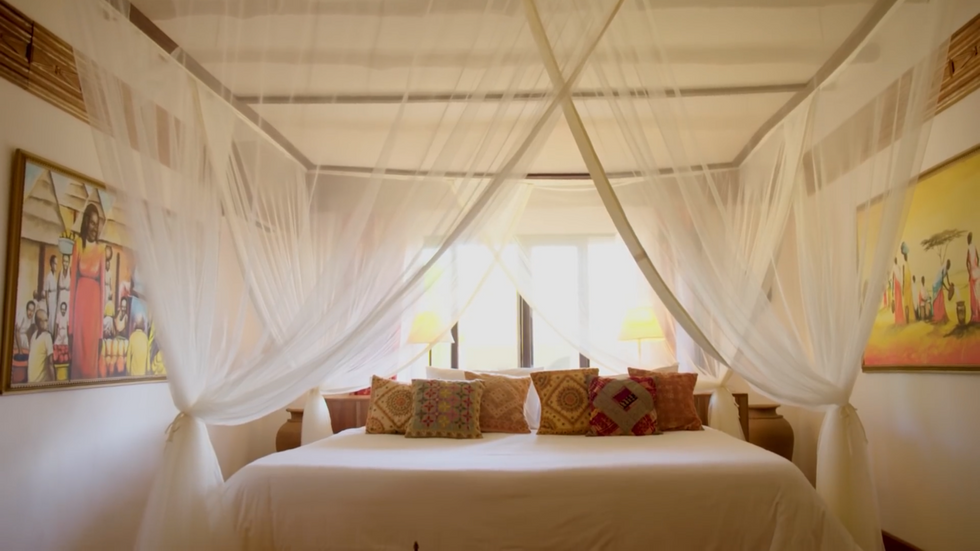 Architectural Digest/YouTube
Naomi has a love of bed canopies, but honestly who doesn't? "I always love when I go to hotels and they have it," she said. While her canopies double as mosquito protection in Kenya, you can play pretend and just enjoy the cozy aesthetic.
She also served up a bit of beauty advice in the bedroom, too: "I don't personally sleep in air conditioning. I don't like it. It gives wrinkles, I believe."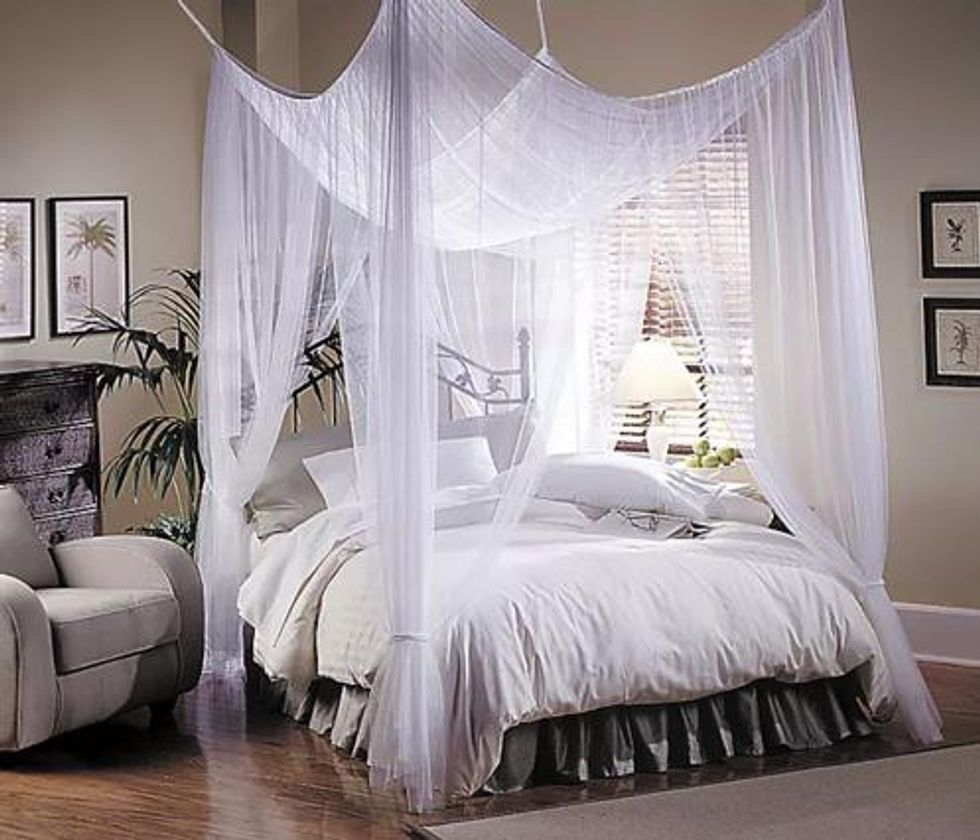 Bed Bath & Beyond
Wildlife Art That Sparks Creativity  
Naomi's home is full of art—paintings, sculptures, photography. She notes Armando Tanzini as one of her favorite local artists and credits him for many works featured in the home. Original art can be pricey, so we suggest copping a print instead. She showed off a lion portrait displayed on her bedroom wall, so we found this print that also makes a statement.
Moroccan-Style Lighting to Ignite a Vibe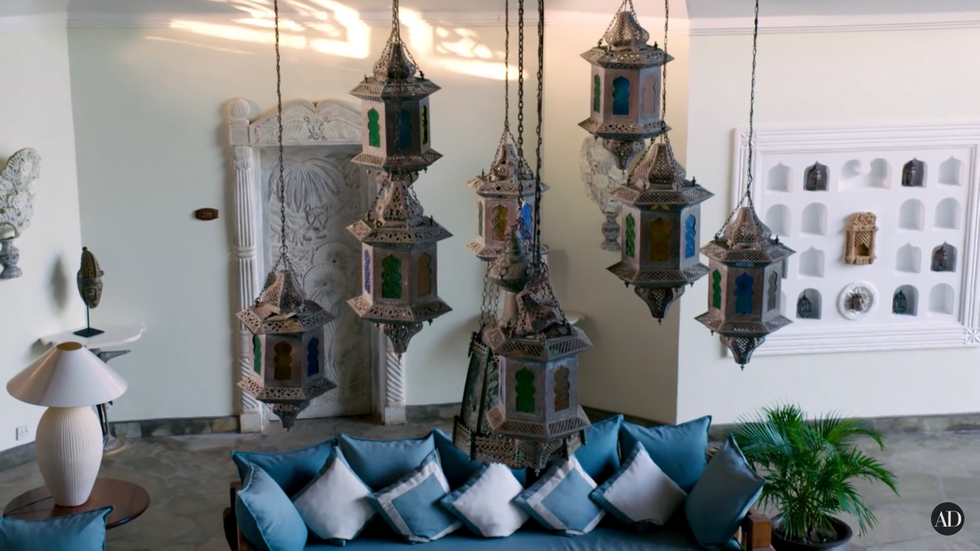 Architectural Digest/YouTube
Naomi showed off a lantern-style chandelier noting, "It has that Moroccan Egyptian vibe." We're not sure how many coins the authentic Kenyan piece she has in her home will run you (Our guess? Many, many coins.), but get a similar vibe with this luxe table lamp version.
Featured image screengrab via Architectural Digest/YouTube