I personally hate the grocery store. Along with long lines and always forgetting what I initially came in for, I cannot stand spending money; but when it comes to Whole Foods and Trader Joe's, it's a completely different story.
Stocked full of fresh fruit and veggie alternatives and unusual ingredients, natural grocery stores are a true bougie foodie's dream and apparently, not only home chefs such as myself love shopping at Whole Foods, supermodels dig it, too.
Naomi Campbell recently let fans take a peek at her shopping list in a new series that features the 49-year-old icon being effortlessly fabulous while doing regular, everyday sh*t; and shopping for grapes has never been more glamorous. According to Naomi, online groceries have never and will never be her thing, and she prefers to tackle her weekly grocery shopping by her damn self, thank you.

She and her crew recently stopped by Whole Foods to pick up some last-minute essentials, and we have all the details on what's in this beautiful Brit's Fridge:
Japanese Pears, Grapes, & Peaches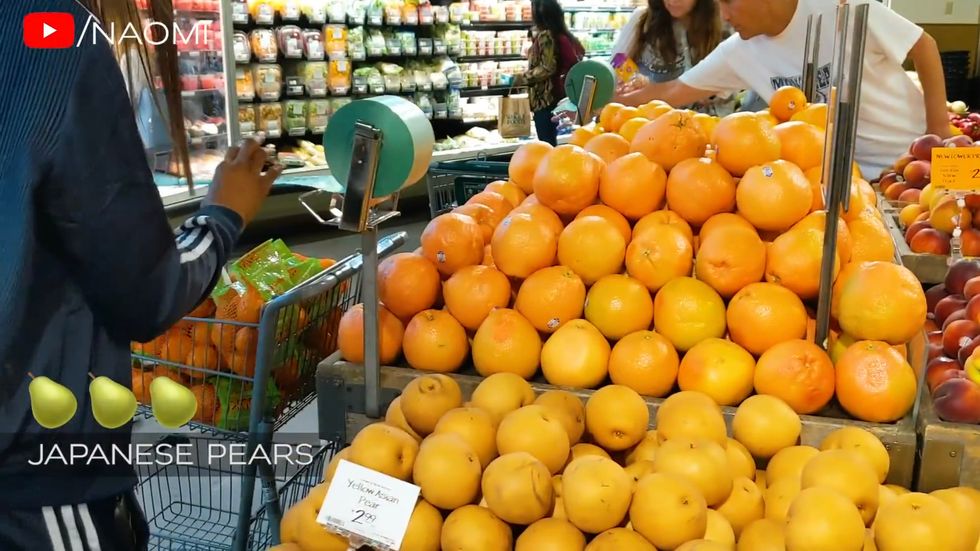 Naomi Campbell/YouTube
There's no part of our bodies that's as problematic as a sweet tooth, and Naomi Campbell feels that in her spirit. In the video, the model explained that she's turned to fruit as a means to recover from her former candy dependency, and stocked up on ripe peaches, grapes, and Japanese pears, which are high in both fiber and vitamin C.
Lots Of Lemons & A Bag Of Mandarin Oranges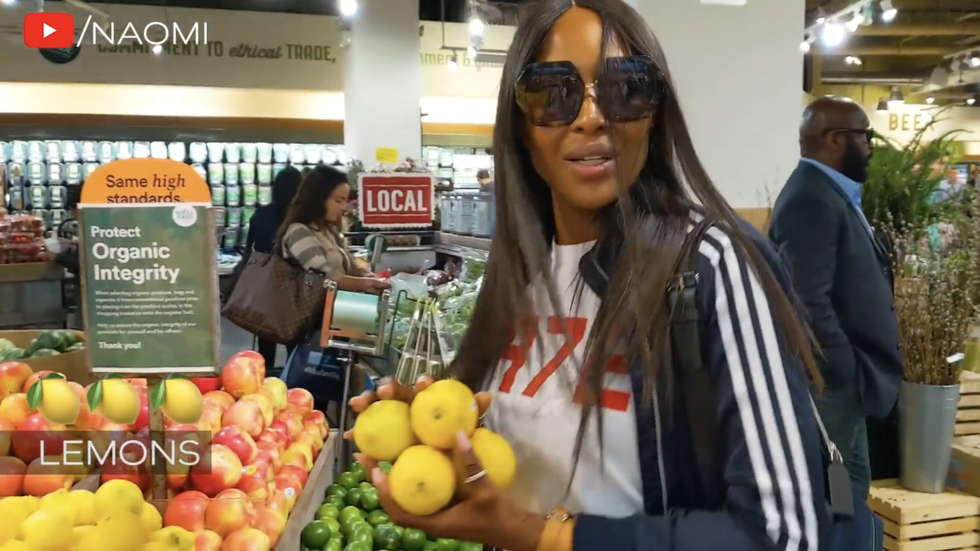 Naomi Campbell/YouTube
According to science, lemons not only offer a healthy dose of vitamin C, but they can also assist in weight loss, improve digestive health, and have killer antibacterial properties, so it's no wonder why Naomi makes sure to secure a (grocery) bag full every time she goes food shopping.
Basil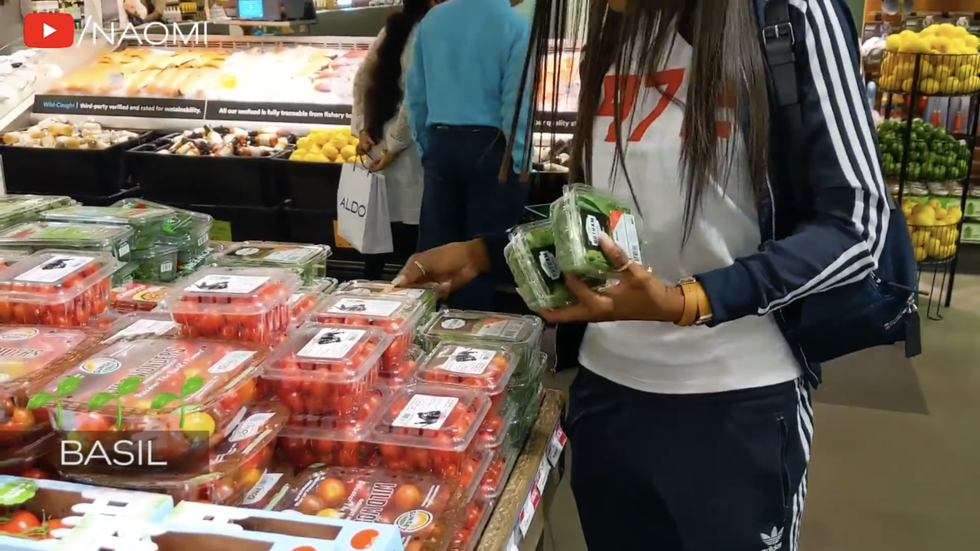 Naomi Campbell/YouTube
Naomi grabbed about six packages of this magnesium-rich herb and although I'm not sure why she bought so much, I now feel like I, too, need more fresh basil in my fridge.
Essential Oils: Bergamot & Clary Sage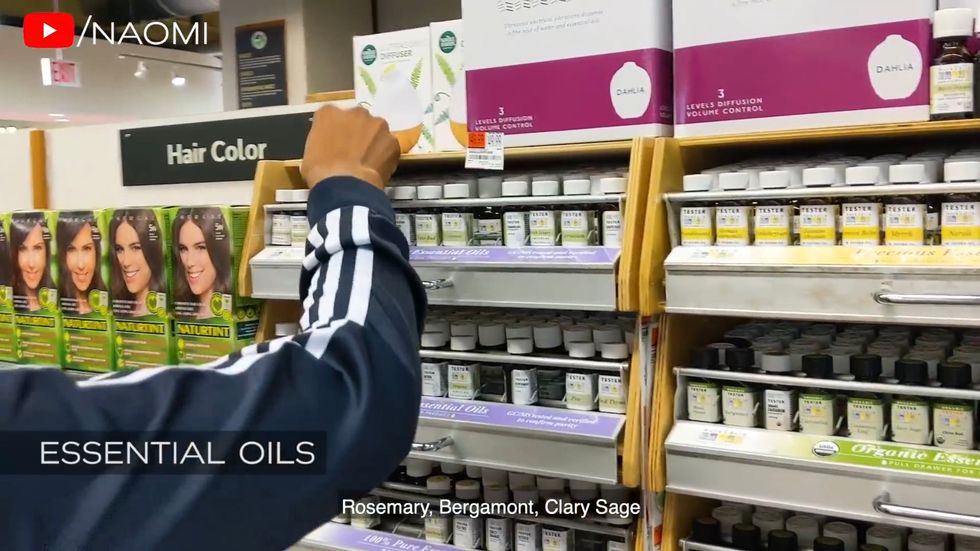 Naomi Campbell/YouTube
I was today years old when I learned that you could buy essential oils from Whole Foods, but you learn something new every day. Naomi picked up some rosemary oil, which can reduce anxiety and inflammation, bergamot oil (a great natural alternative for fighting acne), and clary sage, which is great for for indigestion and stress relief.
Spicy Olives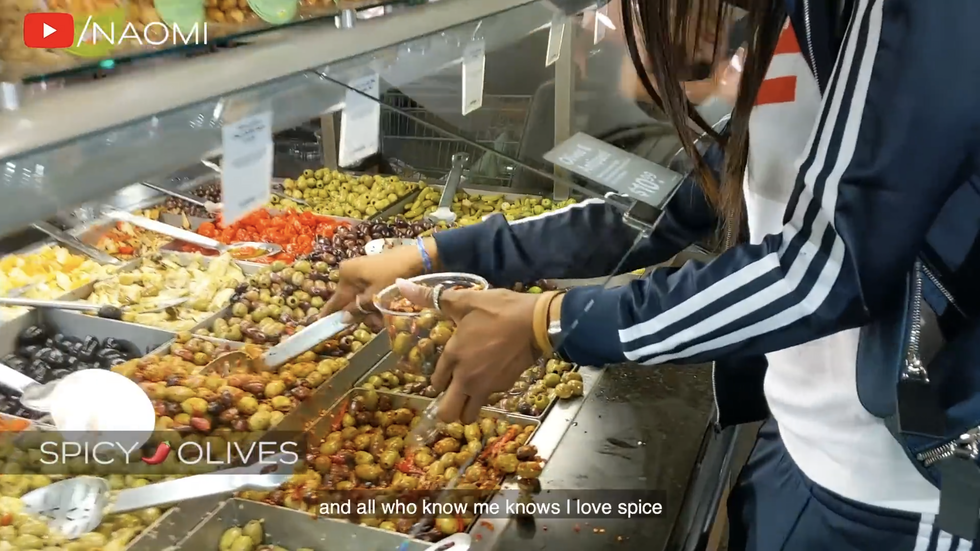 Naomi Campbell/YouTube
Apparently, not only are the prepared olives at Whole Foods healthy AF, but they're delicious too. Olives are high in vitamin E, improve cholesterol levels, and are reportedly the perfect snack for a woman on the go.
Raisins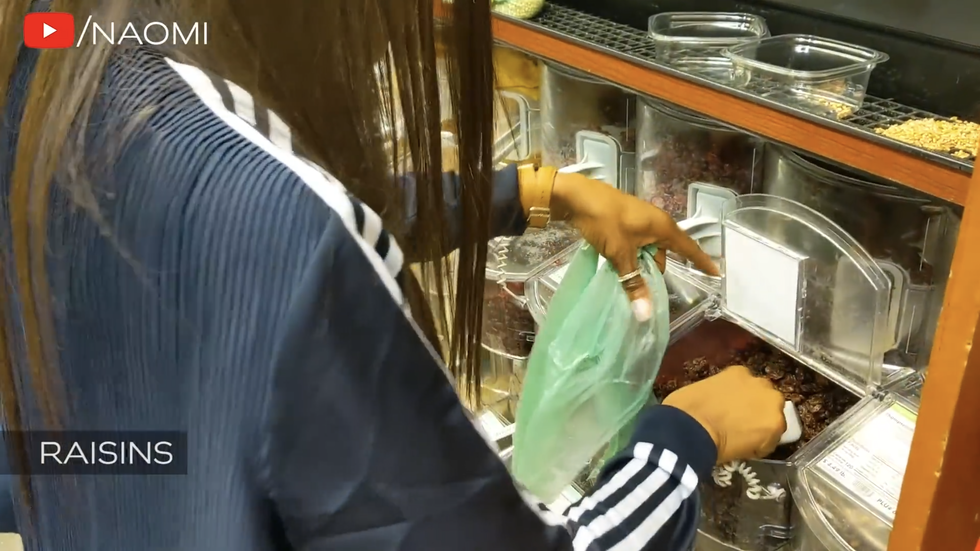 Naomi Campbell/YouTube
Although this is the aisle that Naomi finds most tedious, she needs her nuts and somebody's gotta pick 'em. Along with cashews and walnuts, the model also stocks up on raisins, but not before wasting half of them on the floor.
Peach, Blueberry, & Vanilla Coconut Yogurt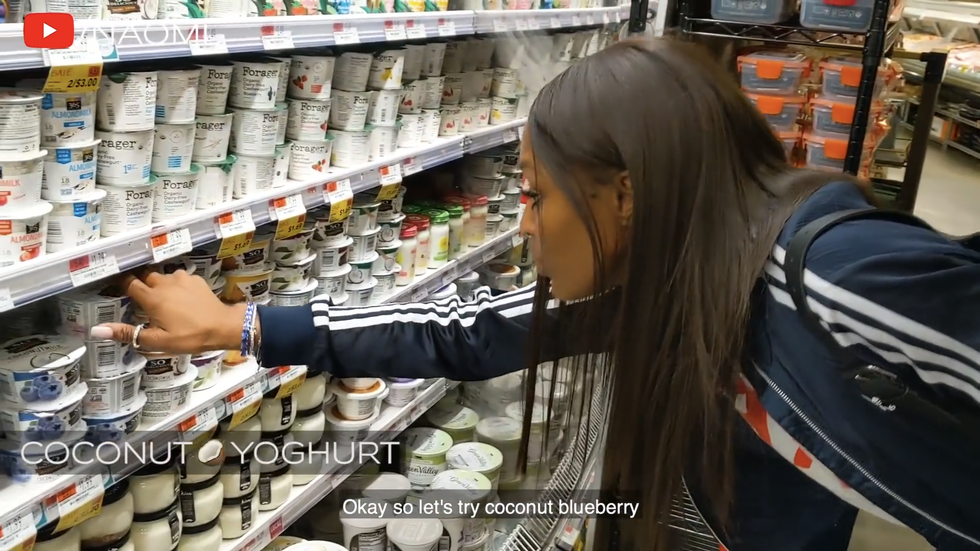 Naomi Campbell/YouTube
Recently, Naomi gave up all of her favorite comfort foods and went dairy-, gluten-, and wheat-free, but she didn't say goodbye to yogurt. She picked a few containers of So Delicious dairy-free yogurt in blueberry, vanilla coconut, and peach.
Check out the full video below!
Whole Foods Shopping With Naomi Campbellwww.youtube.com
Featured image by Kristy Sparow/Getty Images