Born between January 20th and February 18th, Aquarius, a fixed Air sign, is the highest expression of its element. Highly intelligent, these individuals enjoy discussing a wide array of topics from human rights, extraterrestrial encounters, and conspiracy theories. Typically, there are two starkly different expressions of Aquarius—one being the Saturnian, conservative type and the other being the "Wild Child" archetype influenced by its modern ruler Uranus.
---
As a masculine sign, they have no problem taking the lead whether in their professional affairs or within their relationships. A bit of a control freak, it's important for Aquarius to give others the opportunity to take the reins. Their uncompromising nature can often result in them isolating themselves from others—especially those that they perceive as a threat to their authority.

As the 11th sign of the zodiac, Aquarius represents the voice of collective in contrast to its opposite sign, Leo, which prizes individuality. Although these friendly Air signs enjoy being a part of a group they often find themselves struggling to feel at home amongst their social network. From an early age, Aquarius is keenly aware of just how different they are from their peers which often contributes to feelings of loneliness.
Growing up, there could have been very strict, demanding, and critical influences that made it difficult for them to express their individuality. And if ever there was a display of sovereignty, severe punishment was often the result. Once the Aquarius becomes an adult, they can be quite rebellious as they carve out space for themselves in the world.
Aquarius Zodiac Sign: An Overview
Physiologically, Aquarius rules the calves, ankles, and shins granting many of them long, slender legs (particularly those with Aquarius Rising). In addition to the legs, they are also associated with the circulatory system. Generally, their body temperature can run pretty cold which is why they prefer warmer climates. In the cold seasons, you can usually spot them bundled up in an impressive amount of layers. Depending on what end of the spectrum they're on, you'll either find them dressed down in a simple attire of fashioned in dramatic colors, prints, and textures that make them look like a walking textile factory.
As important as setting themselves apart is for some Aquarians, they are ultimately a woman/man of the people.
Although their motivations aren't typically fueled by their emotions, their strong conviction in what is best for ALL of humankind often positions them as activists, humanitarians, and thought-leaders. Naturally inquisitive, they seek to understand what connects us all at a core level. Given their organizational abilities, Aquarius can easily gather others together for a common cause that can ultimately impact some changes—whether on a small or grand scale.
Aquarius Best & Worst Personality Traits
Best Aquarius Personality Traits:
Inquisitive
Humane
Original
Systematic
Worst Aquarius Personality Traits:
Temperamental
Aloof
Uncompromising
Aquarius in Career
Ruled by Uranus, Aquarians are drawn to the world of IT and inventions. Their progressive mindset positions them to be on the leading edge of new breakthroughs not only in the tech industry but in the field of science as well. Given their altruistic nature you can easily find them working in a lab to find a cure for cancer. Due to their clearly defined beliefs of what is right and wrong, they typically bode well in positions of influence such as politics, social work, and teaching.
As a future-oriented zodiac sign, Aquarians tend to consider how they can impact generations to come. "Each one teach one" is a motto that they put into action whether they are formally guiding others or just setting an example amongst their peers. Their motivation to improve the lives of disenfranchised groups can lead them to philanthropic efforts as well.
Aquarius in Love
With an Aquarius, or any sign, it's important to learn their love language. As a masculine Air sign, this isn't the most emotionally expressive zodiac sign (although you'd be surprised by the chaos that is underneath the surface of their steely-eyed gaze). Sometimes referred to as the Ice Queen/King, it can take a little time for them to warm up to a new suitor. In the earlier stages of a connection, they're enticed by the idea of picking someone's brain to figure out who they're dealing with. The road to intimacy is a well thought-out process so you can forget about this sign falling head over heels for you (unless they have some prominent Water or Fire placements in their chart).
Oftentimes, it's common for an Aquarius to end up pursuing a relationship with a long-time friend. They like to know that there is common ground between them and their partner that isn't solely based on a physical attraction or the oh so dreaded feelings. Sometimes they can send mixed signals in an attempt to create emotional distance and to emphasize their independence. If they're not careful, someone can easily take their approach as a lack of interest.

The more Saturnian Aquarians like to take things slow and can easily shy away from dramatic displays of affection. If you're coupled up with one of these types, acts of service may be one of their love languages. On the other hand, the charismatic Uranian Aquarians typically have many varied types of friends. Even when they break things off with a romantic interest, they don't have a problem maintaining a platonic connection. Generally, other Air signs (Gemini, Libra, Aquarius) and Aries and Sagittarius are good matches for this rebellious genius.
Famous Aquarius Celebs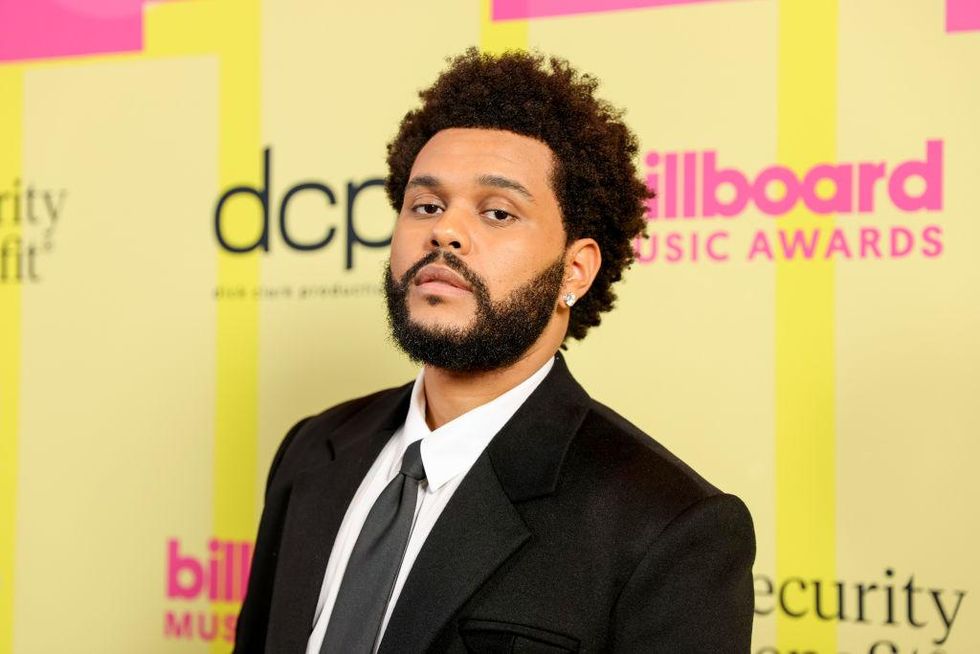 Rich Fury/Getty Images for dcp
Megan Thee Stallion
The Weeknd
Oprah Winfrey
Michael Jordan
Kelly Rowland
Kerry Washington
Brandy
Featured image by Rich Fury/Getty Images for dcp