Dani Simone
Dani Simone, also known as The Mystic Model, is an Atlanta-based Tarot reader, Astrology enthusiast, and student of the mystical arts. She uses her platform to share guidance through various divination practices with the intention of inspiring others to reclaim their power, tap into their magic, and create the life of their dreams.
The first part of the month invites us to be more intentional about our self-care practices. With Mercury transiting through the sensitive sign of Cancer, we are encouraged to sweeten up our dialogue with self and others. With Chiron going Retrograde on the 15th, some deep healing is under way related to how we define our identity. Once the Sun shifts into Leo, it's time to show the world what you're made of. The exchange between Venus and Mars this month reminds us to not take everything so seriously--especially matters of love and romance (at least for the time being). Check out how your zodiac sign is affected in the month ahead!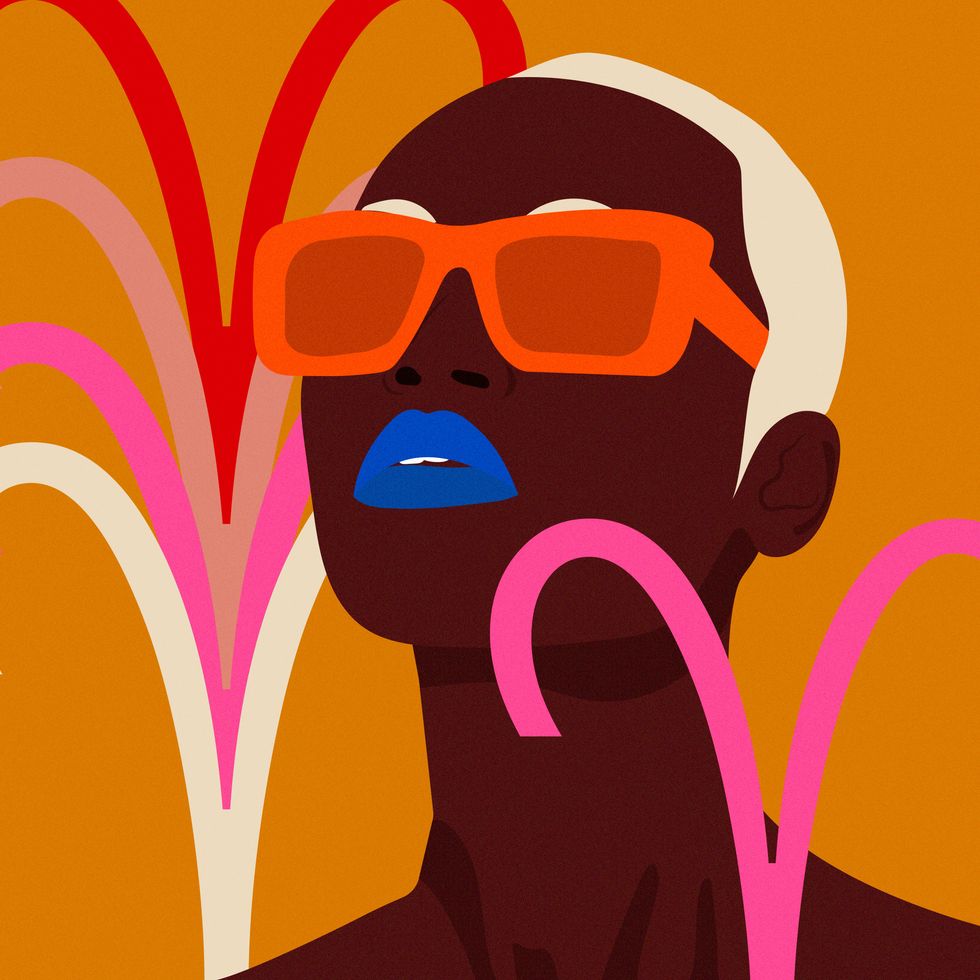 AriesLaci Jordan for xoNecole
The month begins with a sweet New Moon on the 9th inviting you to plant the seeds for a new home, renovations, or a new addition to the family. When Mercury transitions into this part of your chart, be mindful of some minor inconveniences and challenges that push you to redefine what home and security means to you. On the 15th, Chiron begins its retrograde through your sign, giving you a chance to put into practice the lessons you've been learning in establishing more independence in your life.
The Sun shifts into Leo on the 22nd encouraging you to reconnect with your inner child, creativity, and pleasure.
The Full Moon on the 23rd could illuminate some misalignments within your tribe, which could result in you choosing to go separate ways. Once Mercury enters Leo, you're confidently expressing your truth regardless of whose feathers you ruffle. July wraps up with Venus meeting up with Mars on the 29th which could place you, or someone you work with, under some scrutiny. Get your inner critic in check so it's not wreaking havoc in your life and others.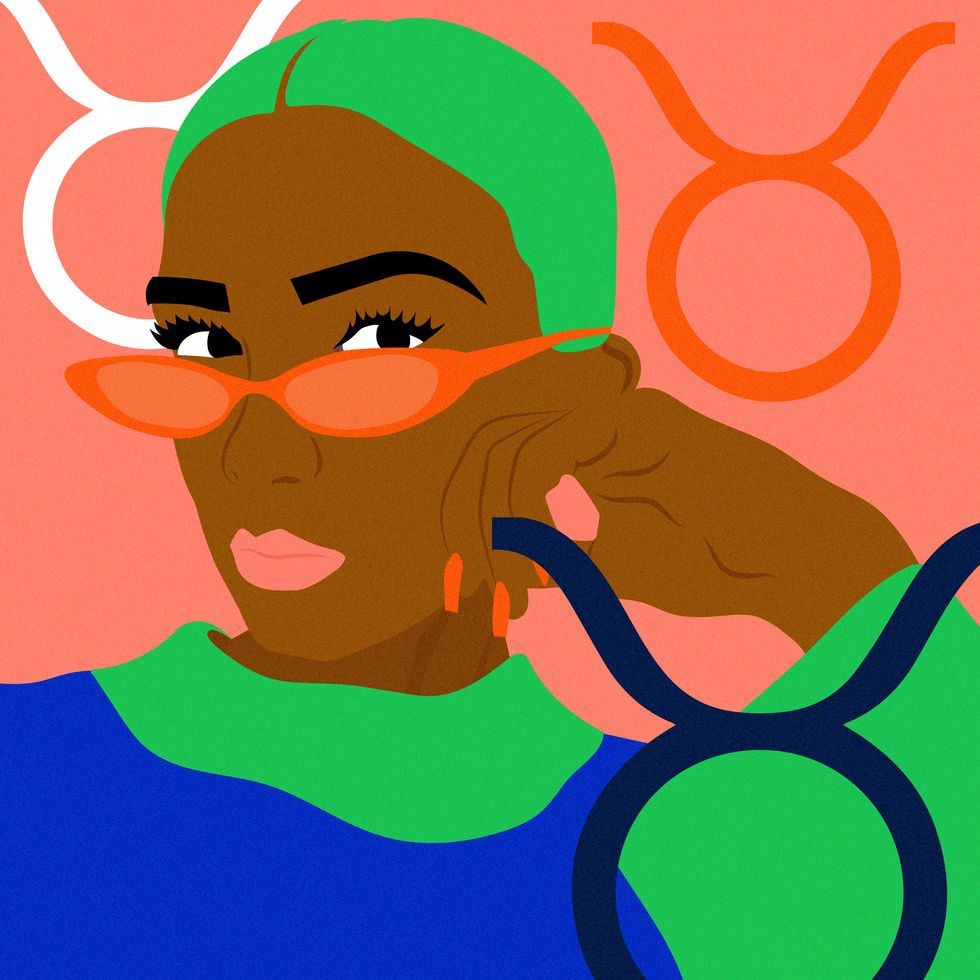 Taurus
Laci Jordan for xoNecole
Life gets sweeter with the New Moon in Cancer on the 9th helping you take on a more gentle approach with communicating to yourself and others. When Mercury enters into this part of your chart, you're reminded that "if you don't have anything nice to say, then don't say anything." That also goes for the thoughts that you have about yourself and your worthiness to be nurtured. During Chiron Retrograde, you're invited into the depths of your subconscious to clear up old hurts and disappointments that trigger a sense of rejection or alienation within you.
On the 22nd, the Sun enters Leo which could kick up a little tension amongst family or in the home. Choose to lead with love, not your ego.
The Full Moon on the 23rd has you feeling pulled in various directions. Even through the discomfort, a sudden breakthrough can occur, shifting you in a more solution-oriented direction. When Mercury enters Leo, signing a lease or contract for a new home or investment property is supported. By the end of the month, Venus meets up with Mars in Virgo encouraging you to lighten up and let your inner child live.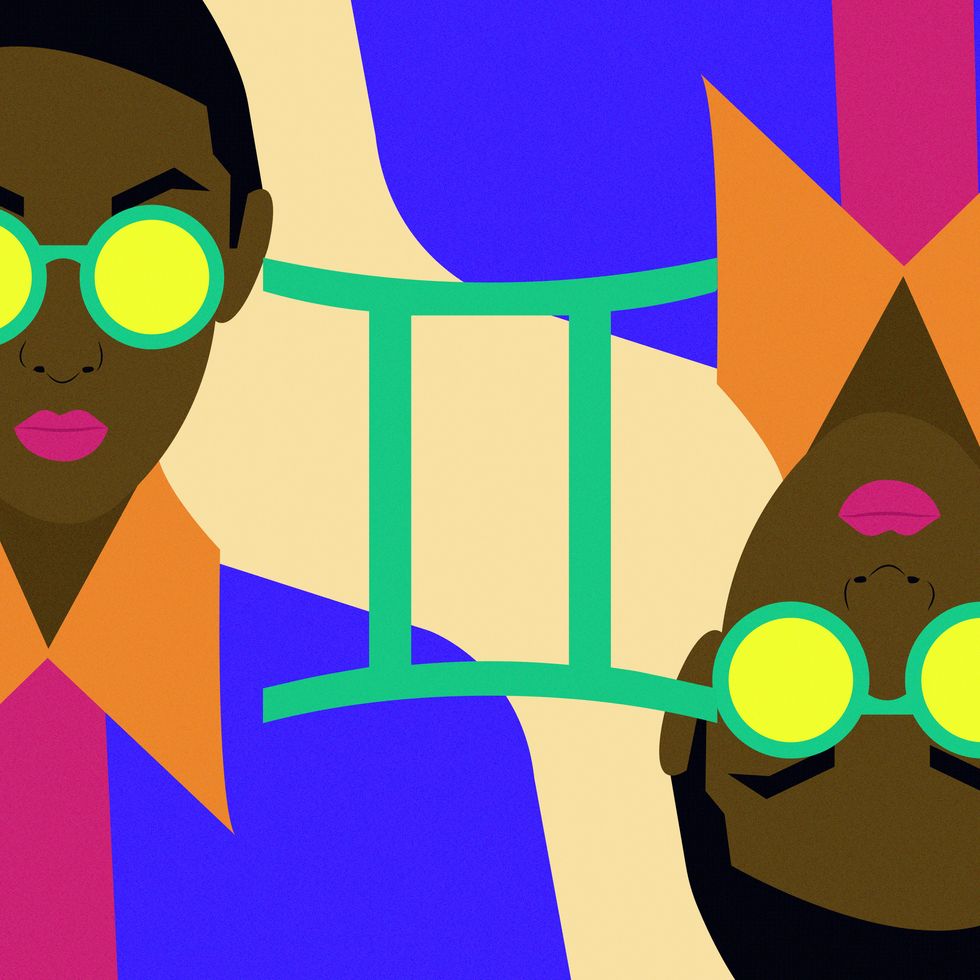 GeminiLaci Jordan for xoNecole
The month kicks off with a New Moon on the 9th inviting you to set some intentions for your financial security. Seek out ways to align with money-making opportunities that support your personal values and fulfill you emotionally. When Mercury enters this part of your chart, contracts and negotiations are up for discussion. On the 15th, Chiron begins its retrograde, giving you a chance to put into practice the lessons you've learned about self-reliance. Your social network or friends could be triggering your need for space so kindly communicate your need to just do your own thing for a while.
The Sun shifts into vibrant Leo on the 22nd, making you the talk of the town. Don't be afraid to shine that brilliant light of yours no matter who it blinds.
The Full Moon on the 23rd has you in the spotlight sharing your gems of wisdom and experience with those that look up to you. Travel restrictions may also be released around this time. When Mercury enters Leo, your social media following and engagement can increase. The month wraps up with Venus teaming up with Mars in Virgo on the 29th. You're encouraged to be less critical and judgemental to experience the love that is available to you through the tribe you were born into.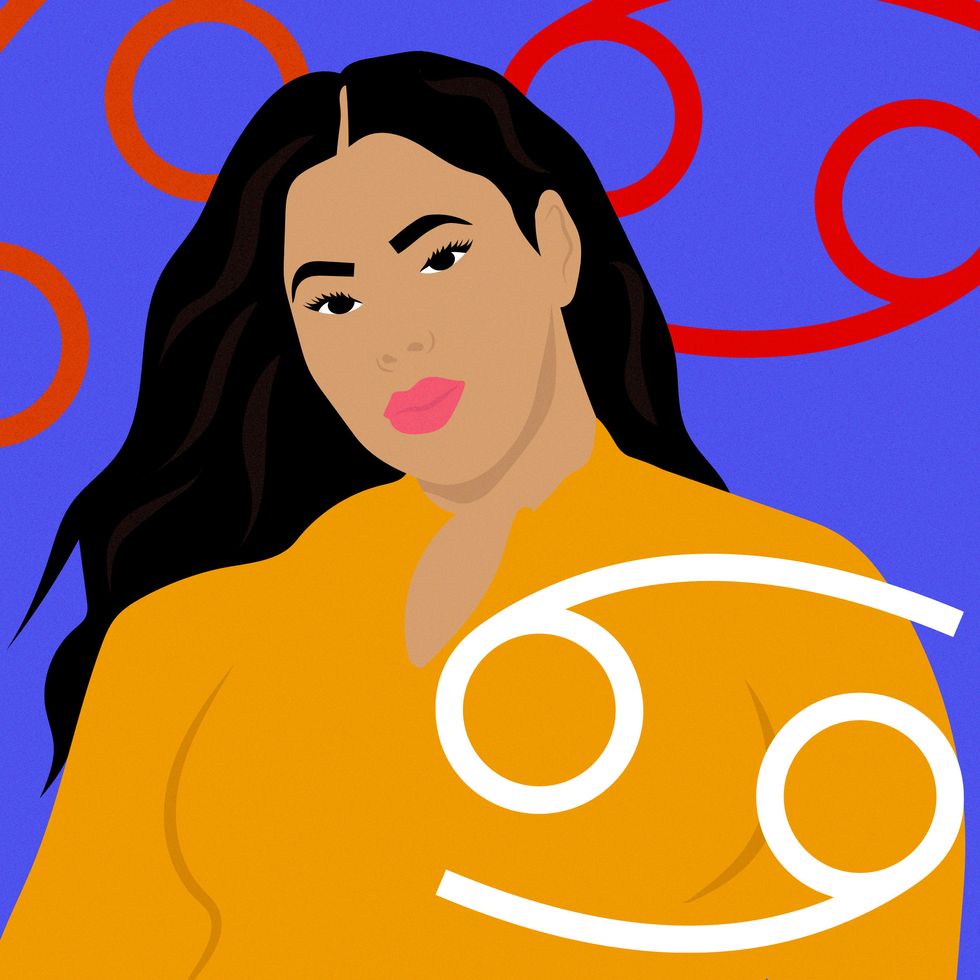 CancerLaci Jordan for xoNecole
July begins with a sweet New Moon in your sign inviting you to make a wish and blow out the metaphorical (or literal) birthday candles for what you'd like to manifest in the year ahead. On the 11th, Mercury enters this same part of your chart, making life a little busier. Stay on top of your emails, text messages, and phone calls during this transit. You never know who may be trying to connect with you. When Chiron goes retrograde on the 15th, you're on a mission to reclaim the power that is your authenticity.
The Sun shifts into Leo on the 22nd, bringing your focus to your values, self-esteem, and money.
The Full Moon on the 23rd helps you resolve a debt, but on a deeper level, this can be a powerful time of releasing old stories about you being too "weird". Dare to be different, boo! When Mercury enters Leo, don't be afraid to brag on yourself to get the most out of an opportunity. On the 29th, Venus meets up with Mars in Virgo which could have your inner critic going crazy. You're not faking this process of becoming the truest version of yourself. You're simply remembering who you've always been.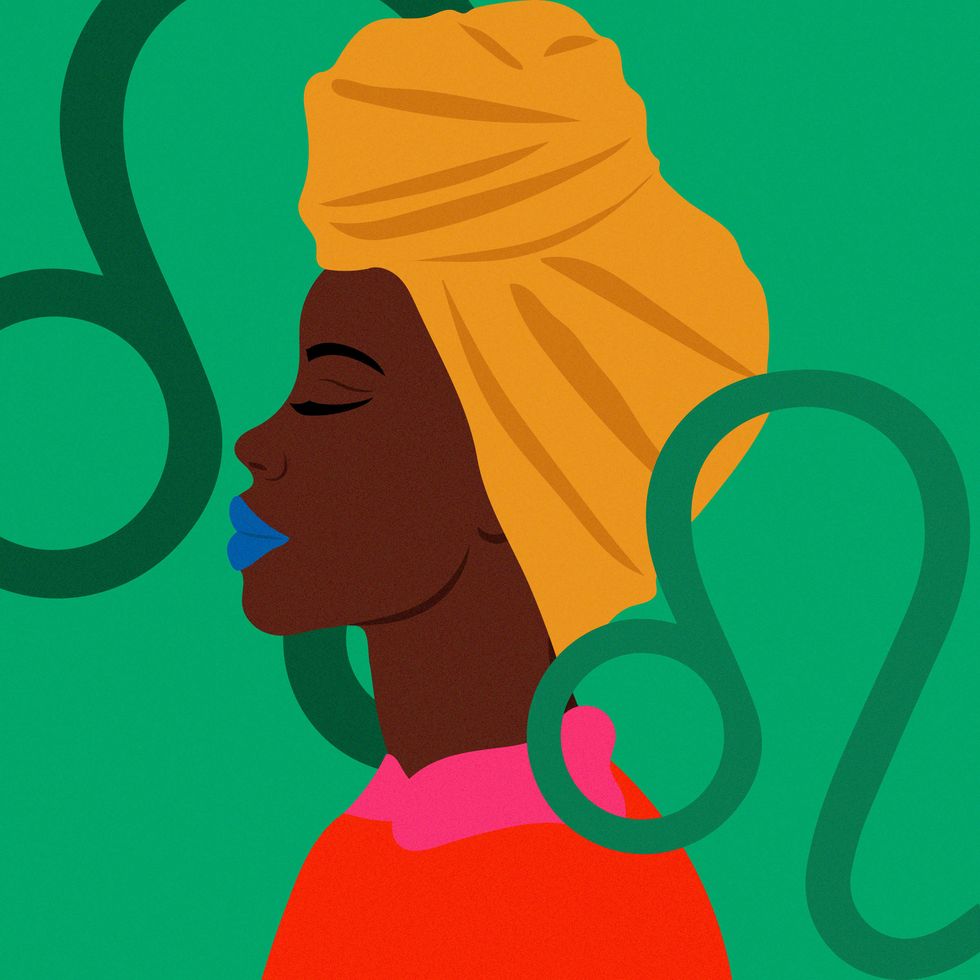 LeoLaci Jordan for xoNecole
The first part of the month is a bit more quiet for you with the New Moon on the 9th. Rest and retreat into the sacred space of your bedroom. When Mercury enters this part of your chart, your dreams are more active than usual. Keep a journal to record the insights and decode the messages. On the 15th, Chiron begins its retrograde, inviting you to reestablish trust in your Higher Self, not anyone that you've deemed as some all-knowing guru.
The wisdom you seek is within yourself. On the 22nd, the Sun shifts into your sign which has you ready to celebrate your beautiful life and another year around the Sun.
The Full Moon on the 23rd could result in a severance of ties within a relationship (romantic or professional) if you don't think the connection is growing in the right direction. When Mercury enters your sign on the 27th, everyone wants to catch up, grab drinks, go to brunch, etc. You'll need a calendar to keep up with your busy socialite schedule. The month ends with Venus meeting up with Mars in Virgo which can help you in the art of financial negotiations.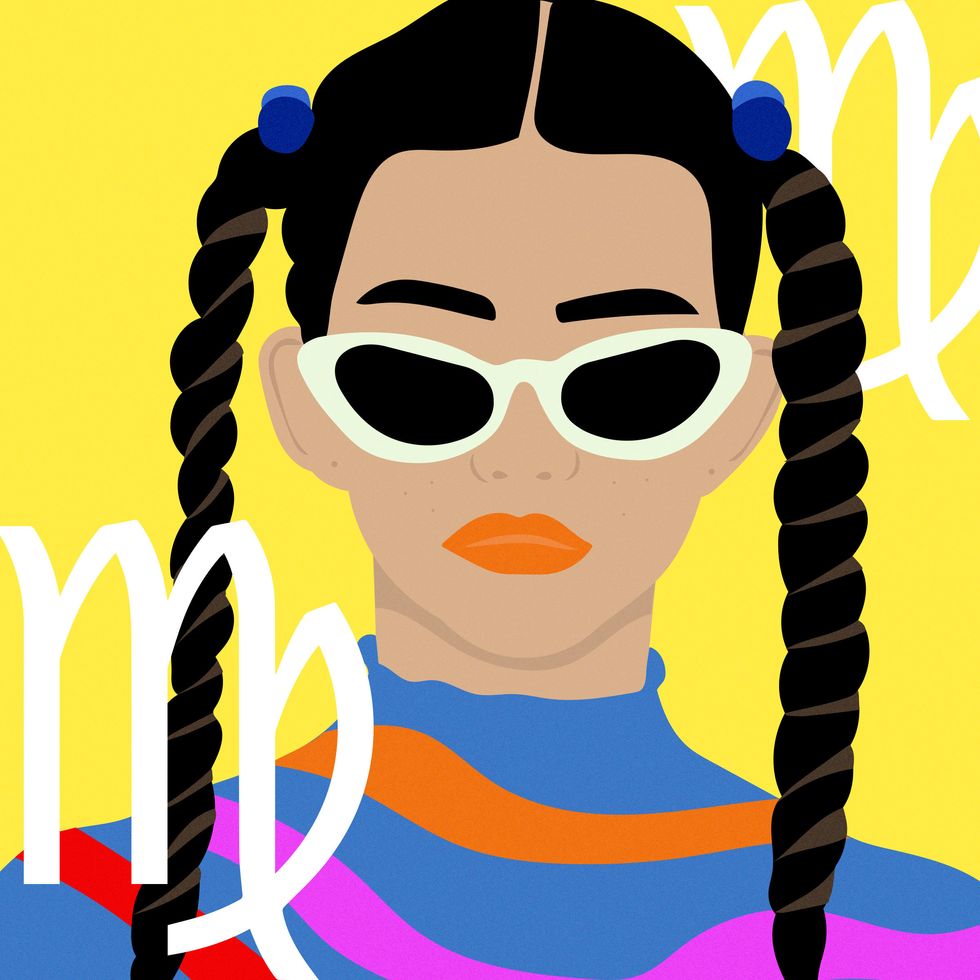 VirgoLaci Jordan for xoNecole
The month begins with the New Moon inviting you to expand your social network. When Mercury enters this part of your chart, you're wanting to nurture the connections that mean the most to you. If your inner circle is just you, it's time to put yourself out there to connect with a tribe that wants to pour their love into you. When Chiron goes retrograde on the 15th, you're diving deep into a traumatic experience that stifled your independence and authenticity, making this an opportune time to address codependent patterns of relating and connecting to others.
The Sun shifts into Leo on the 22nd, inviting you to rest and prepare for your birthday season. The Full Moon on the 23rd empowers you to overcome a bad habit that's been affecting your physical and/or mental health.
On the 27th, Mercury enters Leo which has your dream life active. Also be mindful of repressed anger that wants to be expressed and processed. When Jupiter goes retrograde on the 28th, you're invited to do some soul-searching in regards to relationship patterns that you want to resolve and even some new ones that you want to establish. The month wraps up with Venus and Mars meeting up in your sign which makes you super sexy and magnetic. Do what you will with your magic.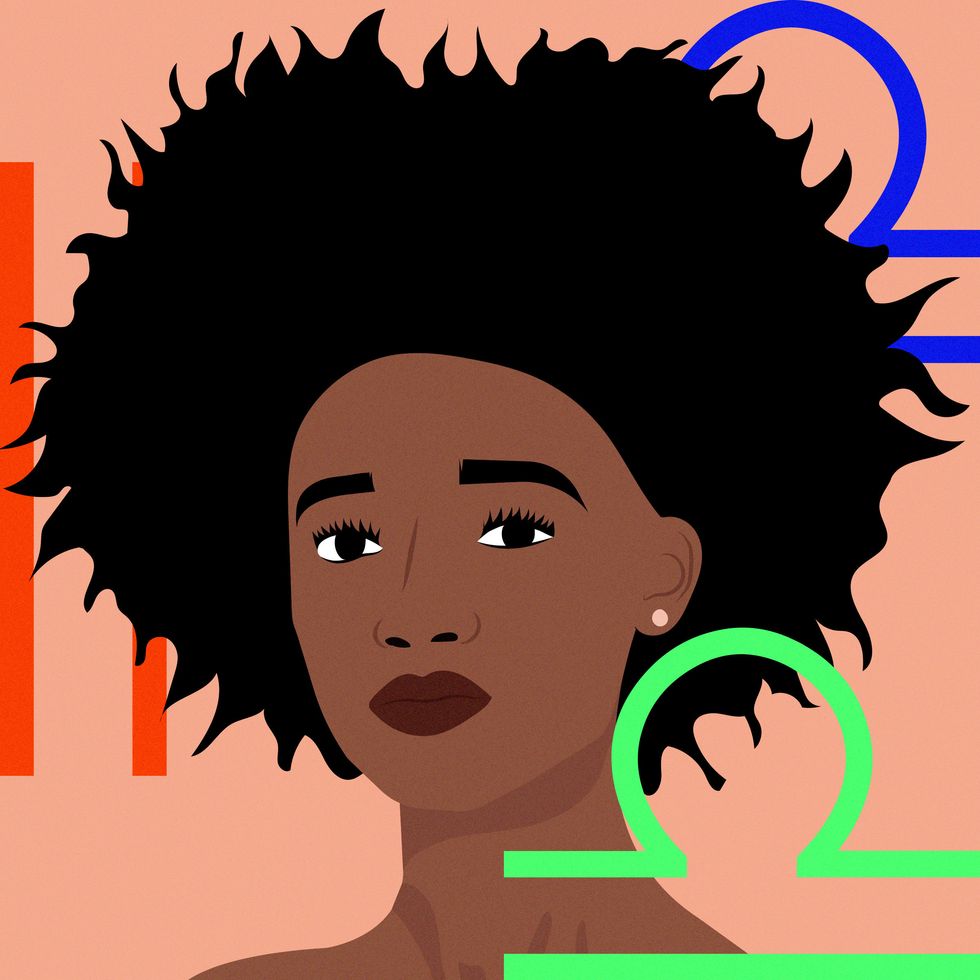 LibraLaci Jordan for xoNecole
The month kicks off with a New Moon opening up opportunities for you that will help you climb up the ladder of success. When Mercury shifts into this part of your chart, you'll catch more flies with honey. Use your skillful art of negotiation to assure that any career moves are a win-win for everyone involved. When Chiron goes retrograde on the 15th, you're invited on a journey of reclaiming your independence. Healing childhood attachment wounds and addressing codependent relationship patterns is encouraged during this transit.
On the 22nd, the Sun shifts into Leo inviting you to connect with your tribe. Don't play it small and don't take it personally if you ruffle some feathers through your assertiveness.
The romantic Full Moon is a good time for a date night or girls' night out. Good vibes and conversation is all you need. On the 27th, Mercury enters Leo, reminding you to speak life into your dreams. Hold a positive vision in your mind to ensure epic results. At the end of the month, Venus meets up with Mars in Virgo. Keep your love matters discreet during this time. You can pop out with your boo in August.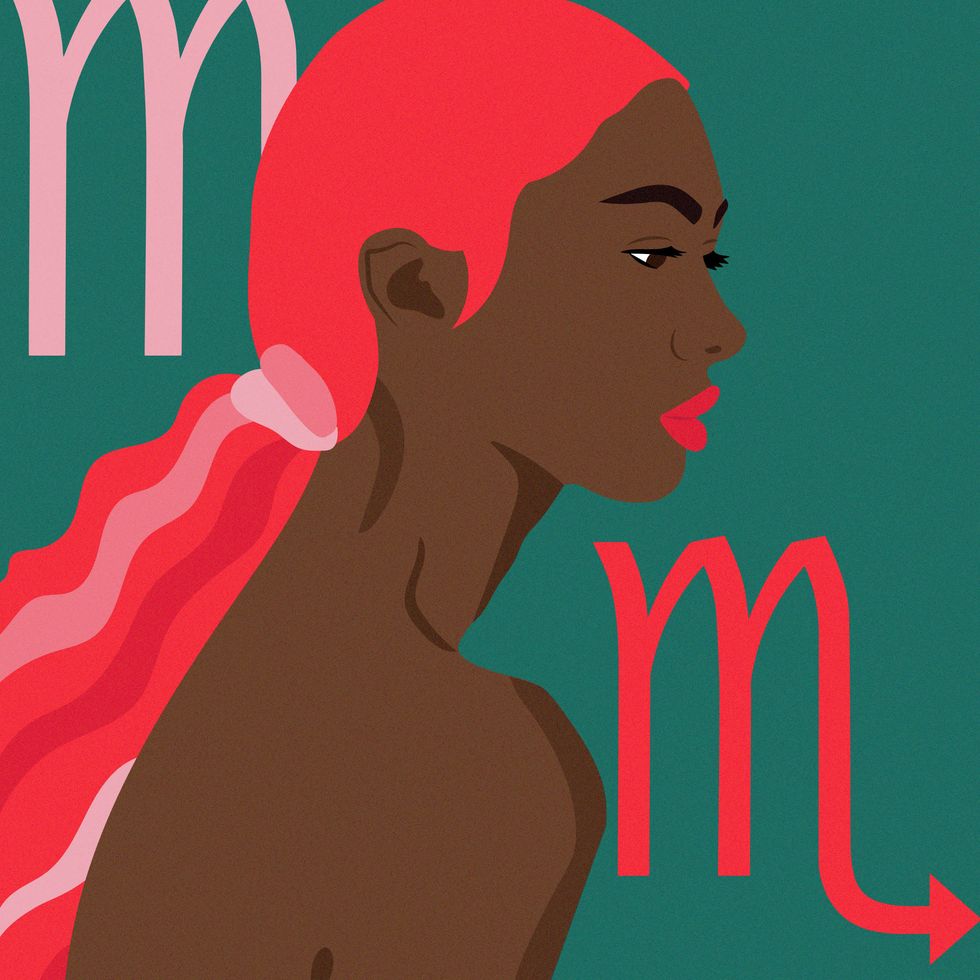 ScorpioLaci Jordan for xoNecole
Your desire to expand beyond your comfort zone is at a high with the New Moon on the 9th. When Mercury enters this part of your chart, you'll be making arrangements to travel abroad. Opportunities to teach, guide, and nurture others can present themselves to you. When Chiron goes retrograde on the 15th, you're invited to journey inwards to address the psychological causes underlying any health concerns--especially recurring issues you've experienced since childhood.
On the 22nd, the Sun shifts into feisty Leo giving you the oomph you need to trailblaze your way to the top of the career ladder. The Full Moon liberates you from the expectations of your family.
Breakthroughs in generational healing are likely. A relocation may also be on the horizon as you re-establish what home means to you. On the 27th, Mercury enters Leo which has you feeling more assertive than usual. If you talk like a boss and act like a boss then you must be a boss. If all else fails, fake it til you make it. By the end of the month, Venus meets up with Mars in Virgo helping you overcome any friction so you can harmonize with your friends.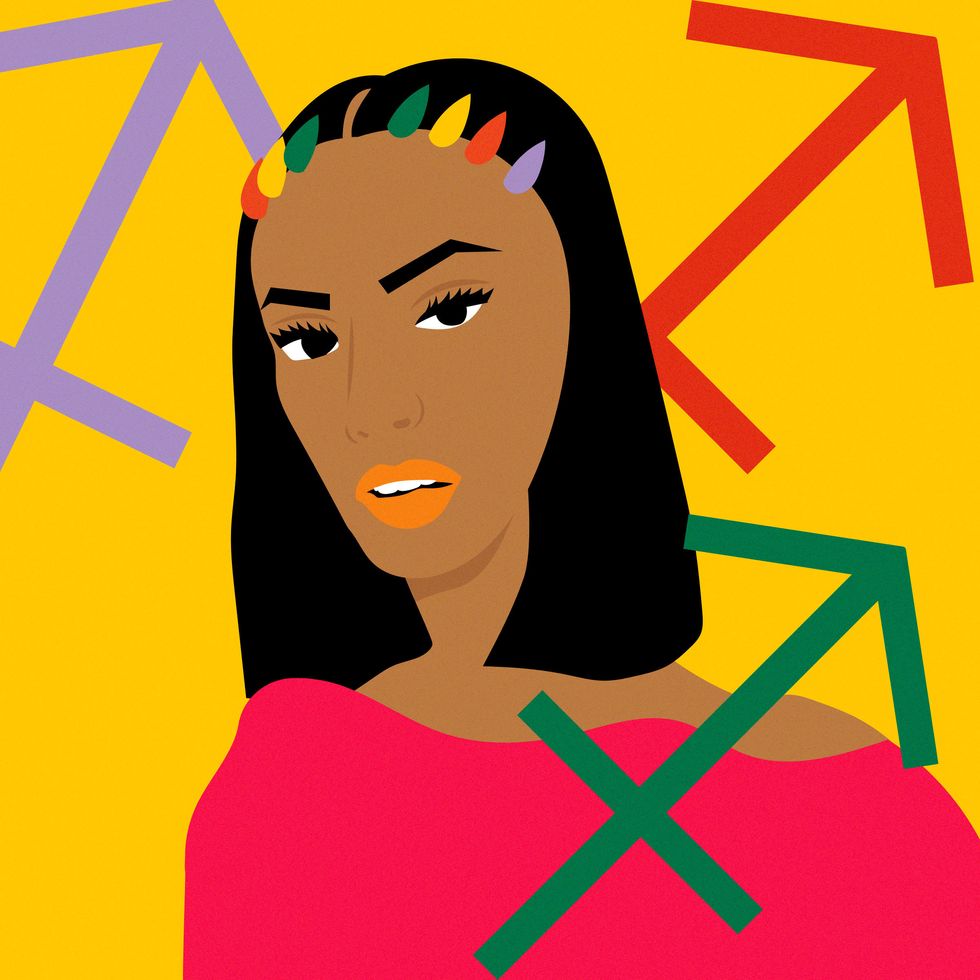 SagittariusLaci Jordan for xoNecole
The first part of the month invites you to do some soul-searching. The New Moon supports you in exploring different healing modalities that can help you break through intimacy blockages developed in childhood. When Mercury shifts into this part of your chart, chatting with a therapist, tarot reader, or energy worker can guide you through some difficult emotions. When Chiron goes retrograde on the 15th, you'll be diving even deeper into the inner child wounds and the lack of support you received in helping you clearly define your identity separate from your parents and family.
The Sun shifts into Leo on the 22nd which has you ready for another passport stamp.
Where to next, thrill-seeker? The Full Moon is a supportive time for launching any new digital projects, products, or services. Who knows? You may just become the next overnight social media sensation. On the 27th, Mercury enters Leo encouraging you to share your wisdom and experience with others. Remember, "each one teach one". The month wraps up with Venus linking up with Mars in Virgo bringing the pressure in career matters but if there's anyone that thrives off of a challenge, it's you. Boss up, boo!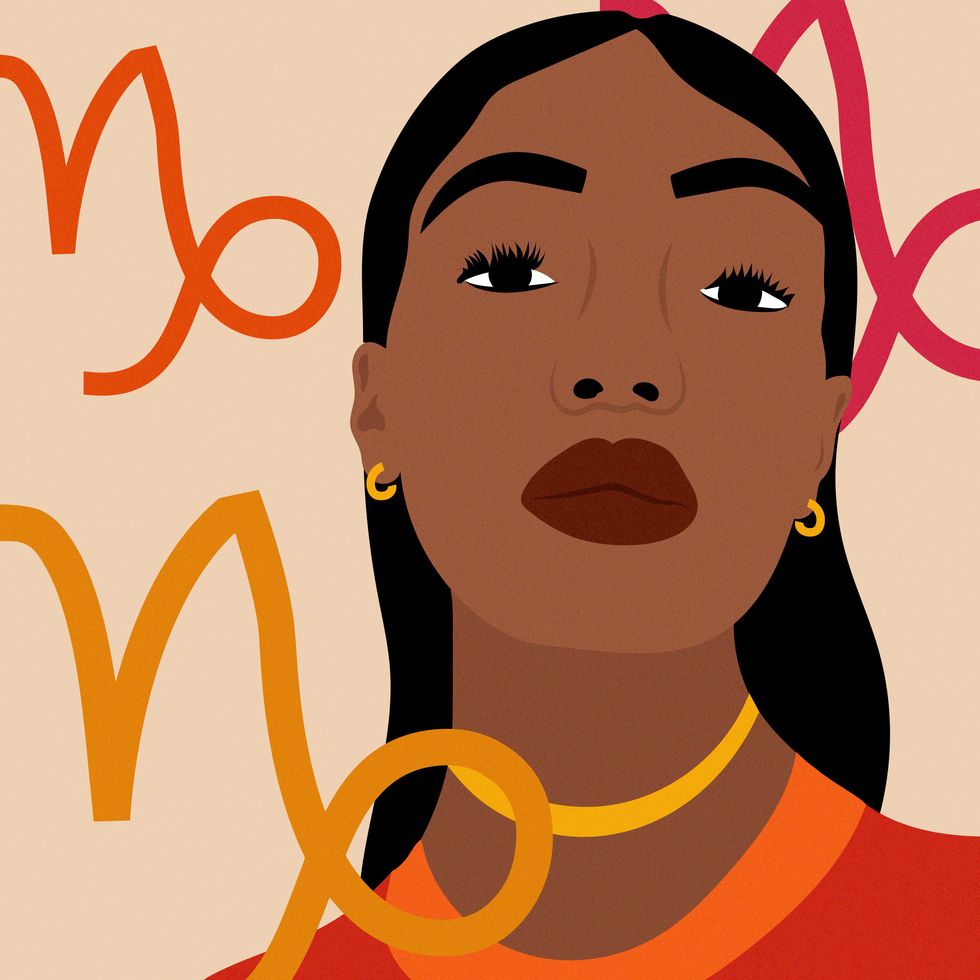 CapricornLaci Jordan for xoNecole
Relationship matters get a little more sensitive on the New Moon, inviting you to reconnect with your tender side. When Mercury enters this part of your chart on the 11th, contracts and negotiations are up for discussion. This is also a good time to re(establish) boundaries within your one-on-one connections. When Chiron goes retrograde, you're invited to examine your early childhood foundations. Were you given a chance to develop a healthy sense of autonomy or do you still find yourself constantly seeking advice from outside sources? 'Tis the season of learning to trust yourself.
On the 22nd, the Sun shifts into Leo, encouraging you to dive deeper into your psyche to explore blockages in your confidence and self-expression.
The Full Moon provides you with insight on how to break out of a financial rut. Rediscovering your hidden gifts and talents can be just what you need to get on top of money matters. On the 27th, Mercury enters Leo reminding you are more than what you're capable of giving to others. Being yourself is more than enough. By the end of the month, Venus meets up with Mars which could have you attracting people in your life that need guidance. Maybe it's time to offer some consulting services next time someone asks to pick your brain for free.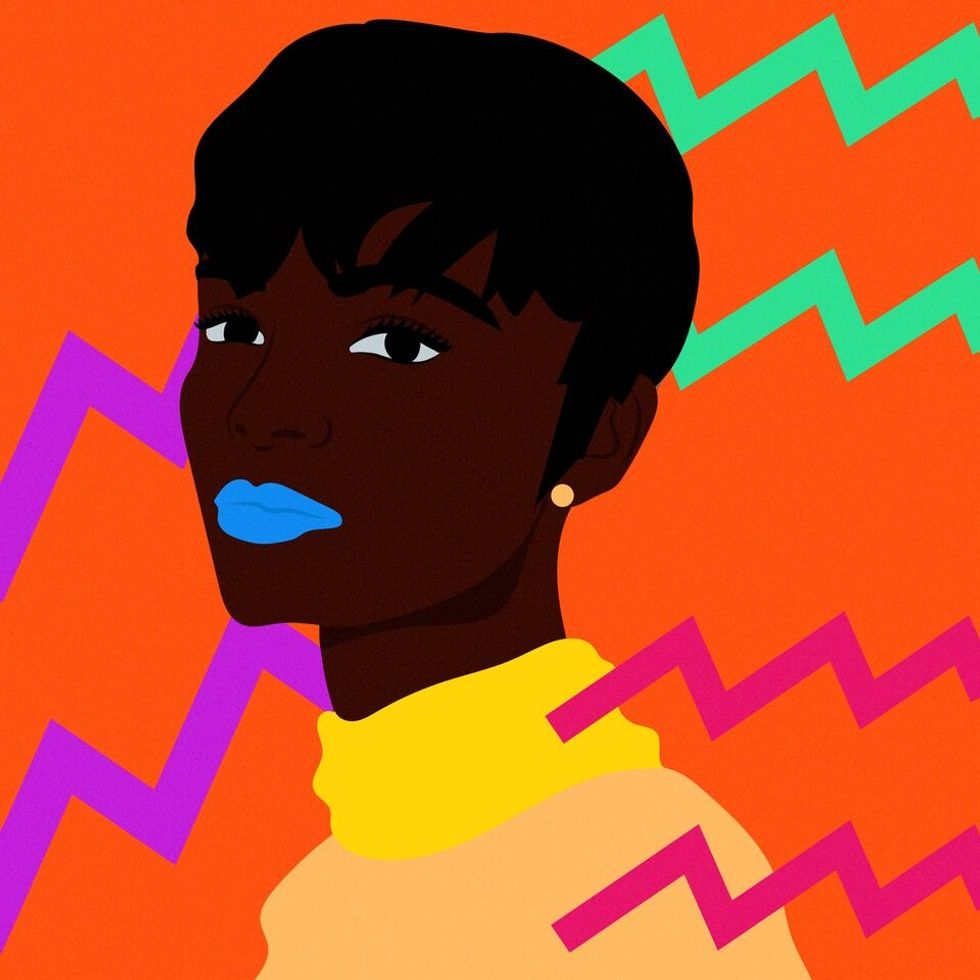 AquariusLaci Jordan for xoNecole
The beginning of the month kicks off with a New Moon inviting you to establish some new habits that will better support your emotional well-being. When Mercury enters this part of your chart, you may lack a little direction but just lean into the flow, trusting that you'll get back into your routine. When Chiron goes retrograde on the 15th, reconciling your self-dialogue so that it actually honors your individuality (instead of suppressing it) is recommended.
The Sun shifts into Leo on the 22nd, bringing your attention to partnerships, contracts, and boundaries. Make adjustments as needed and aim for a win-win scenario for both parties involved.
The Full Moon in your sign is the grand reveal for the upgraded version of yourself minus all of the baggage. On the 27th, Mercury enters Leo which has you feeling more assertive than usual. Remember, it's not what you say. It's how you say it. The month wraps up with Venus and Mars meeting up in Virgo to get your finances and debt under control.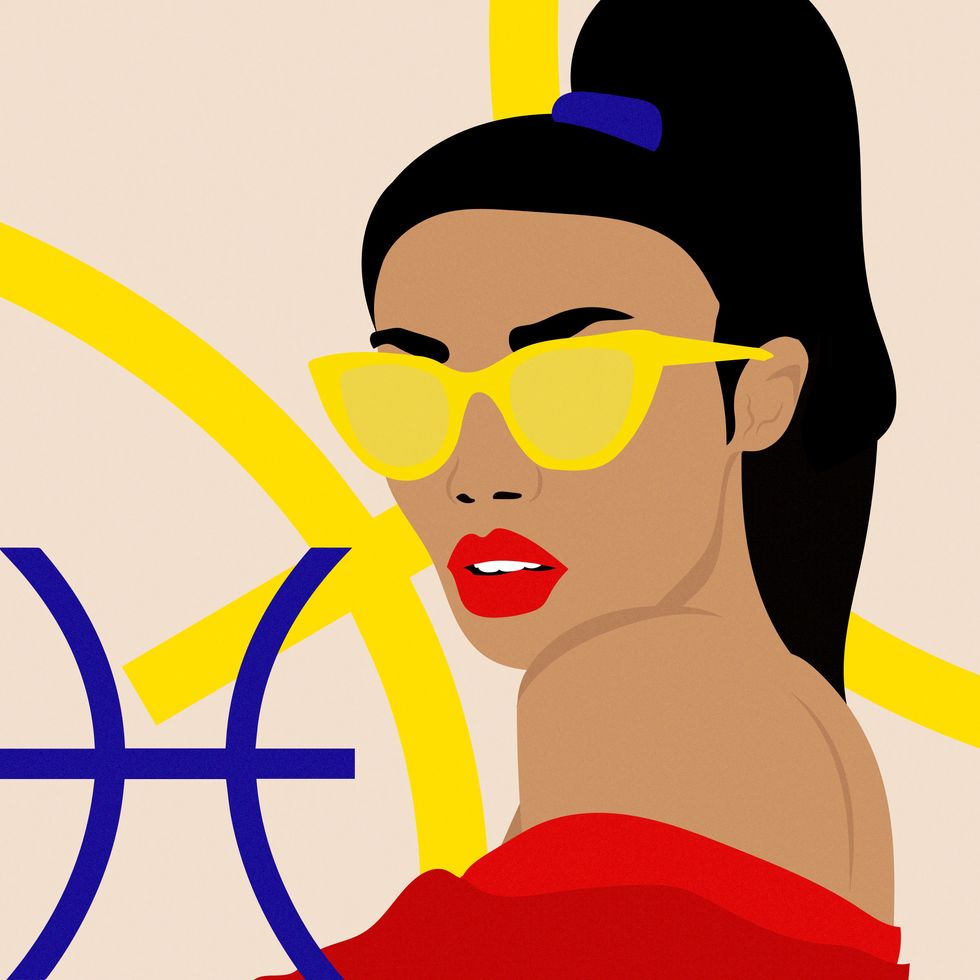 PiscesLaci Jordan for xoNecole
The beginning of the month invites you to reconnect with your inner child and creativity. When Mercury enters this part of your chart, it's time to express yourself. You're an artist at heart and this may be a time in which you can create one of your greatest masterpieces. When Chiron goes retrograde on the 15th, you're invited into some deep soul retrieval work that will have you facing some traumatic experiences that negatively impacted your self-esteem. Your struggle was not in vain and the strength you gained from it will be able to inspire others to love on themselves that much harder.
On the 22nd, the Sun enters Leo which has you motivated to get yourself back into shape. As they say, "Health is wealth."
The Full Moon marks a time of cycles completing--particularly related to your feeling of belonging within a social group. Let go of that dead weight and allow yourself the gift of an authentic, supportive, and nurturing community. On the 27th, Mercury shifts into Leo helping you tackle the tasks on your to-do list that have been piling up the past couple of months. The month wraps up with Venus and Mars creating a little tension in your relationships but you've got the ability to weather these temporary energies.
Featured image by Laci Jordan for xoNecole
Keep reading...
Show less
Born between February 19th and March 20th, this mutable Water sign embodies a free-flowing nature that is typically easy to get along with. Their heightened levels of sensitivity equip them to read the room. Sometimes this works to their advantage while, at other times, their ability to feel into the unseen can be extremely taxing. As one of the most empathic zodiac signs, Pisces has a tendency to absorb the emotions of others. If they're not clear in their own boundaries, they can quickly find themselves lost in the distress of other people.
Ruled by Neptune, there's no coincidence that these dreamy lovers often blur the lines between reality and fantasy. Given their idealistic approach to life they always see the best in others (even when those same people know they ain't sh*t). It is a Pisces' ministry to provide unconditional love and support—even for people undeserving of their devotion.
As the last sign of the zodiac, Pisces essentially embodies the essence of all of its predecessors. Often considered a Water sign, in some ideologies they're actually associated with Ether—that being the air beyond the clouds. While its sister sign Cancer rules the ocean and Scorpio governs fixed bodies of water, Pisces is the source that permeates all space much like our idea of God.
This is one of the reasons many Pisceans find themselves naturally drawn to spirituality. Given their malleable nature, they're likely to explore various spiritual paths throughout their lives. They're capable of connecting the dots between things that seem completely different. At the end of the day, Pisces' only concern is getting to the heart of the matter. Not one to get caught up in the details like their opposite sign Virgo, these intuitive individuals prefer to feel their way through life.
The Pisces Zodiac Sign: An Overview
Physiologically, Pisces governs the feet, toes, and lymphatic system. Given their emotionally-absorbent nature, it's important to not allow emotions to become stagnant which can sometimes result in illness. As an appreciator of nature's beauty, taking a relaxing stroll can be just what they need to keep their energy flowing and to keep them grounded in reality. They are notorious for having a vivid imagination and it's not uncommon for you to catch them glancing off into space with that dewey look in their eyes. Even though they are a spiritual being, they still have a physical body that needs to be treated like the temple that it is. Pisces can be extremely sensitive to certain foods which is why it's common for many of them to develop food allergies over time.
The Earthly realm can get pretty boring for Pisces which can push them to explore various forms of escapismwhether that be through music, books, and is severe cases—drugs. This indulgent zodiac sign, whose ancient ruler is Jupiter, can fall into patterns of addiction more easily than others. Their Neptunian influence lures them into a dreamworld in which everything is alright when in reality their lives may be total chaos. As innocent as they appear, Pisces does have a dark side to them.
There's a reason that their symbol is two fish (and not one). Although they can be some of the kindest people they can also hit below the belt with their self-righteousness. Known to play the victim, they have to be brutally honest with themselves (and grounded enough within reality) to recognize how they, too, play a role in the drama. Associated with the subconscious, they can fall into projecting their unhealed emotional wounds onto others. Shadow work is key for this dualistic sign to remain balanced.

Pisces Personality Traits
Best Pisces Traits:
Sensitive
Visionary
Empathic
Instinctive
Artistic
Worst Pisces Traits:
Pisces in Career
Dreamy Pisceans often have a difficulties adjusting to the norm of a 9-5. Due to their imaginative nature, they'll usually find more fulfillment in paving a path of their own that allows them to indulge their need for creative expression. With financial security not being a top priority for this free-spirited sign, it's common they bounce around from one place to the next in pursuit of an environment that can support their endeavors.
Many of them will go through a "starving artist" phase at some point before they recognize that their need for security is just as important as living out their purpose. Often born with an innate gift that cannot be taught, they just need to learn to leverage what they're naturally good at. A career in the healing and spiritual arts as well as music, acting, and writing are all paths that support what Pisces is best at. Given their compassionate nature, charity work is also suitable for them. For those that are a little more on the "secular" side of things, opening up a bar or getting into the liquor trade could be surprisingly lucrative.
Pisces in Love
As a mutable Water sign, Pisces can be a little difficult to figure out but that's also the allure about them. On one hand, they can be sympathetic and compassionate, while on the other hand they can be distrustful and wounded. Not one to dive in head first, they prefer to test the waters before taking the plunge. In the beginning, Pisces will only reveal but so much as they do possess a mystique about them.
Once you've passed the test, they'll happily reveal their innermost self to you. Given their power of subtle influence, they have the ability to get their needs met—usually without even being direct. This is a result of their mastered manipulative streak which can sabotage the growth of the authentic relationships they deeply crave. Their sacrificial nature and giant hearts make them a sucker for people who are suffering. They are weak to a good sob story and love to be the one to pick up the pieces.
It's very common for Pisceans to wind up in codependent relationships that ultimately aren't serving either party involved. Once they stop trying to save other people and save themselves, they can connect with a partner that is truly their equal. Generally, other Water signs (Cancer, Scorpio, and Pisces) and Taurus and Capricorn are good matches for this passionate free-spirit.
Famous Pisces Celebs
Erykah Badu
Common
Daniel Kaluuya
Steph Curry
Spike Lee
Trevor Noah
Featured image by Joe Scarnici/Getty Images for Pandora Media Inc.
Keep reading...
Show less
Born between January 20th and February 18th, Aquarius, a fixed Air sign, is the highest expression of its element. Highly intelligent, these individuals enjoy discussing a wide array of topics from human rights, extraterrestrial encounters, and conspiracy theories. Typically, there are two starkly different expressions of Aquarius—one being the Saturnian, conservative type and the other being the "Wild Child" archetype influenced by its modern ruler Uranus.
As a masculine sign, they have no problem taking the lead whether in their professional affairs or within their relationships. A bit of a control freak, it's important for Aquarius to give others the opportunity to take the reins. Their uncompromising nature can often result in them isolating themselves from others—especially those that they perceive as a threat to their authority.

As the 11th sign of the zodiac, Aquarius represents the voice of collective in contrast to its opposite sign, Leo, which prizes individuality. Although these friendly Air signs enjoy being a part of a group they often find themselves struggling to feel at home amongst their social network. From an early age, Aquarius is keenly aware of just how different they are from their peers which often contributes to feelings of loneliness.
Growing up, there could have been very strict, demanding, and critical influences that made it difficult for them to express their individuality. And if ever there was a display of sovereignty, severe punishment was often the result. Once the Aquarius becomes an adult, they can be quite rebellious as they carve out space for themselves in the world.
Aquarius Zodiac Sign: An Overview
Physiologically, Aquarius rules the calves, ankles, and shins granting many of them long, slender legs (particularly those with Aquarius Rising). In addition to the legs, they are also associated with the circulatory system. Generally, their body temperature can run pretty cold which is why they prefer warmer climates. In the cold seasons, you can usually spot them bundled up in an impressive amount of layers. Depending on what end of the spectrum they're on, you'll either find them dressed down in a simple attire of fashioned in dramatic colors, prints, and textures that make them look like a walking textile factory.
As important as setting themselves apart is for some Aquarians, they are ultimately a woman/man of the people.
Although their motivations aren't typically fueled by their emotions, their strong conviction in what is best for ALL of humankind often positions them as activists, humanitarians, and thought-leaders. Naturally inquisitive, they seek to understand what connects us all at a core level. Given their organizational abilities, Aquarius can easily gather others together for a common cause that can ultimately impact some changes—whether on a small or grand scale.
Aquarius Best & Worst Personality Traits
Best Aquarius Personality Traits:
Inquisitive
Humane
Original
Systematic
Worst Aquarius Personality Traits:
Temperamental
Aloof
Uncompromising
Aquarius in Career
Ruled by Uranus, Aquarians are drawn to the world of IT and inventions. Their progressive mindset positions them to be on the leading edge of new breakthroughs not only in the tech industry but in the field of science as well. Given their altruistic nature you can easily find them working in a lab to find a cure for cancer. Due to their clearly defined beliefs of what is right and wrong, they typically bode well in positions of influence such as politics, social work, and teaching.
As a future-oriented zodiac sign, Aquarians tend to consider how they can impact generations to come. "Each one teach one" is a motto that they put into action whether they are formally guiding others or just setting an example amongst their peers. Their motivation to improve the lives of disenfranchised groups can lead them to philanthropic efforts as well.
Aquarius in Love
With an Aquarius, or any sign, it's important to learn their love language. As a masculine Air sign, this isn't the most emotionally expressive zodiac sign (although you'd be surprised by the chaos that is underneath the surface of their steely-eyed gaze). Sometimes referred to as the Ice Queen/King, it can take a little time for them to warm up to a new suitor. In the earlier stages of a connection, they're enticed by the idea of picking someone's brain to figure out who they're dealing with. The road to intimacy is a well thought-out process so you can forget about this sign falling head over heels for you (unless they have some prominent Water or Fire placements in their chart).
Oftentimes, it's common for an Aquarius to end up pursuing a relationship with a long-time friend. They like to know that there is common ground between them and their partner that isn't solely based on a physical attraction or the oh so dreaded feelings. Sometimes they can send mixed signals in an attempt to create emotional distance and to emphasize their independence. If they're not careful, someone can easily take their approach as a lack of interest.

The more Saturnian Aquarians like to take things slow and can easily shy away from dramatic displays of affection. If you're coupled up with one of these types, acts of service may be one of their love languages. On the other hand, the charismatic Uranian Aquarians typically have many varied types of friends. Even when they break things off with a romantic interest, they don't have a problem maintaining a platonic connection. Generally, other Air signs (Gemini, Libra, Aquarius) and Aries and Sagittarius are good matches for this rebellious genius.
Famous Aquarius Celebs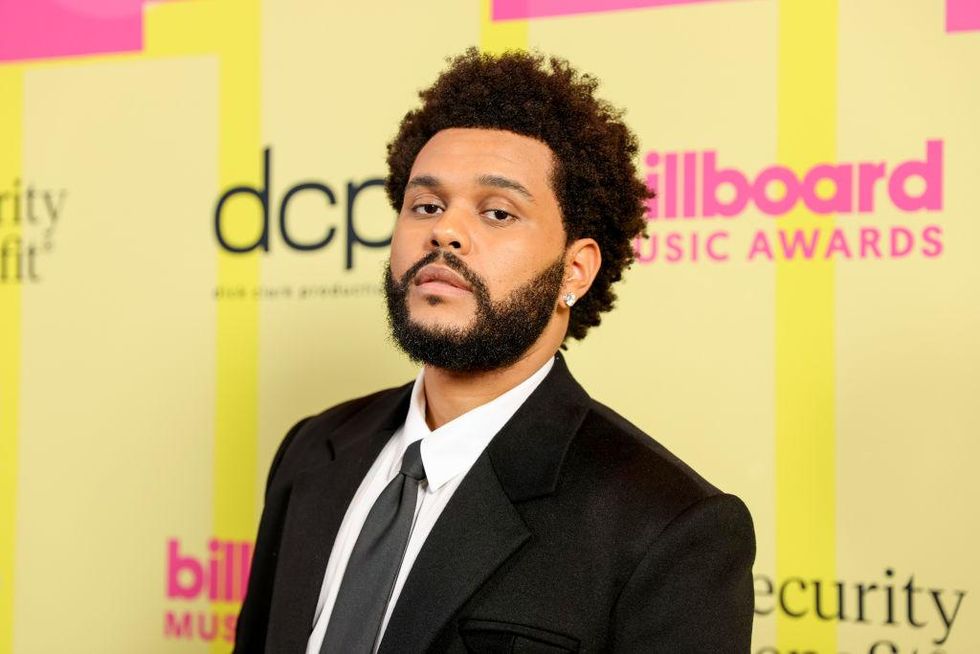 Rich Fury/Getty Images for dcp
Megan Thee Stallion
The Weeknd
Oprah Winfrey
Michael Jordan
Kelly Rowland
Kerry Washington
Brandy
Featured image by Rich Fury/Getty Images for dcp
Keep reading...
Show less
Born between December 22nd and January 19th, these Saturnians are notorious for being pragmatic workaholics who are constantly striving to reach the peak of their proverbial mountain of acclaim and success. Ruler of the 10th house, Capricorn is no stranger to grind as they are internally driven by their duty to fulfill their obligations.
Oftentimes, these individuals grow up a lot quicker than most, with many of them playing the role of older sibling and, in some cases, a parent to their own mother or father. In extreme cases, physical and emotional neglect in their formative years can turn them into overly-responsible people who tend to carry the weight of the world on their shoulders. This is how Capricorn gets its reputation for being the most serious sign of the zodiac.

As a Cardinal Earth sign, Capricorn is often set on laying the groundwork for their future—particularly for their family. Their loyal and sacrificing nature often puts them at the forefront of their family, often making them the backbone of the group. Even those that grew up in a dysfunctional environment are often motivated to create change through breaking generational patterns.
Generally associated with the "father" archetype, Capricorn may experience tension with an important male figure leading them to reject all forms of authority. Sovereignty is a must with this power-hungry boss who takes pride in living their life on their own accord.
The Capricorn Zodiac Sign: An Overview
Physiologically, Capricorn rules the knees, joints, skeletal system, and teeth. Its ruling planet, Saturn, represents the structures of our society that uphold order—such as law enforcement, public officials, and politicians. In some cases, this reserved zodiac sign can be quite traditional in their values. Their appearance is usually well put-together but nothing glamorous as they prefer practicality over anything. You can typically spot them by their wide face accentuated by their chiseled cheekbones, giving them a strikingly photogenic face. Their hair tends to be fine, even if they have a lot of it and the men have a tendency to bald relatively early in life.
Often mistaken as a total snooze-fest, the Capricorn will surprise you after warming up to them. You'll come to find that Capricorn is attentive, charming, and funny—with some even possessing a dark sense of humor that only translates to people that can accept the balance of light and dark. There's no coincidence that this GOAT is represented by "The Devil" in the Tarot. That's not to say Cappies are evil but given their Saturnian influence, they have a tendency to be melancholy and even depressed. These emotions, often mislabeled as "bad," are simply a part of life in many cases. Due to some tough circumstances in their past, these resilient go-getters learn to master the art of processing heavier emotions like grief, sorrow, and loss which each play a vital role in our emotional development and balance.
Capricorn Best & Worst Personality Traits
Best Capricorn Personality Traits:
Ambitious
Practical
Disciplined
Classy
Worst Capricorn Personality Traits:
Uptight

Melancholy
Critical
Capricorn in Career
As natural-born leaders, Capricorn bodes well in positions of leadership, whether that's in a big corporation, government office, or a small business. More goal-oriented than most, they love having a clearly mapped out strategy for how they're going to get from Point A to Point Z. Heading over the logistics of an operation is a suitable role for these structured disciplinarians.
All feelings aside, a Capricorn will get results no matter what it takes. Although they have the ability to motivate those around them, they can just as easily strike fear in them as well which is why it's important for the power-hungry individuals to stay humble. In taking this approach, they can wield their influence with more ease and harmony for everyone involved. Whatever career a Capricorn chooses, even if it's being a stay-at-home mom, will always entail the three pillars of succes—build, achieve, secure.
Capricorn in Love
Typically, Capricorn likes to take their time in building a relationship. Remember, they are an Earth sign so they're going to move a little slower but usually with good reason. With their legacy being an important factor, they have no problem waiting until they hit the genetic jackpot.
As driven as they are, it's important for their partner to have their own thing going on so they don't suffocate the poor Capricorn who gets a bit squeamish if emotions get involved too quickly. Secretly, these composed lovers desire to surrender to wild romance; however, their Saturnian nature won't allow their feelings to trump their logic. It takes a special person to see through this defense mechanism and to not take it personally when they're immersed in their work (it's their happy, safe place).
Give them space when they need it but don't be afraid to call them out on their shit when they're clearly making excuses to spend time with you. They have a tendency to distract themselves with work when their feelings get stirred up. In due time, they'll grant you access to their precious inner world in which you'll begin to see the innocence and purity that lies within them. Generally, Capricorn pairs well with other Earth signs (Taurus, Virgo, Capricorn) as well as Pisces and Scorpio.
Famous Capricorn Celebrities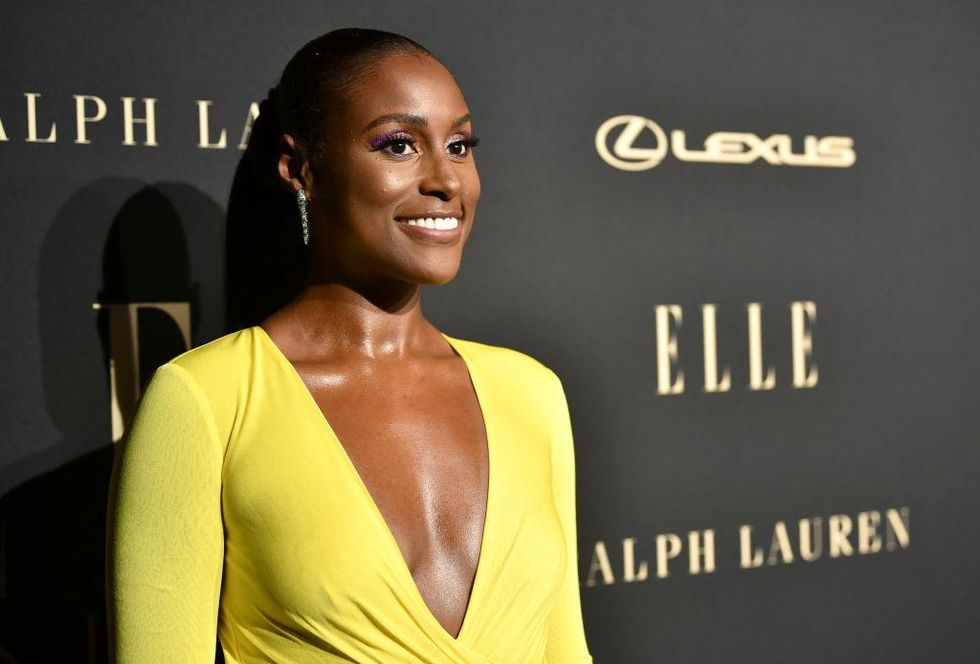 Emma McIntyre/Getty Images for ELLE
Issa Rae
Tina Knowles
Blue Ivy Carter
Denzel Washington
Mary J. Blige
LeBron James
Michelle Obama
John Legend
Tiger Woods
Featured image by Emma McIntyre/Getty Images for ELLE
Keep reading...
Show less
As the final Fire sign of the zodiac, Sagittarius embodies all of the wisdom accumulated through Aries and Leo. Often depicted as a wise sage of sorts, this philosophical mutable sign is well-versed in an array of topics. Unlike its opposite sign, Gemini, who is the jack-of-all trades but a master at none, Sagittarius proves otherwise, often priding themselves on how thorough they are about anything that interests them.
Born between November 22nd and December 21st, these spontaneous individuals thrive in a space of curiosity and exploration which is often why many of them love to travel. Exploring different cultures is one of the ways that Sagittarius makes sense of the world. Their open-mindedness typically makes them popular amongst others—especially those that feel like outcasts or rejected. There's something about their friendly demeanor that can make anyone feel accepted.

Ruled by Jupiter, planet of expansion, Sagittarius knows no bounds given their intrinsic nature to go beyond the familiar in pursuit of something different. These free-spirited individuals strive to experience the most that life has to offer which is why they appreciated variety. As a mutable sign, they have a tendency to flutter from one interest to the next—whether it be a job, hobby, relationship, or environment. As ADHD as Sagittarius can be, they'll often challenge your idea of the truth while simultaneously convincing you to reassess your personal beliefs particularly regarding religion, politics, and morals.
Being one of the chattiest signs of the zodiac, they will never shy away from a debate especially if it's about a topic that is close to home. If you dare to be their opponent, prepare yourself for a long-winded battle that ends with you both agreeing to disagree.
The Sagittarius Zodiac Sign: An Overview
Physiologically, Sagittarius is associated with the hips and thighs. Typically, they have very attractive, toned legs that don't take much effort to upkeep. Often depicted as half man and half horse, you can spot them in the crowd by their chiseled calf-muscles, big smile, and a booming voice. Sorry, Meg, but these are the OG Stallions. It's rare that you'll come across a quiet Sagittarius as they tend to be the life of the party. Their shrill laughter can cut through any tension, helping to ease the vibes amongst the crowd. That class clown in your English Literature class probably had some major Saggie placements in their chart.
As entertaining as these light-hearted optimists are, they can be equally as frustrating when they don't seem to take things seriously. Their discomfort usually comes from a space of fearing criticism which they can be quite sensitive to. On the contrary, they don't have a problem dishing out the truth about others. If they're not tactful in their approach, they can easily rub someone the wrong way—even coming off as patronizing.
As they mature over time, Saggie learns to choose their battles wisely and to just allow people to think what they want. Once they realize that multiple truths can exist simultaneously, they'll be free of their sometimes impetuous desire to impart wisdom onto others.
Sagittarius Best & Worst Personality Traits
Best Sagittarius Personality Traits:
Spontaneous
Friendly
Optimistic
Adaptable
Worst Sagittarius Personality Traits:
Restless
Blunt
Inconsistent
Sagittarius in Career
As the sign of the "higher mind," Sagittarius' thirst for knowledge makes them life-long scholars who may eventually try their hand at teaching as well. Given their clearly-defined ethical code, they also bode well in legal professions especially those related to human and civil rights. With their tendency to root for the underdog and the disenfranchised, these motivating forces have the power to create change within the political arena that will ultimately benefit all of mankind.
Their impeccable communication skills position them to be best-selling authors, editors, literary agents and publishers. Due to their association with all things foreign, the Sagittarius may find their niche working away from their home country. A natural born hustler—these individuals fare well in entrepreneurial efforts that allow them to be as free, creative, and ambitious as they want to be.
Sagittarius in Love
With freedom being their top priority, Sagittarius usually takes the longest to explore their options prior to "settling down." In their younger years, it's typically best to allow them free reign. Committing at a young age can be disastrous for them and anyone they're involved with due to their wandering eye. Over time, they'll eventually get tired of the fleeting, whirlwind romances that don't seem to amount to much but a sexy situationship. Given their impulsivity, they can be promiscuous when single.
Once they actually decide they want to be in a relationship, it's important to keep things fresh to keep them interested. Not one for vanilla sex, Sagittarius wants a partner who is open to exploring some unconventional methods. Out of all of the zodiac signs, they'd likely consider an open relationship. As much space as they need to do their own thing, a long-distance relationship could be perfect for them.
In addition to keeping the sex exciting, they also desire intellectual stimulation. Staying updated on world affairs are good talking points to keep them engaged. More than anything, they want to create beautiful memories with someone who enjoys traveling just as much as they do. As one of the more friendly signs of the zodiac, it's important for a Saggie's partner to be secure within themselves and their relationship. Notorious for having tons of friends (especially of the opposite sex), any jealous type won't be able to last for long.
The Sagittarius zodiac sign isn't a sign that bodes well with the idea of being possessed by another which is why they prefer more independent lovers. Generally, other Fire signs (Aries, Leo, and Sagittarius) and Libra and Aquarius are good matches for this passionate free-spirit.
Famous Sagittarius Celebs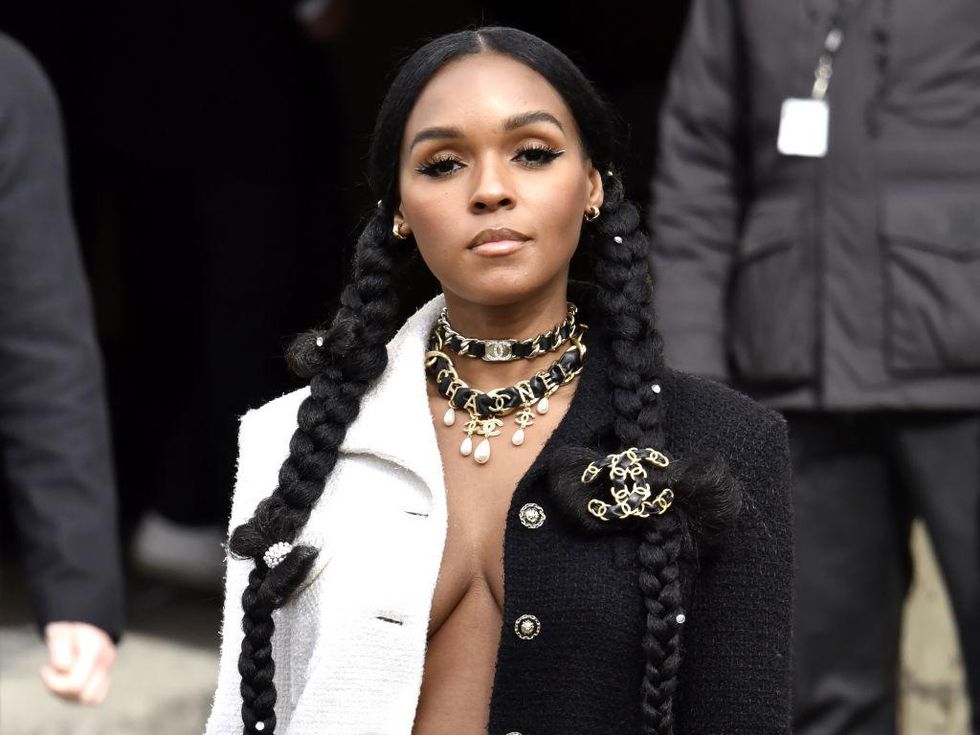 Foc Kan/WireImage
Teyana Taylor
Jay-Z
Tiffany Haddish
Nicki Minaj
Russell Wilson
Jamie Foxx
Janelle Monae
Lauren London
Featured image by Foc Kan/WireImage
Keep reading...
Show less
Born between October 23rd and November 21st, Scorpios are Fixed Water signs that will mesmerize you. Their piercing gaze seemingly invites you to come closer while simultaneously sending a shudder of fear down your spine. With Mars being their ancient ruler, these powerhouses can intimidate the most courageous of hearts. Once Pluto came on NASA's radar in the early 1900s, it then became Scorpio's co-ruler. Associated with the underworld, this tiny planet is how this zodiac sign gets its reputation for having a dark side.
Given their symbol being the Scorpion, there's definitely some truth to this statement. However, a Scorpio typically won't sting first and usually lash out in a form of defense against anyone that bruises their fragile heart. Although they can be tough as nails, these undercover romantics just want their feelings to be held safely within the gentle, devoted hands of another.

Physiologically, Scorpio is associated with reproductive system, sex organs, and bowels. Associated with the 8th house, they're known for being the best secret-keepers which could be a good or bad thing depending on the context. If you ever get jammed up with one of these loyal Water signs, you won't ever have to worry about them snitching.
These baddies are the epitome of "ride or die" making them fiercely dedicated to their loved ones. You can typically spot a Scorpio in the crowd by the brooding look on their face and the all-black attire they wear as if every single day is a funeral. And essentially it is for this zodiac sign who just so happens to represent death—which, in some societies, is still a taboo topic.
However, this is what the energy of Scorpio is here to awaken within us—a curiosity to explore that which is often viewed as forbidden fruit.
The Scorpio Zodiac Sign: An Overview
As the ruler of the 8th house, Scorpio represents the shadow aspects of ourselves and society. Wherever we find this zodiac sign in our natal chart can often pinpoint the trauma we've experienced. Being a Fixed Water sign, these individuals have a tendency to harbor trapped emotions that desperately need acknowledgment and healing. This zodiac sign is notorious for holding a grudge which can result in physical ailments if they're not mindful fo the emotional debris that needs to be cleared.
Associated with the psyche, Scorpio also represents shadow work as well as therapy which is often a resource that can be utilized during a healing process. As water signs, they tend to be more introverted with a tendency to internalize their emotions. It's important for Scorpio to learn that someone can be just as gentle with them as they generally are with others.
It's a battle for them to put down their guards but once they do, they'll invite you into their world of mystery because deep down they actually want to be known through and through. Their intensity can frighten off some but those special people that dare walk straight into this quiet storm will be pleasantly surprised by the warmth and care that a Scorpio can provide.
Scorpio Best & Worst Personality Traits
Best Scorpio Personality Traits:
Determined
Thorough
Passionate
Intuitive
Worst Scorpio Personality Traits:
Deceptive
Obsessive
Spiteful
Scorpio In Career
Tell a Scorpio they can't do something then watch them commit themselves—blood, sweat, and tears—into proving you wrong; not so much for the purpose of stroking their ego but more so as a confident decree to the Universe that they are capable of accomplishing whatever they put their minds to. It's easy for them to get fixated on a goal, especially if it involves them attaining masses of power and influence.
In a past life, your favorite Scorpio was probably a deranged cult leader but in this lifetime they've returned to right their wrongs. When these competitive, hard workers aren't busy trying to out-perform themselves, you can typically find them working in fields such as psychology and detective work. With the 8th house being associated with the Occult, these spooky babes have a knack for the invisible realm making them powerful healers and psychics.
Scorpio In Love
More than likely, a Scorpio wrote the prototype marriage vows particularly that one line that emphasizes "until death do us part." Once they're in a relationship, they are in it which typically grants them the wherewithal to deal with toxic bullsh*t a lot longer than most—all for the sake of an eternal love. They are literally obsessed with the idea of finding, and possessing, that one special person that just gets all of their weird ways that most people don't have the patience to understand. If you're thinking about partnering up with one of these sultry hotties be prepared to merge your souls-- possibly through some sort of blood binding ritual that will seal your fates together for all of eternity. *inserts evil laugh*
Exaggeration or not, Scorpio aims to go deep (in more ways than one). Commonly known as the freakiest sign of the zodiac, they aim to please but don't mind taking on a more dominating role either. Remember—they're ancient ruler is Mars. During sex, they prefer a rough ride whether they're the ones getting pushed around or the one handing out the lashings while they have you handcuffed to the bed.
There will never be a dull moment in the bedroom with these pleasers.
Although the way into their bedroom is enticing, you must first gain entry into their heart. After experiencing some deep heartache, these cautious lovers tend to be choosy and slow-moving in a connection. It's almost as though they're testing whether you have staying power or not. Once they feel emotionally safe with you, they'll be wide open and ready for you to unlock the coochie chakra. These sensitive, fierce individuals pair well with other Water signs (Cancer, Scorpio, Pisces), Capricorn, and Virgo.
Famous Scorpio Celebrities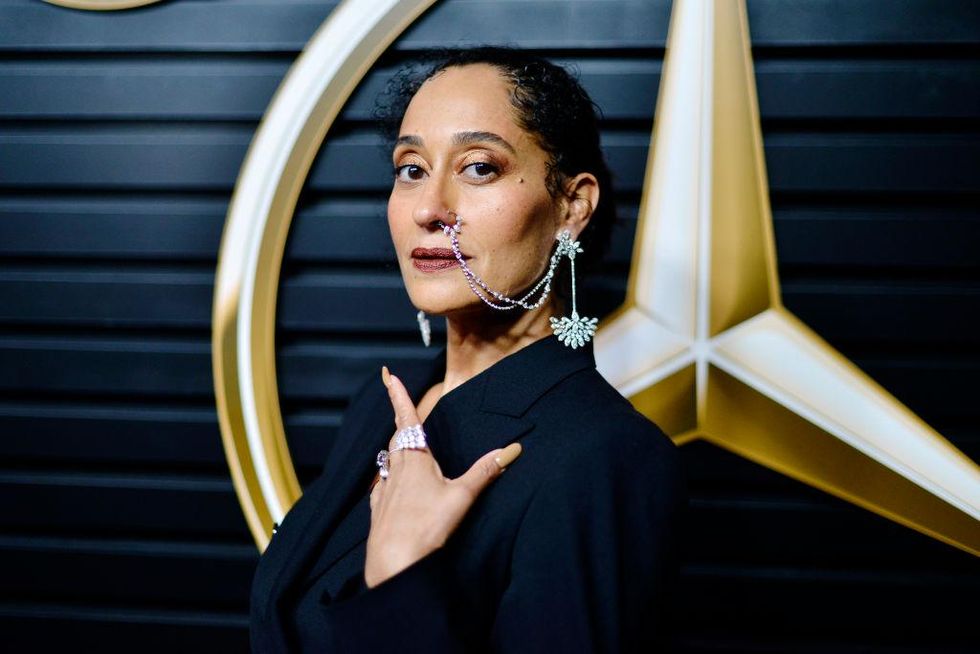 Jerod Harris/Getty Images
Willow Smith
SZA
Tracee Ellis Ross
Future
Drake
Ciara
P. Diddy
Whoopi Goldberg
Gabrielle Union
Featured image by Jerod Harris/Getty Images
Keep reading...
Show less