---
One of the purest expressions of resilience is displayed through one's ability to bounce back from life's greatest adversities; to be pulled by the tension of your personal and professional life, and not be broken. This embodiment of tenacity deserves double the applause when you're tasked with bearing the weight of it in front of millions of eyes and opinions on television and social media every day. As illustrated by daytime television trailblazer and talk radio veteran, Wendy Williams though, she was built for this.
Whether behind the scenes or in front of the lights and camera, Wendy has never shied away from owning her story and voice, no matter how controversial it may be. In Wendy Williams: The Movie, a Lifetime original film, the entertainment icon isn't holding back on any of the tea or testimonials that have shaped her into the woman we know today.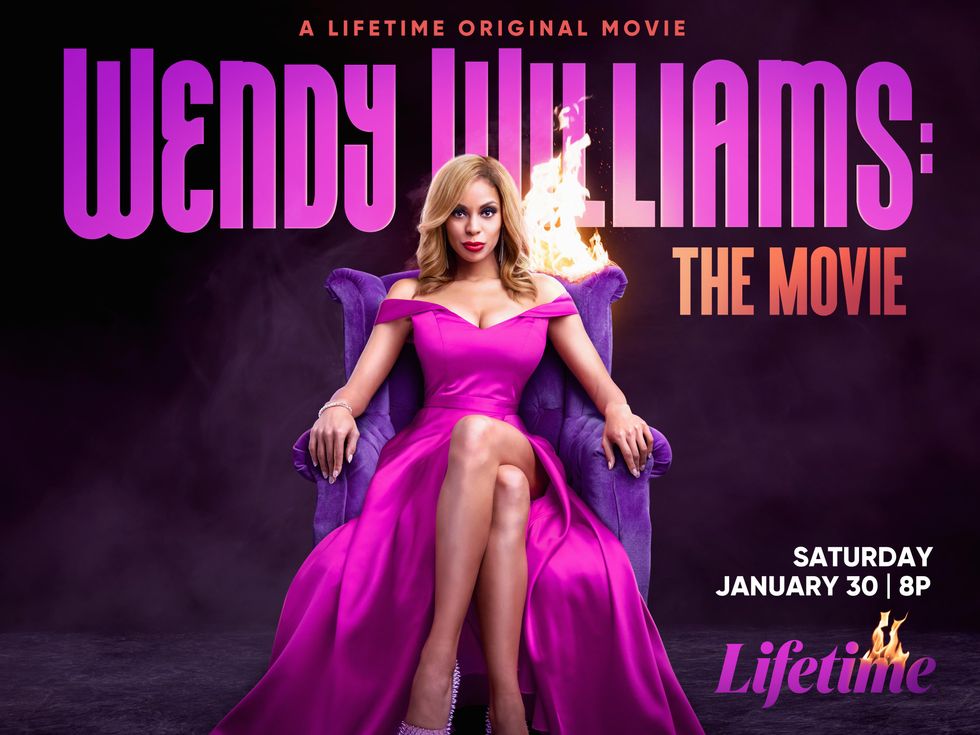 Courtesy of A+E Networks
With a career spanning over 35 years, Wendy has been deliberate about what areas of her personal life she shares with the world. Being in the public eye has its own set of undesirable effects, especially when you're the face of daytime tea while your life becomes a "Hot Topic" seemingly overnight. From battles with substance abuse, infidelity by her ex-husband, Kevin Hunter, and public dissension, Wendy has always chosen her truth over the voice of public opinion, "Every day I feel like I get smarter and stronger and I have to because I have to take care of me, my son, and my career."
"Every day I feel like I get smarter and stronger... because I have to take care of me, my son, and my career."
Traditionally, powerhouse women with successful careers and fierce ambition are often told that they must choose between a thriving profession, motherhood, and a nurturing relationship. Even in the face of those societal standards, the mogul and mother redefines that myth with the aim to pour into the areas of her life that bring the most value and purpose, "I'm in love with being on TV, I'm in love with my career. I fell in love with the microphone over 35 years ago as a paying disk jockey," Wendy shares with xoNecole.
Wendy's upcoming biopic depicts a vulnerable and transparent look into the defining moments that make up her long-standing career, high profile marriage, and its less-than-glamorous ending. Despite having to relive some of the toughest moments of her life, retrospectively, Wendy looks back on her story with admiration of her own strength and fortitude, "And ya know, I had a lot of fun doing this movie because it almost didn't feel like I was talking about me. I look back and say, 'I can't believe I survived that.'"
"I never woke up and said, 'Oh, I'm getting a divorce.' Or 'Oh, I'm going to be on TV.' It didn't happen like that. The only thing that happened like that was 'Oh, I'm going to be on the radio."'
According to the 56-year-old media personality, translating this strength through her onscreen doppelganger, Ciera Payton, was executed by keeping things light, even it the darkest moments, "I'd call Ciera (Payton) and say, 'when you do this scene, make sure you giggle at the end. And make sure that the fighting you do with my ex-husband ends with giggles and strength because it took me years to plot my new life, not a moment."
Wendy Williams: The Movie premieres Saturday, January 30, at 8 p.m. on Lifetime.
Featured image by lev radin / Shutterstock.com