---
It's natural to want to slow down and remind yourself of your wants, needs, and goals. I feel like this last year has tested me in so many ways that oftentimes I've given up hope on the things that I really wanted for myself. As I revisited my 2021 vision board, I realized that visuals were not enough, I needed to write down what I wanted and how I was feeling, and this came out in the form of affirmations.
While it may be easy for us to dream of all the things that we want out of life, sometimes saying it out loud can build our confidence to actually attain these things. Affirmations can be used for every area of our lives, as a way to reaffirm the things we know and affirm the things that are still to come. Last year may not have gone how we wanted, but we still have time to make 2021 the best year yet. I believe there is power in the tongue, so below are 12 affirmations to put out into the universe to solidify this being the year that you do nothing but shine. You ready, sis?
Positive Affirmations for Love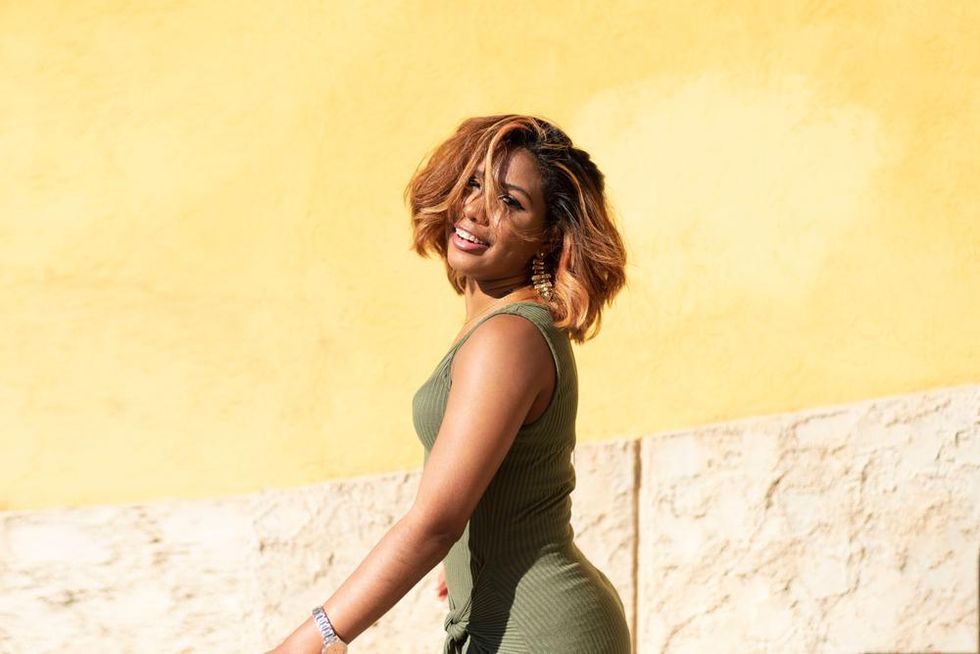 Shutterstock
"My heart is open and ready to receive love."
Wanting companionship and love is one thing, but actually feeling open and ready to experience it is another. It's one thing to say you want a boo this year, but have you opened yourself to receive it when it comes? This year we are recognizing how deserving we are of wonderful, sweep-you-off-your-feet love, and preparing our hearts to take it all in.
"I don't need to do anything to be worthy of love."
Let's stop this narrative that some people are more deserving or worthy of love than others. We are all worthy of that kind of love that surprises you with how good it feels. Your mistakes don't void you of your worthiness for love, just as doing right in the world doesn't put you in the front of the line. There is nothing extra or special we need to do to be deemed worthy of love, except just being. This affirmation is true for friendships, romantic relationships, and even family ties.
"I choose love over fear."
This affirmation is for those who may have been hurt by love before, or those who just have given up on finding the right person. Being vulnerable and open to love can be scary, intimidating, and sometimes disappointing. But don't let the past, and fear of the future, get in the way of you experiencing the love that is waiting for you. Even in the best relationships, we can experience fear of losing it, or making a mistake, but push that fear aside and let love guide you in this journey.
"The love I seek from others must begin within me first."
You didn't think I would end this section without an affirmation about self-love, did you? Before we start opening up our minds and heart to receiving love from others, we have to practice that same loving on ourselves. When we cultivate self-love, it's so much easier to know how to love someone else, as well as know what kind of love we truly crave. The only thing better than being loved by one person, is being loved by two. Let that second lover be you, sis.
Positive Affirmations for New Opportunities
"I have limitless potential."
Say it loud and proud: I have limitless potential! 2021 is the year we are facing new opportunities with the confidence of a mediocre white man. There is no limiting what we can and can't do this year because there is no limit to what we can achieve and what we are capable of doing. Don't you dare let self-doubt or the haters block you from what is already yours: anything and everything you want!
"I am grateful for what I have and for what is coming to me."
Before the new blessings flow in, take a moment to express gratitude for everything you already have in your life. This affirmation is confirmation that you have a divine appreciation for what your life currently is, and are therefore ready to welcome in new and better. There's power in expressing thankfulness right now for what has not happened yet, proving that you already believe in what is coming next.
"Every goal and plan I have for this year is achievable."
There are no big or small goals this year, just goals. Period. Every goal you set for yourself can be met, and it starts with your mindset. If you tell yourself that the goal is too big or might be out of your reach, you're already setting yourself up for failure. WIth every step you make towards that end goal, stop and remind yourself that it is attainable and right within your reach.
"This year I will welcome an abundance of wealth and prosperity. Money will come to me in both expected and unexpected ways."
Where are we going this year? Where the money resides, and nowhere else! This affirmation is about boldly accepting that you are deserving of more money and more wealth, and it is coming to you tenfold. We are no longer settling for less, and instead are committing to reaching our financial goals, and then tripling them. Say hello to financial freedom and increased prosperity.
Positive Affirmations for Life in General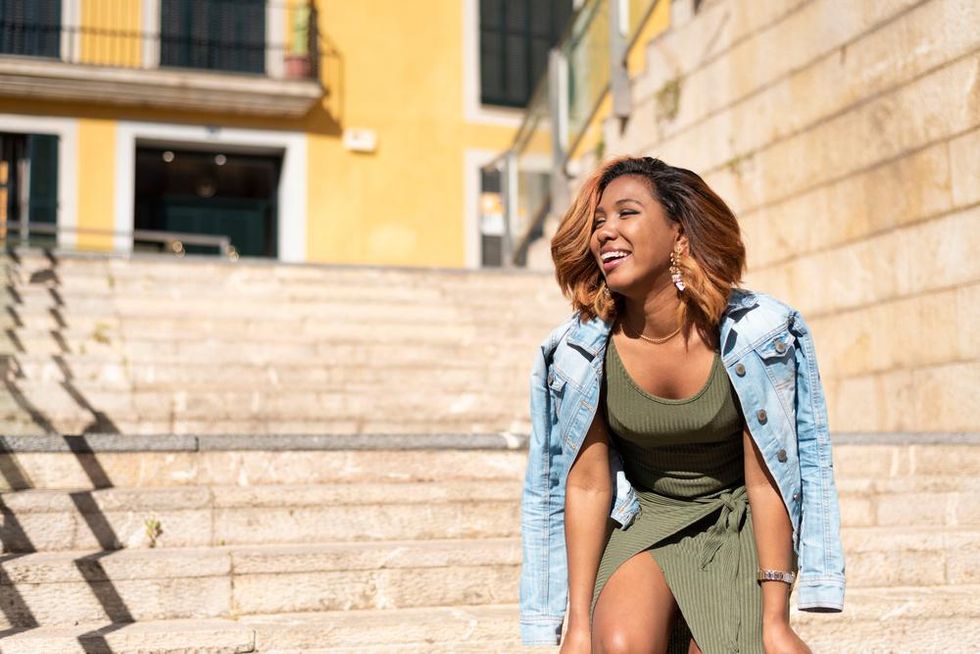 Shutterstock
"I am allowed to be new."
We have a new 365 to do better and be better, and anything that stifled our growth and potential in the past is a thing of last year. You have permission to make mistakes and then start over, to let go of what isn't working, and to hit refresh when things aren't going how you want them to. This is not limited to this month; a fresh start can happen at any time and anyplace. Release yourself from that guilt and move on.
"I am ready to see things differently in 2021."
A positive mind will always yield positive results. Let 2021 be the year you let go of negative thinking and welcome the blessings that are coming your way. If last year didn't go as planned, this is the year to have another outlook on life, love, and any other goals you have. Even when things don't go as planned this year, stop looking at it as a failure and start seeing it as a sign that it wasn't meant for you in the first place because better things are on the way.
"My magnetic energy draws amazing opportunities and people into my life."
Being your true, amazing, authentic self will attract similar things and people into your life. Remind yourself that you are a dope individual with amazing energy, and this will always bring the best people and things into your world. Trust that you don't have to fight for attention or try to be something you are not in order to attract the things you deserve.
"I have faith in myself and in my abilities. It is impossible for me to fail."
Say that last line one more time out loud: "It is IMPOSSIBLE for me to fail." Failure is not an option when you are confident in your abilities, and begin to look at things from a different perspective (reread the affirmation above if you need help with that last part). Just know that you have all the skills and tools to accomplish any and everything you set out to. That faith that you have in your own abilities will give you a boost to walk confidently into success.
2021 will be the year that you unapologetically claim everything that is yours.
Are you a member of our insiders squad? Join us in the xoTribe Members Community today!
Featured image by Shutterstock