---
When I think of the most traumatic stories one can experience, breakups are among the firsts that come to mind. Losing someone that we love can become the source of such a wrenching pain, it draws an indelible trace on our hearts and leaves us changed forever. As bizarre as it may seem, breakup stories are my favorites to write. It's true that they involve a lot of darkness and negativity that the world would gladly pass on. But the reason I find it essential to tell these stories is that they involve the darkness and negativity that most of us go through, yet often refuse to talk about because of fear.
Fear of being judged, fear of being misunderstood, fear of being alone...sometimes we even fear talking about a breakup because it'd mean that we acknowledge and accept the fact that the relationship is over.
For this particular reason, I recently asked four women* about the worst ways they've been broken up with with the intent to share their stories on xoNecole—I wanted to show you that alone and misunderstood is something that you, who's reading this, will never be. Indeed, there'll always be someone out there going through the same things that you're going through. There'll always be someone experiencing your pain. In fact, what you're experiencing is called life, and life is something that happens to every one of us.
Sharing stories you can relate to isn't the sole purpose of this article, though. What was also important to me was to show you that each of these ladies has somehow found a way to bounce back after hitting rock bottom. Each woman was able to find the good in goodbye. Each was able to find joy and glow again. These stories are reminders that no matter how low you may feel, eventually, you'll bounce back too.
*Names have been withheld for the ladies to maintain their anonymity. Pseudonyms have been used so that the ex-lovers could maintain their privacy.
I Moved To Another State For Him & He Dumped Me Soon After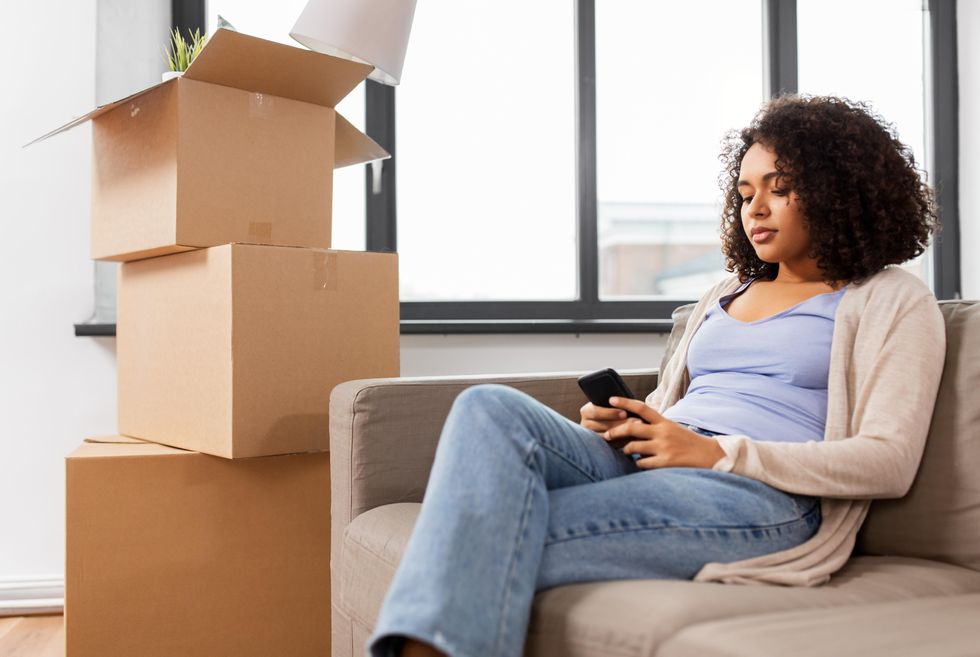 Shutterstock
*Thomas and I met through mutual friends. He's always been pretty upfront about his attraction and desire to get to know me and I wasn't against it. We'd gotten the opportunity to get together (with our friends) on several occasions and I enjoyed our conversations; I thought that he was a cool and funny guy. When he and I began to date exclusively, we did so for almost two years. Within this timeframe, we were serious enough for our families to meet as well as to discuss the serious steps that we wanted to take together as a couple. The first big step, we agreed, was to move from Ohio to Atlanta, GA, where he's from.
At the beginning of our relationship, our similarities, the connection that we had, the way we clicked...the feeling that I was getting from it all was that "we" were too good to be true. But a couple of months in, it became obvious that I'd simply crossed paths with a good person—my person.
Or so I thought.
Thomas was in his last year of law school when I started preparing for our move. Well, it wasn't really our move, it was more my move. I'd decided that, in order to establish myself as well as my professional career over there, I'd move before Thomas graduated so that I could take the time and space I needed to do so. Three months before the big day, what I hadn't noticed was uncertainty at the time began to settle in. "Are you sure you want to do this?" He'd ask me. "Maybe you can wait, just so we can move together?" Neither he nor I were the kind to let doubt creep in during moments or conversations like these. My soul inevitably perceived his words as him looking out for me, not wanting me to go through this on my own while he'd still be stuck in school, unable to protect me should anything happen.
I believe the moment I started feeling that something was off was when I was offered a job in Atlanta. I noticed a significant gap between both our levels of excitement; he wasn't as thrilled as I was. On top of that, there was the fact that, days later, he didn't come to help me move out of my apartment.
My gut feeling, which I was trying my best to ignore on that day, told me that it wasn't normal. Apparently, my cousin didn't think it was either. Being a man himself, I remember him advising me to only move if I wanted to—he, too, was getting a strange feeling from my man's absence.
The moment everything turned upside down came two weeks later, as we were driving to visit an apartment for me. I'd temporarily moved in with my grandmother and was therefore looking for my own place. Since I'd landed in Atlanta, I'd been hanging out with Thomas—who was there to visit—and his family. Despite the good times that we were having, I'd noticed a shift in his attitude, and some things started adding up. All of which started giving me an uneasy feeling. So uneasy that at some point, I felt drawn to ask: "Do you still want to be in this relationship?"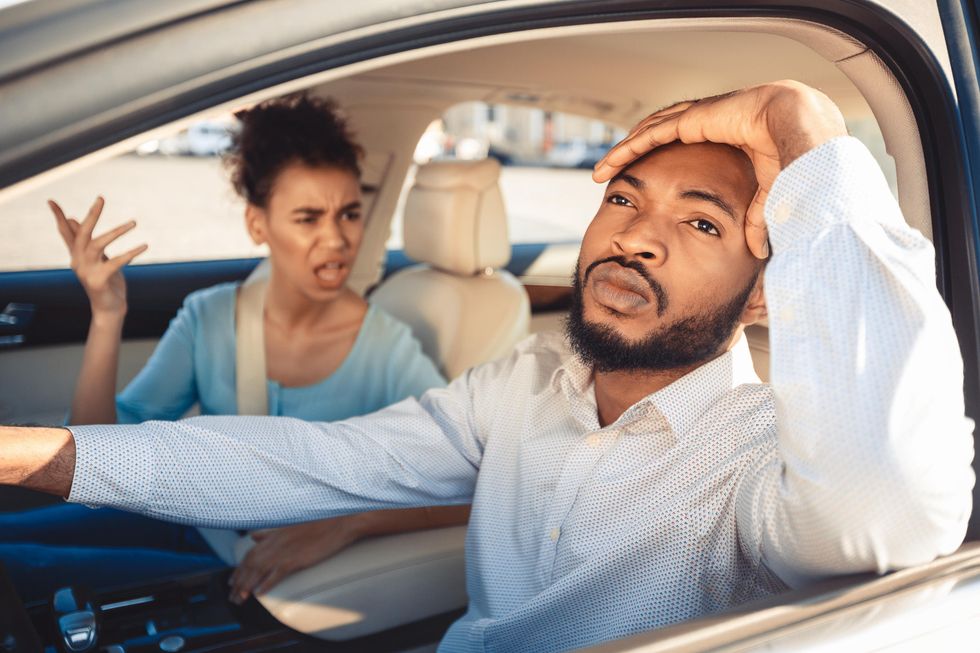 Image by Shutterstock
"No," he said. "There are things that I don't like about you which I feel you'll never change because this is just who you are. And the truth is, I don't see myself married to someone like you."
This whole car conversation was a gut punch. I was furious—and extremely sad at the same time. I'd move to Atlanta for a very specific reason, him, and he was bluntly showing me how huge the mistake I'd just done was. He left me. I found myself isolated in a new city that had broken its promise for a future filled with love and which then lost all its appeal.
Both physiologically and psychologically, having my heart broken changed a lot of things: I lost thirty pounds in the matter of a month, and navigating life was very painful. Later finding out that he'd been cheating on me didn't help. The only way for me to get over Thomas, I figured, was to run away. As far as possible. So, I used my connections. I called one of my friends who always told me to feel free to reach out if I was ever looking for a job and he did all he could to help me pave a way out of Atlanta.
The distance, time, having something to do career- and purpose-wise, meeting new people, allowing myself to fall in love again is the medicine that helped me fix my broken heart.
Over the years, I became open to receiving feedback from the men I was dating. Some of them pointed out the same flaws in me which eventually made me realize that I was probably not the easiest person Thomas had to deal with. No excuse for how he did what he did; he should have broken up with me. He just should have done it differently. All in all, my breakup with Thomas was the catalyst for me to grow up and learn how to take full ownership of the role I play in my relationships instead of just blaming the other person.
Our New Year Resolution Talk Led To The End Of Our Relationship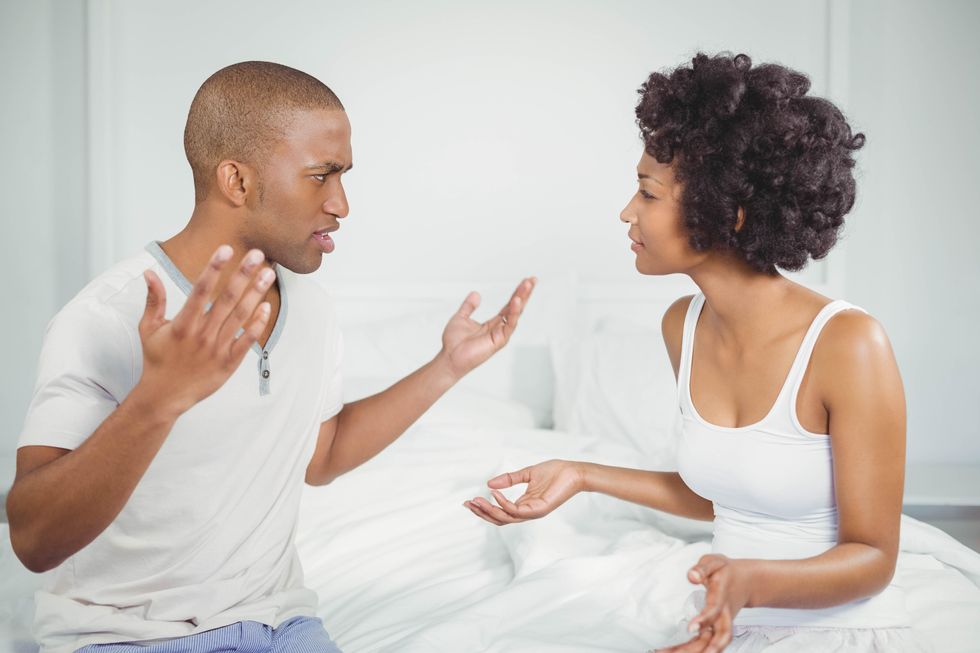 Shutterstock
I believe that human beings fall in love three times during their lifetime. The first time, obviously, is our first attempt at love. We tend to believe that we'll spend the rest of our life with that person—which may happen—but basically, this is mainly the first experience. Then comes our second love: the hardest. It's the love that teaches us about ourselves and changes us at our core. And finally, the third love, which is supposed to be our happily ever after.
*Dorian was my second love. Had I not experienced life with him, I wouldn't be the woman I am today. I wouldn't have been able to know exactly what I want in a relationship, I'd still be insecure and trying to find somebody to fill the void.
When I was introduced to Dorian, I was still dating someone. Funny enough, the work friends that we had in common and who wanted me to meet him believed that my boyfriend at the time wasn't right for me, so they insisted for me to hang out with them all so that Dorian and I could get to know each other. To make a long story short, Dorian didn't impress me at all in the beginning, although I did think that he was a cool guy. With that said, because we shared the same workplace, we got to spend a lot of time together, and, eventually, we built a bond. A bond that I must admit rapidly became ambiguous as, even though Dorian didn't impress me when I first met him, I grew to like him enough to break up with the guy I was dating.
Our relationship wasn't all sunshine and rainbows, though. We loved each other deeply, indeed, but because we both had a lot of growing up to do emotionally, it didn't take long before we somehow began tearing each other down. As I said, I was insecure—and he was too. He didn't know how to express himself, so he would often project his insecurities on me. As for me, I kept some parts of my life before him to myself because I feared he would reject me. The lack of trust is something that truly affected him.
One day into that new year, we agreed that, after being together for almost four years, it was time to start off on a clean slate. We spoke a lot on the morning of New Year's Day. However, when I felt safe enough to finally share my truth with him, the conversation took a turn that I did not expect. I thought he'd be understanding and that he'd give me his support. Instead, he completely blew up on me—and put an end to our story.
Losing my best friend isn't the way I expected the first day of 2019 to go. Generally, New Year's Day is supposed to be a little happier than that. At worst, meant to recover from a strong hangover from the night before. But being broken up with? I wasn't prepared for that.
The days that followed were terrible. I felt as though I had nobody to turn to anymore when things turned bad. Back in the day, I was diagnosed with high-functioning depression and panic disorder. Dorian was the only one who'd seen me have panic attacks and the only one who actually tried to help me overcome that. He used to be my rock—and now I was left to deal with life on my own. Until I remembered that this is what therapy is actually for.
The first four times I saw my therapist, all she heard me talk about was [my relationship with] Dorian. I was going through a roller coaster of emotions and had the hardest time grieving. But once the whole topic of "us" was covered, it was then time to shift the focus of the conversation on me. Me, my feelings, the reason why my love for him was so strong, the necessity for my well-being to move on, and my inabilities to let go.
The most defining lessons that I learned while going to therapy are, one, although my love for Dorian was real, the reason it grew so big was that it came from a place of self-doubt. I was dealing with self-esteem issues and was unconsciously depending on him to fix me.
However, the cure to our problems can't be found in other people. They must be found within. If you are to love someone, it's because that person adds to your life, meaning you're already whole all by yourself. Two, things start getting better from the moment you decide that they will.
My separation from Dorian forced me to level up to a higher version of myself. When I started elevating, taking some distance, I began seeing the situation from a whole other point of view. I was able to witness the bigger picture and as soon as it happened, I knew I'd just been provided with all the evidence I needed to believe that, in the end, I was better off on my own. At least during that season of my life.
He Broke Up With Me Through A Text & Took Off To Africa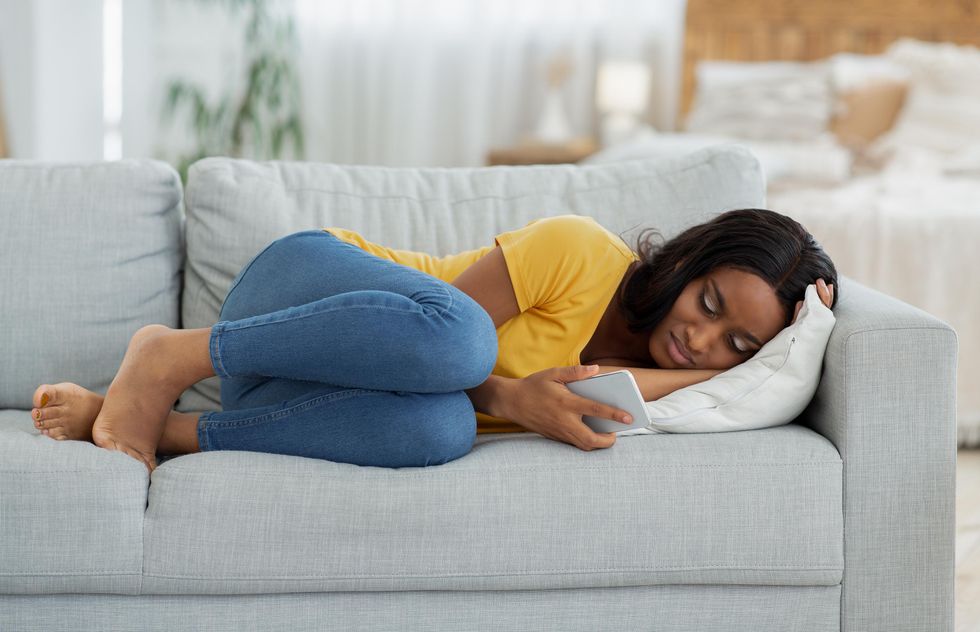 Shutterstock
Until he decided to abruptly end our relationship through text and take off to Africa right after pressing 'send', *Cameron and I dated for a year. Our story was special. We'd known each other for approximately 10 years before we started dating; it was the kind of love story you see in Hallmark movies. You know when the man has the longest crush on his friend but she has no idea, although she has a lot of love for him as well. And then, the timing of their respective love life never gives them the chance to explore what they don't know exists between them until, 10 years later, singleness finally finds them both at the same time. Yes, it was that kind of romance.
The both of us together formed a great pair; we had the same sense of humor, had a strong connection, traveling was one of our favorite activities to do together…
I couldn't say that our relationship wasn't healthy—if anything, we were best friends who were romantically involved and there have never been any signs of a red flag in sight. This is probably why the breakup caught me so off-guard; everything was fine.
However, when I visited him in Boston that time I had no idea it would be the last—I'm from New York; we were in a long-distance relationship—I noticed a shift in his energy. He was strangely acting as though my every move, not to say my presence as a whole, bothered him. I couldn't pinpoint what it was that I did or said that put him in such a mood. Of course, he wouldn't tell me either—later after the breakup, he admitted that his behavior had nothing to do with me and was in fact due to the struggles he was going through at the time. That was the most uncomfortable I've ever felt around him—and frustrated because he'd asked me to come only to make me feel unwelcome in the end.
Eventually, the time finally came for me to travel back home and get back in my own space and to my own routine. His bad mood had faded a bit before I left, but my senses were telling me that something was still off. And indeed, as well all know, intuition never lies.
No more than 24 hours after I left Boston, a notification popped up on my phone. It was a text from him, a goodbye text. I was at work going through a roller coaster of emotions while reading all these paragraphs that he'd written. So many words simply to tell me that he didn't want to be with me anymore and that, on top of everything, he was about to board a plane to Africa.
It was hurtful. Not so much the breakup, but his behavior. You know a person for so long, you have this built-in trust with him and then, he lets you down... It's hurtful. It makes you question everything, especially who can you trust if you couldn't even trust the person you thought you knew so well? I debated whether or not it was worth responding to his text for a week. After endlessly writing, erasing, and rewriting my response, I ultimately got it off my chest. I had to.
Sometimes, people will tell you to "kill them with silence." While it's a wise thing to do, I believe that there are some situations where you must stick up for yourself. That was one of those for me.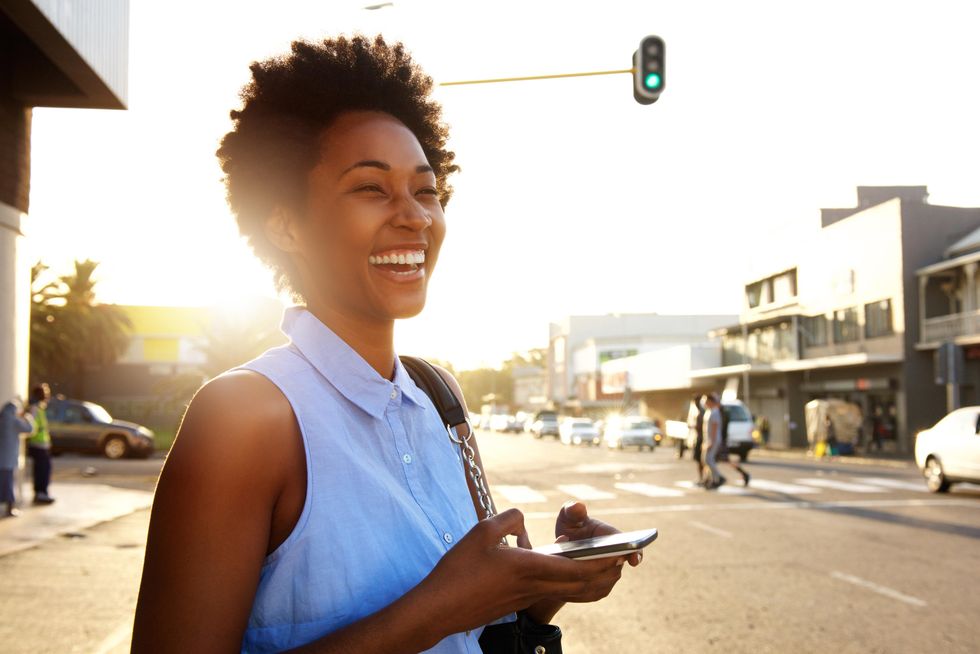 Image by Shutterstock
You see, long-distance relationships come with a lot of sacrifices, whether it's time, money, or [something] else. During that weekend, the sacrifices that I made weren't considered which was very disrespectful, so I had to speak up for myself and show him that what he did wasn't right, nor was it fair.
All in all, it was the worst way I've been broken up with, but I'm happy to say that it didn't shatter me. Quite the contrary, it made me realize what he was capable of; his exit was so big and intense, I couldn't go past it. And focusing on that instead of all the reasons why I loved him opened the way for me to heal and move on quite quickly. I must also admit that the timing couldn't have been better for it happened at a moment in my life where I was finding myself at an intersection. I'd just graduated from college, I was being presented with tons of opportunities, I could decide to do whatever I wanted to do, become whoever I wanted to become; the only one I'd need to look after was me.
A month or so later, I received another text from him, this time saying that he missed me. "I get it," I replied. "I'd miss me too."
After Fake Proposing To Me, He Confessed That He Wanted To See Other People. "People" Included His Homeboy.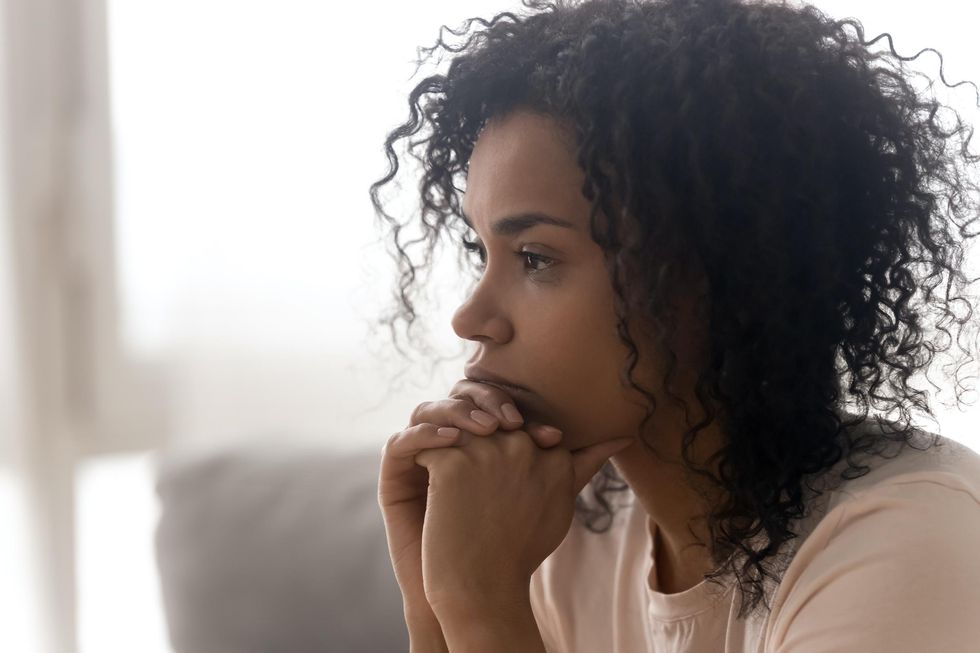 Image by Shutterstock
Have you ever found yourself in a relationship that you initially didn't want, yet you ended up the most hurt when it ended? That's exactly what happened to me with *Devin, the most toxic spiritual encounter I've ever had in my life.
I met Devin at a bookstore located in Flint, MI, where he happened to work. My spiritual advisor introduced us. Devin was different from all the other men I'd met before. He was this fine, chocolate man with big almond-shaped brown eyes. He wore his hair like a Black nerd—but a sexy Black nerd. He was nothing like the men I'd dealt with before.
Somehow, that bookstore became my new coworking space. I'd go there to get some work done and whenever he had some free time, Devin would sit with me to help me and give me new ideas for my projects. I remember we'd also talk about entrepreneurship—he was trying to get his feet wet in public relations—and spirituality. The best part was that we started by building a friendship by connecting intellectually, which made him even more attractive to me.
With all of that being said, believe it or not, I wasn't trying to date him. At the time, a relationship wasn't part of my priorities at all; all I wanted to focus on was school and my future. But I'd be lying if I told you that the latter stopped me from accepting his invitation to take me out on a date.
If anything, this man whom I considered my friend made me feel safe. I was comfortable with him, comfortable enough to completely allow him into my life. By that, I mean allowing him to spend time with me at my place and sometimes stay overnight, plus introducing him to my family.
After some time, though, his actions began reminding me of a manipulation technique called love bombing. He would overwhelm me with love, shower me with gifts, and would become passive-aggressive when he'd hear me say that I wasn't ready to commit to him. The times he visited me at my place, I noticed, he'd leave some of his stuff around, probably as a way to mark his territory. In all honesty, the situation began giving me a strange feeling, I wasn't at ease. But my friends kept insisting that I was overthinking it. In their eyes, Devin was only a good man and they maintained that I should just accept receiving his love.
Eventually, spending so much time together led us to become more intimate. Not because I wanted to, but because I felt giving myself to him was the right thing to do as he'd been such a gentleman to me—and according to other people, I'd been so hard on him.
I'll never forget that night when I saw a Black figure leave my room as he was getting off of me. Immediately, I knew that something had changed within me spiritually-speaking. It was like I'd just lost my mind.
From the moment we had sex, we created the strongest soul tie. I couldn't get rid of him, even in spite of the many signs that I received from God urging me to run away. If I felt safe in his presence before, being involved with him then made me feel depressed. I was also sure that he'd brought the spirit of pestilence into my home, added to the fact that I found myself at the hospital quite a few times because of ruptured cysts and twisted ovaries. One night, as I was dealing with my suicidal thoughts while on my way back from work, a deer suddenly hit my car. The accident shook me so much, I knew it wouldn't take any more signs for me to understand that it was time to save myself. With a lot of difficulties, I ultimately found the strength to tell him that we were over.
Fast forward to several months later, Devin reached out to me again. He was being very apologetic and told me that he wanted us to meet up. I know I shouldn't have but I agreed.
At the time I was still really suppressing and dishonoring my intuition. Somehow, I began questioning whether I'd made the right decision when I left. I thought that maybe I was really missing out on something, so I gave him another chance.
Soon after Valentine's Day—that he celebrated with his new homeboy, whom he'd met during the time we were broken up because I was out of town—he came over to my house. It was a sweet moment because we hadn't seen each other in a long time. And at some point during the night, he pronounced some words that sounded a lot like a proposal to me. "If I was to propose to you, would you marry me?" he asked. Although I'd said that I didn't want to commit to him before, the fact that life seemed to keep bringing us back together despite our arguments and disagreements, I was then convinced that he was my soulmate. So, with a glowing heart, ready to hand him my hand, I said, "Yes, I would."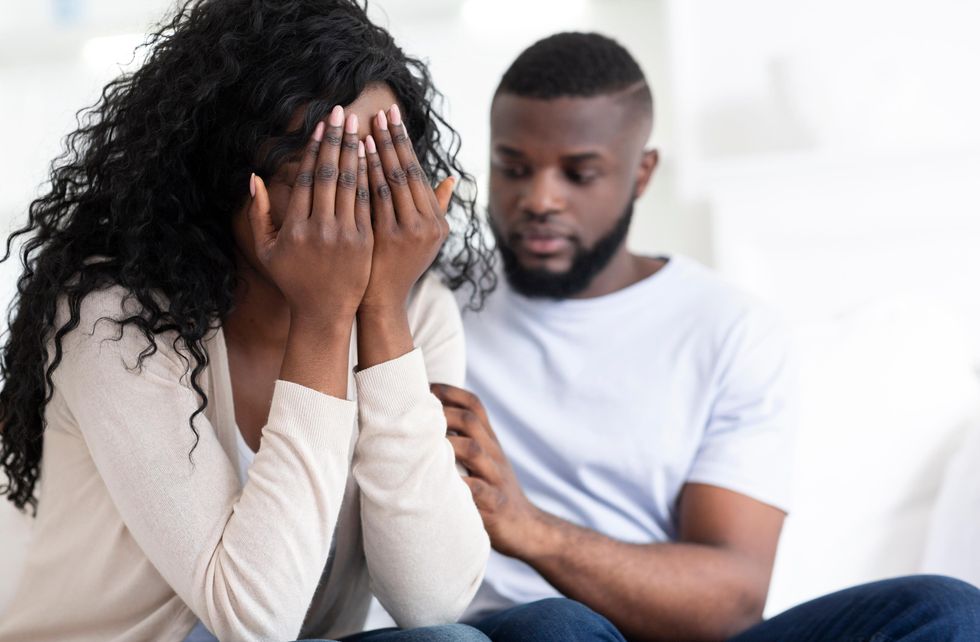 Shutterstock
Until, Devin flipped the script on me. Immediately, he admitted that he simply wanted to hear what I'd respond, which was far different from what he'd imagined because to him, it was clear that we weren't a good match in the end. He also briefly mentioned his desire to see other people. Other people that, from my understanding and to my greatest surprise, included the man he spent Valentine's Day with.
If there was one lesson to learn from my story, it'd be to never doubt the signs that God is sending you. I was upset at myself for not listening, also very angry because choosing to get involved with him was similar to choosing to abandon myself.
One of the ways that I found to bounce back from this emotional deception was to get back to my roots, to the essence of who I am. I moved back to my hometown, started spending more time with my family, and my childhood friends. I went back to visit the places that held cheerful memories and made it a priority to do more of the things that made me happy. On the bright side, however, even if this whole experience destroyed me inside, it was the catalyst that allowed me to live my dream to write a book and become an author. All of which has shown me that, if you let them, major breakdowns can actually lead you to the biggest breakthroughs.
Featured image by Shutterstock