I'm so here for what many are calling a "women empowerment movement". We are conquering and taking over the world (as we've been doing for centuries) and achieving monumental success in so many ways. We are mothers, wives, sisters, friends, daughters, and caretakers. We are professionals, teachers, entrepreneurs, doctors, lawyers, leaders, artists, writers, entrepreneurs, activists, coders, CEOs, and everything in between.
As easy as it is to list our titles and accomplishments, I've noticed at times how difficult it is for us, as Black women, to admit when we're tired or worn out from everything that we're doing. We're making a lot of things work so we can do it all and have it all, but are we carving out enough time to slow down and rest when we need to?
If you're like me, and at times, you find yourself feeling a bit overwhelmed, or feeling as if you're doing the most or putting too much pressure on yourself, here are some affirmations to remind you, as well as myself, to slow down and give yourself some grace.
1. "My peace is more important than having a packed schedule."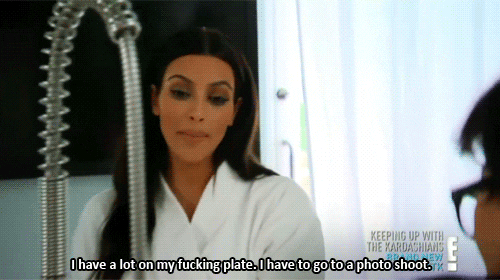 Giphy
You never have to chase or force what's meant to be. "Your gifts will make room for you" (Proverbs 18:16). There's a difference between being strategic and desperately seeking opportunities. The most authentic relationships, connections, careers, and opportunities usually happen by choice, not force. Hence, you don't have to beg people for an opportunity and you don't have to always be on the scene at every event trying to force something to happen.
When we stretch ourselves too thin, we end up sharing a piece of ourselves with too many people, and then we wonder why we don't have peace in our lives.
2. "It's OK to ask for help."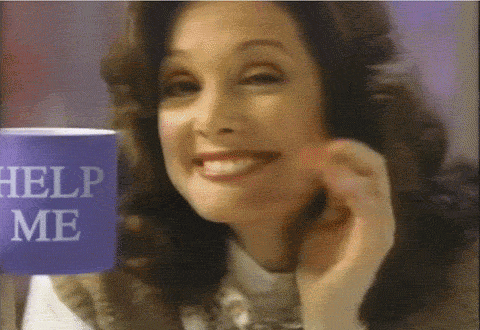 Giphy
Whatever "help" looks like for you, don't be afraid to ask for it when you need it. I've learned firsthand that being the so-called "strong friend" also means being vulnerable and courageous enough to admit when you're not okay. As LeToya Luckett recently stated: "God placed angels to create support systems."
3. "Rest is required."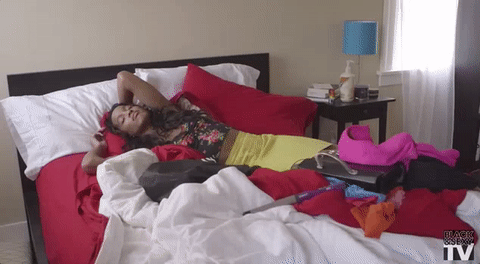 Giphy
Clearly my body can't do it like I used to when I was in my early twenties and when I was in college. Some people say "I'll sleep when I'm dead," but clearly someone missed the memo that sleep and rest is essential to our health. Listen to your body. Rest, reset, and refresh when you need to.
4. "I can't be everything to everyone."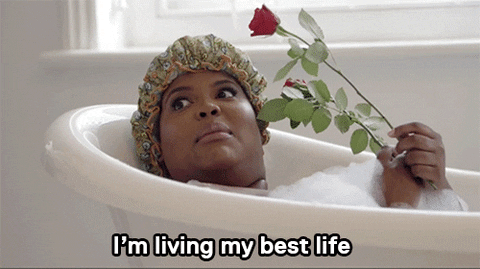 Giphy
If I'm not good to myself, then I won't be good to anyone else. Sometimes you have to take a step back and ask, "If I'm pouring everything into everyone else, then who is pouring into me?" You can't pour from an empty cup, and like they say, "Self-care is the best care."
5. "My husband is my helpmate, so I will let him help me."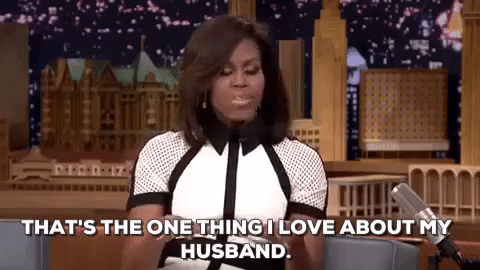 I love when the Bride-to-Be (@caranellbell via @yvonneorji) stated in her wedding vows: "My greatest blessing in this life is to finally be able to take off my superwoman cape and let you carry it…" In other words, I like being an independent woman, but I also love being able to depend on my man.
It really hit home for me as well when Erica Campbell recently shared at the Black Love Summit how she felt after having her first child. "I was so nervous and overwhelmed about everything and trying to figure it out. Warryn wanted to help but I didn't always allow him to. My mother had to remind me that if you try to do everything, then your husband won't be able to do anything to help you." Simply put, stop trying to be superwoman all the time and let your man be your superman. Let him help you.
6. "I'm only human. I will not put unnecessary pressure on myself."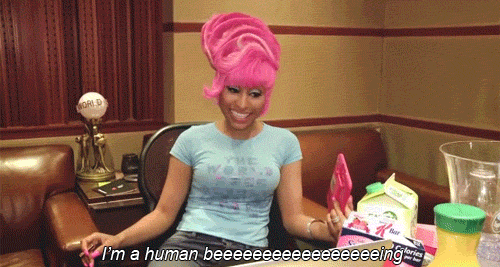 I remember when I first got married, I put so much pressure on myself to be a "perfect wife". When I told my husband, he was so confused because he never asked or put that pressure on me, nor did he expect me to be perfect. Turns out, I had put all of this pressure on myself because that's what I thought I was supposed to do.
Despite the #RelationshipGoals, #FitGoals, #WifeyGoals, #CareerGoals, #MomGoals…there is no such thing as a perfect wife, perfect body, perfect mother, perfect girlfriend, or a perfect friend. Moreover, there's a difference between inspiration and imitation. So, what may work for someone else, their relationship, or their lifestyle, may not work for you. You have to do what works for you.
Tell yourself: If I want to truly receive what God has for me, then I have to embrace my authenticity.
7. "My 'no' can be powerful and polite at the same time."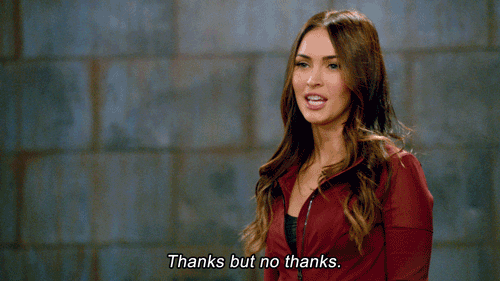 I used to struggle with saying the word "no", but then I'd wonder why I felt so drained and so overwhelmed with anxiety; why I was doing things that I dreaded or didn't enjoy; why I was supporting so many people who weren't willing to do the same for me; or why I found myself surrounded by people who drained my energy.
Now, I realize how liberating it is to say things like, "No, I don't have time. No, I don't want to do it. No, we can't hang out. No we can't be friends. No, unfortunately I can't make it." Sometimes, a "no" to everyone else is a "yes" to yourself…and that's more than OK. It's necessary.
8. "My timeline is not everyone else's timeline."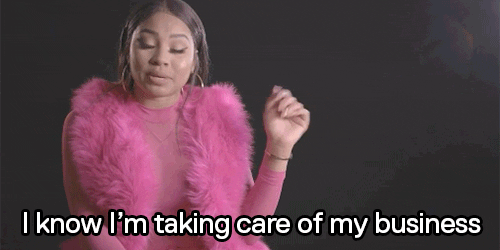 People love to constantly quote: "We all have the same 24 hours in a day" to justify why we should be doing more of whatever. However, I loved when Kiah McBride tweeted: "You don't have the same 24 hours as XYZ celebrity. XYZ celebrity has a team, assistants, chefs, trainers, etc. at their fingertips. They're not doing everything alone or by themselves, so they have more time to focus on their primary tasks."
Even the mere fact that I'm a woman who doesn't have kids is another example of how my 24 hours are drastically different from a woman who has children.
Nothing happens overnight. Don't let Instagram trick you into thinking you're going to have insta-success, an insta-bae, or an insta-career or business. Things take time, and we're not always privy to the sacrifices that come before the success, or the growth that comes before the glow-up. Trust the process, and trust the timing and the fact that what is meant to be will happen when it's meant to be.
Want more stories like this? Sign up for our newsletter here and check out the related reads below:
Say These Self-Affirmations To Start Your Day On The Right Note
15 Affirmations To Inspire A Happier, More Fulfilled Life
7 Daily Affirmations Every Single Woman Needs To Speak On Their Lives
Positive Affirmations Helped Ciara Manifest The Life Of Her Dreams
Featured image by Jacob Lund/Shutterstock

Originally published on August, 25, 2019
Keep reading...
Show less