Ask Ayana Iman is a bi-monthly advice column where real women anonymously submit their questions about work, life, and love. In response, certified life coach Ayana Iman drops some much-needed gems. Check out this newest segment below.

---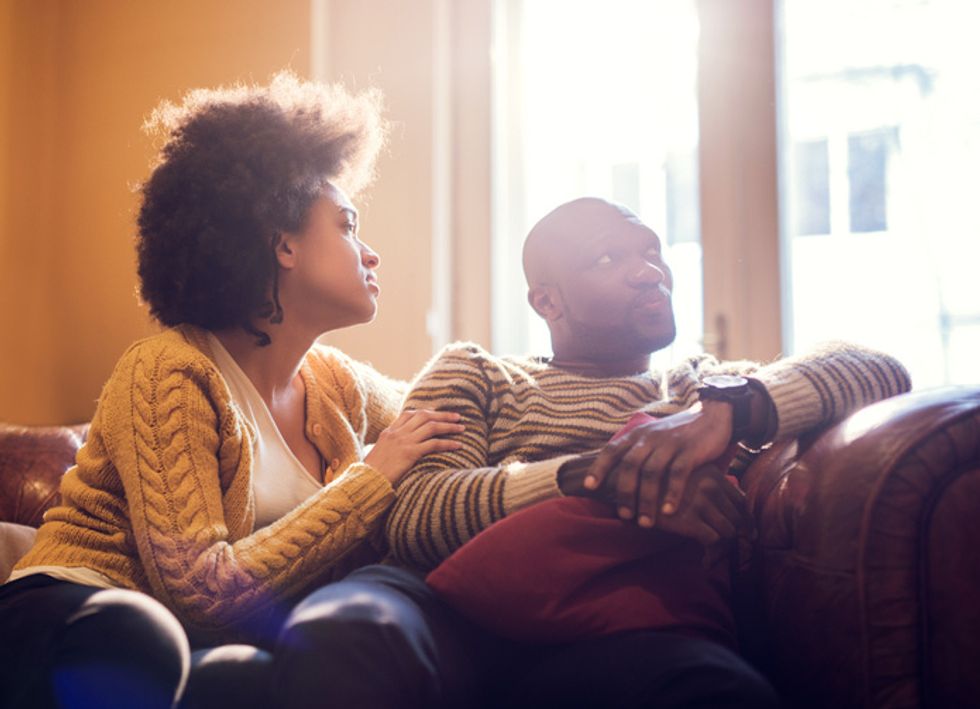 Getty Images
Dear Ayana Iman: I have been in a relationship for the past three years. During this time, my partner struggled with drug abuse after his father's death. He also struggled with remaining faithful and has cheated. Out of anger, I have done so as well. Recently, we got into an argument over his abusive nature (drugs, alcohol, emotional and mental abuse) and I came clean about my cheating too. I'm so drained to the point I am numb.
I feel like I'm stuck in freeze. I want to take flight but I feel like my wings are clipped (financially, emotionally, no motivation). I want to fight but I can't because I don't have the energy or will. He wants to work it out and seek help with the drug abuse and I don't know what to do. He says since his dad passed I am his only reason to live and he needs me. We have known each other all of our lives. Financially, I am unable to leave and I do not have any friends to stay with. Please help.
This relationship is toxic. From what you've shared, you are displaying characteristics of codependency. While your boyfriend made the decision to abuse drugs and alcohol that impairs his decision-making, you chose to become the caregiver, impairing your own. I understand his father's death had a traumatic effect on your boyfriend's life and yours too. But, this form of abuse should not be tolerated any further.
The Mental Health America shared the following:
"The co-dependent person typically sacrifices his or her needs to take care of a person who is sick. When codependents place other people's health, welfare, and safety before their own, they can lose contact with their own needs, desires, and sense of self."
They then go on to explain what happens as a result of codependency:
"The problem is that these repeated rescue attempts allow the needy individual to continue on a destructive course and to become even more dependent on the unhealthy caretaking of the 'benefactor.' As this reliance increases, the co-dependent develops a sense of reward and satisfaction from 'being needed.' When the caretaking becomes compulsive, the co-dependent feels choiceless and helpless in the relationship, but is unable to break away from the cycle of behavior that causes it."
I won't even bother to ask how many attempts you've made to rescue him. His problems are far bigger than your abilities to fix them. He needs professional help, period.
While you have displayed a great deal of empathy, without boundaries, his emotions tend to overpower you, creating imbalance and tension. His emptiness has now become your own. Going off your words, "I feel like my wings are clipped (financially emotionally, no motivation)," has led you to believe in scarcity like you aren't capable of making a change.
Sis, I need you to know that there is hope. Find the strength to get up and fight to get your life back. You can no longer carry his burdens. I know it's tough, but you have to break up in order to reclaim your glory. There is favor upon your life. Do you believe that? I hope you'll at least try to imagine the woman you hope to become. Once you identify her, hold on tight; she is exactly what you need to carry you through this difficult transition.
The first step is admitting your unhappiness. Next, seek help from a trained professional. Before you say you can't afford it, state insurance covers mental health, apply today. This is something you have to do alone. The goal here is not to get back together. The codependent nature of your relationship will harm any progress made. Once you help yourself, the how will work itself out. How will I afford to live on my own? How will I move forward? And so on.
This process could start today if you allow it to. I really hope you do.
Do you have a question about love, life, career, wellness, etc. that you'd like for life coach Ayana to answer in a future Ask Ayana Iman segment? Submit your questions here for a chance to have your question answered! Click here for past Ask Ayana Iman posts to see if your question has already been answered or to read past stories/advice!