Ayana Iman
Ayana Iman is a certified life coach, professional speaker, and mama of one based in New Jersey. She's also known for her love of big hair, travel, and cooking. Find her across social @AyanaIman.
At 21, I found out I was pregnant. I was devastated. As a first-generation college student, I was ready to take on the world and start my career. Instead, I was dealing with one of the biggest decisions of my life: to keep the child or not. I chose to become a mom. Accepting motherhood wasn't the hardest part, it was knowing the child's father was not ready to be a man.
There were moments, more than I'd like to admit, that gave me a glimpse of what life would look like in the future. He was short-tempered, irrational, and a cheater. In my mind, I thought I could change him, and that the birth of our child would bring us closer together. My pregnancy was spent trying to convince myself that we would make it by playing house. There was no amount of cooked meals, feeding his ego, or promises that could undo the inevitable.
Two weeks after giving birth, I was back in my family's home with a newborn. Living together proved to be more of a burden than what it was worth. I was so concerned with the optics of what a family looked like that I forget I was important too. More fragile than ever before, I needed to be surrounded by love and kindness.
There is no way you can fully extend love to your child without giving it to yourself first.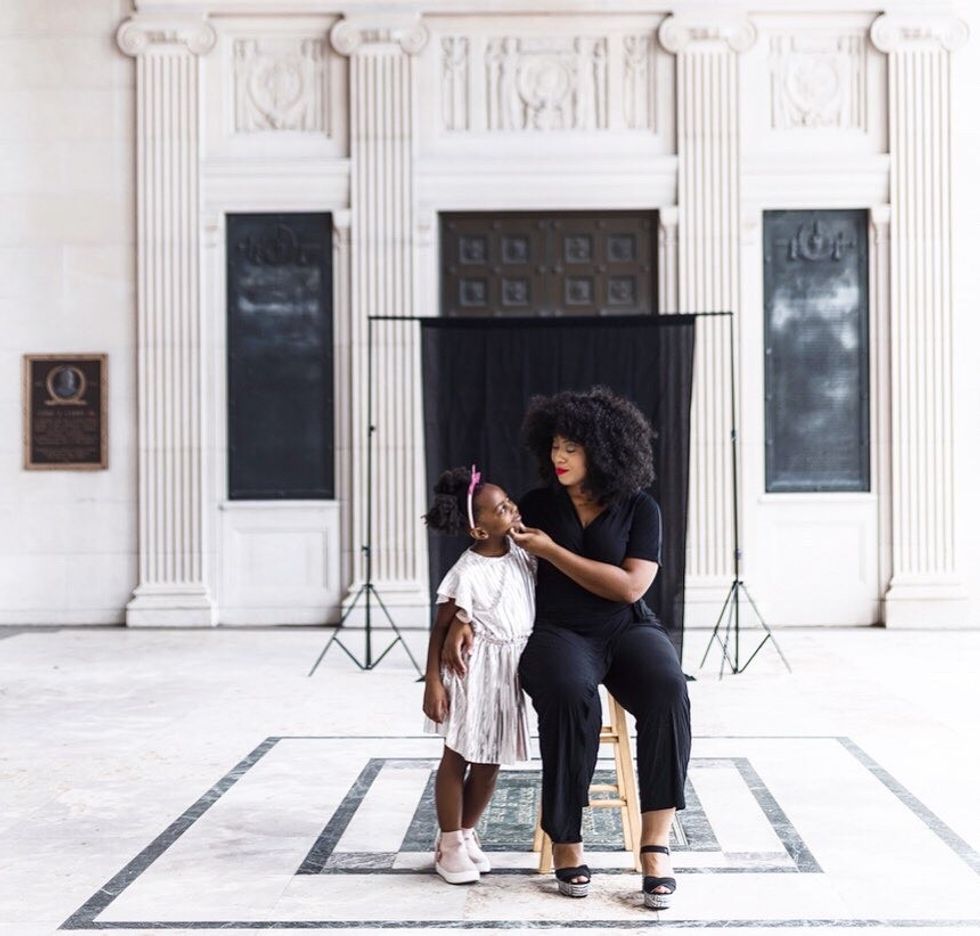 Photography by S. Bola Okoya
Our relationship fell into a pattern of harsh breakups and emotional makeups. We were young and inexperienced with these kinds of issues. Eventually, we parted ways. Therapy helped me break the cycle of trying to make it work. I remember sitting on a big brown couch in what was supposed to be couples therapy, alone. The therapist, a white middle-aged man, asked me, "Why do you stay and allow yourself to get hurt?" I didn't have an answer. I'm sure back then I thought it was because the family was important to me, but now I think it was a learned behavior. The long-suffering (girlfriend) wasn't a new concept to me; it surrounded me like an invisible cloak, both familiar and toxic. By the next session, I had decided to start a new chapter as a single mom. It was the best decision I've ever made.

I firmly believe that once you let go of things that no longer serve you will be rewarded with peace of mind.
My renewed spirit made space for laughter and love. I went from crying myself to sleep from unanswered calls to sleeping peacefully next to my child. There was no longer a need to crack the password to his Facebook account or call family members to confirm his whereabouts. I was free. The kind of freedom that only comes when you choose your happiness over others.
For what it's worth, this was the first time since I started dating at 15 that I had experienced this type of control over my love life. Usually, I stayed too long in relationships that had run its course or waited until the other person did something so egregious that it made it easy for me to leave. I got the hint this time and finally took back my power. This meant learning who I was without the approval of a man, finding out my likes and dislikes, as well as creating healthy boundaries.
If you're a parent and questioning your relationship, I suggest asking yourself the following questions:
If there wasn't a child involved, would your relationship be over?
Does your partner exhibit toxic traits?
Have the attempts to fix the relationship been unsuccessful?
Do you have doubts about their loyalty?
Do you feel unsupported?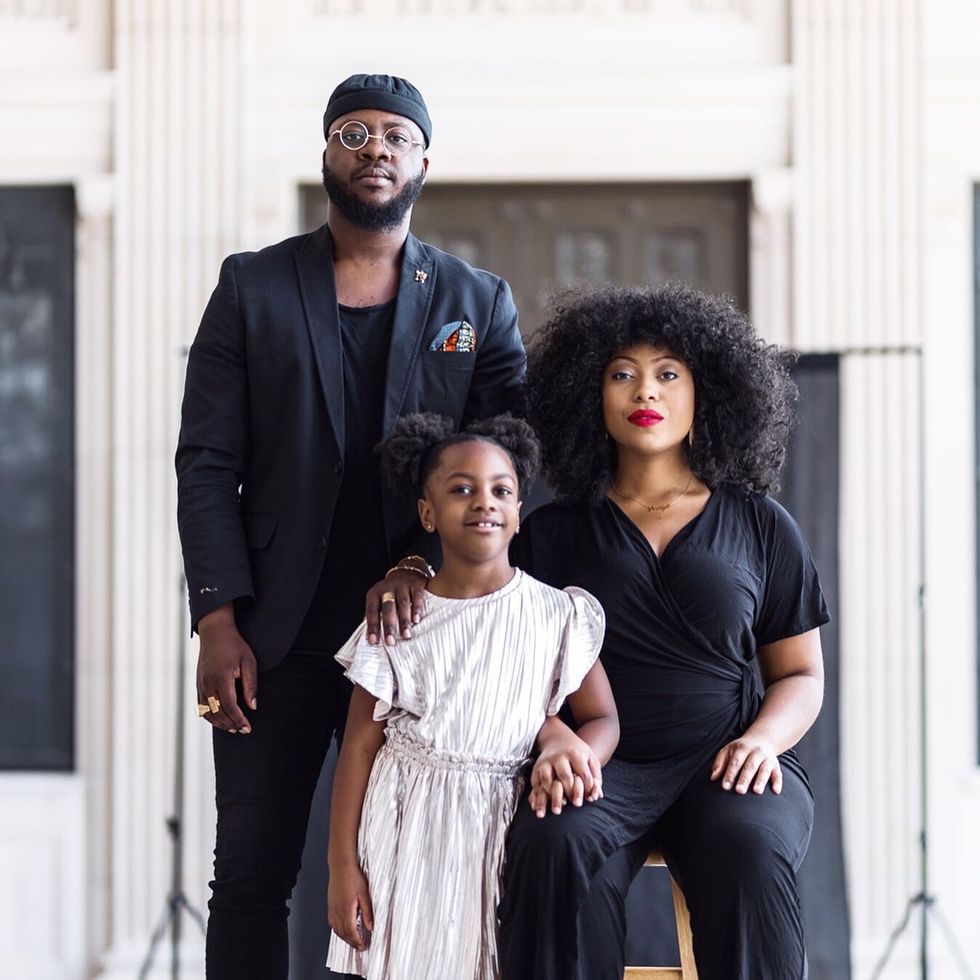 Photography by S. Bola Okoya
If you answered yes to any of the questions, then it may be time to consider your options. If you answered no, great, there's still hope. All relationships are susceptible to rough patches and if it's worth fighting for then do the work.
My child's father became a footnote in a bigger love story, a journey that led me to a healthy relationship with my partner of five years. This man loved my baby and me and proudly assumed the fatherhood role. There was hope for me, and I know there's hope for you too.
Featured image via Ayana Iman/Instagram
Originally published on November 10, 2019
Anniversaries are markers of success for any relationship. It is not just a day that two people celebrate being together as a couple, focused on gifts and romantic gestures; it also symbolizes another year of growth and understanding. Did you know there is a traditional gift exchanged each year you're married? Each anniversary has a different theme that symbolizes the maturation of your relationship together. According toBrides Magazine, the first traditional anniversary gift is paper, which symbolizes the strength and connectivity of your blossoming relationship. The second-anniversary gift is cotton that recognizes the maturation of your relationship together. Emily Post would be proud.
I celebrated my sixth anniversary recently, and well, it looked very different than any year before. The simple fact is that COVID-19 is still rampant, and we are still mostly confined to the house. Our ideal situation would have been a romantic getaway or a lavish dinner celebration at our favorite restaurant. Both options seemed like a hassle given the restrictions on dining out and tests required for trips. We opted to stay home and order take-out while catching up on movies. It was perfectly normal without the fluff. However, it did give us the time to talk to each other and plan our engagement photoshoot.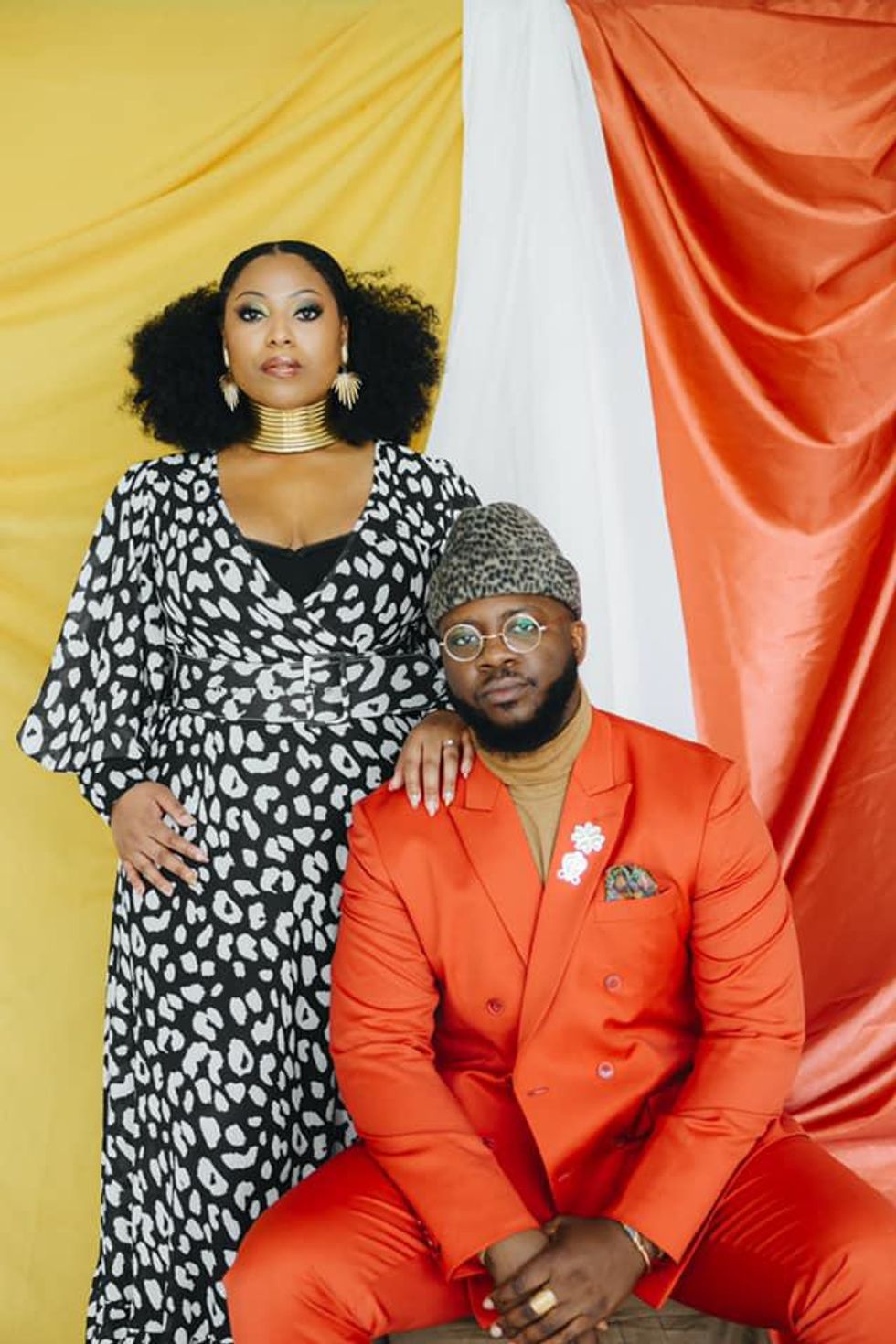 Photo Credit: S. Bola Okoya
You would think living together and spending more time in the house than ever before would give us the time to plan, but that's not true. The combination of our day jobs, side hustles, parenting, and household responsibilities, left us depleted. We gave each other the gift of focus instead of a physical one, and I couldn't have been more grateful.

Instead of looking at your quarantine celebration as a lackluster event, think about the creative ways that you can love each other. It is an opportunity to refresh old traditions and make new ones.
How To Celebrate Your Anniversary During Quarantine
Couples Massage
Physical touch is one of my love languages. Anytime there's a focus on intimacy, I'm excited. Planning a massage for two is a great way to show your partner affection and do something relaxing at the same time. Fill the room with candles, essential oils, and massage oils - these can be store-bought or made with a blend of oils - and use the bed as your massage temple. I highly suggest making a special playlist that includes a combination of soothing music and your favorite love songs.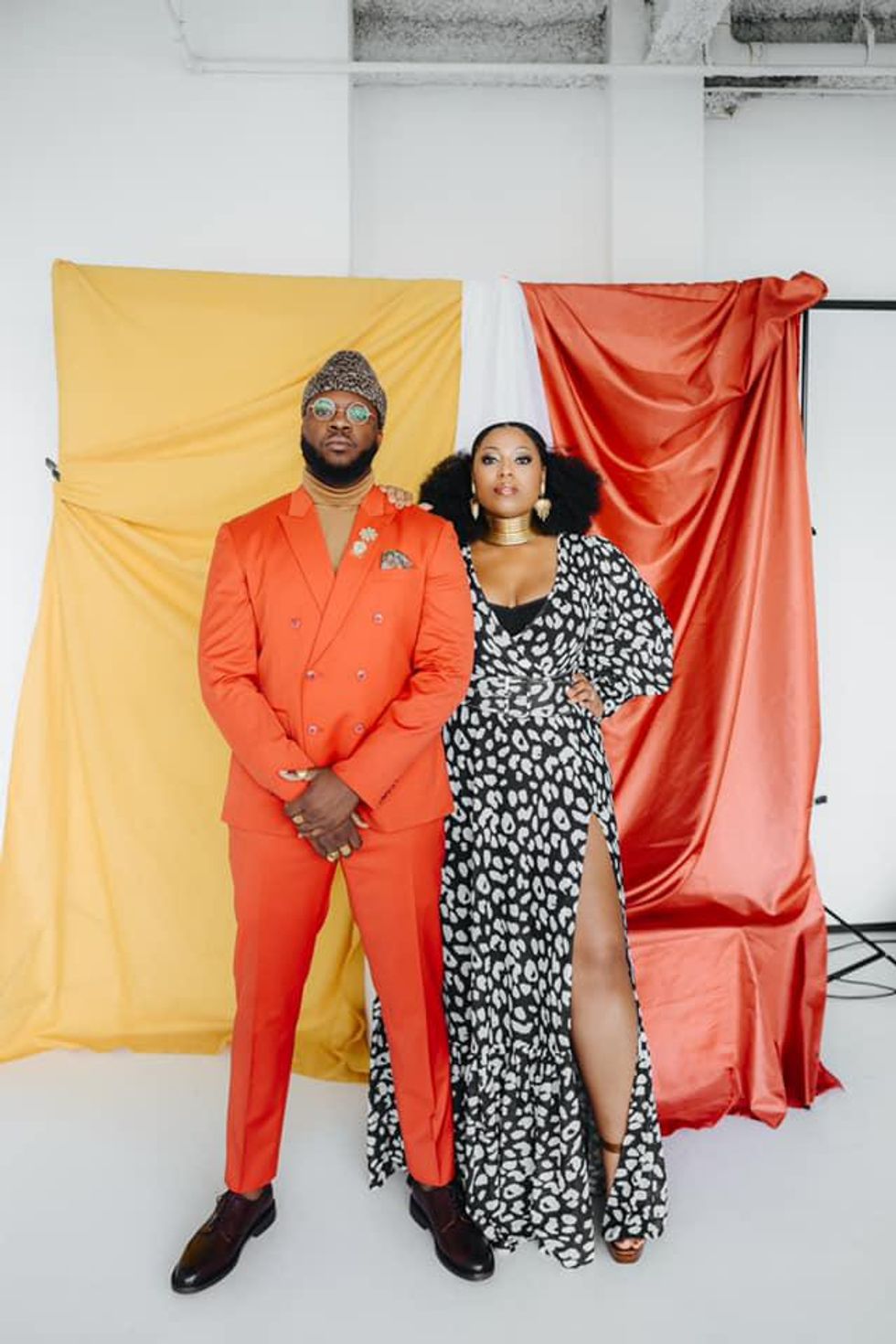 Photo Credit: S. Bola Okoya
Paint and Sip 
You don't have to be Picasso to enjoy painting. Luckily, there are plenty of virtual paint and sip parties happening that you can take advantage of regionally. A quick Google search will give you a list of providers in your area that can ship the products to you or offer contactless delivery.
Brunch
Brunch is always a great idea. Whether you pick up a meal or make it yourself, set the table with your favorite cocktail or mimosa, and you have a party.
Candlelit Dinner 
If brunch isn't your thing, there's always dinner. Select your favorite eats, light some candles, dress up for each other, and meet at the dinner table.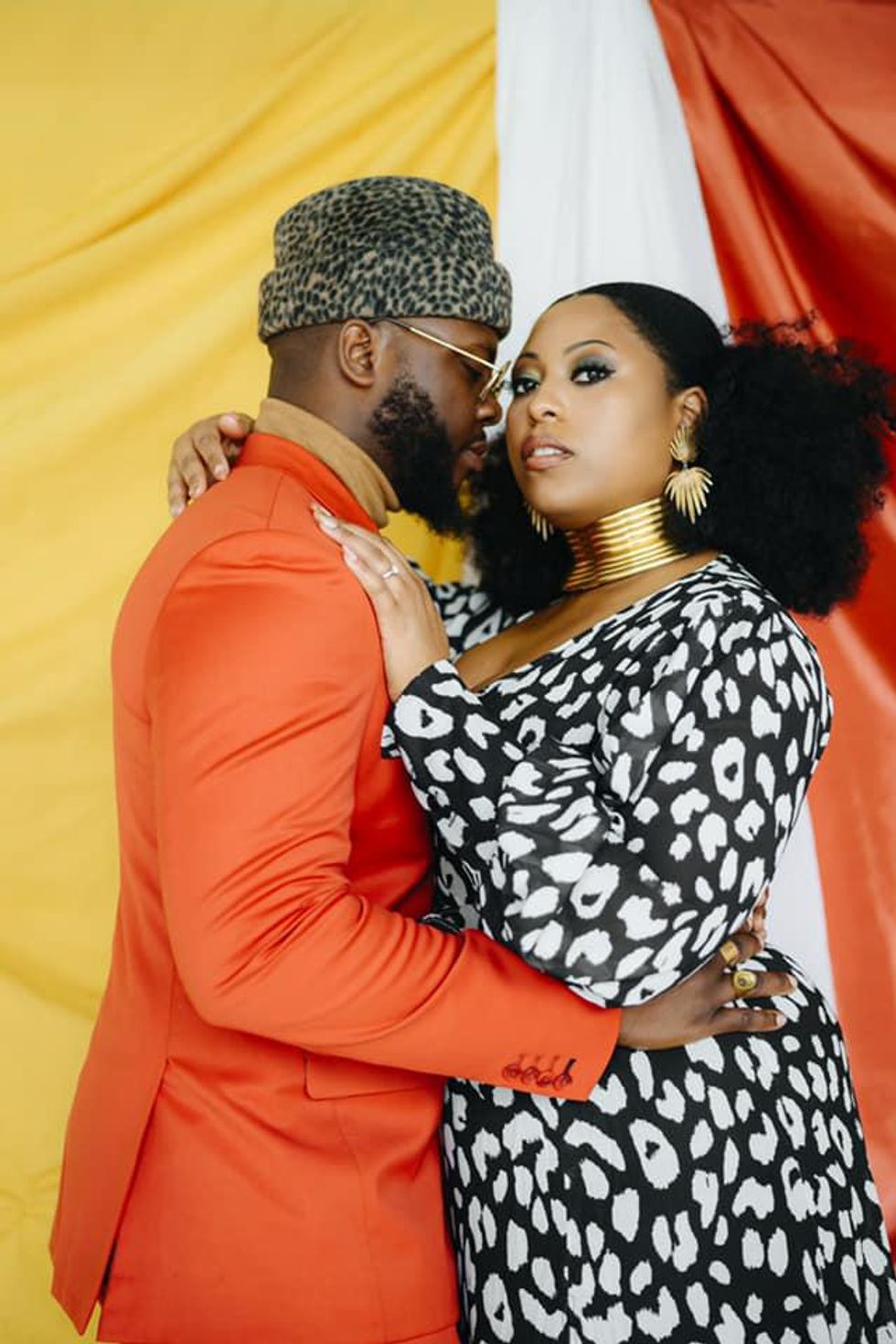 Photo Credit: S. Bola Okoya
Backyard Movie Night 
If you have a backyard and are a lover of cinema, then you have the option to set it up for a cozy movie night. Projectors are a great way to watch a movie for a home theater. You have the option of purchasing one to invest in future movie nights or renting for special occasions. Either way, don't forget the pillows, covers, and snacks.
Wheel of Foreplay 
If you're looking to spice up the night, try playing the Wheel of Foreplay, a fun way to explore intimacy with your partner. The game was created to encourage everyone to have more sex while stuck at home, says sextech entrepreneur Bryony Cole.
"My hope for Wheel of Foreplay is that people spinning it feel like they can really enjoy keeping their intimacy locked down, physically and digitally, and start enjoying all of the benefits of intimate connection," Cole said in a press release.
Whether you choose to celebrate your anniversary with a traditional or modern gift, some foreplay or do nothing at all, there is more love to go around. Get creative and try to do something out of the box.
Are you a member of our insiders squad? Join us in the xoTribe Members Community today!
Featured image by S. Bola Okoya

I celebrated my 30th birthday recently. I have not perished into a pillar of salt, so I guess you can say I'm doing pretty well. Society puts so much emphasis on turning the big 3-0 that we forget the gift of aging and the fruitfulness of life. It's time to reframe your focus around a milestone birthday and thinking you have to have everything figured out. You do not have to marginalize your success because it happened after 21, 30, 40, or beyond. Your only job is to take stock of all that you have accomplished despite internal battles, naysayers, and physical discomfort.
The fact that you are still standing is proof of your strength and tenacity.
On my journey through womanhood, I am lucky enough to have learned a few invaluable life lessons. I have thirty years of memories, some great, some good, and others are OK. Each memory has stretched and molded me into the person I am today. Below, I share with you my thoughts on turning thirty and things you should consider.
30 Thoughts on Turning 30: Lessons to Live By
We have the power to manifest the things we want and desire by focusing on specific goals. The more clear and concise you are, the better.
Write everything down you want to do, even if you are not brave enough to say them out loud.
You do not have to be loud to be seen by others, but you need to show up and do the work.
Everything on your mind does not have to be shared or tweeted.
Being a strong woman is not a badge of honor, and you are allowed to ask for help and accept it. Even Wonder Woman had the Justice League to support her.
Some of your biggest heartbreaks will not come from romantic relationships but the loss of a friendship. Take the time you need to process what happened and wish them well.
You are not obligated to stay with anybody who does not see your worth; staying prolongs the inevitable.
Bad relationships do not dictate the rest of your life. It can, however, showcase a pattern where you are the common denominator.
Becoming a mother at 21 did not cripple me; it gave me purpose. Whether you had a child before you were ready or not, know there is help for those that ask.
Creating the life you want to live takes courage to put yourself out there, action to get started, and discipline to follow-through.
Travel alone at least once in your life. You will make new friends along the way if you are open.
Parents make mistakes. Forgive them for what they do not know.
Happy people have green grass - water often.
Forgiveness is for you, not others.
Before you can love anyone else, you must love yourself.
A smile is universal. But you are not obligated to do it.
Practicing gratitude will help you remember all the good in your life. It will also help you express compassion, build stronger relationships, and improve your mental health.
Boundaries are a form of self-care.
No is a complete sentence, period.
Relinquishing control does not make you weak. Sometimes it can give you the time to focus more on yourself.
Establish systems to help you excel in life. Part of success is knowing what you are not good at and finding ways around it.
A good therapist is hard to find. You are allowed to keep looking until you find the right fit.
Generational curses are no match for the favor you have over your life.
Women are dynamic. You can twerk, love a mimosa without orange juice, and still handle your business.
You have to teach people how to treat you. The way you believe you should be treated sets the standard for how others approach you.
Big girls take accountability for their actions and accept the consequences. When the roles are clear, people are held accountable, and work gets done efficiently and effectively.
If you have the knees of Meg Thee Stallion, then you are blessed. Do some hot girl shit.
Think before you speak. Your words hold power.
It's important to establish a healthy relationship with money. Save money from each paycheck, even if only $20.
It is always a good idea to celebrate yourself. It does not have to be a special day or your birthday to indulge in the things you like.
Keep glowing, girl.
Are you a member of our insiders squad? Join us in the xoTribe Members Community today!
Featured image by Shutterstock

My daughter likes her last name but talks openly about changing it. It is a perfectly adequate name, but different from mine and my husband-to-be. The thought of him and me having the same last name makes her feel left out or, in her words, alone. Although she's only been on this earth for seven years, she exudes an incredible sense of self-awareness and emotional intelligence. We have discussed the possibility of changing her last name through adoption since her father is non-existent and has never played an active role in her life. I want her to have autonomy over the decisions that affect her. But even with her deep albeit short consideration for this process, I think we need more time before making such a final decision.
The key is balance, explaining both sides, and coming to a decision that brings harmony to our home. Even more importantly, what brings her peace.
Reasons Why Your Child Should Take the Father's Last Name
Children usually take the father's last name unless their mother wishes them to have a different one. I feel like it establishes a connection between them at birth and allows the child to carry the legacy of their father's family. If two people are in love and decide to have a baby, then it's their prerogative.
I guess I'm a bit of a traditionalist. I gave my daughter her father's last name because it made sense at the time. We were not married, but that was not a prerequisite for me. It established his paternity and our love for each other at the time.

Reasons Why Your Child Should Not Take the Father's Last Name
Giving the child the father's last name is an antiquated tradition. Establishing a family legacy is not just about the last name; it is about the story we want to tell. If both parents are in agreement, they can choose whatever name works best for their child.
Sometimes we are given the gift of knowing that the man isn't ready for his parental duties, and we can determine early if the relationship is going to work out or not. This can make it easier for a woman to give the child her last name to account for any future disappointments.
In my situation, our child has no attachment to her father's last name and has requested to change it. And to change it, we have to go through a lengthy process of getting it changed legally. This particular process is only necessary if the child's father signs the birth certificate. A birth certificate is a legal document, and when he signs it, he is taking legal responsibility for the child and gets fifty percent of decision-making power.
According to the NY Courts: "You can ask the court to change a child's name if you are the child's biological or adoptive parent, the child's legal guardian, or next friend. A name change is not an adoption.
"Changing your child's name to your spouse's or domestic partner's name will legally change your child's name, but it will not legally make your spouse or domestic partner your child's parent. For example, if your child is from a previous relationship and you now change your child's last name to your current spouse's name, your spouse will NOT be your child's legal parent. The only way to do this is to do an adoption."
What happens if the non-consenting parent contests the name change?
The Family Law Self-Help Center reports, "If one parent will not agree to have a child's name changed, the other parent can file papers to request the change. The non-consenting parent must be served with copies of the name change papers and given a chance to object. A judge may or may not grant a child's name change without the other parent's consent."
A name is important because it establishes personal identity and individuality. At the end of the day, you have to make the best decision for your child. A failed relationship is not the main reason for not giving your child their father's last name. There are plenty of healthy co-parenting relationships that come out of a break-up. However, children cannot speak for themselves, so they need you to advocate for their future.
We're still in the process of considering if the name change is right for us or not. But, I'm sure when we - my daughter and me - make the decision, it'll be made in love and not lack.
Are you a member of our insiders squad? Join us in the xoTribe Members Community today!
Featured image by Shutterstock
Like most children in this country, my daughter has been home attending virtual school for almost a year. She was resilient in the face of uncertainty and adapted to the circumstances as best she could. I'd say she's doing a fantastic job for a seven-year-old.
As the weeks turned into months and returning to school and her normal routine seemed less and less unlikely, she continued to persevere. Picking up hobbies like TikTok and gymnastics - she taught herself to do a cartwheel and a split - they helped her keep her morale high. The summer months were even better. The loosened COVID-restrictions meant she could be around more family and a few friends. There were sleepovers at her grandmother's house and play dates with her favorite cousins. My fiance and I took her out for fresh air in between working from home, and everything seemed, well, normal.
Then the fall came, and I started to notice a shift in how she approached the day. She became less inclined to creating and learning new things and grew more interested in consuming the videos of her favorite YouTube stars and staying home and relaxing. The weather change did not allow much to do outdoors, so she made it work. That is when I observed she was becoming increasingly more anxious.
Parenting A Child With Anxiety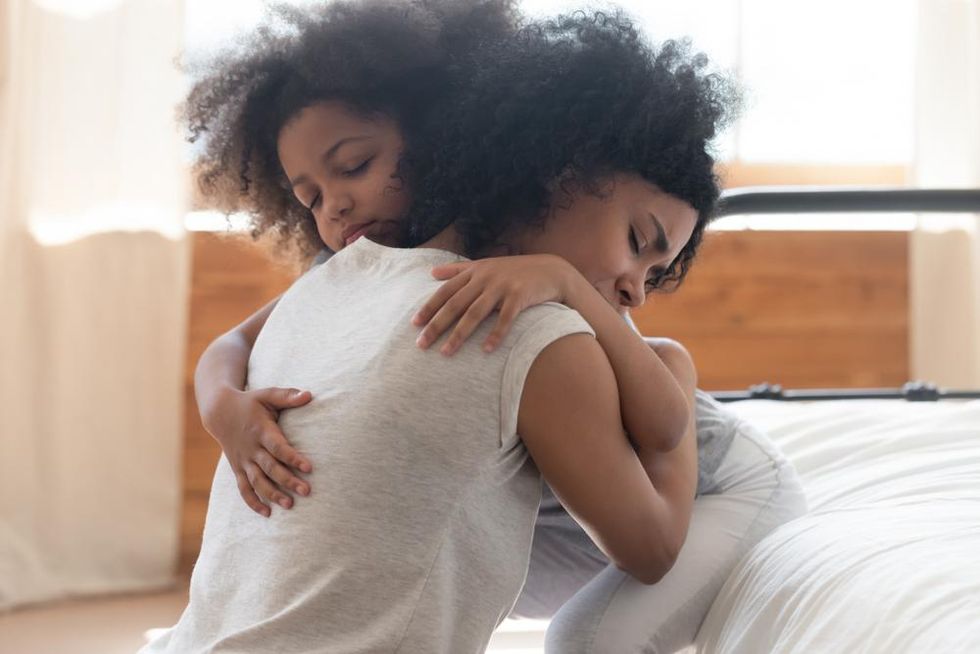 Shutterstock
The CDC reports that "anxiety may present as fear or worry, but can also make children irritable and angry. Anxiety symptoms can also include trouble sleeping, as well as physical symptoms like fatigue, headaches, or stomachaches. Some anxious children keep their worries to themselves and, thus, the symptoms can be missed."

Her new worries and trouble sleeping were impossible to miss since we quarantined together. She became very literal, questioning the noises from the nearby train station and the airport and wondering if they were anything more than that. I was partly to blame for these heightened emotions; we watched the news without consideration, so she was in earshot of the current events from COVID to racial injustice. I didn't think there was any harm since none of this piqued her interest before, but with nothing but time on her hands, things changed.
There is one concept that comes to mind called the mean world syndrome. It was coined in the late-1960s by U.S. communications professor Dr. George Gerbner, whose life work explored the effects of television on viewers. The Wired wrote:
"His work showed that a heavy diet of violent content in news and entertainment convinces viewers the world is more dangerous than it actually is. Back when Gerbner did the bulk of his analysis, media was a smaller and quieter place. Now we have 24-hour access to news channels, movies, and net content."
We are inundated with news even when we do not go searching for it. As a mom, this brings me pause and reconsideration of how we approach media and technology in our home.
Like some of her hobbies, I think this is a phase brought on by being stir-crazy. Neither one of us has experienced anything like this, and we are all doing the best that we can. It broke my heart when she asked if we would still have to wear masks in the new year, and I had the unfortunate task of telling her yes. She was fine, but it sucked. I wish she could experience her childhood without the fear of this virus and how it's changed the world around her. But, such is life, this is our new reality, and my goal is to help her adapt while providing a safe and comfortable environment.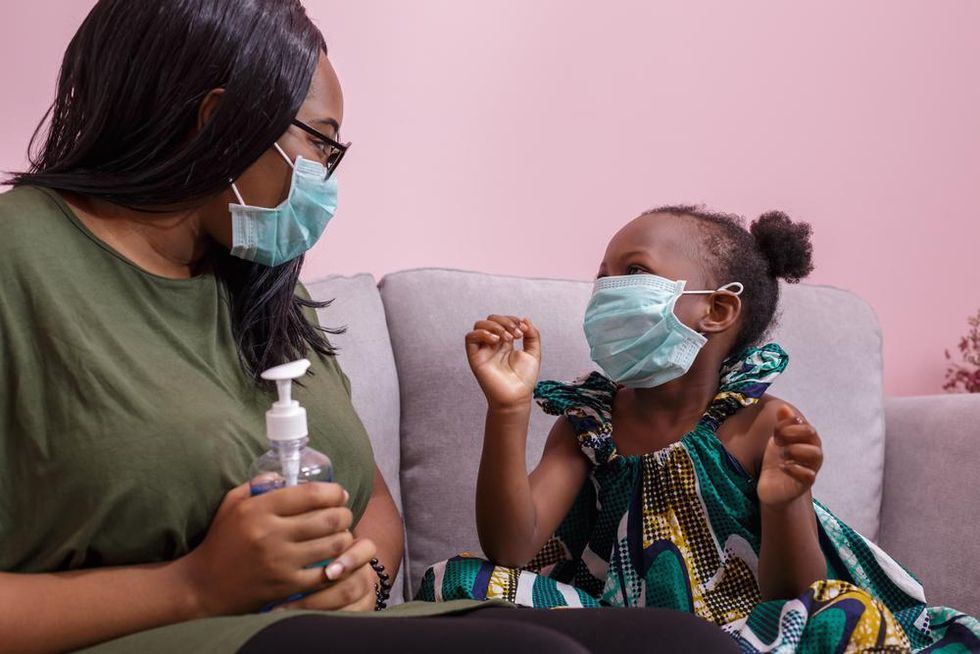 Shutterstock
How To Deal With A Child Experiencing Anxiety
One of the ways we are combating anxiety is by discussing our emotions out loud. I start with questions like: How do you feel? What brought this on? How can I help? And what do you need (to get unstuck)? We must validate our emotions and recognize how they affect us, and if possible, the root cause. Parents must provide their children with a safe space, to be honest. Next, we have to own them and recognize we control our reactions, not people, places, or events. And with that, sometimes we need help to work ourselves out of a problem, and that's OK.

Anytime we have dealt with adversity in the past, we practiced affirmations. Here are the affirmations that I used to combat anxiety and to help her do the same:
I am safe.
I am whole.
I am complete.
Everything is going to be OK.
We repeat this mantra until our spirits lift. I've also incorporated mindfulness to decrease anxiety by focusing on deep breathing to replace the feeling with a more calm disposition.
Have your child breathe in through their nose and out through their mouths for five seconds each. Keep their eyes closed to rest and get into a meditative state. This should help them renew their energy.
I am grateful that I can help her build her emotional vocabulary to use the right words when talking about her feelings. It will make her a stronger, more self-aware person as she matures.
Are you a member of our insiders squad? Join us in the xoTribe Members Community today!
Featured image by Shutterstock
Thirteen days is the number of days between my last period. It is slightly depressing, especially since it took me five years to get to the 21 days I enjoyed between each cycle for the past year. It is less about an irregular period and more about the glaring truth that something is wrong with me. Combined with debilitating fatigue, migraines, and a host of gut issues, there is no way to hide from my body's need for a reprieve.
I've tried for many years to figure out what's wrong with me, from doctors to specialists, homeopathic remedies, and following a FODMAP diet - an elimination diet of food that causes gas, bloating, stomach pain, diarrhea, and constipation. I've had some progress, but nothing that sticks. It feels like I'm in a never-ending episode of The Twilight Zone, haunted by an undiagnosed illness.
One thing for sure, I know I'm not crazy. The pain I feel is real.
Now that it's affecting my daily life, I feel more responsible for figuring out the cause. The most menial tasks feel like a mountain of work, and my energy drops so low that all I can do is sleep. My projects and collaborations have suffered as a result of what's going on. As a certified life coach, my job is to help people fix their lives, but what happens when I'm depleted, sick, and tired? Who helps me? I turn to trusted professionals, and I feel let down. I know getting tested offers hope at what might be wrong, but it is not a panacea to managing my symptoms.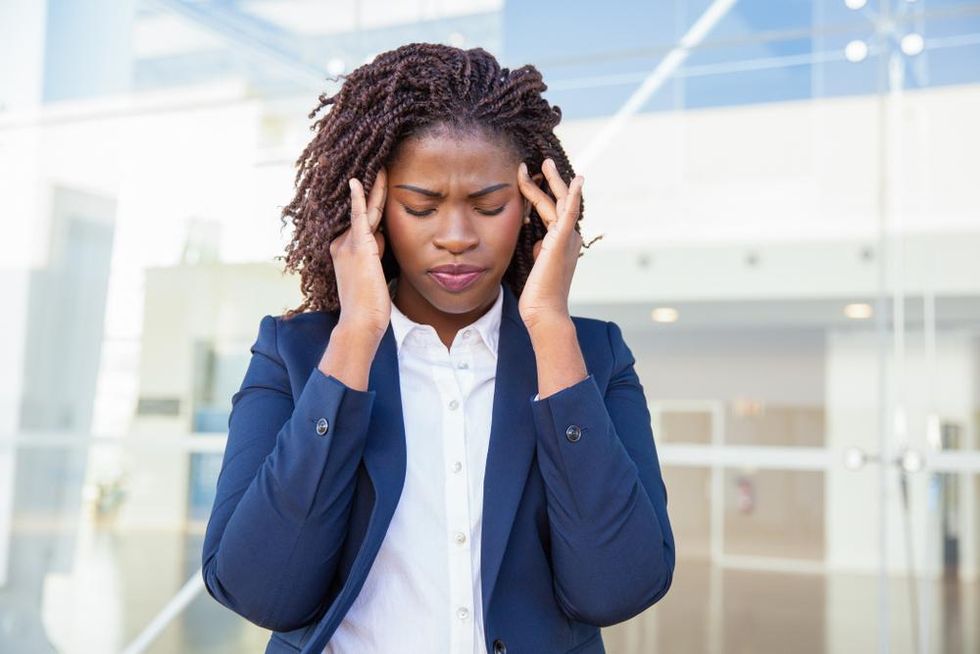 Shutterstock
The healthcare system has a history of implicit bias towards patients based on their race and gender. To be a Black woman means my experience with some healthcare professionals has left me thinking whatever I'm feeling is all in my head after I receive negative test results. The Today Show reported the following:

"A 2016 study found that nearly half of first and second-year medical students believed that Black people have thicker skin than white people, and perceived Black people as experiencing less pain than white people, an idea born from 19th-century experiments that were conducted by a (white) physician named Thomas Hamilton."
This is one of the many reasons Black people and people of color feel like their pain is not taken seriously. As a result, some people choose not to share their symptoms with doctors or take matters into their own hands.
When it comes to healing your body, you have to be all in it. There is no all-in-one-type of approach to personal health. It means you are in the driver's seat navigating the path to making conscious decisions to be healthy in mind, body, and spirit. You have the power to ask for more information when discussing your issues with physicians and choosing the best care provider for your needs.
That means it's OK to find another doctor that can communicate better, where you can build mutual trust and respect.
If you are currently undiagnosed and feeling miserable, I see you. I know you can feel overlooked, even with a lot of evaluations. You have to remain hopeful that one day you will find the cause of your pain. Until then, find a support system that recognizes what you're going through and empathizes with it. You could use cheerleaders, people who will cheer you on during tough times. Educate yourself on the symptoms you're experiencing.
I find it extremely helpful to keep a record of my symptoms. No detail is too small, especially when you're early in your journey. You may go down the WebMD rabbit hole, so take everything with a grain of salt. It may also be worth implementing a plan to work around fatigue. I start projects earlier than usual and jot down notes rather than creating big picture messaging, which can take longer and require more focus than I have. It keeps my work current without compromising deadlines. And if you need more time, ask for it, don't wait until the last minute for fear of retribution.
Last but certainly not least, be aware of the seriousness of depression. Although you may not be experiencing symptoms at this moment, depression is one of the most common complications of many chronic illnesses. Be kind to yourself during these moments.
Protect your energy by removing things that don't serve you. Your health is the priority. You cannot help anyone until you take care of yourself.
Featured image by Shutterstock