---
"The space that stands between you and your dreams is called self-discipline."
It's a saying too many of us can relate to. Our minds are teeming with all these crazy big dreams that are so easy to dream. Yet, when it comes to actually putting in the work to turn them into reality, it's something that we fail to do. Including—no, mostly , me.
I often hear my circle describe me as a woman of ambition that manages to reach the top of every mountain that she decides to climb. Although I'd love for this painting of me to be real, I must admit that these are in fact misinterpreted facts. I did accomplish pretty big things, that's true. But you know, for all the dreams of mine that I managed to fulfill throughout my life, I couldn't tell you how many other perfectly planned and visualized ideas and projects I have allowed to die between the pages of my journals.
Why? Easy. The lack of self-discipline .
At the beginning, the motivation to start is 100 percent there, but as far as staying consistent and having enough patience to wait for real results to show? It's easy to get discouraged and switch my focus on a short-term goal that'll provide me with instant gratification instead. I know that I'm not the only one to feel this way. But one thing I know, sisters, is that we want to stop doing that. We want to stop giving up on our crazy ideas and desires and start pursuing them relentlessly so we can finally live a life of abundance.
Recently, I had the opportunity to have inspiring conversations with successful women of color who, to me, perfectly embody the principle of self-discipline and ask them about their learning process, what self-discipline means to them, and how they're implementing it in their lives.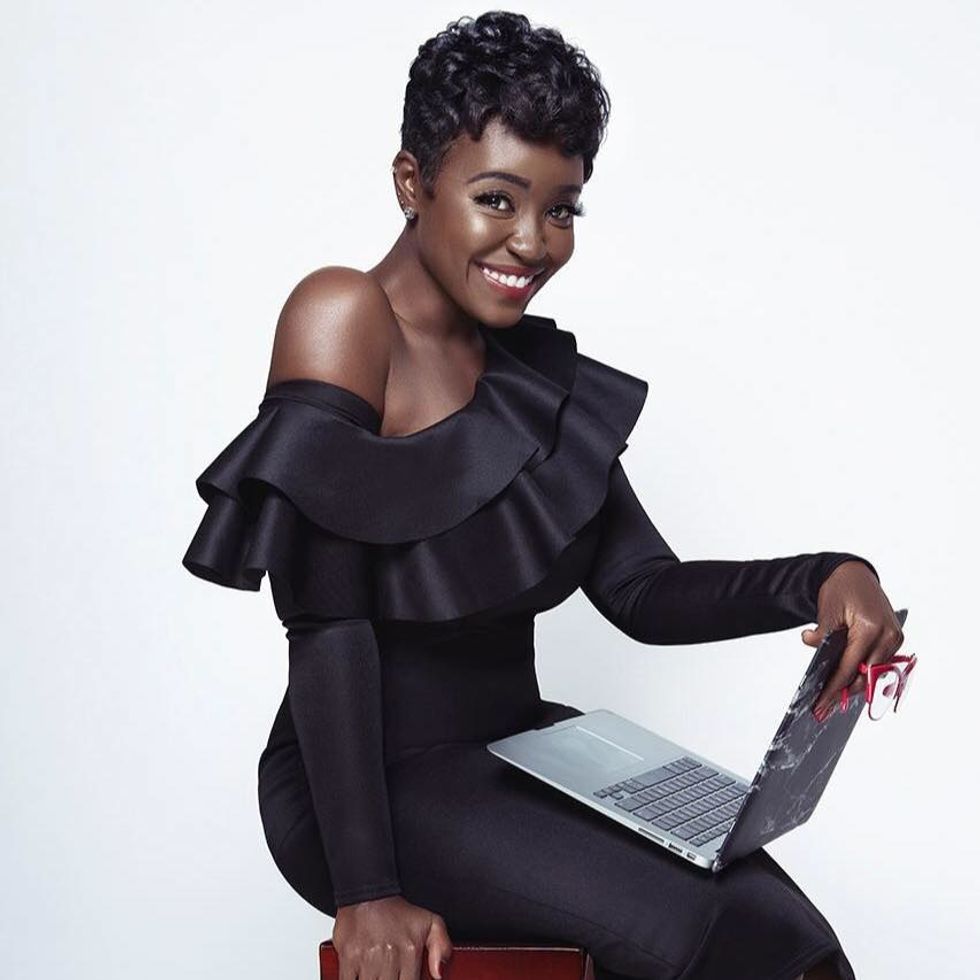 Courtesy of Ardre Orie
Founder of 13th & Joan | Ghostwriter
One thing I've learned throughout my journey through entrepreneurship is that if I don't rely on my calendar, it makes things scattered for me; my calendar is everything that my day can consist of. I believe I've come to the realization that my calendar was my most powerful ally after the third year of entrepreneurship.
I reached a point where I was just burnt out because I thought that I could replace my 9-5 within my first year of entrepreneurship—that was a very unrealistic goal.
But I was convinced that if I worked hard enough, I could make the same income in so little time. When that didn't happen, I blamed myself. I wasn't even close to it and I thought the reason why was because I didn't work hard enough. So, for the next two years, I worked around the clock and was putting in the hours.
Being in my third year of entrepreneurship now, I realize that it was unhealthy to have set myself such a goal for it made me feel unhappy. I had to face the fact that I was doing something wrong and this is when the process of me really analyzing how I'm spending my time started.
Now my rule is, during the time slots that I have parked out for specific activities, I do not allow myself to veer away from them. Even my family, friends and staff know that unless it's an emergency, they can't just pop up and call me in the middle of the day. I probably won't answer anyway because if I do, I'll want to pour into them and it means that the things I should be doing will be on pause.
To me, self-discipline really is the chemistry between your soul and your mind. In many instances, you may have an inkling of something that you want to do but self-discipline is when you have to dig down in your soul to actually make it happen. And once you operate in a space of self-discipline, you walk a little taller. You hold your head high, you have a different posture because you know what you're capable of.
To the question what does it require from me, I would say listening to my soul on a consistent basis. Listening to the things that make me happy.
Staying true to ourselves and remaining consistent in looking for the things that make us happy is important. Those are the gifts that will make room for us. I also do think that due diligence is mandatory. When you think of the things that you want to accomplish, it's necessary that you commit to them. You can't just be halfway putting in the work here and there—that is also where consistency comes in and plays a huge role.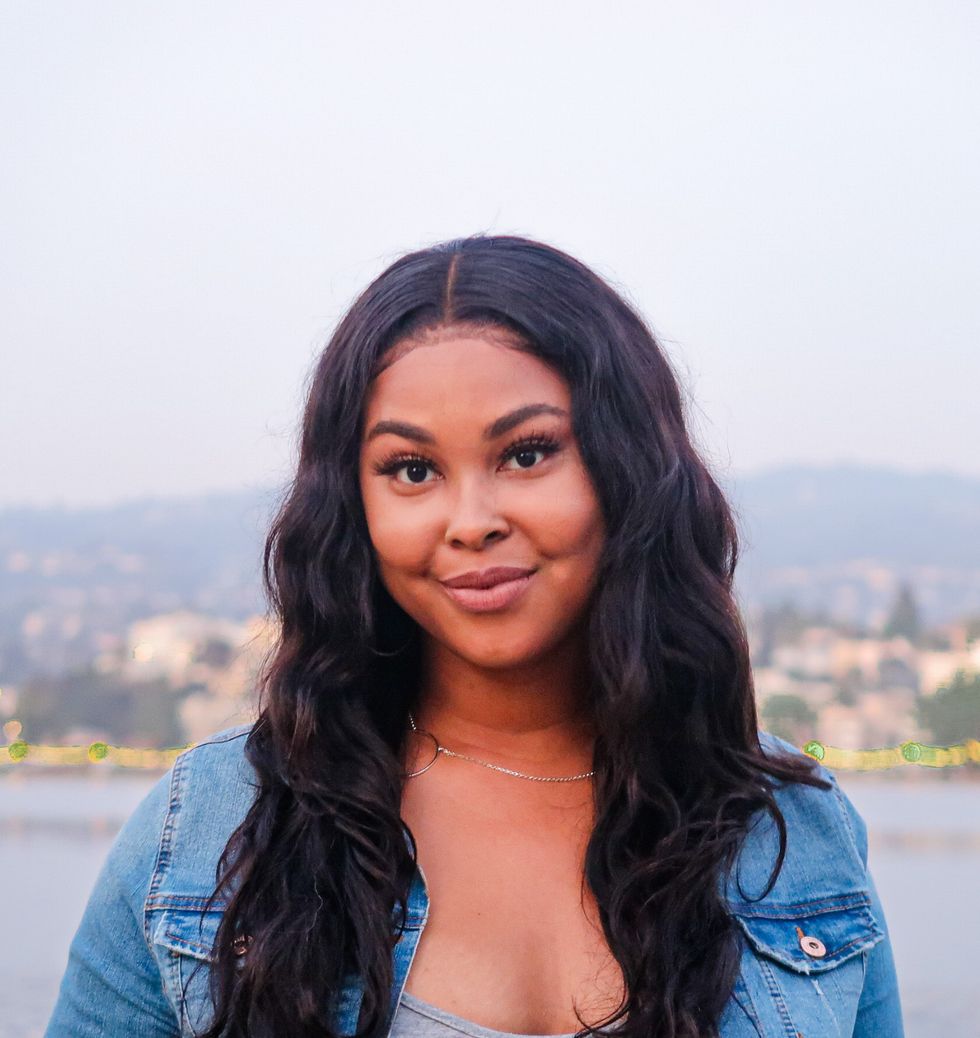 Courtesy of Imani Wade
Blogger | Author of Breaking up with the Bad Girl
I was raised by a single mom, parenting two daughters. She has three degrees and her own business. Seeing how hard my mom works has truly been impactful in my own life and I grew to understand and appreciate this trait of her personality.
My process to learning self-discipline involves three things: 1) Knowing what I want. I find it hard to be disciplined with anything if I didn't initially spend the time visualizing or understanding what my goal or desired outcome was in the first place. 2) Being my biggest fan. The hard reality of pursuing your goal is that you won't always have the support that you need. Luckily, I do have a strong core group of close friends who cheer me on. However, I don't always depend on them because I know how important it is to be my biggest fan. 3) Some serious self-awareness. Self-awareness is crucial. You have to know yourself and be willing to be real with yourself.
I am always quick to call myself out and then establish a new boundary with myself, for myself. If I had a lazy week, I have to be upfront about it. If my body and mind simply need a day to unplug, I honor that as well. Because I was once lazy, I also have to identify if it is rest or laziness approaching me. It gets easier differentiating the two over time, but ultimately you have to keep listening to your needs and be real with yourself.

Moment of transparency, it's still taking me time to adapt to this change of lifestyle but what keeps me motivated is to remember that nobody is going to do it for me. I often tell myself this when laziness tries to creep up around the corner. When writing my book Breaking up with the Bad Girl , I was able to hire an editor, but I had to muster up the self-discipline to write my book in the first place.
Even though some days I only get a quarter of the tasks on my list accomplished whereas I could've crossed off every one of them, I've learned to accept that when I'm patient and gracious with myself, it makes self-discipline more enjoyable.
Self-discipline has improved the quality of my life in many ways. One of those ways is my belief in myself. When my discipline allows me to accomplish a goal, it is proof that it can be done again for another goal. It has always enhanced the love I have for myself. I understand who I am to the core, and what I bring to the table . Moreover, as a believer, it's important to me to be self-disciplined for not only am I honoring myself, but I'm also honoring God; "Faith without works is dead" (James 2:14-26).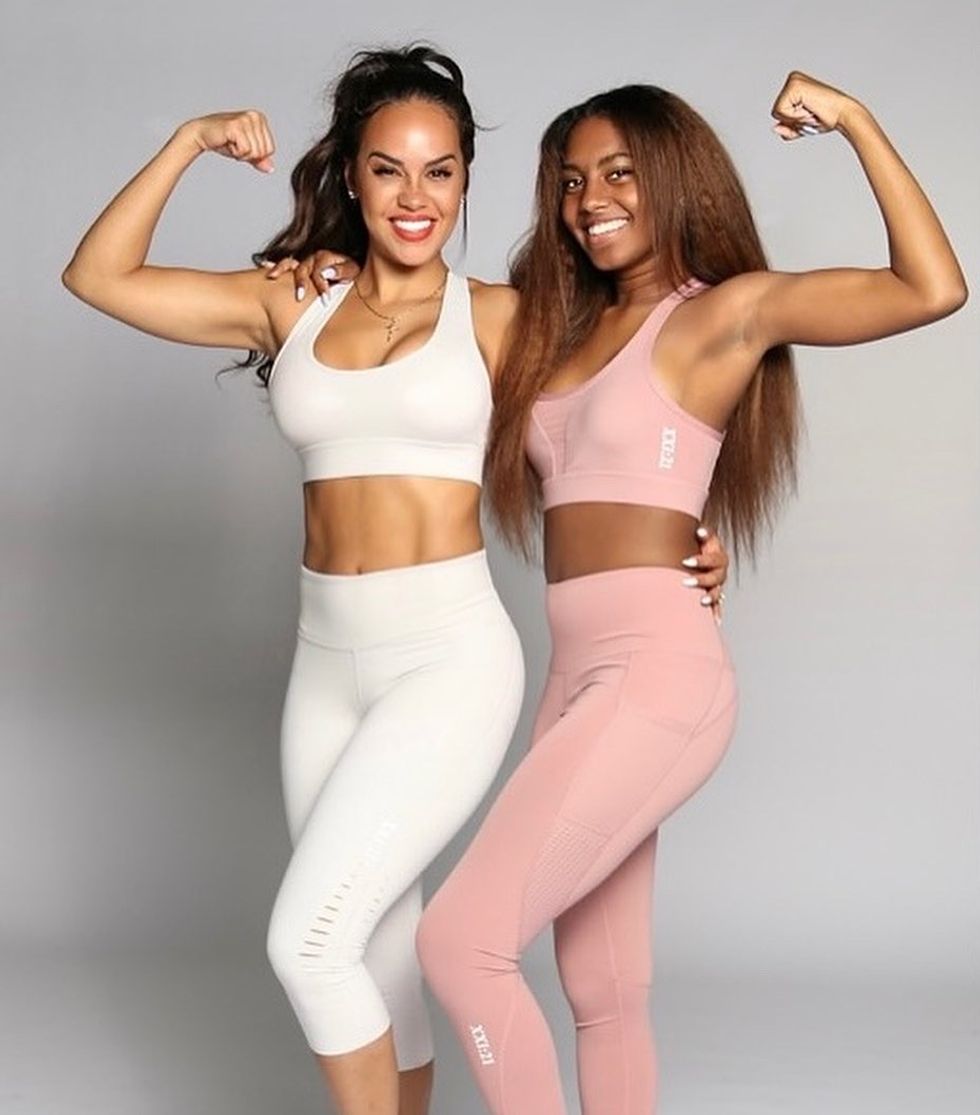 Courtesy of Leticia Marie Gardner (left) & lovely daughter (right)
Founder of Total Body 21
As a woman, wife, mother of two incredible girls, and fitness brand owner , I have a lot of things going on and there isn't a part of it all that doesn't require self-discipline. Especially when we only have 24 hours in a day. Whether it is loving my husband, looking after my daughters who are on two completely different schedules and demand two very different types of attention, working out, or managing my online boutique… it all requires focus and persistence from me.
I wouldn't be who I am today if I didn't have the willpower to be that woman.
The need to become more serious about my health and body didn't hit me before I gave birth to my youngest. I was in my early 30s and realized that everything really changes with age and gone were the days I could just eat anything. From there, it became mandatory for me to feed my body with healthy food and exercise consistently.
Now of course, I go through those days where I'm dragging; I just don't feel like it. I go through my seasons where I either just want to eat good or I don't care. I'm no different than any other girl, I go through it just like everyone else.
But although I may not be motivated all the time, the thing that keeps me going is my addiction to the results. I'm not addicted to the process, I'd rather stay home, eat fast food, and desserts every day. But the result is what I'm in love with. I love the way my body looks and feels when I treat it right.
To me, self-discipline comes from self-worth, self-love, and self-motivation. You may see women with nice bodies and deeply want yours to look similar. But if you're not willing to put in the necessary amount of work until you can actually see some results, then all you'll do is double-tap their pictures on Instagram.
It's really about mental strength, it all happens in your mind. Your body will not do what the mind doesn't tell it to do. You can be sitting comfortably on your couch and crave a snack, but if you do not command your body to get up and go get it, you're not going to eat it. You must have the willpower, you must set the goal—a realistic goal—and chase it. You must love yourself enough to treat your body like the vessel that it is which is special. We only get one body, so you must have the willpower to do what is necessary to take care of it.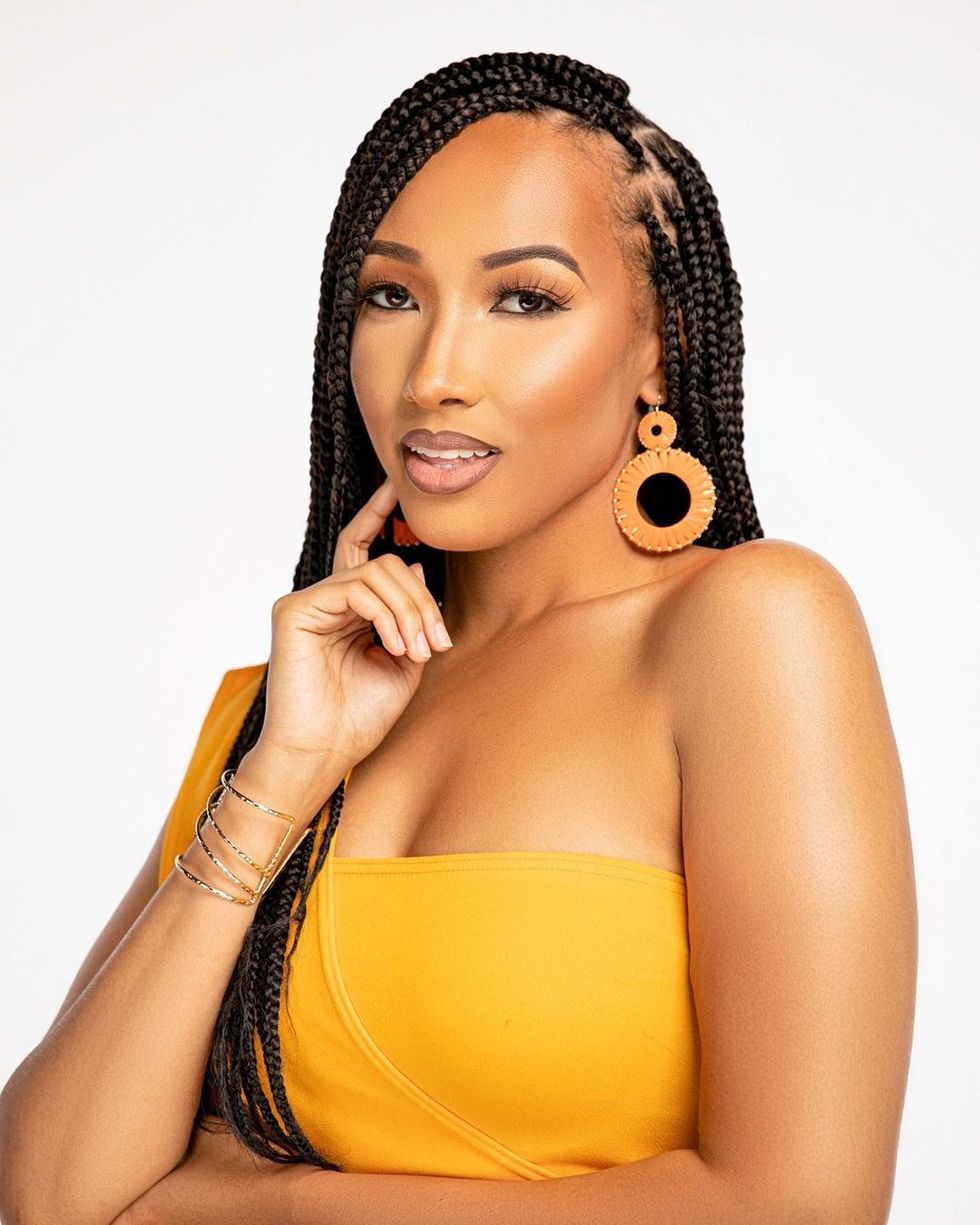 Courtesy of Danielle D. Hughes
Entrepreneur | Author of Always Make Your Bed
My process to learn self-discipline was an interesting one. I graduated high-school with a very low GPA (1.9 to be exact), I never had a routine, never had a bedtime or strict rules growing up in my household. When I got older, I knew that I wanted to change that. Once I became sick of my own BS, I started creating daily habits for myself. I started making my bed each day (hence the title of my book ) and I started to see my productivity increase substantially just by being consistent in that small task each day.
If anything, the lack of discipline of anyone around me only made me want to be further away from them. Once I made up my mind that I was going to change my lifestyle because I was destined for more, I began to lose a lot of people along the way. Unfortunately, as you become more in tune with your divine purpose, people who are no longer equally yoked will naturally fall off. I've learned to make peace with that and no longer try to hold on to something/someone that is no longer serving my highest good.
One of my favorite fall quotes says: "The trees are about to show us how lovely it is to let the dead things go." I try to live by that.
One thing that I'm working on this year is being more present with my loved ones. Surprisingly, that has required so much self-discipline because I'm used to always doing 10,000 things at once. Life has taught me that everything else is temporary but family is forever. Knowing that, it pushes me to be more intentional and disciplined during my quality time with the ones I love the most.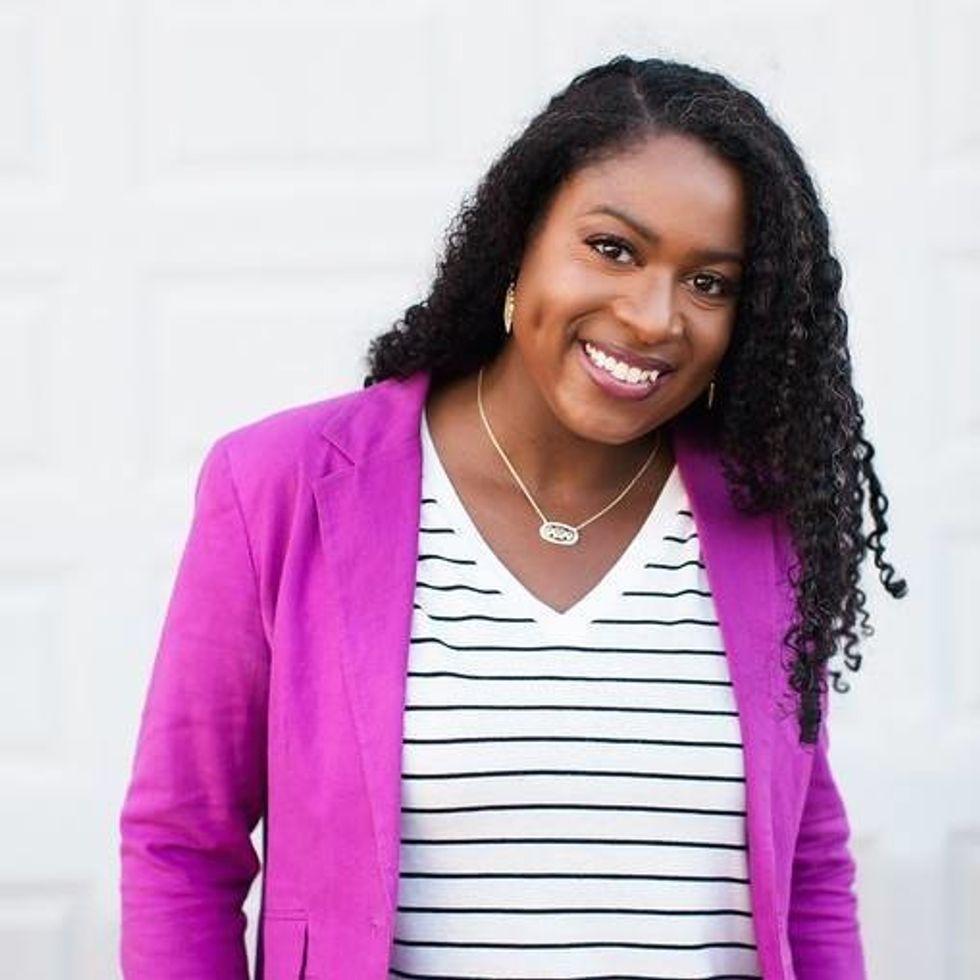 Courtesy of Javacia Harris Bowser
Former English Teacher | Writerpreneur
As a Black woman in America from a low-income family, I knew early in life that to achieve anything I'd have to work harder than everybody else and be more disciplined than everybody else. For me, self-discipline is about creating a plan and sticking to it which means that discipline requires a lot of planning.
Every Sunday I spend 30 minutes to an hour planning out my week. I make a list of all the things I want, need, and must do. Then (using my planner), I assign each item to a day of the week. Then, I look at Monday's to-do list and schedule when I will do each task. Monday night, I create Tuesday's schedule and so on... This hour-by-hour scheduling isn't for everyone, but it works well for me because I was a teacher for 10 years and thus lived my life in class periods.
Right now, every single part of my life requires self-discipline. I am currently battling breast cancer. The side effects of cancer treatments and the emotional and mental toll of a cancer diagnosis all make it very hard to feel motivated to do anything.
But thanks to my self-discipline—and God—and despite cancer plus the pandemic, 2020 has been one of my most successful years career-wise.
That said, even before the cancer diagnosis , self-discipline was essential for my career. I am what I like to call a full-time "writerpreneur". I'm a freelance writer and the founder of See Jane Write which is a website, membership community, and coaching service for women who write and blog. When you're your own boss, self-discipline is a prerequisite. Without it, I wouldn't meet deadlines for freelance writing assignments, let alone do what needs to be done to serve the community and grow my business.
To me, the main pillars of self-discipline are planning, purpose, and persistence.
You have to create a plan for what needs to be done to accomplish your goals. You have to know your purpose, know why you want to accomplish those goals in the first place, and stay focused on that. Most importantly, you have to be persistent. Persistence doesn't mean perfection. It's OK if you're killing it every day. Remember, rest is essential. Also, some days you're going to miss the mark. And that's OK.
Persistence is getting back in the game after a bad day.
Featured image courtesy of Ardre Orie

Savannah Taider
The most Gemini woman you'll ever meet. Communications & community enthusiast, I run a media platform centered around spirituality, and I'm always looking to connect with fellow creatives. Follow me on Instagram & Twitter @savannahtaider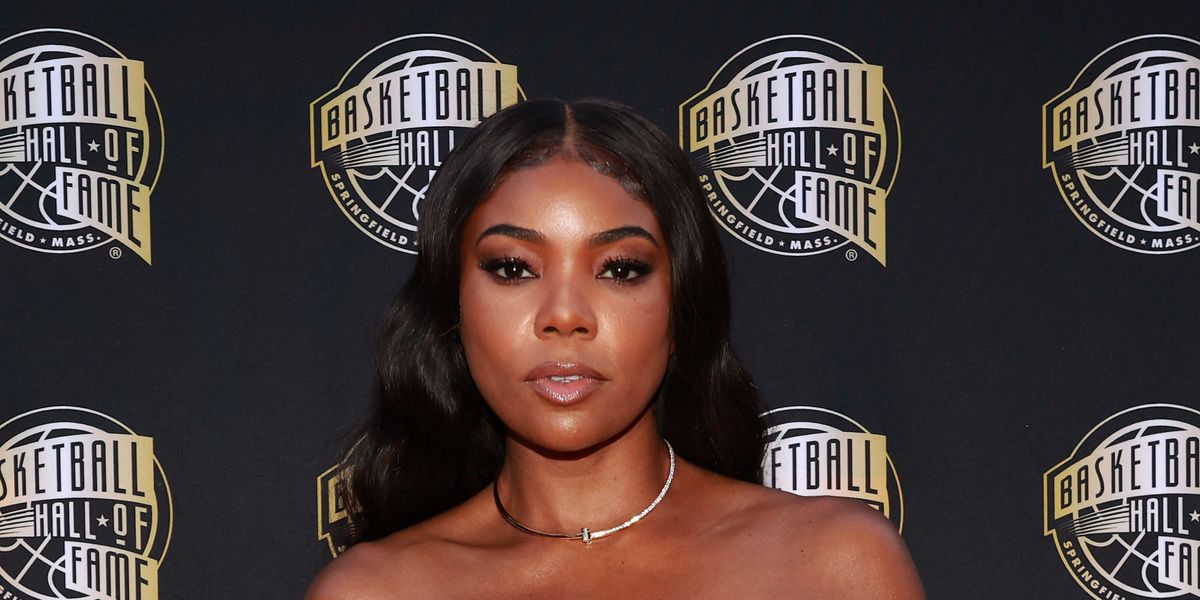 Whenever Gabrielle Union graces the movie screen, she immediately commands attention. From her unforgettable scenes in films like Bring It On and Two Can Play That Game to her most recent film, in which she stars and produces Netflix's The Perfect Find , there's no denying that she is that girl.
Off-screen, she uses that power for good by sharing her trials and tribulations with other women in hopes of helping those who may be going through the same things or preventing them from experiencing them altogether. Recently, the Flawless by Gabrielle Union founder partnered with Clearblue to speak at the launch of their Menopause Stage Indicator, where she also shared her experience with being perimenopausal.
In a xoNecole exclusive, the iconic actress opens up about embracing this season of her life, new projects, and overall being a "bad motherfucker." Gabrielle reveals that she was 37 years old when she was diagnosed with perimenopause and is still going through it at 51 years old. Mayo Clinic says perimenopause "refers to the time during which your body makes the natural transition to menopause , marking the end of the reproductive years."
"I haven't crossed over the next phase just yet, but I think part of it is when you hear any form of menopause, you automatically think of your mother or grandmother. It feels like an old-person thing, but for me, I was 37 and like not understanding what that really meant for me. And I don't think we focus so much on the word menopause without understanding that perimenopause is just the time before menopause," she tells us.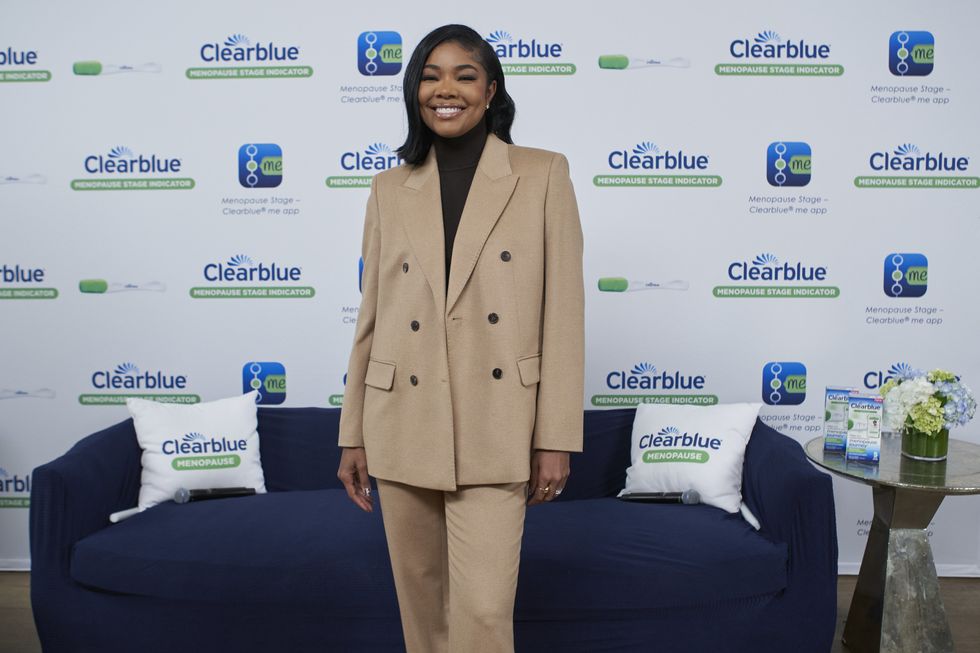 Gabrielle Union
Photo by Brian Thomas
"But you can experience a lot of the same things during that period that people talk about, that they experienced during menopause. So you could get a hot flash, you could get the weight gain, the hair loss, depression , anxiety , like all of it, mental health challenges , all of that can come, you know, at any stage of the menopausal journey and like for me, I've been in perimenopause like 13, 14 years. When you know, most doctors are like, 'Oh, but it's usually about ten years, and I'm like, 'Uhh, I'm still going (laughs).'"
Conversations about perimenopause, fibroids, and all the things that are associated with women's bodies have often been considered taboo and thus not discussed publicly. However, times are changing, and thanks to the Gabrielle's and the Tia Mowry 's, more women are having an authentic discourse about women's health. These open discussions lead to the creation of more safe spaces and support for one another.
"I want to be in community with folks. I don't ever want to feel like I'm on an island about anything. So, if I can help create community where we are lacking, I want to be a part of that," she says. "So, it's like there's no harm in talking about it. You know what I mean? Like, I was a bad motherfucker before perimenopause. I'm a bad motherfucker now, and I'll be a bad motherfucker after menopause. Know what I'm saying? None of that has to change. How I'm a bad motherfucker, I welcome that part of the change. I'm just getting better and stronger and more intelligent, more wise, more patient, more compassionate, more empathetic. All of that is very, very welcomed, and none of it should be scary."
The Being Mary Jane star hasn't been shy about her stance on therapy . If you don't know, here's a hint: she's all for it, and she encourages others to try it as well. She likens therapy to dating by suggesting that you keep looking for the right therapist to match your needs. Two other essential keys to her growth are radical transparency and radical acceptance (though she admits she is still working on the latter).
"I was a bad motherfucker before perimenopause. I'm a bad motherfucker now, and I'll be a bad motherfucker after menopause. Know what I'm saying? None of that has to change. How I'm a bad motherfucker, I welcome that part of the change."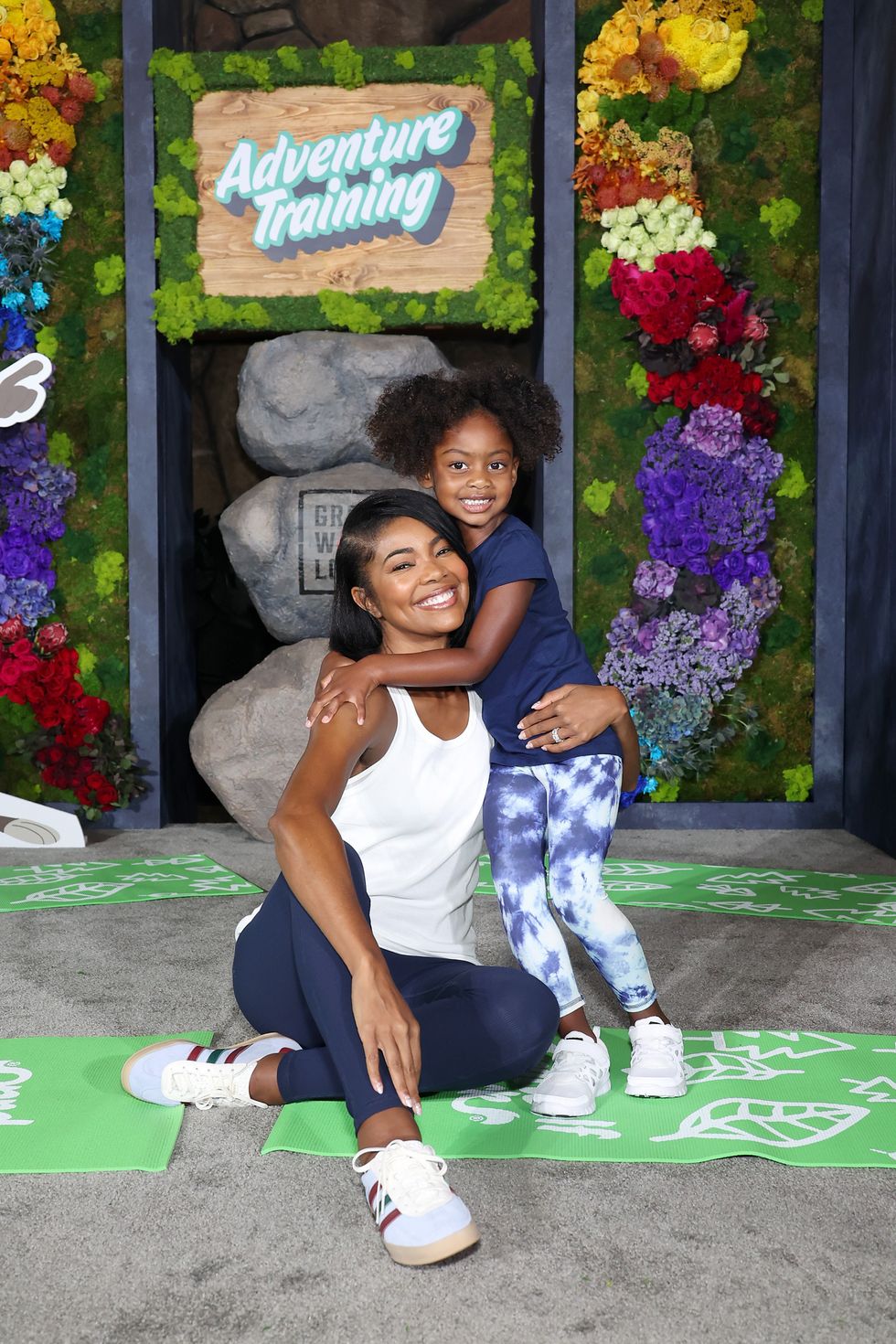 Gabrielle Union and Kaavia Union-Wade
Photo by Monica Schipper/Getty Images
"I hope that a.) you recognize that you're not alone. Seek out help and know that it's okay to be honest about what the hell is happening in your life. That's the only way that you know you can get help, and that's also the only other way that people know that you are in need if there's something going on," she says, "because we have all these big, very wild, high expectations of people, but if they don't know what they're actually dealing with, they're always going to be failing, and you will always be disappointed. So how about just tell the truth, be transparent, and let people know where you are. So they can be of service, they can be compassionate."
Gabrielle's transparency is what makes her so relatable, and has so many people root for her. Whether through her TV and film projects, her memoirs, or her social media, the actress has a knack for making you feel like she's your homegirl. Scrolling through her Instagram, you see the special moments with her family, exciting new business ventures , and jaw-dropping fashion moments. Throughout her life and career, we've seen her evolve in a multitude of ways. From producing films to starting a haircare line to marriage and motherhood , her journey is a story of courage and triumph. And right now, in this season, she's asking, "What's next?"
"This is a season of discovery and change. In a billion ways," says the NAACP Image Award winner. "The notion of like, 'Oh, so and so changed. They got brand new.' I want you to be brand new. I want me to be brand new. I want us to be always constantly growing, evolving. Having more clarity, moving with different purpose, like, and all of that is for me very, very welcomed."

"I want you to be brand new. I want me to be brand new. I want us to be always constantly growing, evolving. Having more clarity, moving with different purpose, like, and all of that is for me very, very welcomed."
She continues, "So I'm just trying to figure out what's next. You know what I mean? I'm jumping into what's next. I'm excited going into what's next and new. I'm just sort of embracing all of what life has to offer."
Look out for Gabrielle in the upcoming indie film Riff Raff , which is a crime comedy starring her and Jennifer Coolidge, and she will also produce The Idea of You , which stars Anne Hathaway.
Feature image by Mike Lawrie/Getty Images
Victoria Monét has had an incredible year. Thanks to the success of the widely popular " On My Mama " that went viral, the singer/ songwriter's Jaguar II album debuted in the top 10 of Billboard's Top R&B Albums chart. She also went on to headline her own sold-out tour . So, when the MTV VMAs happened in September, everyone was surprised to learn that Victoria's team was told that it was "too early" for the "Smoke" artist to perform at the award show. However, a couple of months later, the mom of one received seven Grammy nominations, including "Best R&B Album" and "Record Of The Year."
Victoria is currently in London and stopped by The Dotty Show on Apple Music and shared how she feels "validated" after being dismissed by the VMAs.
"It really does feel nice and validating because, in my head, the reason why I wanted to be a performer at the VMAs or award ceremonies like that is because I felt like I am at the place where I should. I would work really hard to put on the best show that I could, and I was excited to do so," she said.
"And I guess the best way to describe it for me is like when you're like on a sports team, and the coach is like, 'No, you gotta sit this one out.' When they finally put you in, and then you score all these points, and it feels like that feeling. You're like, yes, I knew it wasn't tripping, but I knew I worked hard for this, and so it's been super validating to just have these accolades come after a moment like that, and I know the fans feel vindicated for me.
While her fans called the VMAs out on their decision, the "Moment" singer kept it cute and is still open to performing at the iconic award show. "I feel no ill towards them because it's just maybe that's just truly how they felt at the time, but I hope their mind has changed," she admitted.
Aside from recognition from the Grammys, she has also received praise from legendary artists such as Janet Jackson , Kelly Rowland , and Usher .
Feature image by Amy Sussman/WireImage for Parkwood