We, as women, pray to God for the type of husband we want, but do we pray for the type of friends we need? Many women often imitate singer Ciara's prayer, hoping it will, too, lead them to their "Russell Wilson" – an equally yoked partner.
Yes, finding a life partner is a dream many hold close to their hearts, but how often do we put the same energy into asking for the friends that resonate with our souls? As with romantic relationships, our circle of friends can make or break us. Therefore, it is important to pray for our "tribe" with as much intention as we do for a life partner.
Our friends aren't just companions for brunches and spa days. They deeply influence our daily decisions, shape our outlook on life, and play a crucial role in our emotional well-being. True friends can elevate our spirits during life's troughs and cheer us on during its peaks. On the other hand, friendships that harbor negativity or toxicity can sap our energy, hinder our aspirations, and diminish our self-worth. This underscores the imperative of surrounding ourselves with the right tribe, a circle that fosters growth, ensures mental well-being, and champions genuine happiness.
Wouldn't you want to be seen as a prize by your friends, like you wish to be seen as one by your future man?
Ciara
When Ciara navigated the painful waters of her breakup with rapper Future, the "Level Up" singer didn't leave her future to chance; she envisioned her ideal partner. She actively, consciously, and spiritually prayed for the type of man she wanted as a partner. This wasn't just about a rebound or a short-term fix. It was about intention, clarity, and knowing her worth. The universe answered in the form of Russell Wilson, a beacon of their love story many now admire.
And after years of women wondering what exactly she said in her prayers, she finally revealed it. The singer recorded her purported prayer on Summer Walker's sophomore album, "Still Over It," released in November 2021.
Her words had social media in a chokehold, as women and men alike uttered her words in every relationship video they would post.
Choosing Your Friends Wisely
It is pivotal for us to visualize the friends we desire. Consider: Are they genuinely supportive? Are they the kind of friends who push us forward without pushing us down? Do they offer loyalty without conditions? By detailing these attributes in our prayers or intentions, we offer a roadmap to the universe, directing it to the companions we seek.
While it might be tempting to seek out friends who fit into societal molds of "fun" or "popular," genuine connection demands more. We should crave friendships that go beyond the superficial, where understanding transcends words, where challenges breed growth, and where loyalty isn't seasonal. It's not merely about someone to share mimosas with but about nurturing connections that understand and amplify our life's journey.
When our tribe aligns with our spirit, the transformation is holistic. With the right friends, our confidence doesn't just grow; it soars. We're exposed to broader perspectives, and our horizons expand beyond the familiar. The positivity emanating from such a tribe influences every corner of our lives, creating ripples of change and growth.
However, you must also ensure you're ready for what you're praying for. In my opinion, it is unfair to ask God to deliver friends who pour into you, but you do not pour into them. While prayer sets our intentions, our actions seal the deal. Seeking the right tribe means putting ourselves in environments that reflect our values and interests. Whether attending themed events, volunteering for a cause close to our hearts, or joining groups with shared interests, our actions echo our prayers, resonating with the universe.
Embarking to find the perfect partner holds depth, but equally significant is the odyssey of curating our tribe. The right friends don't just accompany us; they shape our lives in unparalleled ways. When we direct our intentions and actions toward finding our tribe, we aren't merely forming bonds; we're crafting our destiny. The adage goes: "Show me your friends, and I'll unveil your future." Elevate your tribe to a priority, nurture those bonds, and behold the transformative magic unfold.
Feature image by FG Trade/ Getty Images
Have you ever kept returning to a relationship you knew wasn't good for you? Although you experience brief highs, the relationship continuously spirals out of control. Unfortunately, you're in a toxic relationship. And despite how media nowadays glorifies unhealthy attachments, you're only traveling down a path of destruction.
Very Well Mind describes a toxic relationship as making you feel unsupported, misunderstood, demeaned, or attacked.
And continuously returning to a toxic relationship is like sipping a slow poison that taints every aspect of one's being. Like the insidious pull of drug or alcohol addictions, these relationships wield a baffling power. Many stand on the sidelines, wondering why women don't just "walk away." The truth is the grip of a toxic relationship is often tight, anchored in deep emotional, psychological, and sometimes physical ties.
"I think that we have to understand societally that, number one, we tend to thrive in the idea of the toxic relationship just in general," said Dr. Donna Oriowo, LICSW, M. ED, CST.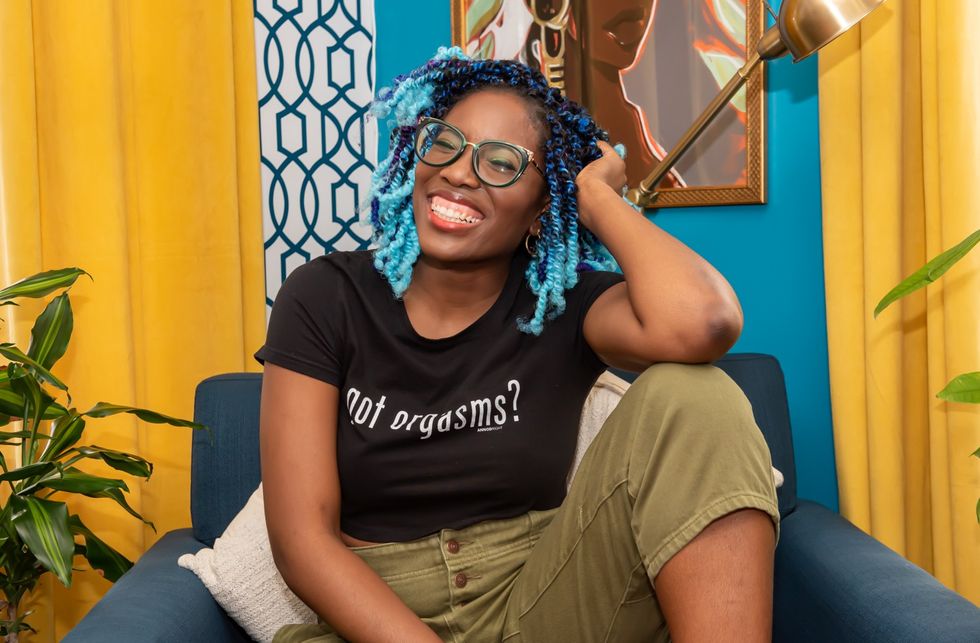 Dr. Donna Oriowo
Photo courtesy of Dr. Donna Oriowo
"We don't exactly revere, support, or uplift people who have a good relationship with themselves. And we often think of relationships as being proprietary, so someone that you would own or someone who would own your body and soul," she added.
Dr. Oriowo is a sex and relationship therapist in the Washington DC metro area and the owner of AnnodRight. She primarily works with African-American women on issues related to sexuality, relationships, self-esteem, colorism, and texturism. Dr. Oriowo sat down with xoNecole to help us understand the addiction to a toxic relationship and person and the reasons behind it.
Are You Addicted to the Person or Relationship, or Both? 
According to Banyan Mental Health, people can experience an addiction to another person. Their presence becomes a powerful draw, an overwhelming attraction that dominates your thoughts and actions. It's a tumultuous mix of emotions, where peaks of joy are intertwined with the pain they deliver. The same individual causing the pain transforms into the source of relief, a distorted dependency masquerading as comfort.
"A person can fall into a pattern of familiarity and seek out the type of relationships that would give them that same level of familiarity, something that you're used to, not necessarily that you're addicted to but something that you know," Dr. Oriowo shared.
Breaking free feels daunting, like severing an invisible thread that tethers you to an emotional rollercoaster, especially if a couple is in the honeymoon phase.
The honeymoon phase of a toxic relationship can be deceivingly enchanting. At the outset, everything seems picture-perfect: intense affection, deep conversations, and overwhelming attention paint a facade of ideal love. This period often masks the lurking issues, as the involved individuals are deeply engrossed in the intoxicating whirlwind of passion. However, beneath this rosy surface lies a foundation not of trust and mutual respect but of manipulation and control, which soon surfaces once the initial euphoria fades.
"The honeymoon phase feels so great and so good, and then you feel so connected and so loved and so seen that everything else feels like a hiccup," she explained.
Dr. Oriowo continued, "A hiccup that is avoided if you do something different or if they do something different or if you try something different so you may want to try different things but the tension building and thus the explosions. They often are not lessening as they're often getting worse. But that means we tend to cling to the parts we like."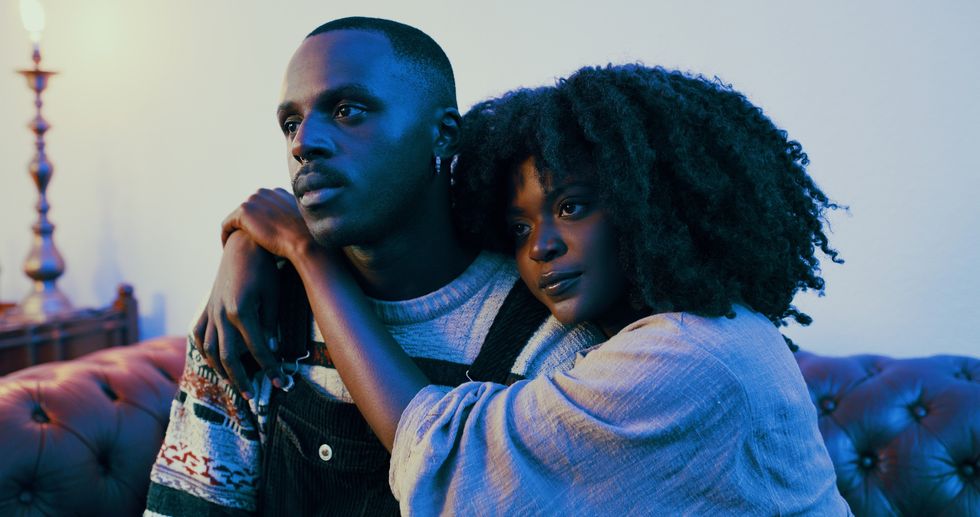 Delmaine Donson/ Getty Images
Thriving in the Chaos of a Toxic Relationship 
The chaos of a toxic relationship exerts a compelling allure for some. This attraction is not about a love for dysfunction; rather, it's deeply intertwined with the dynamics of addiction.
For instance, some individuals cling to the sporadic positive moments. Amid the pervasive conflict and hurt, these rare episodes of affection or reconciliation act as a powerful anchor. The pursuit of these fleeting instances of happiness often justifies enduring extended periods of pain.
In a toxic relationship, sexual intimacy can often play a significant role in keeping individuals tethered. The incredibly intense or fulfilling physical connection can be misconstrued as a sign of genuine affection or deep emotional bonding. In the context of behavioral psychology, such intimate moments can indeed be considered "intermittent rewards." The individual may then endure prolonged periods of distress, holding onto the hope for the next rewarding intimate moment, mistaking it as a sign that the relationship is salvageable or improving. This cyclical pattern of highs and lows can make breaking free from a toxic relationship even more challenging.
"When we're having sex with someone else, certain chemicals are released in the brain that help us to feel intimate and close with that person. So, it can make you feel like all the world is good," Dr. Oriowo revealed. "Emily Nagurski's book 'Come As You Are' also talks about how people talk about how great the sex is. When there is a level of emotional disconnect or uncertainty, the sex can feel like a connecting factor, so the sex feels even like it is the best sex ever. And it is enough to keep you there and keep you going [forward] and keep you staying there even though the relationship in and of itself is actually not that great and certainly not good for you."
Another instance that keeps a woman in a toxic relationship is self-esteem. A woman's self-esteem profoundly influences her choice of partners and the dynamics she may unconsciously gravitate towards. When a woman views herself through a lens of doubt or inadequacy, she may find herself drawn to partners who echo or amplify these sentiments, thinking that's what she "deserves."
"Self-esteem greatly impacts partner choice, and I am writing a book about this. Our self-esteem is informed by what we know about ourselves; thus, how we feel about what we know, right? When you know yourself and like yourself, you are more likely to seek out people who want to be in a relationship with you, which also mimics how you are in a relationship with yourself. You're looking for people to be in concert with you, not people who will be in opposition to you," Dr. Oriowo said.
"Women with higher self-esteem are less likely to choose partners they do not want. They're more likely to speak up for themselves. They're more likely to exit relationships that feel like they don't meet their desires, their wants, their needs," she added.

Dr. Oriowo also noted that "self-esteem is on a spectrum."
"It's not you have it, or you don't. You may level up how you feel about yourself, that the current relationships you hold are no longer feeding you in the way that you need for it to feel like a reciprocal relationship," she added.
Over time, this tolerance for harmful behavior can entrench her further in detrimental relationship patterns, making it challenging to recognize or seek healthier dynamics.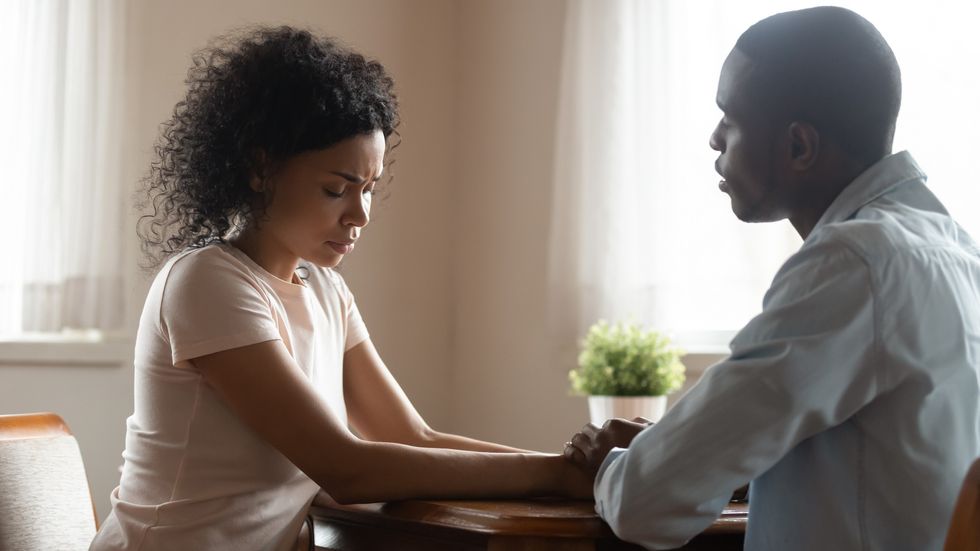 fizkes/ Getty Images
The Fear of Being Alone 
The fear of being single is a powerful force that can bind a woman to a toxic relationship. In a society that often equates partnership with success, validation, or completeness, the idea of solitude can seem daunting. This fear and societal pressure might push a woman to cling to a harmful relationship, choosing the familiarity of toxicity over the uncertainty of being alone.
"Many women often are in communities where it is so-called better to be in any relationship than be single. And so, the tolerance level for toxicity in relationships is greatly increased. Just because we are thinking about it may be perfectly sanguine and acceptable to be in a toxic relationship," she stated.
"But I would also like to note that it seems that we are turning a corner where more women are perfectly sanguine, especially Black women, who seem to be leading the charge in this. They're perfectly sanguine and happy to remain single. If it means that they will not be in a subpar relationship," Dr. Oriowo explained.
In understanding the intricate web of addiction to toxic relationships, Dr. Oriowo unraveled layers of emotional complexity, deeply rooted fears, and societal pressures. Though marred with dysfunction, these relationships mirror our vulnerabilities and the lengths an individual might go to seek validation or avoid pain. Recognizing the patterns can be the first step toward seeking healthier connections, breaking the addictive cycle, and finding genuine stability.
As you navigate our relational world, it's essential to prioritize emotional well-being, self-worth, and genuine connection over-familiar yet damaging cycles. Only then can someone break free and pave the way for healthier, fulfilling relationships they deserve.
Feature image by Moodboard/ Getty Images
After college, I successfully landed an entertainment news role. I was passionate about my work and grateful for obtaining a job in my desired field. But like most entry-level positions in the creative industry, the pay was left to be desired. I quickly realized that I needed a second job to pay my bills.
Multiple career fairs later, I started a position with an insurance company.
My new role felt like my first "big girl" job because it had full benefits, and I couldn't have been more excited. Plus, I could work this job during the day and my other gig at night. I excelled in my new role – exceeded the required enterprise accuracy score, received several cash awards, and was consistently selected to train my team members on different learning variances.
Everything was great initially, but unfortunately, the job that guaranteed financial stability became a nightmare after a while.
Feature image by FG Trade/ Getty Images
Michelle Buteau's comedy series Survival of Thickest recently premiered on Netflix. And as a plus-size woman in her thirties, seeing a plus-size character who wasn't the sidekick was extremely refreshing. Yes, the Plus community has had a few main characters (i.e., Miss Piggy – fat and fabulous). But at what cost? Like other plus-size characters, Miss Piggy was constantly ridiculed for her size.
Historically, plus-size female characters were pigeonholed into comedic relief roles or underwent a transformation to be deemed "attractive." Such portrayals perpetuate the damaging message that one's value or beauty is tied to their body size. And because I didn't have the representation, I wanted on-screen then, I am so happy to see the shift in how plus-size characters are portrayed now. Representation matters immensely. It shapes perceptions, builds confidence, and fosters acceptance. Everyone deserves to see diverse bodies depicted as confident, beautiful, and worthy of love.
Buteau refers to her series as a "love letter to fatty baddies" during an interview with NPR, and I couldn't agree more. In addition to being an attention-grabbing and funny series, Buteau was meticulous in creating the on-screen lead – Mavis Beaumont. She was fun-loving, empowering, and raw. Mavis stood in who she was, not just as a woman but as a plus-size baddie. She never settled, which once again…thank you! This series taught me five lessons – some new and some I just needed a friendly reminder of.
Loving your plus-size body isn't WEIRD (or even wrong)
This was one lesson I always knew, but seeing a TV series reaffirm it makes it that much more important. Something about seeing fat positivity seems to irk some people's spirits. It doesn't matter if you're a size ten or size twenty-two; you deserve to love the skin you are in. You deserve to feel comfortable, loved, and seen. And no one has the right to take offense to you loving every inch and roll of your body. Mavis did a fantastic job showcasing this lesson throughout the season.
But unfortunately, there are still so many who disagree. For instance, plus-size beauty and fashion influencer Stella Williams is often criticized for her confidence in wearing various clothing – side cut-out swimsuits, crop tops, etc. She is constantly criticized for not "minimizing her stomach" no matter how cute the outfit is, but why should she? Why is it wrong that a plus-size woman loves her body and has no issues hiding it? Williams continuously breaks the barriers of unrealistic beauty norms and refuses to be shut out.
Plus-size characters are MORE than a joke
Survival of the Thickest proved that writers can create a character without making that individual a stereotype. A fat character on screen doesn't have to be glutinous, sloppy, or joking about their bodies. And let's be honest; fat jokes are unoriginal. Fat jokes have plagued TV shows and films for years. One example is the popular cult classic Next Friday, where Day-Day (Mike Epps) used food to influence Baby D (played by rapper The Lady of Rage) to stop chasing after him. Those types of jokes imply that plus-size people have an unhealthy relationship with food, an obsession.
Plus-size people can be a MAIN CHARACTER
This lesson applies to real-life and on-screen. Your size doesn't mean you can't be the main character ever. Nowadays, I see plus-size people who own who they are, but this lesson is for those who never saw a plus-size main character or didn't feel they could be the main character in their own lives.
I grew up in an era where plus-size representation was SCARCE. Honestly non-existent. Unless it was coming from close to home, you might've not experienced being told you were beautiful without it was a backhanded comment – "Pretty for a big girl" or "You would be prettier if you lost weight." Therefore, you had to have tough skin on the playground and in the world. And it would be the same sentiment in movies and books. But do not dim your light because of how others believe you should be or look.
Be Authentically YOU
One thing I respected about Mavis was that she was authentically herself. People change to conform to spaces that weren't meant for them. And I've always said I'm too big to be placed in a box, personality included. Plus, life is too short not to be who you are and meant to be. Every space – friends/circles, environments, etc. – aren't meant for you, and that's OK.
A great example: Survival of the Thickest co-creator, executive producer and star Michelle Buteau. She has consistently reinforced that one's power comes from being authentic to oneself. By sharing her experiences as a plus-size woman in the entertainment industry, Buteau demonstrates the importance of being genuine in a world that often promotes idealized images of women. This lesson teaches us to empower ourselves and inspire others by honoring and showcasing our authentic selves.
Plus-size bodies ARE desirable
Like number one, this was a lesson I learned early, but once again, Mavis reaffirmed it throughout the season. I enjoyed that Mavis found love without feeling the need to change. One movie you witness this in is the 2006 rom-com Phat Girlz. The main character Jazmin, played by Mo'Nique, couldn't believe Dr. Tunde was initially interested in her or was faithful, so much so that Jazmin questioned him at one point for not trying to sleep with her. I remember being frustrated that the main character only felt desirable through a level of sexual attraction.
Another time we see this is in the early 2000s series Degrassi. I wanted so much more for Terri's character. She was plus-size and one of the prettiest girls on the show, but her character was made to be insecure. And I understand this was a teen series; therefore, they were dealing with underage drinking, insecurities, and love, but she deserved a more fleshed-out story.
Feature image by Roy Rochlin/Getty Images for Netflix
As a plus-size woman, self-love can be a complex concept to embrace. No, I didn't grow up believing my worth was based on my size; however, society often would base a woman's value on her appearance – "You're too big," "You should have an hourglass figure," etc. Also, mainstream media perpetuated narrow beauty standards, leading many to struggle with body image and self-esteem.
Therefore, for plus-size women, embracing self-love can be particularly empowering, as it challenges societal beauty standards and promotes body positivity. Finding self-love is a journey that holds immense significance for plus-size women. It involves challenging societal norms, cultivating self-acceptance, and celebrating the beauty and worth inherent in every individual.
One way to learn self-love is by practicing daily affirmations. Affirmations are a powerful tool that can help foster self-acceptance and boost self-esteem. Here are 15 self-love affirmations you can incorporate into your daily routine, cultivate a positive mindset, and embrace your beauty, curves, and all.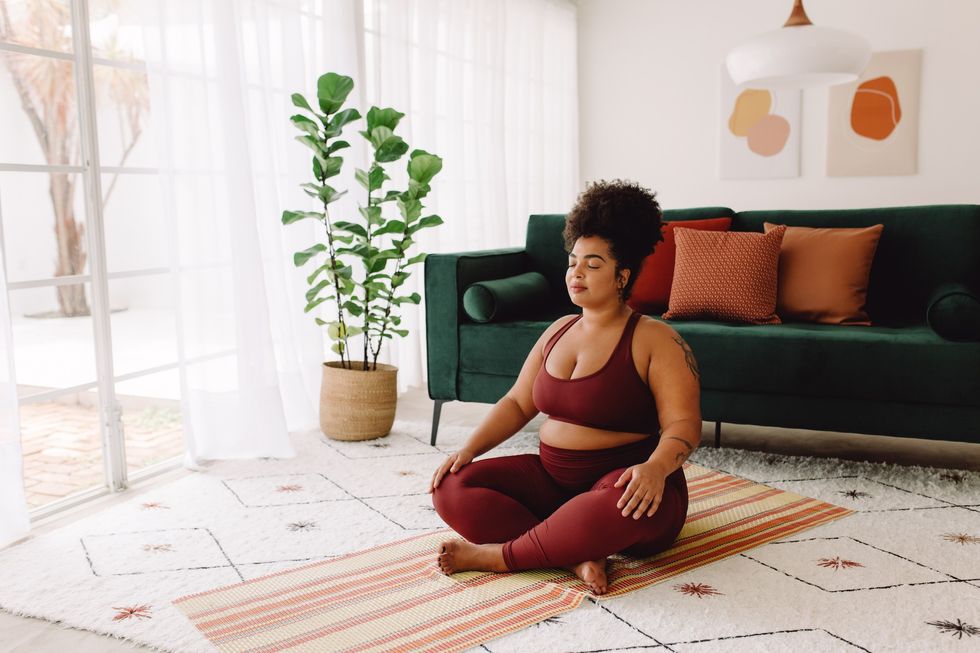 JLco-Julia Amarai/ Getty Images
15 Self-Love Affirmations
I am worthy of love and respect, regardless of my size. In a society that often equates worth with physical appearance, it is essential to remind yourself that your size does not define your value. You deserve love, respect, and happiness just as you are.
I embrace my body and celebrate its strength and beauty. Shift your focus from perceived flaws to appreciating the strength and beauty of your body. Recognize all that your body has accomplished and the unique ways it carries you through life.
I am more than my physical appearance; my worth extends far beyond my size. Your worth as an individual goes beyond physical appearances. Emphasize your accomplishments, intelligence, kindness, and qualities that make you remarkable.
I choose to surround myself with people who uplift and support me. Surround yourself with positive influences who celebrate your body and encourage your self-love journey. Seek out friends, family, and communities embracing body diversity and encouraging self-acceptance.
I release the need for society's validation and define my own beauty standards. Challenge societal beauty standards and define beauty on your own terms. Reject that your worth depends on external validation and embrace your unique beauty.
I release the need for society's validation and define my own beauty standards. Challenge societal beauty standards and define beauty on your own terms. Reject that your worth depends on external validation and embrace your unique beauty.
I am grateful for my body, and all it does for me.Practice gratitude for your body and all the incredible things it allows you to do. Focus on your body's functionality, strength, and resilience rather than its appearance.
I am comfortable and confident in my own skin. Develop a sense of comfort and confidence in your own skin. Recognize that your worth is not contingent upon fitting into societal norms but on your ability to embrace and express yourself authentically.
I nourish my body with love and kindness. Adopt a self-care routine that emphasizes nourishing your body physically, mentally, and emotionally. Prioritize activities and practices that make you feel good, whether nourishing foods, exercise, mindfulness, or engaging in hobbies that bring you joy.
I am an advocate for body positivity and inclusivity. Become an advocate for body positivity and inclusivity for yourself and others. Spread awareness, challenge stereotypes, and promote acceptance of all body types.
I am allowed to set boundaries and prioritize my well-being. Setting boundaries is an act of self-love. Recognize your limits and prioritize your well-being. Surround yourself with people who respect and support your boundaries.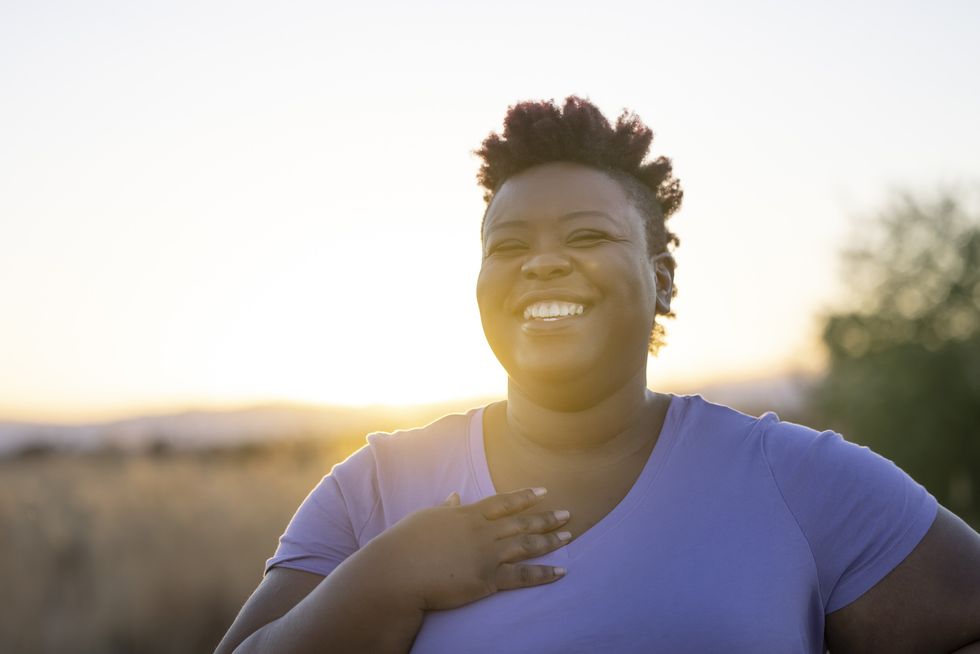 LPETTET/ Getty Images
I am proud of my journey and the person I am becoming. Acknowledge and celebrate your journey of self-love and personal growth. Embrace the person you are becoming and take pride in your accomplishments, both big and small.
I forgive myself for opposing thoughts or judgments about my body. Release yourself from the burden of self-judgment. Forgive yourself for any negative thoughts or judgments you may have held about your body in the past. Choose to focus on self-acceptance and compassion instead.
I forgive myself for opposing thoughts or judgments about my body. Release yourself from the burden of self-judgment. Forgive yourself for any negative thoughts or judgments you may have held about your body in the past. Choose to focus on self-acceptance and compassion instead.
I am beautiful, inside and out. Recognize and affirm your own beauty, both inside and out. Remember that beauty comes in all shapes and sizes; your unique qualities make you truly beautiful.
I choose self-love over self-criticism. Make a conscious choice to replace self-criticism with self-love. Whenever negative thoughts arise, redirect your focus to affirmations that promote self-acceptance and self-care.
I am enough, exactly as I am. Embrace the powerful affirmation that you are enough, exactly as you are. Remember daily that your worth is not defined by your size or appearance but by your inherent value as a human being.
Embrace your body, celebrate your worth, and stand as a beacon of empowerment for other plus-size women on their own self-love journeys. You are beautiful, and you are deserving of love and acceptance exactly as you are.
Feature image by Erika Dominiquini/ Getty Images
Your destination getaway is right around the corner. Everything is nearly together – travel excursions planned, hairstyles selected, and you have found the perfect plus-size swimsuit thanks to Gabi Fresh, but what about your outfits, specifically plus-size resort wear? And no, ladies, we are not living in chaos this summer and relying on rush shipping to provide pieces that may or may not work. So, if you need options, we got you covered.
First, researching current summer trends is a great way to select resort wear options. Some of our favorite travel girlies gave us the scoop on resort trends to look out for this summer. This includes sheer, crochet, and of course, the classic all-white pieces.
Next, look for interchangeable pieces. I love to mix and match to create a look, and I want to wear items that can carry into other seasons. Luckily, finding trendy plus-size resort wear that matches these criteria is easy. So, whether you are searching for something flowy or more revealing, you won't be disappointed because we have curated a list of this year's best plus-size resort wear.
Feature image by Lisa5201/Getty Images