Let's talk about sex, baby! Specifically, the best sex positions for pregnant women. Finding the perfect sex position can be stressful enough with your partner. Now, try doing that with a bun in the oven. It's bad enough that you could be uncomfortable and exhausted, or your sex drive is through the roof due to hormonal changes. So often, many parents are afraid of "hurting the baby/babies" or not being able to perform as they did before pregnancy. But understand that a baby stops nothing, especially keeping those sparks alive in the bedroom.
But what are the best sex positions for pregnant women, and do those positions only cater to people in specific trimesters? Luckily, birthing expert, teacher, and founder of Empowered Black Doula, Keshia Lockett, is here to answer some of our most pressing questions about the best sex positions for pregnant women, including women who may not be able to engage physically. Keshia explains that the task may not be the easiest, but it's very doable and worth it, no matter what trimester you're in.
Here are Keshia's tips and tricks for having sex safely while pregnant.
What To Know About Sex During Pregnancy
"The best advice I can give is that it will not hurt you when you have sex while pregnant. The biggest thing to understand is that your baby is protected. Your baby is in the uterus. Your baby is surrounded by amniotic fluid, and there is no way for your partner to get that far up to harm your baby.
"And there is another barrier protecting your baby from that [which] is your cervix. Your cervix is down extremely low into your pelvis, another way you're protected. So you can cross that off [your list of concerns] because there is no way to reach the baby. And you should be able to enjoy it as much as you want to enjoy it."
Sex During the First 3 Months of Pregnancy
"Before your belly grows, you have a free for all. You can pretty much do the same sex positions you were doing before pre-pregnancy. Everyone is different; some people's [belly] start showing much earlier than others."
After the First Trimester: The Best Sex Positions To Try While Pregnant
1. Reverse cowgirl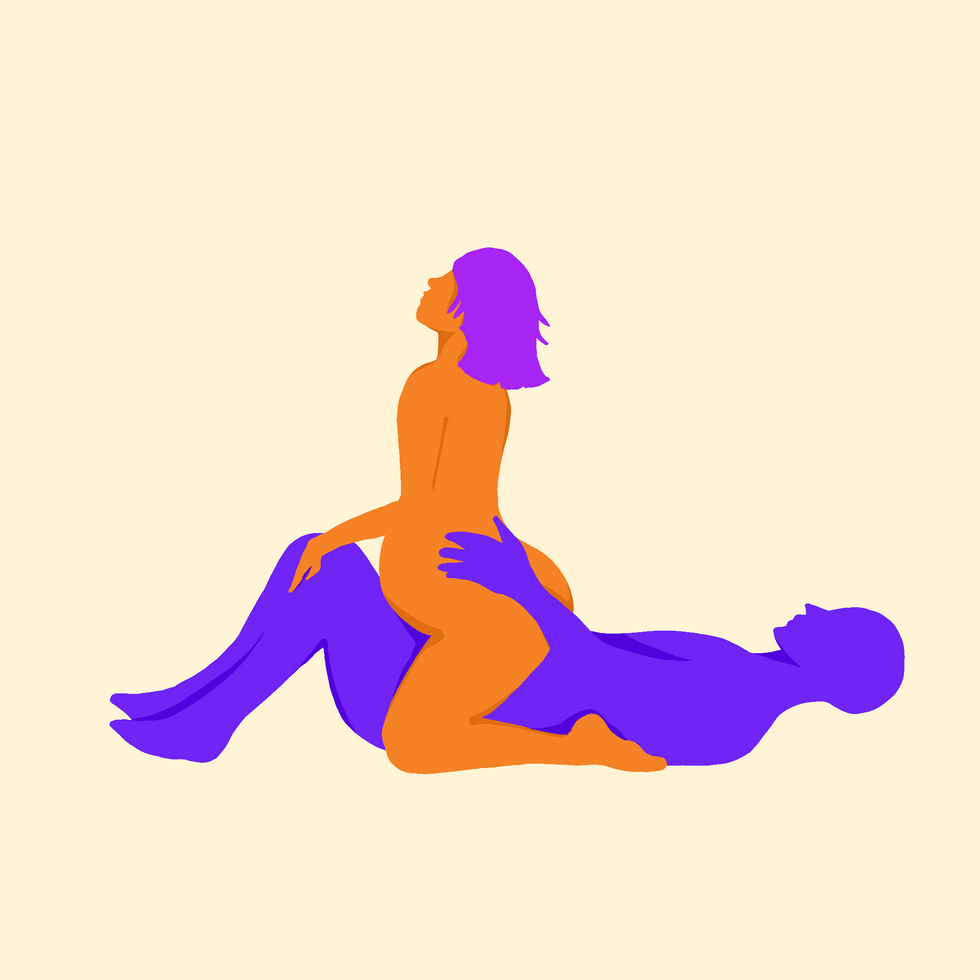 Qori B./xoNecole
"When you're on top but facing the opposite of your partner. That's a very comfortable position, and you'll have more control. You can control everything while also being more comfortable. Your belly isn't on them too much, and they're also comfortable."
2. Spooning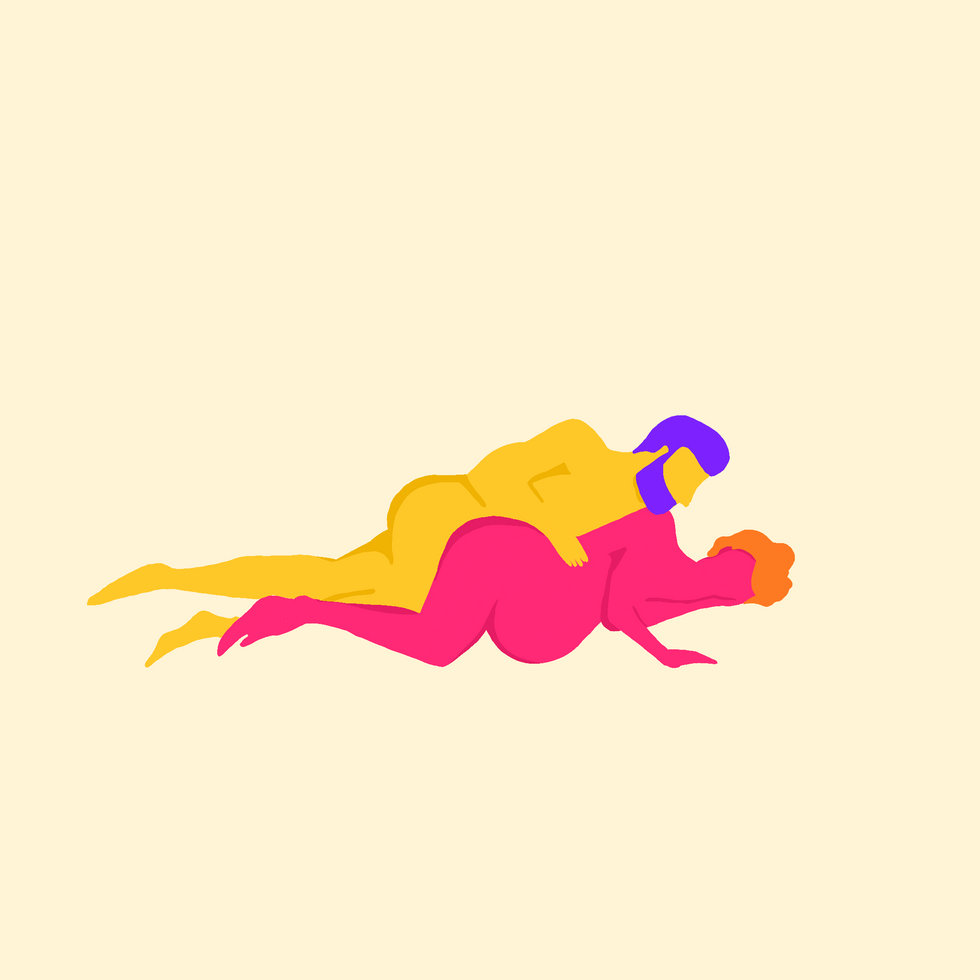 Qori B./xoNecole
"[For spooning,] you'll want to lay the leg you're lying on straight and your other leg up. And [you can] rest the raised leg on your partner for additional support."
3. Cowgirl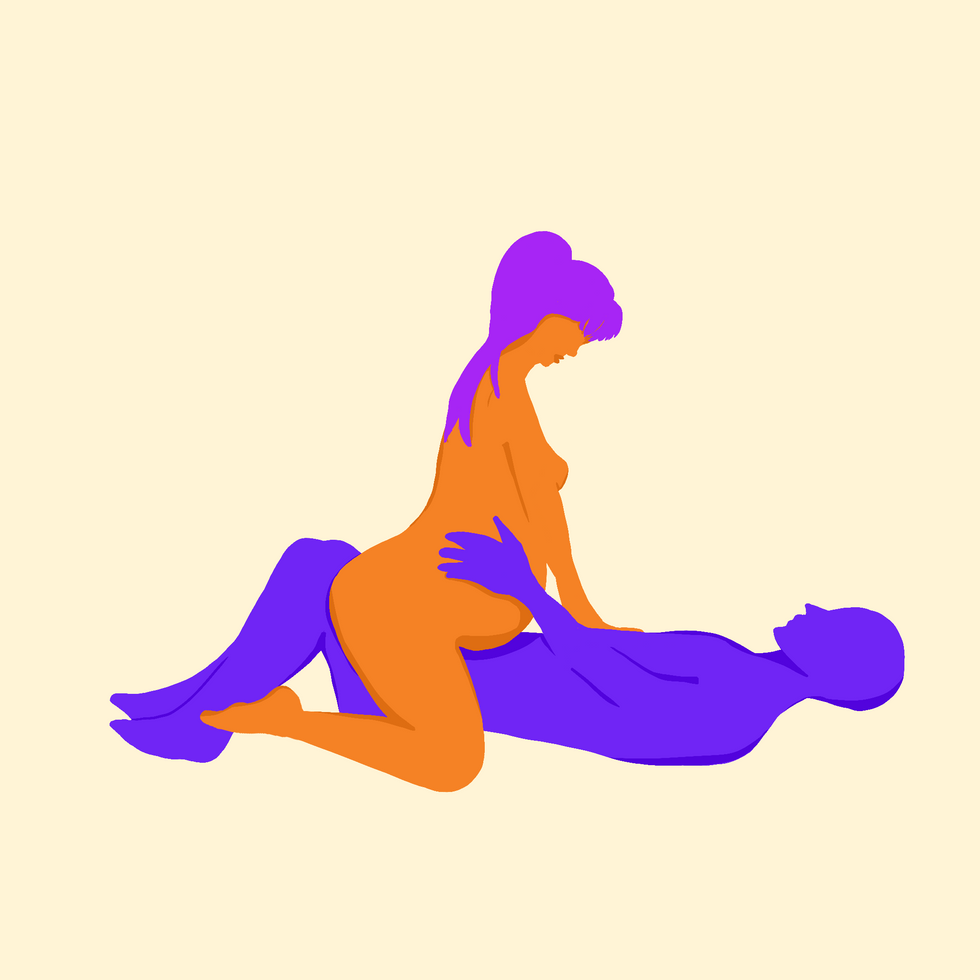 Qori B./xoNecole
"Another one where you're on top and in control. [Control in terms of the level of penetration and motion of straddle.]"
4. Edge of the bed (table top)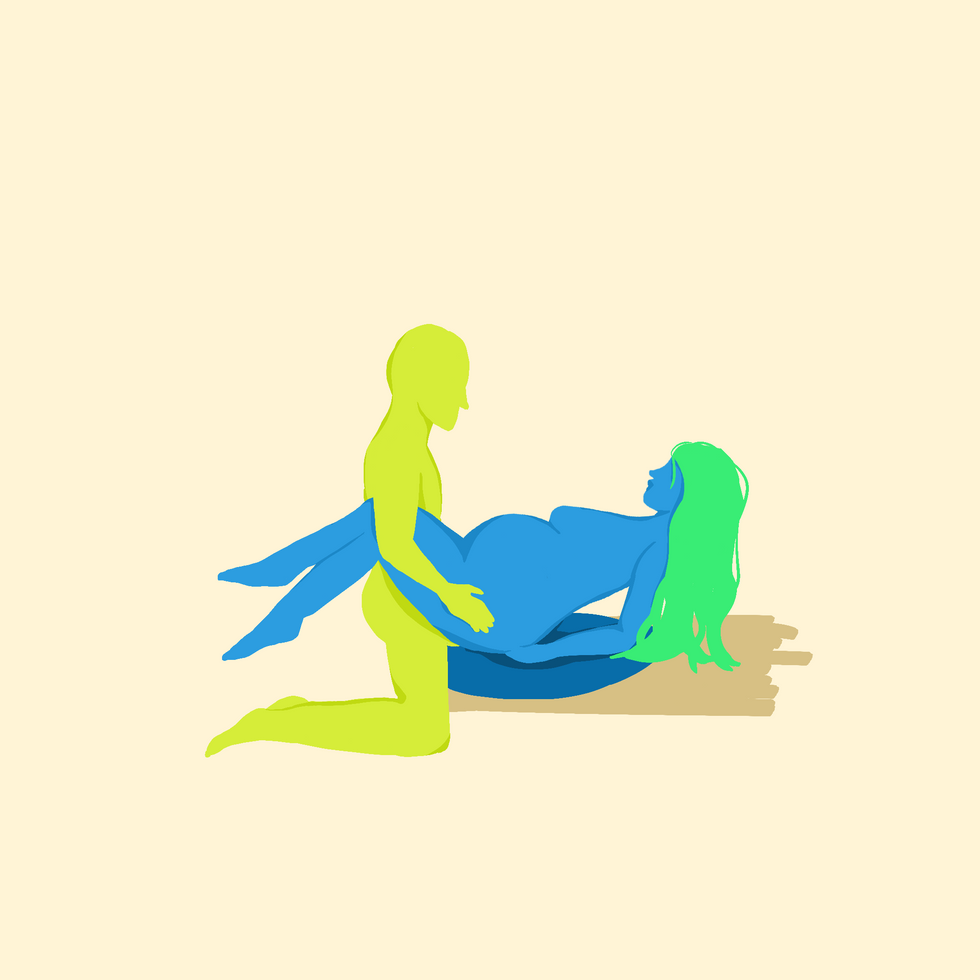 Qori B./xoNecole
"[In this position,] your body is at the edge of the bed but not too much on your back. There are blood vessels in your back, and laying on your back while pregnant can cause breathing issues with the placenta, you, and the baby. So, I would suggest tilting to the side."
5. Doggy style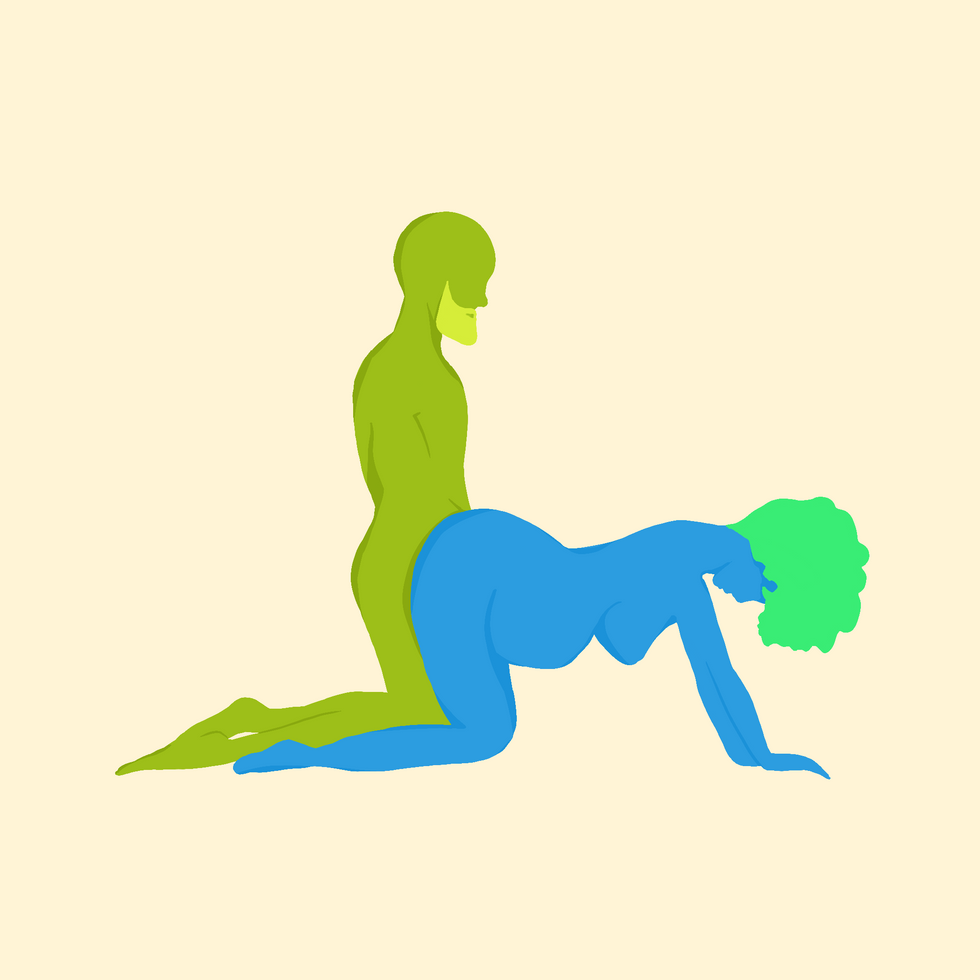 Qori B./xoNecole
"Everyone loves this one, and it's the easiest one, too, because your belly isn't in the way of this position."
How to Use Sex Toys During Pregnancy Safely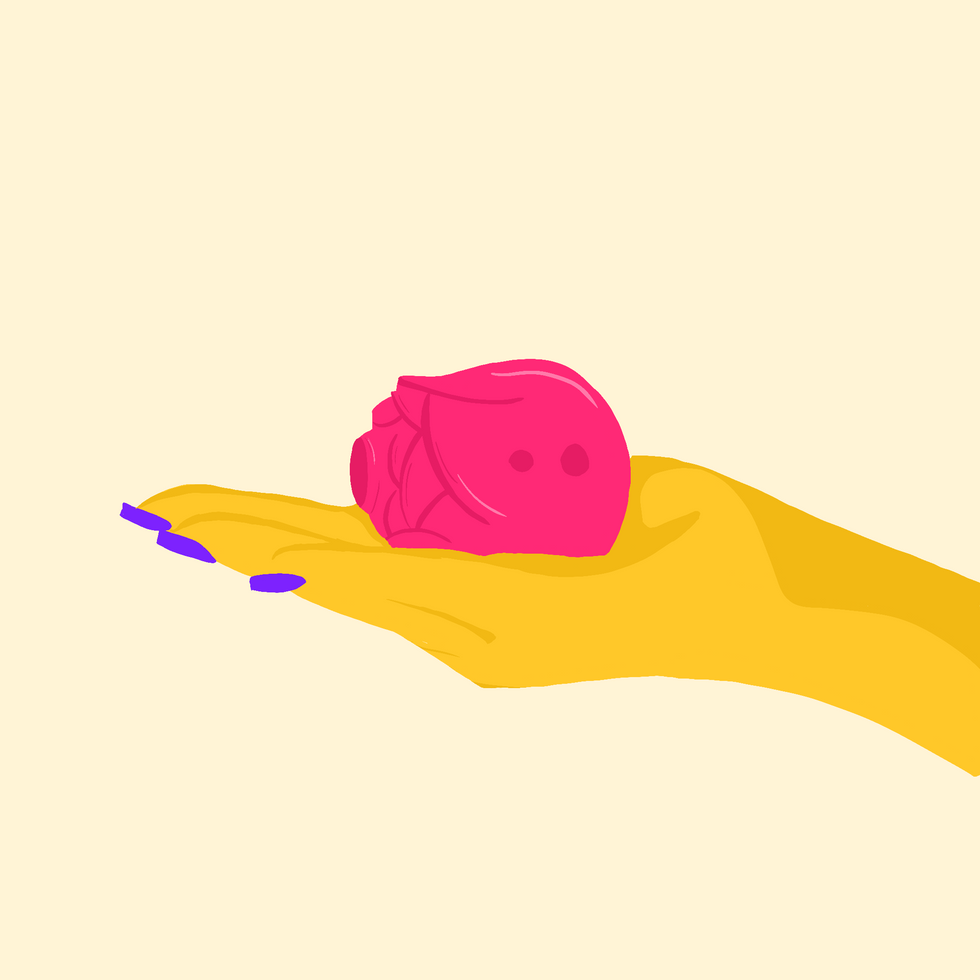 Qori B./xoNecole
"[During pregnancy], you can enjoy [sex] toys as much as you want to. And for many women, towards the end of their pregnancy, sex is uncomfortable. Sex toys provide you and your partner options when penetration isn't as comfortable.
"Sex releases oxytocin, the primary hormone that makes you go into labor. I have had clients call me to tell me they were in labor and had sex the night before. So, therefore, using sex toys can release those hormones and put your body in labor.
"Sex can be achievable and pleasurable for everyone. Even rough sex is okay unless a woman is diagnosed with a short cervix. Then she has to avoid rough sex, or else she can go into preterm labor. And sometimes, their doctor will prohibit sex altogether and want their patient to stay away from an orgasm. If that is the case, she and her partner can focus on clitoris-stimulating toys, which is another reason sex toys are great.
"Unfortunately, Black women are more at risk for developing a short cervix, and having it can stop you from doing many things you enjoyed before pregnancy."
In addition to all of the insightful information Keshia provided, she also wants women to know that if they're at a stage of their pregnancy where they do not want sex as much or at all, there are other options for intimacy – dates, foot massages, baths together, etc.
Lastly, couples should listen to each other, listen to their bodies, and not be afraid to ask their doula or medical provider questions. That is what they are there for.

Feature image by Jana Ritcher/ Getty Images
Black TikTokers did it again! They have transformed our childhood dream school, Hogwarts School of Witchcraft and Wizardry, into an HBCU. The latest trend had TikTokers rename Hogwarts to Hogwarts Agricultural and Magical University, and fans cannot get enough. Just imagine you received your HAMU acceptance letter. Now, fast forward several months ahead…
The Hogwarts boats just dropped you and your peers off at the illustrious Hogwarts Agricultural and Magical University or HAMU. Some of the first things you all see are your Orientation Guides, and the legendary marching band – including majorettes adorned in the school colors.
@bubblingbrwnsugar

Replying to @sydlavoix Drunk theory lol Open up your eyes and your minds people!!!!! But Hogwarts was the First HU!!!! This is a all jokes people don't fight me lol #hogwartslegacy #harrypotter #hbcu #ravenclaw #gryffindor #hufflepuff #slytherin #fyp
As the band plays, the Greeks from each house stroll through the court, letting you know whose house is the most supreme. You quickly see the house you hope you're inducted to, but you won't know until "The Sorting Ceremony." There you meet future friends and classmates, witness the floating ghosts and tables painted with various cuisines, and now, the moment of truth. It's your turn to wear the Sorting Hat. Which house will you be given?
At last, you got the house you wanted. Your roommates passed the vibe check, and now, time to get ready for your first house party.
@thebaddestmitch

Tell Dean to call me! I'm at HBCU Hogwarts' Pretty Nasty 2023 showing out 😂 #greenscreen #hogwarts #harrypotter #hamu #hogwartslegacy #hogwartsHBCU #HBCU #divine9 #strolling #ravenclaw
The Hogwarts HBCU trend originated from a Slytherin common room meme that recently became popular after the release of the Hogwarts Legacy video game. Instantly, Harry Potter fans took sides and repped their houses. Stroll videos from Mel Mitchell (@Thebaddestmitch) and Nkechinyere K. Kizer (@Bubblingbrwnsugar) popped up and set off a weekend-long battle that TikTokers would never forget.
Not too long after came orientation videos, step shows, and a personal favorite, the homecoming concert with Rihanna as the headliner. Thank you, @Mushroom_cosplays, for that one. Countless other Black TikTokers made this trend their own and BODIED IT!
One of the best parts of this entire trend is the paraphernalia that came with it. I'm not sure about you, but I have a few sweaters in my cart now waiting for me to rep. In addition, some TikTokers are planning a "Homecoming" meetup at the Hollywood and Orlando Wizarding World of Harry Potter at Universal Studios later this year.
The birth of HAMU is why I love my people—allowing the world to see what makes HBCUs unique by bringing in HBCU traditions and culture. Also, as a fellow Clark Atlanta University alum, I enjoy seeing fellow HBCU graduates share their experiences for everyone to enjoy. One thing we as a people will always do is put our twist on a trend and make it relatable for and to us. But do you know what makes this magical trend even better? It kicked off at the end of Black History Month.
However, as we all know, BHM doesn't start or end in February, nor does this trend.
Feature image by @thebaddestmitch/ TikTok
Lori Harvey has achieved many things in her life such as starting her own successful sold-out skincare line, SKN by LH, and modeling and partnering with many high-fashion brands such as Burberry and Tiffany & Co. However, her love life has always made its way into the forefront. It's no secret that the model has had many male admirers and has been attached to the likes of Future and Michael B. Jordan, and now it appears that she is dating Snowfall actor Damson Idris.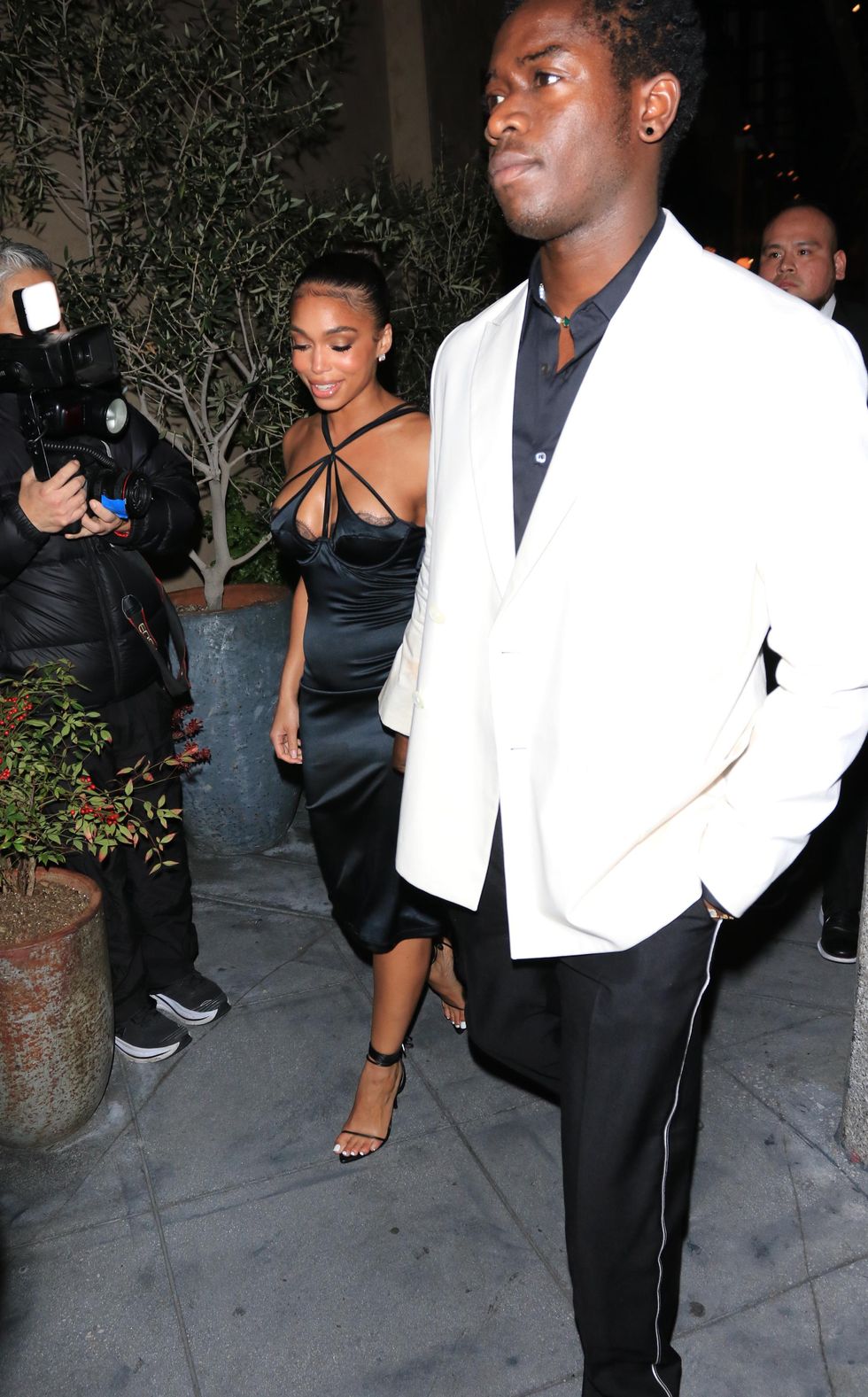 Wilbert Roberts/GC Images
But for whatever reason, her dating life has consistently been a topic of conversation and sometimes ruffles a lot of feathers. Black Twitter lit the internet up when the socialite made her relationship with the British actor Instagram official a few weeks ago. Some people even made off-color jokes about how she changes men like she does her underwear, or Damson is the next man she's checking off her list.
Seeing how angry her love life makes people, especially Black men, is exhausting. Anytime her latest relationship hits the blogs, so does a slew of hateful comments calling her hurtful names and making assumptions about who she is. Now, not to sound like Chris Crocker (Cara Cunningham) or anything, but leave Lori alone.
Fortunately, there is one good thing about her overexposed dating life. It has revealed the poisonous double standards between men and women in the industry.
How can Future, Diddy, and others have a troupe of women and, at times, seemingly degrade those same women's characters, but Lori can't actively date as the 26-year-old that she is? Diddy appears to currently be dating several women (with one he recently had a baby with) including City Girls rapper Yung Miami. No one rarely says anything about how he moves but constantly attacks the women he's dating online.
Let's not even get started on Nayvadius aka Future. How many women have Future dated and publicly humiliated including Lori after dissing her in a song? Not to mention, at that time he was linked to rapper Dess Dior.
While Lori is often judged for her decisions in dating, others applaud her. Many Twitter users utilize her name as the "action" of leaving a man alone or the title of their next chapter in life. They applaud her for knowing her worth and not choosing to turn her wheels for the sake of a relationship.
Lori has clarified that she will not settle and nothing is wrong with that. She recently sat down with E! Newsand shared the details about her cover with Essence, her thoughts on love, including her father, Steve Harvey's advice. When shooting the cover, Lori explained how it was an honor to grace Essence's "Black Love Issue" as a single woman. Months prior, she called it quits with Michael and it was before her current relationship with Damson.
"I feel like it's always been [about] me attached to something or someone: This time, it's about me. It's my time," she said.
Lori also spoke about her growth – as a woman and individual – and how she won't allow her past relationships to overshadow this period in her life. However, my favorite part was the advice she said her father gave her. "Just remember that you're the prize always," she playfully stated. So, what does his golden rule look like for the 26-year-old?
"It just means not compromising like, my values, my happiness, my peace. Not settling for less than what I know I deserve and not being afraid to walk away from a situation if it's, like, no longer serving me," she said
During her E! News interview, the entrepreneur admitted to finding the rumors about her "entertaining" and dispelled some of them, including dating a father and a son (alluding to dating Diddy and his son Justin Combs.) However, as she continues to grow, she is also allowing herself grace and letting the negative things people say roll off her shoulders. I can always stan a graceful queen who knows what she wants and moves silently.
Featured image by Jon Kopaloff/Getty Images for Tiffany & Co