It is a truly amazing feeling to be able to love the woman you see looking back at you in the mirror.
---
Our flaws can make us feel broken, and the concept of comparison can be overwhelming, especially when you never felt whole in the first place. These feelings of worthlessness and self-doubt create a negative self-image that we never actually agreed to. We are then prisoners to our physical bodies, left to suffer in what feels like hell forever. Dascha Polanco is among the women determined to break free from these chains.
After overcoming years of depression and self-loathing, the Orange Is The New Black star is taking her power back. Dascha recently spoke with Women's Health about how she is confronting her lifelong struggle with body positivity one nude photo at a time (peep that photo here).

"Reminding yourself of how strong you are is a powerful thing. I want to be mentally healthy, not just physically strong—that's what shines through the screen no matter what."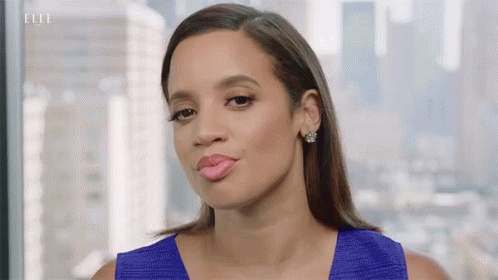 media1.tenor.com
The 35-year-old mother of two made the bold decision to bear all in the magazine's latest issue, and shared details about when she first developed a negative self-image. She said:

"My whole life, I've had ups and downs when it comes to confidence. I remember looking at myself as a kid and knowing I was different than the other girls—I was chubby and curvier and had rolls and thick thighs. My school uniform skirt never fit right—it was longer in the front and too short in the back."
We can all relate, being a young woman is a real-life struggle. Not only do we have to endure periods and erratic hormones, but our bodies also sometimes develop in ways we aren't always comfortable with or confident about. As we become curvier and grow hips, bellies, and breasts, most of us, like Dascha, begin to formulate concepts about our bodies: what they are, what they should be, and most importantly, what they are not.

"In reality my body type was the norm, but I was always looking at it negatively and comparing myself to the super-slim 'cool girls.' I questioned my body—why couldn't it be like theirs? I just wanted to look like those girls."
From that point, Dasha's perceived value of herself decreased and ultimately began to affect her mental state. She created a cycle of negative-self talk that sent her into a spiral of depression. She told Women's Health:

"I got to a point where I wished I could cut off my rolls with scissors. I would grab at my thighs and say, 'Ugh, I hate you, you're ugly, I don't like you! Oh my God, I just want to get rid of this!' But talking to myself that way never made me feel better, just guilty."
Dascha, like many of us, was trapped within the unrealistic expectations of perfection that we set for ourselves when we were only children. It wasn't until she became a mother that she decided it was time for a change.

"The biggest shift in how I viewed my body happened when I became a mother 16 years ago. I wanted to instill in my kids self-acceptance and a sense of self-love. I wanted them to know they're unique and that that's what makes them beautiful. I wanted them to be confident, and I knew I had to model that."
This change included adopting a new standard of beauty, and taking the time to celebrate her eccentricities instead of focusing on her flaws. Dascha reminded us that one of the key ways to attain self-love is to master self-acceptance.

"I started focusing on the things I really love about myself. Like, I've achieved the dream I had my whole life to be an actress. That's incredible. I'm a leader and a volunteer in my community. And wanting to eat a burger doesn't impact my acting or my ability to help people. Neither does getting older—reaching new decades and going through physical changes is something we should celebrate, not fear. When I realized that, it helped me let go of the little things that bugged me and respect my body for what it allows me to do. I wanted to care for it."
Dascha's newfound self-care practices include exercise, meditation, and most importantly, changing the narrative of her self-talk.

"The most important change I've made is in how I talk to myself. Now, I look at my thighs, and I celebrate them. I say, 'I love you guys! You help me walk, you fill my pants up.' I thank my vagina for giving me my womanly power. It's important to talk to your body and thank your body."
Dascha's story is unwritten, and so is yours. Making the decision to invest in who she is, rather than the expectations of who she should be, turned out to be one of the best decisions of the young actress' life, but it wasn't easy.
Developing a relationship with yourself is the same as developing a relationship with a new friend or partner. Even when you may not be fond of their every characteristic, you love them flaws and all. The same is true for the relationship that you develop with yourself. She said:

"Learning to love yourself is just like learning to love someone in a relationship. You don't like every single thing about them, but you love them. You can love yourself without liking everything all the time."
To read the full essay, click here.
Featured image by lev radin / Shutterstock.com