---
Weirdly, I've noticed that although big boobs are coveted, our fave fast fashion companies and lingerie lines don't cater to the admiration. And I'm not sure if it still comes down to some weird fashion fetish where smaller is better, but it sucks. It's yet another way society works to reinforce the narrative that you have to give up a certain niche of style and fashion if and when your body doesn't fit the standard of beauty set by industry folk. I believe this is why there have been very few lasting solutions that give women cleavage while lifting their breasts. Sure, I could be reaching...buuut I'm not.

But I digress because this here isn't political, not today. This is bottled up excitement and joy that I'm ready to reveal to the world.
You should know that my boobs have always been on the larger side. Yet, as God lays this grown woman weight on me thick as ever, my boobs have come to defy gravity. And as much as I prayed for days like this, I have to say that the newfound thickness comes with a whole new set of challenges. Also, if I'm keeping it all the way real, age is likely another factor as I'm sure the elasticity on these bad boys is not that of my 14-year-old self.
As someone who likes to free the nipple and titty whenever the opportunity presents, I've had to try all the tricks in the trade from double-sided tape to that Kim Kardashian tape hack.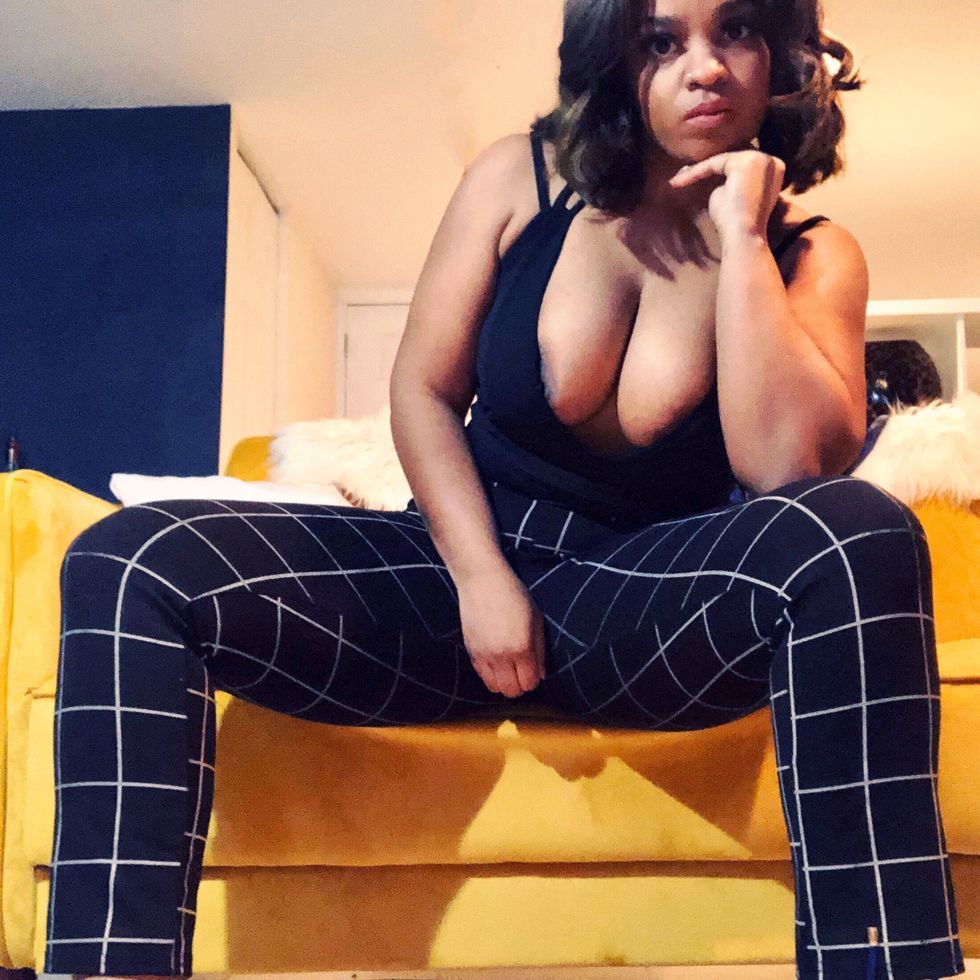 Courtesy of Kiarra Sylvester
Still, I almost always end up with tape showing, peeling back, or saggy boobs – it's always, always a sacrificial ceremony. If you want to wear a plunging neckline, you can go braless and sag. Or, you can wear a bra and be a "tacky" heux (word to all the old heads). Or, you say no to little cute tops. Pick one, but never both and you better pick right. Until recently!

Thanks to the interweb's creepy algorithm that creates ad experiences based on my search history, I happily stumbled across the best things since Apple pie: Misses Kisses Frontless Bra. As far as I'm concerned the product creator, Amanda Marie, deserves a Noble Peace Prize for this one. Not only has she solved the never-ending conundrum of being a big boobed babe, but the fact that the bra is for long-term use – well, that's undoubtedly way, way better for the planet than all the stickies and other bullshit solutions used to lift and shift the girls. And this is a take I will stand on until the very end and the "why" can be summed up in two words: it works!
But because I'm a woman of many words I'm going to give you a few more "whys" to make this a well-rounded, soul- and titty-snatching review.
The Rundown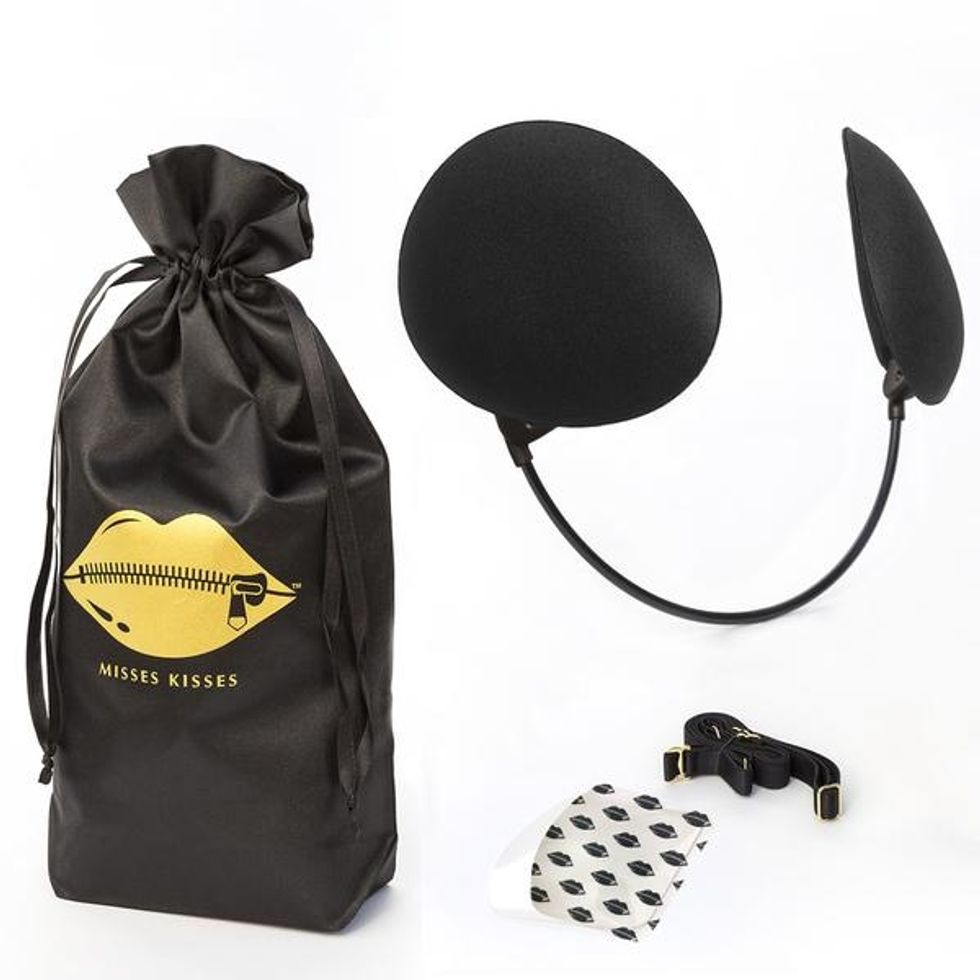 Unboxing
Upon receiving and unpackaging the bra, you might be a little terrified. At first glance, there are a good amount of moving parts and a big ass wire piece. It comes in a cute satin carry case, equipped with two regular pads (black or nude), four anti-slip stickies, and one lone strap. The one-size-fits-most (30B to 44J) bra comes in three different options: Shallow, Moderate, and Deep (currently out of stock). I have found that in almost all cases I can get away with the Moderate Plunge Bra Kit. When I can, I opt for the shallow plunge because it doesn't sit as low on my belly as the Moderate.
At 5'1'', the Moderate Bra dips into my gut, which is a major reason Amanda reassured me that I didn't need to get the deep plunge. Otherwise, the bra is no less comfortable than any other. It reminds me of a wire bra but it's far less restrictive because there are no straps. That alone eliminates a great deal of discomfort and pressure that is typically misplaced on the body.

Setting Up
Post-fitting with Amanda, I continued to reference the video while tinkering with my bra and setting up another. The more I practiced, the more intuitive it became. The "training wheels" strap that comes with the bra was very helpful in providing peace of mind the first couple of wears. As previously mentioned, this is a frontless backless bra made for all the oddly-cut shirts in your closet. With that in mind, there's definitely an adjustment period where it feels a little too free and while I was in that period, the strap helped provide a feeling of safety.
The pair of pads that you receive will be placed on your side-boob to help round out your breasts. The tutorial iterates that when they're pushed together, they lose volume and the pads aim to eliminate this. In my experience, the regular size pads didn't do it for me but this was something I figured rather quickly with the help of Amanda during my fitting. Because I was unsure of my cup size at the time of the fitting, I wasn't positive which pads I needed. But once I switched the standard out for those, all was right and I had an easier time situating the bra to fall near my nipple but not on it as instructed.
Let me add, that depending on various factors from breast and nipple size to the cut/angling of the top, you may find that you need pasties and double-sided wig tape to keep your breast nicely tucked away. I have found that this is usually necessary with spandex, stretchy materials that snapback (basically anything Fashion Nova). But with my plunging sweaters, I am able to pop on the bra and go with zero manipulation. This is not a reflection of the bra, but the breast and gravity. Regardless of what you need, I will say Misses Kisses and their founder are a one-stop-shop. Which brings me to the next thing...the glowing customer service exhibited throughout this process.
The Fitting and the Figurehead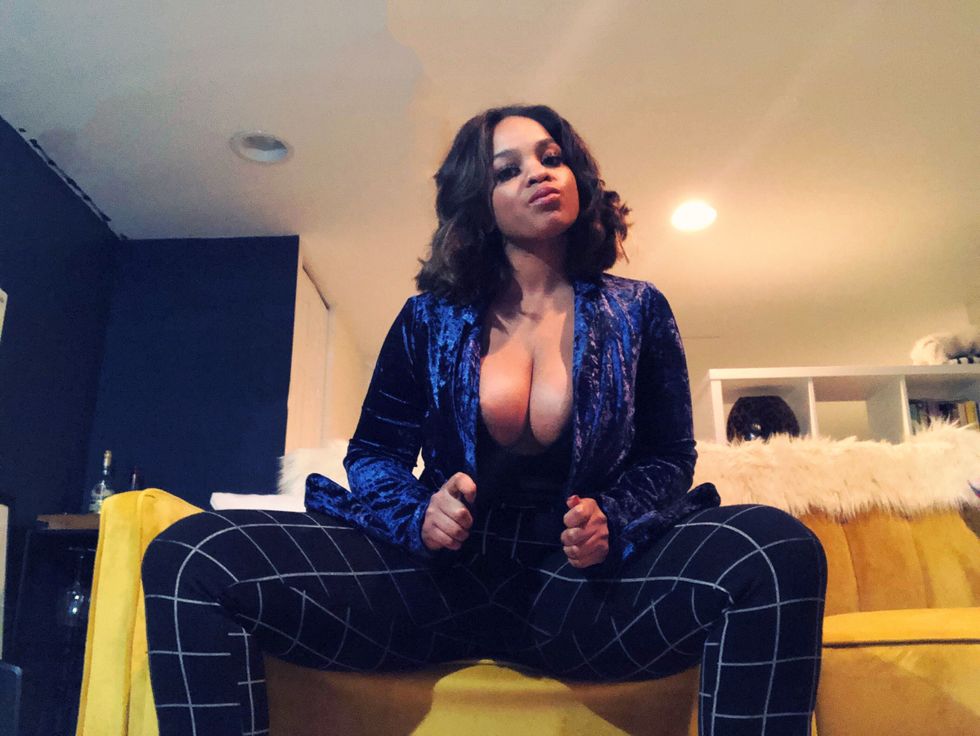 Courtesy of Kiarra Sylvester
Honestly, not sure if I've ever received such amazing customer service in my life. Despite being a smaller-scale operation that requires all hands on deck, Amanda made herself available to do a fitting and customizable tutorial to help me get my MK bra to fit snuggly to my breasts. Because she is based in Los Angeles, we were able to do the session via video chat. And if you happen to live in LA, well, even better because the fitting is a service that is offered to all buyers who may need an extra hand after watching the tutorial. Throughout the entire process of writing this review, I was able to contact Amanda with any and all questions that I had, from how to properly store the bra to sending her pics to confirm I got it right. We were practically BFFs after the Facetime fitting, in the way that I demand anyone who has seen my boobs on the first "hang" to be.
And yes, if you opt for a video fitting it does require a level of comfort with both your own nudity as well as Amanda's because she essentially talks you through everything while you mirror her movements. It's worth noting, additionally, she was really great about being professional and there wasn't a moment I felt uncomfortable during this fitting. She does check-in to ensure you're comfortable with nudity beforehand and that's always a positive. As you may have noticed, common sense in customer service isn't always easy to come by. So it must be stated that she is considerate in the most basic, but necessary ways.
When it's all said and done the product is very customizable, which is what makes this product such a success in my opinion. Well, that and the fact that however you customize it, it does exactly what it's supposed to. Think back to when your mother would buy you oversized clothes so you could "grow into them" way back when? Well, for $125 here is a bra that allows you to grow with it. This is ideal for human beings period, as we know weight fluctuates but especially for us women. From PMS symptoms to pregnancy, and whatever else life throws at us in the name of womanhood--we deserve to feel and look our best. And if you've ever purchased a bra made for larger breasts, then you know the price point is well within reason for its magical, transformative ways.
Want more stories like this? Sign up for our weekly newsletter here and check out the related reads below:
I'm A 34GG & Here's My Review Of 4 Size-Inclusive Bras
I Tried It: I Went Braless For A Week
#SaggyBoobsMatter: This Movement Encourages Women To Love Their Saggy Boobs
Featured image by writer Kiarra Sylvester