Black men have always been a work of art.
The beauty of their skin, glowing like black gold. The kinkiness of their hair. The broadness of their noses. The honey of their laughter. The purity of their smiles. And the fullness of their lips. All attributes that exemplify the breadth of their physicality.
---
But it's more than that. It's their strength, the hard work that can be felt in their hands, the undeniable essence of their masculinity, the rumble of their tone, how they hold their shoulders when they walk into a room. I could spend hours lost within them.
Sometimes I find myself creating montages in my head as I pass black men along the street. Angie Stone's "Brotha" acting as the soundtrack.
It was that affinity that led me to indulging my curiosity at Atlanta's hottest sip and paint event Booze And Nudes one Thursday night. Organized and founded by Jasmine Strickland, Booze And Nudes was created to push the African-American culture forward by allowing people within the community to experience various parts of the artistic experience in new and exciting ways.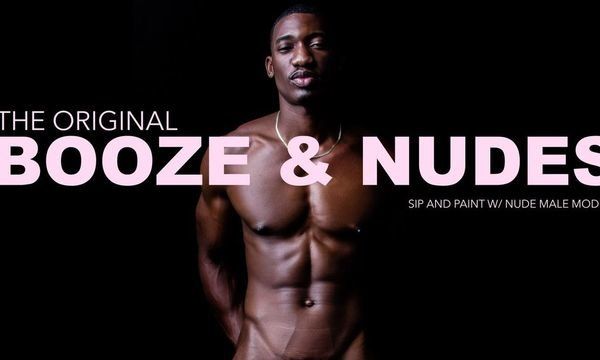 secure.meetupstatic.com
Message received.

As I stared at the tall, dark, and handsome prototype standing on the podium in the center of the room, I was hypnotized. He looked like something that belonged in a museum. Embodying both a masterpiece and a work-in-progress simultaneously. Sans his bottle of tequila in hand, of course. My mouth felt dry and I swallowed as I allowed my eyes to drink him in. He had been "gifted" in many ways, and wasn't shy about letting us see what God had blessed him with.

"Grab a canvas and sit wherever you like."
I was taken out of my daze and brought back to reality. It was an invitation to fully submerge into the experience that was this liberating class, glorifying the black man for all that he is. After showing my ID to the event's host, I walked passed him to pick up a canvas. I had the choice between rough sketches of a butt, a penis, or the model's body from the neck down.
Of course I chose his penis.
The excitement of the women could be heard and felt through the clamoring of voices, girlish giggles, wild chatter, and warm bodies. Groups of women by the couple, by the fours, and by the dozens came out to paint well-endowed black men amid red cups and liquor. It was a convening of sisterhood and womanhood where women let their hair down, dipped their toes into creativity, and stared at eye candy shamelessly.
150 of us fill the room a night to celebrate everything from birthdays to a girl night's out. And often in the midst of sold out classes. With our paint, paint brushes, and canvases - we are able to take our time and explore the black man's body.

The sounds of R&B and trap music that played in the background didn't help cut some of the sexual tension in the least, as I tried to make sure I wasn't dancing on the line of objectification too much. I dipped my wet paintbrush into the brown paint on my table and allowed it to meet the soft cloth of my canvas, all the while doing my best to keep my gaze meeting his instead of falling below his waist.
Despite the fact that my brush was painting his tip...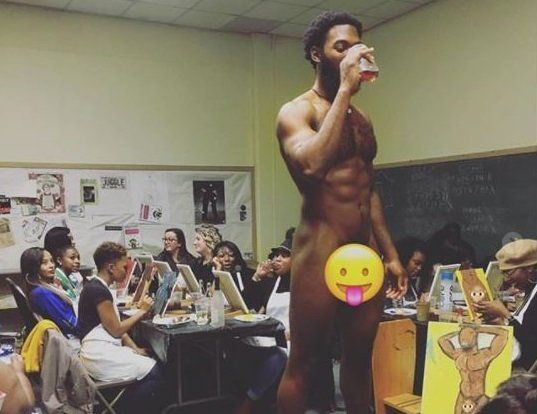 Booze & Nudes/Instagramalexis.lindaikejisblog.com
The model moved every 10-15 minutes and gave the ladies (and the men) in attendance a show equipped with a toothy grin, body rolls, and wagging his penis like it was a tail. Due to the event's ever-growing social media presence, the model is expected to welcome photos and videos taken of him. He looked so fearless up there. Beautiful, full of joy. Carefree. It's a look that should adorn the features of more black men in this world. It suits them well.

It's sometimes so easy to get lost in the sauce about the inadequacies of the men in our community that I found it interesting how strongly I was reminded of everything I loved. My adoration for black men goes far beyond anything that they do for me sexually, encompassing so many facets and complexities. Cue that Angie Stone "Brotha" track again.

The class surmised with us taking turns capturing whatever photos and videos in compromising positions that we wished to take with the model, per his comfortability of course. Now fully clothed, the model asked if could add my completed artwork of his penis to the collection he had on the wall of his apartment. He showed me pictures of women before me who had painted him lining his wall and asked if I wanted a spot. I worked hard on mine.
I wasn't about to give it up.
All things considered, the class did not help with my desires at all and wine coupled with male nudity definitely had me hitting up bae immediately after to come through and chill. So that night, Booze & Nudes became the gift that kept me coming. Literally and figuratively.
Since its debut, the Booze and Nudes brand has been in high demand by many eager painters to visit cities across the nation. Jasmine and her team are working hard to bring the event to 18 cities this year including New Orleans, Brooklyn, Baltimore, Miami, Los Angeles, and Houston.
Be sure to grab your tickets(they will go fast!) and support this new artistic approach to capturing the black man's anatomy. In all its chocolate-hued glory. I highly recommend.

Originally published January 25, 2018