---
With the rise in mental health awareness, now more than ever, Black girls are exploring therapy as a wellness outlet. Once a very taboo topic (and still is, depending on who you're talking to), therapy and mental health have really become a topic of discussion in our community, and for good reason, too. I have personally experienced the transformative power of therapy and the power of having someone to talk to about everything from bad breakups to childhood moments, self-care practices, and more.
For some reason, we still hold on to this idea that seeking therapy is a substitution for staying positive or having a strong foundation in a Higher being, when honestly, that's just not true.
Trust me, I get it – stepping out of your comfort zone and looking for someone to talk to who you've never met is extremely daunting, especially if you're the first person in your family or friends to try it. Who tells a stranger their business? What do you even talk about with the therapist? When I first started therapy, there were many days I just sat and made what felt like surface-level conversation, until one day my guard came down and the real work began. And truly, if you can push yourself to just try it, you'll greatly see a difference in the short- and long-term.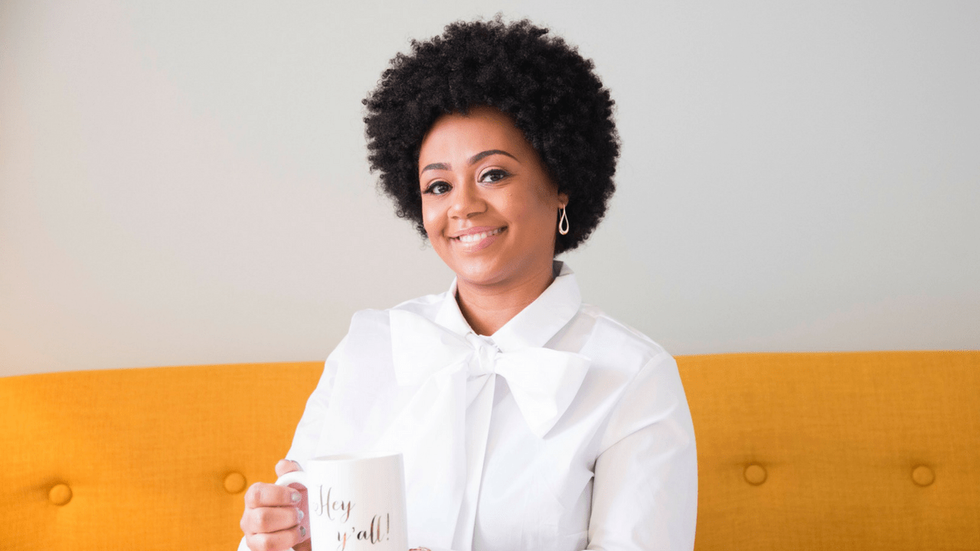 Dr. Joy Bradford
To understand more about therapy and the perks of pushing yourself out of comfort to explore it, I spoke with Dr. Joy Bradford, an Atlanta-based psychologist prominently known as the founder of Therapy For Black Girls, an online resource and podcast that explores various topics that promote therapy and self-care.
"Some of the common reasons people come to therapy are changes in mood that significantly interfere with their lives, major transitions or losses, and assistance with having healthier relationships," Dr. Joy said. "Therapy can be helpful in these instances because you can speak with an objective party about your concerns and have a space to talk through solutions that may be helpful and patterns you may be enacting that are resulting in you feeling a certain way."
Read on as Dr. Joy walks us through the ins and outs about therapy, its cost, who to go to, and how to start:
On Who Should Consider Therapy:
"I think everyone could likely benefit from therapy at some point in their lives. I think therapy should be an obvious choice if you're noticing changes that significantly impact your typical activities of daily living (i.e. your ability to go to or function at school/work or your ability to take care of things like hygiene, dress, etc.). But I also think that therapy can be helpful in instances where you realize your relationships aren't reciprocal, or if you realize you overextend yourself in the interest of making others happy, or if you realize that you can't follow through with plans regardless of repeated efforts to do so, or if you find yourself actively avoiding places or people because you're worried about what people will say or what will happen when you get there."
On The Negative Stigma Attached To Therapy:
"I think historically it has not been ok for women of color to show any signs of weakness, especially Black women who are supposed to be Teflon and devoid of emotion. I think the strong religious and faith presence in many communities of color have resulted in people thinking that prayer was enough or that indicating you had a mental health concern somehow signified a weakened faith relationship. Additionally, I think there has rightfully been a real mistrust for medical professionals in our communities which makes people less likely to seek out help even when they feel they might need it."
On Common Misconceptions About Therapists:
"Some common misconceptions about therapists are that they are just 'paid friends,' that therapy won't help because it's just talking, and that if you try one therapist and it doesn't work, that means therapy just isn't for you. The truth is, that you may need to try a couple of different therapists before you find one that's really a good fit for you."
On The Importance Of Black Female Therapists:
"I don't personally think that it's a requirement for women of color to have a therapist that is another woman or person of color. But my experience has been that Black women tend to want to work with another woman of color. So, if that feels important to you and increases the likelihood that you will make an appointment to see someone who can help, then you should absolutely seek that out. This was the major reason I decided to create the therapist directory because I continued hearing Black women say they had difficulty finding other Black women and women of color to work with."
On What To Consider Pre-Therapy:
"I think it's important to consider what your priorities will be in participating in therapy. If cost is a major concern and you definitely want to use your insurance, you should start by calling your insurance company or getting on their website and getting a list of therapists who are covered by your plan. After that, you want to look for people who have specialities in the area you're struggling with. You also want to consider whether similarities in things like race/ethnicity, gender presentation, sexual orientation, or faith background are important. As I mentioned earlier, if any of these areas feel super important to you in having a good fit, you should seek that out."
On The Cost of Therapy:
"Most therapists offer a free 10-15 [minute] consultation to let you ask any questions you have and to get a better feel for who they are and how they work. Be prepared for this consultation with any questions you have. If cost is a concern, I suggest looking into local colleges and universities that may have training clinics where you can get therapy at significantly lower prices because the therapists are in training. I'd also suggest look into any support or therapy groups that may be in your area. These may be free or less expensive than individual therapy."
On What To Expect During Therapy:
"You should expect to feel nervous and weird about sharing some very private info with someone who is virtually a stranger. That's normal. It doesn't mean that therapy won't work. Take notes as you call therapists and browse their webpages. Think about how you feel as you listen to them or read more about them. Do they seem like someone you could eventually be comfortable with."
Find a therapist near you via the Therapy For Black Girls directory here. And follow Dr. Joy on Twitter and Instagram.
Featured image courtesy of Dr. Joy Bradford