---
For decades, mental health, depression, and therapist have been words that are equivalent to cuss words among the black community.
Once 'depression' exits someone's lips, you'll hear two things, "Pray about it" and "Don't let the devil in your mind." Over the years, that word has transitioned into something powerful. Men and women are making it known that one's mental health is a priority. Celebrities and TV personalities are using their mental pain as a call-to-action. The veil is finally being lifted and thrown in the trash. Being vulnerable has somewhat become a requirement when communicating.
2016 was the worst year of my life, mentally and physically.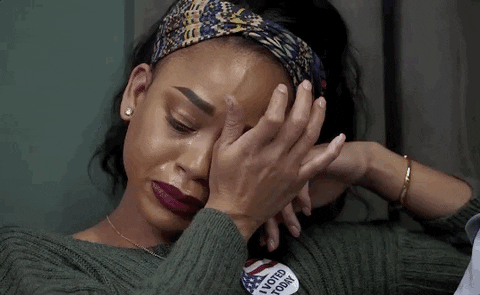 Giphy
At the time, my doctor diagnosed me with moderate depression, and it was wreaking havoc on my body. I would spend an hour in the bathroom stall at my job, crying every day before my shift. I was lost, sad, frustrated, and weak mentally and spiritually. I have already gone through two therapists that I only visited 2-3 times. I must say that I hated it. I didn't feel like a white person would understand my pain as a black woman, so I gave up on seeking help in that way. I relied on my prescriptions to do what they intended to do, which was to shut off my emotions, so I thought.
For three months, my mom would mention that I should see a therapist. I would get slightly annoyed because, at the time, I felt like I didn't need one. In October 2018, I decided to take a leap of faith and decided to see a therapist for the third time. Days before my first therapy session, I frequently asked the question, "Why do I need to see a therapist?"

Here are four signs that it may be time to see a therapist.
Featured image by Giphy.