---
When you're a child, so much of what you do depends on what your parents tell you (which is always a cautionary tale for people who want to have kids). And what they tell you, it becomes a part of your foundation, your core. Spiritual beliefs included.
As far as my own spirituality goes, I grew up in a religion that honored the Seventh-Day Sabbath (DeVon Franklin is someone who spends a fair amount of time speaking on this very topic; he usually tweets about it on the actual day). And while I am no longer an Adventist ("disciple" is more my lane), I'm still someone who totally goes off of the grid from Friday sunset thru Saturday sunset. When I tell you that it is nothing short of a pure blessing? To have a full 24-hour period to just CHILL OUT is something that no job or anything else really has convinced me to compromise…ever.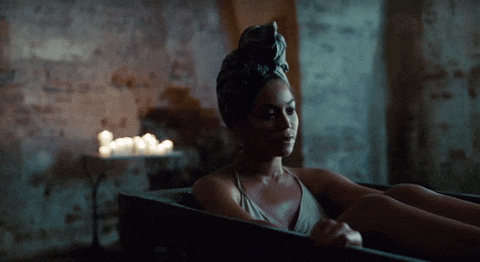 media.giphy.com
One of the things I dig so much about having an entire day, each and every week, to relax is that it's taught me 1) how to better prioritize the rest of the week and 2) how to REST. A lack of rest is why a lot of us age sooner than we should. A lack of rest is why many of us are moody and irritable so much of the time. A lack of rest is why some of us stay anxious, worried, and totally stressed out far more than we should. (Everything from the common cold and headaches to obesity, asthma, diabetes, depression, and even Alzheimer's are directly related to stress, by the way.)

Mind you, I didn't say a lack of sleep. Sleep is just one component of rest. No, what I'm referring to is being intentional about seeking the kind of refreshment and refueling that directly comes from taking work breaks, disconnecting from the internet, and giving your mind, body, and spirit time to calm down…take it easy…let go.
I know that sounds super appealing. I also know its an epidemic how many of us don't have a clue how to really do this. If you think you might be the very person I'm referring to, here are some telltale signs that you and rest are not on the same page. Yet.
Featured image by Shutterstock
Originally published on March 13, 2019