Having too much of anything can end up being a bad thing, but is that true when it comes to love? As we grow into responsible adults, we're taught to eat, drink, and spend in moderation, but when it comes to relationships, we tend to unapologetically and recklessly indulge to no end; and despite popular belief, this fact doesn't just apply to women. According to Common in his recent interview with The Breakfast Club, men can be love addicts too.
---
The rapper recently released a memoir, Let Love Have The Last Word, detailing both the physical and emotional traumas that he's faced in his life, including but not limited to emotional abuse and molestation. Like many black men in America, Common had been burdened with unsurmountable psychological damage that he knew could only be fixed from the inside-out.
After acknowledging his need to seek professional help, the rapper was confronted with some previously unknown truths about himself. In the interview, Common opened up about a former addiction, one that unlike most people, wasn't dependent on illegal substances or alcohol. Common explained that his drug of choice was love. He told the TBC hosts that he wasn't even aware of his unhealthy habit until his therapist brought it to his attention.

"The pattern I found myself in—and my therapist broke it down—was the feeling of being in love and that honeymoon period. I was addicted to that feeling."
The 47-year-old rapper clarified that his dependency wasn't on sex, but on the intense emotional connection that he had built with former partners. Common explained that he was able to find a temporary fix in each new woman he had fallen for, but his rock bottom came when it was time to do the real work in a relationship. He explained:
"When that feeling would go away and the real part of the relationships came, I was like, 'OK. Do I want this or not?' I wasn't ready to do the work."
The Chicago native said that his affinity to love and leave wasn't because he didn't care about the women he had fallen for, but more so because he wasn't willing to be introspective and acknowledge his own faults.
"I obviously care for the person, but when things got tough and it was time to work through stuff, I wasn't willing to work through it."
In the past, Common had a very public relationship and equally public split from political commentator, Angela Rye. While they both have been tight-lipped about the split, they claim to remain friends and were recently seen at the Potter's House Dallas enjoying a sermon from T.D. Jakes side-by-side in the pews but you didn't hear it from me.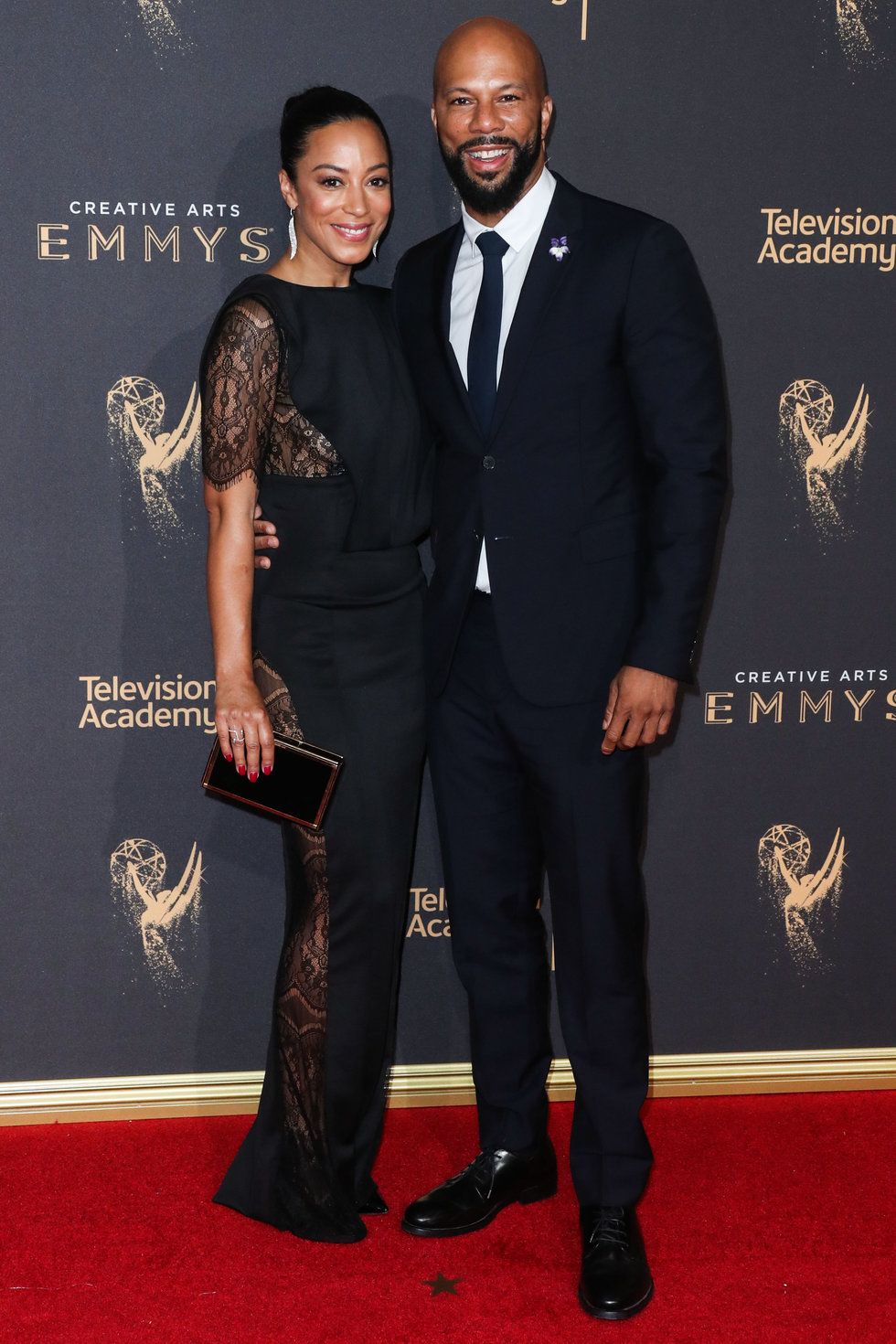 Getty Images
According to Common, he's currently "dating" and hoping to finally break free of his pattern of strictly conditional love. He even got some advice from fellow Chicago native, Michelle Obama on how to snag a true gem. Our forever First Lady explained to the rapper that perfection can tend to be our worst enemy:

"She said basically that sometimes when you're looking for the right person, you're not always looking for perfection because you're not perfect. You gotta be able to look at someone and see all the great qualities and the things that you may not have; you allow them to be who they are."
If you're looking to slide into Common's DMs and shoot your shot, he told Stephen Colbert that a woman has to have these qualifications to make the cut:
"I love people who are caring, loving, just openhearted. I like intelligent but fun people. I like people who treat other people well. And I like a woman who challenges me, who challenges me to grow. She helps me to grow and I help her to grow. We support each other and we can go out and do good in the world and have fun. Have a good glass of wine."
Sounds a lot like our girl Angela to me, but I digress.
Check out Common's full interview with The Breakfast Club below!
Common On Finding Love, Forgiveness, Relationship Advice From Michelle Obama + His New Bookwww.youtube.com
Featured image by Getty Images.