---
As black women, sometimes the subject of one's period can be a contentious one. Even if we're OK with it, many of us simply don't talk freely about it or anything to do with our reproductive parts.
I think we need to be a bit more transparent and real with one another about our vaginas and everything connected to them beyond sex, especially since we are disproportionately affected by conditions and illnesses including fibroids, endometriosis, and cancers. Sometimes the silence can literally be deadly and stifling.
So, I'm about to get really real with y'all.
I've never been a fan of my period, and as a teenage tomboy I dreaded the first day it introduced itself to me. I didn't even know I'd gotten it until after I'd come home from a day of bike-riding and tussling with my cousins and found blood in my panties. I felt embarrassed and dirty.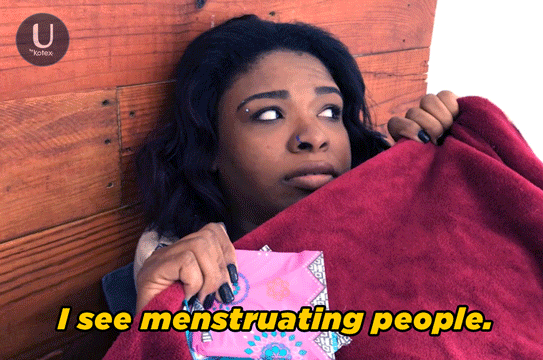 Image by Giphy
Periods just weren't something you'd dwell on or talk extensively about in my family. You slapped on a pad, took pills for the pain, and kept it moving. As a teen, my period would be heavy in the beginning, with bad cramps that weren't evil enough for me to miss school like some other girls. By the fifth day, there was barely any spotting or pain, and I'd be good to go.

Once my late 20s hit, things changed. The periods got heavier and my mood swings became intense. I almost considered taking meds for that, but again, the pharmaceutical skeptic in me rebelled. I'd pray, go out with friends, have a few cocktails, curse a few people out, and ride the wave.
When my 30s hit, I became more empowered about my period. I would break rules by wearing white during my cycle if I wanted to. I'd even let guys run the red light. (Yep, sis. Read that again.)
Then I found out I had fibroids that were causing increasingly heavy bleeding, crazy mood swings, and cycle irregularity. (You can read about the ways I was able to heal here.) I was forced to spend hundreds of dollars each month on overnight pads, super tampons, painkillers, and therapy. I found out that the silence about periods during my teen years contributed to my ignorance about fibroids, its history in my family, and the affect it can have on quality of life and mental well-being.
One day while I was searching the Web, I came across a woman in a video who was talking about free-bleeding. She had basically said to hell with tampons and pads for a week and just allowed herself to be free, letting the blood just flow.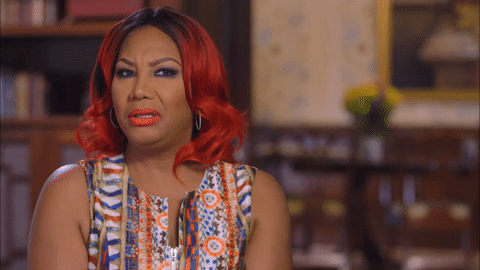 Image by Giphy
At first I was super grossed-out. I thought, "That's disgusting. She probably stinks. She's ruined sheets and towels. That's dirty. That's nasty."
Then I did a bit more thinking. After all the drama with the fibroids, I was exhausted.

When I finally got a handle on the bleeding after having blood transfusions, being put on birth control, and consulting with my doctor about more long-term solutions to get rid of the tumors, I decided to try free-bleeding to give myself a mental break. It was one of the best weeks of my life.
I'm a freelancer and can work from home, so it really wasn't a gruesome transition or thing to consider trying.
For five days, I'd lay on my side if doing work from my laptop on the couch or the floor. I'd always put down a few strategically placed towels, especially at bedtime. Sometimes I would twist up a towel and put it between my legs during stationary moments of my day. When I needed to move around and do things, I did, wearing dark loose-fitted pants or joggers.
The first three days were moderately heavy. (This was pre-surgery, post-birth control by the way. The bleeding wasn't as extreme as it had been when I first found out I had fibroids.)
I did mess up sheets but they weren't your luxury high-thread-count kind anyway. Same for towels. And I've always kept a mattress protector on my bed from living in cities where I've never felt things were truly "clean" even when bought brand-new. I'd simply wash the dirty sheets, loungewear, and towels on my usual laundry schedule, but would change to clean ones daily.
The last two days were pretty light, and I had no visible accidents that could show up on my bed, my clothes, or anywhere in my home. There might have been a few blood spots on panties that I could've cared less about. I avoided going out to run errands if they weren't super-necessary. Food and grocery delivery services were my best friends.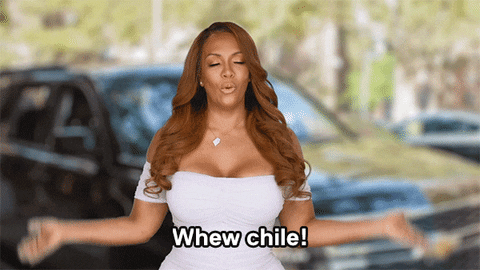 Image by Giphy
I felt so liberated because the experience took away the anxiety I felt every time I'd have to remember to change a tampon or double up on a pad. I just let it all hang out.

I wouldn't recommend doing this on the regular, but for me, it helped loosen the shame and anxiety I felt during a period of dealing with my fibroids. It also helped jump-start my confidence, and it renewed my spirit.
I think more black women should try something like this and be part of conversations about the woes and wonders of our periods. Free-bleeding helped erase the stigma of, well, seeing blood and releasing it monthly. That was something I was taught to view negatively since my cycle first introduced itself to me. When more of us embrace at least getting real with one another and ourselves, we can contribute to finding better solutions and advancements to finally get rid of the ailments and illnesses that plague our community.
Originally published on March 8, 2020
Featured image by Shutterstock