There's an embarrassment of riches that comes with being a fan of ABC's hit comedy Abbott Elementary. The show, which stars Quinta Brunson as Janine Teagues, Sheryl Lee Ralph as Barbara Howard, Tyler James Williams as Gregory Eddie, and Janelle James as Principal Ava Coleman, is about a group of mostly Black educators at a predominately Black elementary school in Philadelphia and has captured audiences for its tender, hilarious, and lighthearted depiction of what it's like to be a Black teacher to young Black students.
---
For many real-life Black educators watching the series, the show often reflects their real experiences dealing with the intersections of poverty and Blackness and all the other stuff that comes with teaching in America.
xoNecole reached out to several Black teachers to ask whether the beloved sitcom reflects what actually goes on in the classroom.
What are your thoughts on the show 'Abbott Elementary'?
Ms. Ora (1st Grade Teacher): I love Abbott Elementary! This is my first year as a teacher, but I worked in a D.C. middle school through City Year for the 2021-22 school year. There are a lot of little moments or little jokes that are made on the show that resonates with my experiences this year and last school year.
Mr. Wes (Middle School Teacher): I really enjoy the show, and you can really tell that they work closely with educators to make sure that they're showing it in a truthful way. Even though it is a lighthearted show, some of the parts of it still trigger me in ways I don't expect it to. Like the one teacher who's teaching the combo 2nd and 3rd-grade class, the scenes of chaos in that class make me cringe like I'm watching a horror movie. I think Janine is also either an astonishingly talented teacher at her age or has the chillest second graders ever. I teach middle school, but from what I see/hear about from other teachers and my firsthand experience covering other classes, let's just say I have a lot of questions (laughs).
What does the show get right about being a Black educator in a school located in a Black working-class neighborhood?
Ms. Ora: The students and the relationships the students have with the teachers are extremely accurate. It's hard to put into words what exactly is so distinct about it, but there is something different about how Black educators relate to their students who are Black (or of color) that the show is able to capture.
Ms. Destiny Stone-King (Middle School Teacher): It definitely highlights the joy of getting to relate to your students culturally and giving them that sense of security knowing that they have educators who look like them and have cultural similarities.
Which character do you most relate to?
Ms. Ora: I feel very much like a Janine. I'm new to education, I'm still learning, and sometimes I find myself wanting to fix more than I'm capable of fixing on my own. I also have my own Ms. Howard that I look up to at my school (who also happens to be a kindergarten teacher).
Mr. Wes: Definitely Gregory. I feel like I grew up in a strict, military household and I've learned how that type of instruction/behavior management does not always work and can sometimes even be counterproductive. I've learned how to let loose and embrace my ridiculous/fun side more and more. It took me a while to realize that the attitude and vibes I bring into the class affect how the students behave. Which seems obvious, but when you're stressed out all the time because you didn't have time to plan as much or you're behind on grading, you're not always thinking about how that affects your presence in the classroom. I see Gregory learning that, and that scene where he lets go and dances are one of my favorite moments in the whole show.
Anonymous(Pre-K & 4th Grade Teacher): This is a hard pick for me but I think I'm somewhere between Barbara and Janine. I have Barbara's energy exactly where she and I are mostly calm and know what to expect from people, but I have a little bit of Janine's optimism and desire to evoke change. Sometimes I think that Janine is doing too much and she does need to learn how to separate her identity from her job or else she'll end up burnt out. But I've found a lot of older educators can be set in their way of doing things, like Barbara, and I don't subscribe to that method either. If there is a problem, I like to explore solutions to the problem instead of accepting that some things just are the way that they are. So I want to change things within my power, but I'm not as unrealistic as Janine.
What made you want to get into education?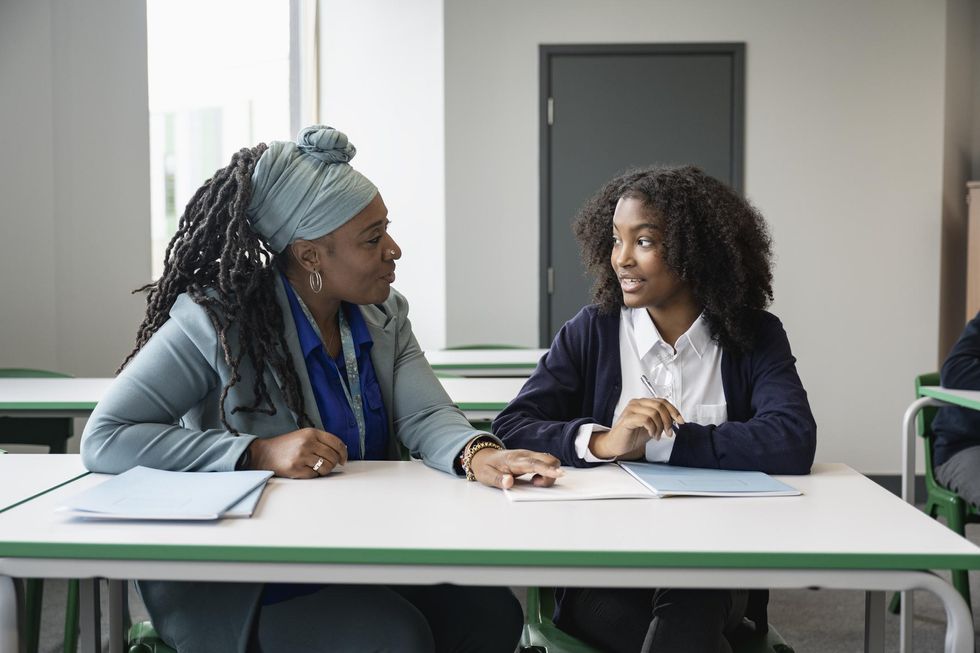 Johnny Greig/ Getty Images
Ms. Ora: Honestly, I'm not sure. I started my undergraduate degree with every intention of going into law or some form of international relations, but as I neared the end of my degree I found myself being interested in teaching ESL at some point in my life. Every time I thought about teaching, I got really excited--I loved the idea of teaching the fundamentals of language, which is what made me want to teach early elementary in particular.
Ms. Stone-King: It's literally in my blood. My grandma, grandpa, and parents were all teachers. As an independent artist who is pursuing my career as a singer, songwriter, and recording artist, I like that I can mix my passion for music with education and still have time in the evenings and weekends to work on my craft. I also specifically wanted to teach in predominantly Black schools because I only had one music teacher who looked like me from elementary up to college, so I wanted to show students that they can do this too if they want.
Ms. Chelsea (Pre-K Teacher): My grandmother was a teacher. She was actually a principal for the school for the deaf and the blind in Jamaica. She was a big leader in being more welcoming and accepting of those with exceptionalities in Jamaica and even when she left, [she] carried on those values to raise me in the U.S. with my mom. She was also my Pre-K teacher when I was little which was fun. I also am an only child and always loved taking care of kids and playing with kids. When I was in high school, my neighbor's kids would knock on my door after school for me to play with them and my mom would be like, "You know she's 16, right?" but we all didn't care. I loved spending time with them! So I decided to go into education because I just felt happy when I was working with kids and watching them grow and learn something new.
What's something you hope the show touches on? 
Ms. Stone-King: I hope the show has an episode about the arts!
Mr. Wes: I really hope they get into teacher unions. I'm very pro-labor and pro-union, but many of these establishment unions in large cities have become closer to school districts than a united labor force; bureaucracy, power trips, and just general apathy are what I feel like I get sometimes from my union. At a higher level, there's obviously the tension between districts and unions, but I think the real intrigue is going deeper into what actually goes on in teacher unions. If a teacher has a serious issue, how are they helping address it? Many unions do great work but I feel that others need to take a serious look in the mirror and assess how they are actually helping the educators that they represent.
Ms. Kaitlin (4th Grade Teacher): I understand Ava blackmailed her way into the principal role, but let's talk about how Gregory, who I adore, anticipated becoming principal without ever having taught. Ava drives those teachers crazy, but what would drive a teacher even crazier is being led by someone who has never set foot in a classroom. Let's bring that back up, please! I want to know why Gregory thought principal-ing was something in his near future.
What would you like fans of 'Abbott Elementary' to know about the realities of working as a Black educator that they might not glean from the show?
Ms. Stone-King: Teaching is already an emotional investment, but especially being a Black educator working with Black students, you feel a greater responsibility to protect them but also expose them to possibilities that they've been conditioned to stay away from because of the color of their skin.
Anonymous: People will expect you to volunteer your time because we work in a caring profession, and then they'll make you feel bad for asking about pay. This means that they'll expect you to work during your lunch, come in after school, stay after school, and work late nights for free and not even suggest payment for these services. For teachers especially, if you take the day off you have to leave lesson plans for the person covering your classroom. They will likely call you on your off day and think you're in the wrong for not answering the phone (if you don't).
People know exactly what children need to learn and yet you'll still need to advocate for your children especially to receive those support. Smaller class sizes, flexible seating, and empirically-based curriculum/technology do not come cheap or easily. The episode where they had additional money in the budget and Janine wanted a computer for the students so they could have a comparable experience to the charter was very real, and then for that money to get snatched up to address the rat infestation was even more tragically accurate.
Some things in the show seem too terrible to be true. I want fans to know that they are based in reality.
What are ways for the public to support Black educators and their students?
Anonymous: Please fund your schools, and vote for people who will fund the schools adequately. The money is plentiful and the real issue is that they are using it for reactive services versus proactive (education). Be involved in your local school district (volunteer, show up to after-school functions, and be an active member of the school boards). I mean this, especially for Black people and people who are invested in issues that impact Black people. The best way to support Black educators and our students is to show up.
As I said earlier, everyone relies on schools for a number of resources: dental and vision exams, therapy (occupational, physical, and emotional), parenting support, and more. Doctors will write prescriptions to parents to bring their child to school for evaluations, versus using outside agencies/referrals to evaluate children due to financial restraints. This is the foundation of our society for many families and it needs money and support in order to help our neighborhood grow.
Ms. Kaitlin: To voice Janine, the best way to support Black educators is by building community with them. The first Black working-class school I had taught in was in Bowie, MD, and we thrived from a beautiful balance of parent, teacher, and faculty involvement. Parents regularly helped with school lunches and special event days, teachers collaborated often, and faculty gave us helpful feedback and resources. It was an idyllic school setting, and the students absolutely thrived there. Another way to support a Black educator is by giving them money.
Ms. Rhyanna Morgan (2nd Grade Teacher): VOLUNTEER!!! Many public schools are short staffed and we need people that look like us helping us. Students need to see adults pitching in to take care of schools and the people in them. Make your voices heard, know what is going on at your neighborhood school, keep tabs on the school boards of Black and Brown cities. These things keep the community involved and keep schools safe and keep children with the education they deserve.
What advice do you give to any Black person who might be inspired to become an educator because of 'Abbott Elementary'?
Anonymous: I would advise anyone inspired to become an educator because of Abbott Elementary to go work/volunteer in a public school so they can learn the profession before committing to it. Abbott isn't lying about how much is required of teachers. Teachers aren't just teaching math, but they are also teaching about social skills, managing emotions, and now they're taking temperatures. I would also advise anyone who wants to work in education to spend some time working with children with disabilities at specialty schools and settings. I want anyone aspiring to be an educator to familiarize themselves with special education and the research pertaining to how it impacts Black and brown children differently than it does white children.
Ms. Kaitlin: Care for your Black students as the teachers of Abbott Elementary care for theirs. In predominantly Black working-class schools, often educators and faculty police their students instead of care for them. The reasons are many-fold, but I hope that they are unlearned swiftly. I radically (at least it felt radical in my D.C. school), refused to raise my voice at my students. I had come out of an abusive relationship and learned that yelling was not a natural form of communication. This was something I had translated to my co-teacher, but she was not on board with the practice, so much so that she, a fellow Black educator, claimed that these students were "from the gutter," and thus deserved to be spoken that way. They were nine. I don't know how you look at a nine-year-old child and see them that way, or speak to them with such animosity. The way the teachers of Abbott Elementary speak to and care for their students should be replicated in schools everywhere.
Ms. Chelsea: Do your research on the schools you want to work at, ask to come in and observe. See how you feel in the space. Don't be quick to run from the job. (I say many times a day I'm going to quit but I'm not serious, haha, I love what I do even when it's hard.) Reach out to me if you want to observe or see what different classrooms look like. I'm happy to share. I'm big on diverse children's literature and can share my recommendations, etc.
Feature image by Klaus Vedfelt/ Getty Images