Shellie R. Warren
Shellie R. Warren is a lover of quotes, lip gloss, graphic t-shirts, silver jewelry and Pumas. She's an author with two published books (thus far) on matters of the heart. In fact, 2019 was the 15-year anniversary of her first release ' Inside of Me: Lessons of Lust, Love and Redemption' (she's seriously mulling over penning a sequel to it) and 2020 marked her 20-year anniversary of being a (mostly) full-time writer. Aside from that, when Shellie's not tellin' all her business, she's helping couples (marriage life coach) or assisting with birthing babies (doula). Her byline is all over cyberspace, but where you won't find her is on social media. Like anywhere. At all. If you need to hit her up, she's (usually) reachable at missnosipho at gmail.com, though. HOWEVER, pitches for xoNecole need to go to editor@xonecole. Hit her up for *strictly* Shellie-related stuff. Again, pitch article ideas to the site addy NOT HER. Much appreciated.
There is no way for me to hide the absolute joy unspeakable that I have about the fact that fall is just a few days away (September 22)! While there are a billion-and-one things that I adore about this time of the year, one of my favorites is preparing warm dishes, on purpose, to contrast the cooler weather that's headed our way.
At this point, it's kinda becoming a tradition for me to share some of the food trends that are big during each year. So why break with tradition, right? If you enjoy cooking (or you're so-so about it but you want to cook more this fall), here are 10 popular things that totally hit the spot when it comes to autumn-focused foods and drinks (by the way, all of the hyperlinks on foods are connected to recipes. Enjoy!).
1. All Things Apple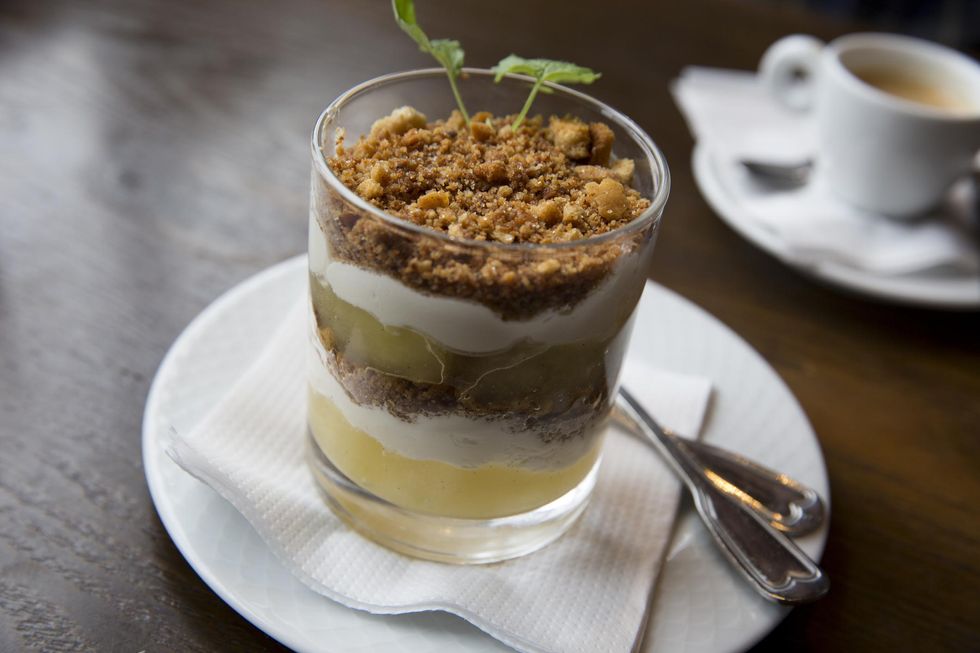 It's kinda crazy that we see apples all year-round considering they are in season from late July thru early November yet we'll have to get into the kind of preservatives that are oftentimes put in foods so that we can eat them 12 months out of the year at another time. For now, what I'll say is since the fall is harvest season and apples are being picked in abundance during this time of the year, this is when you should enjoy making as many apple-inspired meals as possible. Apple pie. Apple crisp. Apple butter. Applesauce. Apple waffles. You name it.
2. All Things Pumpkin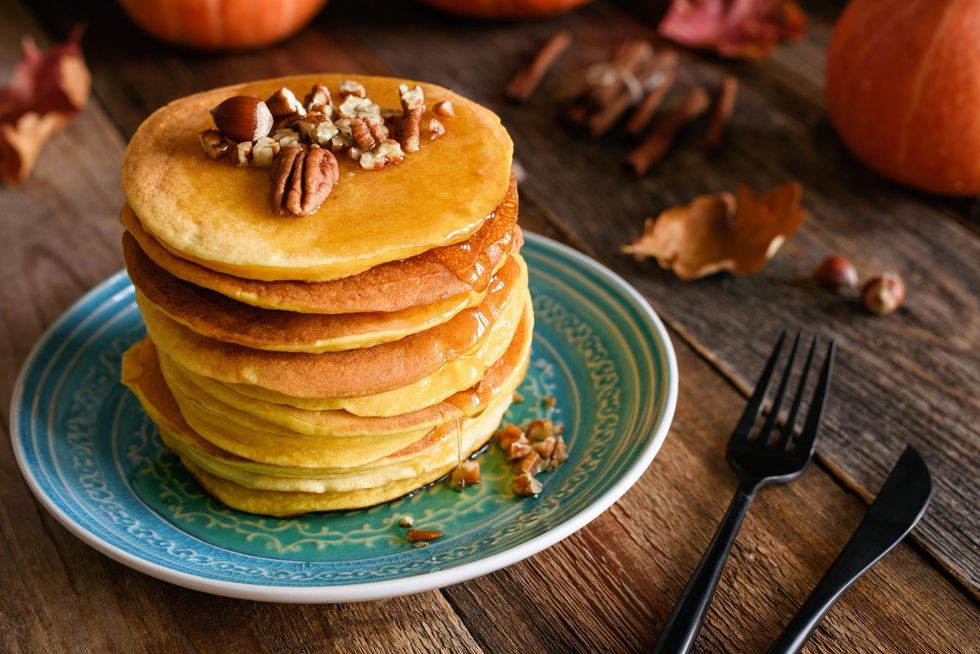 You already know. The signature fruit for fall is definitely the pumpkin. Makes sense too since it's in season from mid-September through November. While the first dish that probably comes to your mind is pumpkin pie, don't sleep on other ones like pumpkin bread, pumpkin donuts, pumpkin soup, pumpkin pancakes and even pumpkin milkshakes!
3. Espresso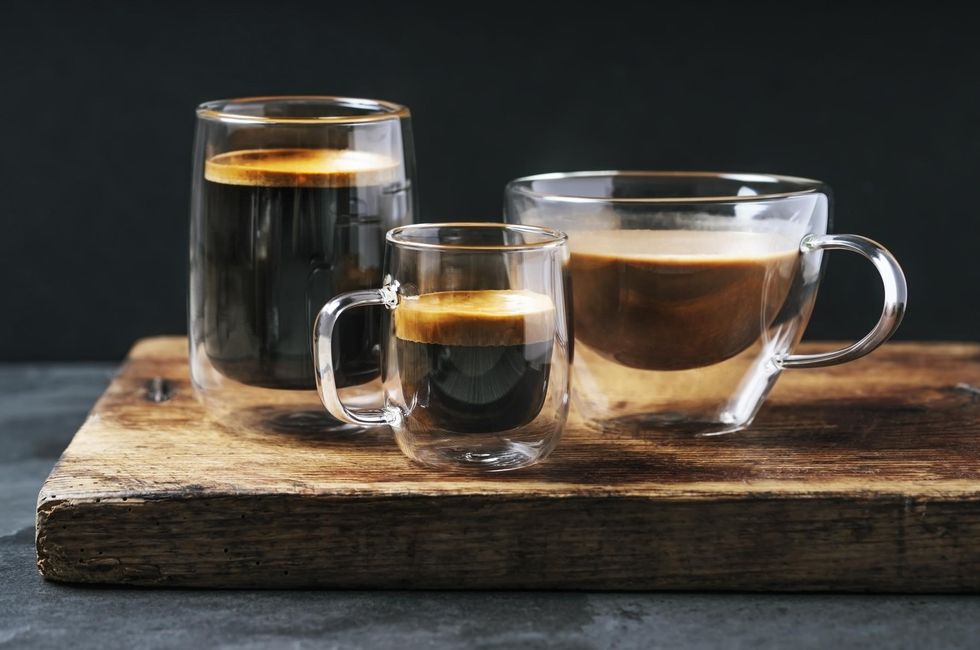 If you've ever wondered what the differences are between a cup of espresso vs. a cup of coffee, the short long of it is they both are brewed differently which results in espresso being a thicker and more concentrated form of whatever coffee bean you're consuming. It's also like taking "a shot" of the bean because while coffee servings are oftentimes eight ounces, espresso is usually just one.
That said, as far as heaping hot brews go, this year, it's espresso that's getting a lot of attention. If you're curious about what some of the current best beans are, Roasty Coffee did an article on the topic. You can check it out here.
4.  Pickling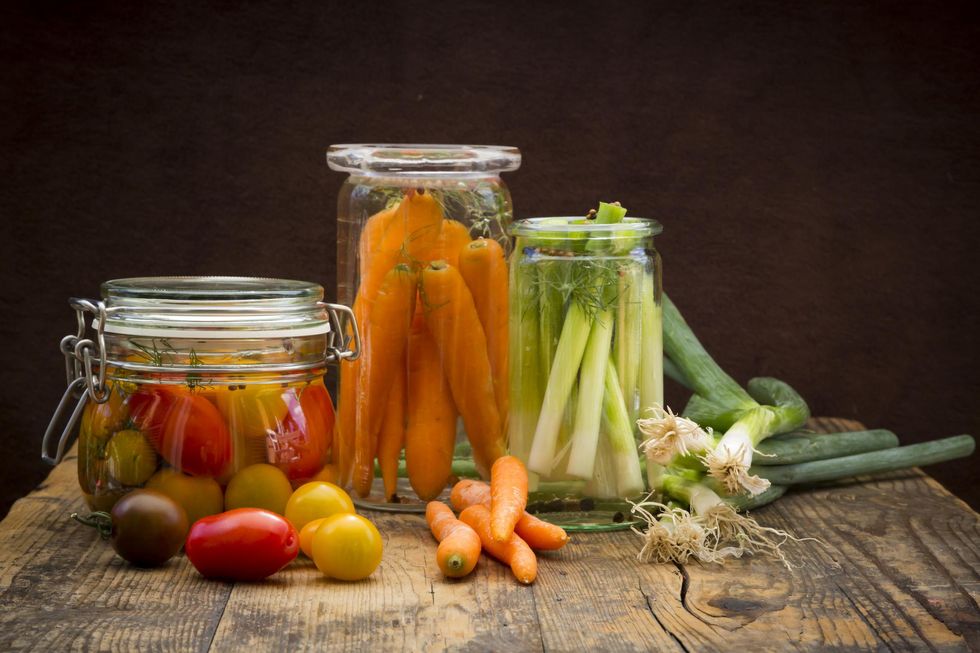 Again, since fall is harvest season, I shouldn't be shocked in the least, just how much I've been reading about pickled veggies. Basically, when you choose to pickle a food, you are allowing it to ferment in a brine or vinegar solution (think cucumbers turning into pickles). The health benefits of pickling are pretty cool because it can help you to better digest your food, curb sugar spikes, increase your antibiotic intake, treat muscle cramps and balance your electrolytes. Plus, pickling is so much better for you than canned goods. If you'd like to attempt to do some pickling this fall, it's a lot easier to do than you might think. Click here to watch a video that will walk you through it.
5. Hot Chicken "Junk Food"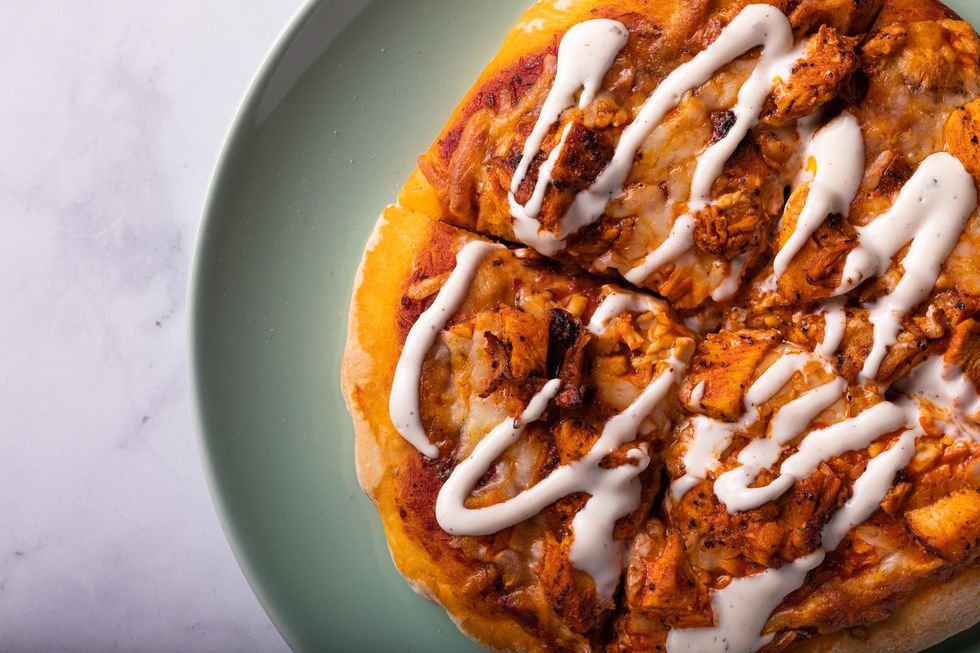 I live in Nashville, so of course, I smiled when I saw that hot chicken was a big fall food trend right now (I mean, Nashville Hot Chicken, right?). Hot chicken burgers. Buffalo chicken pizza. Hot chicken wings. Hot chicken chili. Homemade buffalo chicken sauce. If hot chicken is totally your thing, then this is totally your season to dig all the way in!
6. Sweet Potatoes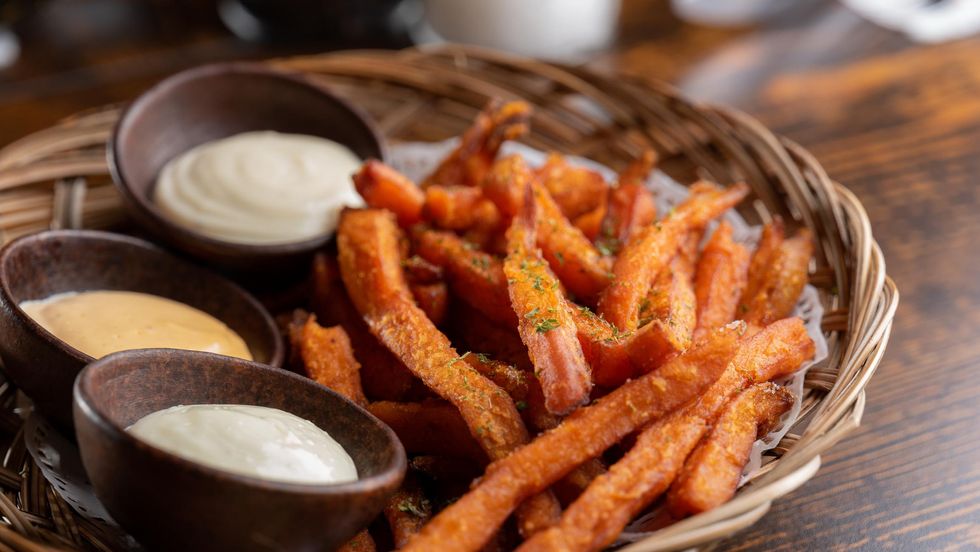 I like sweet potatoes a lot. One, because they taste great and two, because they're considered to be a perfect food (that basically means that they have a ton of nutrients in them). This is another food that goes really well with being a fall food trend because it's harvested between September and early October. Sweet potato fries. Mashed sweet potatoes. Sweet potato cornbread. Sweet potato guacamole. And definitely sweet potato pie. You can't go wrong with putting some of these in your grocery cart. That's for sure.
7. Mocktails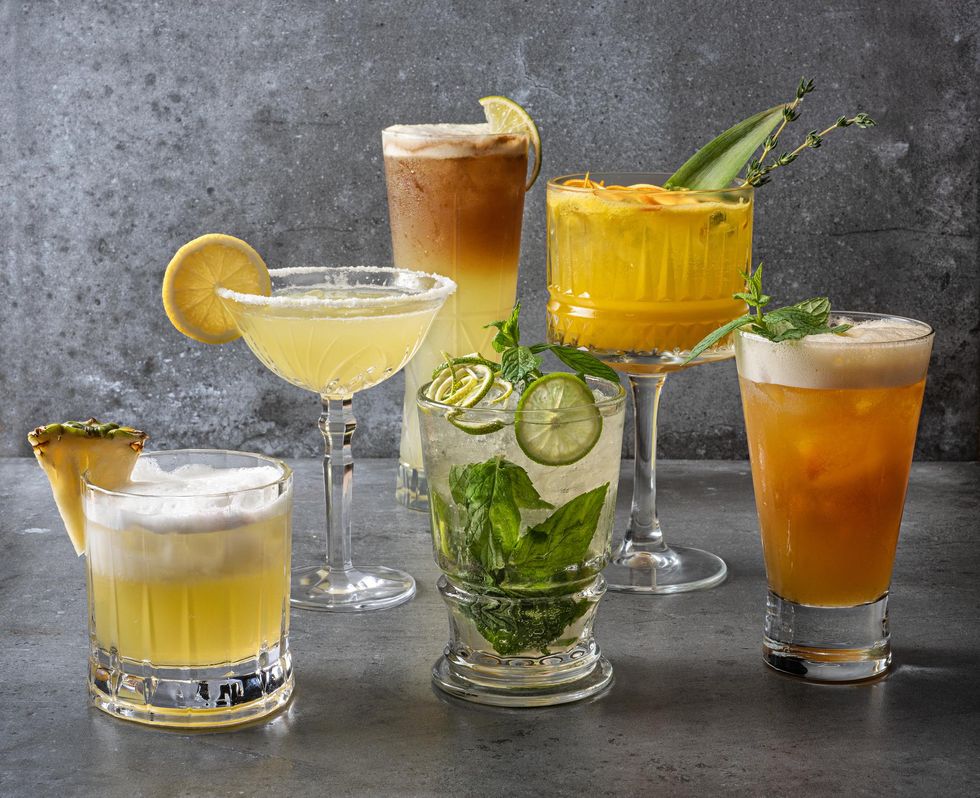 Whether you realize it or not, whether it was intentional or not, I'm pretty sure that you've had a mocktail before. It's simply a cocktail that doesn't have any alcohol in it and this is another thing that is big this fall season. I mentioned in the intro that I would hyperlink recipes to all of the specific kinds of foods that I mention. Well, for this, I decided to share mocktails that have a fall theme to them. Caramel Apple Pie Mocktail. Sparkling Citrus Pomegranate Mocktail. Non-Alcoholic Sangria. Maple Pear Sparkler. Mocktail Kahlua Coffee Frappuccino. These are just some of the ones that particularly caught my eye.
8. Vegetarian Soups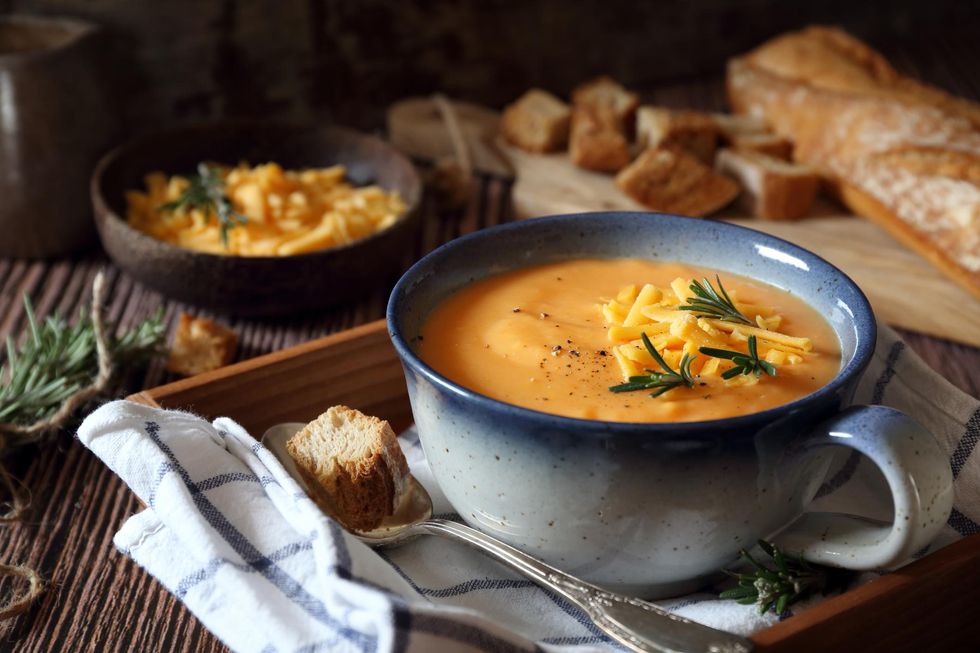 Ah. Vegetarian soups. This makes me think about the interesting relationship that I have with tomato soup. For one thing, I absolutely have to crave it. Secondly, I don't really like it unless I can have a homemade grilled cheese sandwich along with it. And boy, if that doesn't say "welcome to fall", I'm not sure what does.
Quinoa Vegetarian Soup with Kale. Vegetarian Tortilla Soup. The Absolute Best Lentil Soup. Chipotle Butternut Squash Chili. Classic Minestrone Soup. Lawd, is there anything better than curling up on your couch when it's cold outside and sipping on a cup of hot homemade soup? I doubt it. I seriously do.
9. Comfort Foods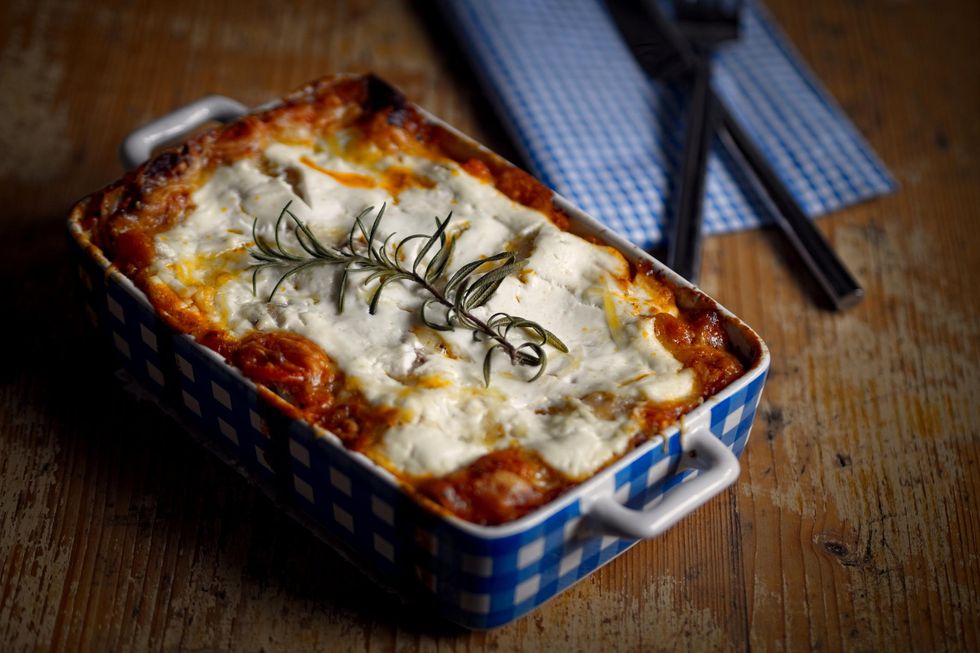 Comfort foods are just that — foods that bring us comfort, joy and relaxation. The challenge with consuming them all of the time is many of them are high in sugar and/or carbs. Still, being that comfort foods are another huge fall food trend, try to not totally deprive yourself of things like macaroni and cheese, chicken and waffles, deep dish pizza, lasagna (meat here and veggie here) and whatever it is that your favorite auntie likes to make around the holiday season. The way I see it, comfort foods shouldn't be avoided, just consumed in moderation. Enjoy, sis.
10. Tea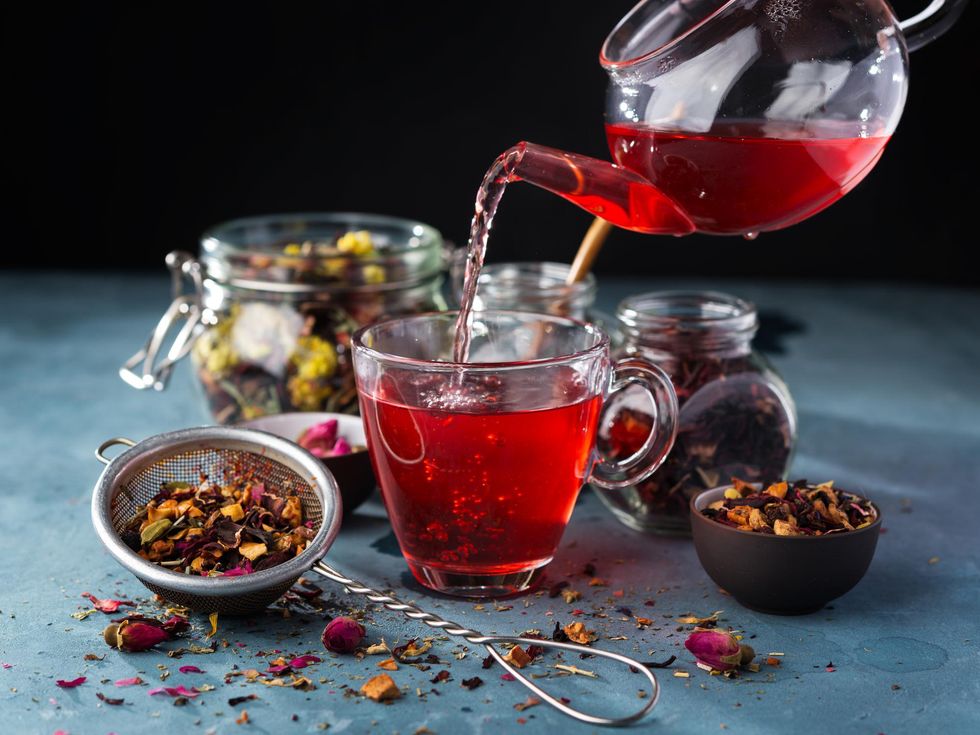 Raise your hand if you're shocked that tea is a big fall food trend. If anything, I'm thinking that we're all giving a collective "duh". Still, since herbal tea helps to hydrate, boost immunity, improve digestion, prevent chronic diseases and even stimulate brain function, definitely take out a few moments to check out my shout-out to teas via "10 Hot Drinks To Keep You Warm This Fall & Winter" and "10 'Uncommon' Teas You Should Add To Your Stash (& Why)". So, set aside a weekend to finish that book you've been trying to get around to all year-long and don't forget to have a warm cup of tea while you do it. It's one of the best ways to ring in the fall season. No doubt about it.
Join our xoTribe, an exclusive community dedicated to YOU and your stories and all things xoNecole. Be a part of a growing community of women from all over the world who come together to uplift, inspire, and inform each other on all things related to the glow up.
Featured image by Getty Images
Keep reading...
Show less
While talking to someone about how bad they semi-constantly consider their nerves to be and how they also just can't seem to figure out a way to relax, I simply said to them, "Why not meditate more?" to which they replied, "Come on, Shellie. You really think that works? Whenever I've tried it, all it does is give me enough time to do more overthinking." Goodness.
First yes, I absolutely think that meditation is effective. I also believe that a lot of people would be a heck of a lot more calm, centered and self-controlled if they devoted, even 15 minutes of their morning routine, to doing it. Because while we'll have to get into the over-one-dozen forms of meditation at another time, what I will say for now is meditation is scientifically proven to reduce stress, control anxiety, lengthen one's attention span, promote self-awareness, encourage self-compassion, improve one's quality of sleep, reduce body aches and pains, make you more creative and oh so much more.
So, what if you know all of this and you're like, "I hear you but no matter how much I try, I just can't seem to do it"? If this is where you're at, first let me advise that you take a few really deep breaths and block out any noise that's around you (or at least, try really hard), so that you can devote a few minutes to some meditation hacks that could turn you into a meditation fan in no time. Ready?
1. Never Meditate "Just Because"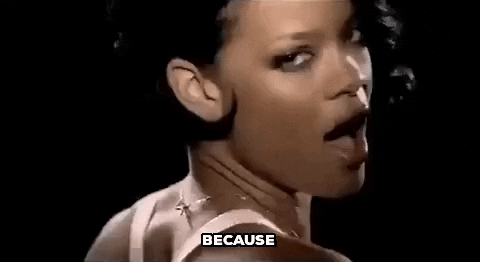 While this first point might sound a little odd, humor me and hear me out. Something that I tell prospective clients when they talk to me about counseling is if they're doing it only to appease their partner, it's not going to really work. In order to remain motivated, consistent and committed to real progress and change, you've got to have some solid reasons for doing…whatever it is that you decide to do.
When it comes to meditation specifically, beyond the benefits that I offered up in the intro, take some time to consider why you think it would be a wise practice for you to engage in. Are you looking for a way to spiritually center yourself? Maybe you're trying to learn how to be more present in each moment. Could it be that you really struggle with focusing and you're hoping that meditating more will help? Maybe you want to feel less rushed in the morning (and throughout your day) or you want to learn how to radiate more kindness to yourself and those around you. Knowing your "why" can make doing the "what" so much easier. So, definitely start there first.
2. Purge First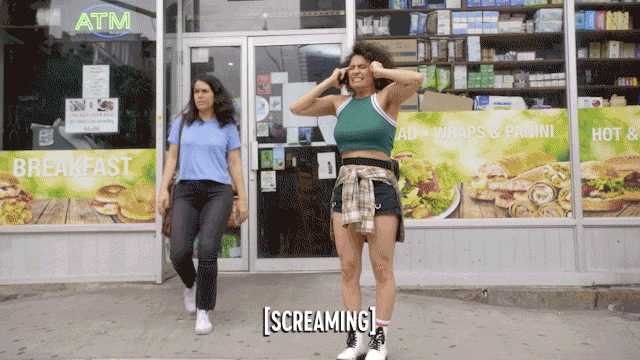 Remember how the person in the intro said that they struggle with overthinking? If that's your personal issue with being successful at meditating, think back to the last time that you attempted to do it. Was it after someone triggered you? Was it after a horrible day at work? Did you just get off of the phone, feeling some type of way, and so you tried to attempt it then?
While meditating does help to calm us down, it's kind of hard to do it if we're already frazzled, upset or distracted. That's why it can be super helpful if, before doing it, you actually "purge some of your emotions". By this I mean, take out your journal and write some of your thoughts down. Hit someone up you trust (who you know won't add more fuel to the fire) and do some venting. Hell, go into your bathroom, shut the door and scream if you need to. By letting out some of your pent-up energy, that will make it easier to get still — internally and physically.
3. Do It During Your Favorite Time of the Day

I'm pretty sure you've heard some version of the saying, the way you start your day predicts how you will end it. While that's not an exact science, I personally think there is a lot of truth to that. That's why I'm such a big fan of meditating first thing in the morning. The day is fresh. Life hasn't come at me at 70 MPH yet and it can help to get my mind in a good space before I start tackling my to-do list. That's not to say that there is anything wrong with meditating any other time of the day, though. In fact, if it's hard for you to meditate, it can be a really good idea to do it during your favorite time of the day.
For instance, if you adore the time between late afternoon and early evening (right as the sun is about to set), it could make meditating in your backyard (with the help of a yoga mat) something that you really look forward to; especially if you're not much of a morning person and you want to get in as many minutes as possible before your alarm goes off. Plus, scheduling meditation during the time of day that you enjoy the most can also give you something to look forward to — it can be just you, that moment and nothing else. Mindfulness at its best.
4. Pay Attention to Your Nose
One mistake that a lot of people make when it comes to meditating is they're not intentional about getting all five of their senses (sight, hearing, touch, smell and taste) involved. I'll get into hearing in a sec; for now, let's talk about scent. Some scents that are pleasant and can definitely help to bring you into a state of tranquility include lavender, vanilla, jasmine, citrus, cinnamon, rose, bergamot, patchouli, frankincense and ylang ylang. You can light a scented soy candle, put the scent into an oil diffuser, light some incense — the options are totally up to you. I also recommend combining your favorite essential oil with a carrier oil like sweet almond oil or avocado oil and rubbing it onto your temples before you begin. Whether you know it or not, your temples are a pressure point and by massaging a soothing type of oil directly onto them, it can increase the chances of you feeling more relaxed, even before you begin your meditative practice.
5. Wear Headphones or Earbuds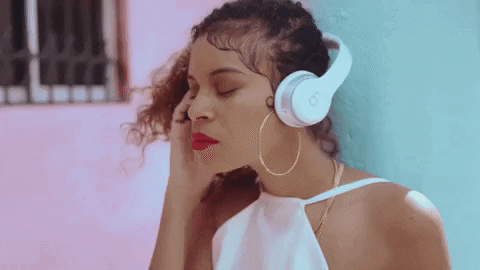 One of the main things that needs to happen while you are meditating is you block out background noise — your television, the notifications on your phone, people. If, for whatever the reason, that seems close to impossible to do, invest in some noise cancelling headphones or earbuds. Or, if you'd prefer, put on some ASMR rain, ocean or wind sounds. Other than complete silence, nature sounds can be really good when it comes to feeling calm while you're meditating. YouTube has videos that last for hours as far as ASMR goes (just go to the site and put the kind of sound that you are looking for into the search field). If you're in the market for some great headphones, go here; earbuds, go here.
6. Go Outside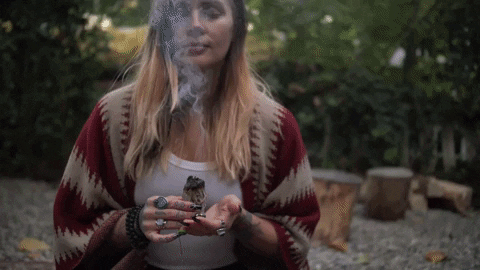 One of my favorite reads of all-time is The Celestine Prophecy. One of the points in it is we are able to receive a lot of the energy that we need from nature (trees, specifically).
In many ways, meditating cosigns on this because, when you choose to meditate outdoors — you can reconnect with nature; you are taking in a lot less pollution (indoor air pollution is around 3-5 times higher than outdoor air pollution is); you're able to take in a natural source of Vitamin D; the surroundings of nature can help to lower your blood pressure, and nature definitely encourages you to totally disconnect from the hustle and bustle of the world, so that you can embrace the more simple things in life.
7. Build Up over Time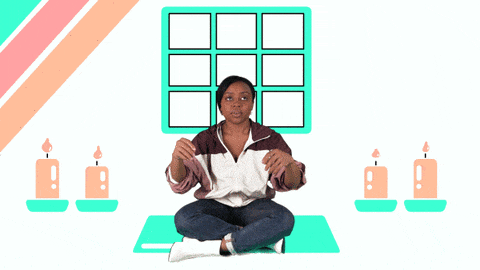 As with everything in life, there are meditation experts. According to a lot of them, meditating is most effective when we do it for 45 minutes, in roughly 20-minute intervals, a day. I don't know if I've ever done that before, so don't let what I just said overwhelm you. Listen, even if you only get in 10 minutes, pat yourself on the back. Besides, the more you do it and see how it is "balancing you out", the easier it will be to find yourself sitting still, deep breathing and staying in the moment for more and more minutes at a time.
Bottom line, meditating really isn't as hard as you might think it is. Once you've decided that you deserve to sit still and "get back to the middle" in your life on a daily basis, you'll find the practice of meditation to be a treat more than an obligation. I can certainly testify to that.
Join our xoTribe, an exclusive community dedicated to YOU and your stories and all things xoNecole. Be a part of a growing community of women from all over the world who come together to uplift, inspire, and inform each other on all things related to the glow up.
Featured image by Getty Images
Keep reading...
Show less
While I personally can't think of one thing that I don't like about the season that is right upon us, I must admit that a mistake I used to make, beauty-wise, was not properly caring for my skin (and hair) as the temperatures began to shift. Especially when it came to feeling extra dry, I could certainly tell that I wasn't handling my business.
Something tells me that I'm not the only one who's been guilty of this lil' faux pas, so as we're just days away from what I think is the absolute best season of the year, here are 12 beauty hacks that are affordable, all-natural and a truly wonderful way to welcome autumn in.
1. Exfoliate from Head to Toe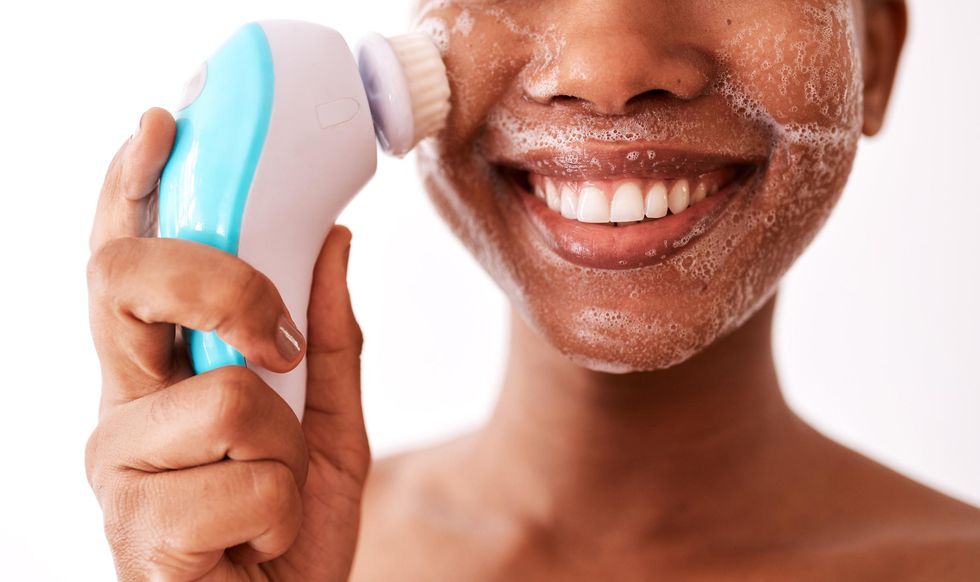 While I'm pretty sure you know what the general concept of exfoliating is all about, if you needed a basic definition, it's removing dead skin cells from the surface layer of your skin. And since we all shed somewhere around 30-40,000 of them every minute, I'm sure you get why that's such a good idea to do. Exfoliating not only gets rid of dead skin cells, it unclogs your pores, helps to prevent ingrown hairs, reduces breakouts, evens skin tone and even makes it easier for your skin to absorb your favorite moisturizer. So, I'm pretty sure you can see why exfoliating, not just your face and neck but your entire body, is a great "fall prep" practice. Since the cold weather can do rough on your skin, exfoliating can help it to absorb whatever you plan on putting on it to keep it soft, supple and smooth. That's why it's a good idea to do it around twice a month.
By the way, coffee scrubs help to reduce inflammation (a recipe is here), brown sugar scrubs are a humectant that can draw moisture in from the air (a recipe for that is here) and charcoal scrubs are great at detoxifying your skin (a recipe for that is right here). So, if you want to customize your body exfoliation process, there's a good starting point to go with.
2. Bathe in Rosewater and Lavender Oil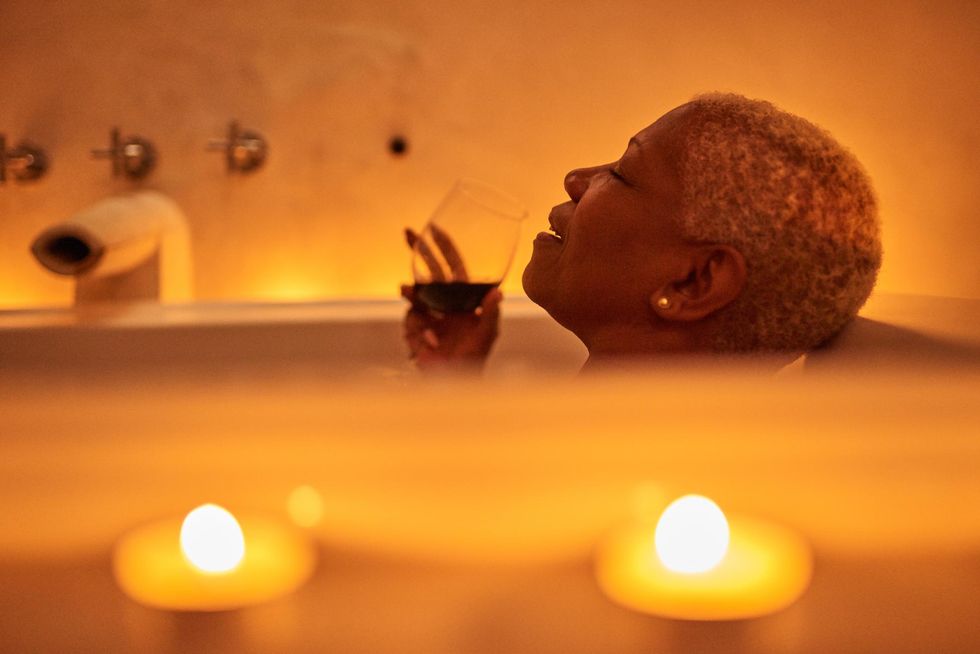 If you like nothing more than coming in from the chilly air and soaking in a hot bath, two things. First, it's best if you wait for your skin to get down to your normal body temperature (going from one extreme to another can put your body into shock or even cause a heart attack; wow, right?) and secondly, try and avoid the "hot as possible" approach. One thing that you want to make sure that you do is not zap your skin of the natural moisture that it already has; hot water will do that which is why warm water is best.
Speaking of caring for your skin, treat it by pouring some rosewater and a few drops of lavender essential oil into your bathwater. Rosewater contains anti-inflammatory properties that will help to reduce redness. It also contains antiseptic properties that can help to soothe any skin infections or surface wounds that you may have. Rosewater is full of antioxidants that can repair any cell damage that you may have experienced. Plus, it's known to improve moods and even bring relief to headaches. Lavender oil is great for your skin because it also contains anti-inflammatory properties that can speed up the healing of breakouts, soothe skin conditions that cold weather may irritate such as eczema, help to remove toxins from your skin and, thanks to its scent, it's really effective when it comes to helping you to relax before bedtime.
3. "Seal" Your Skin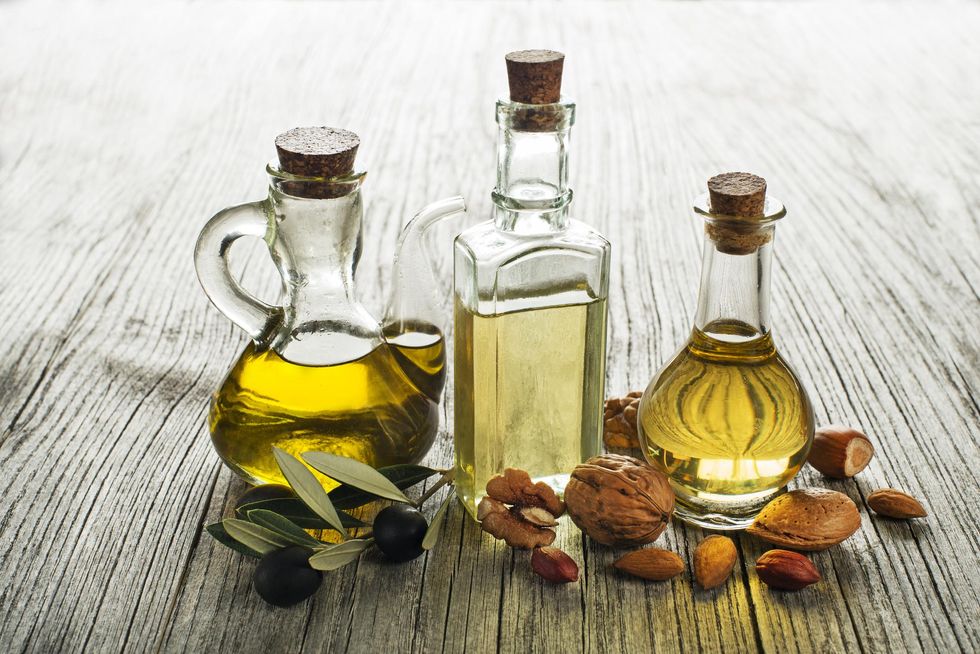 Something that I definitely make sure that I do when I get out of the shower is "seal my skin". Basically, that consists of not immediately drying off, putting some homemade whipped shea butter or sweet almond oil on my skin, letting it sit for a few minutes and then blot-drying my skin. All of this helps to "lock" the moisture in to where I don't need to apply any lotion or anything else once I'm done. Plus, my skin feels silky smooth, pretty much until the next time I take a bath.
4. Steam Your Hair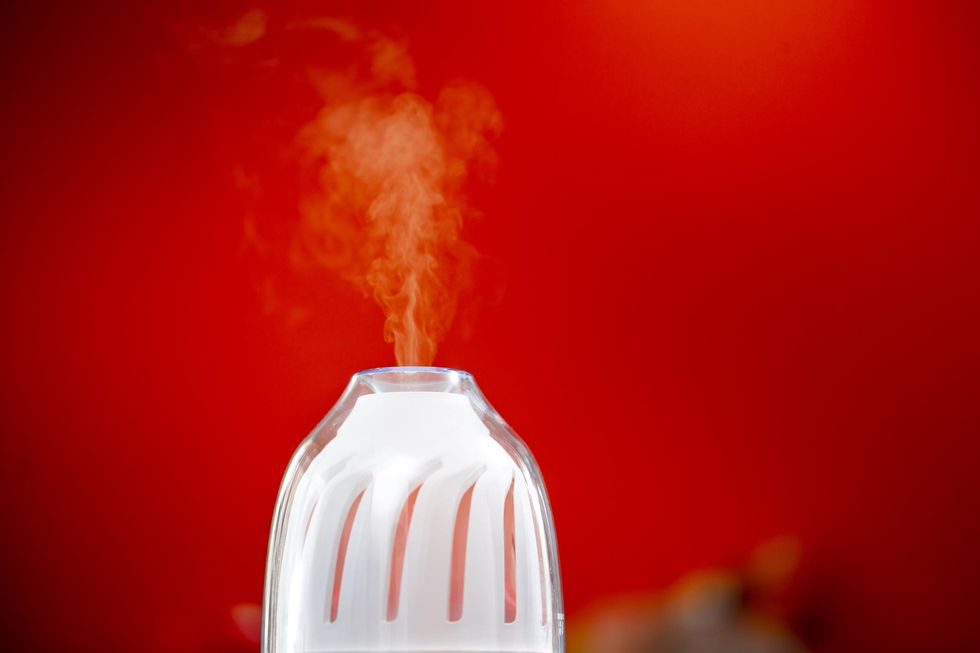 If it seems kinda weird that cold wet weather could actually cause your hair to dry out, here's why it's so problematic. When temps are cold and/or the air is dry, that can result in the cuticles of your hair lifting which can keep moisture from staying in your hair. And when there's no moisture, the dryness can ultimately lead to breakage. A remedy? Well, aside from deep conditioning your locks, it can never hurt to steam your tresses too.
Steam adds moisture. Steam makes it easier for the products that you put into your hair to be absorbed into it. Steam encourages elasticity so that your hair doesn't break as easily when it's being styled. Steam also helps to keep the pores of your scalp unclogged so that your hair follicles can grow freely.
As far as how often you should steam your hair, some folks do it as much as a couple of times a week while others reserve the practice for wash day. Either way, if this is something you'd like to try, Natural Hair Products has a list of some of the best steamers for natural hair here. Also, Melissa Denise is a YouTuber who has some tips on how to steam your hair without a steamer that you can check out here.
5. Line Your Hats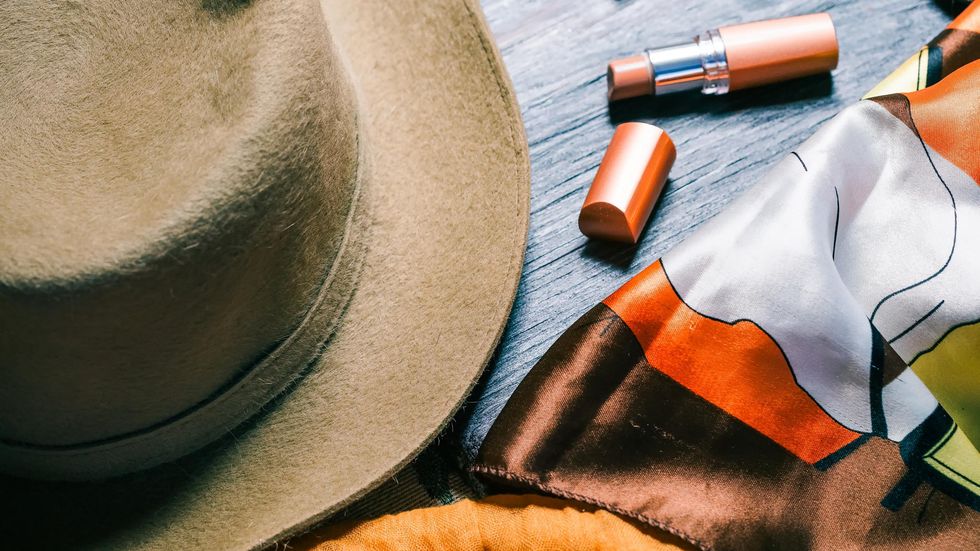 At this point, I can't even tell you how many hats I have. Back when I was wearing really short hair, this particular tip didn't matter all that much to me; however, now that I have some length, I am intentional about lining my hats with satin. Since my golf caps and brims are mostly made of wool, between the way that fabric has a tendency to dry my hair, cause friction and even has the potential for snagging on my ends, making sure my hats are lined is how I keep my hair protected while I'm out here looking fly. If you want to learn how to line your own hats, check out this video and this video.
6. Make a Castor/Argan/Vitamin E Oil Solution for Your Eyelashes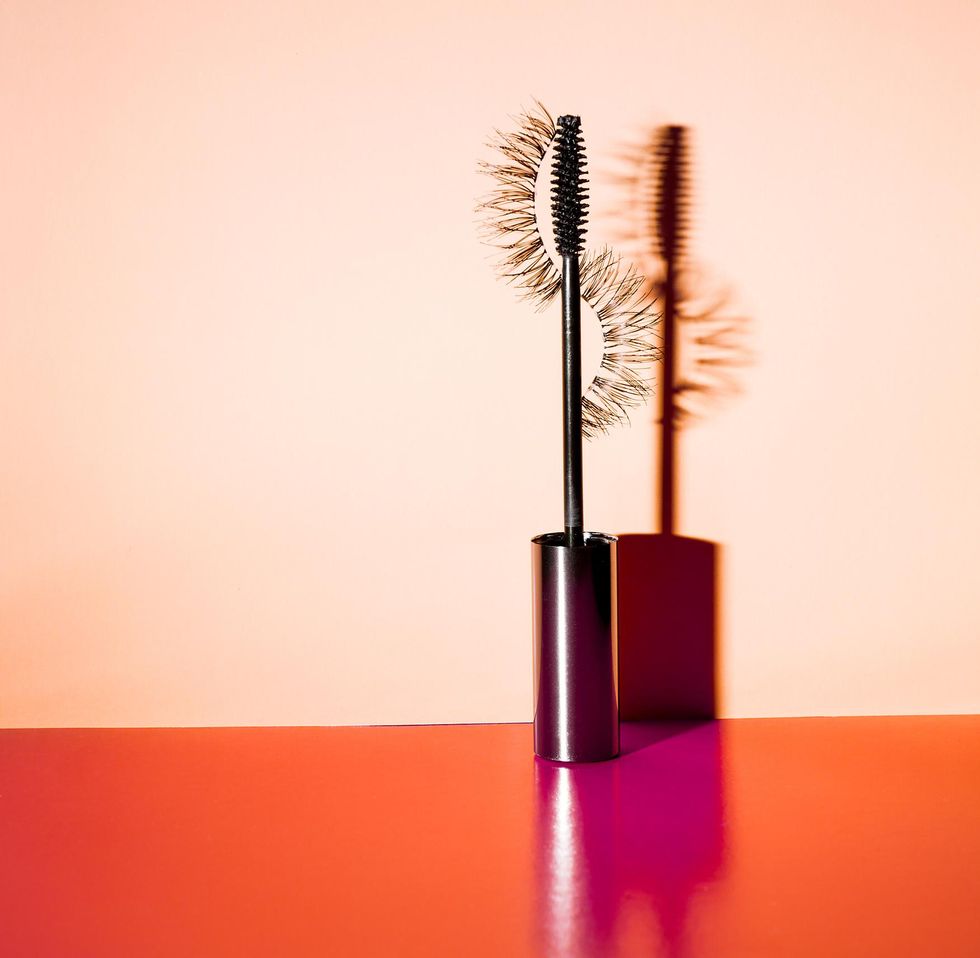 If you want to have longer and thicker eyelashes without having to buy any (so that you can have a few extra coins saved up for the holiday season), make your own serum that consists of Jamaican black castor oil, coconut oil and vitamin E oil. The Jamaican black castor oil contains properties that will help to thicken your lashes and make them appear fuller. Argan oil is packed with fatty acids and antioxidants that will help your lashes to grow longer. Vitamin E is awesome because it stimulates hair growth. If you apply this combo with a mascara wand every night before turning in, you should see some progress with your lashes within 3-4 weeks.
7. Apply Some Shea Butter and Cinnamon to Your Lips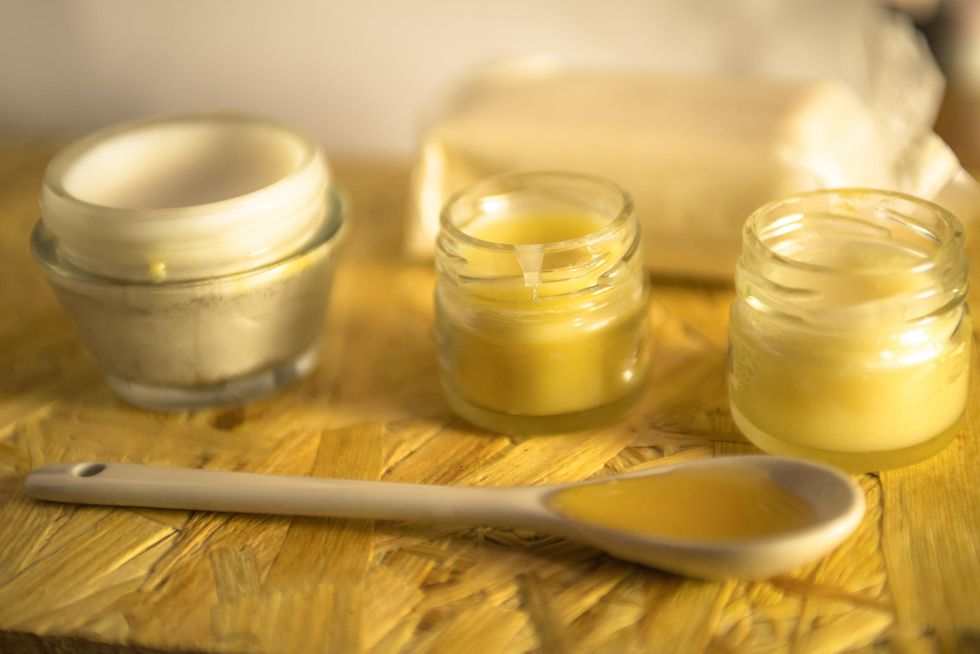 I can't tell you the last time I went to bed without putting some raw shea butter on my lips. Since it's an emollient (which means it creates a barrier between your lips and the atmosphere around you), it's an excellent "base" for lip gloss or lipstick before heading out into the chilly air. Since shea butter is also loaded with antioxidants and vitamins A and E, it can help to soothe and heal your lips if they experience any chapping during the fall and winter seasons. As far as cinnamon goes, if you apply cinnamon oil, it's a natural lip plumper. On the other hand, if you go with its powder (or ground cinnamon) form, it can gently exfoliate while also providing a soft natural sun-kissed glow. Yep, even in the fall. Just add a sprinkle or two of it to a lip container of shea butter and you're all set.
8. DIY a Hand and Foot Cream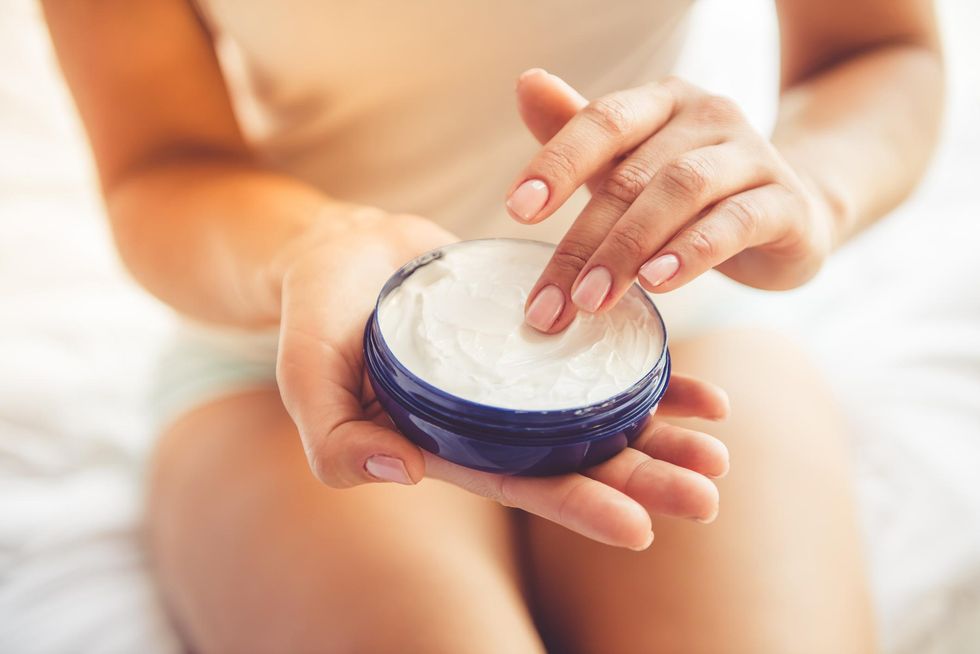 I'm thinking it's a given that you should amp up how much you moisturize your hands and feet as you head into the cooler seasons of the year. All I want to say here is try and avoid commercial brands that are heavy on the perfumes and ingredients you can't pronounce. One, because our skin definitely absorbs some of what we put onto it and two, some of those harsh items can strip our skin of the moisture that it so desperately needs; especially when it's cold.
That's why I'm all about you making your own hand and foot cream. That way, you know exactly what goes into it. The YouTube channel Yaya DIY Creations has a hand cream recipe worth checking out here. paskiiLuv has an easy-to-make foot cream recipe here.
9. Cop Some Bamboo Socks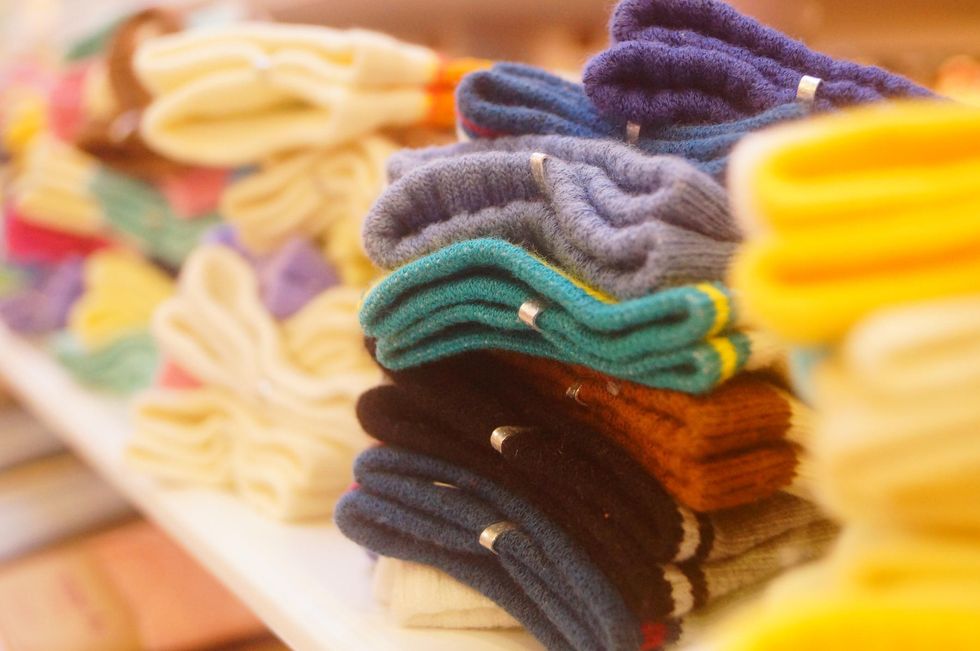 Speaking of feet, just because you're about to swap out sandals for boots, please don't use that as an excuse to slack off when it comes to getting pedicures. That said, since we're all going to be wearing socks a lot more often, did you know that cotton ones can sometimes cause blisters? The "science" behind it is, since cotton is a fabric that absorbs moisture, the longer your feet are damp, the easier it is for a blister to form. That's why wool, synthetic or even bamboo socks are a better route when you're planning to spend a lot of time in inclement weather.
Bamboo socks are cool because they contain antibacterial properties, they're pretty soft, they hold less odor, they are thermo-regulating (which means they help to keep your feet cool in the summer and warm in the winter) and they're sustainable.
Bamboo Comfort is a website that features some of the best bamboo sock brands this year. You can see the list here.
10. Take a Fish Oil Supplement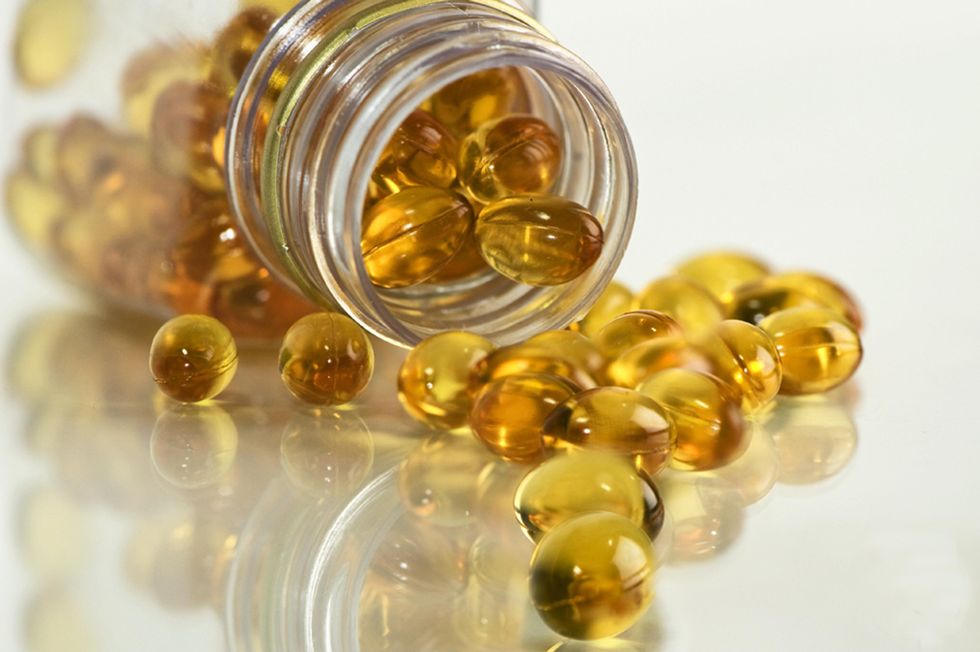 If it seems like you can't stop scratching words with your nails onto your skin (due to how dry it is) no matter how hard you try, you might want to take a fish oil supplement. Fish oil contains anti-inflammatory and healing properties that help to keep your skin hydrated from the inside out. Some other benefits include the fact that it's able to help to heal symptoms associated with psoriasis, decrease the appearance of pimples and also protect your skin from sun damage (and yes, you can experience sun damage any time of the year because, well, the sun is out all 12 months).
11. Invest in Some Local Honey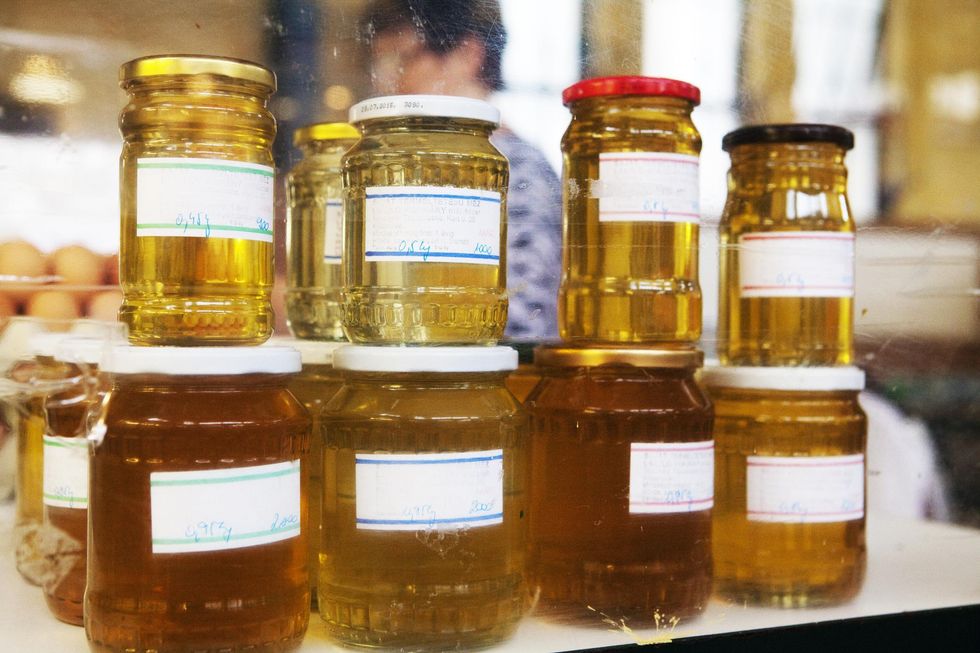 First up, if your allergies are known to kick up during the fall, local honey is what you should look into because it contains similar allergens to what are in the air around you. Taking a teaspoon or so a day can serve as a natural antibiotic, so that your system can develop a resistance to allergens and allergy-related symptoms. Not only that but honey is a powerful humectant as well. This means that if you put a couple of teaspoons into your hair conditioner, it can help to moisturize your hair or if you make a face mask out of it, it can deeply condition your skin. Honey is bomb on a ton of levels. In fact, when it comes to honey in general, check out "Manuka Honey Is The Ultimate Beauty Find".
12. Get Yourself a Pumpkin (or Two)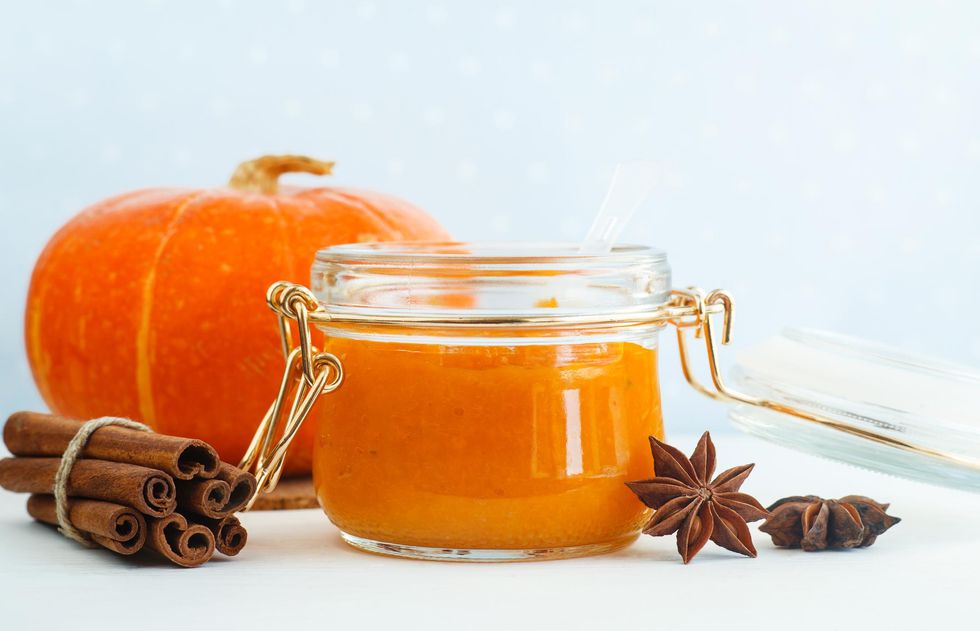 The signature fruit for fall is undoubtedly the pumpkin.
As far as all-natural beauty benefits go, it's great for you because pumpkins are high in vitamins A and C, zinc, antioxidants, fruit enzymes and even alpha hydroxy acids. All of this works together to trigger collagen production in your body, brighten your skin tone, improve your skin's texture, help to reverse UV damage and hinder free radicals from damaging and aging your skin.
So, the next time you're at your local grocery store, pick up a pumpkin or two. Then, when you get home, treat yourself to a pumpkin face mask (recipe is here); a body scrub (recipe is here); a foot scrub (recipe is here); a body butter (which is made with pumpkin spice and recipe is here), or a lip exfoliant (which is also made with pumpkin spice and the recipe is here). You'll feel good. It smells great. And it's one of the best all-natural beauty treatments to officially welcome your skin into this, what I'm sure will be, beautiful upcoming fall season.
Join our xoTribe, an exclusive community dedicated to YOU and your stories and all things xoNecole. Be a part of a growing community of women from all over the world who come together to uplift, inspire, and inform each other on all things related to the glow up.
Featured image by Getty Images
Keep reading...
Show less
Not too long ago, while doing a podcast interview, the host asked me why it seems that so many women have a pattern of picking the wrong kinds of men. As she went on and on about how it seemed to be that there were less good guys out in the world which was resulting in women feeling like they had to settle for less, almost instantly, I could feel one of my trigger buttons being pushed.
And just what trigger is that? A lack of personal accountability. As someone who, believe you me, has made some not-so-stellar choices in my past when it comes to matters of the heart — and mind and libido — if there is one thing that self-introspection, time, healing, humility and wisdom have taught me, it's what the brilliant Confucius quote says up top. It's something that seems to be what a lot of people simply don't want to face about themselves. It's the fact that indeed, beyond a shadow of a doubt, everywhere you go, there you are. And when it comes to relationships, this means that if there is one thing that all the men you've dealt with have in common, it's the fact that they were once involved with you. So, if you're always in something "less than", pardon the pun, but in order to make better choices, you've got to be willing to take some ownership and responsibility and admit that you are the common denominator. And gee, sis…why is that?
This kind of topic can go all kinds of different directions. Boy, could it. However, I think the best way to simplify it all is to do for you, something that I wish that I had done for myself years ago — and that's offer up a straight shot of how you know a man is right for you vs. being wrong for you. Because, again, the moment you decide to stop blaming everyone and everything else and opt instead to look deeply within, that is when some patterns can be broken, some real change can happen and you can get to the kind of love that is meant — meaning good — for you. You ready to take the first step?
The Right Man Brings Out the BEST in You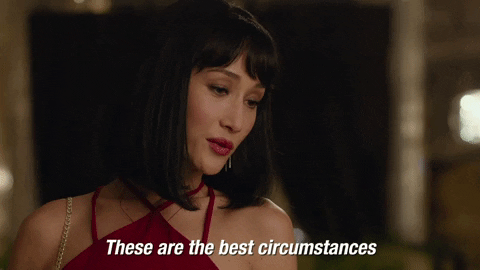 Best: (adj.) of the highest quality, excellence, or standing; most advantageous, suitable, or desirable; (adv.) most excellently or suitably; with most advantage or success
Lawd. Can you imagine, how much heartache, pain and drama we all could bypass if the mission, straight out of the gate when it comes to being in a relationship, is deciding to ONLY commit our time, effort, energy and parts into someone who brought out the absolute BEST in us? Someone who was good for our mind, body and spirit, without compromising any of the three, as we used the actual definitions of "best" as our standard?
Someone who was most suitable for and not just desirable to us (check out "Question: Is The Man In Your Life Good 'TO' You? Good 'FOR' You? Or...Both?"). Someone who encouraged and supported us to get to or remain in a true state of Black excellence, no matter what. Someone who helped us to become even more successful as an individual. Someone who reminded us, by the way they lived their own life, what it means to be (here come some synonyms for the word best) a champion for ourselves, to excel as a human being, to raise the bar of what we expect and deserve, to outdo the goals that we've already accomplished and to have documented evidence that our life has only been further enhanced by the folks who choose to allow into our intimate space.
Sounds over-the-top? If it does, that's a part of the problem. It kind of reminds me of something I recently heard someone say. It was something along the lines of, we need to stop convincing others that we deserve to be loved. When I hear that, the thing that immediately came to mind was, when we love our own selves well (check out "What Loving Yourself Actually Looks Like"), that ceases to be so much of an issue. I speak from very up close and personal experience when I say that too, because when I wasn't living out my BEST life, when I wasn't prioritizing all of these definitions of the word "best" in my own world, I was sho 'nuf in some real stupid stuff with guys. If I wanted to, I could hem and haw about how it was all their fault yet, isn't it interesting that, when I treated my own self with honor and respect, my taste in and tolerance for bullshishery diminished? Not only that but there was no need to get on that "men are trash" raggedy ass bandwagon because the quality of men that I chose spend my time with shifted too.
Best complements best. Best doesn't want any less than that too. Best can't help it.
It's not about being cocky or even unrealistic either. What I mean by that is, once you are truly ready for the kind of person who will bring about the best in you, you get that "best" doesn't mean perfect (I mean, are you perfect?). It just means that — dates have a different agenda, sex isn't just about getting off and you are able to spot dead-end-potential (check out "Are You Wasting Your Time With 'Expiration Dating'?") very quickly. You become unapologetic about the fact that if he can't improve that quality of your life, in some really substantial and significant ways in comparison to what you've already accomplished on your own, why spend — or is it waste? — months and years of time that you can never get back doing what R&B singer Mya once said in what may be my favorite song of hers. Why would you give "The Best of Me" to others who aren't giving the best of themselves to you?
And a man who is going to give his BEST? He's not interested in lowering his bar, wasting his time or compromising his standards either. Best tends to beget best. And you know what? I know couples who bring out the best in each other. People who it is abundantly clear that, before coming together, their life was already really good and then, when they met their complement (check out "If He's Right For You, He Will COMPLEMENT Your Life"), things just went to a whole 'nother level. Professionally, they prospered more. Personally, they improved. Sexually, things were more fulfilling. Financially, life stabilized (if you're dating someone who puts you in debt or you're putting them in debt, that is not what "best" looks like). Because they were in such good shape prior to getting together, they only chose one another because they saw clear indicators that linking up with advance them.
That is what being with someone who brings out the best in you looks and lives like. And what about the worst? Whew, chile.
The Wrong Man Brings Out the WORST in You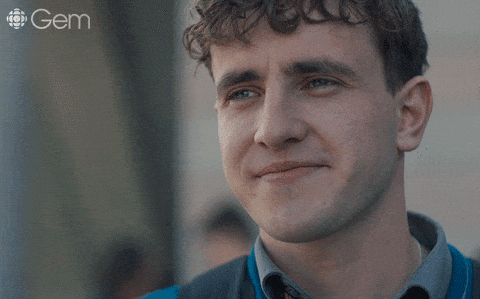 Worst: (adj.) bad or ill in the highest, greatest, or most extreme degree; most faulty, unsatisfactory, or objectionable; most unfavorable or injurious; (adv.) in the most evil, wicked, severe, or disadvantageous manner; with the most severity, intensity, etc.; in the greatest degree
There is a quote that I happened upon, not too long ago that, as soon as I read it, it quickly became one of my all-time favorites. I don't know who the author is but it simply says, "Relationships fail because people take their own insecurities and try and twist them into their partner's flaws." Preach. Remember how I said earlier that people who lack accountability come to the convenient (is it, though?) resolution that when relationships don't work out or they find themselves in a toxic hamster wheel of guy-after-guy-after-guy (check out "Are You Dating The Same Guy Over And Over Again? Maybe."), it's everyone else's fault but their own? Goodness.
How is that when no one forced you to choose the men you've chosen, over and over and over again? And why is it that you're all about selecting those who are ultimately and holistically unsatisfactory, injurious (even neglect is a form of injury; check out "Neglect: The Form Of Relational Abuse That Isn't Discussed Enough"), are capable of doing things that can be seen as evil and/or who can cause you to feel some really severe and intense things about men, relationships and/or yourself? Because again, no one is making you do all of this? You are making decisions that lead to this particular kind of outcome.
I know it might be hard to take all of this in because it would be so much easier to act like there is some conspiracy that the universe has against you that causes you to get into relationships with guys who seem to bring out the absolute worst — inferior, substandard, mean, sad and low-quality — in you. Yet I promise you my next two checks from this platform that when you really get sick and tired (sometimes literally) of being connected to anything or anyone that brings out the worst qualities in you, you will remove yourself from them — person, place, thing or idea. On the romantic relationship tip, I don't care how long you've been together, how good the sex is or how afraid you are of being alone, when you get that no one can "make you worse", especially if you're not around for them to attempt to do so…life immediately elevates. You really do start to thrive on a whole 'nother level.
I've been involved with men who've brought out the worst in me before. It's kind of a long story yet, in hindsight, my (main) issue was the so-called love that I was tolerating from them was a reflection of the kind I got from many of my relatives (check out "Why You Should Be Unapologetic About Setting Boundaries With Toxic Family Members"); their BS was familiar to me. Oh, but when I got away from the DNA that was also bringing out the worst in me, while it took me a hot minute, I can't believe how much abuse ("abnormal use of") I used to take vs. how little I will tolerate now. I don't like how much "the worst" feels and so, I don't engage it — therefore, whenever I see signs of it, I remove myself…quick, fast and in a hurry. Not because I fear it. It's because I now loathe it. Life is too short to be with someone who, as one of my girls said in her recent visual, can "rearrange my box" and yet has me spiritually unstable as literal hell. Or has me in tears from laughter on Tuesday and then from devastation on the follow Sunday. Or has me out here dishonoring my own time to the point where I'm just…relationally stagnant because I've lost sight of what the best of me should look and live like.
Did you see all of the "I's" that were in that last sentence? I PLAY A ROLE IN WHO BRINGS OUT THE BEST OR WORST IN ME. SO DO YOU — and yes, I am yelling it. That's why I say that what the right and wrong man have in common is me. Or you. Because they need us to be present in order for either outcome to play out. The good and super empowering thing about all of this is, the moment that we see what we don't desire, whether it feels like it at the time, we absolutely have the power and ability to switch up and create another narrative.
You will never get this day, this week, this month, this year — this moment in time back. Why would you allow someone the privilege of you and your time if they aren't gonna bring out the absolute best in you? Only you can answer that question, sis. Think it through. Be honest with yourself. Change up if need be. It's all up to YOU. Not "him". YOU.
Featured image by Giphy
Keep reading...
Show less
OK. While I am totally aware of what cuffing season is (I even wrote a couple of pieces on it that you can check out here and here), I've gotta admit that I cracked up when I saw someone post an entire cuffing-related schedule.
https://t.co/NXXt048gcC

— Alphacology (@Alphacology)1627829634.0
As you can clearly see, we've already passed by the "scouting" portion of the program. Apparently, we are now in the "drafting" part. Anyway, as I was sharing this data with a male friend of mine, he went on and on about how important it really and truly is to have a "cuddle buddy" during the fall and winter seasons. "It's not even really about sex," he said. "You just want to curl up under someone with some wine and a blanket and watch some movies all day on the couch." Uh-huh. I've known this guy long enough to know that he doesn't just want to cuddle; however, his statement is what inspired me to write this article.

Cuddling. Have you ever stopped to think what that word actually means? When you cuddle with someone, oftentimes, you are giving them an extended and affectionate hug. When you cuddle with someone, you are embracing them to show love and/or warmth and care. When you cuddle with someone, you are expressing that you want to experience a relaxed sense of intimacy with them. Cuddling is precious. And it really is such a perfect physical act for the fall season. Not only that but it comes with some solid science-based reasons for why all of us should be doing it.
So, whether you are already booed up for the fall or you're still scouting some potentials to "cuff", here are eight reasons why cuddling is one of the best things that you can do as we prepare to enter into my favorite season of the year — autumn.
1. Cuddling Reduces Your Stress Levels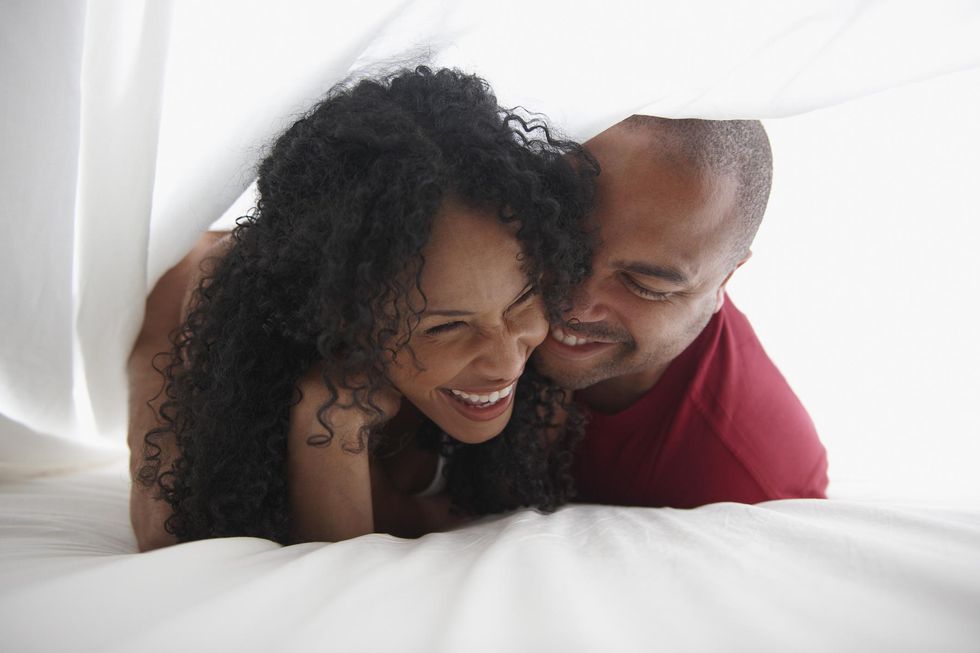 Oxytocin is a natural hormone that serves as a chemical messenger to the brain. One of the things that it has a reputation for is it causes people to bond with one another whenever intimacy (like kissing, sex and cuddling) transpires. That's why one of its popular nicknames is "the love hormone". Where I'm going with this is, when you cuddle with another person and oxytocin is triggered in your system, it permeates feelings like comfort, peace and calm which results in your stress levels dropping. A lot of health-related issues including heart disease, asthma, depression, headaches and even diabetes are directly tied to stress. That's why it's a good idea to see cuddling as a way to be proactive about keeping your stress levels way down, for the sake of your overall health and well-being.
2. Cuddling Increases Your Emotional IQ
If someone were to offer you a thousand bucks to define "alexithymia", would you be able to do it? Basically, what it boils down to is not being able to either recognize or define your feelings (I should probably write something on that, huh?). And just what does this have to do with cuddling?
Well, what some researchers have discovered is that when we cuddle, it actually increases our emotional IQ levels. That's because, typically, if we are comfortable enough to cuddle with someone, we're also comfortable enough to share with them our thoughts and feelings.
Hmph. No wonder pillow talk can be so effective in relationships. Interesting.
3. Cuddling Boosts Your Immunity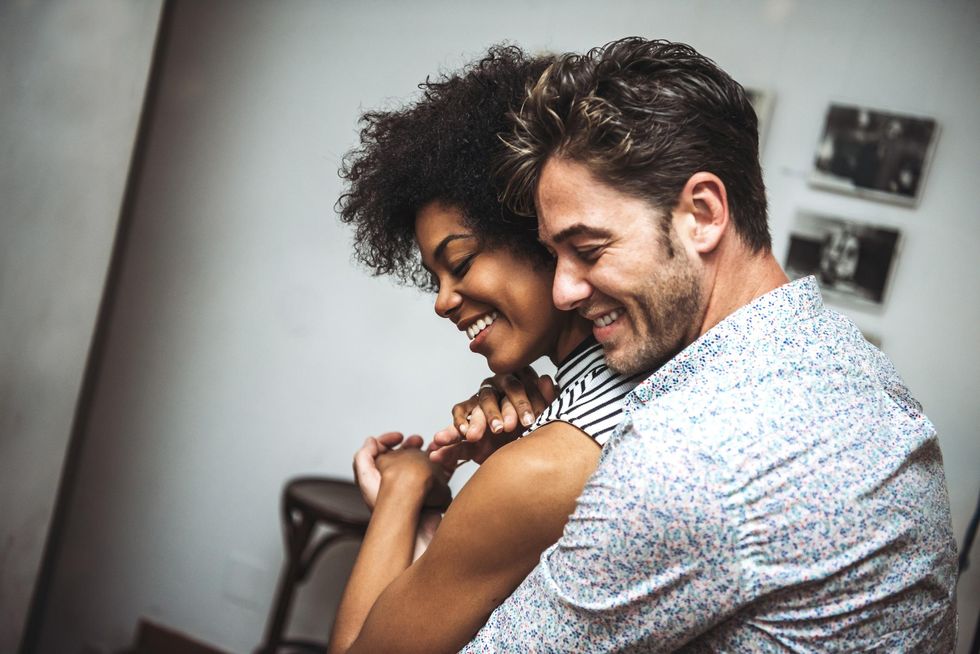 As we're headed into cold and flu season (especially while we're still in the midst of a pandemic…whew), it's important to be as proactive as possible about strengthening your immune system (check out "Ready To Try 10 Quick & Easy Immune-Boosting Hacks?"). Believe it or not, one way to do that is by cuddling up with someone. I'm not kidding. There are studies citing the fact that people who hug up often are less likely to get sick when they are exposed to the viruses that lead to colds and the flu than folks who don't. So, aside from boosting your Vitamin C intake, cuddling is a proven weapon against sneezing, coughing 'n stuff.
4. Cuddling Aids in Healthy Digestion
Are you someone who battles with bloating, nausea or some form of digestion-related discomfort? Somebody needs to hurry up and cuddle with you. I'm not kidding.
Remember how I talked about how beneficial oxytocin is when it comes to reducing your stress levels? Well, when your system isn't stressed out, that takes some of the pressure off of your digestive tract, making it easier for you to process the food you eat.
Out of all of the health benefits of cuddling, I think this is the one that tripped me out the most.
5. Cuddling Boosts Your Self-Esteem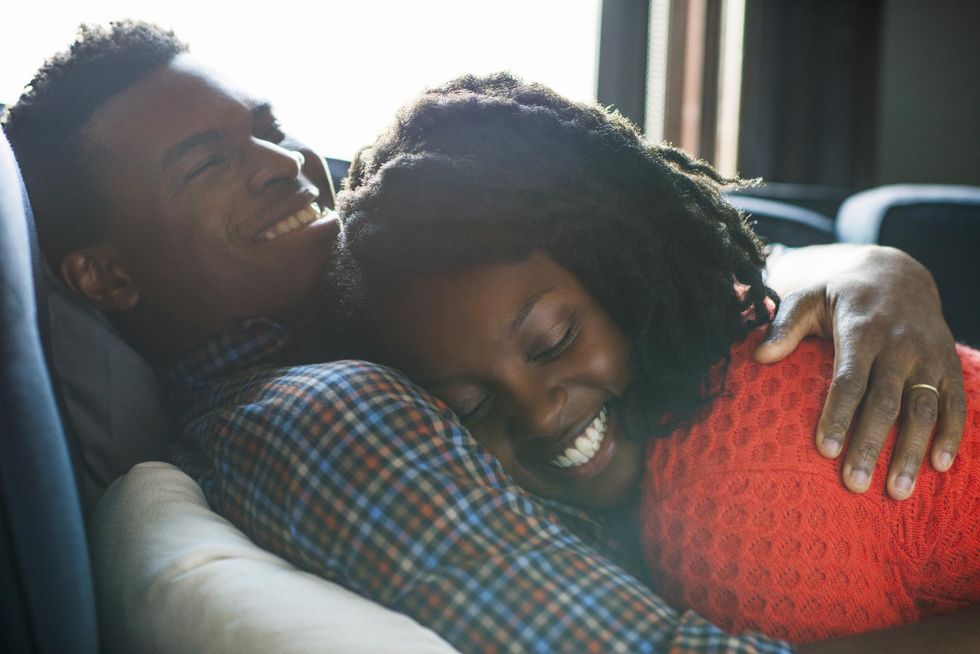 I'm thinking this particular point is a given. At the end of the day, all of us want to feel wanted and when someone cuddles with us, that message is conveyed pretty well. And when we feel like someone is into us on this kind of level, that can do wonders for our self-esteem. And when we feel good about ourselves, we tend to be more intentional about making decisions that will be good for our mind, body and spirit. Yep, cuddling is an ego booster in the best way possible as well.
6. Cuddling Helps to Block Pain Signals
Most of us have seen a television show or movie where there's a scene that features someone holding another person's hand in the hospital as the patient smiles. Believe it or not, there is actually something quite real to that because there's data to support that when we're feeling bodily pain and our hand is held, pain signals get blocked and we're able to find some relief. If that sounds unbelievable to you, you can check some info on it for yourself right here.
7. Cuddling Makes You Feel Closer to Your Partner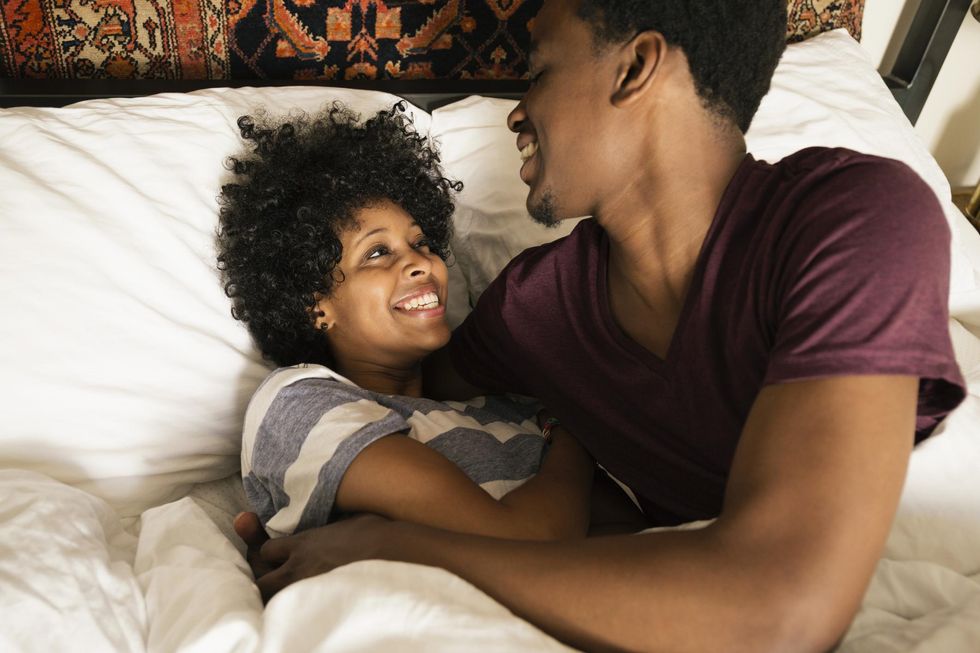 Last year, Web MD published an article entitled, "Need Better Sleep? Get a Partner". Aside from some of the other benefits that I've already touched on, when you're cuddling with your partner, it's a proactive way of spending some much-needed quality time as you express love through physical touch. Yep. The couple who cuddles together has a far greater chance of staying together too.
8. Cuddling Gives You a Better Night's Rest
Speaking of bonding with your partner, if you like to spoon, I totally get it. Indeed, I do. So, let me just close all of this out by saying that I am in full support of you and your "spooning partner" doing it more often because this type of cuddling actually helps you to remain in your REM state of sleep. That way, you can get more quality rest throughout the night, so that you can wake up feeling more refreshed in the morning. So, what are you waiting for, sis? Get to cuddling.
Join our xoTribe, an exclusive community dedicated to YOU and your stories and all things xoNecole. Be a part of a growing community of women from all over the world who come together to uplift, inspire, and inform each other on all things related to the glow up.
Featured image by Getty Images
Keep reading...
Show less
Sometimes, I'll happen upon some data that, while it doesn't surprise me one bit, I'm grateful to share it because it helps to confirm something that I find myself saying a lot. Today, what I'm referring to is what I hear, nonstop, from husbands when I'm in a lot of my sessions. I'm pretty sure that you can tell from the title that this is in the lane of sex specifically. And y'all, if there are two things that at least 70 percent of the men I speak with say that they wish they got more of, it's — pretty sure you're not shocked by this first one — sex followed by what I don't want to give away in this intro.
You know, there are a billion articles out here that touch on things like sexual technique, toys and positions. Yet the reality is, if you really want to be considered a great lover, there is something that trumps all of this. According to men, anyway. I'll get into it now.
Featured image by Giphy
Keep reading...
Show less