Shellie R. Warren
Shellie R. Warren is a lover of quotes, lip gloss, graphic t-shirts, silver jewelry and Pumas. She's an author with two published books (thus far) on matters of the heart. In fact, 2019 was the 15-year anniversary of her first release ' Inside of Me: Lessons of Lust, Love and Redemption' (she's seriously mulling over penning a sequel to it) and 2020 marked her 20-year anniversary of being a (mostly) full-time writer. Aside from that, when Shellie's not tellin' all her business, she's helping couples (marriage life coach) or assisting with birthing babies (doula). Her byline is all over cyberspace, but where you won't find her is on social media. Like anywhere. At all. If you need to hit her up, she's (usually) reachable at missnosipho at gmail.com, though. HOWEVER, pitches for xoNecole need to go to editor@xonecole. Hit her up for *strictly* Shellie-related stuff. Again, pitch article ideas to the site addy NOT HER. Much appreciated.
Lawd, lawd. I'm assuming that I'm not being too presumptuous when I start this all out by saying, I'm pretty sure that more than just a few of us can relate to this title and topic. I know that personally, there are several men from my sexual past who would've been out of my space a lot sooner had the sex not been…shoot, so damn good. And it's because of that very thing that you'll never ever convince me that sex can't mess with your head. The oxytocin highs (that happen when we kiss, cuddle and orgasm) alone can easily explain why a lot of us will make a sexual connection with someone and stay involved with them for weeks, months, years even, even if the mental and emotional dynamic is subpar, at best.
Thankfully, I got free from the whole "the sex is great but the relationship sucks…WTF?" cul-de-sac. And while it left me with a few skinned knees (no pun intended), I'm hoping that this will be a bit of a "beauty for ashes" kind of moment. I'm hoping that if you currently are in this exact type of situation that this read can help you to figure out what you should do about — it all.
1. How Did Things Begin?
Aristotle once said, "If you would understand anything, observe its beginning and its development," and when I say that there is so much truth to that right there, chile. Matter of fact, I was recently talking to a friend of mine who recently reconnected with someone from our college days. Back then, there was a young lady he messed with who had the biggest crush on him, he had zero emotional interest in and yet she still basically begged him to sleep with her. Hmph. One day, we'll have to get into the discussion of how, when a man is upfront with you about where he stands and what you can expect and you proceed with him anyway, he didn't "dog you out"; you simply lowered your standards. I'm telling you, self-accountability is where the big kids play.
Anyway, when he told me that she reached back out, all of these billions of years later, to try and strike up yet another sexual situation, only for him to say "cool, but I'm STILL not interested in anything serious" — first, I was really disappointed that she clearly has not evolved when it comes to him after almost three decades; then I found myself being kinda sorta thankful because that cyclic thing they are in is what helped to inspire the first part of this piece.
If you're caught up — or is it turned out? — in someone and you know that it has absolutely nothing to do with anything other than sexual chemistry or a man's technique and yet, you still can't seem to let ole' boy go, the first thing to ponder is how things began. Was it pretty much only his physicality that drew you in? Did you have sex faster than you probably should have? Can you even count on a full hand any real dates that the two of you have ever been on before? The reality is, more times than not, that the beginning is the foundation of things.
My friend and that girl don't have many places to go because they started off pretty foul because she wanted everything and he desired nothing but a way to get off; it's still that way. If you and the guy in your life — or is it just your bed? — don't seem to have much in common outside of sex, the way things started could reveal a whole heck of a lot about how you got to where you are.
2. Are You Even in an Official Relationship?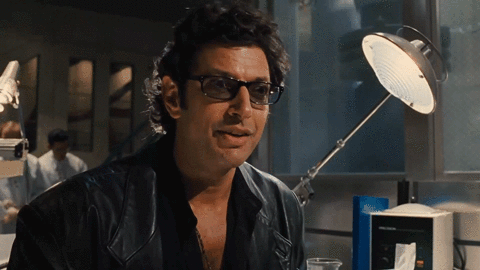 I believe I've shared before that a pattern I had with a lot of the men in my sexual past (check out "14 Lessons I've Learned From 14 Sex Partners") is I was friends with them yet not much more than that. On the friends tip, we were real friends in the sense that we talked/hung out often, knew a ton about each other and, with most, I shared a lot of their world with them (family included) too. So, there was a strong connection, even before coitus transpired. Hmph. Problem was, when you have sex with your friends (check out "5 Things You Should Ask Yourself Before Having Sex with A Friend"), things can get really weird because, although the two of you may be close, you're not officially anything but friends. As a direct result, you may find yourself not really knowing what to do about the relationship after the get down goes down. Then ish can really get messy when you find yourself enjoying the friendship and the sex and yet somehow, there is still a…disconnect.
That's why pondering if you're even in an official relationship (which is not something you can decide on your own; "he" has to be on the same page with you) is so important too.
If the sex is great and the relationship isn't, there's a really strong possibility that what could be going on is you're not in a relationship at all and the awkwardness of that reality is what's causing all of the internalized distress.
So yeah, figure out if the two of you are in a relationship. If you're not, do you want to be? If so, the two of you need to have a serious conversation, sooner than later. If you are in a mutually-decided-upon relationship and things suck…well, it's time to go to my next point.
3. Take Sex Off of the Table. What's Left?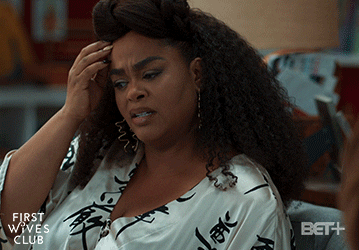 A couple of years ago, I wrote an article for the platform entitled, "Make-Up Sex Might Be Doing Your Relationship More Harm Than Good". One of the points that I made in it is, if you have to rely on make-up sex to "make things better" in your relationship, that is a red flag. That said, say that you are in a mutually-agreed-upon relationship and you're just not as happy in it as you thought you would be yet you stay because that man has a way of making you climb every wall in your house. If that's the case, do me a favor and, as difficult as it might be (because the sex is just that good), take sex totally off of the table. What's left? If you can't think of anything past kiddie-pool-shallow answers (you know, like "We like the same movies" or "It's not like we fight or anything"), you have some reevaluating to do…on a few levels.
For one thing, if the ah-ha moment that you discover is you're in a casual relationship and you don't mind being in something that is light, unintentional and lacks serious intention, then I guess there isn't too much to worry about. Although I will say that if that was the case, I doubt you'd be reading this all the way through. On the flip side, if you desire to be in the kind of relationship that evolves into something bigger and greater, as crazy as it might sound, you may need to literally take sex off of the table so that the two of you can see what else you've got going on.
Again, this is something that you need to discuss with him because, since you both decided to have sex, you both should discuss not having it anymore. And I will tell you this — if he's open to seeing what else you both have, there's a chance for growth. On the other hand, if he's totally not interested in a season of abstinence…I think you've kinda got your answer. This brings me to the next point.
4. Are You "Sexually Settling"? Think Hard Now.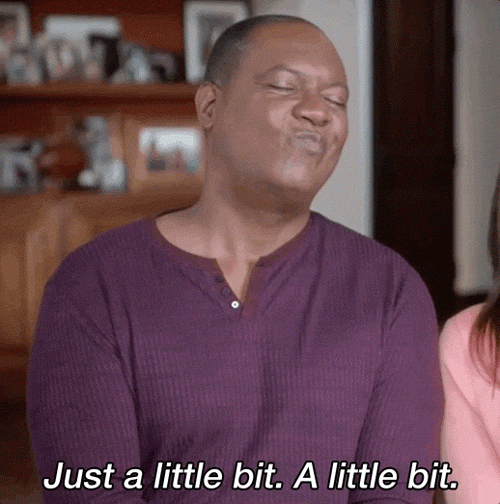 Not too long ago, I was talking to a married male friend of mine about his thoughts on how men process sex overall. He said, "Shellie, sex is great, but we don't need it as much as y'all think if it means putting up with a lot of b — shit. We can pay someone to get off and there's no drama. The older men get, the more we realize that amazing sex is when you're with someone who you feel safe and peaceful with, there is a solid connection, and she gets off on pleasing you as much as you get off on pleasing her. Even we like to be into our partners."
Where am I going with this point? I agree with my friend, 1000 percent.
If you're able to have an abundance of orgasms with someone when the relationship is just "meh", think about how much better sex could be if you're truly in sync with an individual. Because here's the reality that, for whatever the reason, a lot of us do not want to face — you can find good sex many places; don't let the guy you're sexually hung up on cause you to think otherwise.
Not only that but for every day that you stick around, telling yourself that you're staying because the sex is so bomb, that's one more day that you're wasting when it comes to clearing the path to get the entire package. And if you're willing to waste time, just for some good "D", sis, you are most certainly sexually settling. You are basically saying that you don't deserve to be relationally happy and fulfilled both in and out of the bedroom. And that couldn't be further from the truth.
This leaves me with just one more thing to say on the topic.
5. Be Honest. Are You Turned Out? For Real.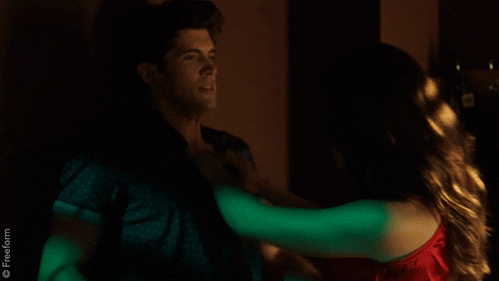 There is one guy from my past who, we were never really friends. For a season, we spent a significant amount of time together and we had a fair amount in common, yet I never wanted him to be an intimate part of my life. He was too opportunistically creepy (I honestly don't know a better way to put it; he was just always trying to charm his way in and out of stuff) for that. So why did I allow him into my treasure trove? Because I had just come off of a relationship a few months prior, was emotionally exhausted and didn't feel like building anything substantial — not a friendship, not more than a friendship. Just wanted a sexual distraction (not saying that was smart; it was just my truth at the time). And how does all of this tie in?
You know, something that I try and drive home to my clients as much as possible is, you can't get very far if you're not willing to hold yourself accountable in your relationships. So, with all that I've already said, where I think this should end is, if the sex is great and the relationship sucks, it can never hurt to look within. What I mean by that is, is the sex good because that's where YOU are showing up and does the relationship suck because that is where YOU are putting in the least amount of effort? Are you so comfortable in the afterglow of orgasms that being sexually turned out is enough for you? And gee, if that's what's going on…is it enough for you?
Because here is something that I can assure you. If it's not enough for "him", he's somewhere getting whatever else he needs. Yeah, one day, I'll do a full piece on monkey-branching (folks who go to one person while holding on to another for safe measure) and how very few people stay content with being…discontent. For now, I'll just say, relationships don't just "suck" — they are a direct result of one or both involved parties not showing up. If you know that's you, what do you want to do about it? Is there enough, beyond sex, to try and make things work and last? Or do you need to come to grips with sex being all there is and that definitely meaning that you are on a timeclock because 98.7 percent of the time, lust, eventually, exhausts itself.
Again, I've been where some of you are. Where the sex is so mind-blowing that you're not really making the rest of your needs the priority that they should be. Yet you know how the old saying goes — if you're looking for a sign to do something different, this would be it. Sex can be great AND you can be in a good relationship too. It's your move. Time's a tickin'. Sis, moving forward, what's it gonna be?
Join our xoTribe, an exclusive community dedicated to YOU and your stories and all things xoNecole. Be a part of a growing community of women from all over the world who come together to uplift, inspire, and inform each other on all things related to the glow up.
Featured image by Getty Images
Keep reading...
Show less
"Black men, we're in constant warfare. Every day is a fight outside of my house, so why would I want to come home to more fighting when that is the very place where I should be resting? There are loved ones who I don't speak to as much anymore because they aren't peaceful people. A huge part of the reason why I am happier without my ex is she was rarely a source of peace. The older I get, the more I realize that peace really is the foundation of everything; especially relationships, because how can I nurture anything if I'm in a constant state of influx and chaos? Guys don't care how fine a woman is or how great the sex may be if she's not peaceful because there is nothing more valuable than peace. If the closest person to me is not a source of it, that can ultimately play a role in all kinds of disruption and destruction. No man wants that."
My ever-since-college friend Anthonol recently said that as I was talking to him about a conclusion that I have firmly come to after having countless conversations with men about what they prize more than just about anything in a long-term relationship. Yep, you guessed it — peace. I don't care if the guy is 18 or 60, single or married, I can't tell you how many times a man has told me that they have remained with someone or left them in a heartbeat and it was all because that individual, for them, was not a very peaceful person and/or did they cultivate an environment of peace.
And honestly, I get it. The older — and hopefully wiser — that I become myself, something that I too value is peace. I want to be a haven of peace. I want the people around me to cultivate an atmosphere of peace. And yes, I will be quick-fast-and-in-a-real-hurry to remove myself from people, places, things and ideas that do not bring peace to my space and psyche.
Personally, whenever I think of the word "peace", the Hebrew word for it comes to mind — shalom. One of my favorite things about the word is it has so many meanings. Today, I want to touch on five of them in hopes that, if someone reading this is looking of a bona fide and surefire sign that they are with the person who is truly right for them, they will 1) come to understand that peace is absolutely essential and 2) gain even more clarity on what peace is — and requires.
Tranquility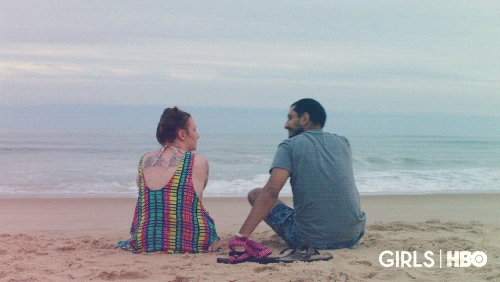 The reason why I picked a GIF that has the ocean in it is for this particular point is because that type of environment is what immediately comes to my mind whenever I think of tranquility. To be tranquil is all about being peaceful and calm. That's already dope; however, there is more to it than that. Did you know that another definition of tranquil is "free from or unaffected by disturbing emotions"? That said, another male friend of mine (who prefers to be off the record) said something that really stood out to me — "Women don't mind feeling a wide range of emotions throughout the day. Some of y'all will literally be like, 'I want to cry. Let me find a movie that will make that happen.' Your emotional focus and sometimes even resilience is wired like that. We like to remain as even as possible because there is so much going on that we know we need to remain centered and focused. So, anything or one that constantly triggers us to be upset, bothered or angry, we'll avoid that."
To me, here is a great place to start. When you're in a healthy relationship, it will not consist of you constantly feeling disturbed, confused or unsettled. Typically, when we're feeling that way, it's alerting us to the fact that something is…off. And if things are always off, something is…really off. No relationship is perfect and there are going to be times when things are a little disruptive. Still, if you can't use "calming" as a way to define what you are currently in, don't ignore that reality check. Please ponder what's really going on.
Agreement/Harmony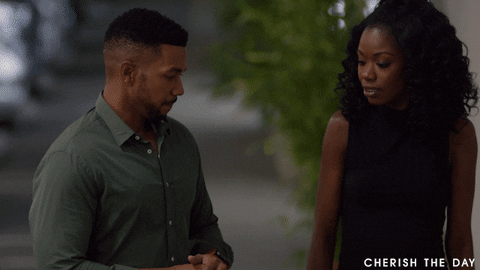 Another word that defines peace is agreement. Here's the thing about that, though. To agree is "to have the same views, emotions, etc." and "get along together". This speaks to having similar views, values and to some extent, even communication styles. Still, don't sleep on another definition of the word which is to "come to an arrangement or understanding". You know what this means, right? People who are in peaceful relationships, even when they don't have the same views or feelings about something, they are able to negotiate. Peaceful people are the folks who are far more interested in keeping the relationship healthy and moving forward than being right all of the time. They can compromise. They are open to hearing someone else's point of view. They can even agree to disagree when needed.
Another definition of agree is harmony. I'm a huge music fan, so that makes me think of a choir. Sopranos, altos and tenors all sound different yet when they come together and everyone knows and does their part (which is so key, y'all), the collective sound is beautiful. Men and women aren't supposed to be the same. There are proven scientific differences that help us to come together and cultivate a balance — a beautiful sound, so to speak. When it comes to your relationship, do you have similar views? Do you get along more times than not? When there is discourse, can you come to an understanding that you both can feel good about? If not…why not?
Wholeness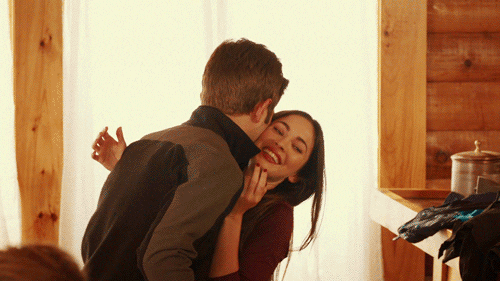 Something that I shared not too long ago is I'm a firm believer that no one should expect another person to make them happy. Humans are fallible; they tend to be pretty fickle too, so there are going to be times when they disappoint you, hurt your feelings and straight up piss you off. If you feel like they should never do that, because they should be the source of your happiness, you really should stay single because that expectation is unrealistic as all get out. I mean, do you make yourself happy all of the time? Exactly.
Same thing goes for another definition of shalom-peace which is wholeness. While a partner can help to cultivate a sense of wholeness, it shouldn't be expected of them to "make you whole". No, the focus here should be more along the lines of "containing all the elements properly belonging". Healthy relationships are better able to go the distance when they contain the "core ingredients" that make a relationship work and last — love, respect, patience, support, consistency, attentiveness and similar relational goals are certainly a great place to start.
I can't tell you how many couples I've worked with where the love is there yet so many other things are lacking. You can't ever truly be at peace in a relationship if what it takes to make one work is fractionated on some level. Is yours? It can never hurt to direct this same question to your partner too.
Completion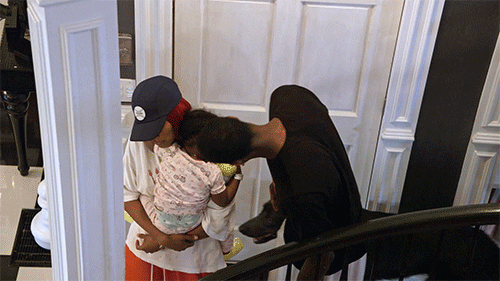 While it might seem a bit redundant to have wholeness and completion listed as signs of peace, even when shalom is broken down, the words are separated. I get why too. It's because while complete does mean "having all the required or customary characteristics, skills, or the like", it also means "thorough", "consummate" and "uncompromised". Let's break all three down a bit, shall we?
Thorough. When it comes to relationships (really, when it comes to almost anything), very few words are literally gonna make me literally tingle more than proactive and thorough. A thorough person pays attention to detail. A thorough person isn't negligent. A thorough person is extremely careful when it comes to what they say and do. And a person like that? How can they not be seen as a source of peace?
Consummate. You wanna know why couples can get their marriage annulled if they never had sex? It's because sex is considered to be what completes their wedding day. Yes, to consummate is to complete. It's also to fulfill and to fulfill is to satisfy. It's very easy to feel peaceful in a relationship when you also feel satisfied with the person you are with. Not that you are needy (needy people are like a bottomless pit); that your needs are being met — the needs that you've clearly expressed and your partner has verbally agreed to meet.
Uncompromised. Whenever I think of the word "uncompromised", I think of character and stability. While again, no human being is perfect, someone who operates from a space of being uncompromised is someone who says what they mean and means what they say. You can trust them because they are dependable, reliable and steady. And how can you not feel totally at peace with a person like that?
Restoration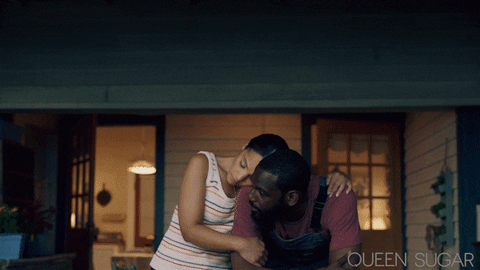 One more. Y'all, let me preface this final word by saying, it is no one's job to save or restore us. EVER. That is God's task and even then, we've got to be willing to do a lot of work, along with his help.
So, when I say that a sign that you're with the right person is that they will bring you peace and that a definition of shalom-peace is restoration…"encourage" is what I think of. The right guy will encourage you to come back to a place of health or vigor if you haven't been there in a while. The right guy will encourage you to return to an original state if you've felt lost or like you've been unclear about some things. The right guy will encourage you to improve, repair and strengthen (all words that are synonyms for restore) the areas of your life that need them. There will be something about that man that will always motivate and inspire you to want to be better — to get back to what makes you your absolute best.
Y'all, there's a reason why I entitled this article using the word "right" instead of something like, "a sign that you're in love". It's because loving someone doesn't mean that they are right for you (trust me, I've got a few T-shirts on this point). When someone is right, they are good. When someone is right, they line up with facts and truth. And when someone is right, a part of what comes with them and your relationship is peace. Loads of peace.
I'm not sure why peace is so underestimated in relationships. Hopefully, you're reading this and possibly sharing it with others will help us to maintain the healthy relationships and release the unhealthy ones. 'Cause chile, if you ain't at peace…if your relationship isn't bringing you peace…what in the world is "right" about it?
Join our xoTribe, an exclusive community dedicated to YOU and your stories and all things xoNecole. Be a part of a growing community of women from all over the world who come together to uplift, inspire, and inform each other on all things related to the glow up.
Featured image by Getty Images
Keep reading...
Show less
Recently, someone wrote me to ask one specific question: "How is it that you can keep finding content on vaginas to write about?" Heck, if I know, chile. For one thing, they fascinate me. They just do. Plus, I figure that since our vaginas are a part of us and everything from head to toe makes us special, it's important that we have as much information as possible when it comes to learning how to properly care for our genital region. And since we are well into the summer season and it's hot as all get out, there's no time like the present to bring up a few tips that can keep "her" cool, calm and honestly, drier.
Let's get to it. Here are 12 tips that can keep your vagina in great shape, no matter what you and "her" plan on doing from now through Labor Day (well technically, September 22, which is when the summer season ends this year).
1. Go Commando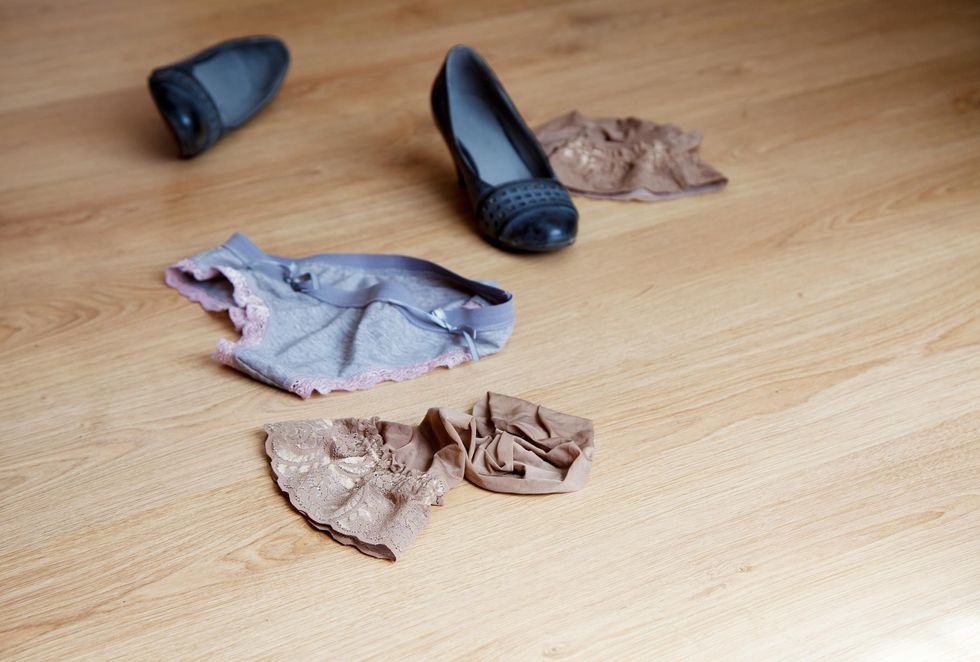 Hopefully, you're already sleeping naked more times than not since it decreases stress, helps to keep your skin healthy and can even boost your self-confidence levels. Something else that going to bed with nothing else on does is promote vaginal health. The reason why is because since our vaginas are naturally full of moisture and there is a certain amount of yeast that's inside of them, we have to be careful that we don't allow things to get too wet or it could cause the yeast to multiply which could lead to a pretty nasty yeast infection.
You see where I'm going with this, right? When it's hot, we sweat. When we sweat, it gets really wet down below. That's why, it really is OK — encouraged even — to go commando sometimes, even when you're out of the house. And what if you just can't imagine doing that? That's where the next point comes in.
2. Or Get Some Moisture-Wicking Undies
If for you, wearing underwear is an absolute must, invest in some moisture-wicking panties. These are the kind of undies that are made out of the type of fabric that actually pulls moisture away from your body instead of absorbing it. As a direct result, moisture is able to evaporate easier and quicker so that you don't feel wet all throughout the day.
If you'd like to check out some reviews on top moisture-wicking underwear that's currently on the market, First for Women has 11 of 'em that you can check out here. If you'd prefer to go a bit of the cheaper route, cotton (especially organic cotton) panties are a classic breathable fabric that works.
Oh, and if you're a thong kind of person, definitely avoid the ones that are made out of nylon, polyester or lace. If any kind of panty needs to breathe, it's a thong, so go with cotton or bamboo fabric, and definitely don't sleep in them if you've been wearing them all day long.
3. Make Your Own Vaginal Wash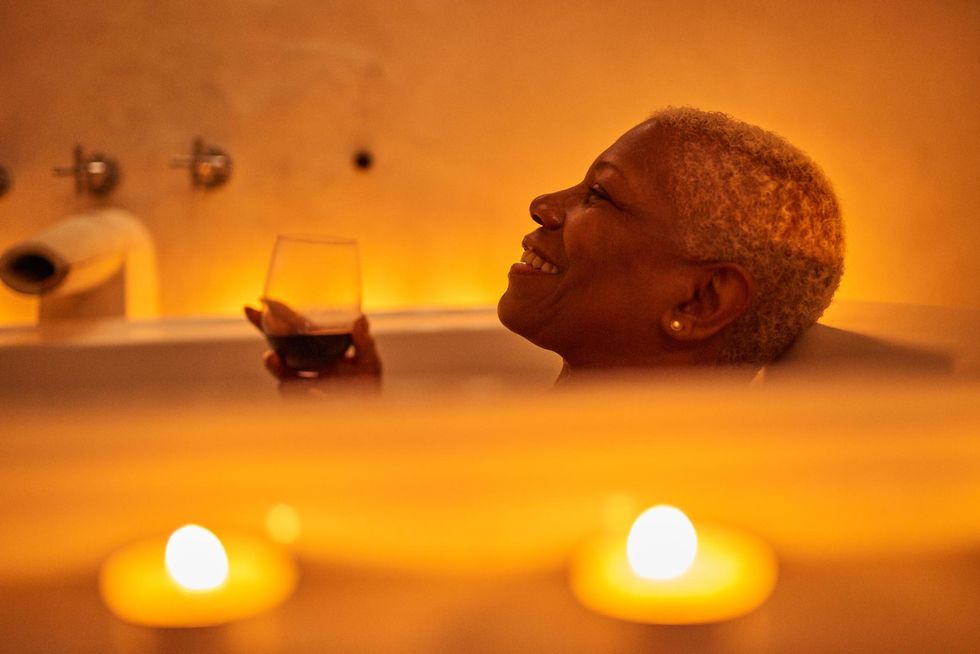 I'm thinking that this probably goes without saying, but just for safe measure, there is no reason for you to wash your actual vagina (the canal/tube that runs from your vulva up to the entry of your uterus which is your cervix); it is self-cleaning which is why douching is an absolute no-no (the ingredients in douches tend to through your vagina's pH levels off balance). And while some health experts say that your vulva (the outer part of your vagina) only needs water to keep it clean, if you're like me and you want some extra back-up, it really is best to make your own vaginal wash. The reason why is because a lot of soaps are way too harsh and some body washes have too many chemicals in them.
If you agree yet don't feel like doing all of the work to make your own cleanser, Black-owned companies like Pangea sell vaginal washes that are pretty good (I've tried it before). Sites like Etsy carry all-natural homemade body washes too. Still, if you'd prefer to go about it yourself and all you need is a recipe, I've got you. Check out "Love On Yourself With These 7 All-Natural DIY Vaginal Washes" that I wrote for the site a couple of years back. It will help to keep your va-jay-jay smelling and feeling fresh all summer long.
4. Up Your Vitamin C and Probiotics
Keeping your vagina in great shape means that you've got to stay on top of your immune system. One way to do that is to make sure that you get plenty of Vitamin C and probiotics in your body. Vitamin C is good for your genital region for a few reasons. It's high in antioxidants which can fight off free radicals and viruses. It contains micronutrients that can help to flush out harmful bacteria. It also helps to increase the acidic levels of your vagina, so that health issues like bacterial vaginosis and yeast infections are less of a concern.
As far as probiotics go, there is such a thing as "good bacteria" and "bad bacteria". Probiotics are loaded with the good kind which is a good thing because they can help to balance the yeast in your vagina, so that the bad bacteria doesn't grow to the point of giving you a yeast infection.
Foods that are high in Vitamin C include citrus fruit, berries, broccoli, potatoes, bell peppers, dark leafy greens and kiwi. Foods that are high in probiotics include fermented foods such as (sour) pickles, sauerkraut, yogurt, miso soup, sourdough bread, kefir and kombucha. There are also supplements for both that you can take. If you want to take a probiotic one, Garden of Life Raw Probiotics Vaginal Care contains 50 billion CFU (colony forming units ) and 38 different strains of probiotics which is pretty darn impressive.
5. Make a Lemongrass and Sweet Almond Oil Ointment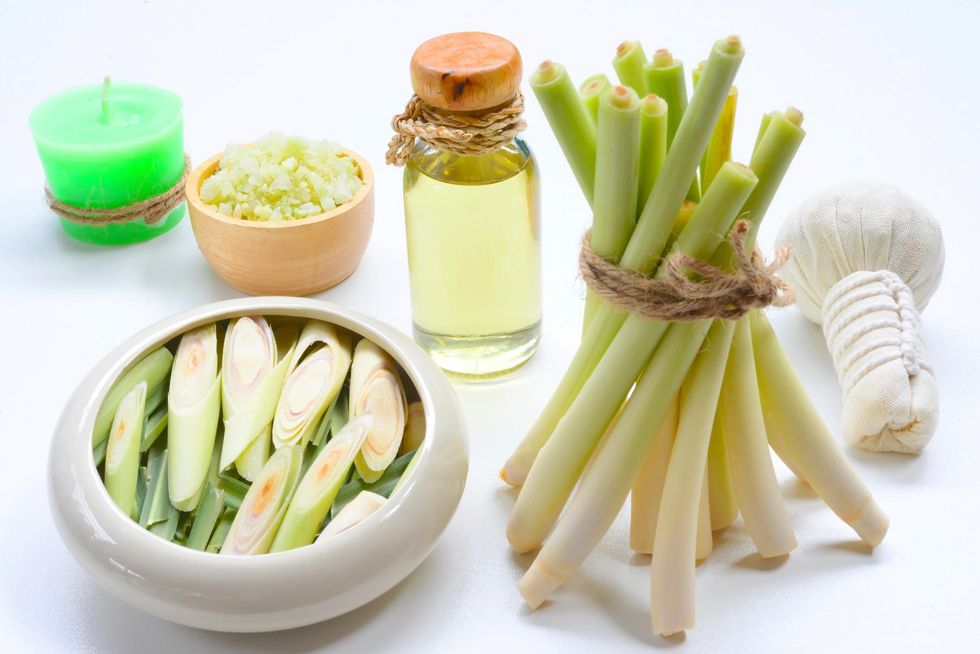 What if you're concerned about vaginal odor? Well, first let me say that if your vagina has an ever-so-mild musky or tangy scent to it, that is pretty normal. If it smells a little like a copper penny, especially around your cycle, that's typically not a big deal. Some vaginas smell sweet; also, no cause for alarm. It's only when it gets into the strong ammonia or fishy arenas that you should be concerned and make an appointment to see your doctor. Still, if sweat seems to make your vaginal region smell a little stronger than you would like, while you should leave your actual vagina alone, you can make a topical ointment for your vulva area out of lemongrass essential oil and sweet almond oil.
Lemongrass is dope because it has a citrus scent (perfect for the summer season), along with antifungal and antibacterial properties that help to fight off the fungus that causes yeast infections. Sweet almond oil is cool because it's a great carrier oil and has a way of soothing your vaginal walls. One-third cup of oil with 3-5 drops of lemongrass added to it and applied to your vulva area only, should do the trick.
6. Try a Little Bit of Vaginal Ice Application Therapy
If you tend to be more active during the summer seasons and all of that exercising, cycling, hiking and whatever else you're doing has your vaginal tissues feeling tender, inflamed, itchy or irritated, something that you might want to try is a little bit of what is called vaginal ice therapy. All it consists of is applying some ice to your vaginal region for 15-30 minute stints, an hour apart, a few times a day. It's a method that can provide instant relief while taking some of the swelling down. If you'd like to try this but would prefer an alternative to ice, you might want to test out Vagi-Kool Reusable Feminine Cold Pack. Just pop it into your freezer for 2-4 hours and it's ready for use.
7. If You Get Ingrown Hairs, Do More Waxing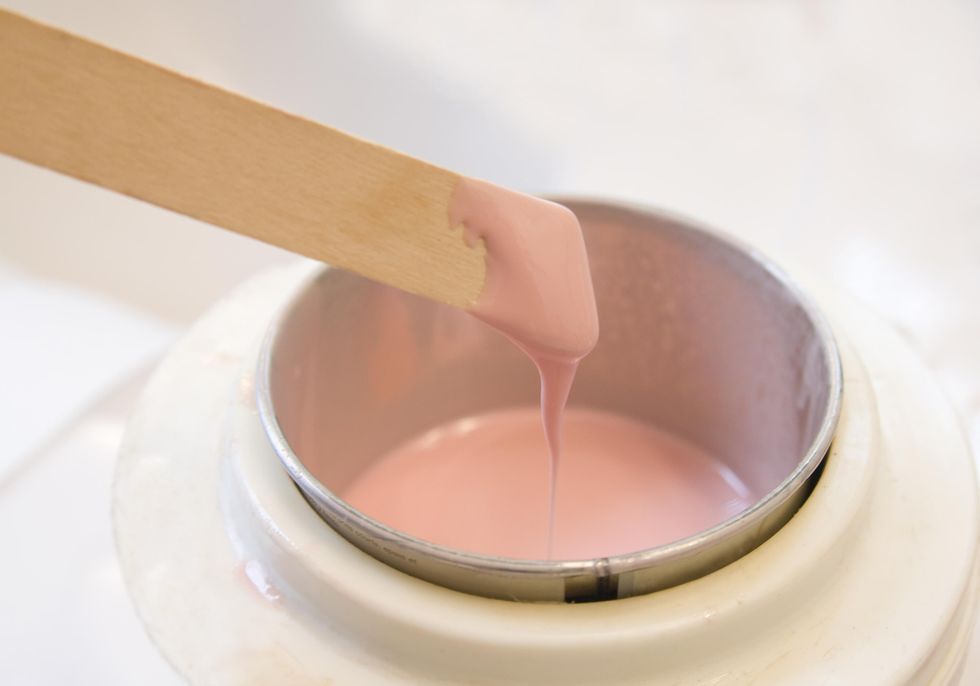 Something that I make sure not to miss, every four weeks, is my wax appointment. The woman who holds me down in this lane was just telling me how she wished more Black women went the waxing rather than shaving route because it really does decrease the amount of ingrown hairs that we get — especially down below. This means less bumps and also less little dark marks that the bumps can sometimes create. So yeah, I'm all about encouraging waxing.
That said, if you'd still prefer to shave, make sure you invest in a really good razor, that you gently exfoliate the area you plan to shave (it loosens up the hairs), that you then soak in warm water for about 15 minutes (it helps to soften the outer layer of your skin and your hair follicles), that you apply some shaving cream (it moisturizes and helps to protect your skin from the razor) and that you DON'T go against the grain of your hair's growth. All of this can reduce your chances of razor bumps (although waxing really is so much better, y'all; plus, you don't have to wax as much because it pulls hair from the root).
8. Soak in Some Apple Cider Vinegar
When your vagina's pH levels (which should be around 4.0-4.5, although it might be higher if you are going through menopause or are post-menopause) are out of balance, that can trigger an infection and/or odor. Believe it or not, something that can keep this from being an issue is apple cider vinegar. That's because it contains properties that are great at keeping your vagina at the acidic level that it's supposed to be. That's why it can be a good idea to take a bath that has 1-2 cups of the vinegar (make sure it has "the mother" because that's the kind that is the most potent) in it. If you soak for 20-30 minutes, 1-2 times a week, it can keep your vagina healthy, all year round.
9. Try a Menstrual Cup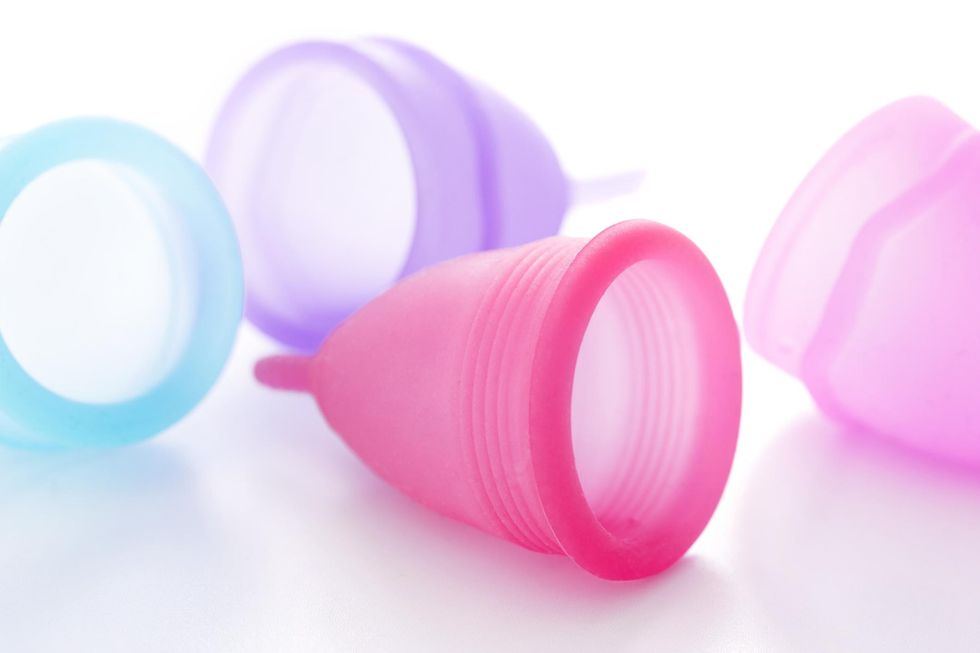 OK. I was late on the menstrual cup train (hate that because they are pretty awesome) and while I'm sold now, I must admit that I'm still a bit on the hunt for the perfect one. Nixit is a menstrual disc that is cool except it won't stay tucked behind my pubic bone (a YouTuber by the name of Vicky Logan has a great review that you can check out here). Merula XL holds a lot of blood but I need something with suction. Intimina is awesome because it's skinny like a tampon. June has suction and is cost-efficient (although it doesn't hold as much blood as others).
Anyway, I really could do an article on menstrual cups and discs at this point.
Bottom line here, though, is if you want to feel basically like you're not even on your period during the summer season, the right menstrual cup could very well be the answer to your prayers. So long as you get the right fit and dump out the blood every 8-12 hours, you can wear and do just about anything you want (including having sex) without worrying about any leaking or period blood smell. Plus, menstrual cups last for about 10 years.
They're awesome in every way.
10. Cop a Tube of Lumē
There's someone I know who, whether it was summer or winter, she pretty much always sweated through her underwear and ultimately her clothing. Sometimes, it would create an odor. Because we were pretty close, I knew it wasn't a personal hygiene issue. She simply sweated a lot and her sweat carried a stench. If you can personally relate and you've never been quite sure what to do, there is a product on the market called Lumē. It's an all-natural deodorant that is specifically designed for underarms and your genital region. Word on the street is it's a type of cream that can stop the smell of bacteria for around 72 hours. You can learn more about it here.
11. Or Apply Some Cornstarch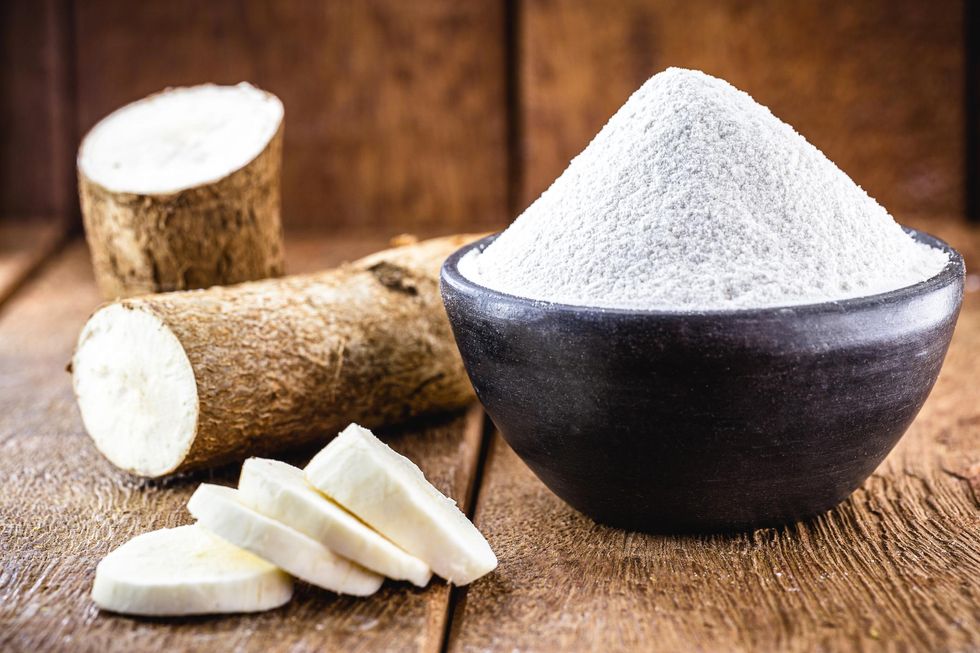 Speaking of absorbing wetness, something else that's super effective and pretty gentle on your vaginal region is cornstarch. Sprinkling a little bit of it onto the crotch part of your panties can help to keep the moisture in that area from drenching your panties; plus, it's so much safer than powder than has a talc base to it.
12. Don't Stay in What You Swim in for (Too) Long
One more. If you plan on being at the pool or beach for the day, you should probably bring along some loose and breathable clothes to change into. Whether it's salt or chlorine water, that on top of the material that your swimsuit is made out of (usually polyester or nylon which doesn't "breathe" very well), on top your sweat, is definitely a breeding ground for a yeast infection to occur. So don't stay in dripping wet anything. Dry off and change. You'll feel better and your vagina will too — all summer long.
Join our xoTribe, an exclusive community dedicated to YOU and your stories and all things xoNecole. Be a part of a growing community of women from all over the world who come together to uplift, inspire, and inform each other on all things related to the glow up.
Featured image by Getty Images
Keep reading...
Show less
One of the things that I like the most about the change of seasons is there are food trends that go right along with them. When it comes to what's popular on plates all around the country this year, what's awesome about pretty much all of them is they are delicious and, if you would prefer to make them yourself, for the most part, they are low-maintenance too. This means you don't have to spend a ton of cash or spend loads of time in the kitchen in order to satisfy your cravings.
So, just what should you be consuming more of if you want your palate to currently be "in style"? (By the way, if you see a hyperlink, it's tied to a recipe. You're welcome.)
1. Big Breakfasts
Most of us grew up hearing that breakfast is the most important meal of the day. It gives us an energy boost. It kicks up our metabolism rate. It helps to control our blood sugar levels. It's great when it comes to maintaining heart health. It helps us to concentrate and be more productive throughout the day. So, how cool is it that one of the biggest summer food trends this year is eating breakfast?
Not just any ole' cereal and orange juice either. I mean, the classic kind of breakfasts that are typically reserved for Sunday brunches or going out to eat. If you'd like a bit of creative inspiration, how about making some veggie breakfast tacos, blueberry and peace oatmeal, a couple of slices of scrambled egg toast, oat waffles or some mixed berry French toast bake? All delicious. All fairly easy to make. And all perfect for a first-meal-of-the-day-during-the-summer-season treat.
2. Strawberry Matchas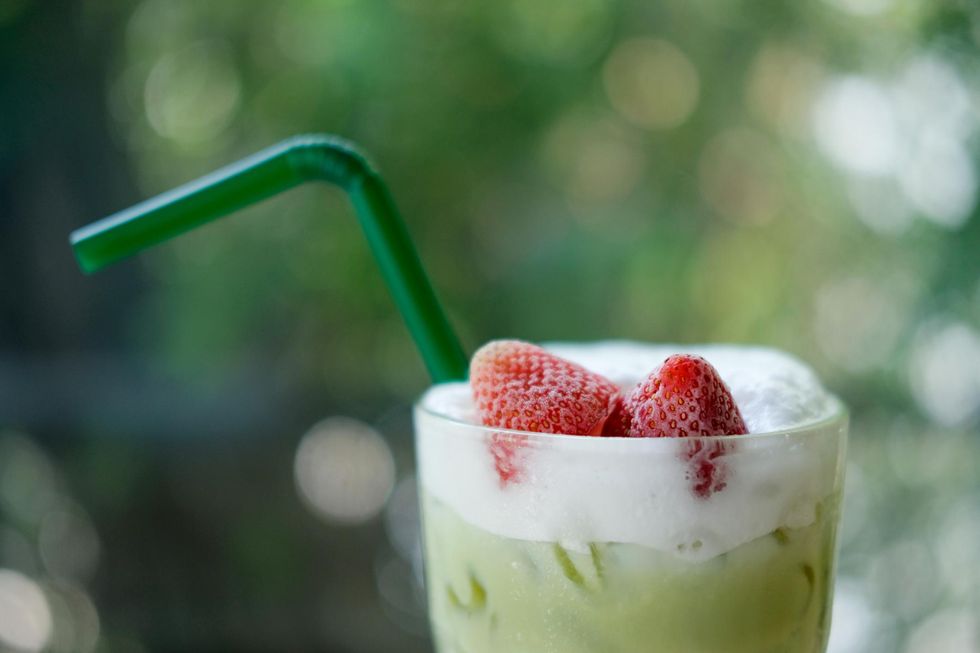 If you've never had matcha tea before, the backstory on it is it comes from the same plant that green tea does; only, it's grown differently. As far as its health benefits go, matcha is good for you because it's packed with antioxidants that are able to fight off free radicals. Not only that but it also contains properties that can strengthen your liver, increase your brain function and can even help you to lose weight. Since strawberries are in season during the summer (and are also loaded with antioxidants and fiber), it would make sense that strawberry matchas are all the rage right now. You can enjoy a strawberry matcha latte, an iced strawberry matcha latte or a strawberry matcha smoothie — all from the comfort and convenience of your own home.
3. Grilled Veggies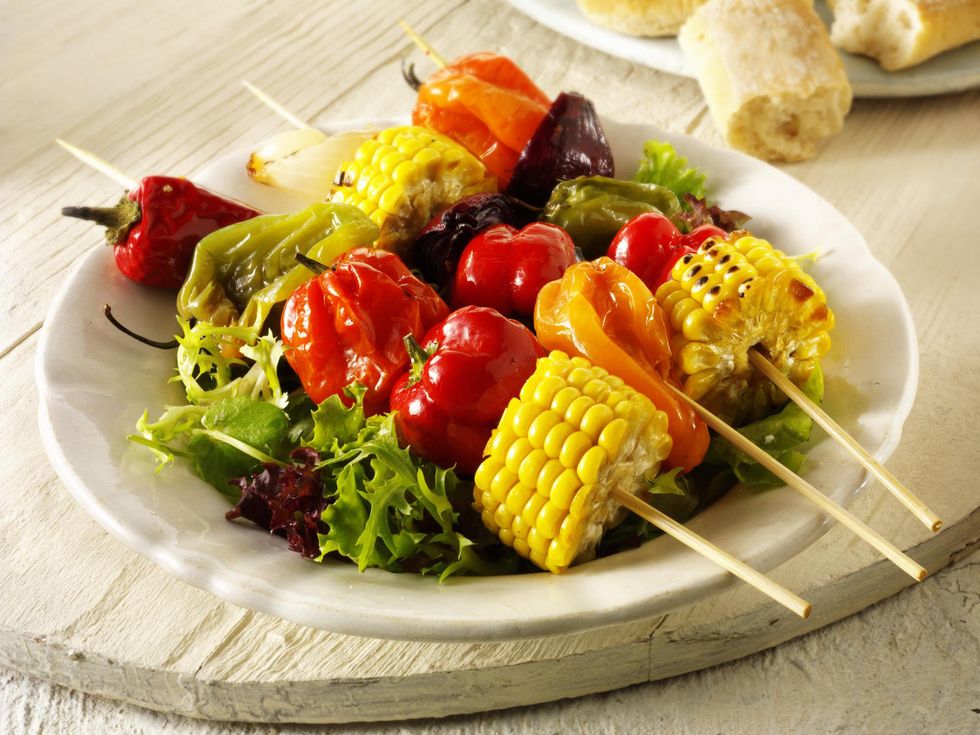 We all know that vegetables are good for us if we want to maintain optimum health. Well, something else that's popular this summer is grilled veggies. I don't know about you, but the first thing that comes to my mind are veggie kebabs (some folks call them skewers). Anyway, if you're curious about which vegetables are currently in season, the list includes cucumbers, carrots, bell peppers (which are technically a fruit yet many folks forget that and they are great to grill), zucchini, garlic, eggplant and shallots.
4. Pickled Foods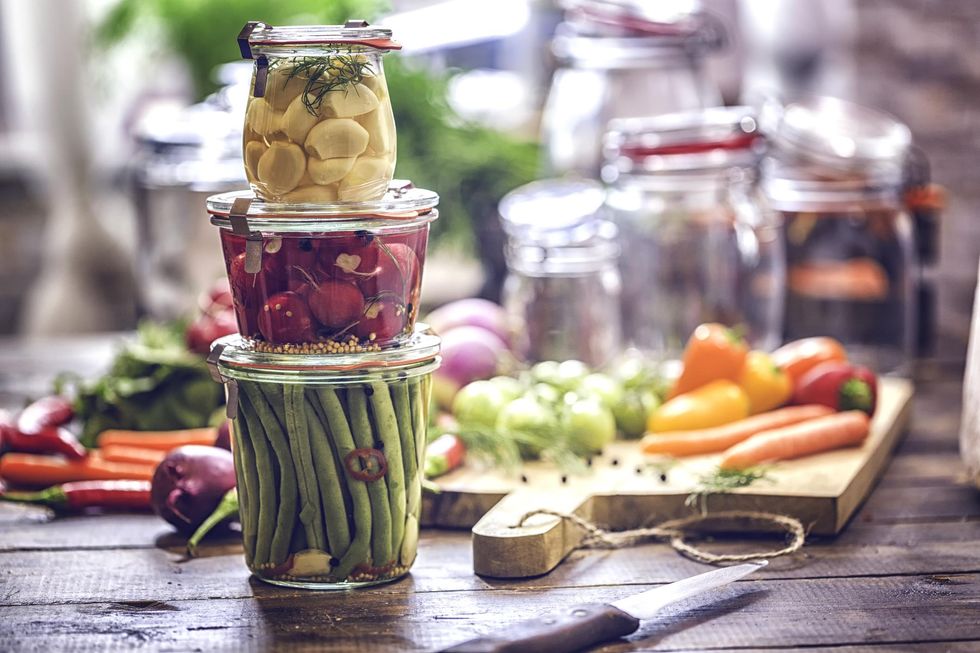 At the end of the day, a pickled food is one that's been fermented by putting it in a combination of water, white vinegar, salt and sometimes a little bit of sugar in order to create a bit of a brine. This is good for you because it contains a lot of good bacteria that's great for promoting gut health. Luckily, pickled foods also made the list this year. As far as the kinds of foods that will give you some of the best pickling results, asparagus, mushrooms, peaches, squash, tomatoes, blueberries and grapes all make the list. For tips on how to pickle properly, The Kitchn has an article that you can check out by going here.
5. Iced Lavender Lattes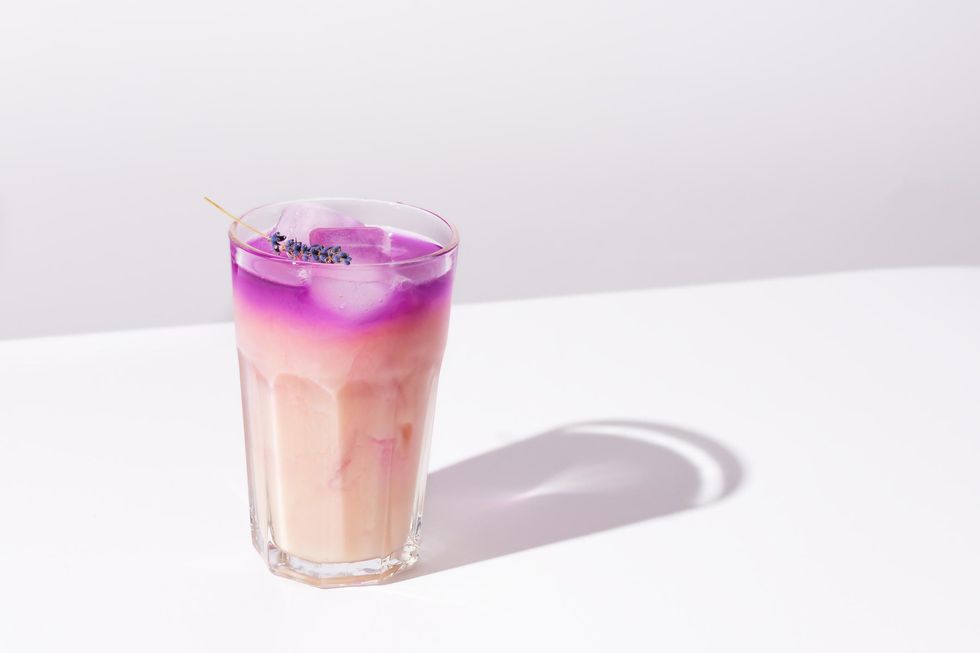 I'm telling you, if you've never had lavender ice cream before, you're really missing out!
While lavender is oftentimes approached from an essential oils angle, consuming dried lavender can be great if you've got digestive issues, if you're looking to reduce some stress or you want an all-natural approach to relieving a headache or toothache.
That said, another drink that is getting a lot of attention this summer is an iced lavender latte. If you add some pure vanilla extract and oat milk, it could easily become one of your favorite summertime drinks. You can cop a recipe for it here.
6. Mediterranean Pitas and Greek Salads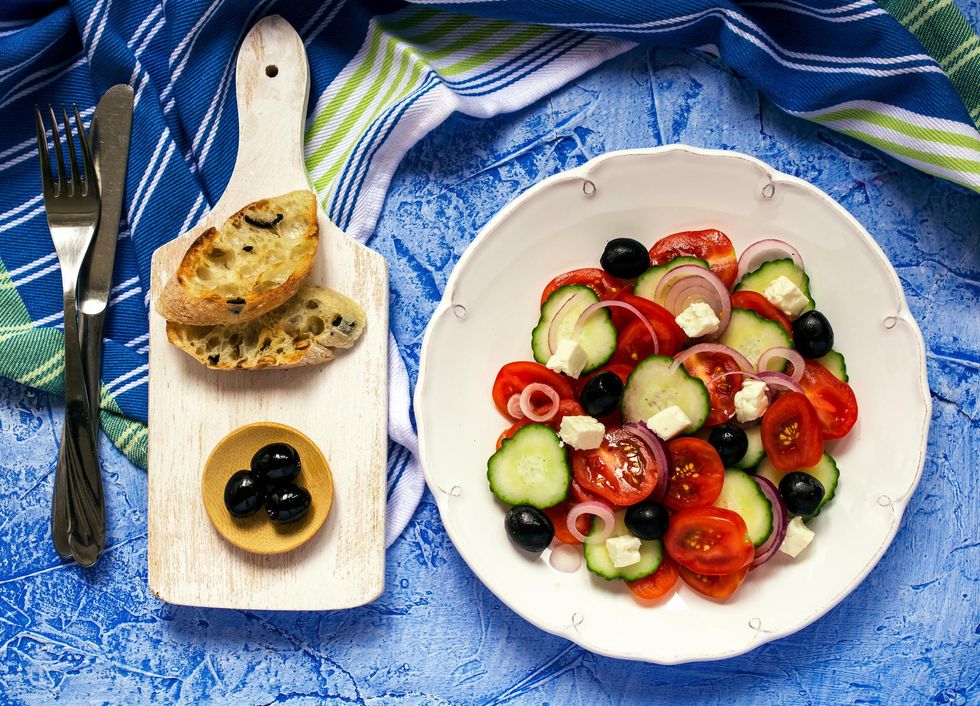 Are you someone who happens to absolutely adore Mediterranean food? If so, that's great because this type of cuisine has a reputation for maintaining weight loss, reducing our risk for heart disease and strokes, decreasing the chances of cancer cells developing, helping to prevent type 2 diabetes and even easing depression-related symptoms. Two types of Mediterranean food that you should get on before the fall season arrives are pitas and Greek salads. Click here for a vegetarian pita recipe and here for one that includes chicken.
7. Rice Rolls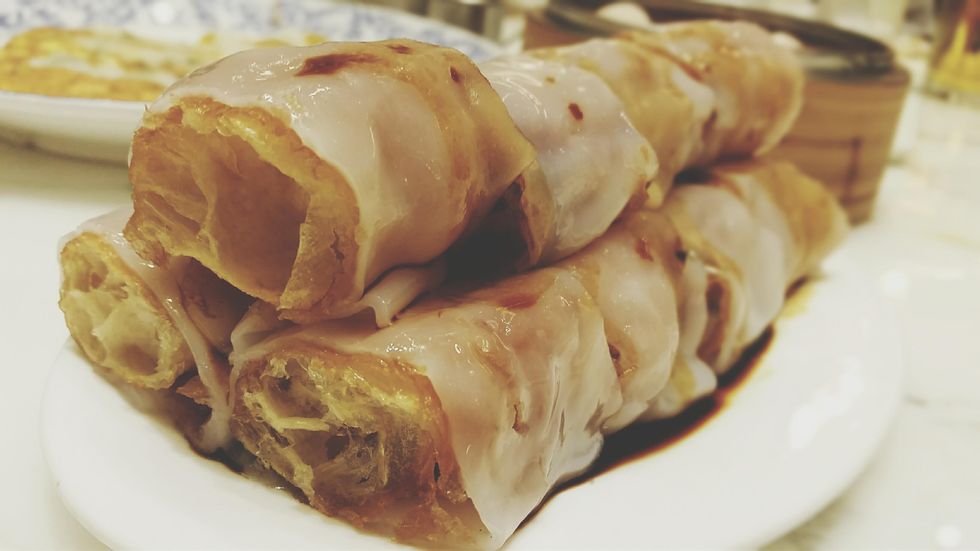 Another big food trend right now is rice rolls. They are a Cantonese dish that's made from a Chinese rice noodle known as shahe fen and is then filled with meat and/or veggies. Some folks prefer them steamed while others like them to be pan-fried. Either way, if you're looking to deviate a bit from your normal palate, rice rolls are a cool way to do it.
8. Vegan Fried Chicken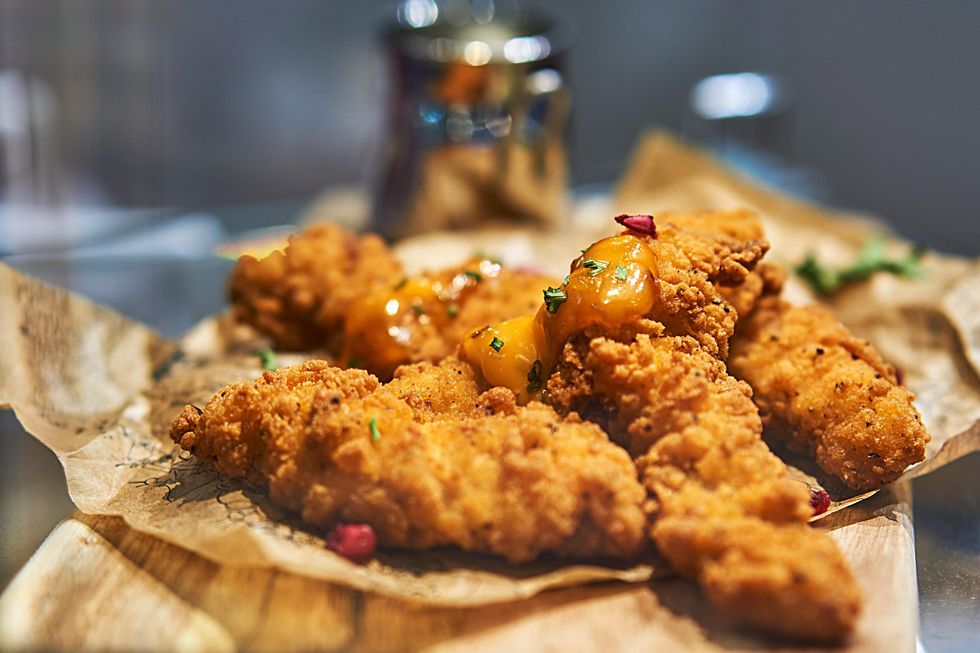 You really would have to be living under a rock that is under another rock to not know that veganism continues to soar. If you've been considering trying it out, but it's super hard for you to imagine life without, say, fried chicken, another big food trend this summer is yep, you guessed it — vegan fried chicken, chile. I'm not a vegan or vegetarian. However, I did grow up Seventh-Day Adventist and that came with all kinds of meat alternatives which means that I can vouch for the fact that some of them (so long as you make sure the gluten, sodium and preservatives aren't totally off of the charts) actually taste pretty good. Word on the street is the site Blacks Going Vegan's Crispy Spicy Popeye's Chicken Style Vegan Fried Chicken is definitely worth giving a shot. If you wanna learn how to make it, go here.
9. Charcuterie Boards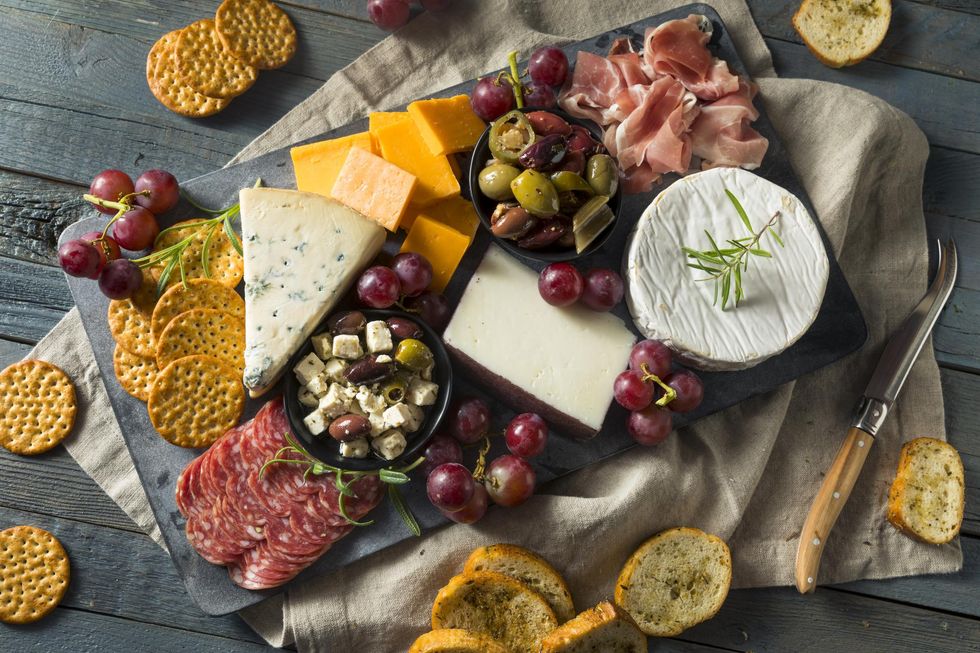 If you've always wondered how to pronounce "charcuterie", it's shar·koo·ter·ee. Now that we've gotten that out of the way, the long story short of a charcuterie board is it's a French tradition that consists of putting together cured meats, cheeses, olives, nuts, fruits and artisan breads such as naturally leavened white or whole grain bread, ciabattas or baguettes. These boards are ideal if you plan on hosting some sort of summer-themed party this year. A lot of restaurants sell them pre-assembled or you can learn how to make your own by clicking here.
10. Homemade Sorbet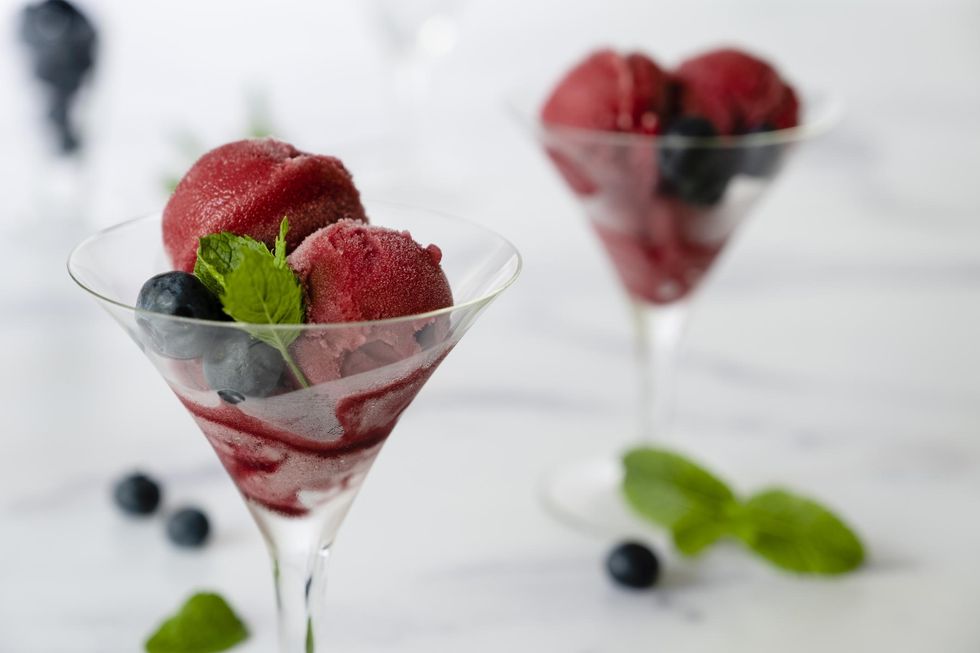 I am unapologetically THE ice cream girl. Although I must admit that the more I learn about dairy, the more intentional I am about finding alternatives, so that I don't overdo it. One that I like a lot is sorbet. If you've always wondered what the differences are between ice cream, sorbet, sherbet and (another goodie) gelato — ice cream contains fat from milk; sorbet consists of nothing but fruit and sugar; sherbet is sorbet with milk added to it, and gelato is a custard-based kind of ice cream. While all of these are the absolute bomb around this time of year, it's sorbet that is getting most of the love in the food trending department. And you know what? You'll be kicking yourself once you find out how easy it is to make. The Flavor Blender has an article entitled "Easy Fruit Sorbet (Only 3 ingredients and so many flavors!)" that is definitely worth checking out. Enjoy!
Join our xoTribe, an exclusive community dedicated to YOU and your stories and all things xoNecole. Be a part of a growing community of women from all over the world who come together to uplift, inspire, and inform each other on all things related to the glow up.
Featured image by Getty Images
Keep reading...
Show less
Whether still dealing with the aftershocks of the pandemic, not being able to get enough time off or money being a little on the tight side is what's preventing you from going on a romantic vacation this summer, who's to say that you can't do a sexy staycation instead? If the mere thought of that feels like a poor man's — or woman's — consolation prize, I promise you that it absolutely does not have to. Opting to stay at home while possibly throwing in a couple of day trip adventures (which is a classic definition of a staycation, by the way) can be loads of fun, super romantic and also really cost effective without feeling mad cheap.
All you need is an open mind, this article and a willingness to put a plan into place as soon as possible. Ready to get started?
1. Tell Everyone You're Going to Be Away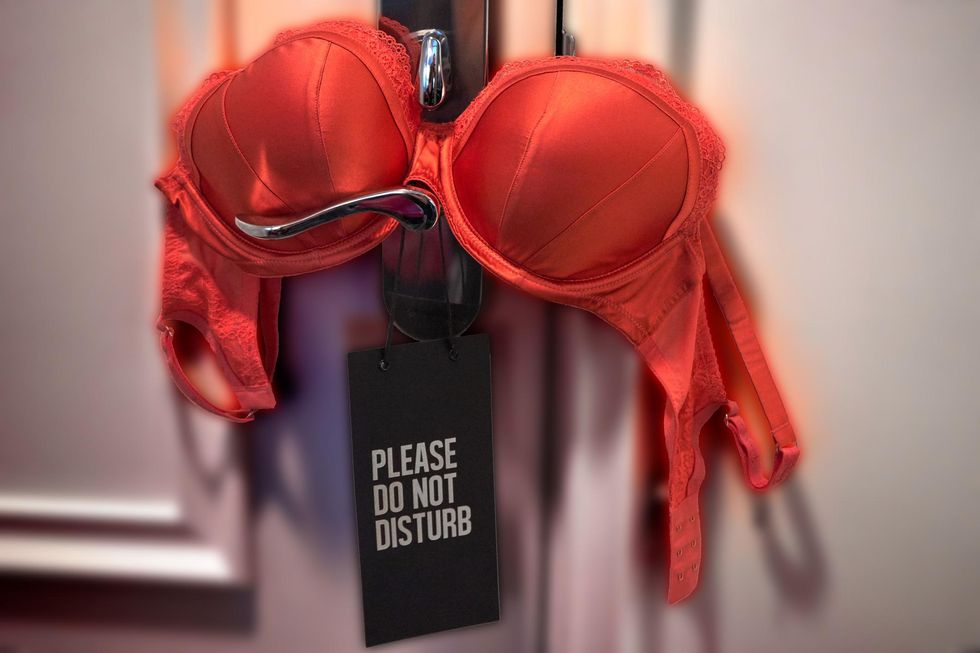 When it comes to putting a staycation together, one of the biggest mistakes that people make is not announcing that they are going to be away for a little while. Listen, even if you're gonna do nothing other than camp out at your home for a week, it's important that family, friends and co-workers don't treat you like you're just a phone call or stop by away.
A staycation is still a form of a vacation, so make sure you let everyone know that you won't be available (unless it's an absolute emergency) once you've got some dates in place.
2. Order Breakfast in Bed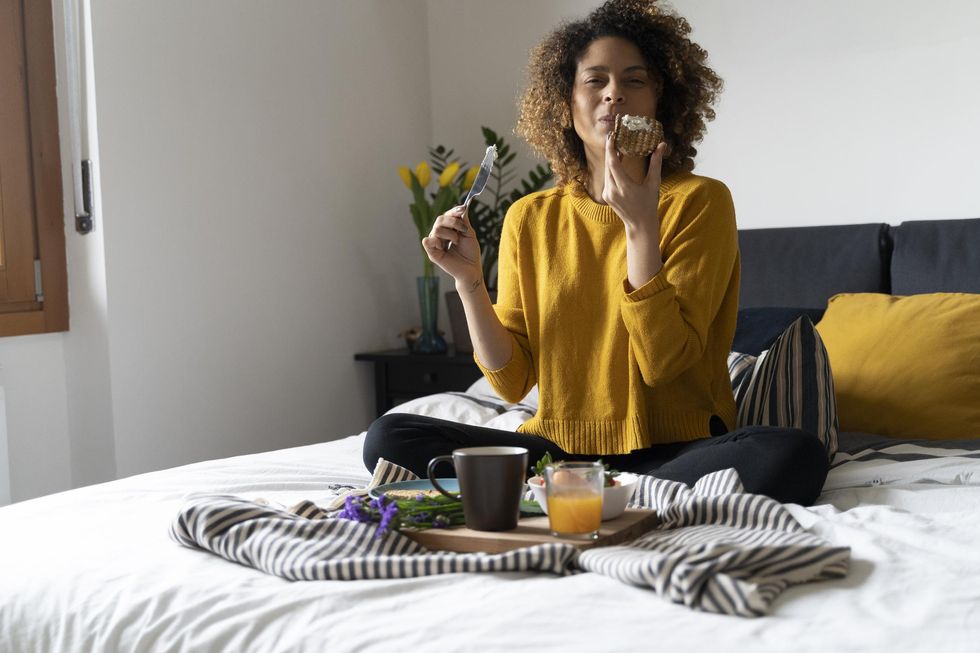 OK. Personally, I like to cook. I also think that cooking dates can be kind of sexy. Here's the thing, though. When you're on a staycation, it's important to deviate from your usual routine, as much as possible, even when it comes to how you get down in your house. A huge benefit that comes with being on vacation is sleeping in, right? So, when it comes to the most important meal of the day, avoid the urge to cook or settle for nothing more than a bowl of cereal. I'm pretty sure you've got some great breakfast/brunch restaurants in your area. Support local businesses and treat yourself by ordering breakfast to be delivered to your house, at least a couple of times, instead.
3. Dine at a New Romantic Restaurant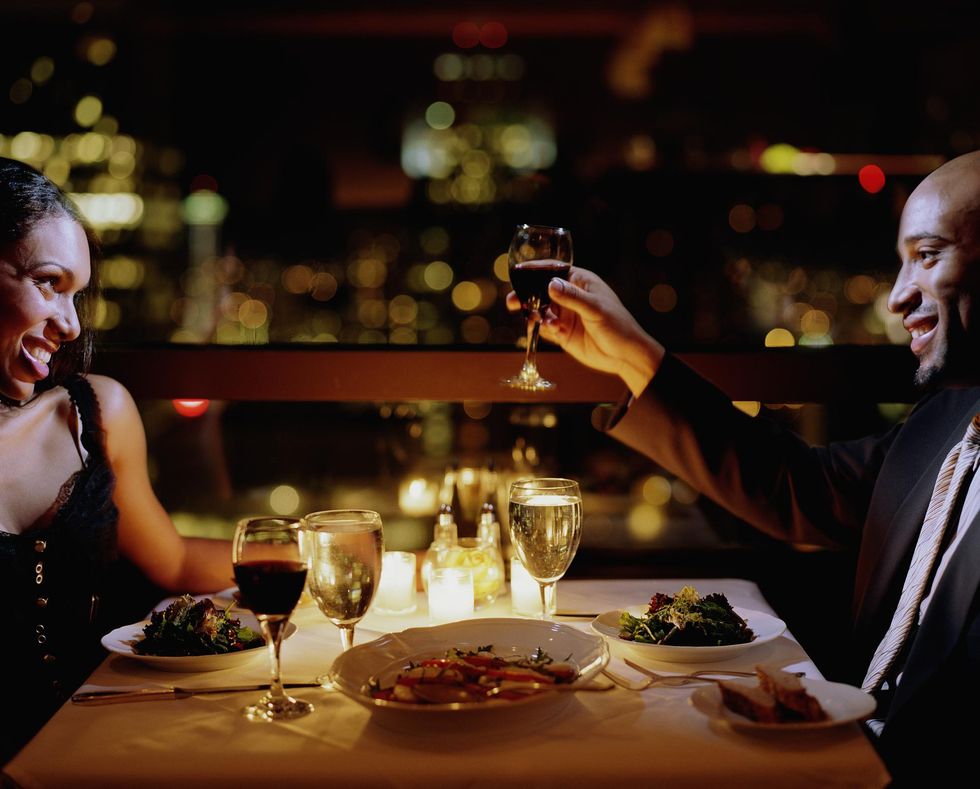 Not too long ago, someone asked me in an interview if going out for dinner can get old for a couple. My answer was, "No. Not if the restaurant requires dressing up and you're not constantly going to the same one." Unfortunately, when it comes to eating out, a lot of us seem to only treat it as a functional outing rather than an uber romantic experience. Avoid being that kind of statistic by finding an upscale restaurant and dressing to the nines. Good food, good ambiance and good company can never be boring; especially when you're on a staycation.
4. See If 'Let's Roam' Works in Your City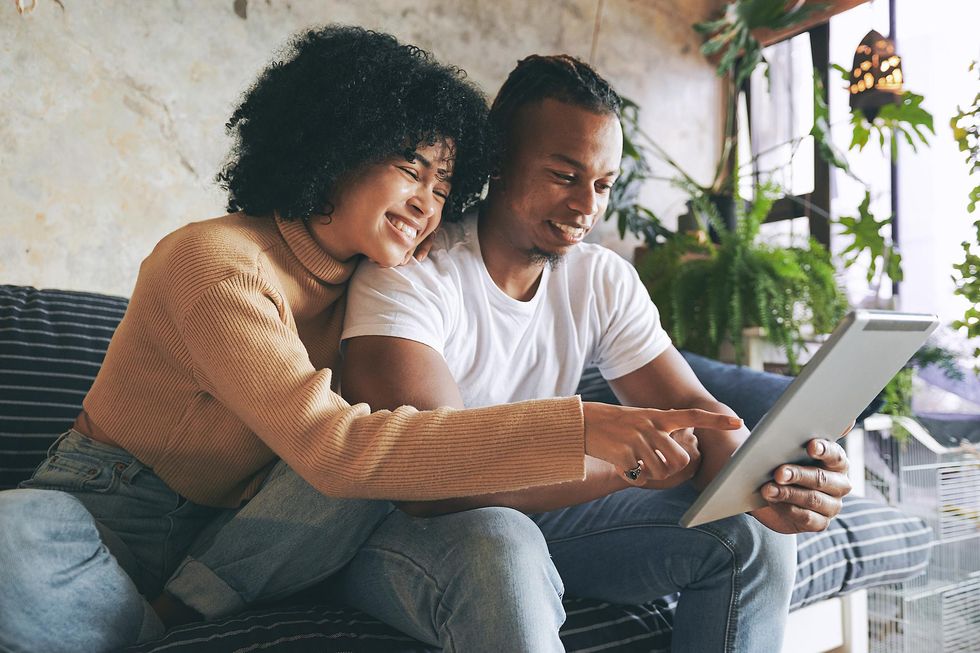 When I take staycations, I promise you that I can never leave the house and be just fine. For those of you who end up feeling a little stir crazy after a day or two, be a tourist in your city — only with a romantic twist. In 300 different cities to-date, there is an app called Let's Roam. The cool thing about it is, for under fifty bucks (for both of you), you can go on a scavenger hunt throughout your city. It could be a unique way to create some new memories. If you're interested in learning more, go here.
5. Upgrade Your First Date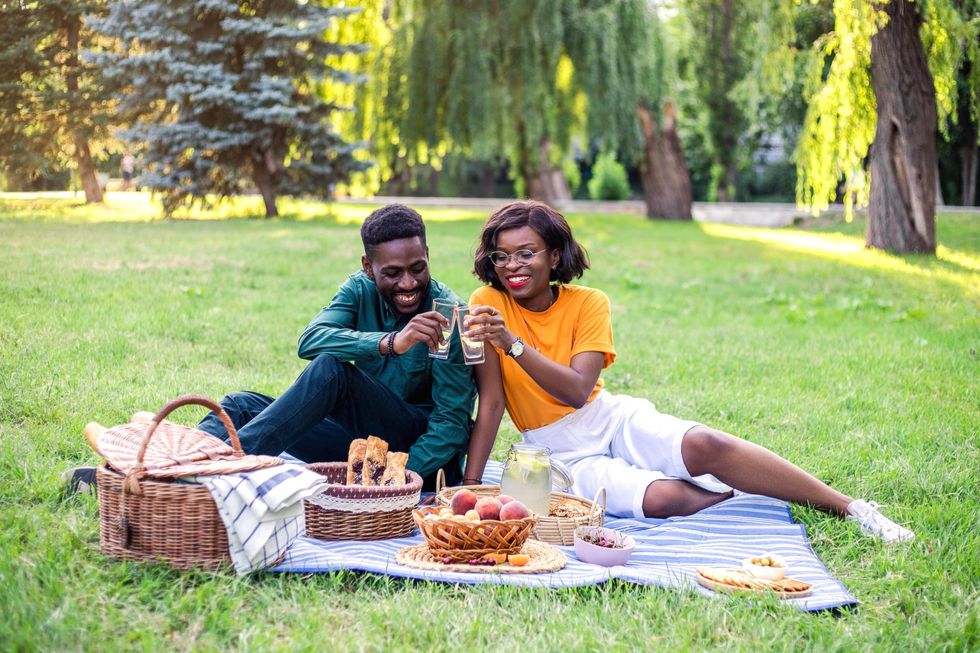 Whether your first date was super extravagant or it consisted of meeting at a coffee shop, there are few things more romantic than revisiting the moment when you and yours officially made a "formal" connection. Thing is, for many of us, as great as the experience may have been, we secretly wish that some tweaks could've been made to make things that much better. During your summer staycation, seize the opportunity by redoing your first date…by upgrading it a bit. If you wish the date had been earlier and longer, make that happen this time. If you would've preferred a quieter restaurant or one with a different cuisine, find a place that fits the bill and go there. If the connection was awesome but the location/venue could've used some work, change the place and wear the same outfit. You get the drift. Upgrading a first date while reminiscing about the actual first date is a form of mental foreplay like no other.
6. Redo Your First Night Together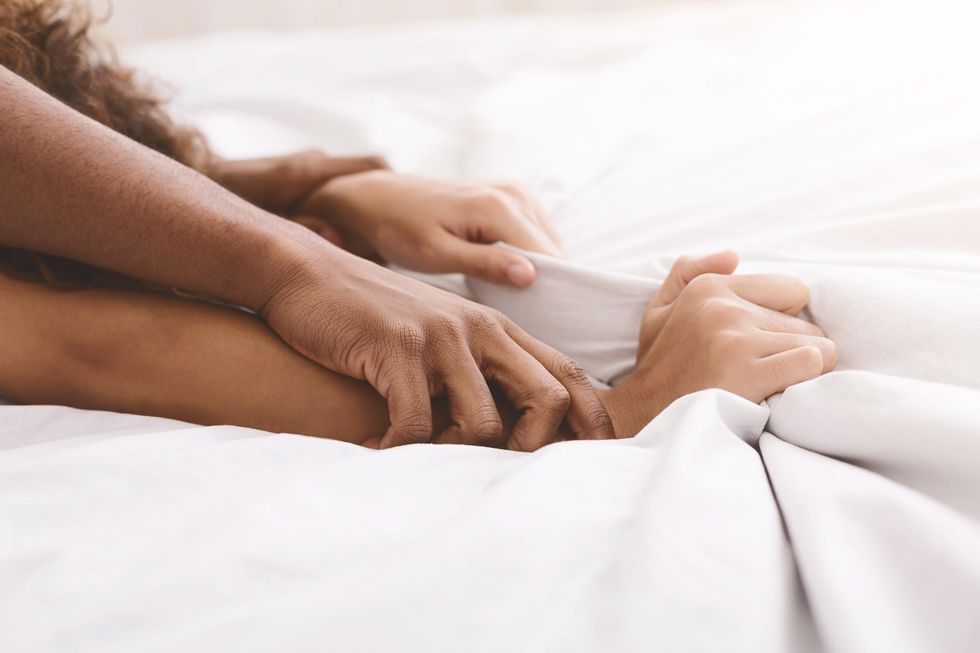 Speaking of foreplay, chile…while we're in the spirit of redoing things, how about replaying your first night together too? The key here is to not make either one of you feel self-conscious by critiquing what could've been done differently or better. It's more about first discussing all of the amazing memories you recall from your first experience with each other and using that as a way to mentally go back to that time, in order to enjoy each other all over again.
The mind is the biggest sex organ we've got. You'd be amazed how merely discussing the first time you were one with each other in that way can take sexual pleasure to a whole 'nother level.
7. Take a Day Trip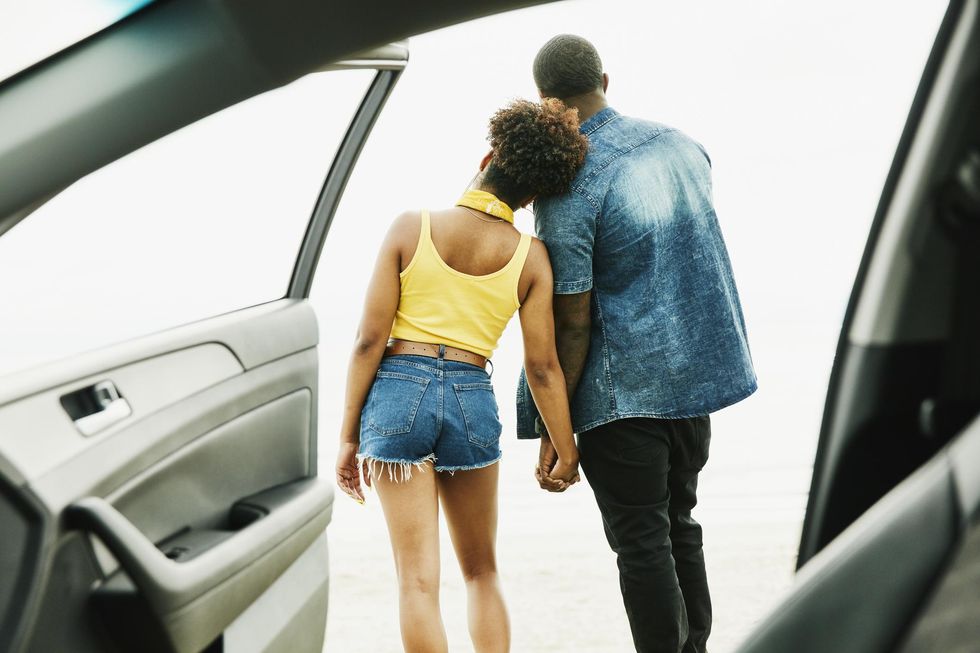 Remember how I said that a staycation doesn't mean that you've got to stay cooped up in your house or even in your city the entire time? Going on a day trip can be romantic too because the time in the car can give you the opportunity to catch up in a way that you may not have been able to in a while. Plus, there's nothing like finding some romantically random bed and breakfast in some quaint little town. If you'd like some help finding one within a 150-300 mile radius to you, bnbfinder and BBOnline can be of some great assistance.
8. Make a Different Cocktail (or Mocktail) Every Day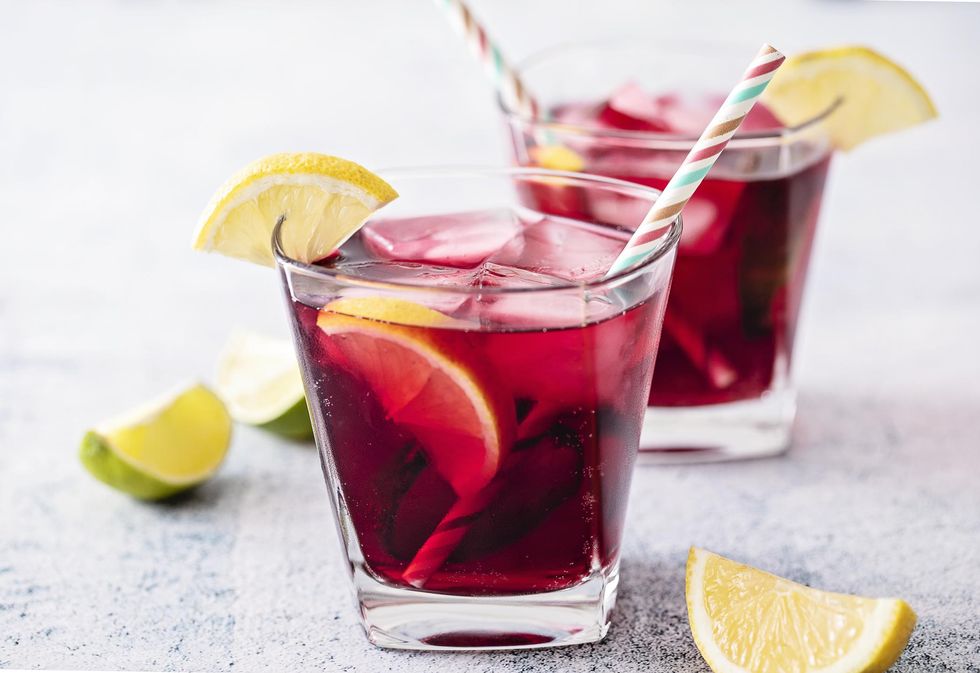 Whether you and your boo decide to stay in bed all day or you stroll the mall, take in a movie and dine outdoors, very few things are more relaxing and delightful than a cocktail or, if you don't consume alcohol, a mocktail (which is basically a virgin cocktail). In the spirit of keeping things sexy, check out "8 Summer-Themed Alcoholic Drinks That Can Boost Your Libido". For some mocktail ideas, go to your favorite search engine and put "mocktail recipes" in the search field.
9. Play Some 'Monogamy' or 'Fog of Love'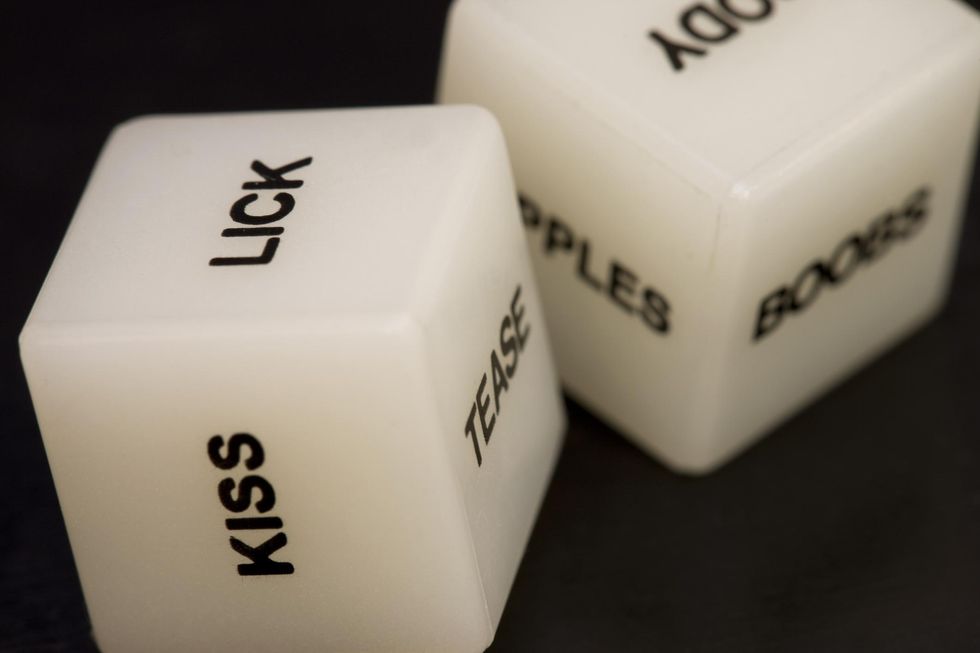 Do you and yours like to play games (the good kind) when you're able to spend some quality time together? If so, two that you may really like are the sex-driven conversational board game Monogamy (you can get it here) and Lovehoney Oh! Sexploration Vouchers 52 Weeks of Adventures (you can get it here); it consists of a deck of romantic and raunchy cards to pull from. If you put on some sexy music, pull out a bottle of wine and make sure that you don't have much on, you'll be sure to have a super entertaining evening.
10. Then Go for a Round of 'Truth or Drink'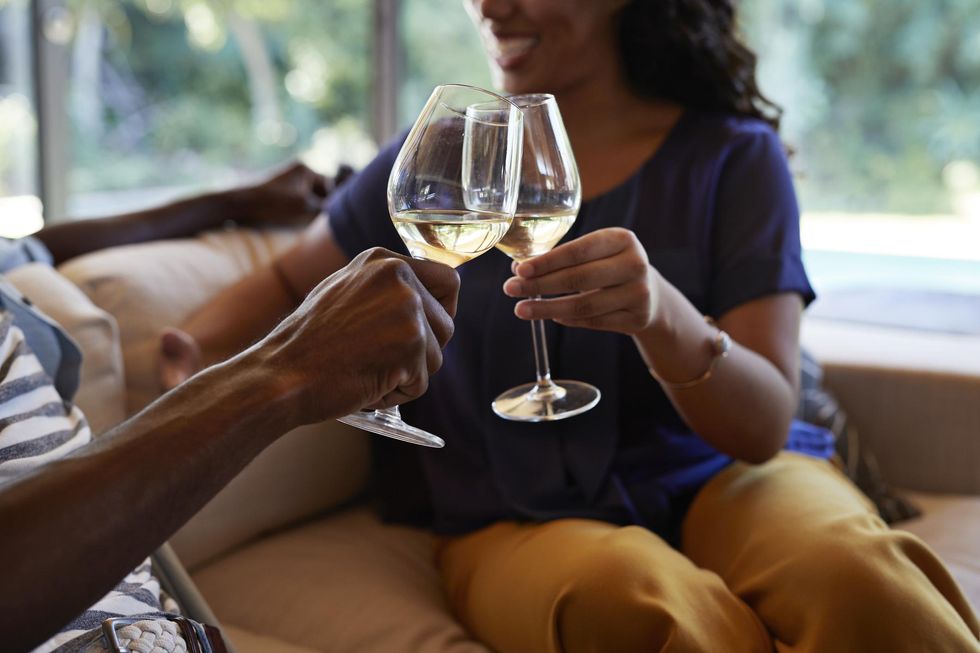 While you've got that bottle out, something else that you might want to do is play a round or two of Truth or Drink. Now, I'll be the first to say that super sensitive or even potentially insecure couples should probably steer clear of this one (especially as the drinks get to flowing). But if your relationship is based on a solid friendship and you both are very open with each other anyway, this game can be a lot of fun because there's no telling what you'll find out about your partner.
As the title of it goes, it's pretty self-explanatory. Each of you gets to ask a question and the other person gets to choose whether they want to answer or take a sip (or shot). If you want to raise up the ante a bit, throw in some sexy dares too. If you'd like some help coming up with some questions, Scary Mommy's site has 145 to inspire you. Check them out here.
11. Enjoy a Night of 'Movie Strip'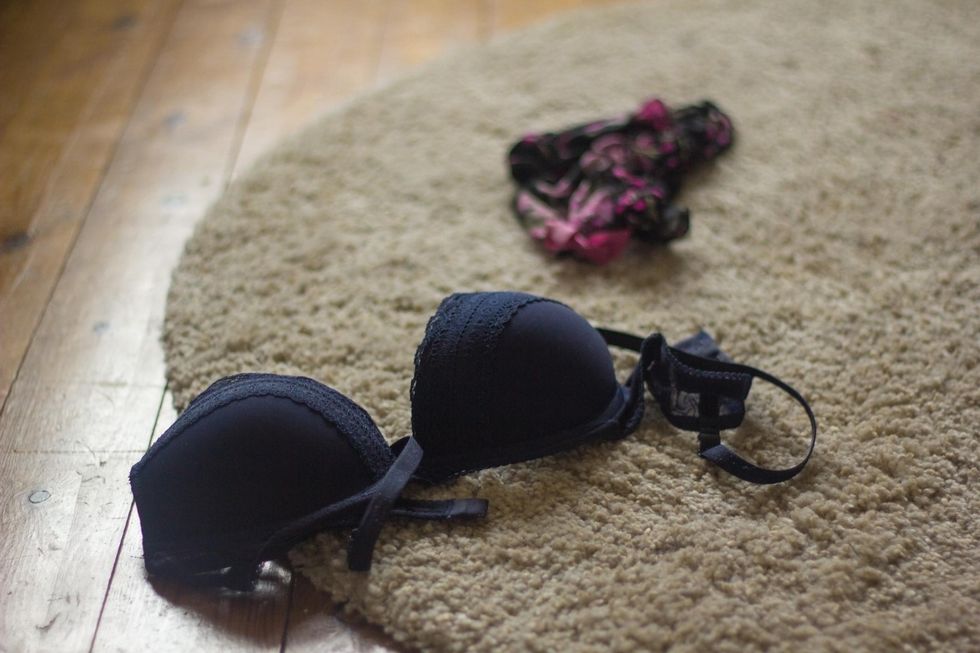 What the heck is Movie Strip? It's another thing that one of my blasts from the past and I used to do.
We'd each pick a favorite movie, watch it and then quiz each other on the details in the film. For every time we got an answer wrong, we'd have to take off a piece of clothing. I'm pretty sure it goes without saying that whoever ends up naked first loses.
Well, sorta. #wink
12. Try to Literally Have Sex All Night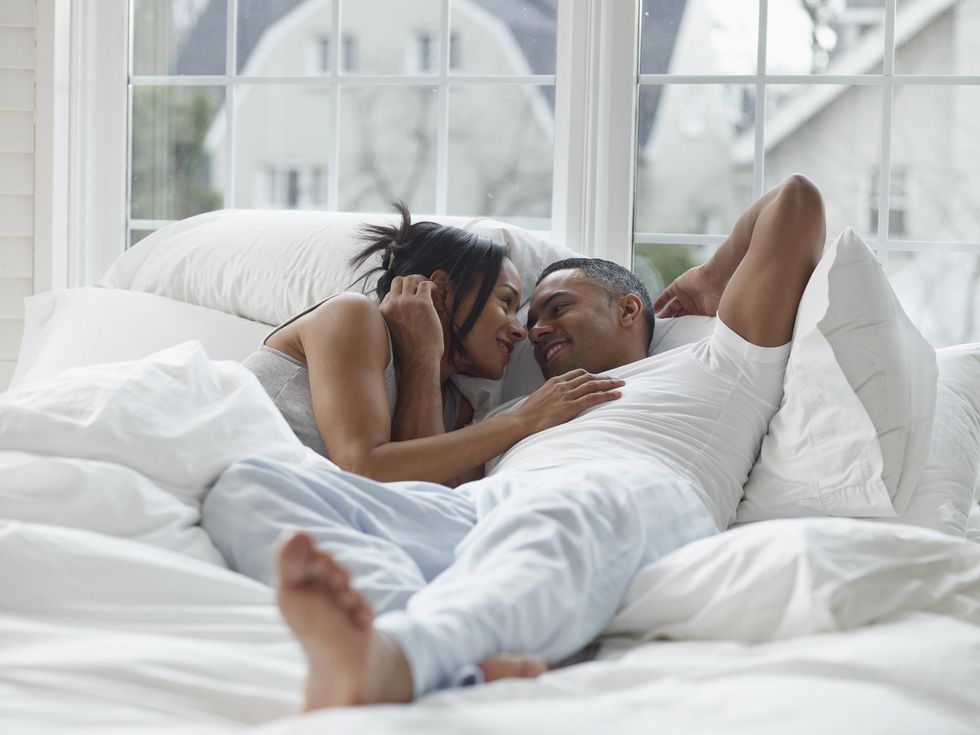 Anyone who knows me knows that very few things make me happier than listening to 90s R&B for hours on end. However, if there's one thing that really does tickle me about a lot of R&B music is the lies, lies…LIES it tells about people when it talks about having sex all night long. C'mon now. Who has the time, the energy or the natural lubrication required to make that happen? Chile, please. Still, when you're on a sexy staycation, it can be enjoyable to see how close to that goal you can actually reach. Shoot, to serve as extra motivation, some sort of prize can be offered to the partner who doesn't "tap out" first. It could be doing a household chore for a week that one of you hates, running errands that one of you likes to avoid — something that makes winning really worthwhile, even after your staycation is over.
13. Have an Orgasm Competition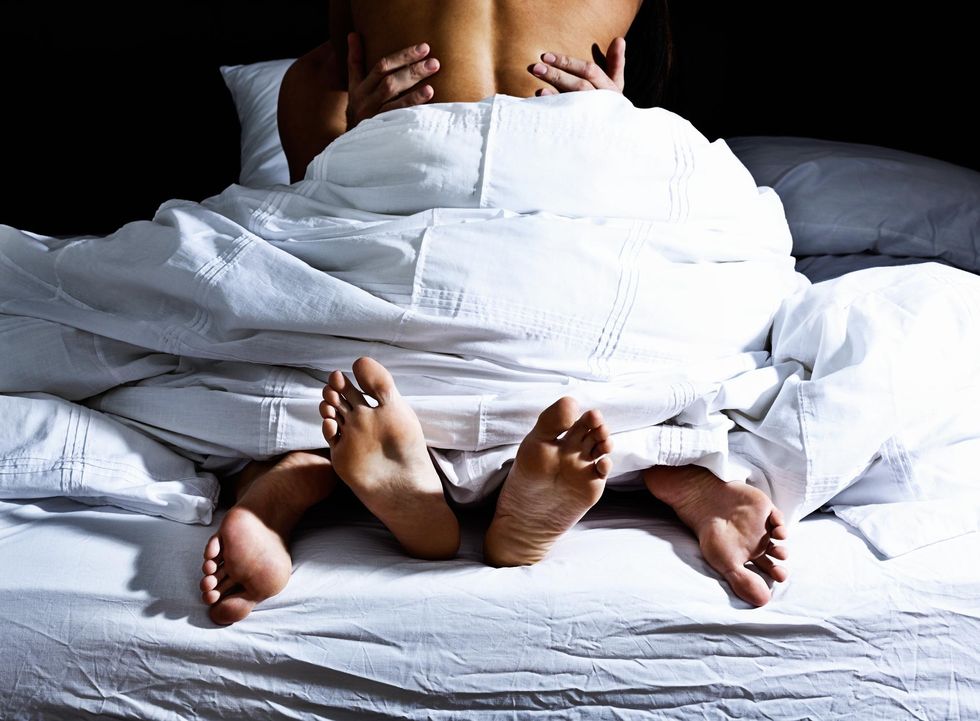 Speaking of being up all night long…back when I was sexually active (le sigh), one of my partners and I used to literally compete to see who could give each other the most orgasms in one sex session (well, one night but you know what I mean). It was actually a strategic kind of "game" because while it can be pretty easy to get the first one off, it requires a bit more finessing, technique and intentionality to enter into the multiple orgasms lane. Nothing beats trying though. Wheeeeeeeew-whee.
14. Stay Naked Most of the Time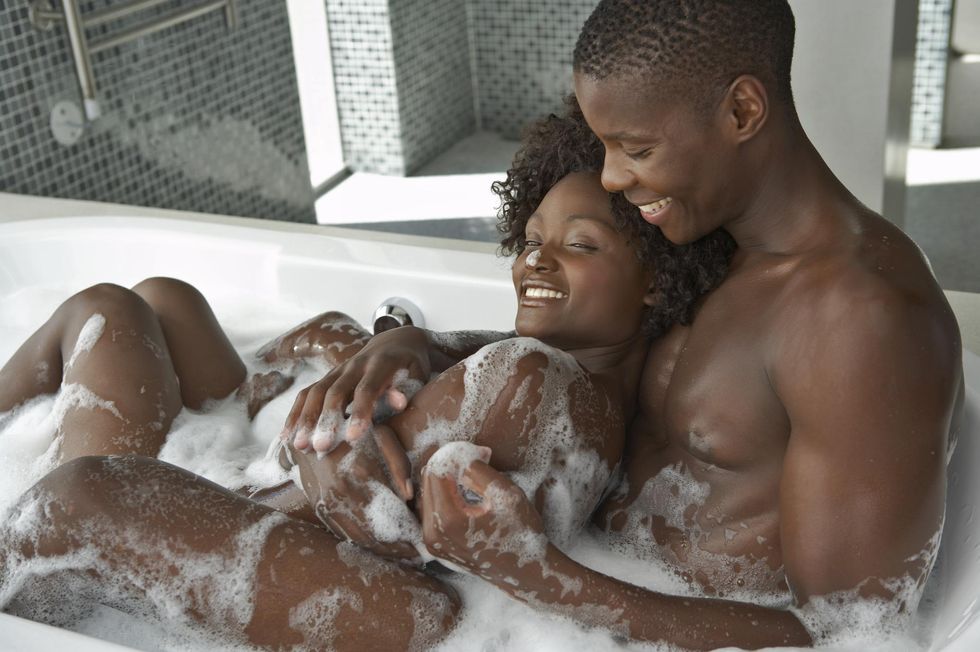 Whenever I'm in a counseling session and the topic of improving a married couple's sex life comes up, it never fails that women want more foreplay while men want visual stimuli to go up a few notches. For some, that means they wish that their partner would play dress up in more lingerie. However, what I tend to hear even more than that is men wish that their lady would be naked way more often than right before it's time to "get it in". Surely y'all are not shocked by that. Still, there's no time like this article to encourage you to disrobe more than usual. I mean, you're on a staycation and you want to make it as HOT as possible so — why the heck not?
Being naked is not only alluring and appealing as hell, it's a great way to keep your body temperature stabilized, decrease your stress levels, make you feel more comfortable with your body image, give your vagina the time and space it needs to "air out" a bit and, it definitely is an entry way to more intimacy.
I live alone, work from home and even I can't tell you how many days you can find me in nothing but a blanket for most of the day. There is something very freeing about nudity. There's also something erotic about it when you're that way with your partner. Even if it's just for a couple of days, take it off, TAKE IT ALL OFF, while you're on your staycation.
15. Pitch a Tent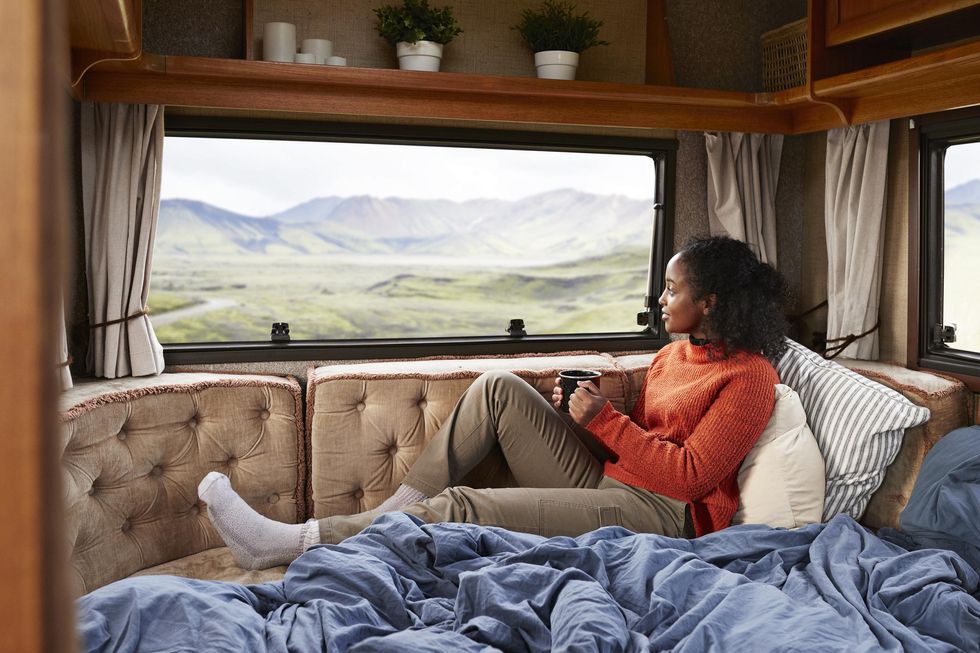 If you've got a private backyard, there really is something sweet about pitching a tent, bringing a few snacks outside, along with blanks and pillows and cuddling up while looking up at the stars until you both fall asleep. It's a super relaxing and very sentimental way to culminate what will hopefully be one of your best vacations ever — a super hot staycation.
Join our xoTribe, an exclusive community dedicated to YOU and your stories and all things xoNecole. Be a part of a growing community of women from all over the world who come together to uplift, inspire, and inform each other on all things related to the glow up.
Featured image by Getty Images
Keep reading...
Show less
Growing up, my mother didn't let me wear make-up. At the time, I was pissed. Oh, but now that I'm deep into my 40s, I'm ever grateful because it's rare that a week will go by and someone won't be shocked when I tell them my age. Meanwhile, a lot of the — I'm gonna be real — white women who I went to high school with? Whenever I run into them, the combination of constant tanning and piling on cosmetics back in the day now has them looking several — and I do mean, several — years older than I.
Listen, I'll be the first to say that a full face of make-up that's been applied well is an art form. And there are certainly moments when I do enjoy rising to the occasion. However, if there is one season of the year when I will give all of that a very hard pass, it's the summer one. Between living in Nashville and enduring this crazy ass humidity and liking the freedom of not having to worry about reapplying stuff or "rubbing off on people", the summertime is definitely when I'm all about moving around with a low-maintenance face.
If that's how you feel and you'd like some tips on how to create one for yourself, I've got 12 really easy and effective ones below.
1. Arched Eyebrows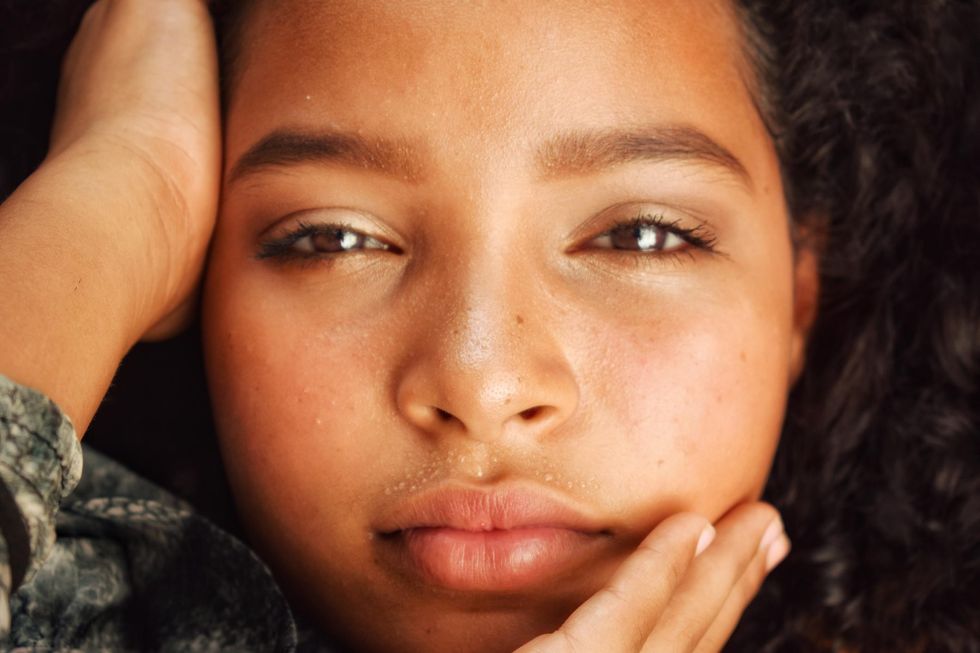 I promise you that if you retain only one point in this piece, please make sure that it's this one. There is nothing that is more beautiful on a woman, whether she's putting forth a natural face or a full-on beat, than well-groomed eyebrows. While I'm actually pretty good at doing mine myself, for the past couple of years, at first, I was getting them threaded; now I'm getting them waxed (mostly because my threading experience is they tend to go too thin and I actually like having fuller ones). A perfect set of brows can make your eyes appear larger (in the best way possible) and brighten up your face overall. So, if you ain't got the coins to do nothin' else on this list, pretty please don't avoid this point. It's a total beauty game-changer.
2. Exfoliant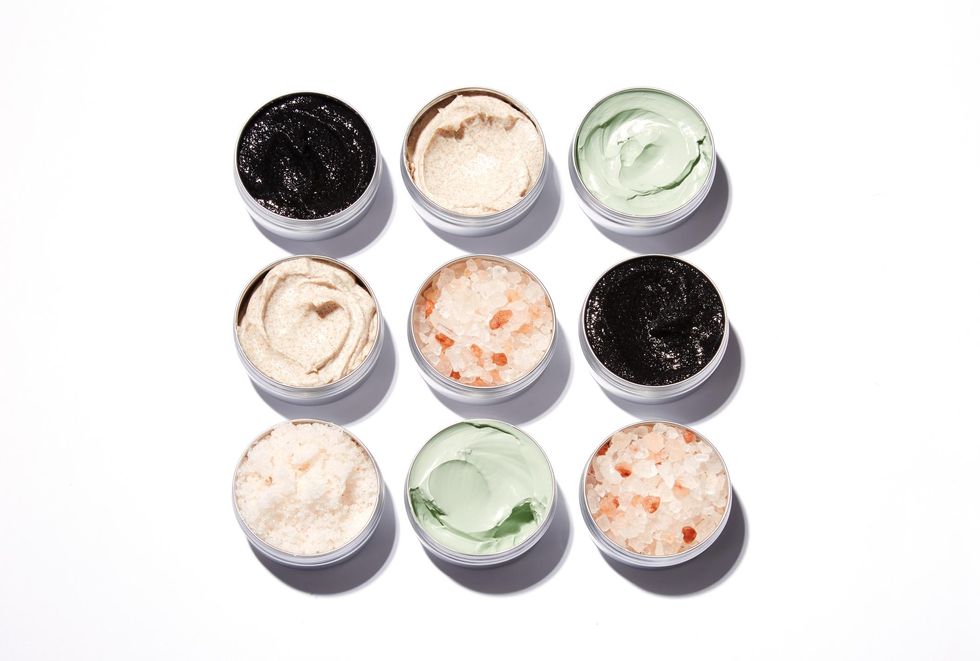 Back when I was in college (and away from my mother), I definitely went all out and decided to wear a lot of make-up; foundation included. For me, it was a frustrating cycle because the more I piled on, the more clogged my pores got, which resulted in more breakouts, which led to more acne marks…which led to me piling on more foundation.
It wasn't until I was in my 30s that I got the memo that if I exfoliated my skin, there would be less of a need for foundation. Why? Because exfoliating does things like remove dead skin cells, unclog pores, soften the appearance of scars, even out skin tone and make skin feel so much smoother — whether you like to wear make-up or not.
For me, sulfur soap has proven to be "that one" when it comes to exfoliating. Yet whether you decide to go with it, a department or drugstore exfoliant or you want to make one of your own (there's a video for how to make one here), definitely commit to exfoliating your face and neck (don't forget about that neck, chile; it can "age" you too if you neglect it) about twice a week. Your face will glow without foundation and it's a great primer if you do decide to put some on.
3. Orange Peels and Almond Powder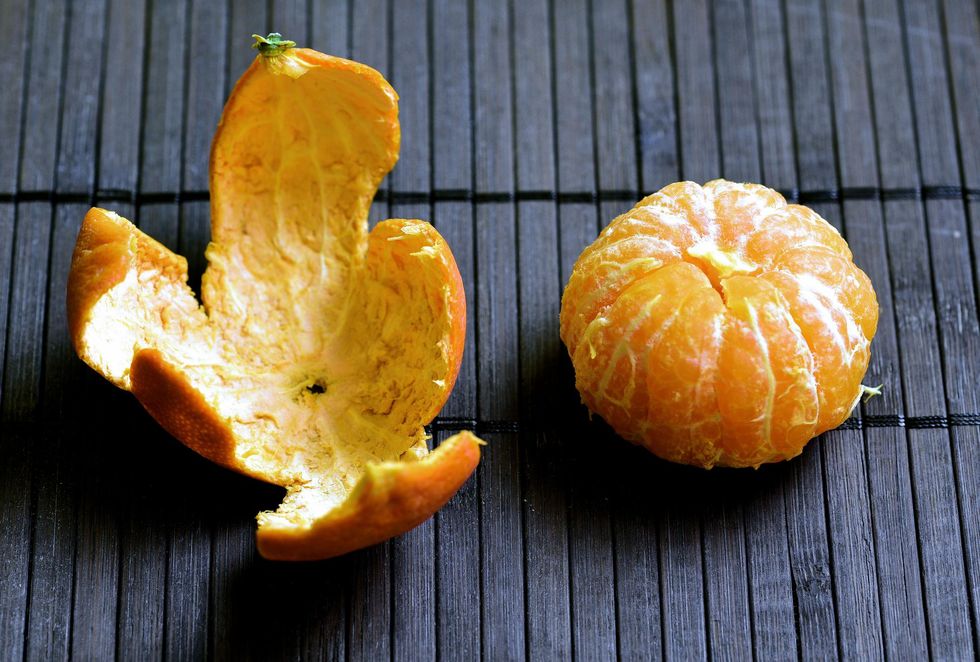 Speaking of exfoliants, if you want to apply a scrub to your face that will also provide it with antioxidants, a collagen boost and, thanks to the almond powder that's in it, it will also be a great source of Vitamin E (which can soften fine lines and deeply moisturize your skin), you should definitely consider making a scrub for your face, neck and body out of dried orange peels and almond powder. Take some orange peels and allow them to stay in the hot summer sun for half a day. Then put them and a handful of almonds into your blender and grind them into a fine powder. Add a teaspoon of turmeric powder (it reduces the appearance of acne scars and helps your skin to glow) and a tablespoon of almond milk (it's another Vitamin E booster and it also helps to deeply moisturize your skin). Apply the mixture to freshly washed skin (that's damp) and gently rub it in circular motions. Do this for five minutes and rinse with first warm and then cool water. Your skin will be baby smooth; much brighter too.
4. Cold Tea Bags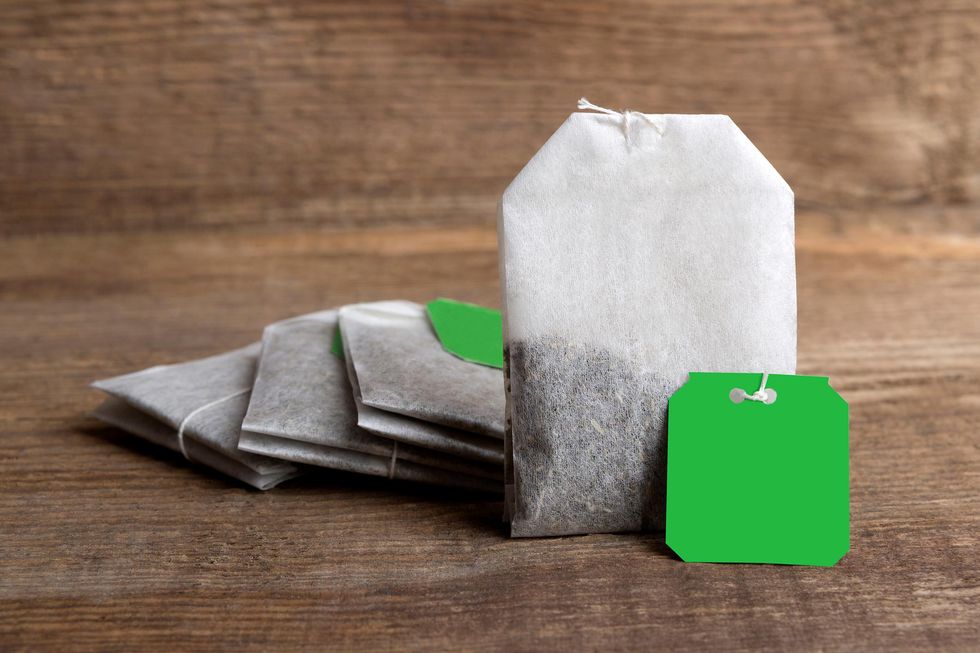 There are a few things that can cause dark circles underneath your eyes. Aging. Fatigue. Genetics. Allergies. Sun damage. Dehydration. Those are some of the top ones. And if you're looking for an all-natural way to make them look less apparent, cold tea bags are the lick. The ones with caffeine in them (like black and green tea) will slow down the blood flow to that area, causing the circles to be less apparent. Herbal teas (like chamomile and calendula) can reduce inflammation. Also, teas overall contain chemical compounds known as tannins. They're great for dark eye circles because they can brighten up your eye area with consistent use. Just boil the bags for 15-20 minutes, put them in the freezer for like 20 minutes and place them over both of your eyes for 15-20 minutes. If you do this once or twice a week, it's a refreshing treat that will give you some pretty impressive results.
5. Rosemary Oil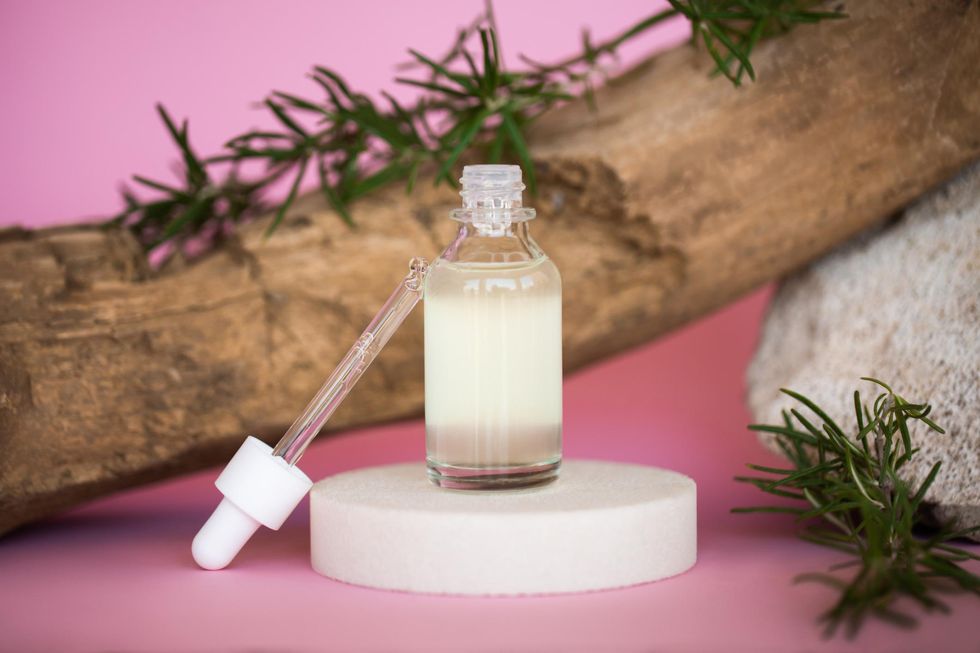 It really does depend on the day, which carrier oil I like the most when it comes to my skin — sweet almond oil or rosemary.
Today, I'm gonna go with rosemary because it contains properties that deeply hydrate; regulates sebum (which reduces the chances of clogged pores and breakouts); soothes skin irritation (which makes it great for eczema and psoriasis); tightens the skin (so that it sags less and appears more supple and firm), and it definitely helps to create a lasting glow without a greasy look or feel.
In fact, rosemary oil is a great go-to if you want to head out without any kind of foundation or powder on yet you still want your skin to be protected from the outer elements. Whether you purchase a bottle of it from your local drug or health store (I actually get mine from Walgreens) or you decide to infuse some oil yourself (check out this video here to learn how), you can't go wrong with applying it to your face and neck. Pretty much ever.
6. Waterproof Concealer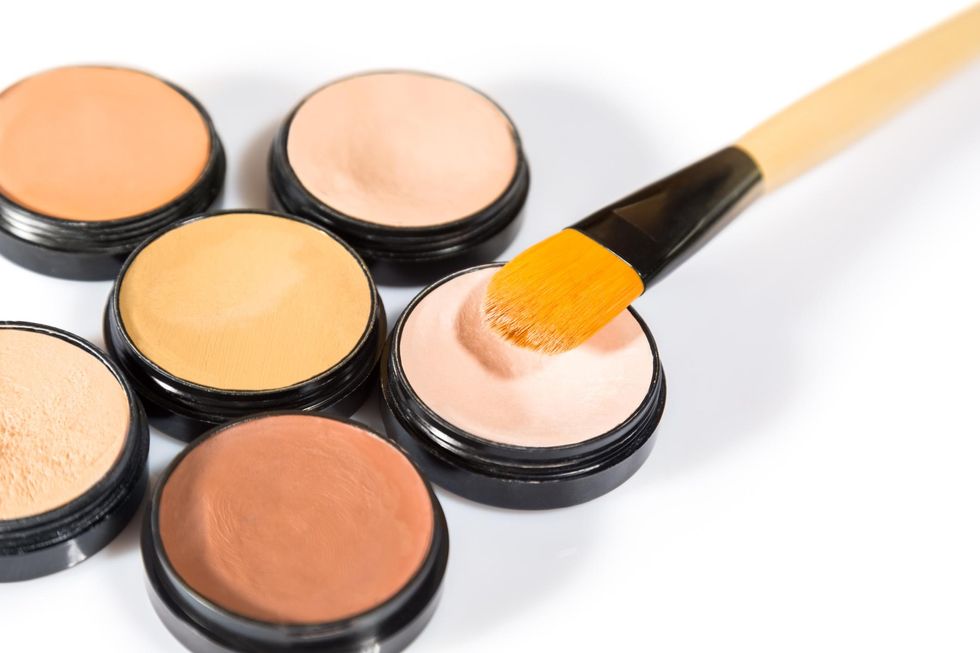 These days, my face is pretty even when it comes to skin tone and having no acne marks. The only exception is when my period decides to leave a parting gift of a pimple that almost always leaves a mark (UGH!). Aside from applying some shea butter at night to speed up the healing process of the zit, something that has brought me a lot of joy is waterproof concealer — and y'all, I am definitely going to shout-out the brand that I use because it's my favorite one, to-date. It's Estēe Lauder's Double Wear Concealer. Y'all…Y'ALL. It's creamy. It's a perfect match (which you know can be difficult for us to find). And it really does stay on through sweat and everything! I won't lie, it ain't the cheapest on the planet (whenever I pick up a tube, it's around 30 bucks). Still, if you want a concealer that looks pretty much just like your skin that you don't have to worry about, that's one that I can totally back up with confidence. And either way, if you want to put forth a flawless face during the summertime, waterproof concealer is an absolute must-have.
7. Cream-Based Make-Up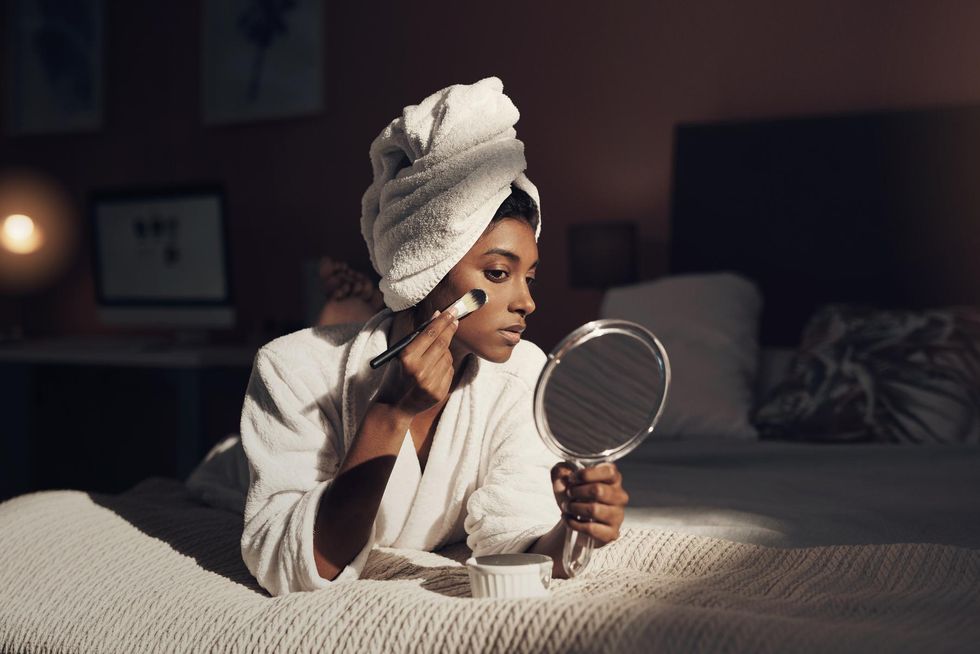 Whether you like to wear make-up just because or you've got a special something coming up and you want to put on a full face for the occasion, definitely go with cosmetics that have a cream base (especially when it comes to foundation, tinted moisturizers and/or blush) during the summer season. Cream bases help to add moisture to your skin, makes it easier to blend in your make-up and it doesn't cake up on your face the way a lot of powder base make-up does. Plus, cream-based make-up can give your skin a dewy look; one that I think looks really spectacular on every woman when it's especially hot outside.
8. Sweet Almond Oil and Rosewater Spritz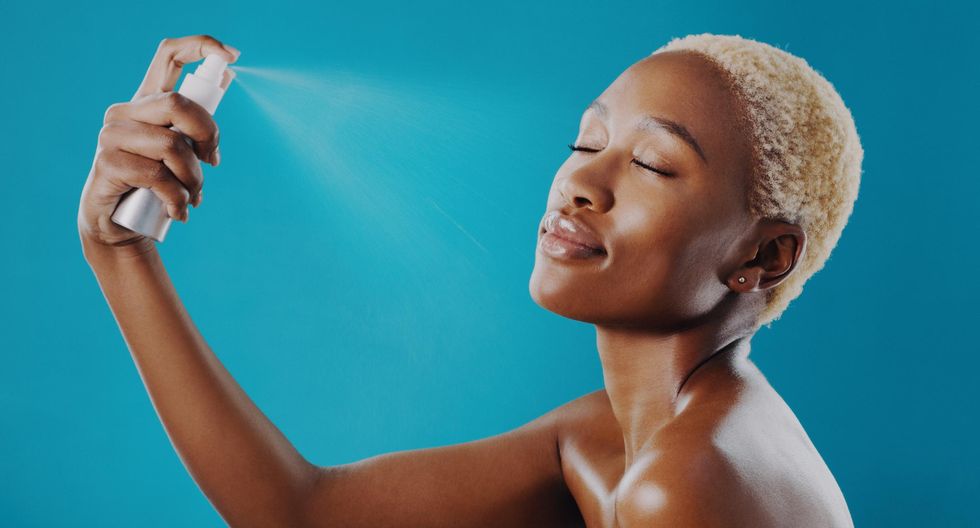 Speaking of looking all dewy 'n stuff, if while you're out, your skin looks or feels a little drier than you would like for it to, give it a bit of a homemade spritz. A very simple recipe consists of sweet almond oil, fresh mint leaves and rosewater. Sweet almond oil is dope because it helps to improve your complexion, soften the appearance of scars, reduce the puffy appearance of your eyes, alleviate acne and, get this, reverse sun damage. Mint leaves (which you should be able to find in the produce department of your local grocery store) contain astringent properties that work to slough off dead skin cells while also hydrating your skin. Rosewater is one of the best things ever for your skin because it also deeply hydrates, contains antioxidants, reduces the appearance of any redness or irritation and helps to keep fine lines and wrinkles from creeping in.
Just put a couple of fresh mint leaves into a small spray bottle (small enough to carry in your purse; you can usually find them at a grocery, drug or beauty supply store) and then fill the bottle about 65-70 percent with rosewater and the rest with sweet almond oil. Let it sit for two days and it's ready for use. Your skin will be provided with all kinds of nutrients and you'll immediately get that sexy dewy look that I've been talking about.
9. Waterproof Mascara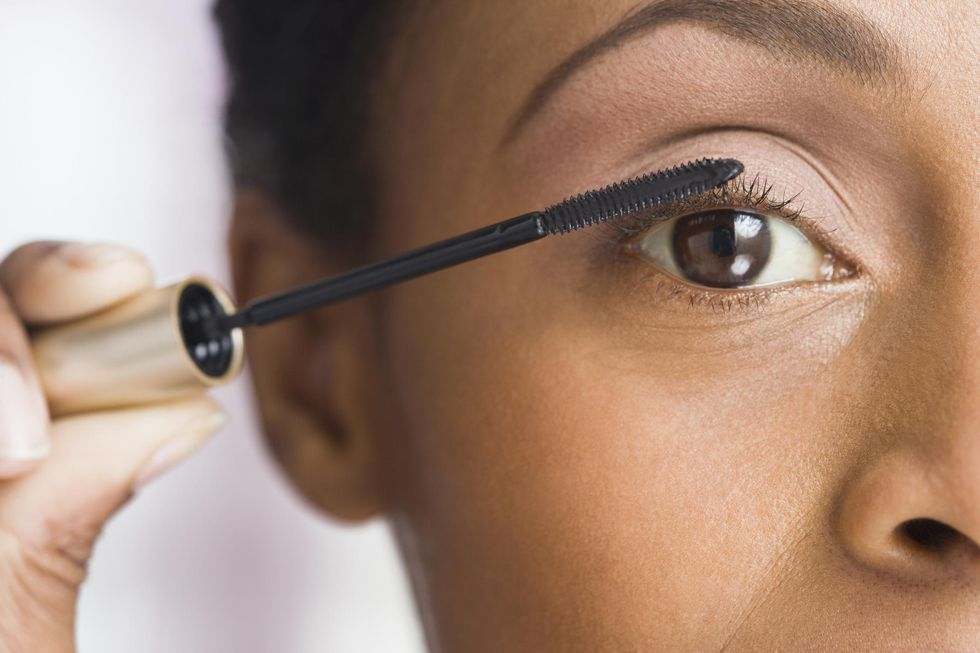 If I was going to list these things in order of importance, honestly, I probably would've shouted out waterproof mascara right under arched eyebrows. Although DNA has blessed me with some pretty nice ones, it's still night and day, the difference that I see, whenever I decide to apply a couple of coats of mascara to them. It thickens my lashes. It darkens them. It elongates them too. The brand that I have stuck with for years now, without absolutely any regrets, is Volum' Express The Rock Washable Mascara. There's something about the plastic curvy wand that coats my lashes perfectly. Anyway, I always get the waterproof kind (especially in the summer) and it's easy to find at your local drugstore or grocery store. Again, if nothing else, arched eyebrows, waterproof mascara — oh, and my next point. Do those and you'll be a natural beauty with very little effort. It's pretty much guaranteed.
10. Colored Lip Gloss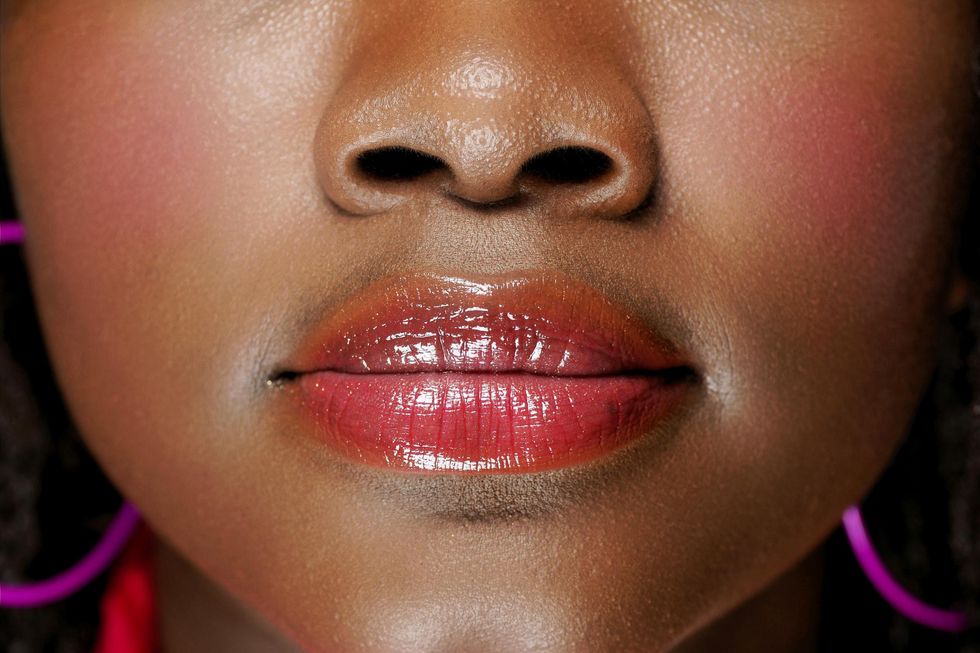 How much do I adore lip gloss? So much that it's mentioned in my bio on this site! I'll be honest, my affection for it is so ridiculous that I can't tell you how many tips I've got at this point.
I personally like lip gloss because it produces a natural shine that makes lips look healthy, moisturized and pretty damn sexy too. Plus, it lasts a long time without having to worry so much about it smearing all over stuff (like lipstick can sometimes do), it's glossy (although you can find different ones to suit your preference texture) and you can find them in delicious flavors if that's totally your thing.
Again, I've got a ton of 'em, but if there's a super inexpensive brand that I would definitely do a commercial for, it's Black Radiance's brand. It provides just enough "pop", it's not very sticky and it comes in hues that are great without lipstick or as a topcoat for it. Lip gloss will have you looking unbelievably kissable, all summer long, sis.
11. Bronzer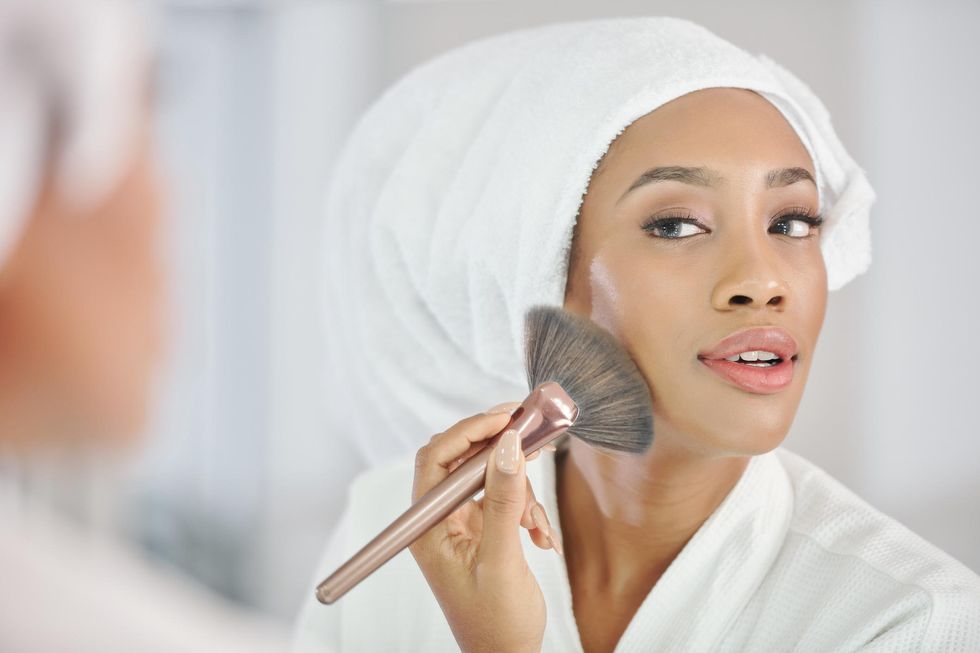 Do you want your skin to literally look like it's glowing? Bronzer. Bronzer is always the answer. Not only can it give your skin some sparkling sheen, when you apply it to places like right underneath your brows and on your cheekbones, it can add contouring in a way that doesn't appear overdone. As a bonus, if you get the kind that can also be applied to the rest of your body, bronzer is able to even out your skin tone and even reduce the appearance of cellulite. Oprah Daily published an article a few years back that featured some of the best bronzers for dark skin (you can read it by going here). Or, if you'd prefer to make bronzer for your face, Thank Your Body has you covered here; for the rest of your body, there's a quick YouTube tutorial here.
12. Less Is More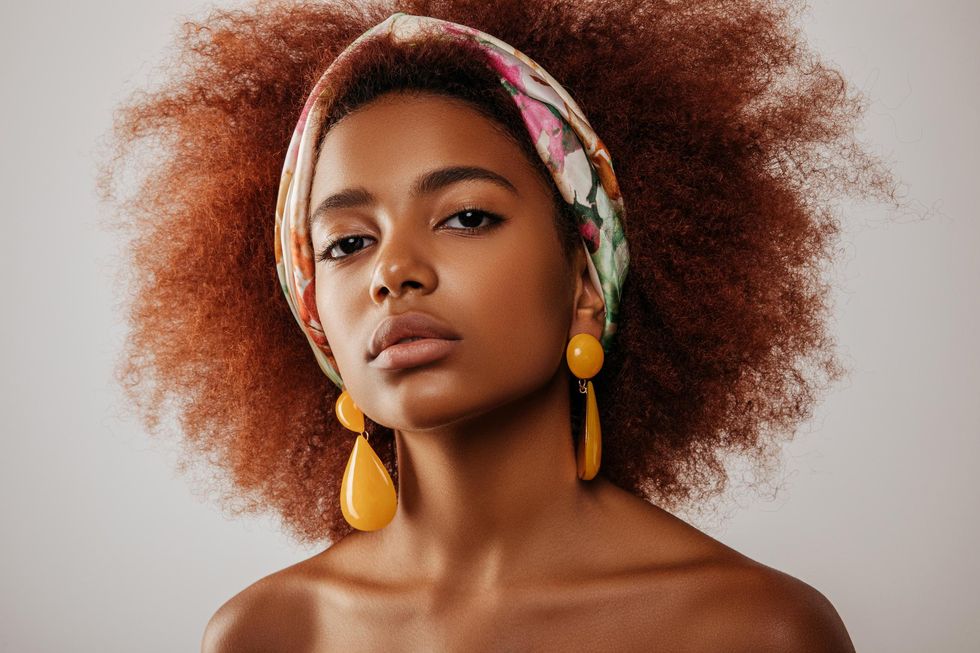 To tell you the truth, even though autumn is, hands down, my favorite time of the year, if there's one thing that I really do like about the summer season is because we tend to show more skin, it drives home how important it is to take really good care of it. And when that happens, we tend to be more comfortable with our natural beauty and taking the "less is more" approach. Hopefully, these 12 suggestions will be able to help you to do just that — care for your skin, take a minimalist approach to beauty and let your naturally dope face glow all the way up. Enjoy the rest of your summer, sis.
Join our xoTribe, an exclusive community dedicated to YOU and your stories and all things xoNecole. Be a part of a growing community of women from all over the world who come together to uplift, inspire, and inform each other on all things related to the glow up.
Featured image by Getty Images
Keep reading...
Show less