In addition to getting to the bag, the girlies want to know how to get to the orgasm – the intense ones that make you feel like you have superpowers. The topic of women and orgasm is often discussed and it's mostly because they don't happen often when, in reality, they should be! However, many factors work against women including society's centering on male pleasure and penis people with antiquated rhetoric that implies women are meant to provide pleasure – not to receive it.
---
And even when men don't think about this we've spent so many centuries discussing male pleasure–from the biblical to the pornographic that even the most well-meaning men can't or don't know how to deliver. This is not to say that there aren't men out there who have an attitude that says "girl, fuck you" but that there's lots of wiggle room for learning. As is the case for anyone.
In the words of one of my favorite TikToks (yes, my ability to speak TikTok is now a prerequisite of writing): prepare to be sick of me. Why? Because I'm that girl, the one willing to talk to you until you're blue in the face (and maybe elsewhere) on this subject matter. I want you and your partner to be able to read the room, and while communication will play a large role in that, so will knowledge which comes in various forms (communication included).
However, today – here and now – we asked 3 experts about the best ways to reach uber-intense orgasms with your partner. Here's what they had to say.
Add More Clitoral Stimulation Before & During Penetration
"There are two major reasons why people with vulvas get the short end of the orgasm gap: penetration, especially intercourse, often doesn't stimulate the clitoris enough to help the person get to orgasm (the clit is the homolog to the penis and tends to be the center of sexual sensation for those who have one); and also, stimulation often doesn't go on long enough to help a person get to orgasm. This doesn't mean you should believe what you read in your spam–that a person with a penis needs to last all night. But, it does mean that the duration and focus of stimulation usually matters.
"So it will help to make sure the partner with the vulva is fully aroused when penetration intercourse begins. Often that is also sidelined--but what some call foreplay and I call arousal activities is what's missing in many couples' sex lives. Longer-duration intercourse can be great too–but only if the person being penetrated is fully turned on when it commences. Thrusting does not generally turn on a not-yet-turned-on person. It can even feel irritating, painful, or worse.
"From this, you may have noticed that I am advocating for high arousal. You pretty much cannot have amazing orgasms (or most orgasms) without it. From there, duration may make the orgasm even more amazing. But being turned on first is key. And of course, more clitoral stimulation (whether it is either partner adding pleasurable stimulation to the clit; oral sex; or playing with a vibrator before or during intercourse) are other ways to make this magic happen." - Carol Queen, Ph.D., Good Vibrations Staff Sexologist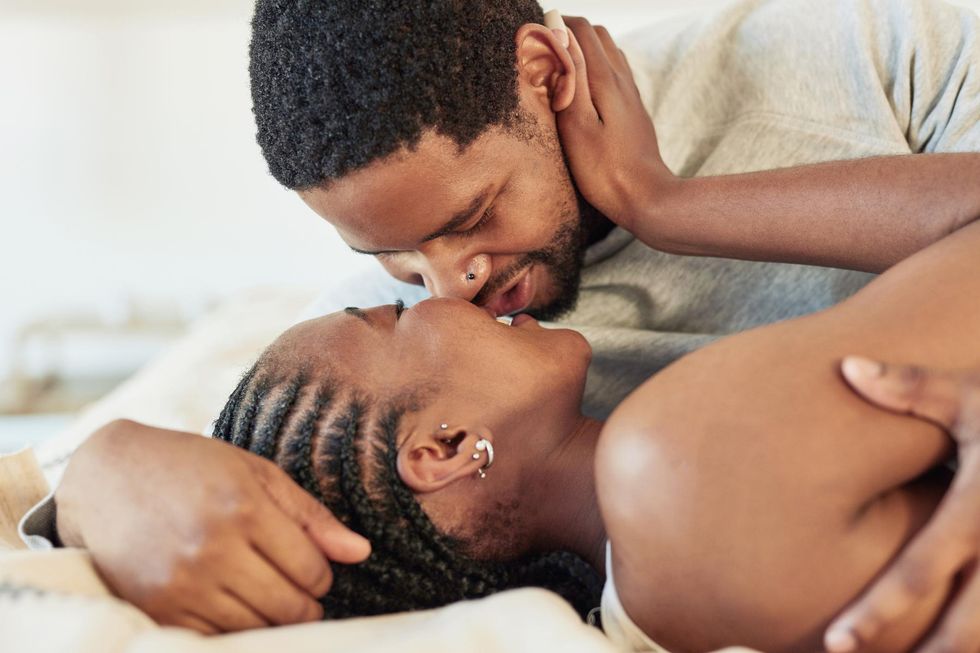 Experiment With Learning How to Have a Cervical Orgasm
"What you probably haven't heard of is the cervical orgasm. But don't fret, that's only because there's little research to confirm or deny its existence. The cervical orgasm concept is potentially authentic, but I personally question whether this is more of a whole-body experience that's producing a releasing effect. But that doesn't mean it isn't there. The cervix is a donut-shaped portion of the uterus that's made entirely of cartilage. Located at the lower end of the uterus, the cervix prevents whatever enters the vagina from going deeper than it should.
"The center of this inch-long tube is said to be highly sensitive. When stimulated, it produces a strong orgasmic reaction that runs through the body, though its power is entirely dependent on the individual. The issue with orgasms stemming from the cervix is that, unlike the vagina and clitoris, there aren't many nerve endings in the area, which is why a cervical orgasm is actually the result of other nerves–like the clitoris–being stimulated. It's quite possible that some women do have innervation or nerve conduction, and therefore experience sensation at the cervix or near the cervix. But it's not a common place for women to report orgasmic responses.
"However, there is indeed a sacred or goddess spot located just under the cervix that promotes an ecstatic orgasmic response. The best way to encourage cervical orgasms is through deep penetration. And fret not, men with 'below-average penises,' because deep penetration can be achieved through toys as well. Because no one orgasm is alike, the best way to find out how deep penetration works for you is through regular experimentation. In this case, gauge which speed and depth feel best for your partner.
"Additionally, I recommend experimenting with cervical orgasm when the woman is already aroused, as the flood of chemicals makes the deep thrusting sensations feel more amazing than painful. I also believe the best odds at attaining a cervical orgasm is to attempt it during or close to ovulation as the cervix is lower and easier to reach. Do not continue if it's painful. Instead, keep her aroused. Lube helps. Cervical orgasms are easiest to achieve when women are close to orgasm.
"But most of all, it's important to note that you must be gentle when experimenting with the cervix as it is an entirely new sensation that can cause pain. Let her lead the way. This is for her benefit, after all." - Dr. Mike Anderson, Ph.D., Sex & Relationship Expert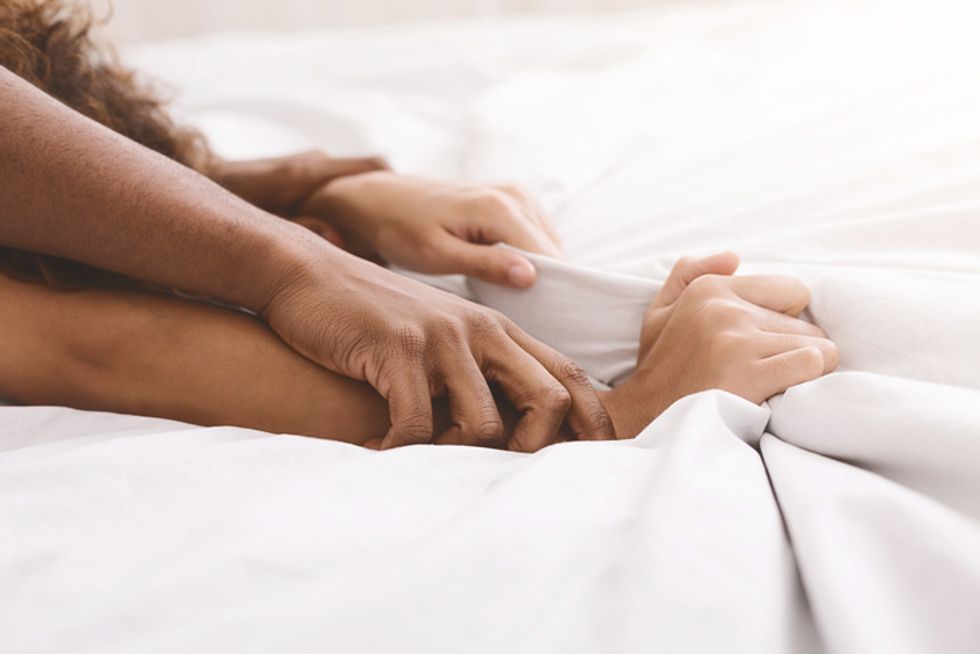 Getty Images
Give the Body Ample Time To Be Efficiently Aroused
"It's true that a lot of women aren't reaching their full orgasmic potential. If a vagina owner is not efficiently aroused before starting penetration or clit stimulation, it's not going to result in the orgasm of their fullest potential. Don't skip the build-up. It's a major factor that determines how intense your orgasm is. Get aroused, build it up to the heavens, and then get into direct stimulation! Edging might be a great way to reach intensified orgasm quickly or try simultaneous stimulation for an intense blended orgasm.
"It's all about arousal level and build-up time. To really get the most out of penetration or any kind of vulvic stimulation, you need to be efficiently aroused. Getting to that point may look different for everyone. But if you can spend ample time teasing, touching, or talking (whatever floats your boat), your orgasm will thank you. [When you] give your body time to respond to the stimulus the vulva and vagina will fill with blood making every touch that much more blissful." - Lauren Johnson, co-founder of sexual wellness & sex education brand Berry Lemon
The one thing that stands out from each expert is that there are two keys when providing a more intense orgasm for your partner which require arousal and stimulation. Though each expert provided various ways to achieve a more intense orgasm, the recipe begins and ends with these two things. In my opinion, it translates to attentiveness – requiring selflessness and time – so do be sure that you're able to provide your partner with these things when pleasure is on the table.
That's the tried and true recipe for a more intense orgasm with your partner.
Let's make things inbox official! Sign up for the xoNecole newsletter for daily love, wellness, career, and exclusive content delivered straight to your inbox.
Featured image by Getty Images