Earlier this spring, I wrote an article about the several reasons why marriage is quite different from dating . One of the things that I mentioned was sex . Listen, I know that you've probably heard that the leading causes of divorce center around things like poor communication and financial drama and yes, while that is certainly true, intimacy challenges rank right on up in there as well.
---
It makes a lot of sense when you stop to think about the fact that, for most of us, when we say "I do," we're publicly declaring that we're entering into a state of monogamy. And if you're going to sleep with just one person, for the rest of your life, you had better be prepared for all that comes with doing just that.
So, let's tackle this today, straight from the mouths of married women. While the mechanics of sex are basically the same regardless of the kind of relationship that you're in, when it comes to the responsibilities, expectations and commitment level that married sex entails, baby, that takes intimacy to a whole 'nother level, chile. 10 wives break down how.
Featured image by Giphy
Shellie R. Warren PCC
Different puzzle pieces are creating bigger pictures these days. 2024 will mark a milestone on a few different levels, including the release of my third book next June (yay!).
I am also a Professional Certified Coach. My main mission for attaining that particular goal is to use my formal credentials to help people navigate through the sometimes tumultuous waters, both on and offline, when it comes to information about marriage, sex and relationships that is oftentimes misinformation (because "coach" is a word that gets thrown around a lot, oftentimes quite poorly).
I am also still super devoted to helping to bring life into this world as a doula, marriage life coaching will always be my first love (next to writing, of course), a platform that advocates for good Black men is currently in the works and my keystrokes continue to be devoted to HEALTHY over HAPPY in the areas of holistic intimacy, spiritual evolution, purpose manifestation and self-love...because maturity teaches that it's impossible to be happy all of the time when it comes to reaching goals yet healthy is a choice that can be made on a daily basis (amen?).
If you have any PERSONAL QUESTIONS (please do not contact me with any story pitches; that is an *editorial* need), feel free to reach out at missnosipho@gmail.com. A sistah will certainly do what she can. ;)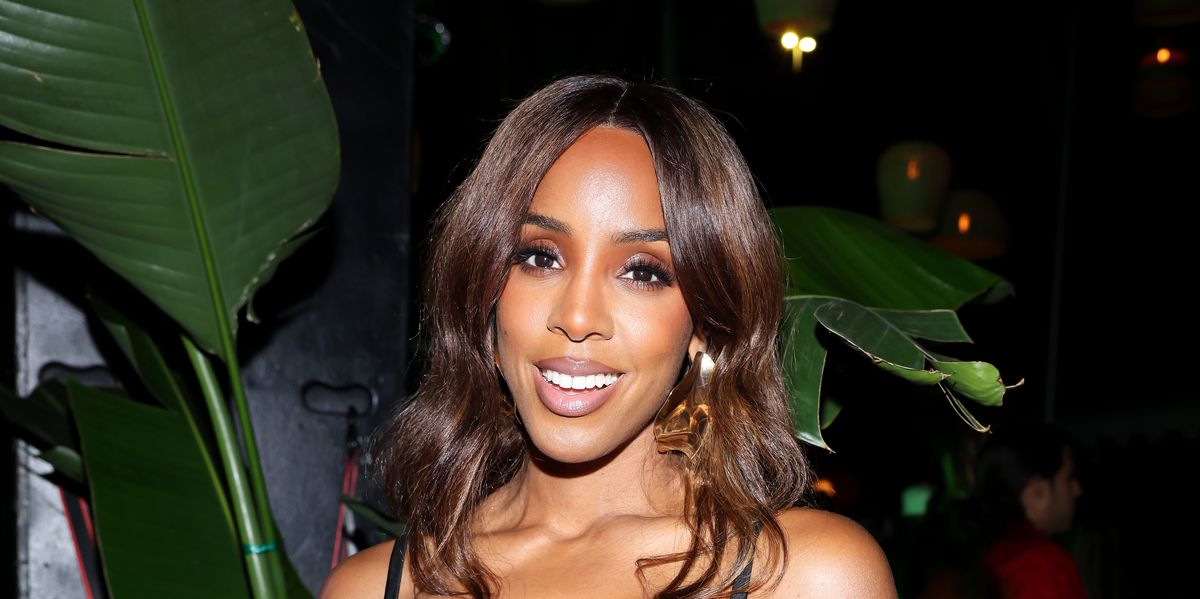 Kelly Rowland is like a bottle of the Earth's finest wine; she only gets better with time. Even in her early forties, the Destiny's Child member and singer has somehow found a way to age backwards, with a level of grace and class that we could only dream of. And she does so while juggling multiple hats and roles at once. In addition to giving us hits like "Motivation," the multi-hyphenate is also a wife, actress, executive producer, and, her greatest role of all, a mother.
Always proudly doting on her two sons , Titan and Noah, Rowland shares how teaming up with WaterWipes for their Hallowclean campaign and kickoff event in New York City on October 21 was an easy choice for her—as the brand is one that she keeps stocked regularly.
"WaterWipes has been in my household for I don't know how long. We don't just use them for Noah; I keep them in the car and my makeup bag, too," Rowland shares in an exclusive interview with xoNecole . "I also like the fact that they are natural. I'll definitely have them in my fanny pack for trick-or-treating. This is Noah's second Halloween, and I know he's going to be excited and digging in his pail to try the different candy, and his little fingers will be messy. He's going to want to get dirty. So, I love that WaterWipes is putting up ten Hallowclean stations across the country for parents to use; it's such a great idea. I just love Halloween, and I really love Halloween with my kids, so I thought this campaign was a really great idea."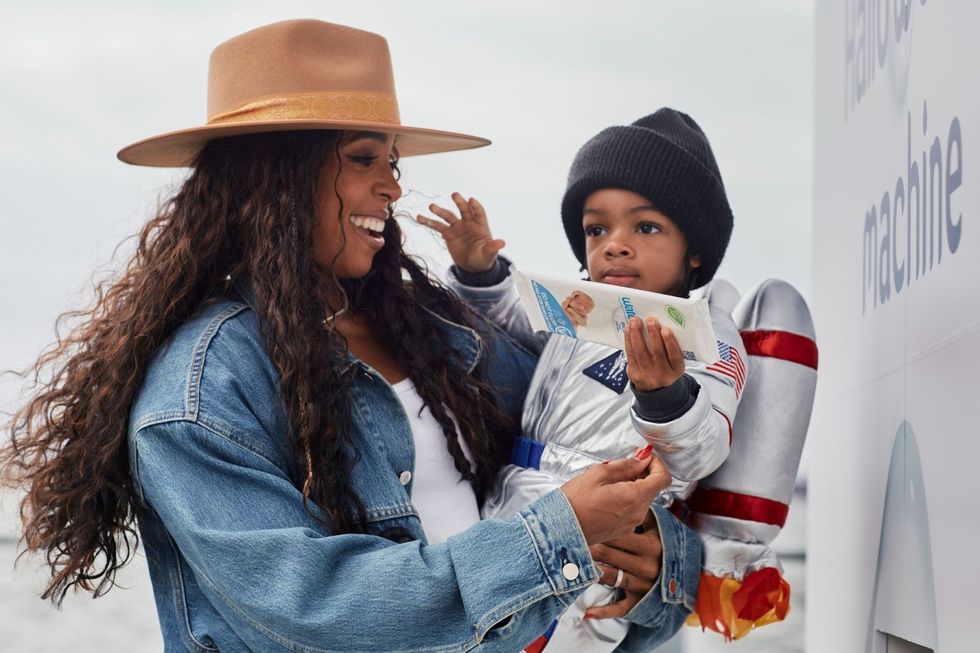 Kelly Rowland and son Noah at the WaterWipes Hallowclean Machine in Brooklyn, NY.
Photo courtesy of WaterWipes.
She and her youngest son, Noah, attended the event, where the two enjoyed a day of family-friendly activities while he sported the most adorable astronaut costume. But the Spooky Szn fun doesn't stop there for the Merry Liddle Christmas actress and executive producer.
We recently caught up with Kelly Rowland over Zoom to learn more about her Halloween (and holiday) plans, her keys to a healthy marriage, and she even dropped her go-to cold-weather skin routine —finally.
xoNecole: What are your family's upcoming trick-or-treat plans? Will you do a fun group costume, or is everyone going to do their own thing this year?
Kelly Rowland: I'm preparing for tour, so I've been in rehearsals and pre-production. And my husband's schedule has picked up, too. But the kids are going trick-or-treating; we usually go with people we know, so mommy and daddy will definitely be home to take them. We're actually letting the kids dress us up this year, which means my costume will be a complete surprise to me. I told Noah he could paint my face or even go to the costume store and pick something out—it's literally up to them. So, I don't know what that will be. And, right after, I'll be back to rehearsals.
xoN: Speaking of holidays, what do you look forward to most during the season?
KR: We love having people over, especially during the holidays. It looks like we will be home this year—thank God— just enjoying each other and spending quality time together. I like to decorate the house and go completely ham; it always looks like Christmas threw up in my house. From the stairwells to the exterior of the house and the lights—everything. We go so crazy. I also love the smells, it's one of my greatest memories with my mom, God rest her soul. So I love to play all of that up.
I like to bake something every day, I like to make sure there is something for the kids to do or make each day, we watch Christmas movies, and we even do a wine tasting sometimes. It's just all really sweet and cozy.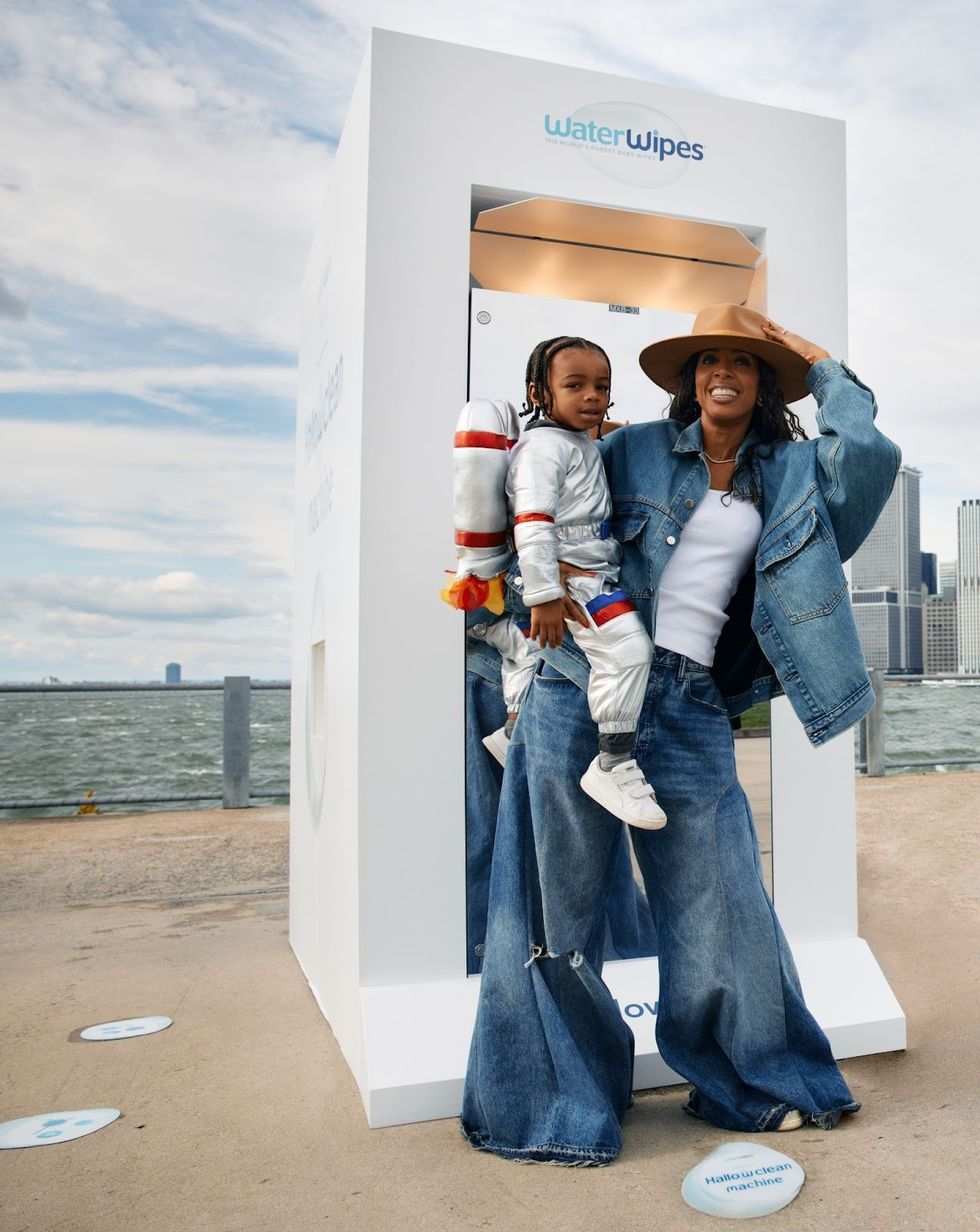 Kelly Rowland and son Noah at the WaterWipes Hallowclean Machine in Brooklyn, NY.
Photo courtesy of WaterWipes.
xoN: We love that family is so important to you, and it always shows in your posts, especially those with your husband. What would you say has been that "key" to a healthy marriage as partners and spouses for you two?
KR: I would say, each of us doing the self-work . I have not seen marriages last long in my lifetime. I haven't been given the tools to "make it last forever." We just try to do the work on ourselves and not sweat the small stuff.
Communication is key for us, too. We communicate everything. Whether I'm upset or I'm not sure about something, I communicate it. I also just like being around him, he's fun. He's a really great person and makes me laugh. We can literally sit together and watch a game and not say anything. We understand what true intimacy is, and now we're almost ten years into our marriage.
xoN: Now, Kelly, we have to ask. Skincare. What is your cold-weather routine and the products you're reaching for as temperatures drop?
KR: Right now, I'm all about moisture . I will wash my face morning and night, I do not skip. I'm obsessed with this 111SKIN toner. It smells good, but it also feels good on my skin. There's also this product from Vanessa Lee of The Things We Do. They are these coconut eye patches with these little beads. I place them under my eyes and around the corners of my mouth—talk about a game changer. I like to put them on at night and then rub in the extra serum all over my face. Between that and this lactic acid by Shani Darden , they are both game-changers for me this season.
xoN: So, since you've found the key to aging backwards, should we be on the lookout for the Kelly Rowland skincare line anytime soon?
KR: Honestly, that market is so saturated. I wanted to do it a while back, but I have to really think about what I want to bring to the marketplace to really impact culture. It's not just about a product for me. I love the way Selena Gomez has created a community. I want to be able to create a community as well. When it's not just about skincare, it turns into a space for people to be their most authentic selves. And that's what I love.
Feature image by Natasha Campos/Getty Images for Tres Generaciones

Superstar songstress SZA is known for baring her soul on chart-topping pop/R&B records , but on one rare occasion, she mistakenly opened up to the wrong counsel.
During an interview with WSJ , the " Snooze " artist shared a peculiar experience when she unknowingly hired a life coach , thinking they were a therapist.
Taking a listen to the 33-year-old R&B star's lyrics over the years, it's clear she knows how to go below the surface of her personal relationship perils and attempts at love. And, in an effort to pull back those layers even further, SZA shares that she's sought various forms of therapy , including hypnotherapy , talk therapy , and sessions with a psychiatrist and acupuncturist to uncover the deepest layers of herself.
After trying these techniques with little improvements, the "Kiss Me More" performer reached out to a practitioner, assuming they offered a specific therapeutic approach , only to discover that the individual was a life coach, not a licensed therapist.
"After I had box-breathed myself for three months and didn't get better, I called her in a f—ing frenzy like, 'I'm about to commit myself to an institution today, I need help!' I said, 'What form of therapy do you do? DBT?'" she told the publication, referring to dialectical behavior therapy.
"She was like, 'I don't have a clinical form of therapy because I'm not a licensed therapist, honey. I thought you knew that.' It turns out she was not a board-certified therapist. She was a f—ing life coach," the Grammy winner continued.
While it may be easy to confuse the two professions, the purposes of a life coach and a therapist are distinctly different.
Therapists typically have formal education in psychology or counseling, often holding advanced degrees, and are licensed by state boards. They are trained to diagnose and treat mental disorders , with a primary focus on mental health and emotional well-being .
On the other hand, life coaches tend to focus on helping clients get " unstuck " and find directions through their own abilities. While some have specific training, it is not as regulated or standardized as therapy.
Life coaches focus on assisting individuals in setting and achieving personal or professional goals , addressing areas like career, relationships, and personal development .
SZA went on to tell the publication that songwriting serves as a means to both resolve and document problems. Although she still has anxious moments to navigate through, she finds solace in the process of songwriting , noting that creating music allows her to achieve a state of mental clarity .
"When I leave the studio, I feel better and empty," she reflects. "There's no better sleep than empty-brain sleep, and that can only come after I've been in the studio for 10 hours and done something good in there."
Let's make things inbox official! Sign up for the xoNecole newsletter for daily love, wellness, career, and exclusive content delivered straight to your inbox.
Featured image by Dimitrios Kambouris/Getty Images for The Webby Awards