---
Leave it to the ladies sitting at the red table to shed some light on a juicy topic courtesy of wise-beyond-her-years Willow Smith. It was last year when the 20-year-old first identified herself as polyamorous, but last week she followed up that confession with an in-depth chat on Facebook Watch's Red Table Talk with her cohosts.
"With polyamory, I feel like the main foundation is the freedom to be able to create a relationship style that works for you and not just stepping into monogamy because that's what everyone around you says is the right thing to do," she explained to her mom, Jada Pinkett Smith and her grandmother, Adrienne Banfield-Norris.
"So, I was like, 'How can I structure the way that I approach relationships with that in mind?' Also, doing research into polyamory, the main reasons why monogamous relationships — or why marriage, why divorces happen — is infidelity."
BTW in case, you were wondering…
Polyamorous: characterized by or involved in the practice of engaging in multiple romantic (and typically sexual) relationships, with the consent of all the people involved.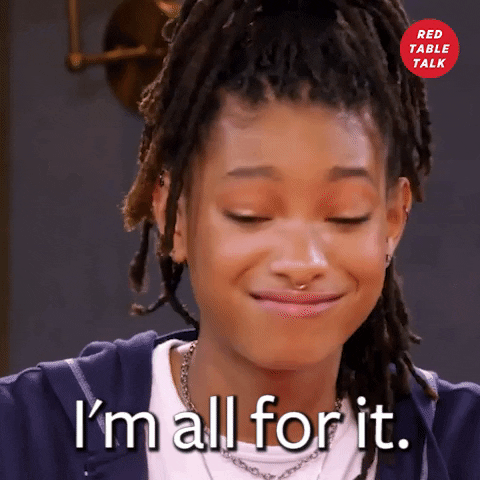 Willow was sure to clear up any misunderstandings around polyamory that are often chalked up to promiscuity, which is not the case. According to her, it's a "natural way" to approach romantic bonds where needs are met without relying solely on one person.
Jada's reaction?
"When you were like, 'Hey, this is my get down', I was like, 'I totally get it.' Wanting to set up your life in a way that you can have what it is that you want, I think anything goes as long as the intentions are clear. You know what I mean?"
Gammy seemed accepting too once she got the scoop on how it all works. Willow's polyamory confession definitely sparks a conversation around the relationship status considered taboo by some and completely natural by others. Even the New York Times did an expose exploring how and why polyamorous relationships work for some.
Now that Willow has thrust the subject into the limelight once again, we asked men and women this: Do you agree with Willow that it's the most natural approach to romantic relationships, or are multiple intimate relationships just "entanglements"?
Here's what they had to say.
As a Person of Faith, I Don't Believe In It
"As a person of faith, I don't believe in polyamorous relationships for myself. I want my significant other to be devoted to the union we have and to honor the intimacy that only we share together. I understand why others may not feel the same, and I completely get that for them. I respect that everyone wants different things, so as long as both parties are on the same page and create boundaries and agreements upfront, I can see that working for others." —Valentina Gonzalez, 31, Digital Marketing Manager
My Man Is My Man
"Multiple intimate relationships are indeed 'entanglements'. Once you are involved with multiple people and it's intense, romantic, and emotional, it gets complicated; because you are now obligated to play a role. I don't believe in polyamory, my man is my MAN. And that's on that.
"The most natural approach to a romantic relationship is casual dating. No serious attachment, you put your feelings aside, maybe no sex?. You are not committed to this one individual, therefore you can explore (in a safe and mature way) meeting new people, learning about yourself, where you have an idea of who and what you want [in a monogamous relationship.]" —Kateri Fischer, BET, On-Air Promo
It's Certainly Not for the Insecure
"[Polyamory] I often feel is based on how secure you are emotionally as a person and it's certainly not for the insecure or the jealous. If love is to be shared physically and emotionally, be prepared to be left out sometimes and feel no way about it. Just enjoy knowing that you have more than one escape." —James Cameau, 30, Behavioral Health Therapist
It's Hard to Believe That It'll Work 
"Before watching this episode of Red Table Talk, I was like... 'that sounds a lot like being single or an open relationship…' After watching this episode I think it's a great way to be open about your relationships with all the people you love. It's hard to believe that it'll work because: 1) Who has time to dedicate all that energy to all those people EQUALLY. I barely have time for myself.
"[And] 2) Jealousy and commitments sound like blurred lines in these arrangements because naturally I think people want to feel like a priority not an option. Even after explaining that all your partners hold different spaces in your heart and mind, I'd still feel a void. Part of love/loyalty is not only being there when you want to be but when you need to be. But I respect the foundation of honesty in this approach. So more power to it!" —Hala Maroc, 29, Multimedia Personality
Multiple Partners Consumes Both My Time and Money
"I'm personally not into polyamorous relationships. I understand for myself I like monogamous, exclusive relationships. I think juggling multiple women or partners consumes both my time and money, so I'd rather stick to one partner and focus on building the best life with one person." ––Jeffrey DeRose, 31, Startup Advisory Group Founder
Understand What It's Really About
"I think that honestly people should just do what works for them. I think polyamory is meant for procreation benefits, financial benefits and supportive benefits as well. Our partners aren't meant to be everything but that is why we have friendships outside of our relationships.
"To me, having friends with different intimate bonds allows us to take pressure off our romantic relationship. It's about trust and security in yourself, your partner and your relationship to have these kinds of outside bonds. If people can handle it, then sure, but they should make sure they understand what it's really about. It's more than just sex." —Amiyah Deziire, Author, Midnight Confessions
I'm Too Selfish for All That
"I personally could never, I'm too selfish for all that. However, I'm not one to judge how other people choose to navigate their own personal relationships. What other people do in their bedrooms is none of my business." —Tiffany Ervin, 30, Visual Artist
I Don't Think There Is Such a Thing as "Most Natural"
"I have nothing against polyamory and those that believe in it, but it's not for me. Personally, I don't have the desire for more than one person at a time, nor the energy. I like the idea of having a special connection with only one other person, and I'm completely satisfied by that. I don't agree that it's the most natural approach to relationships, and I don't think there is such a thing as 'most natural.' I believe what's natural is completely subjective to the person/people involved." —Evans Alexandre, 27, Photographer/Photo Editor
Are you a member of our insiders squad? Join us in the xoTribe Members Community today!
Featured image by Jerritt Clark/Getty Images for Savage X Fenty Show Vol. 2 Presented by Amazon Prime Video