The Pinkett-Smith family hit show Red Table Talk is becoming a viral phenomenon on Facebook Watch and all social media platforms alike for reasons that you may not realize.
---
At a glance, you might think it is because we finally get the real tea on a family that has been regarded as a representation of love and success for over a decade. Perhaps you may see the star-studded guest appearances as the show's 'it' factor. However, what is really driving the show for the hearts of many is the fact that three women from different stages of life, experiences, and eras are sitting down baring their souls with each other in front of the world unrestrained. This vulnerability is intoxicating and therapeutic for many to experience, even in 20-minute segments. It's been so resonating in fact that the show has amassed over 29 million views.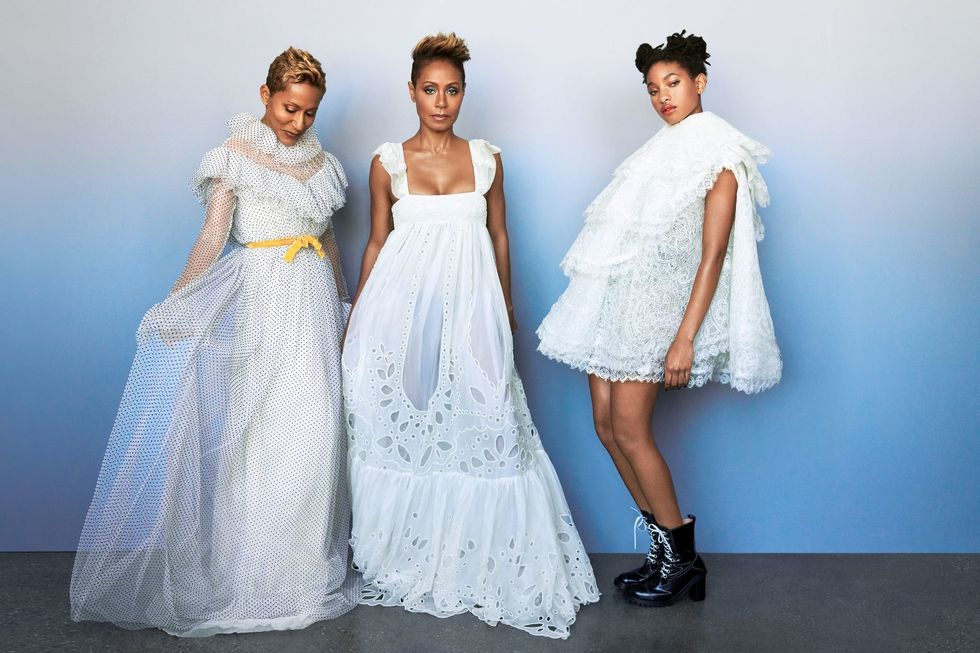 Adrienne, Jada, & Willow are the digital cover stars for Harper's Bazaar December 2018 edition.
Mariano Vivanco/Harper's Bazaar.
Unfortunately, it has been part of Black women's rights of passage to keep their emotions suppressed and their pain is hidden from the public eye for fear of being perceived as weak or angry. However, thanks to the progressiveness of many women like Jada Pinkett Smith, her mother Adrienne Banfield-Norris, and her daughter Willow Smith, this unhealthy pattern can be broken and we can learn the true strength in our ability to be open and honest no matter how scary. Jada and her family were recently featured and dubbed as an "American Dynasty" in Harper's Bazaar. She told the mag:
"Obviously we're in a patriarchal society that looks down on vulnerability and looks down on emotion and looks down on femininity. The biggest rebellion is coming into your vulnerability and seeing that as a power. Once you get in touch with your emotions, you start to understand things in a whole other way. When you express what you feel needs to change, or what you feel is unfair or wrong, that's so important, but the real agent of change is when you embody the truth."
Red Table Talk is slowly revolutionizing our own dinner table talk, as the topics being discussed are those that are relatable to women regardless of their race, socioeconomic background, or age. Each panel member is able to weigh in on their perspective of the issue at hand with both experience and insight; next is compassionately listening to each other's responses. This is a great model for many of us who struggle to open up to our loved ones, or even find ourselves baffled on how to respond when they decide to do so.
By relaying their experiences, we can become knowledgeable and empathetic about subjects that we may have not encountered firsthand. When looking at Adrienne in all of her 64-year-old and ripe glory, it can be astonishing to learn that she used to battle with an substance abuse. Though very private, these table talks have ignited conversations that act as windows not just into our own homes, but the homes of the panel of co-hosts as well.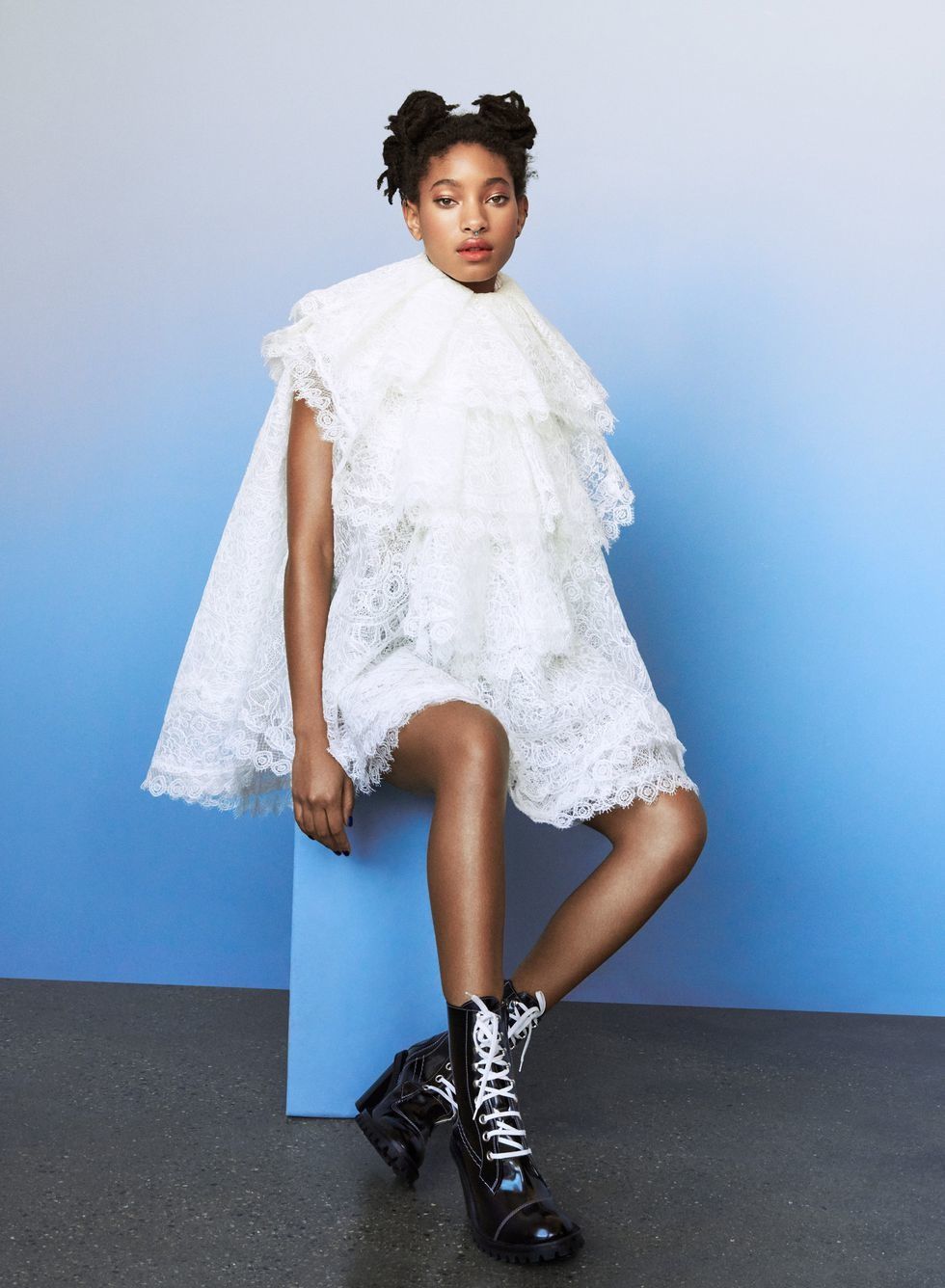 Mariano Vivanco/Harper's Bazaar.
18-year-old Willow shared her thoughts on what makes the show so special:
"It's more like an extension of our conversations when we're alone and just how we are with each other naturally."
However, these type of conversations could be few and far between in our everyday lives because this level of transparency is rare, even with those you are closest with. We find it easier to discuss superficial concepts such as our jobs or celebrity gossip than we do our everyday challenges and insecurities. Jada questioned this occurrence:
"Why don't we, as women especially, have more honest conversations—just about life? The females I've reached out to in my experience really made me feel like 'Red Table Talk' was an important place to have honest and real conversation, because we're all going through so much. I don't know why that's wrong [to talk about things]. Well, I do know why, because we are a culture that's about privacy and…
"I think we spend more time trying to keep up an image... Appearances, really, than living truth. But, I think that's changing. I think people are really tired of that, and see that's not working. It's not worth it. It costs too much. That, for me, is what also inspires me to share my experiences, because women who've had the courage to share their experiences with me could change my life in the biggest way, you know?"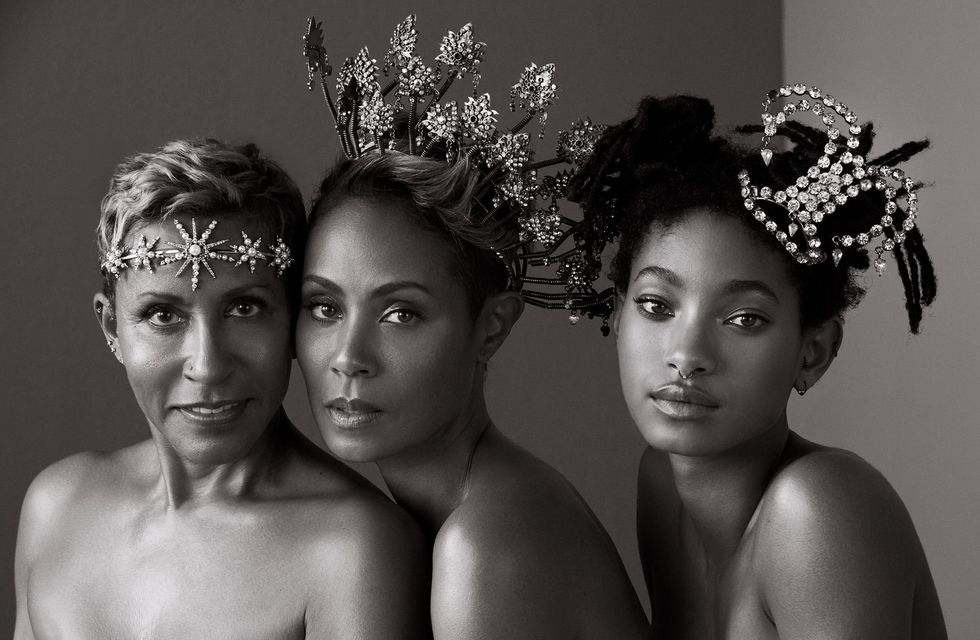 Mariano Vivanco/Harper's Bazaar.
As you tune in for your weekly Red Table Talk fix, perhaps think of some ways that you would like to relate and open up to the women in your everyday life. Whether that be at lunch table with your work bestie, the dinner table with women in your family, or if you would like to be dramatic, get dressed up and invite your own friends over (I'm not judging you), and continue these difficult conversations in your life.
You will be surprised about what you learn about yourself and others.
Click here to read the full feature story on Harper's Bazaar.
Featured images by Mariano Vivanco/Harper's Bazaar.