---
Money Talks is an xoNecole series where we talk candidly to real women about how they spend money, their relationship with money, and how they spend it.
Lately, there's been a lot of chatter around Forex and cryptocurrency, but do we really know what it is or how to use it? Thankfully, Umanagement Public Relations' lead publicist Milan Mobley is a business coach, Forex trader , and investor willing to dispel any myths about the system for us. Though the D.C. native is well-known for her work as a full-time entertainment and corporate publicist, she has developed a passion for teaching millennials how to build generational wealth and deeper understanding of multiple streams of income. "I entered the Forex market almost three months ago, my girlfriend Che` introduced me to it. She's been in this space for a few years now. She ended up taking a break to focus on her career full-time, but she never lost touch," she told xoNecole.
During the pandemic, Milan's business slowed down and she began to fall into a depression due to the unexpected pivot of her business thanks to COVID-19. From there, her friend began to show her the ropes and through following by example, Milan is now developing a steady cash flow and effortlessly recouping from any financial loss she may have suffered. "Now I am still growing to be a master of the art but it is a skill that I am forever grateful for. It changed my life when life was changing the most."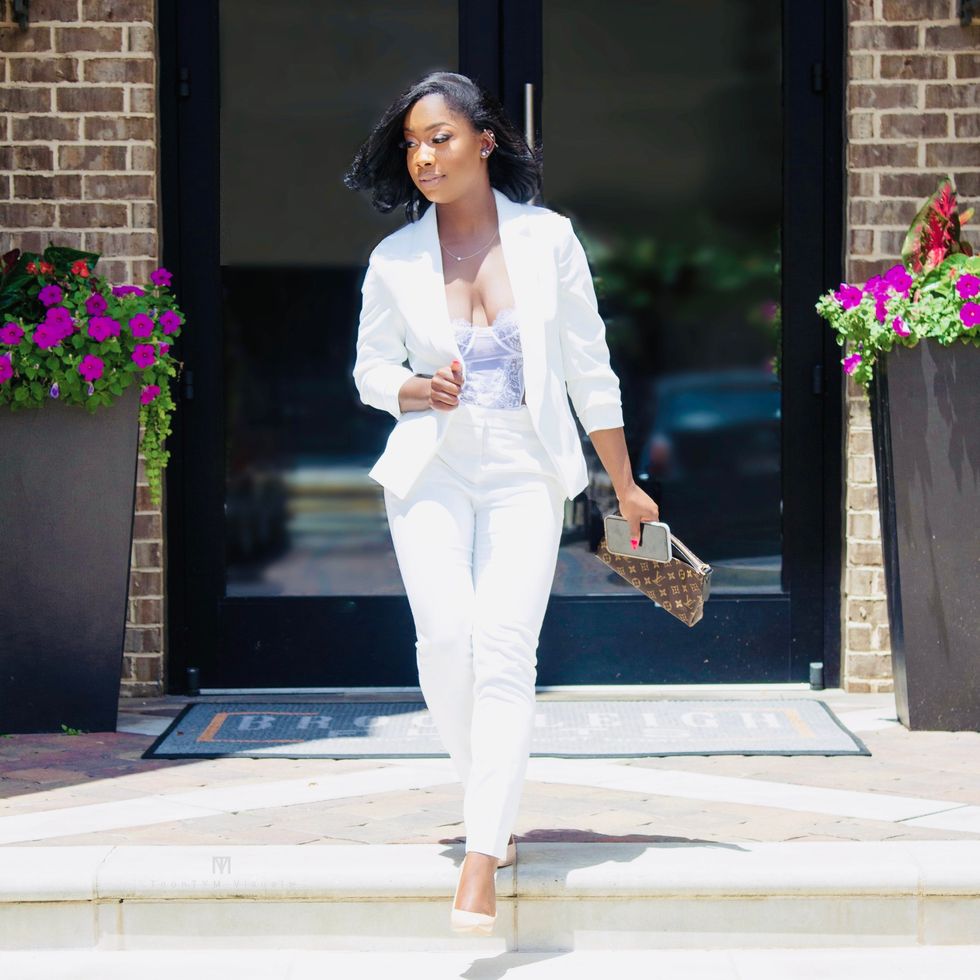 Courtesy of Milan Mobley
Now with a current ranking of P1000, meaning she's been able to mentor and educate over 31 new investors, Milan is able to pay the education forward by passing along any and all information that was once given to her by her partner Che. "I made this choice based on Che`. Her mentorship and guidance made me the trader I am today, and allowed me to be educated in a space I was unfamiliar with. Becoming an IBO, I've been able to educate others on the Foreign Exchange Market who were in the same space of wanting to build generational wealth, needing an additional stream, and wanting money working for them. I do not have the conversations of becoming an IBO (independent business owner) with my mentees until I see they are being successful in the FX market."
In this installment of "Money Talks", xoNecole spoke with the Atlanta, Georgia resident on being a "Frugal Fran" when it comes to spending habits, her worst money decision, and why she believes most people think Forex trading is a scam. Check it out below!
On myth-busting Forex and why most people believe it's a scam:
"People believe it is a pyramid scheme because they are uneducated of what the difference is between Forex and the iMarkets Academy. The Academy is the number one educational platform/software for Forex Traders. This platform was designed to assist traders in their learning about the market, learning how to trade, software and strategies to assist in developing signal points for profitable trading and a special chart known as the Harmonic scanner. All of this is to help you earn while you learn. In an illegal pyramid scheme ––or scam as we like to call it––there is no way for anyone who is under the head honcho to profit as much as that one person or to exceed them. Forex trading is a skill and trait you obtain and become successful with, on your own with the proper teachings."
On what being a trader and investor has taught her about her business and personal financial habits:
"It taught me how to capitalize financially. When you first start trading, not everyone has thousands to invest. In trading, you commonly use the word 'compounding', meaning you take what you invest and you build your account over time. For example, Che' and I encourage our Mentees who are afraid of the process or have lower capital to invest $50 but only trade with $20 and build your account slowly. With those teachings, our mentees have taken $20 and turned it into $95.00 in a day. We also tell them to focus on growing your account by 10% daily.
"All in all, teaching them has taught me to focus on compounding my personal finances and act always as if I have the lowest capital possible. Using money management on your investment amount will take you further as long as you are patient and not looking to get rich overnight. Rome wasn't built in a day and neither is wealth. In the business aspect, there's a strategy and system known as S&S for everything. Based on the S&S you select/determine, your journey in business or trading can be either very simple and profitable or it can be complicated and a struggle."
"Using money management on your investment amount will take you further as long as you are patient and not looking to get rich overnight. Rome wasn't built in a day and neither is wealth."
On questions she wished people would stop asking her about Forex:
"'How early can you actually start seeing profit coming in for yourself?' And, 'How much have you made?' It's a common question and I get it. However, that is like asking a fitness trainer, 'How soon am I going to see results?' The answer a trainer would give is the same answer I give. Everyone is different, no one person is the same. How early you start seeing profit and how much profit you see is how much effort you put forth to see results."
On how much she makes per year and her savings habits:
"It is very hard for me to say how much I make a year or a month honestly, being an entrepreneur that fluctuates so much––last year after the dreading amount of taxes, I made over $90,000. Normally, I don't share numbers in my finances since I am so private but I am comfortable to share that because that was my most profitable year in business. I try to save at least $2,000 to $3,000, that way it can be split between my business and added to my personal account. I have both my high-yield savings account through Marcus by Goldman Sachs and my Roth IRA is through my long-time bank Navy Federal."
On her definitions of wealth and success:
"Health is wealth and having much abundance in your life through happiness and prosperity brings great success. Wealth to me is being able to live the way I choose to––not working countless hours and working about how much I've made or haven't made or what's to happen next. Living the kind of life that makes you happy and fulfilled. Success is truly being open-minded and opening yourself to a new level of life that challenges you to grow and develop mentally, spiritually, and professionally forever."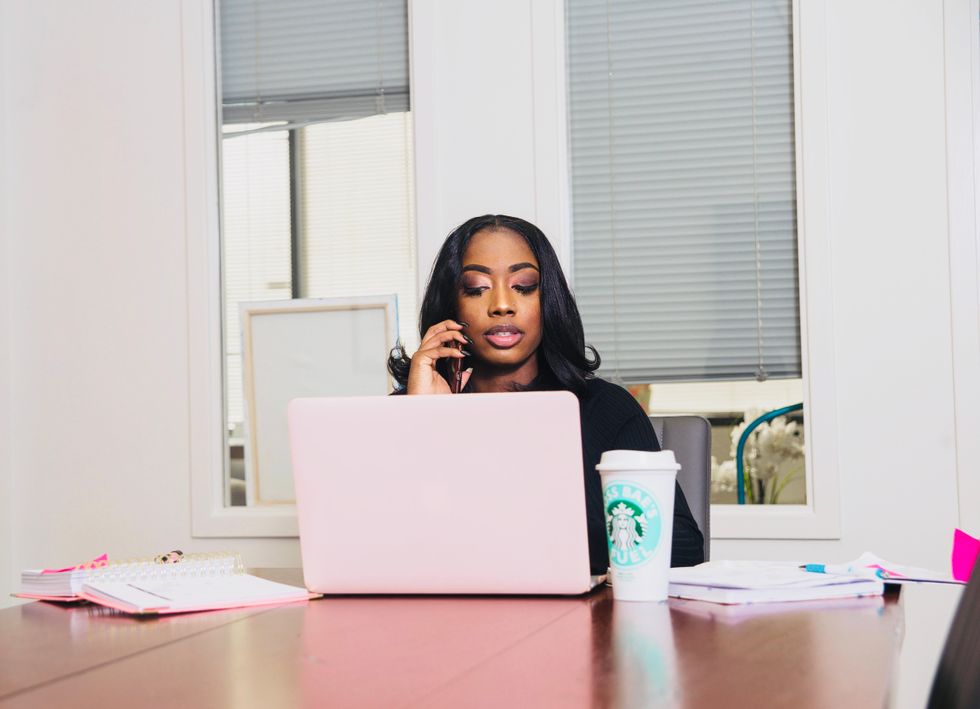 Courtesy of Milan Mobley
"Wealth to me is being able to live the way I choose to––not working countless hours and working about how much I've made or haven't made or what's to happen next. Living the kind of life that makes you happy and fulfilled."
On the lowest she's ever felt when it came to her finances and how she overcame it:
"The end of last year and the start of this year was the lowest I've felt – I was tapping in and having to drain my savings and not being able to replenish it for a while due to the decline in business from COVID-19. As stated previously, I was depressed from being in this unfamiliar state. I wasn't sure which way to turn for a while. Then I started focusing more on S&S and developing residual streams and being open to learning new skills. I could have counted myself out but a big part of my system was letting go and letting God. I started doing what I could and allowing Him to do the rest."
On her biggest splurge to date:
"I have never been a 'splurger'. My friends will tell you I am very financially responsible. I don't purchase much designer, I don't shop much, I don't spend money unnecessarily. I don't spend money that I can't spend two times over. HOWEVER, I did 'treat myself' last September for my birthday and that's because I didn't go out of the country or on a trip like I normally do. So I showered myself with the Louis Vuitton boots, red bottoms, one of the top suites at the W and a private chef all weekend. I can say that was a properly planned splurge I had prepared for that moment. It's OK to 'splurge' as long as you've properly planned for it."
On whether she's a spender or a saver:
"I am Frugal Fran––I am very much a saver. It wasn't training, I just looked at my environment and listened to mistakes others made and used that as my guide to not repeat the same steps."
On her savings goals and what retirement looks like to her:
"I make contributions to my Roth, to my 401k, business and personal savings, Digit (the savings app I use it takes money from your account daily without a notification), I want each to represent and hold six- to seven-figures in them. Retirement to me looks like never having to work again, fully enjoying life, my family, and all that it has to offer, without the worry of making money. Also, retiring in my early 40's late 30's, not the time that has been placed on us. If I can retire before my desired time frame, that is even better!"
On the importance of investing:
"It is very important to invest in my opinion––you don't become wealthy by having zero investments. The goal is to be wealthy and have a strong net worth, not to be rich. I invest in, of course, my trading, but I also have stock investments, life insurance investments, and plans to invest in property and other assets in the upcoming years."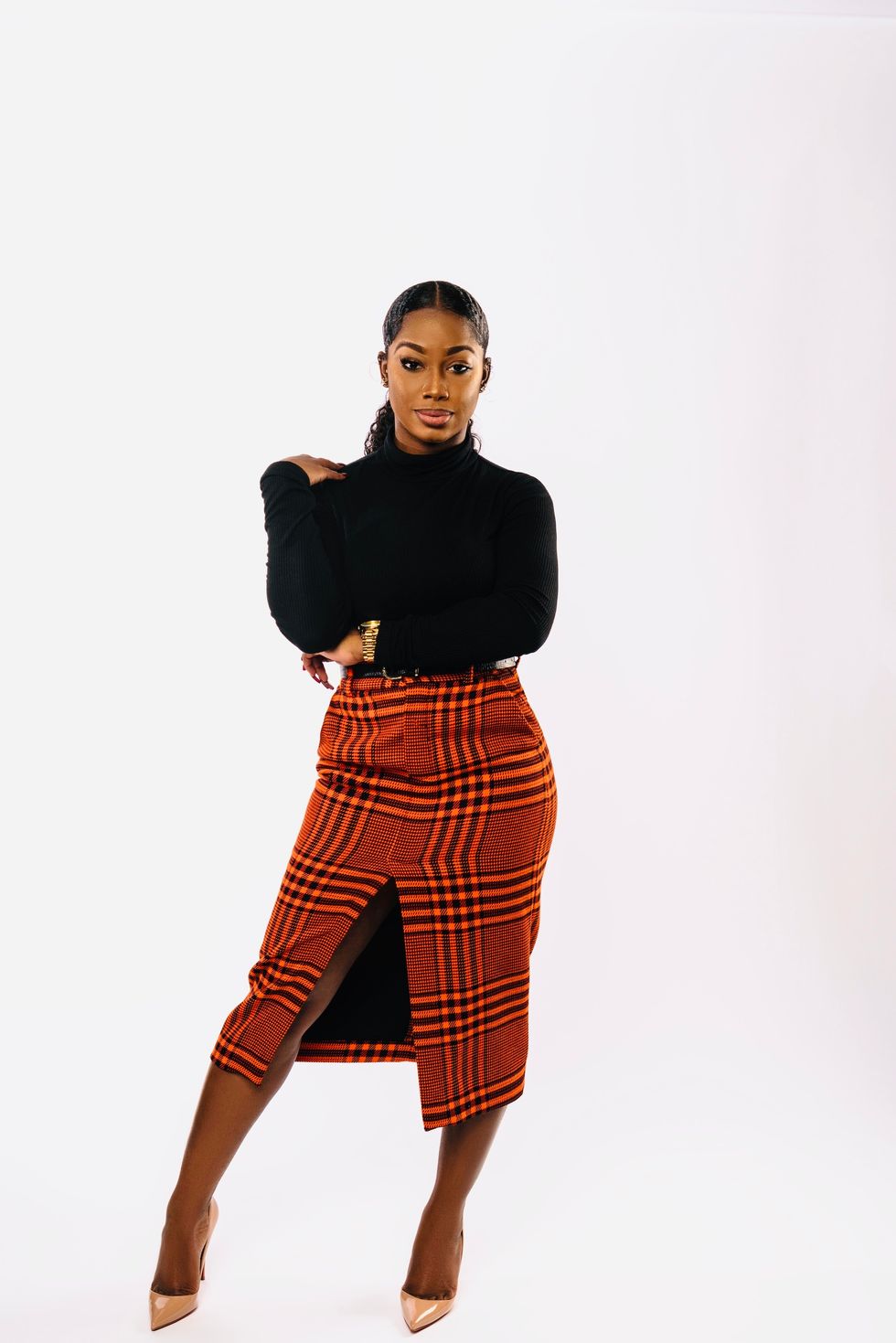 Courtesy of Milan Mobley
"I make contributions to my Roth, to my 401k, business and personal savings, Digit, I want each to represent and hold six- to seven-figures in them. You don't become wealthy by having zero investments. The goal is to be wealthy and have a strong net worth, not to be rich."
On her budgeting must-haves:
"At one point I would have said my nails. After the shutdown from the pandemic and not having that luxury, I realized how I didn't need it in my budget . My budget must-haves now are groceries, daily incidentals, emergency fund, household maintenance, bills, work wardrobe, subscriptions for business, [and] gas."
On the intention behind creating her multiple streams of income:
"In my business, I have both live and digital courses, pop-up consultations for various aspects in business, whether it be social media, marketing, etc., e-books, digital products, business coaching, and more. When developing those streams, I wanted relief for myself––where I didn't always have to be so hands-on. I had those residual pieces and money working for me all days of the week, even when I'm sleeping. My intention behind having multiple ways to make money was to have financial freedom, build generational wealth, and to grow my companies."
On her money mantra:
"God will bless me abundantly financially if He sees I can manage a little. He will not give me a lot If I can't handle the little."
On the craziest thing she's ever done for money:
"I haven't had to do anything crazy––I just had to learn to be still and fully rely on faith. God gave me everything I needed; I just had to use what was in front of me to pivot."
On the worst money-related decision she's ever made:
"Investing in t-shirts was the worst money and business decision I've ever made. The sayings on the shirts were great––but it wasn't the right product, right audience, or the right timing."
On her budget breakdown:
How much do you spend on rent?
"For an entire year on rent––$20,280.00."
Eating out/ordering in?
"Monthly, around $500 eating out/ordering in and $530 on groceries. I cook for the majority of the week. But Thursday-Saturday is up-for-grabs for eating out! [There's] two of us, so it is very hard to eat out/order-in and stay with a $20 minimum."
Gas/car note?
"I don't have a car note any longer and I don't drive much because I don't go anywhere since COVID is still a thing. I spend about $26 monthly on gas. I pay $110 monthly in car insurance."
Personal expenses?
"$160 monthly on personal expenses [including] nails, lashes, personal items."
Featured images by @heytobs and @Toontyvisuals.

D'Shonda Brown
D'Shonda Brown is a culture curator, storyteller and public speaker from Brooklyn, New York. Her love and passion for journalism is demonstrated in her bylines across Sad Girls Club, Blavity, America Hates US, Snobette and The RapFest. As a mental health advocate and suicide attempt survivor, in 2019, D'Shonda became Mental Health First Aid Certified for adults and children, and graduated from the Advocacy Ambassador Program by National Alliance on Mental Illness.
Boost
Mar 13, 2023 05:34 AM EST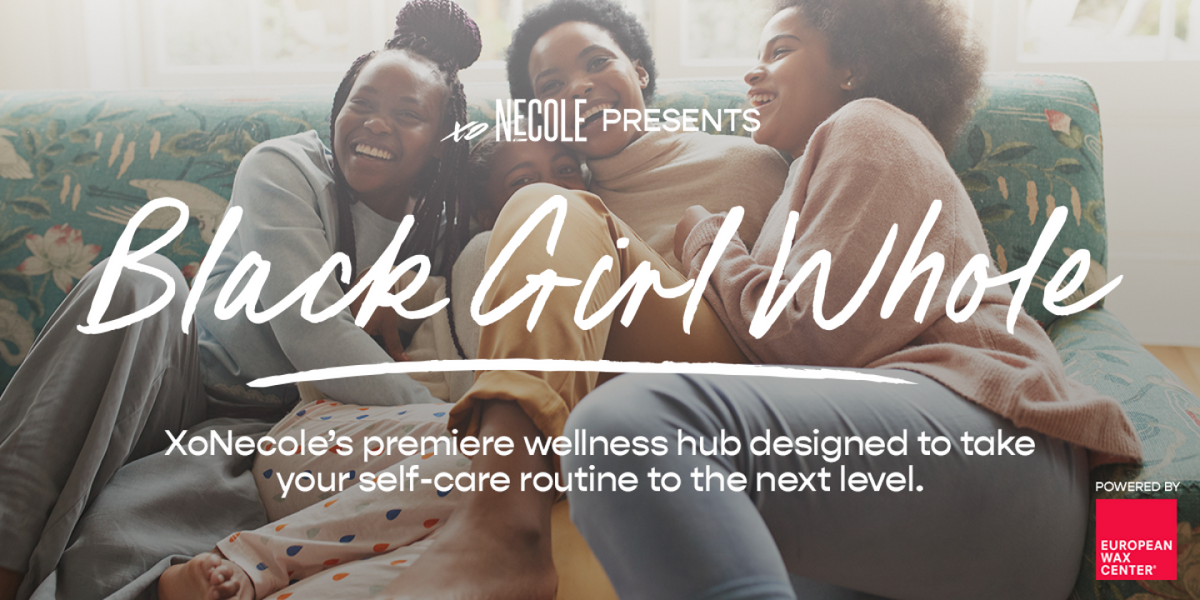 Black women are not a monolith. We all are deserving of healing and wholeness despite what we've been through, how much money we have in the bank, or what we look like. Most importantly, we are enough—even when we are not working, earning, or serving.
Welcome to Black Girl Whole , your space to find the wellness routine that aligns with you! This brand-new marketplace by xoNecole is a safe space for Black women to activate their healing, find the inspiration to rest, and receive reassurance that we are one small act away from finding our happiness.

Want to discover where you are on your wellness journey? You don't have to look far. In partnership with European Wax Center, we're bringing you a customized wellness quiz to help you up your wellness game. Answer our short series of questions to figure out which type of wellness lover you are, what you need to bring more balance into your life, and then go deeper by shopping products geared towards clearing your mind , healing your body , and soothing your spirit .
Ready to get whole? Take our quiz now !

For over a decade, Harlem's Fashion Row has served as a safe space for creatives of color to shine bright without fear of being dimmed. This week, HFR celebrated its 16th year of providing business solutions to retailers committed to equity for Black and Latin-X design talent. This beacon has served as a bridge between retailers and designers of color through collaborations, experiential marketing, pipeline programs, and brand strategy.
Set against the backdrop of the historic Apollo Theater in Harlem, the night was nothing short of amazing as a Black hip-hop orchestra serenaded the crowd with legendary tunes from "Big Poppa" to "Moment 4 Life." It was pure magic as the scene was set to begin the Style Awards.
Tim Weatherspoon surprised his wife, Kelly Rowland , with a heartfelt speech as he presented her with the Fashion Icon of the Year Award. "I couldn't pass up this moment to tell you that you've always been my icon," the talent manager said. He went on to share that he scoured social media to pull some compliments from the toughest of critics. Weatherspoon said, "My assumption is that these are good 'Kelly eats the girls every time. Fire emoji, fire emoji, fire emoji.'''
As the Destiny's Child alum accepted her award, she proclaimed her love for "that Black man." Rowland was full of joy and adoration as she accepted the award, reminiscing on the days when she was a little girl from Texas in a group of country girls where stylists were not jumping at the opportunity to dress them. " Tina took matters into her own hands, and she dressed us. We learned what it felt like to start a trend. I remember what it felt like — the pride in it. I also know that 'we' start the trends and 'we' make what's cool, cool. Fashion should be grateful for us."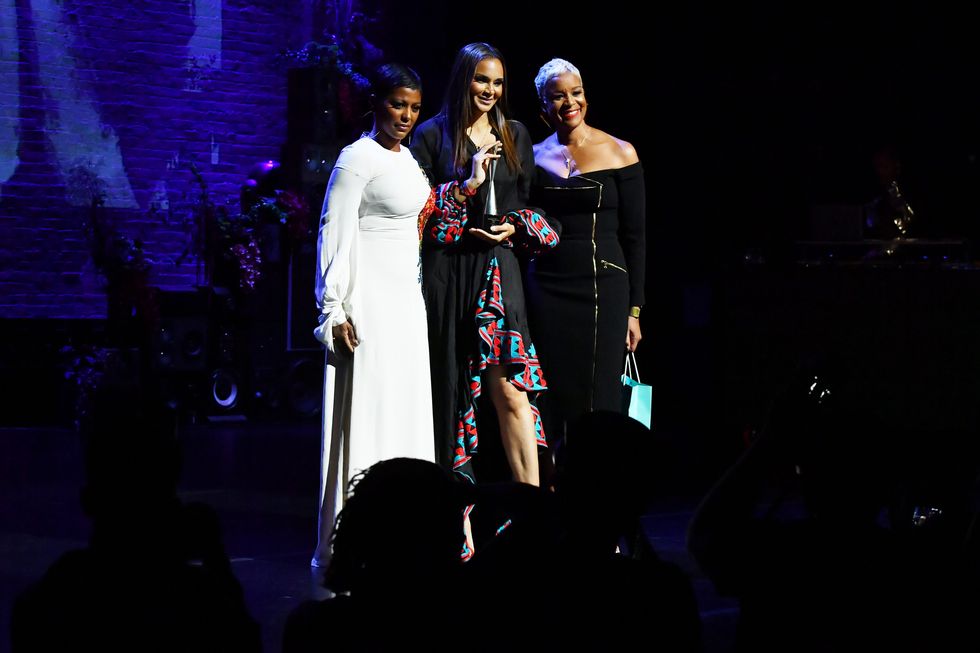 L-R: Tamron Hall, Stella Jean, and Brandice Daniel
Shutterstock
Then, the incomparable styling duo, Wayman and Micah, took to the stage to receive the Stylist of The Year Award. These two best friends were honored for their creative styling on the likes of Regina King , Tessa Thompson , Taraji P. Henson , Jodie Turner , and so many more. The partners in style applauded HFR's founder, Brandice Daniel, for creating a table for us. "The table is marble and custom," Micah exclaimed.
The fashion heavy hitters were absolutely in the building. Gabriela Karefa-Johnson, a New York-based stylist and VOGUE Global Contributing Fashion Editor-at-Large renowned for her eye for emerging designers and her narrative-driven approach to diversifying representation in fashion, accepted the Editor of the Year Award.
Tamron Hall sang the praises of the Designer of the Year recipient, Stella Jean, for being a visionary who not only creates whimsical pieces but takes a stand for what she believes in. "During this pivotal moment, one designer made a courageous and impactful decision. Stella Jean, an Italian-Haitian fashion visionary, took a stand in a bold and powerful move. Stella Jean pledged to return to the runway only when she would no longer be the sole Black designer on the Milan schedule."
Johnny Nunez, the culture's #1 photographer, reminded us of the importance of perseverance in the face of rejection while accepting the Photographer of the Year award. Just before his speech, Valeisha Butterfield, Google's Vice President of Partnerships & Engagement, gave Nunez his flowers for always making her feel seen and appreciated, which gave her the determination to be herself and take up space.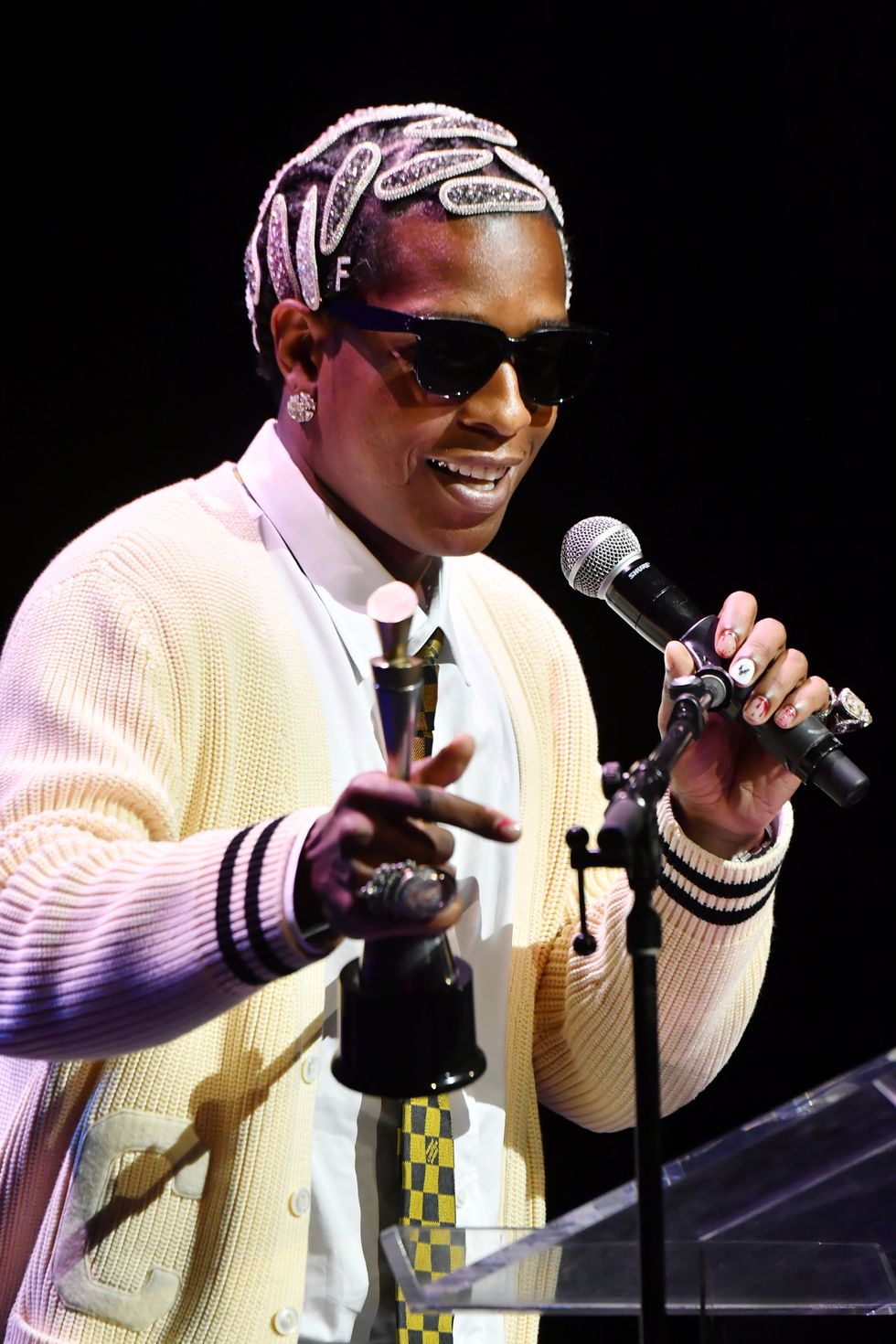 A$AP Rocky
Shutterstock
A$AP Rocky lit up the historic Apollo stage with his undeniable charm and intrinsic style. Dressed in a cardigan, Louis Vuitton tie, and a voluminous kilt while his head was adorned with embellished hair clips, he was walking proof that he's a fashion, music, and culture innovator just like the name of the award he was receiving, the Virgil Abloh Award. For this Harlem native, it was a full circle moment as Abloh helped the rapper with his start in the industry years ago when he helped design his first album cover.
Designers Megan Renee, Nicole Benefiled Portfolio, and A. Potts showcased their transformational designs, which varied in style, texture, and color. Megan Renee's designs were inspired by unapologetic femininity. Nicole Benefiled Portfolio's designs were more geometric and modern, with a focus on clean lines and bright colors. A. Potts' designs were eclectic and playful, with a focus on mixed patterns and bold colors. All three designers created unique and eye-catching pieces that turned heads.
The show concluded with a beautiful tribute to hip-hop by the legendary Doug E. Fresh. The entire show was a celebration of all that is good about fashion, and it was a reminder of why the culture continues to inspire and influence people all over the world. HFR's New York Fashion Week kickoff was a love letter to the culture, and it was delivered with nothing but style, care, and love.
Feature image by Shutterstock