London is one of my favorite cities in the world and when it comes to their influence on the fashion world, they're even higher on my list. The epicenter of European style and grace, London is full of trend-forward locals that take effortless fashion to another level. With a population of over 10 million people, you can't narrow down just one aesthetic. Like any other big city, there are a plethora of shapes, personalities, and daily activities that contribute to one's personal style .
---
When visiting this past November , I spotted a number of streetwear trends that seemed to be a favorite amongst Londoners. As we get deeper into the winter months, colder temperatures require a major style adjustment. To get a better understanding of what's trending now, I enlisted the help of styling duo May and Melinda. Identical twin sisters, these fashion lifestyle content creators are based out of London, focusing on pear-shaped styling.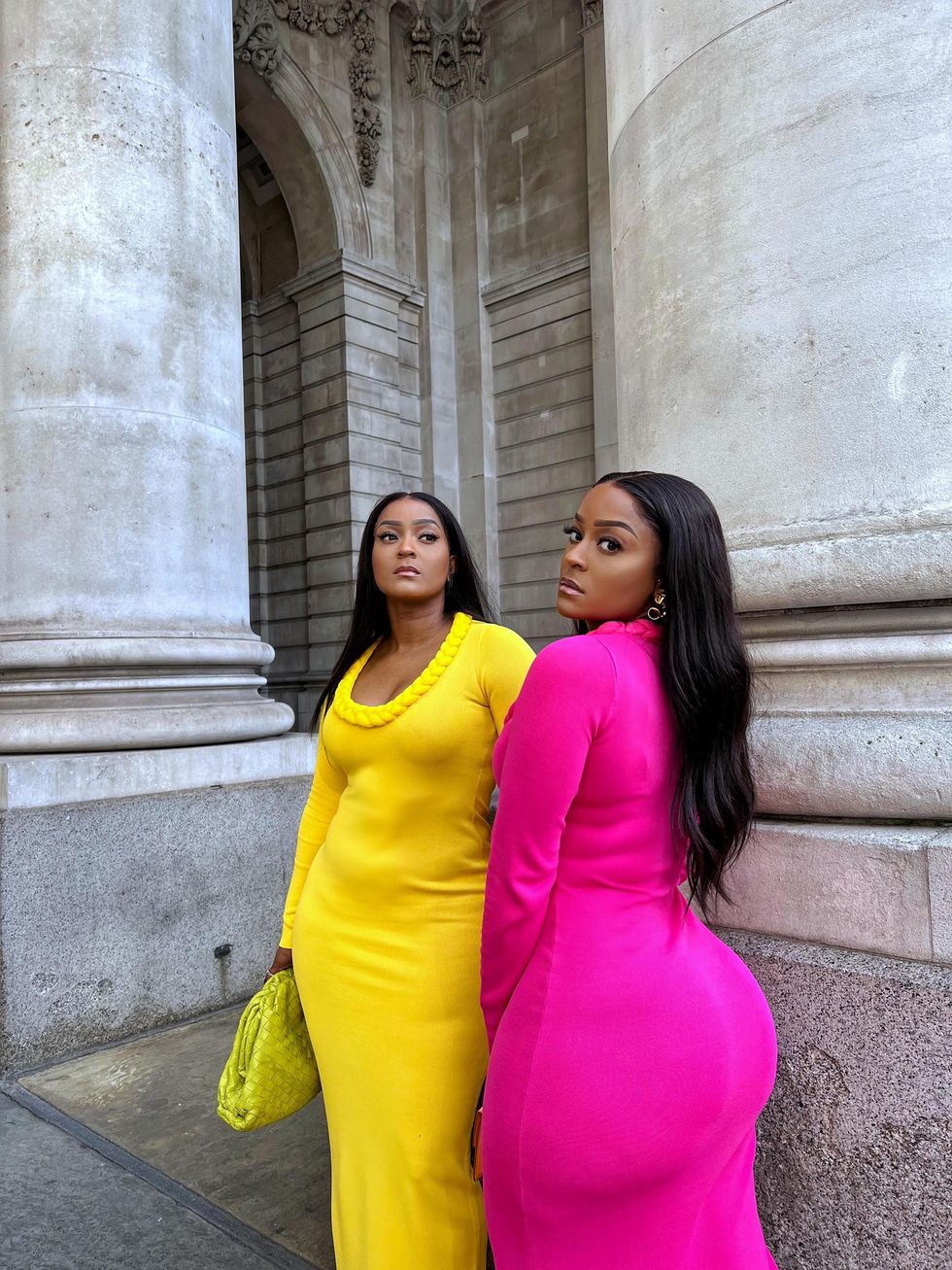 Courtesy of May and Mel
East African-born, naturally pear-shaped, and lovers of fashion , they always found it difficult shopping ready-to-wear items that fit their shape. Beginning their careers a little over a year ago, they started May Mel out of frustration and wanting to help others who were also left out and ignored while bringing the latest trends to our social media feeds.
Like many parts of the world, the colder weather in London has May and Mel gravitating towards layering, which the fashion lovers say is a major key for staying warm without sacrificing style. The duo notes that plus knitwear and "good duvet coat" as winter wardrobe essentials. They tell xoNecole, "You have to start with a good base layer like a Merino turtleneck and thermal leggings. You can layer [them] with almost anything."
In addition to Uniqlo thermal leggings, May and Mel also recommend "the ease and coolness" of a pair of oversized pants. "We recommend buying mid- or high-waisted pants for our curvy girls. This is for a better fit, plus the illusion of a slender hip and an elongated body frame."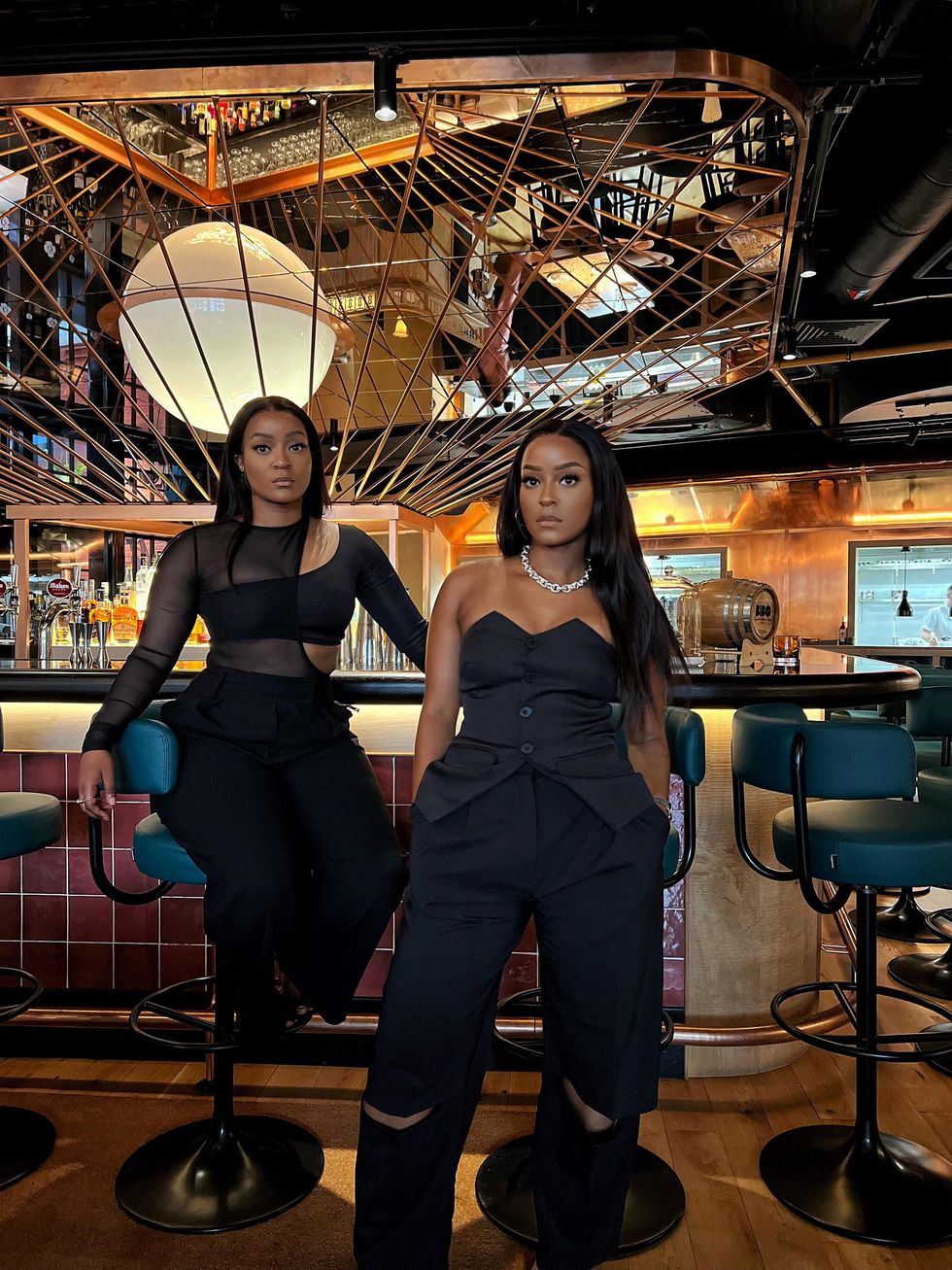 Courtesy of May and Mel
One way that May and Mel like to keep things sexy and cozy during the winter months is by introducing form-fitted items to accompany more oversized outwear. "If you follow our accounts you know we love a knitted midi bodycon; it is sexy, cozy, and classy. Playing with shapes, especially oversized outerwear, and fitted innerwear is an absolute favorite in the colder months. For instance, an oversized blazer paired with a tank or crop top and bottoms gives sexy and shows off your shape, whilst keeping you warm."
When it comes to UK winter fashion, there's a mix of classic staples and throwback items seen on the streets every day. Keep scrolling to read what's trending in London this season according to these ready-to-wear experts.
1. Shearling-Lined Jackets
Perfect for below-zero temperatures, I saw this cozy suede coat all over London. From street style to my Instagram feeds, this is one of the stylish winter items that look just as good as it feels warm.
2. Denim Corsets
The fashion girls love to layer and what better way to stay chic than with a denim corset as the final addition to a day or nighttime look? May and Mel suggest, "Corset tops with denim or cargos (or denim cargos). Still very Y2K , these are fun and look uber-feminine, paired with heels. Styling trick for our pears: try a corset with vertical stripes to help elongate your frame and lift the bust to give you a fuller-busted appearance."
While fashionistas may have ditched this look opting to stay warm during the day, it's still a sexy staple for date night or out for drinks with the girls.
3. Tracksuits
Tracksuits are the cozy co-ord sets that are worn best with sneakers and a puffer coat. The key to surviving the below-freezing temperatures while boarding the London Underground or walking along Oxford street, this is the go-to daytime look to stay warm and cozy while out and about.
4. Longline Wool Coats
​ One of my favorite winter staples is a longline coat, transforming a subtle casual look into a major statement. May and Mel explain, "Londoners are great at taking simple and classic items and elevating them with trendy pieces like chunky knee-high boots or cargo pants." They continue, "For pears, we'd recommend a belted wool coat which is uber chic and flattering, creating a balanced proportion between the shoulders and the hips, emphasizing your cinched-in waist."
5. Headphones
The epitome of early 2000's style , headphones are officially one of my favorite accessory trends of 2022-2023. Reinvigorated by Gen Z, headphones are no longer for just listening to music but have been adopted as part of the latest London cool girl aesthetic. Specifically, Apple's AirPod Max has seemingly replaced ear muffs as the cozy girls' fashionable attempt to stay warm and antisocial.
6. Cargo Pants
The utilitarian trend can be spotted absolutely everywhere, reinforcing the oversized cozy look that is taking over the streets of London. Dressing the pants style up or down, the versatility is endless. "We're obsessed just like every other fashion lover and most of London. Easily one of the biggest trends of the year, you can't help but see them everywhere you go," states May and Mel. "These are just too comfortable and cool not to own. We bought a pair from Local European that we love and wish we could live in them as they fit so well with their cinch-able waistband."
7. Chunky Knit Sweater
Oversized knits are a necessity when bracing for winter London weather. With negative temperatures, the only way to stylishly embrace the cold is by layering cute and functional items. "This is an absolute staple in all Londoners' wardrobes. We've seen a lot of bold and jumper-style knitwear this winter, alongside classics like turtlenecks," says May and Mel. "This sweater style is the perfect addition to statement pants layered with a heavy-duty coat, running sneakers, and a crossbody bag. "We love a chunky knit, great for adding volume on the upper body; especially bright and textured knits like patterned fleeces," they add.
8. Knit Dresses
Knit maxi dresses are the perfect balance of sexy, chic, and cozy. "We've seen lots of knit dresses; as they're so easy, versatile, and chic. A winter staple, these dresses are perfect for any event, day to night, and suit everyone." May and Mel continue, "For our fellow pears, we recommend styles that are belted at the waist or patterned on the top half. This is to draw attention to your smallest part and show off your curves."
Let's make things inbox official! Sign up for the xoNecole newsletter for daily love, wellness, career, and exclusive content delivered straight to your inbox.
Featured image courtesy of May and Mel
Shahirah Ahmed
Shahirah Ahmed is a content creator, influencer and fashion stylist residing in Los Angeles, CA. Originally from Sacramento, CA she decided to pursue a career in the fashion industry once realizing she had the power to turn her dreams into reality. A year after obtaining her degree in Fashion Merchandising, Shahirah launched her namesake fashion blog for tall women with larger shoe sizes in 2015. Keep up with her daily looks on Instagram @shahirahahmed.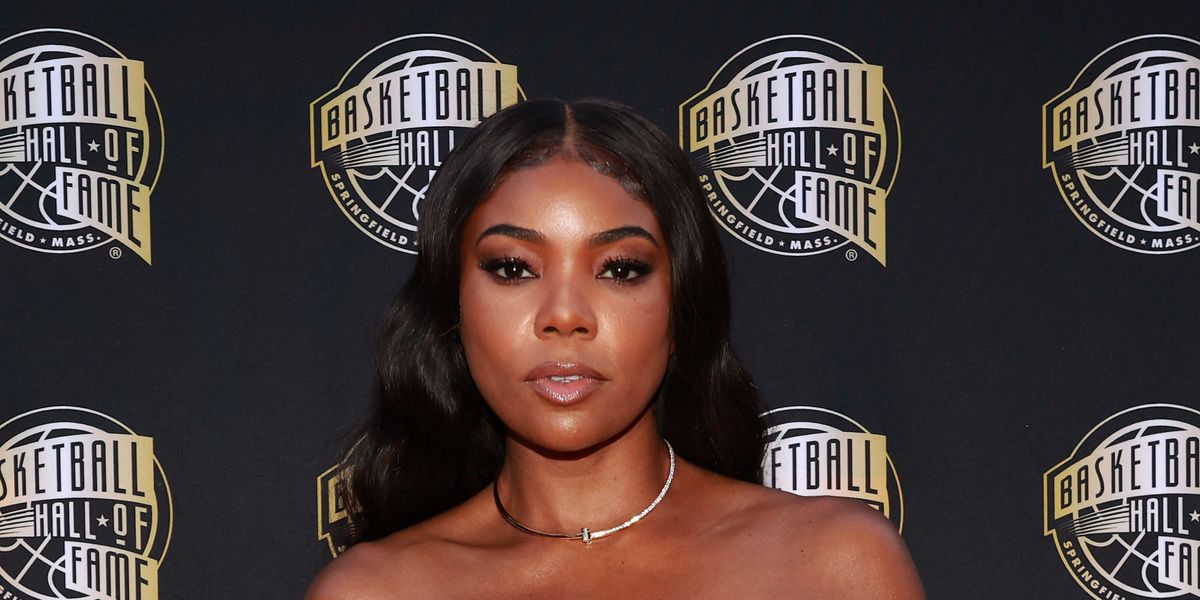 Whenever Gabrielle Union graces the movie screen, she immediately commands attention. From her unforgettable scenes in films like Bring It On and Two Can Play That Game to her most recent film, in which she stars and produces Netflix's The Perfect Find , there's no denying that she is that girl.
Off-screen, she uses that power for good by sharing her trials and tribulations with other women in hopes of helping those who may be going through the same things or preventing them from experiencing them altogether. Recently, the Flawless by Gabrielle Union founder partnered with Clearblue to speak at the launch of their Menopause Stage Indicator, where she also shared her experience with being perimenopausal.
In a xoNecole exclusive, the iconic actress opens up about embracing this season of her life, new projects, and overall being a "bad motherfucker." Gabrielle reveals that she was 37 years old when she was diagnosed with perimenopause and is still going through it at 51 years old. Mayo Clinic says perimenopause "refers to the time during which your body makes the natural transition to menopause , marking the end of the reproductive years."
"I haven't crossed over the next phase just yet, but I think part of it is when you hear any form of menopause, you automatically think of your mother or grandmother. It feels like an old-person thing, but for me, I was 37 and like not understanding what that really meant for me. And I don't think we focus so much on the word menopause without understanding that perimenopause is just the time before menopause," she tells us.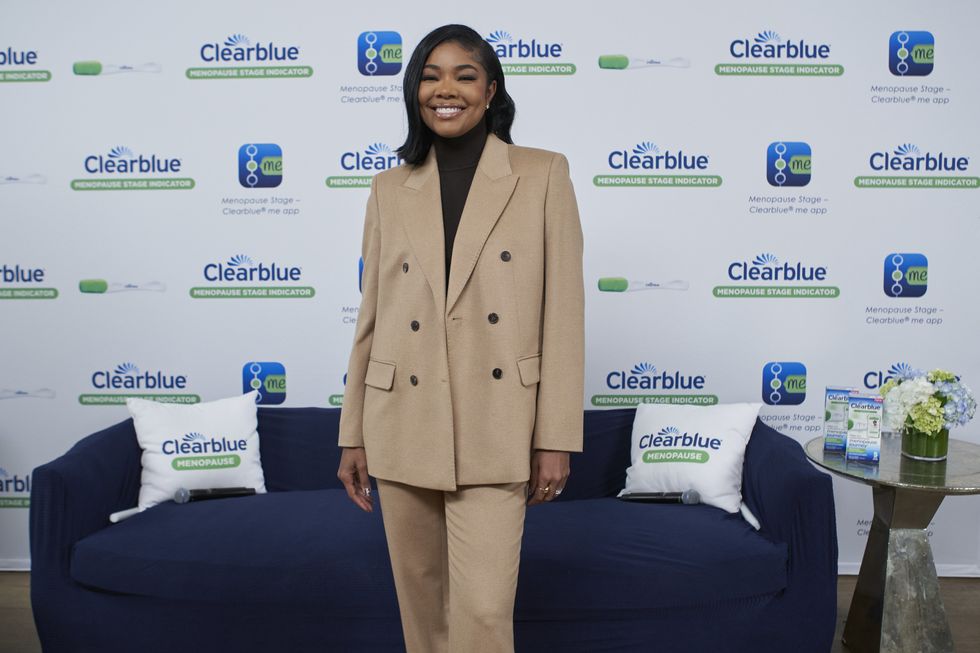 Gabrielle Union
Photo by Brian Thomas
"But you can experience a lot of the same things during that period that people talk about, that they experienced during menopause. So you could get a hot flash, you could get the weight gain, the hair loss, depression , anxiety , like all of it, mental health challenges , all of that can come, you know, at any stage of the menopausal journey and like for me, I've been in perimenopause like 13, 14 years. When you know, most doctors are like, 'Oh, but it's usually about ten years, and I'm like, 'Uhh, I'm still going (laughs).'"
Conversations about perimenopause, fibroids, and all the things that are associated with women's bodies have often been considered taboo and thus not discussed publicly. However, times are changing, and thanks to the Gabrielle's and the Tia Mowry 's, more women are having an authentic discourse about women's health. These open discussions lead to the creation of more safe spaces and support for one another.
"I want to be in community with folks. I don't ever want to feel like I'm on an island about anything. So, if I can help create community where we are lacking, I want to be a part of that," she says. "So, it's like there's no harm in talking about it. You know what I mean? Like, I was a bad motherfucker before perimenopause. I'm a bad motherfucker now, and I'll be a bad motherfucker after menopause. Know what I'm saying? None of that has to change. How I'm a bad motherfucker, I welcome that part of the change. I'm just getting better and stronger and more intelligent, more wise, more patient, more compassionate, more empathetic. All of that is very, very welcomed, and none of it should be scary."
The Being Mary Jane star hasn't been shy about her stance on therapy . If you don't know, here's a hint: she's all for it, and she encourages others to try it as well. She likens therapy to dating by suggesting that you keep looking for the right therapist to match your needs. Two other essential keys to her growth are radical transparency and radical acceptance (though she admits she is still working on the latter).
"I was a bad motherfucker before perimenopause. I'm a bad motherfucker now, and I'll be a bad motherfucker after menopause. Know what I'm saying? None of that has to change. How I'm a bad motherfucker, I welcome that part of the change."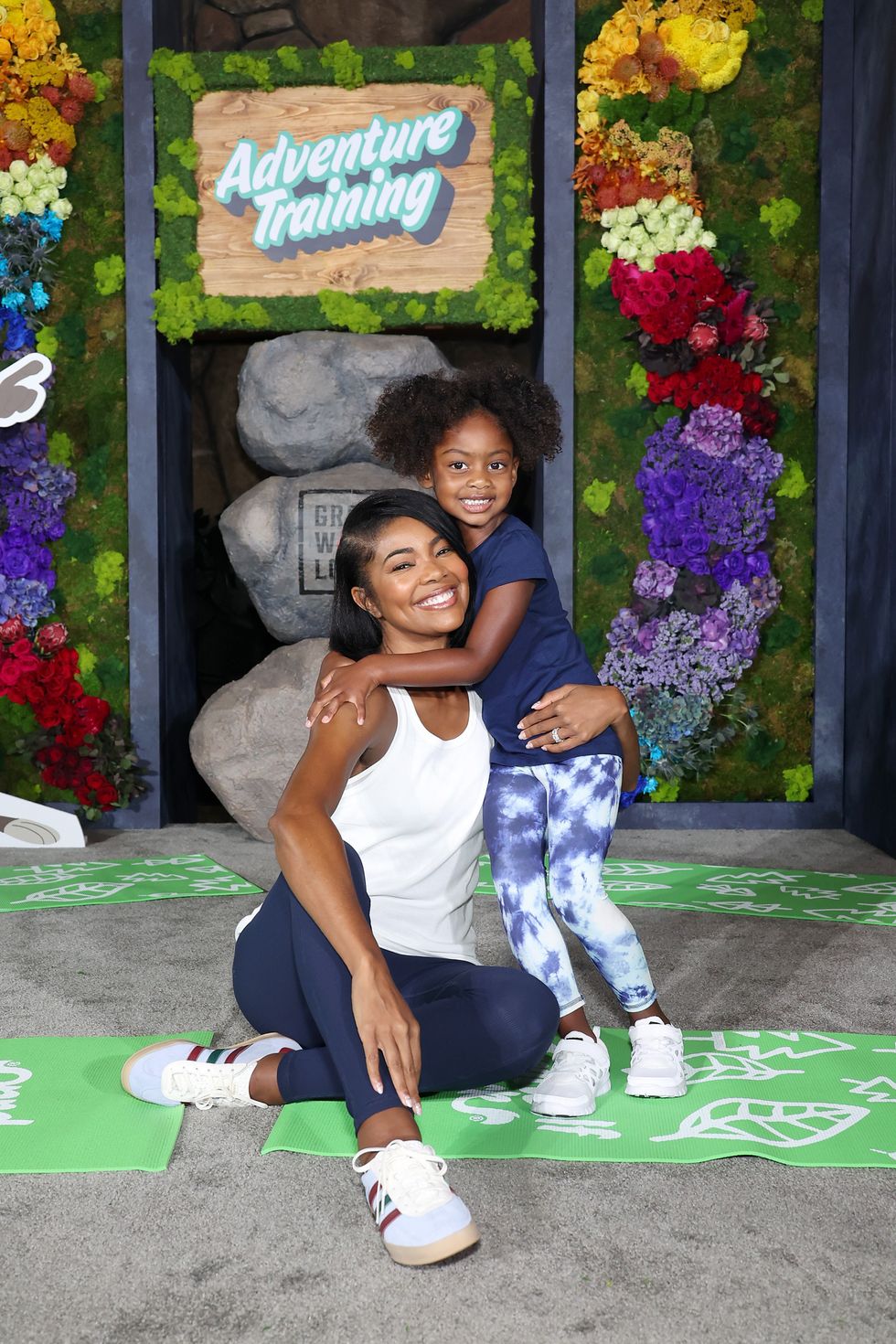 Gabrielle Union and Kaavia Union-Wade
Photo by Monica Schipper/Getty Images
"I hope that a.) you recognize that you're not alone. Seek out help and know that it's okay to be honest about what the hell is happening in your life. That's the only way that you know you can get help, and that's also the only other way that people know that you are in need if there's something going on," she says, "because we have all these big, very wild, high expectations of people, but if they don't know what they're actually dealing with, they're always going to be failing, and you will always be disappointed. So how about just tell the truth, be transparent, and let people know where you are. So they can be of service, they can be compassionate."
Gabrielle's transparency is what makes her so relatable, and has so many people root for her. Whether through her TV and film projects, her memoirs, or her social media, the actress has a knack for making you feel like she's your homegirl. Scrolling through her Instagram, you see the special moments with her family, exciting new business ventures , and jaw-dropping fashion moments. Throughout her life and career, we've seen her evolve in a multitude of ways. From producing films to starting a haircare line to marriage and motherhood , her journey is a story of courage and triumph. And right now, in this season, she's asking, "What's next?"
"This is a season of discovery and change. In a billion ways," says the NAACP Image Award winner. "The notion of like, 'Oh, so and so changed. They got brand new.' I want you to be brand new. I want me to be brand new. I want us to be always constantly growing, evolving. Having more clarity, moving with different purpose, like, and all of that is for me very, very welcomed."

"I want you to be brand new. I want me to be brand new. I want us to be always constantly growing, evolving. Having more clarity, moving with different purpose, like, and all of that is for me very, very welcomed."
She continues, "So I'm just trying to figure out what's next. You know what I mean? I'm jumping into what's next. I'm excited going into what's next and new. I'm just sort of embracing all of what life has to offer."
Look out for Gabrielle in the upcoming indie film Riff Raff , which is a crime comedy starring her and Jennifer Coolidge, and she will also produce The Idea of You , which stars Anne Hathaway.
Feature image by Mike Lawrie/Getty Images
Victoria Monét has had an incredible year. Thanks to the success of the widely popular " On My Mama " that went viral, the singer/ songwriter's Jaguar II album debuted in the top 10 of Billboard's Top R&B Albums chart. She also went on to headline her own sold-out tour . So, when the MTV VMAs happened in September, everyone was surprised to learn that Victoria's team was told that it was "too early" for the "Smoke" artist to perform at the award show. However, a couple of months later, the mom of one received seven Grammy nominations, including "Best R&B Album" and "Record Of The Year."
Victoria is currently in London and stopped by The Dotty Show on Apple Music and shared how she feels "validated" after being dismissed by the VMAs.
"It really does feel nice and validating because, in my head, the reason why I wanted to be a performer at the VMAs or award ceremonies like that is because I felt like I am at the place where I should. I would work really hard to put on the best show that I could, and I was excited to do so," she said.
"And I guess the best way to describe it for me is like when you're like on a sports team, and the coach is like, 'No, you gotta sit this one out.' When they finally put you in, and then you score all these points, and it feels like that feeling. You're like, yes, I knew it wasn't tripping, but I knew I worked hard for this, and so it's been super validating to just have these accolades come after a moment like that, and I know the fans feel vindicated for me.
While her fans called the VMAs out on their decision, the "Moment" singer kept it cute and is still open to performing at the iconic award show. "I feel no ill towards them because it's just maybe that's just truly how they felt at the time, but I hope their mind has changed," she admitted.
Aside from recognition from the Grammys, she has also received praise from legendary artists such as Janet Jackson , Kelly Rowland , and Usher .
Feature image by Amy Sussman/WireImage for Parkwood