---
So, you and your partner aren't on the same level sexually...what do you do? Well, it depends. There's isn't one answer to this, there's no one-size-fits-all solution. Ordinarily, when we talk about not being on the same level sexually, it is in reference to sex drives not being in sync. But sexual incompatibility can go beyond sex drives. In fact, two people can be sexually incompatible for a variety of reasons. Things like experience, patience, communication, love language, and even who your partner is to you and how you define that can come into play.
While some people might be able to drop the situation like a bad habit, others might find themselves in more committed partnerships like a long-term relationship or a marriage. If that's your reality, what's the solution? To further shed light on the conversation around being sexually incompatible, I asked four people who have experienced being on different levels sexually than their partners, and it went like this.
Angie, 25
When it came to Angie's experience, she felt like she didn't have enough. She had been dealing with a sexual partner who treated sex like a chore and got straight to it — no foreplay, kissing, or any physical build-up to sex. "He would call me, we would smoke and that was everything that gave me that feeling," she explained. "I wanted foreplay. I wanted everything and I didn't know how to come out and say I need more sexually."
As a solution, she brought the issue to his attention. She explained that she needed more to get her in the mood so that she could fully enjoy the experience. Unfortunately, he never made any improvements or attempts to fulfill her needs and she felt like it was starting to affect her sex drive.
"You just need that energy to feed off of and if us just smoking is the only thing giving me that drive, I can't give you anything else. If he gave me that energy back, it could have been a really good experience. Why would I give you all of this and you're giving me the bare minimum?"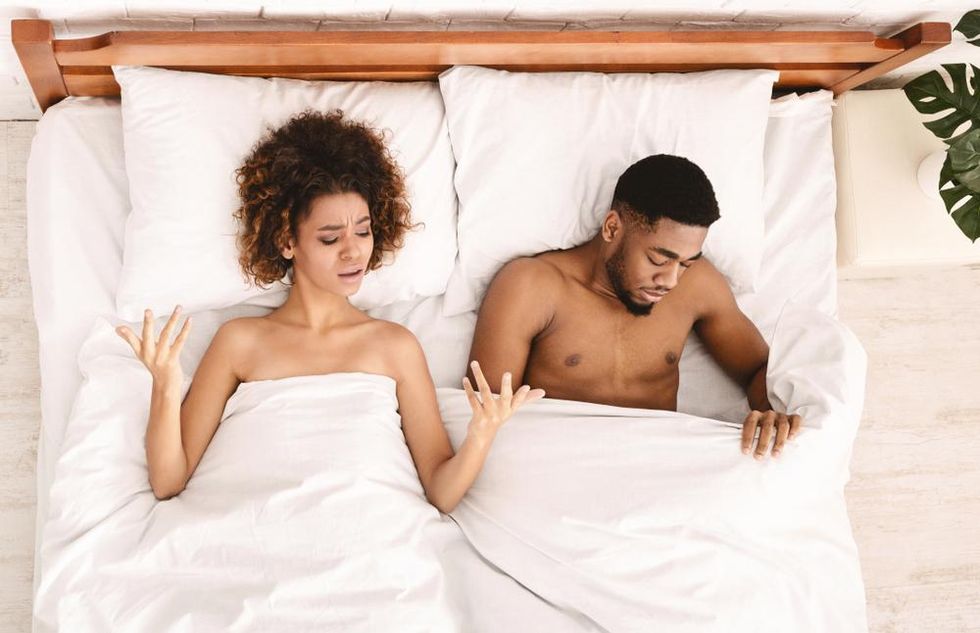 Shutterstock
Donny, 30
With Donny, he experienced this in two different situations. The first time it happened, he was dealing with someone who wasn't on his level sexually. He felt prior to leading up to sex it had been overhyped and when it finally happened he was disappointed because the talk didn't match the action. "Sometimes women talk their sh*t like, 'You're not ready for this' or 'I'm going to put it on you' and when the time comes you don't know what you're doing. She was off her game."
"Maybe we weren't flowing, but the second time around you need to bring your A-game. It didn't happen and I just chalked it up to maybe she didn't have that many sexual partners."
As for a solution, he never found one. It goes back to what I mentioned earlier about the solution depending on who your partner is. For both, this was a casual thing, so he didn't care to tell her or try to resolve it. However, there were cases where he saw things could be better and sent suggestions. He explained, "I'll send some links and gifs that will spice it up. I'll say, 'This looks fire, you think we could try it?' or something like that before I tell you it's wack. We all have the internet and I've learned how to use it to my advantage."
On the other hand, when he was dealing with someone who was older and more experienced, he found it fun and it made him appreciate the experience even more. "It was exciting and exhilarating because shorty went into at least two or three positions that I wasn't really ready for. She kind of wrapped her legs around my waist and did like a handstand but was still throwing it back. I was somewhere in between trying not to nut because it's so lit and figuring out what I can do to challenge this because I didn't really have any moves."
With this, there wasn't a solution either. He couldn't keep up with her and didn't pursue the sexual relationship any further.
"She bodied me. She definitely told me about myself and had every right to. She was like, 'I don't know if I can give this to you again.' This is why I don't do the bragging and I keep it super humble."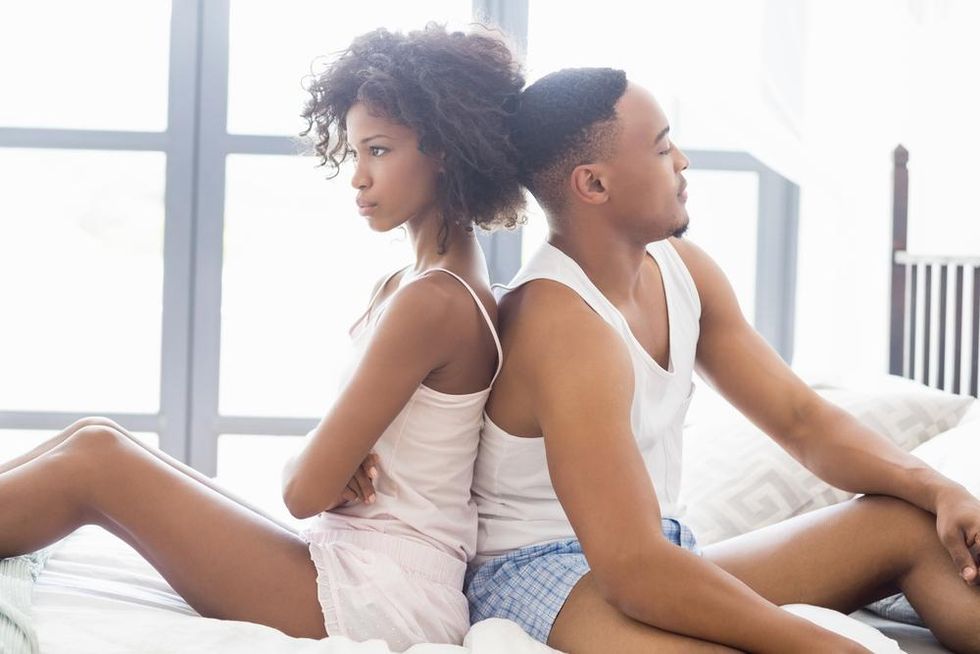 Shutterstock
Ron
Ron also experienced not being on the same level as his previous partner. At the time, he was younger and less experienced than his partner. During their sexual relationship, he wasn't quite comfortable with all of the things his partner wanted. She wanted things that he didn't know if he was ready for. "It became an uncomfortable situation because she wanted oral, anal, and all these different things, and I was just on the first step. So it can feel like the person is taking the lead or you're not pleasing them and it becomes more of a chore instead of an experience with one another. It was definitely uncomfortable. I think that that definitely ruined the relationship."
Before things went south, he did make an effort to salvage the relationship while trying to find a solution that would please both of them. When Ron brought up the issue, his partner started to compare him to her other partners. Unfortunately, things continued to get even more uncomfortable and they ended up going their separate ways. Although they didn't find a solution, he learned a lot from the experience. Ron explained:
"If there was more patience, more of a gradual growth towards things, and open-mindedness about the situation in the first place before anything occurred, I think that I could have understood more of where she was and she would have understood where I was instead of having expectations for one another."
He also learned that when it comes to sex and dealing with people, there's so much that correlates with it and people's sex drives. If you really want to make things work, you may have to sacrifice some things, be understanding to your partner, and have a level of patience if finding a solution is important to everyone involved.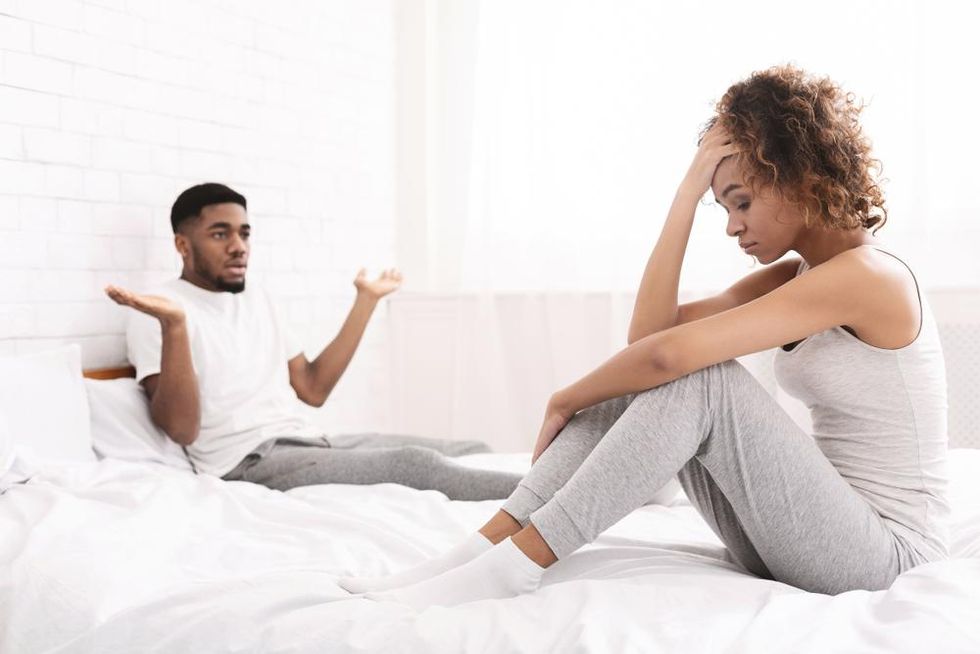 Shutterstock
Mone, 33
Last but not least, I was able to speak with Monet and she highlighted the importance of listening to your body. She emphasized that being spiritually aware and attuned with your body and vagina allows you to get a better sense of what your vagina wants. She continued, "I'm a very spiritual person and I do a lot of meditating with my vagina, so me and my vagina are on the same page. I can literally hear when she's not interested in something and so she will literally tell me, 'Yo, this is not where I want to be and this is not what I want to be doing'."
In a time where she was sexually incompatible with her partner, she felt one of the reasons was because she rejected what her vagina was telling her. She explain the experience like this, "We were really cool, we had a great relationship as far as being able to communicate [and have] great energy. It was like a best friend relationship but there was chemistry. So we did decide to try to make it into a sexual relationship, but the energy when we started to get intimate was thrown off. There was no chemistry, it was awkward, and it became a forced situation."
Monet ended up ending the sexual relationship and because she realized this is not what her vagina nor body wanted. She ignored what her body was telling her and learned that she need to be more disciplined with what her body was telling her and try not to force anything.
"We can be spiritual our whole lives, have that intuition, and a voice within us but until you become spiritually aware with that voice, able to really listen to it, and be disciplined enough to listen to that voice, a lot of decisions that put you in situations you don't want to be in can be avoided if we just listen to our intuition and voice."
You may not have to end every relationship, but knowing when to say when is paramount. Additionally, with each interview, communication has proven to be key when overcoming a situation with sexual incompatibility. It's important to communicate what you're feeling (or not feeling) with your partner and determine if sexual incompatibility is something you both are willing to work through.
If sexual incompatibility is something you want to work on with your partner, here are a few things to consider:
Having patience
You'll need to understand that finding a solution won't be easy and it will take some time. You have to have patience and move at a pace that both of you are comfortable with.
Exploring other forms of physical intimacy
If getting in the mood is an issue, there are many ways to feel stimulated aside from penetrative sex. You can explore different types of physical intimacy like kissing, cuddling, massaging, etc. to reinforce sexual activity. Start with this and add more once the time feels right.
Creating a sex menu
You can also explore different sex postions and activities. Whether this be solo or together, there are ways to improve sex and find a happy medium where both partners are satisfied.
Rethinking monogamy
If none of these options seem to work, you may also want to consider rethinking monogamy. There are several options like polyamory, open relationships, or even inviting others to the bedroom (threesomes). Be open-minded when it comes to finding a solution that works best for you and your partner.
Are you a member of our insiders squad? Join us in the xoTribe Members Community today!
Featured image by Shutterstock