I grew up in the Church. I went to Christian schools too (well, my elementary education was Christ-like; looking back, the EEOC should've come in and shut my high school all the way down). Looking back, if there's one topic that never really got discussed in either setting, it's sex. It really is sad that although the Bible has PLENTY to say about it (Song of Solomon is an entire book about it!), in my humble opinion, far too many folks do the very opposite of what Genesis 2:24-25 instructs us not to do—they attach shame to nakedness. Sad. Very sad.
---
That's why, whenever I do premarital counseling couples, I tend to spend at least 3-4 weeks on sexual intimacy—what you were taught about sex, your views on sex, your expectations of sex, etc. Because if you're gonna actually do what you vowed and remain with someone until death parts you, that's a REALLY LONG TIME to be sittin' somewhere sexually pissed off at least half of the time.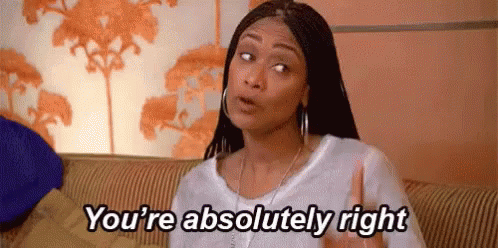 media1.tenor.com
And yet. It happens. A LOT. Not just to couples who waited until marriage to partake, but people who felt they should "test the car before driving it too" (I'm with Meagan Good on this one—we need to drop that comparison; people are not cars). And since the importance of sex isn't explored as in-depth as it needs to be, lots of people find themselves faking it, making excuses not to do it or…yes, cheating. And you know what? All three of those approaches to sexual incompatibility are unhealthy and super counterproductive. They really are.

So, what do I recommend you should do if you and your spouse aren't as sexually harmonious as you'd like to be? For starters, consider that what's really going on may not be as much about sex as you might think. It could be a myriad of things that have created your not-so-perfect storm.
How To Deal With A Sexually Incompatible Partner
Featured image by Getty Images.

Related Articles:

What 5 Men Had To Say About Married Sex - Read More
6 Challenges All Newlyweds Should Expect In Their First Year Of Marriage - Read More
Maintenance Sex Could Be The Key To A Successful Marriage - Read More
5 Reasons Why Every Married Couple Needs A Sex Jar - Read More