In many cultures, going to grandma's house for the holidays has always been the thing to do. But as we get older, things change. We move to new cities, start our own families, and our grandparents may no longer be around, so our homes may now be the holiday destination for extended family. However, playing host can be a hassle, especially during the holidays when your home becomes your family and friends' home for a short period. And if this is your first year hosting the holidays at your place, you can be in for a rude awakening if you don't make the necessary preparations beforehand.
---
We spoke to NYC-based experience curator and owner of POP! by Yaz, Yasmin "Yaz" Quiles to help guide first-timers. According to Yasmin, an experience curator is "someone who not only focuses on an actual event but the entire experience and that can mean anything from the first point of contact, things from an invitation, a website, all the way to the end and after effects."
If you are hosting the holidays in your home, it is important to touch on all of these points so that way your guests can have an experience to remember. Here are the steps to successfully host family and friends for the holidays.
1

.

Plan and Organize:
Before people start showing up to your house, you must plan out what you need and for how many people. It's also a great time to be creative. "The first part is the dream part because it's the fun part. What do I envision my event to look like? What do I want my people to feel when they come to my space? Ask all of the questions for the first point of contact," says Yasmin. "What kind of invitation [am I using?] Who am I inviting? What kind of music are we listening to? The food. So, you start thinking about what the vision is, and then after the dreaming, you organize your thoughts."
That includes putting together a budget. "See what you have access to, what you need help with, and what you may need to outsource," she advises. Meaning, this is the time to decide if you and your family will be cooking or if everyone will chip in to get dinner catered.
2

.

Repurpose Your Items: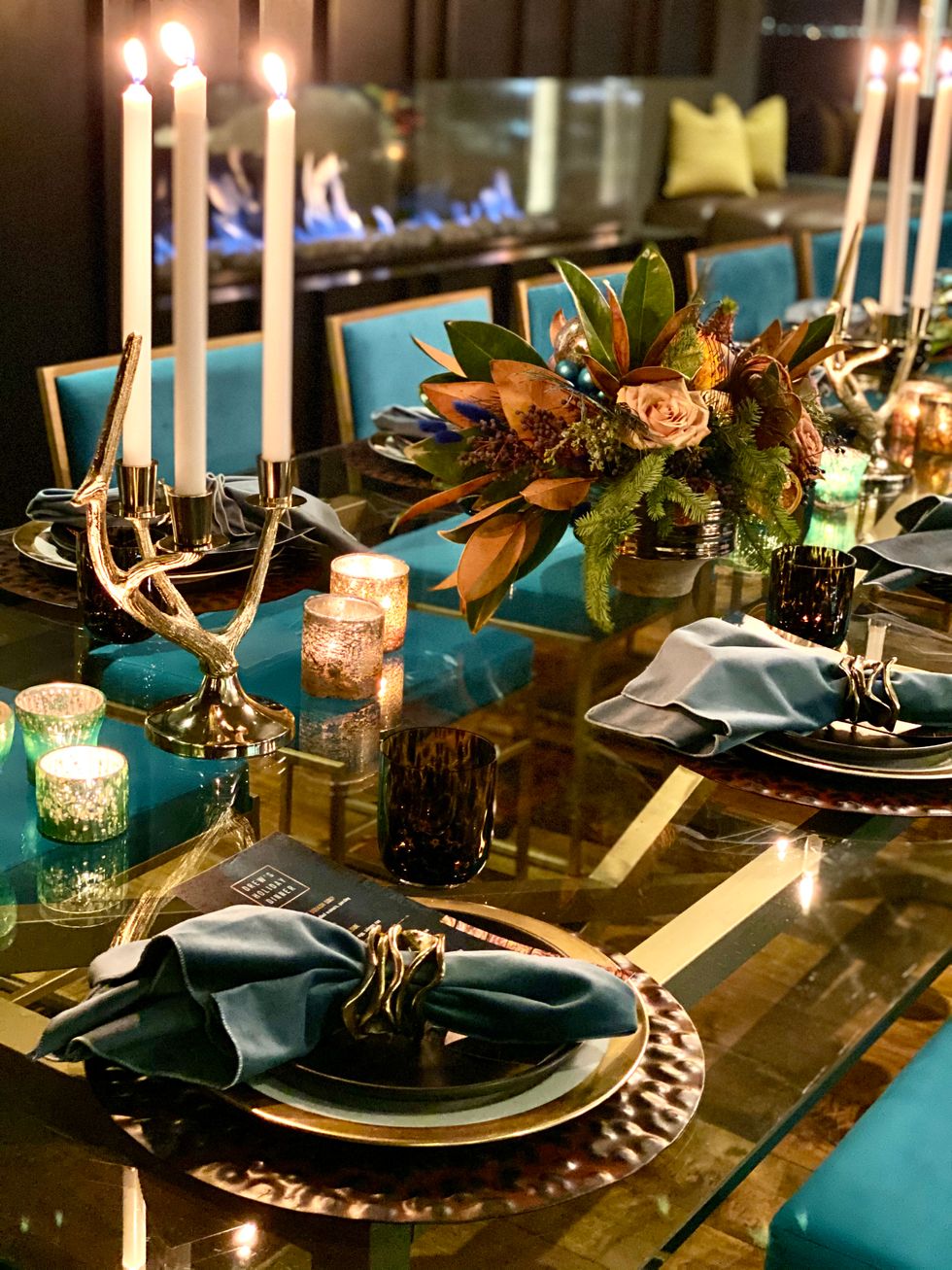 Photo courtesy of Yasmin Quiles
As you continue to plan and organize, it's important to take stock of what you already have at home. This can also help you stay within budget. If you have a limited budget then start thinking about how to utilize what you already have in a innovative way.
"I also like to start with inventory. What [are] items in your house that you can use? That way you can determine what it is that you have to get," she suggests. "I feel like a lot of people always put together a list and it's always 'buy, buy, buy, buy,' versus 'oh, wait a minute, I actually do have some things that I can utilize and I can just use it in a different way.'"
For example, "Utilizing a console as a small bar area or creating fake fireplaces. I think there are ways to use items in your space so that you don't have to continue to fill it up with new things."
3

.

Make Your Guests Feel Like They Are at Home:
Ever heard the saying, "mi casa es su casa?" You want your space to make guests feel like a home away from home and having a cozy place to sleep plays a major part in that. Be realistic about how many people you can fit comfortably in your home. "Figure out how much space you have in your house and how many people you can truly accommodate," she says. "What that means is even if you have a two-bedroom apartment, what are some creative ways you can create some space for them? Is it an air mattress or is it getting a hotel that is close to you; Airbnb's?"
You also want to provide your guests with the necessary accouterments and the gift of convenience. If you have certain rituals in your home, you want to make sure your guests can also participate in them. "What I love to do with my guests, I always love to make them feel like they're at home even when they are not, so I like to replicate the things I love in a hotel room. In our house we take off our shoes so we always have disposable slippers here that people can slide on or brand new socks in a basket," she explains. "That way they can feel immediately comfortable the moment they pass the threshold in your house."
"And in the bathroom or if there's a powder room, I like to put together a little welcome basket and it can be something as simple as here's your towel, here's your washcloth, all the little toiletries you may need," she adds. "I give them their own little stash, that way they don't feel like they're burdening me by asking, 'oh, do you have q-tips' or whatever it is. It's all already set up there for them and it makes them feel so welcome and thought of."
4

.

Food and Entertainment: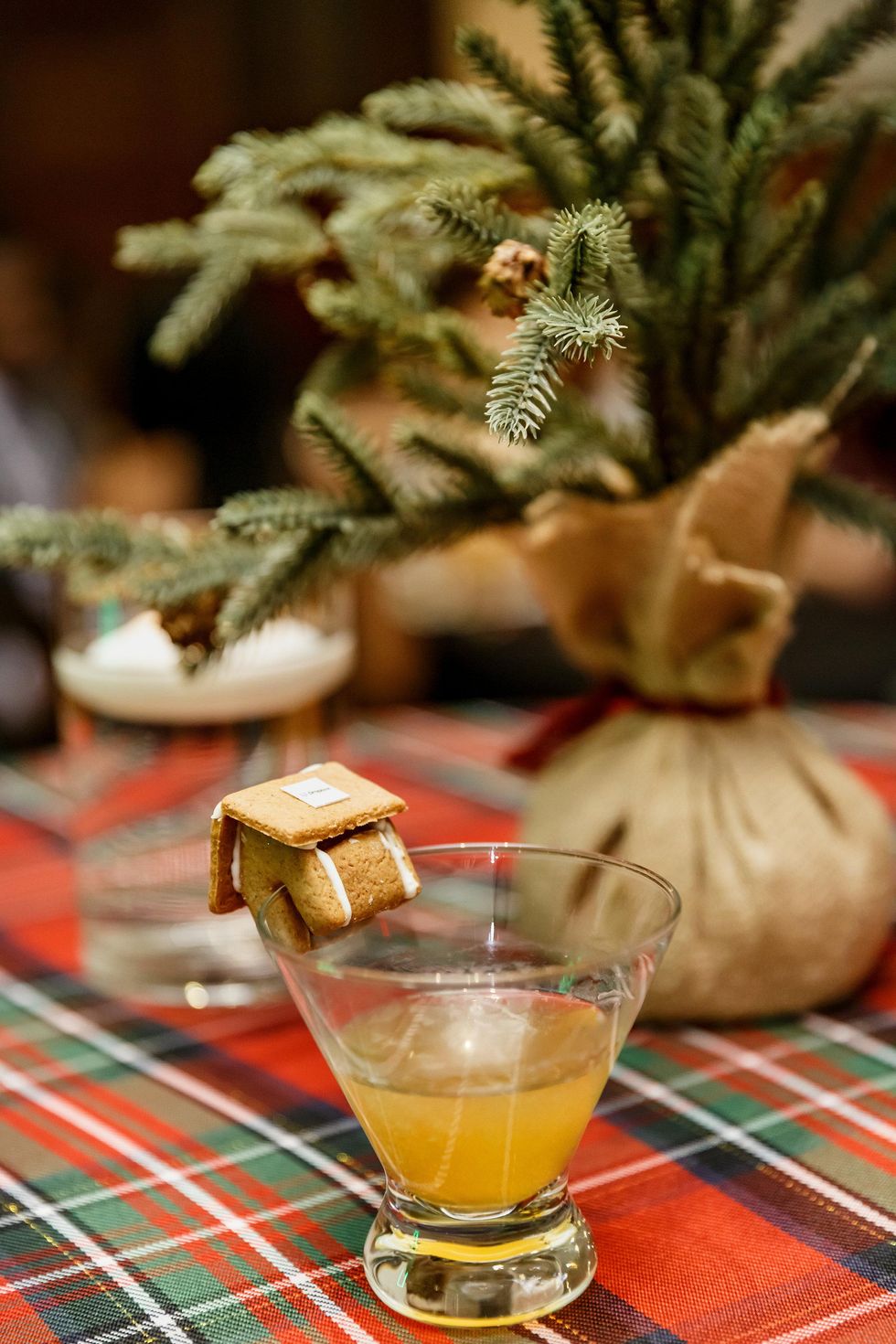 Photo courtesy of Yasmin Quiles
Along with welcome baskets, the Afro-Latina entrepreneur also enjoys putting lists together with a few of her recommendations. Think, welcome lists you receive at hotels and Airbnb. "I'll put together a short list of my favorite restaurants, my favorite channels or shows to watch that way they can be entertained while I'm doing other things," she says.
The holidays involve a lot of cooking and so going out to eat may not be an option. But neither is eating mac and cheese, collard greens, and ham all day, every day. So, it's best to provide options for your guests. "When people go to other people's homes, they really want the house experience so eating out is great, it's fine, but I think it really makes people happy when immediately there at home at your house," explains Yasmin.
"What I like to do is immediately have an assortment of snacks available and that means everything from the folks that are on a diet to folks who want to indulge and have a little bit of everything. That way we have a good selection. And [I like to have] things that can be left out for a couple of days as well so I'm thinking pre-packaged items that way [they can] 'grab and go.'"
5

.

Activities:
When having guests stay over for a few days, you should want to do more than just stay in and look at each other the whole time. Similarly to the way Yasmin advises providing a list of recommendations for eating out and indoor entertainment for guests, she suggests providing guests with a list of favorite stores or favorite markets with recommendations of what to buy.
This can also be a great time to show your guests where you live by going on walks or a scenic drive. "A lot of times these holiday celebrations happen when we are in the midst of planning and doing things and doing all the last-minute errands. Another thing I like to do is photo albums, people love photo albums."
Yasmin recommends having a physical photo album that you and your guests can look through or a digital frame such as Aura Frames that holds photos online that you can continue to add to.
6

.

Music:
What's left is providing the ambiance. One of the many ways that people do this is by having a playlist. Creating a playlist is fun but can also be time-consuming. Not only do you have to add your auntie's favorite Christmas song to the playlist but you may also want to take a trip down memory lane with your siblings and jam to a throwback from your childhood. Yasmin reveals a solution, which she refers to as an "elevated" experience.
"You can hire a DJ. They can do a set on Twitch," Yasmin says. "There's a chatroom function so you can put it on your TV, so all the guests who are there can listen to the music live but if there are guests who can't make it for whatever reason, they can tune in and participate via the chat."
The experience curator also suggests having a quiet space for those who are more introverted or need a break from the loud music and crowd.
7

.

The Breakdown:
Whether you and your family decide to cook together or hire a caterer, cleaning up after a big event is always a buzz kill. Yasmin recommends outsourcing help as a way to enjoy yourself and not worry about the aftermath. "Clean up can be a big hassle. It is okay to get a cleaning team. It is okay to hire a bartender. It is okay to hire anybody who can make your job easier," she assures.
"The point of these events really is to connect and I feel we get so caught up in the doing that we forget that and the party ends and we're like 'dang, I didn't get to have a conversation with my best girlfriend who I haven't seen in six months.' Give yourself permission to outsource so that you can have a good time."
For more information about Yasmin, you can visit her website at yazquiles.com and follow her on Instagram @popbyyaz.
Let's make things inbox official! Sign up for the xoNecole newsletter for daily love, wellness, career, and exclusive content delivered straight to your inbox.

Feature image courtesy of Yasmin Quiles