---
During my early years of full-time freelance consulting, I got the chance of a lifetime when I landed a huge client. As a member of this client's team, I would be witnessing the launch of an amazing initiative in Accra, Ghana, and I would be part of the ribbon-cutting. The parents of the young founder of the organization gifted me tickets and accommodations---something I will forever be grateful to them for doing.
The experience changed my life---and my perspective on travel, race, spirituality, and Africa---for the better.
When they told us we'd be visiting the slave castles on the coast, I had mixed feelings. One, I've never been a fan of reliving slavery or the history of it. (Since childhood, films like Roots would always make me feel super-sad and then super-angry for weeks on end, and I'd even fainted on a Virginia plantation tour as a teen.) Two, most of the people on the trip were white.

Someone might read that and say, "So?" but that person is disregarding the fact that some experiences, especially that of visiting a place where your ancestors were kidnapped, raped, starved, beaten, and taken away from their families forever, can be very personal and traumatic. To be honest, it was something I thought I'd rather share with my loved ones who could relate due to our shared heritage and culture.

Unapologetically Proud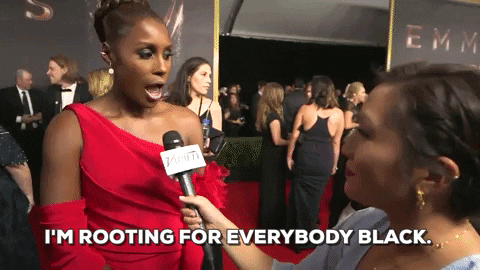 Image by Giphy
Let me explain something about myself: Though I respect and love all people, I have always been pro-black. (This does not equal anti-white, and I'll leave it at that.) I went to a historically black science- and math-focused high school, graduated from an HBCU (hey, Pirates!), and worked for and with several top black companies which I consider top without the insertion of "black" in there. I have spent my entire career giving voice to the diverse stories and experiences of black and underrepresented people, especially stories that contribute to providing balance in how black people in particular are depicted. It is something I've dedicated my life to.
I was raised in a proud family of black achievers---part of a community where educational, political and business leaders were black and where black nationalism was a way of life.
I've had my own experiences with racism, both blatant and covert, and those experiences would only strengthen my career mission as an adult.

An Emotional Shift and Lesson in Empathy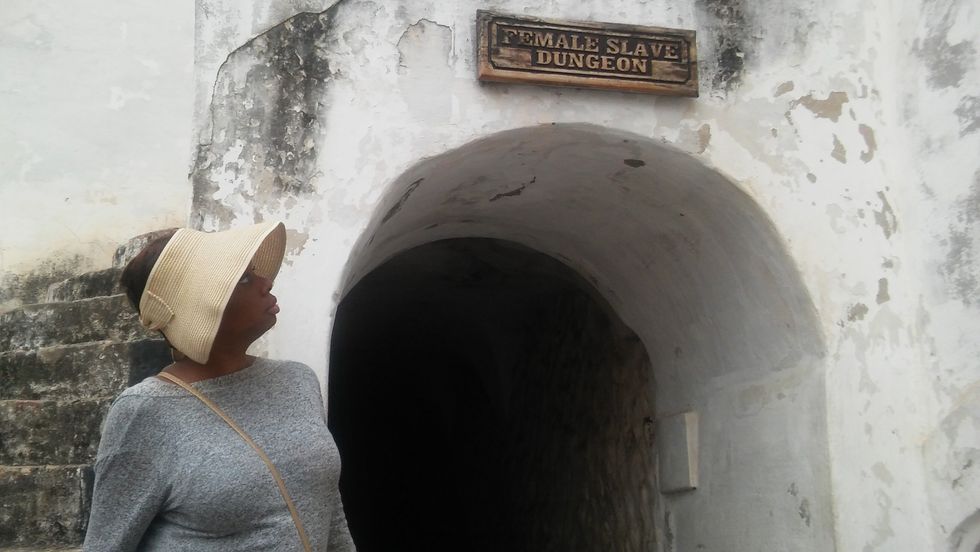 In Ghana, at the slave dungeon designated for women (Image via Janell Hazelwood)
While visiting the slave dungeons, I never really thought white people could truly understand the half of what it meant to stand in the very rooms where their ancestors packed mine in by the hundreds---including women who were not given accommodations to bathe, use the bathroom, or enjoy dignity during their menstrual periods---and treated them like animals before taking them to faraway lands to live their days in forced servitude. I knew they could offer apologies, but I felt they really couldn't relate in a way that wouldn't be perceived as forced, superficial, or something done out of obligation.
Real talk, that's how I felt.
Standing in those spaces, the sadness again turned to anger, especially when I saw other white tourists taking photos---some more in awe or disbelief than in total disgust and disappointment---and I began wishing I had taken the trip to Ghana earlier in life with my own friends and family who could really share in the moment in a way that was more private and respectful. (Disclaimer: None of the participants in our travel group were being disrespectful or insensitive. This was something I noticed in other groups.)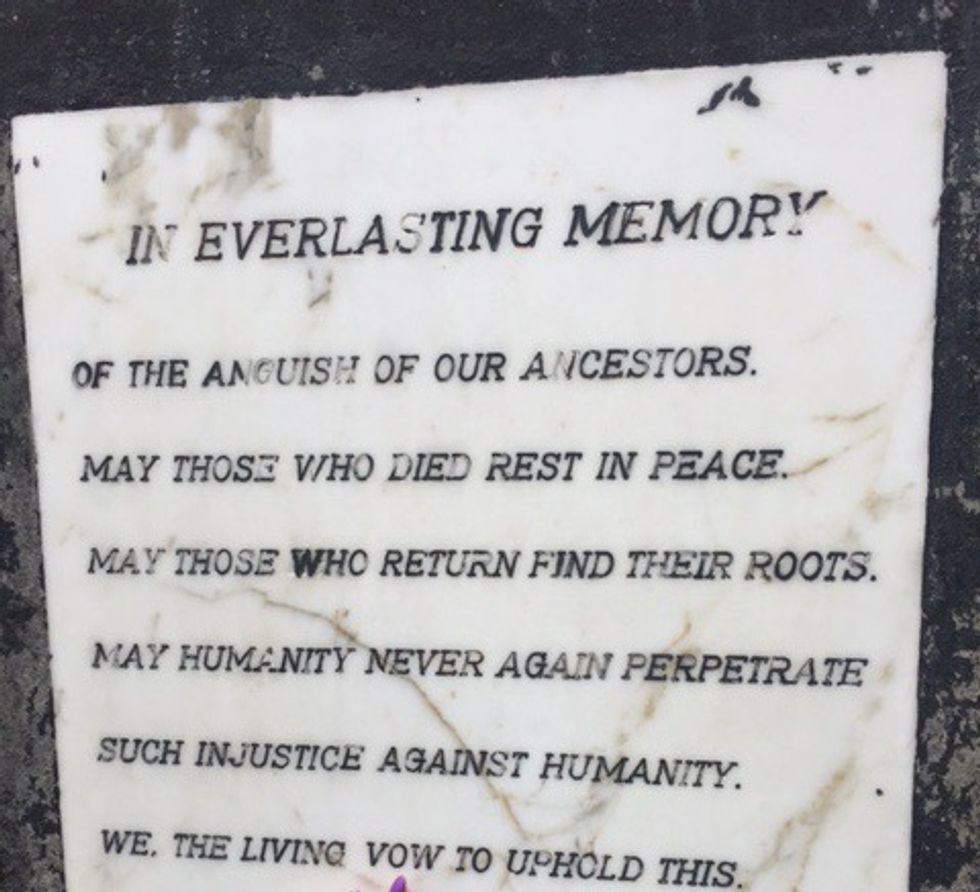 A commemoration plaque at the dungeons (Image via Janell Hazelwood)
Once the tour was over and we'd all gathered to go back to the hotel, everyone began talking among themselves, and people were asked to share their thoughts about the visit. One woman's tearful sentiments in particular really touched me. I remember her talking about how she'd studied her Caucasian family's history. She felt bad because of the things she'd uncovered, and visiting the castle really triggered even more feelings of remorse and empathy.

She said the trip really solidified for her that we all must face horrible truths about our places in history and, for her, that meant coming to a deeper understanding of the divisions of racial biases and discrimination she'd witnessed--and maybe even ignored---in her own community.
Meeting of the Hearts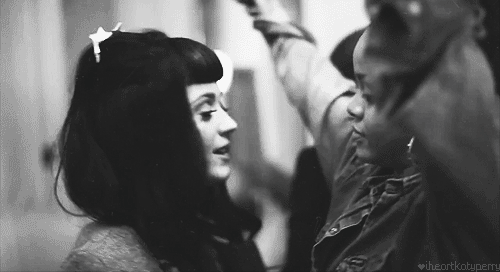 Image by Giphy
It wasn't her words that moved me. It was the tears and the transparency she showed to over a dozen people, some who hadn't known her before the trip, including me. She was a grown woman---much older than me---and I felt it took courage to express herself in the way that she did.
My anger began to melt away.

The fact that the woman even gave the experience a chance made me recognize what it meant to share in the humanity of hurt and trauma, and I respected that she even attempted to open herself up to dialogue about the biases and discrimination with all of us. That really struck a chord in me. I felt bad that I had not shown her the grace she was showing me. I'd let anger, past experiences, assumptions, and stereotypes allow me to place a wall up. I was guilty of the very thing I expected white folk not to do to me or my people.

As we continue to share stories and experiences during Black History Month, I hope we can all learn lessons of humility, empathy, and self-awareness that will allow us to move forward in a way that allows every human being to face their truths--the good, the bad, and the ugly. I pray that we do this with kindness, empathy and authenticity. This is the only way we will see a long-term resolutions to end discrimination and division among our cultures and races once and for all.
xoNecole is always looking for new voices and empowering stories to add to our platform. If you have an interesting story or personal essay that you'd love to share, we'd love to hear from you. Contact us at submissions@xonecole.com.
Featured image by Shutterstock