Dorion Renaud was first introduced to us in 2008 on BET's College Hill: Atlanta. Soon after, the Beaumont, Texas native saw great success as a model, gracing the pages of Vogue magazine, and as an actor, starring in Bounce TV's hit sitcom, In The Cut. Recently, Dorion has added the title of 'entrepreneur' to his ever-growing list of accomplishments and successes over his decade-plus-long career. With the launch of his skincare line, Buttah, he has taken the beauty and skincare industry by storm, providing Black men and women with attainable solutions to their pressing skincare concerns and resulting in an all-around even skin tone.

---
From embarking on a quest to address his own skincare challenges to being a successful Black skincare founder with products in Macy's, it's safe to say that Dorion Renaud's foray into the beauty space has left and will continue to leave a lasting legacy.
The Buttah founder sat down with xoNecole to discuss what made him go into the beauty industry, common challenges Black people have with skincare, and what inspired him to pivot from the entertainment industry into the entrepreneurial realm.
xoNecole: When did you realize that you wanted to create a skincare line?
Dorion Renaud: In high school. For one, I suffered from hyperpigmentation. I would pick at my skin if I had a pimple or something. But it wasn't the pimple so much that bothered me, it was the dark spots that it left. So I began looking for resources in my small town of Beaumont, TX and getting procedures in places where I shouldn't have gone to get these dark spots off of my skin.

I realized there were many young people around me with those same issues. And when I got in front of the camera at about 18 or 19, I realized how much makeup was needed to cover the dark spots. It was an insecurity that I had. When they took the makeup off me, whether it be for TV or modeling, I wished that I either had makeup to cover the spots or a skincare solution.
When I was in Harlem, I found some shea butter and I started using it all over my body and my face and saw that my skin was clearing up. I thought it would have broken me out due to the fats in it, but it actually worked with my skin. And so as I started matriculating in Hollywood and doing more work on camera, it had always been a goal of mine to perfect my skin or try to keep it as clear as possible.
Soon after, everybody started asking what I was doing, and it was really just a gentle cleanser, a vitamin C serum, and the shea butter from Harlem. When I learned that there were so many people who were embarrassed to ask–especially men–what I was doing for my skin, I realized that skincare in our community wasn't something that we were educated on properly. We were somewhat ashamed to ask for help in that area. So I wanted to create a line that was easy and efficient and that people could feel proud of. And at the top of 2018, the idea for Buttah came to me, with it launching later that year.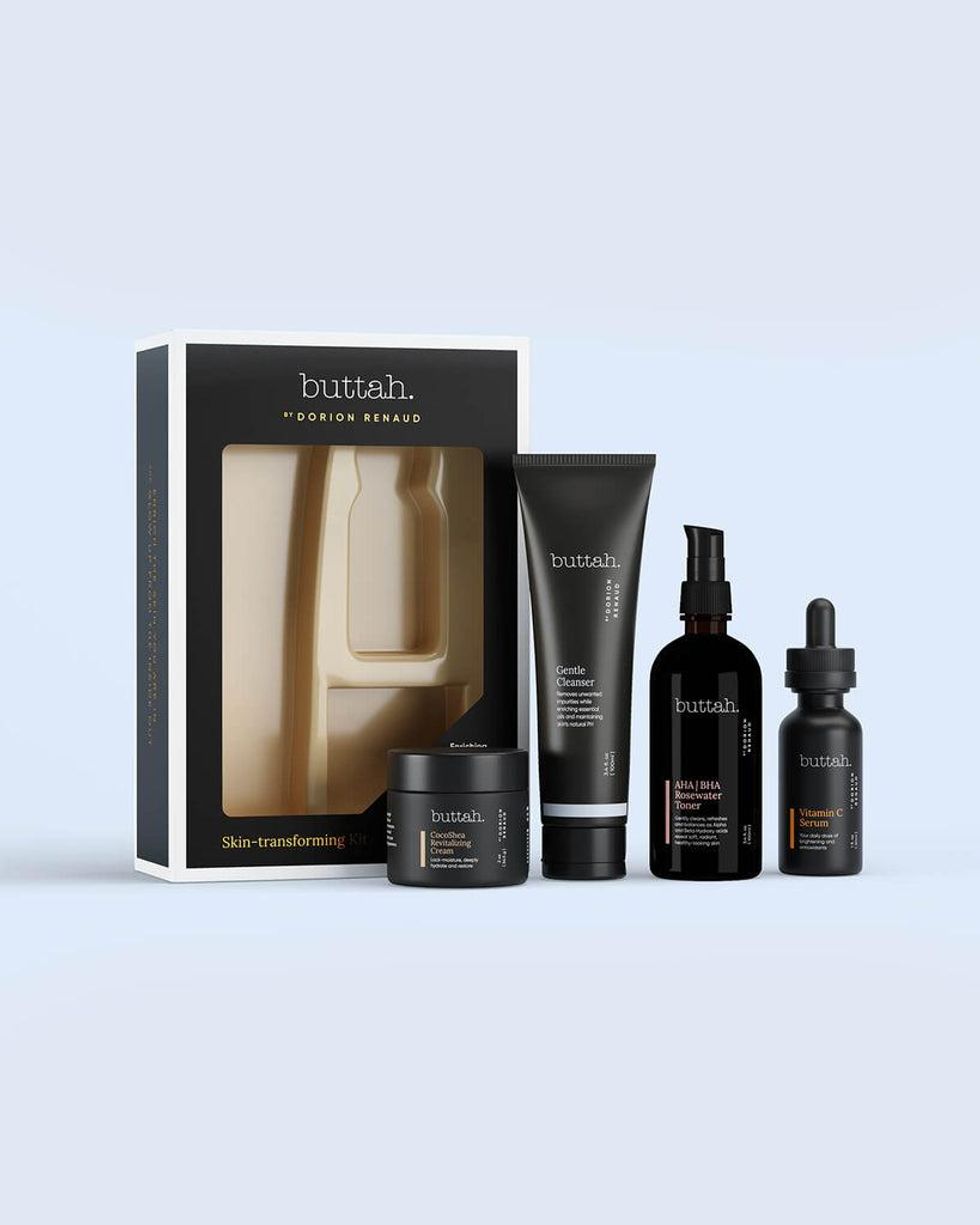 Buttah Skin
xoN: What was the process like creating the products?
DR: It was pretty strenuous, but for a very short amount of time. I had to learn a lot and educate myself on different ingredients. So I worked with a chemist and we got our shea butter directly from Ghana. There was a lot of trying the products and testing them to make sure they had a shelf life. Just so many things that I had no idea about before getting into beauty and skincare because I never thought I would have my own skincare line.

I always knew that I was going to be an entrepreneur. But I never thought I'd have to focus on formulas and ingredients and what they could do to your skin. So I had to dive deep into the problems that we as Black people had with our skin and the most common problems. As I learned more, I began addressing them first so that we could be a solution-based brand. Then we added other things that people can use to enhance their skincare routine.
xoN: What are some common issues that you found when it came to Black people and skincare?
DR: Hyperpigmentation is definitely one of them. The dark spots and unevenness on the skin as well as sun damage. I think a lot of Black people overlook what sun damage can do to your skin, so we developed a Mineral Tinted Sunscreen for that. But in general, breakouts and cystic acne, and discoloration were what most people complained about.

We're not an acne-based company. I was an adult dealing with adult acne and the after-effects of it. I [also] had a hard time finding products that kept me moisturized all day and used shea butter on my body because lotions were drying out 30 minutes after applying it. So I think finding moisture and ingredients that give us that even tone was important because that's where a lot of people were struggling.
They say, "Black don't crack," but we can crack if we don't take care of our skin.
xoN: So, what is your current skincare routine?
DR: I love to use our Tea Tree and Aloe Scrub. It's both a mask and a foam cleanser. I like to use that because I like to work out and I'm active during the day. A lot of times, you think you can't scrub your face every day, but ours is so gentle, I tend to use that most of the time. Then I follow it up with the Vitamin C Serum which regenerates the skin and helps with fine lines and wrinkles, and my CoCoShea Revitalizing Cream. At night, I'll put the toner on just to get my face clean and fresh, and let my skin breathe.

But all of our products are used differently, depending on the climate, where I'm going, and what my skincare needs are. Every part of our system at Buttah is for something. So I even use our Charcoal Mask at least once a week to get all that gunk out of my skin and renew it.
xoN: Your line is in Macy's, JCPenney, and Ulta. How was the process of getting into retail?
DR: We're also in Bloomingdale's and Nordstrom, and we're getting ready to launch in Saks Fifth Avenue, which I'm very excited about. It was a process. Fortunately for me, it started taking off during the pandemic. I was at home with a lot of time on my hands to think about the creativity of it, how to make it look and feel a certain way, and be specific to certain retailers. Once we got on HSN and QVC–which was amazing–it allowed me to not only talk about the products but educate people on how to use them. Then retailers started reaching out to us.
Getting into retail is a bit of a process. You have to first have to have the finances to get into these stores. I know a lot of people have dreams of being in retail but they often don't have the money to fulfill their orders. So we had to dive in and restructure as a company because it was costing a lot to go into these retailers. And also make sure that each retailer had the right products and campaigns because every retailer had separate campaigns. Along with going in and training the employees in each store, which is something that I do, I go in and educate them so that they give people the proper education when they come into the stores.
Retail was a totally different game. Once I got the art of direct-to-consumer down, then we went into retail. But I tell people all the time that I'm learning as I go. Because this has been such a fast process, I'm learning the dos and don'ts. A lot of times, a brand will be successful online but won't do as well in retail, so you have to transition how you promote it and transition how you market it specifically for retailers.
xoN: You said that you always wanted to be an entrepreneur. Did being in the spotlight after 'College Hill' inspire you to pivot from TV to business?
DR: I think it inspired me to understand that I could use my TV presence as a way to grow an audience in different arenas. I was also tired of relying on the entertainment industry to pay my bills. I was looking for something that was for me. In doing television shows and acting, I was always waiting for a "yes" from someone, or always waiting for somebody to tell me what lines to say and what to do. I mean, I'm 34 now and shot College Hill at 20, so I kind of felt like a puppet. I was just doing whatever the industry told me to do to stay successful.
I wanted something that I was in control of and how successful it was, and that it wasn't in somebody else's hands. I think having fame at a young age allowed me to see it and not get too excited about it because I've had it, I've lost it, and I've had it again. And you tend to place value on things that are more purposeful outside of just being in front of the camera. I realized after every season of In The Cut ended, I felt empty. I felt like I needed to find another gig or was hoping that we would get picked up again, and I didn't want to put all my value into that anymore.
Now I still do it. But I'm able to do it through Buttah. I'm able to model through Buttah, act through Buttah, and host through Buttah. And it's so much more fulfilling to not have to have someone telling you what you're doing wrong, or what you can do better to make a show better. It feels more organic this way.
I felt like some of the things that I had done, although they were entertaining, weren't reflective of who I was as a man, as a human, and as a businessman. And I wanted to do something that really showed the world that I mean business. I'm not just here to make people laugh or go on a reality show or take good pictures, but I have purpose behind my name.
"I wanted something that I was in control of and how successful it was, and that it wasn't in somebody else's hands. I think having fame at a young age allowed me to see it and not get too excited about it because I've had it, I've lost it, and I've had it again... I wanted to do something that really showed the world that I mean business. I'm not just here to make people laugh or go on a reality show or take good pictures, but I have purpose behind my name."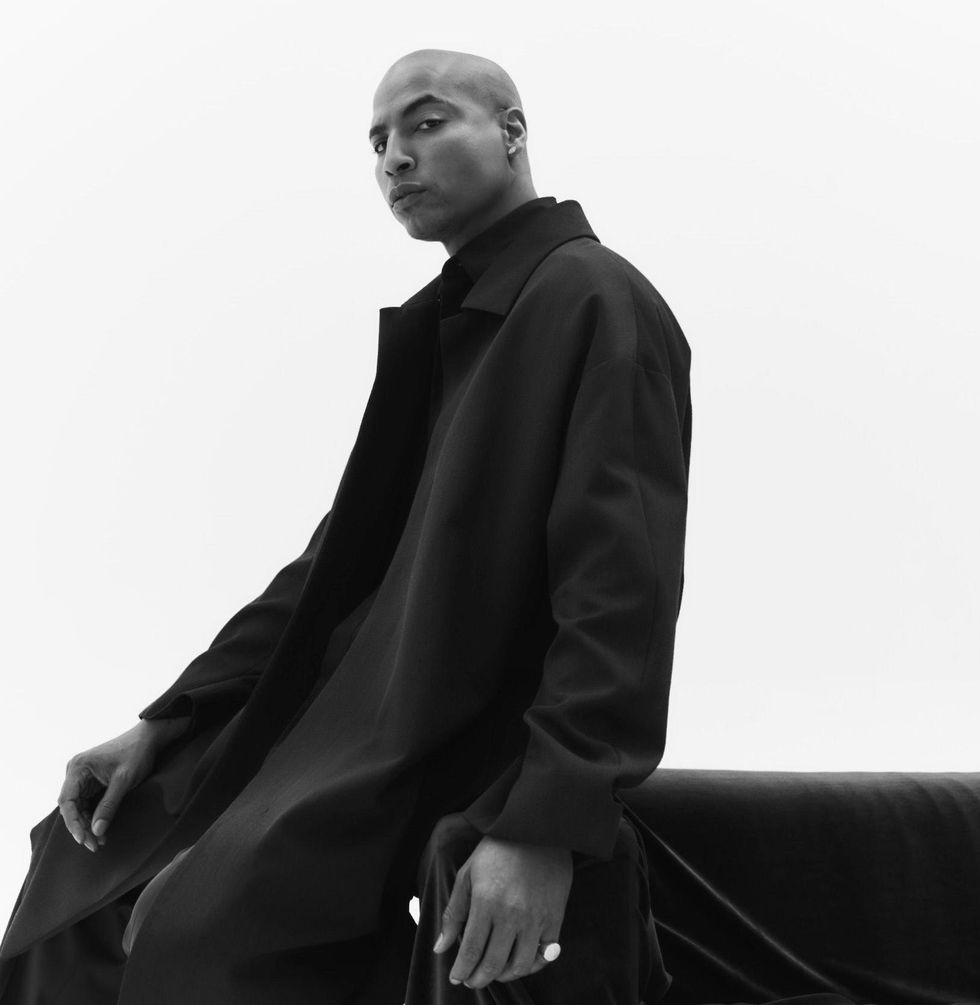 Courtesy of Dorion Renaud
xoN: Looking back over your career, what have been some of your greatest lessons?
DR: Wow. You know, stay patient, stay in it. You have to have perseverance and really know what you want out of this. And also listen to the audience. Don't focus so much on your peers and the people around you because the audience will stand by you and support you. They will also let you know when they don't like something. Sometimes your peers can give you a false identity of who you are because they see you as somebody that they're in proximity with. So listen to the supporters, listen to those people out there, and do your education.
Do your research and get educated on whatever field that you're going into and really know your stuff. Because when it starts to happen for you and you're successful, if you don't know what you're talking about, you're going to instantly be exed out.
For more of Dorion, follow him on Instagram.
Featured image by Manuel Hernandez