Racquel Coral
Racquel Coral is an experienced lifestyle writer focusing on self-love, growth, body positivity, and profiles of Black-owned businesses and community heros. Her work can be found here, and she can be found on all social media platforms @withloveracquel.
For many, the new year signifies a time for growth, new beginnings, and fresh starts. It's a time to set the tone for the year ahead by making resolutions, setting intentions, and creating lists of goals. All for the sole purpose of improvement and to manifest the life of one's dreams. Over the years, like millions of people worldwide, I have made numerous commitments towards having a healthier lifestyle.
As a yo-yo dieting, backsliding vegan, I have gained and lost weight many times. At my healthiest, I was a strict pescatarian who worked out six days a week and ran four miles a day. I logged every meal, so as not to exceed my 1400-a-day calorie allotment. On my cheat days, I did extra workouts to make up for whatever I ate. And I weighed myself twice a day, once in the morning and at night, to make sure the number on the scale did not move.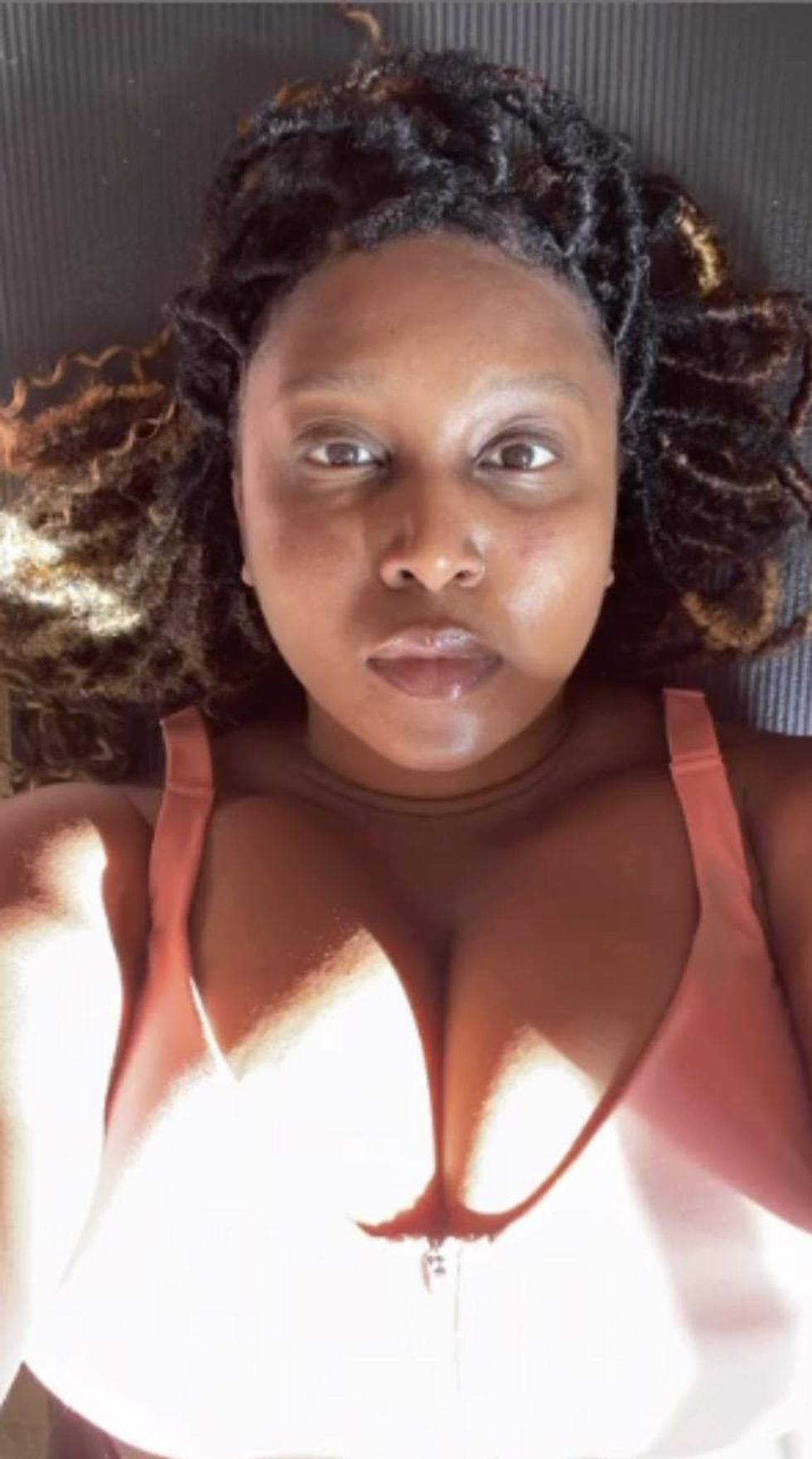 Racquel Coral
Over time, though, I became burnt out with that lifestyle and began to shy away from it. I found that it wasn't sustainable because of the restrictions that I had placed on myself. That and, it was no longer fun. So I traded in my workout time for unlimited hours on the couch watching TV and relying on meal delivery apps instead of cooking. Which did a number on my waistline, causing me to balloon to my heaviest weight of 260 pounds and a size 18/20.
All of that changed last year when I decided to be more intentional about my health. This time around, I opted for small actionable goals, rather than harsh food restrictions and hours in the gym. I ditched the scale, relying solely on my clothes and waist beads as indicators of my weight loss. And I vowed to not take any before and after photos. This weight loss journey was personal.
In the beginning, I committed to exercising 4-5 days a week for 20-30 minutes. Doing this helped me find enjoyable workouts that I could quickly do first thing in the morning before work. As far as food, I gave myself permission to eat whatever I wanted.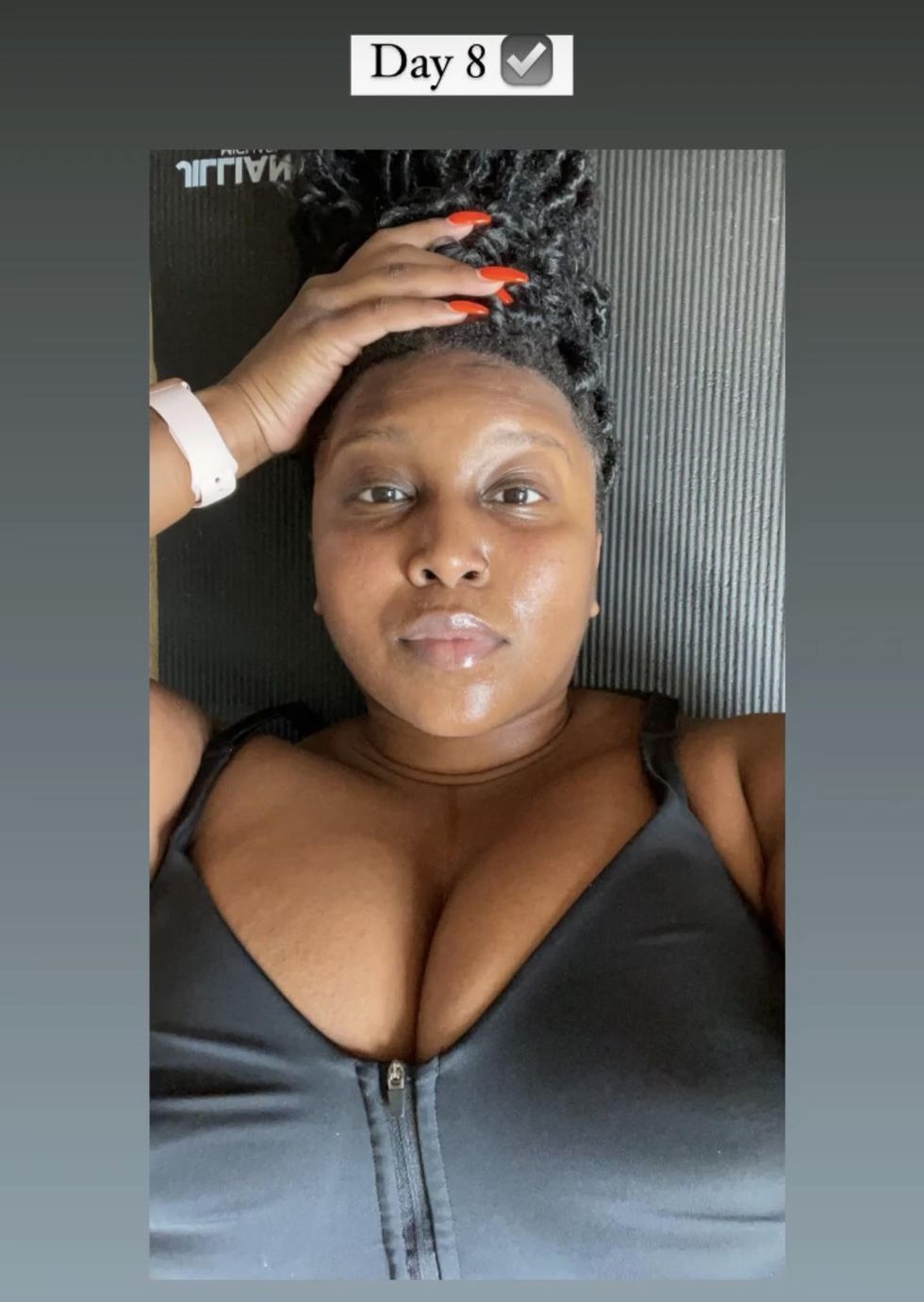 Racquel Coral
This was key because I wasn't as hyper-focused on how much I could or could not eat. It allowed me to enjoy my food without shame or guilt or waiting until my cheat day for a treat. It also helped me in making healthier food choices. So while I knew that I could eat whatever I wanted when I wanted to, I didn't. And on those days when I wanted to eat junk, I allowed myself to.
Those small changes caused me to view working out and weight loss differently. Finding the fun in it and making it a true lifestyle change. I finally discovered my groove and started enjoying the changes in my body along the way.
A few weeks into my newfound healthy living journey, I began to crave working out. It became as much of a routine for me as brushing my teeth. So I decided to work out every day until my body told me not to. As fate would have it, for Lent, a former classmate made a post on Instagram saying that she would work out every day until Easter and invited others to join her. Since at the time I was already around 30 days of nonstop exercise, I made the decision to keep going. This time adding yoga to my nighttime routine a few days out of the week, as I found that it helped with releasing everything from the day and aided in my sleep patterns.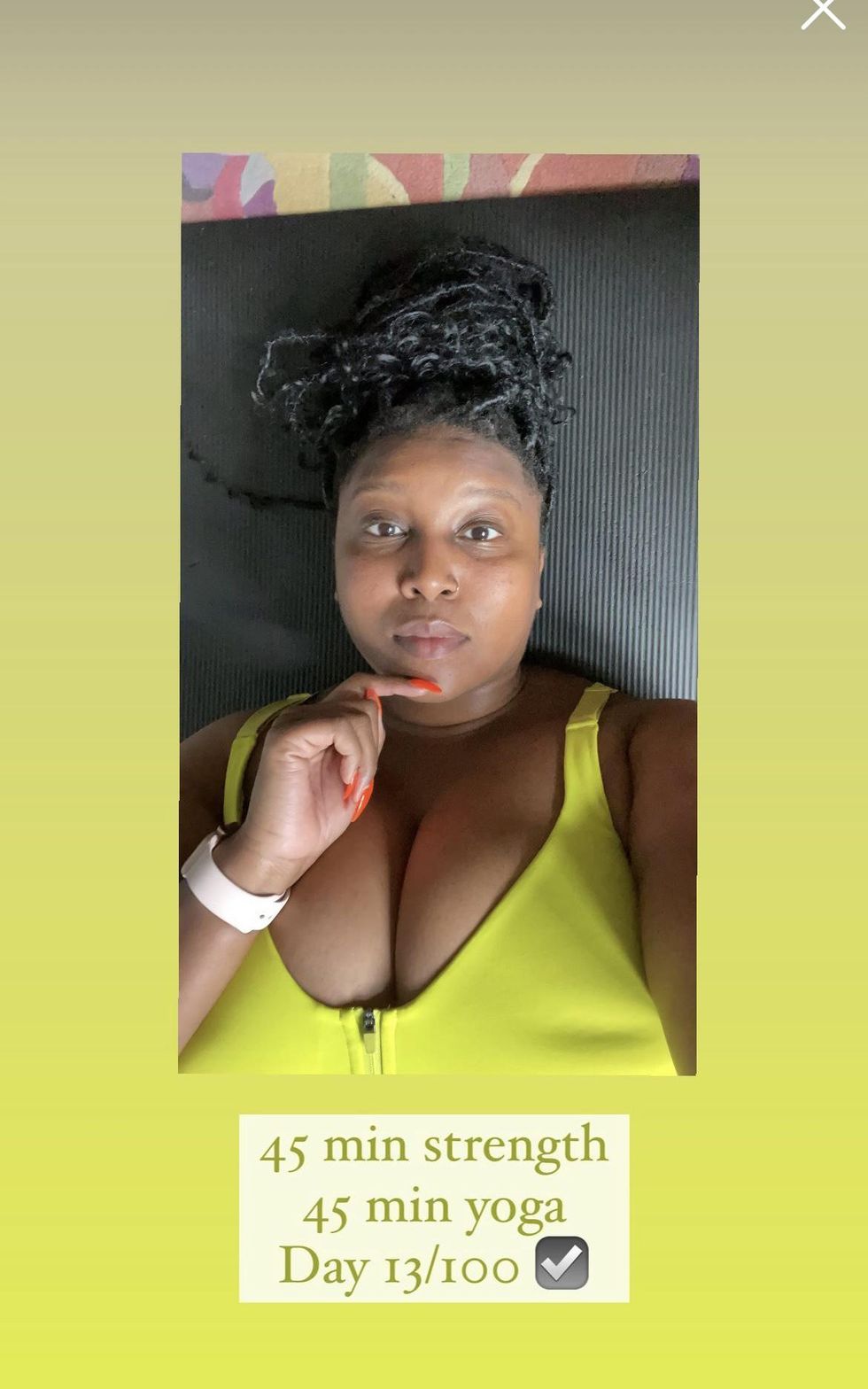 Racquel Coral
I reached my 100th day on May 4th. Now, I could have kept going, but I decided to stop so that I could revel in what I had just done. Over the course of three and a half months, I had gone from four years of no physical activity to successfully completing 100 days of exercise.
I transformed my entire approach to working out to not something that I have to do, but rather, something that I get to do. Not to mention, I went from a size 18/20 to a 14/16. One of my biggest takeaways from that experience was to honor my body by showing it gratitude. For every pushup, plank, down dog, or mile walked, it was a form of gratitude. Gratitude for not breaking down on me. Gratitude for going that extra step. Gratitude for every function that performed the way that it was supposed to.
Another takeaway was that working out is a form of self-care. A tool to help with issues surrounding our mental health. A way to boost our self-confidence. A reminder to find our happiness.
As Black women, we live some of the most sedentary lifestyles, so regular physical activity is paramount. In addition to what we eat, consistent exercise is a form of preventative medicine. So you can't fully practice self-care if you're neglecting to move these beautiful vessels that house and carry us each day.
In the beginning, I said that my weight loss journey was personal. It was more than losing a few pounds and going down a couple of sizes. It was the opportunity to get reacquainted with my body by giving it the grace to move as it saw fit. And to show love to it for never failing me, even at times when I have failed it.
Featured image by Getty Images
Keep reading...
Show less
We've all been there. You meet this amazing person. Establish a solid foundation as friends. Decide to take things to the next level by becoming exclusive. Only to, sadly realize that it is no longer working, causing you to go your separate ways. And while we would all love to hold onto those feelings for a little longer, it's best to just cut the cord and move on. But what do you do with those leftover feelings? How do you move on, knowing that a central piece of your world is now gone? Or what do you do when you crave their presence?
Navigating post-relationship dynamics can be difficult. Especially if you and your person ended things on good terms. In an ideal world, you would love it if you and your now-ex could remain friends, if for nothing more than to ensure that the two of you will continue to be in each other's lives.
But the fact of the matter is that while admirable, attempting to maintain a friendship with an ex isn't always a good idea. It's OK to be friendly, but trying to stay friends with someone you once dated, mated, and/or related with can be a recipe for disaster. Causing you to not only regret staying friends but meeting them all together.
So here are five reasons why you probably shouldn't be friends with your ex.
1

.

Boundaries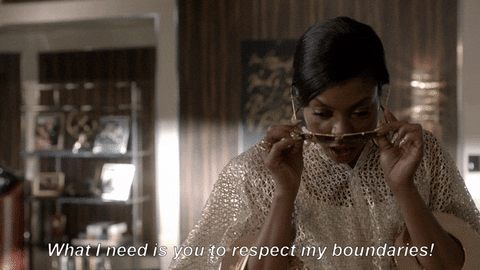 Boundaries are number one on this list because some exes don't know them, don't respect them, and don't understand them. When ending things with an ex, someone will always have lingering feelings. They will always be waiting for you to let your guard down. They will always look for that window of opportunity to get that old thing back. Which does nothing but blur the lines. Further reminding you of why you ended things in the first place.
And sis, it's not always them who needs those boundaries enforced. Sometimes you are the one who is using "friendship" as a way to rekindle that spark. So check yourself and that person, and let that relationship go once it has run its course.
2

.

You're in a new relationship.
Ask yourself these questions, and be honest. Would you appreciate it your current lover was still kiki'ing with their ex? Would it be OK if they got off the phone with you to talk to someone from their lover's past? Or if you found out that they met up for coffee, tea, brunch, or an after-work happy hour? Sometimes, while remaining friends with an ex may seem innocent, it can be a sign of disrespect to the new person in your life. And it has nothing to do with jealousy or insecurities.
While cultivating something new with someone else, holding onto those feelings or bonds with your former lover can cause cracks in your foundation, making your new person question themselves and their presence in your life. Eventually, this could lead to distrust and them feeling like they have this impossible standard to reach, which isn't fair to them. So focus on what's in front of you, and leave the past right where it's at.
3

.

The relationship was toxic.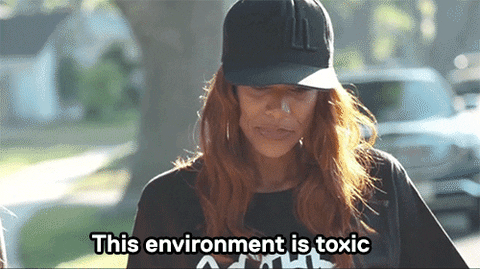 basketball wives GIF by VH1
Giphy
It doesn't matter how many people think it is, but toxicity isn't cute. There is nothing cute, intriguing, or exciting about being in a toxic relationship, let alone maintaining a friendship with the person who may have been the source of said toxicity. And no matter how much either of you has changed, when combined, it can cause your toxic powers to activate, bringing that same toxicity that was once the cause of your breakup right back to your doorstep. Creating more problems than before. And that's not what we want for ourselves. Continue to grow, thrive, and evolve, and let that toxic bullshit go.
4

.

You're lonely.
While it's never a good idea to entertain anyone out of loneliness, it damn sure isn't best to maintain a friendship with your ex because you're lonely. Yes, you may not have anyone to hang out with or watch those special TV shows with. You may now find yourself going on solo dates. Or searching for someone to share those memes and inside jokes with. But it is much better to do those things alone than to call up your ex out of loneliness, which can only lead to a backpedaling disaster. Resulting in an off-and-on rollercoaster that's hard to get off.
It's OK to be lonely or to crave intimacy from someone you once had romantic dealings with, but pick up a hobby instead of picking up the phone. And if you do happen to pick up the phone, let it be to call one of your real friends, and not someone you used to sleep with.
5

.

Some things are better left in the past.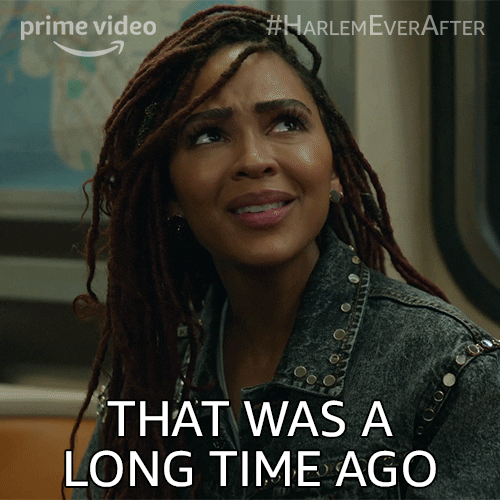 Meagan Good Long Time GIF by Harlem
Giphy
At the end of the day, it is important to remember that the two of you broke up for a reason. Whether you both realized that you weren't good for one another, grew apart, or came to the conclusion that the relationship was just not what you had in mind, you both agreed to sever ties. But for as long as you continue to pursue a friendship with that person, you're never going to move past them and level up to your next.
At the end of the day, breakups are hard. But what's even harder is trying to hold onto something that you know you need to let go of. So, sis, do yourself and your ex a favor and bypass trying to be friends once the relationship has ended.
Just let go.
Featured image by Getty Images
Keep reading...
Show less
The year of our Lord, 2021, has come to a close! This means that many of us are currently planning our New Year's resolutions, manifesting our higher selves, and honing in on what needs to be in our beauty maintenance routines. You know, the regular self-care, self-love, beautification appointments that keep us naked sexy fine all year round. The ones ensure that we are always looking good, feeling our best, and turning heads wherever we go.
Now when it comes to beauty maintenance, most women are on top of their game. We keep our nails done, hair done, and everything did. But for the woman who doesn't know what to do, where to go, or how often to get it done, trying to find a routine of getting beautified and sexified can be a bit daunting.
But fear not, here is a checklist of nine regular beautification routines to keep you looking good in 2022 and beyond.
1

.

Hair
Starting with the crowns, it is important that we keep our hair looking its absolute best, as it signifies how well put together we are. Depending on the style, a good rule of thumb is to see your hairstylist every two to six weeks. This keeps the hair fresh, clean, deep conditioned, and ends properly trimmed. As for braided looks, those should stay in for no longer than two months.
2

.

Nails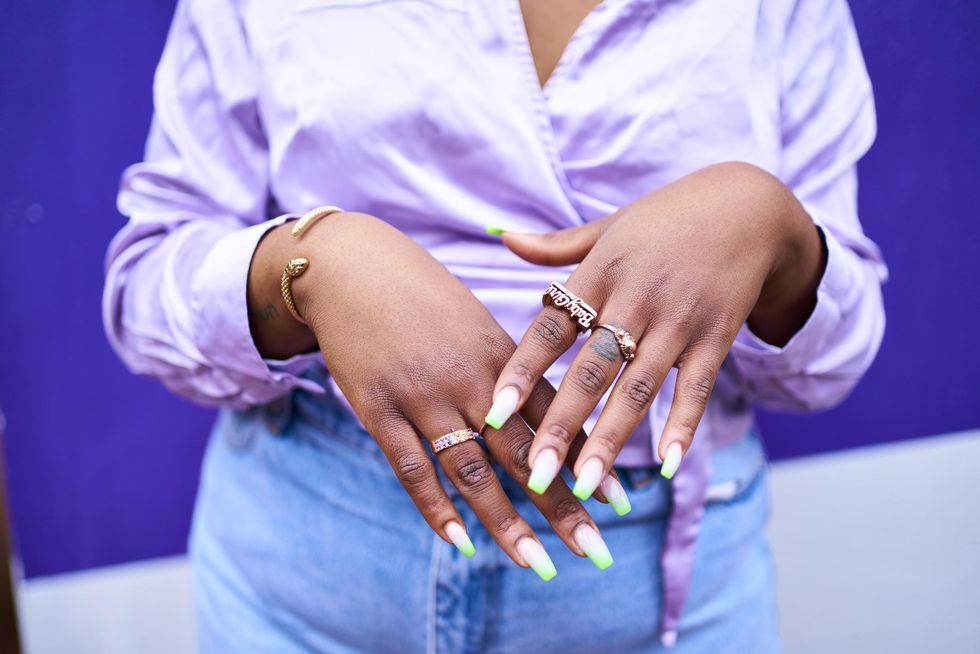 Getty Images
Because the condition of your hands and feet says a lot about you and your upkeep, a fresh mani is always a good idea. It is good to visit the nail salon every two weeks for routine manicures, artificial nail enhancement fill-ins, and of course regular pedicures. Tired of the polish chipping after two days? Opt for gel polish to ensure that it will last until your next nail appointment.
3

.

Waxing
Whether it's for the hair under your arms, on your legs, on your face, or in the sacred regions, it's time to toss the razors and start investing in a good wax. While shaving temporarily removes hair, it causes it to grow back thicker, faster, and more coarse. Whereas with waxing, the hair stays gone longer, thins it out, and keeps the skin looking soft and smooth. Regular waxing should be done every four to six weeks, and whatever you do, do not shave in between appointments.
4

.

Facials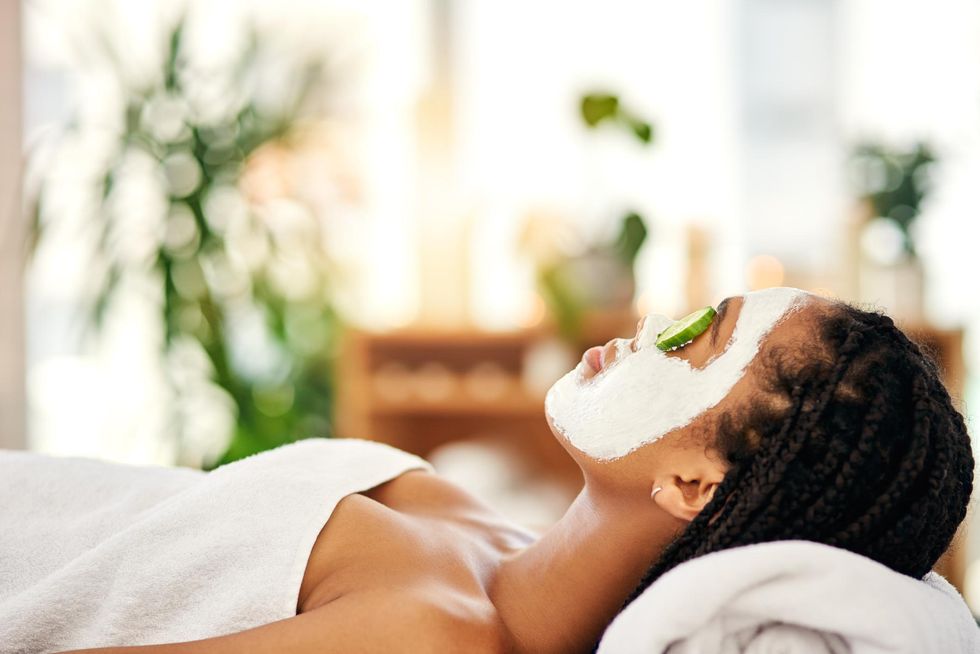 Getty Images
The fountain of youth that we have all been searching for is found at our estheticians' office. Routine facials cleanse and hydrate the skin, exfoliate pores, reduce breakouts, and keep the skin looking youthful while addressing problems and enhancing our natural glow. Facials should be done every three to four weeks, or once a month, and never the day before a major event.
5

.

Lash Extensions
Because why apply seven coats of mascara or bother with lash strips, when you could easily get lash extensions for that bigger, brighter, more youthful look. Lash extensions are applied at the top of your natural eyelash and are water- and exercise-resistant, last longer, and add volume. Initial application of the lash extensions takes up to two hours, with fill-ins done in 30 minutes every two to three weeks.
6

.

Brows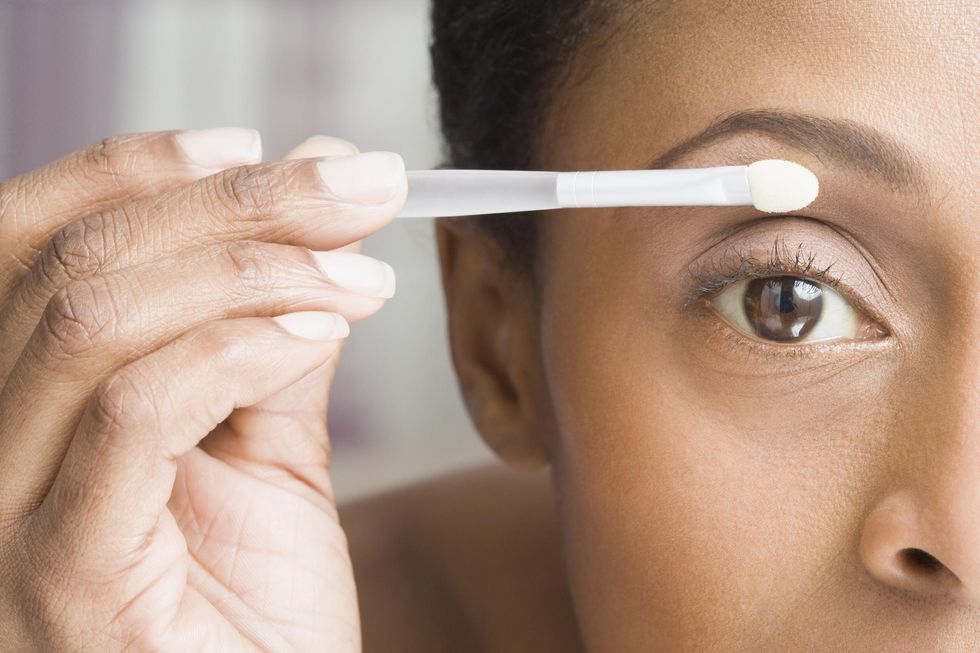 Getty Images
The days of practicing perfecting our brows are over. Microblading and brow tinting help to achieve that perfect brow look without the hassle of trying to do it yourself. Both microblading and brow tinting offer the same benefits of enhancing, shaping, and defining your brows. The difference between the two is, with brow tinting a semi-permanent dye is applied every four to six weeks; whereas microblading is a little more permanent with it being a form of cosmetic makeup or a semi-permanent tattoo lasting 18 months to almost three years.
7

.

Teeth Whitening
For that picture-perfect, blindingly white smile, teeth whitening is the move. When done regularly it boosts your self-esteem and strengthens your teeth. It can also be a cheat code to your success because much like your hands and feet, the condition of your teeth says a lot about you. For best results, teeth whitening should be done by a professional and depending on the condition of your teeth, every three to six months.
8

.

Massages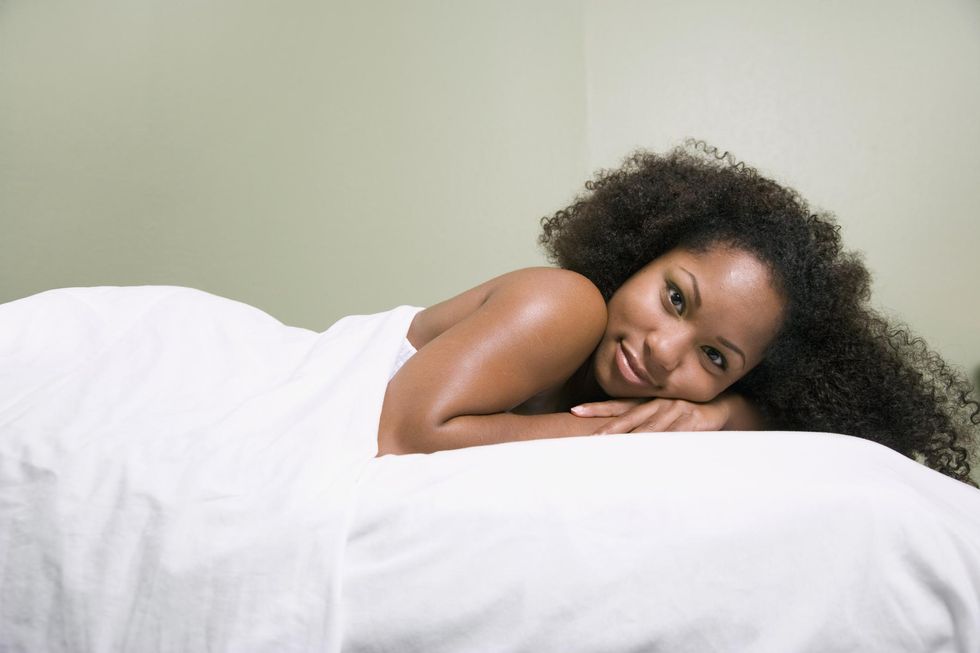 Getty Images
While not necessarily a beauty routine, regular massages help with improving circulation, increasing relaxation, and reducing stress. Massages have other health benefits like immune support, pain reduction, lowering heart rate and blood pressure, and PMS support. And we all know that if you feel good on the inside, it radiates on the outside. Depending on your needs, regular massages can be performed anywhere from once a week to once a month.
9

.

Skin Exfoliation
Because the average cycle of our skin is four weeks, it is important to begin the regular practice of removing that outer layer of skin from our bodies through skin exfoliation. Using a coffee, sugar, or salt scrub, or exfoliating gloves, perform small circular motions on the skin for 30 seconds and rinse off under lukewarm water. This will help with better absorption of moisturizers, anti-aging, and boosting your skin's circulation. For best results, only exfoliate once or twice a week.
Featured image by Getty Images
Keep reading...
Show less
A few weeks ago, I did something pretty unprecedented. For the first time in over twenty years, I put up a Christmas tree. To some, that may not seem like a big deal, as people anxiously await this time of year to gather as a family and begin the tradition of holiday decorating. But for me, the holidays have always been a time of sadness due to long-term grief from my grandfather's passing.
As a "grandaddy's girl," the holiday season was always a special time for the two of us. It was a time for us to drink eggnog, listen to the blues, and decorate our tree. It was also a time where he would tell me funny stories like how he had three wives and that "none of them were worth shit" until he met my grandmother. But when he passed away in 2001, a few weeks shy of my 16th birthday, he seemingly took my holiday spirit with him. Causing me to loathe this time of year.
Many people who have lost loved ones, especially those who have lost them close to the holiday season share the same sentiment. Because while everyone is looking forward to food, friends, family, and fellowship, many are reminded of the fact that someone they love dearly is no longer around to participate in the festive activities that this time of year brings. Intensifying their grief and making them want nothing more than to spend time with those who have passed on.
And while everyone's grieving process is different, here are eight coping mechanisms for navigating holiday grief.
1

.

Acknowledge your grief. 
The first step in overcoming anything is to allow yourself the opportunity to feel what you are feeling. You are human and expected to mourn your deceased loved ones. Especially if the holidays remind you of a significant experience that you shared with them. That and, there is nothing strong about suppressing your grief. No matter what anyone tells you. So please, acknowledge your feelings.
2

.

Take a break from this year's holiday celebrations.
Sometimes being around people can be overwhelming and make you miss those you have lost. So it's totally fine to decline dinner invites and other gatherings in favor of spending a quiet evening alone.
3

.

Create new holiday traditions.
Doing things how you used to, especially with your loved one who has passed on, can be a constant reminder of them no longer being here. Changing how you celebrate by establishing new traditions is a great way to enjoy this time of year while grieving. So celebrate with new people, try different foods, and take a trip. Do something new that will help you get the most out of the holiday season.
4

.

Honor them.
Is there an ornament that reminds you of them? Or a movie they enjoyed that you and your family can watch together? Or maybe they had a favorite food that you can add to the dinner spread? Sometimes, one of the best ways to cope with your holiday grief is to do something that will remind you of them. This allows you to incorporate them into your celebrations while making new memories.
5

.

Volunteer.
Giving your time to someone who needs it most is not only good for your soul, but it's good to take your mind off of things. While grieving, stepping outside of your sadness to pour into the less fortunate can do more good for you than you think. You can even take it a step further by volunteering with organizations or causes that your deceased loved ones were passionate about. And if you can't find it in you to donate your time, monetary or in-kind donations are just as good.
6

.

Communicate with them.
Even though they're no longer here in the earthly realm, those who have passed on are still here spiritually. And are only a short prayer or conversation away. Talking to them keeps their memory alive and also allows you to express what you've been feeling. Want to take it a step further? Take some flowers to their gravesite or keep a jar of handwritten letters that you can read whenever you visit them.
7

.

Talk to your family and friends.
They may be experiencing some of the same feelings as you and it might do you and them some good to collectively discuss your feelings.
8

.

Seek help.
Sometimes holiday grief is too much to bear and the only way to cope with it is to talk with a licensed professional who can give you the tools you need to get through. Especially if you find yourself having thoughts of self-harm.
Understand that while grief is normal, it is not linear. So while some years, the holiday season may be a breeze, others may not. The most important thing to remember is to give yourself grace, surround yourself with love and support, and know that over time, things will get better.
Featured image by Getty Images
Keep reading...
Show less
As a chronic serial dater, I have always loathed those typical "getting to know you questions".
You know, the:
"What do you like?"
"What are you looking for?"
"What do you do for fun?"
"What do you do for work?"
Etc. Etc. Etc.
But the one I hated the most was:
"What's your body count?"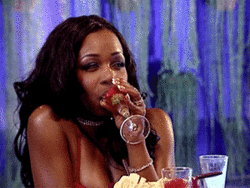 tiffany pollard drinking GIF Giphy
Yes, like some of you out there, I've had many a guy ask me that damn dumb-ass question. Some were even so bold as to question me about it as early as the first or second date. And not that I was trying to hide anything from anyone, but I'm sorry, the number of people who I have slept with was none of theirs or anyone else's business. And to be quite honest, no matter the response, it would never be right.

If the number was too low, it was interpreted as me being inexperienced. If it was too high, I was considered a freak, loose, or a hoe.
I can recall dating one guy who often liked to question me about my sexual history. He wanted to know everything from if I had been with women, if I was down for a threesome, and of course, how many men I had been with prior to him. And whenever I asked why, he would always say that he "just wanted to know".
Lies.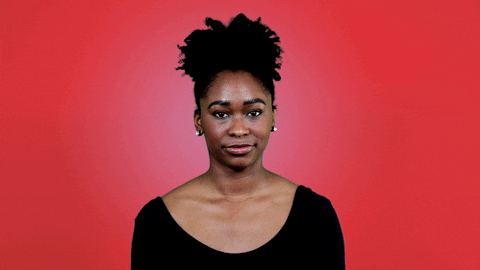 yeah right girl please GIF by buzzfeedladylike Giphy
I then followed up by asking how many partners were too many, to which he replied that anything over 25 makes you a hoe. Then, he said that although he didn't make the rules, that's just how it is. So I simply told him that while I would not confirm or deny whether my number was over or under 25, I have not, am not, and will never be anybody's hoe.

Nevermind the fact that if a man has a high body count, he is praised. But for us girls, it is deeply frowned upon, and oftentimes leaves us open to criticism, and not just from the men. Unfortunately, women do their fair share of judging and can be some of the biggest critics.
It's a shame how we do our fellow women sometimes, but I digress.
Now, I can understand having an open and honest dialogue regarding the history of your sexual health. You and your partner should be informed of each other's STI/HIV status, if either of you contracted anything in the past, and the date of your most recent check. But as far as the number of partners, that is very personal and should only be shared if and when YOU feel like discussing it. Not because someone "just wants to know".
Because chances are, in my opinion, whoever is asking either:
Has serious insecurities within themselves.
Looking for something to hold over your head.
Wants to use your body count as a way to determine your value, morals, and/or slut-shame you.
All of which no one has time for.
Also, at this stage in the game, with most of us being women of a certain age, I'm pretty sure that we've all lived a little. So any number that we have, regardless of how high or low, is pretty much expected and has nothing to do with who we are deep down on the inside.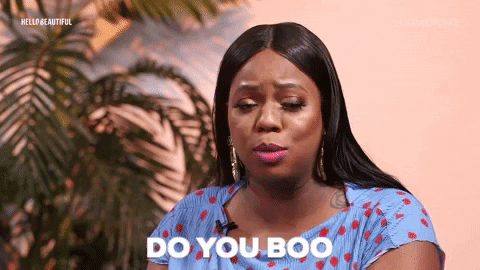 Giphy
In short, ladies, please stop letting these guys or anyone else for that matter determine your worth based on your number of sexual partners. And please, feel free to walk away from anyone who dares to question you about it in the first place. Because at the end of the day, however many people you've been with and how often you were with them is a best-kept secret that is to remain between you and your body.

And anyone who has something to say can simply kiss your beautiful ass. Have fun, be safe, and let your freak flag fly!
Are you a member of our insiders squad? Join us in the xoTribe Members Community today!
Featured image by Shutterstock

Keep reading...
Show less