Racquel Coral
Racquel Coral is an experienced lifestyle writer focusing on self-love, growth, body positivity, and profiles of Black-owned businesses and community heros. Her work can be found here, and she can be found on all social media platforms @withloveracquel.
In the year of our Lord 2022, we should all know what boundaries are. But for those who still haven't fully grasped the concept, boundaries are non-negotiables used to enforce where you stand with a person, place, thing, or idea. Boundaries protect you from various forms of danger, manipulation, or disrespect, and they help you determine the appropriateness of something or someone. In short, boundaries act as that angel on your shoulder, forcing you to make good choices.

When communicating your boundaries—whether at work or school or applying them to friends, family, and in relationships—you should be assertive but respectful. Empathetic, but not overly apologetic. Confident, but not accusatory. And most importantly, firm, showing no signs of backing down or being swayed in a different direction.
Now, what about when it comes to boundaries for ourselves? The truth is, when we think of boundaries, we typically think of them in terms of setting lines with others but never within, causing us to go back on our word by breaking promises to ourselves. This, in turn, causes us to take longer than expected when accomplishing our goals and to run back to situations we should have left. We're in perpetual cycles of turmoil.
Featured image by Tim Robberts/Getty
Communicationship
noun
1. Constantly calling and texting.
2. Never actually dating or going anywhere… literally and figuratively.
3. Waste. Of. Time.
While doing my casual scrolling through Instagram, I stumbled upon a post from one of my girlfriends introducing me to the term "communicationship," and it made me almost throw my phone. If the word is new to you, it's time to get familiar. As its name suggests, a communicationship is what happens when you get all of the words (sometimes in the form of love-bombing) of the start of a romantic connection and none of the action.
You meet someone, either online or IRL, who constantly texts and calls. That someone never passes on an opportunity to declare how much they miss you, or to shower you with adoration and digital affection. In every sense of the word, they seem interested in you except they haven't taken any of that interest beyond the confines of your phone or computer screen. Despite plans to make dates and see one another, dating them seems to be just that: constant communication.
And you could almost write them off as a catfish had it not been for the fact that you've probably seen them in person.
The promises of what could be and their promises of what will be are what keep you wrapped up in the potential instead of the reality. You essentially find yourself falling for the person without any major effort on their part because of the depth of the emotional and mental connection you two are building. While there is always cause for concern with any gray area that seems to present itself between a committed relationship and an uncommitted relationship, a communicationship takes that lack of clarity in romantic relationships a step further.
A communicationship, in my opinion, is worse than a situationship.
In the case of a situationship, all that's missing is the title and commitment. You may not know what things are or where they're going, but at least you have some kind of human interaction besides talking over the phone. With a communicationship, you are forever limited to unlimited calls and texts, along with empty promises and a plethora of compliments.
Communicationships typically end with you challenging the person's declarations and calling them on their shit. However, in some instances, that can be tricky because they will try to use reverse psychology to make it seem as though you're the reason why things haven't gone anywhere. And this is done to make you feel guilty, in hopes of keeping you around. Because after all, if it were up to them, they would keep it going until they either got bored, or someone else caught their attention.

And since we're on the subject of catching their attention, while we may never get to the root of why communicationships don't make it past the telephone, one could assume that you may not be the only one. I hate to be the bearer of bad news, sis, but they could have someone else and are only using you to test the waters without actually getting in. This is because to some, it's not "cheating" if all you're doing is talking.
So now that we've unpacked communicationships, I want to leave you with a few scenarios and how to immediately shut them down if you ever find yourself in one. Feel free to use any one of them at your convenience.
1. The "I Miss You" Text
Them: Babe, I miss you.
Me: Miss is an action. Now what are we going to do about it?
2. The "You Just Forgot About Me" Text
Them: Damn, babe. I see you just forgot about me.
Me: Well, if you feel as if I've "forgotten" about you, then maybe you should make yourself a little more unforgettable.
3. The "I Need You"
Them: Babe... I need you.
Me: What you need is to stay true to your word.
In short, communicationships are a total waste of time and should be cut off immediately following the first broken promise. The person for you will have actions that align with the sweet nothings they whisper in your ear. Never subject yourself to kind words and half-ass gestures without any action behind them. You're better than that sis and worthy of so much more.
Featured image by Getty Images
I don't know who needs to hear this, but sis, it's time for you to start having better sex. And not for the obvious reasons. Yes, we all know that sex is great for boosting the immune system, improving your sleep, clearing your skin, and is a form of preventative medicine. But did you also know that sex is a great inclusion to your manifestation practices? When exercised properly, your orgasms can be the gateway to getting the things you ultimately want in life. This can be achieved through a little-known practice called "sex magic."
Now sex magic is a tantric ritual dating back to the 19th century. It is the practice of harnessing your sexual energy and your power to bring the things you want in life to fruition. It can be done either by yourself through solo pleasure or with your partner(s). What's most important is that when you do begin your sex magic practice, you remain grounded, keeping your intentions as the focal point.
How to Practice Sex Magic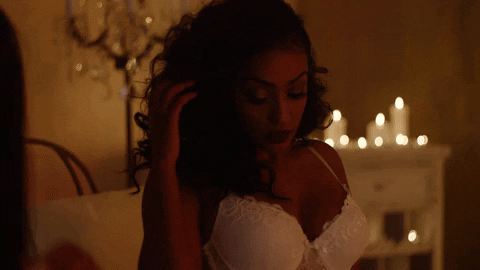 Giphy
There is no perfect way to practice sex magic. There are no specific intentions that you should set. You don't have to share anything with anyone. And best of all, you don't even need to have an orgasm. So for those who struggle with achieving the "Big O," you too can still engage in sex magic as long as you remain focused on your energy.
Before practicing sex magic always create a welcoming environment. One that feels comfortable and keeps you present and at ease. This could mean lighting candles, burning incense, donning your sexiest lingerie, or playing music that gets you in the mood. You should also hone in on your intentions.
Whether it's writing out your goals, creating checklists, or even using the vision boards that many of you have recently made, begin to visualize yourself having the things you want.
Focus on the Outcome You Desire
As you begin to focus on your desires, it is important to be specific. Like with all manifestation practices, being specific is key as we truly have the power to speak things into existence. That and you don't want to get less than or something not quite what you're asking for. If you want a million dollars, see yourself receiving that amount. If you want a new house, see the exact house you want. If you want to travel more, see yourself getting on planes and going to places you have always dreamed of.
Whatever it is that you want to manifest for yourself, keep that image in your mind when it's time for the main event. For an added bonus, you can even include your sex magic practice with your New or Full Moon rituals. You can also incorporate crystals, essential oils, and/or herbs.
While having sex, whether it be with yourself or someone else, focus on your breath and embrace those feelings of walking into your manifestations throughout your body. If you want, you can begin to calmly and silently repeat a mantra of your choosing to yourself. One that will help to intensify your intentions bringing you closer to your orgasm or deepening your pleasure. As you approach your big finish, see your intentions skyrocketing into outer space, solidifying that you have successfully put your desires out into the universe. And when you're done, express gratitude for what just took place.
Focus on Yourself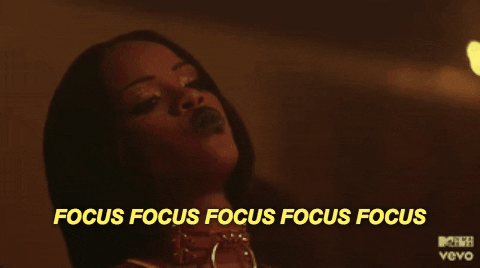 One important thing to note when practicing sex magic is to focus on yourself. Like other forms of manifestation, your sex magic practice is to be used solely for the purpose of elevating the things that you want out of life. It is a personal moment used and not to be used as a means to control or manipulate someone else's fate. So if you're thinking about using sex magic as a way to force your partner to propose to you, think again. Because at the end of the day, using spells, magic, or anything else on another person does nothing but cause it to backfire. And we don't want that for ourselves.
At the end of the day, your sex magic practice can be an empowering tool once you master the art of using it. It can be used to change your trajectory, help you to better visualize your goals, and even connect with yourself on a deeper level. So the next time you're feeling in the mood, try incorporating a sex magic ritual or two into your sexcapades. And give your sex life the heightened experience it deserves.
Featured image by Getty Images
Emotional intelligence or, EQ as it is commonly called, is the ability to identify and manage one's emotions. It is how you overcome challenges and identify triggers that threaten to impact your day-to-day. It is being in control of your emotions so that you can healthily express them. As well as understanding the art of honoring your feelings without being overwhelmed. But being emotionally intelligent doesn't just apply to oneself. It is also being in tune with the feelings of those around you and showing compassion when needed.
Having a strong sense of emotional intelligence allows for individuals to easily adapt to change, navigate difficult conversations, and build strong, healthy relationships. Further allowing them to conquer their goals while making better, more informed decisions. Turning their intentions into action.
For some, having a high EQ comes effortlessly. They are naturally empathetic when it comes to the needs of both themselves and the people around them. The moment they feel something amiss, they automatically spring into action. They are the ones who express themselves effortlessly, often speak up for those who cannot, and consider how their actions will impact others.
However, not everyone is born emotionally intelligent. Those with a low EQ often lack accountability, have poor social skills, and are self-centered. They are the ones who struggle with managing their emotions, often resulting in unpredictable outbursts. And are also the ones who lack empathy, are quick to judge, and are most likely to say or do the wrong things at the wrong time.
But whether it is with friends, family, or romantic partners, at work or in leadership, being emotionally intelligent is necessary for building relationships, managing stress, and improving overall satisfaction. So for those who struggle with emotional intelligence, here are five steps towards improvement.
1. Self-Awareness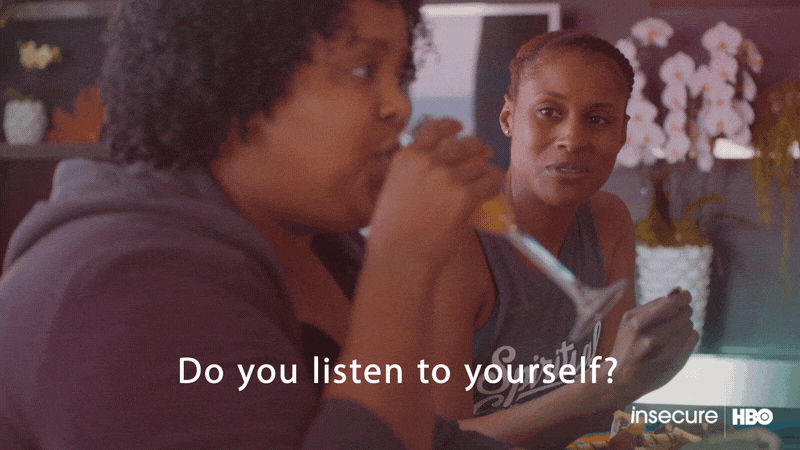 Giphy
Beyond being cognizant of your emotions, self-awareness is understanding the effects of your thoughts, moods, and actions on others. It is getting to the why behind your behaviors and being open to learning how to correct them. Self-awareness is also having confidence, learning how to be comfortable in your skin, having the ability to laugh at your mistakes, and being open to new experiences.
Ways to improve self-awareness are journaling, meditation, practicing mindfulness, and goal-setting.
2. Self-Regulation
This is where you learn how to control your impulses. Self-regulation is thinking before speaking and making well-informed decisions. Simply put, it's finding the appropriate way to express yourself. Self-regulation is holding yourself accountable and being flexible at the onset of change. As well as being mindful of the influence that you may have on others.
Ways to improve self-regulation include practicing communication, rethinking how you view obstacles, being conscious of your feelings, and finding different approaches when your emotions get the best of you.
3. Motivation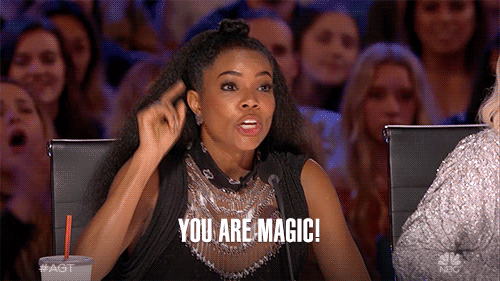 Giphy
When it comes to being emotionally intelligent, motivation is the desire to self-improve. It is being committed to seeing things from conception to completion, even in the face of adversity. It's being action-oriented. Always striving for better and being quick to take initiative.
Ways to become more motivated are establishing small, measurable goals, finding accountability partners, and celebrating your wins, especially the small ones.
4. Empathy
Valuing one's individual experiences. Sharing in someone's feelings. Appreciating the perspectives of others. Those are all examples of empathy. Being empathetic is both being interested in someone's concerns and anticipating how they will respond in difficult situations. Empathy is also understanding power dynamics and their influence on various relationships.
Ways to become more empathetic are listening to understand and not to respond, being vulnerable, and imagining how you would feel if the roles were reversed.
5. Social Skills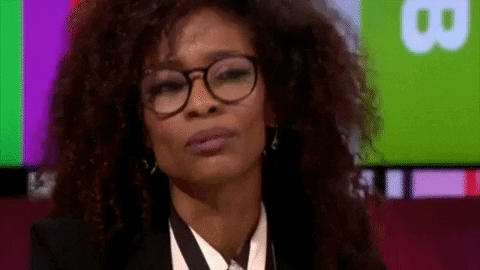 Giphy
Being able to communicate effectively, resolve conflicts, and manage relationships are all characteristics of social skills. Social skills look at what it takes to create and maintain bonds with others. It's finding that common ground and developing a strong rapport with those you interact with regularly. Social skills also assist with developing a stronger relationship with oneself.
Ways to improve on your social skills include acknowledging the skill sets of others, showing interest in what people bring to the table, and being mindful of body language as well as other forms of nonverbal communication.
At the end of the day, becoming emotionally intelligent, like most forms of self-improvement, is a marathon, not a sprint. As we are all continuously evolving into better beings, there will be times where we won't be as emotionally intelligent as we think. And that's OK.
What's most important is that we give ourselves grace, remain open to correction, and when all else fails, return to the first step in becoming emotionally intelligent. Because it always starts and stops with you.
Featured image by Getty Images
As someone who has always considered themselves beautiful at any size, I can't say that I have always loved my body. Sure, there have been moments where I thought I was the sexiest thing walking. But for the most part, all I saw when I looked in the mirror were flaws. My thighs were always too big. Butt full of dimples from cellulite. Boobs always in the way. And my arms too jiggly.
I never saw the same things as others when they looked at me because I was too focused on what I felt needed changing, which caused me to become insecure with my body. Feeling like it wasn't good enough.
At first, I thought that maybe if I lost weight, then I would finally be pleased with what I looked like on the outside. But no matter how small I got, I still couldn't see past my imperfections. Which led to years of comparing my body to countless models and celebrities, wishing I had what they had.
Featured image by Racquel Coral
For many, the new year signifies a time for growth, new beginnings, and fresh starts. It's a time to set the tone for the year ahead by making resolutions, setting intentions, and creating lists of goals. All for the sole purpose of improvement and to manifest the life of one's dreams. Over the years, like millions of people worldwide, I have made numerous commitments towards having a healthier lifestyle.
As a yo-yo dieting, backsliding vegan, I have gained and lost weight many times. At my healthiest, I was a strict pescatarian who worked out six days a week and ran four miles a day. I logged every meal, so as not to exceed my 1400-a-day calorie allotment. On my cheat days, I did extra workouts to make up for whatever I ate. And I weighed myself twice a day, once in the morning and at night, to make sure the number on the scale did not move.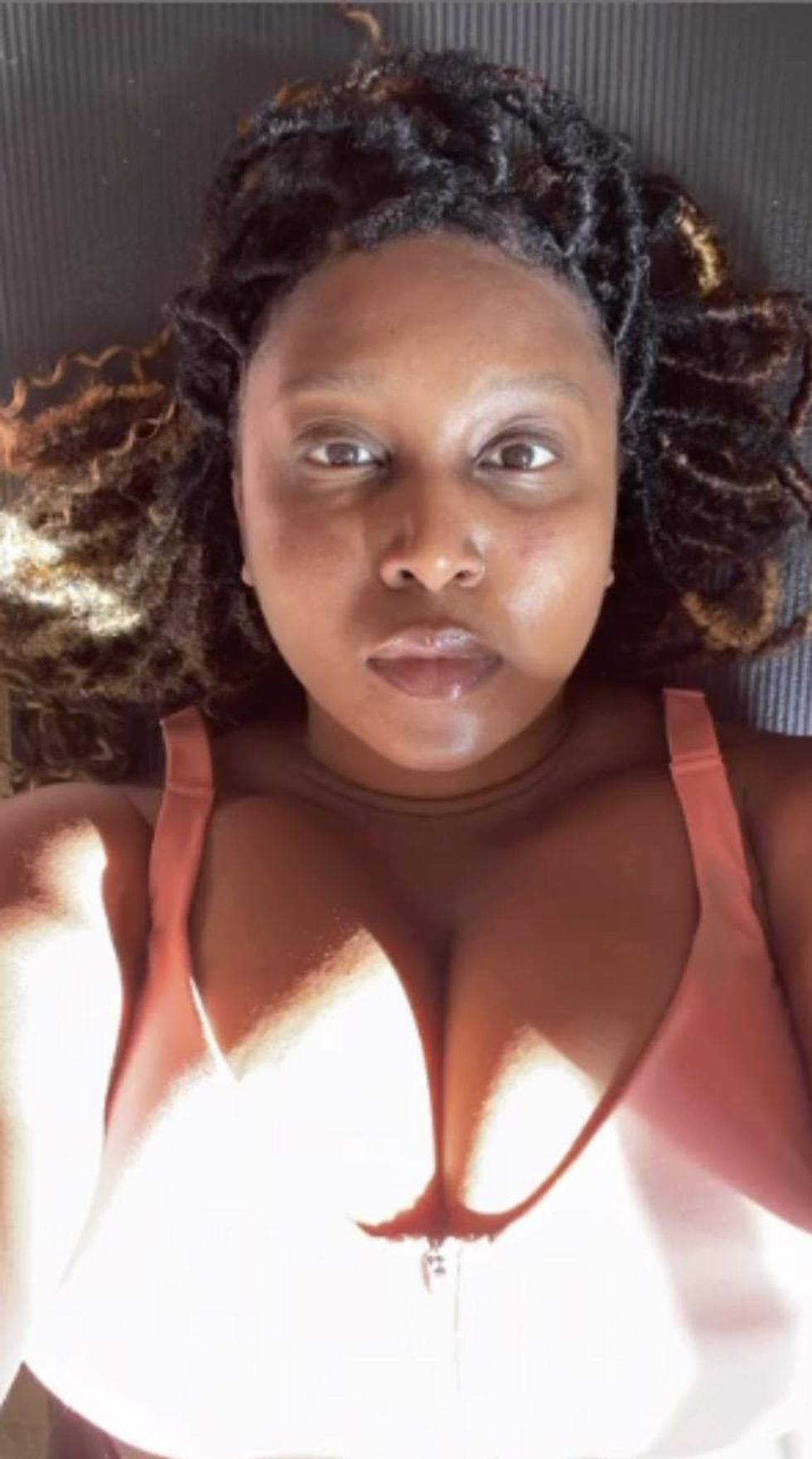 Racquel Coral
Over time, though, I became burnt out with that lifestyle and began to shy away from it. I found that it wasn't sustainable because of the restrictions that I had placed on myself. That and, it was no longer fun. So I traded in my workout time for unlimited hours on the couch watching TV and relying on meal delivery apps instead of cooking. Which did a number on my waistline, causing me to balloon to my heaviest weight of 260 pounds and a size 18/20.
All of that changed last year when I decided to be more intentional about my health. This time around, I opted for small actionable goals, rather than harsh food restrictions and hours in the gym. I ditched the scale, relying solely on my clothes and waist beads as indicators of my weight loss. And I vowed to not take any before and after photos. This weight loss journey was personal.
In the beginning, I committed to exercising 4-5 days a week for 20-30 minutes. Doing this helped me find enjoyable workouts that I could quickly do first thing in the morning before work. As far as food, I gave myself permission to eat whatever I wanted.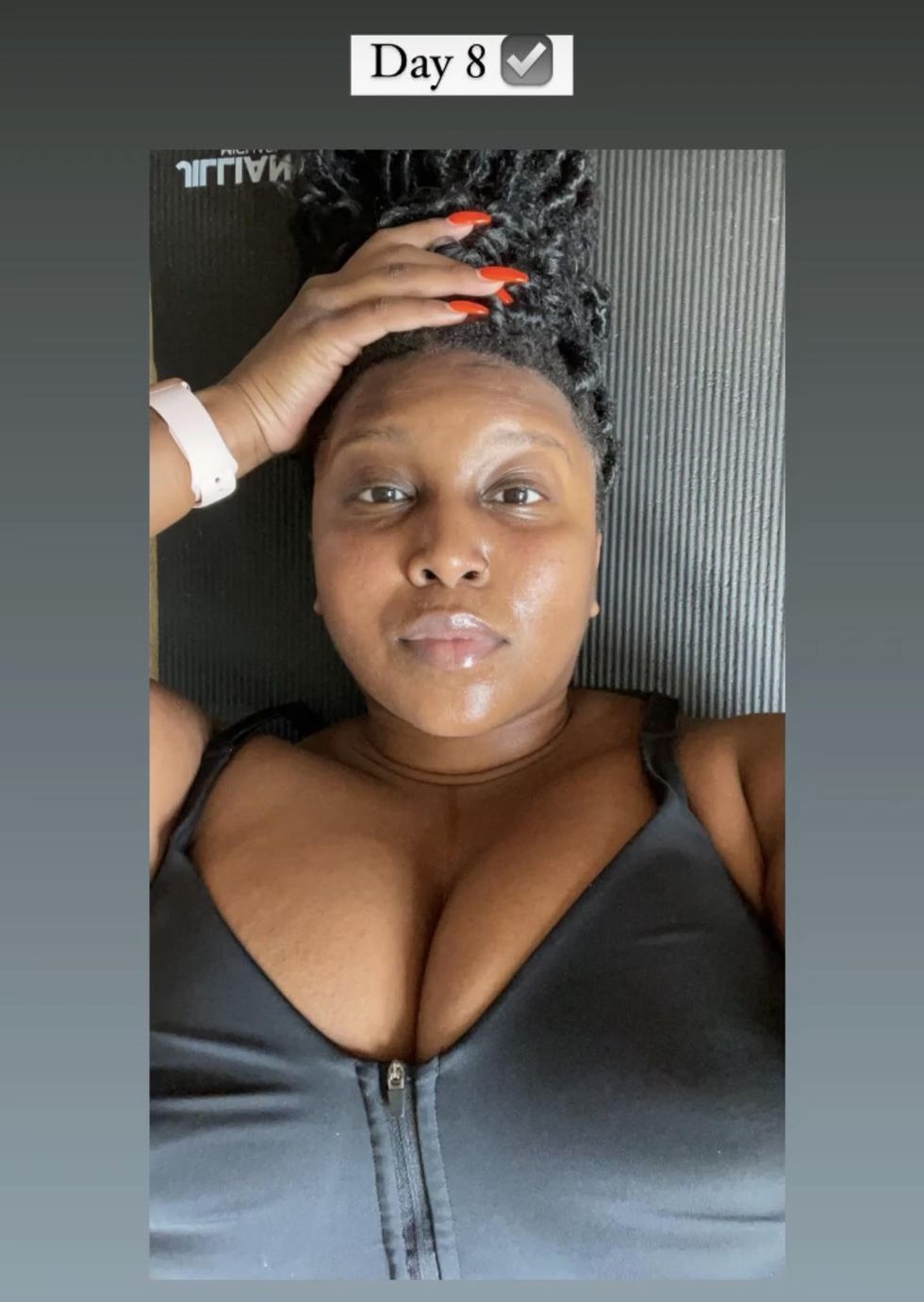 Racquel Coral
This was key because I wasn't as hyper-focused on how much I could or could not eat. It allowed me to enjoy my food without shame or guilt or waiting until my cheat day for a treat. It also helped me in making healthier food choices. So while I knew that I could eat whatever I wanted when I wanted to, I didn't. And on those days when I wanted to eat junk, I allowed myself to.
Those small changes caused me to view working out and weight loss differently. Finding the fun in it and making it a true lifestyle change. I finally discovered my groove and started enjoying the changes in my body along the way.
A few weeks into my newfound healthy living journey, I began to crave working out. It became as much of a routine for me as brushing my teeth. So I decided to work out every day until my body told me not to. As fate would have it, for Lent, a former classmate made a post on Instagram saying that she would work out every day until Easter and invited others to join her. Since at the time I was already around 30 days of nonstop exercise, I made the decision to keep going. This time adding yoga to my nighttime routine a few days out of the week, as I found that it helped with releasing everything from the day and aided in my sleep patterns.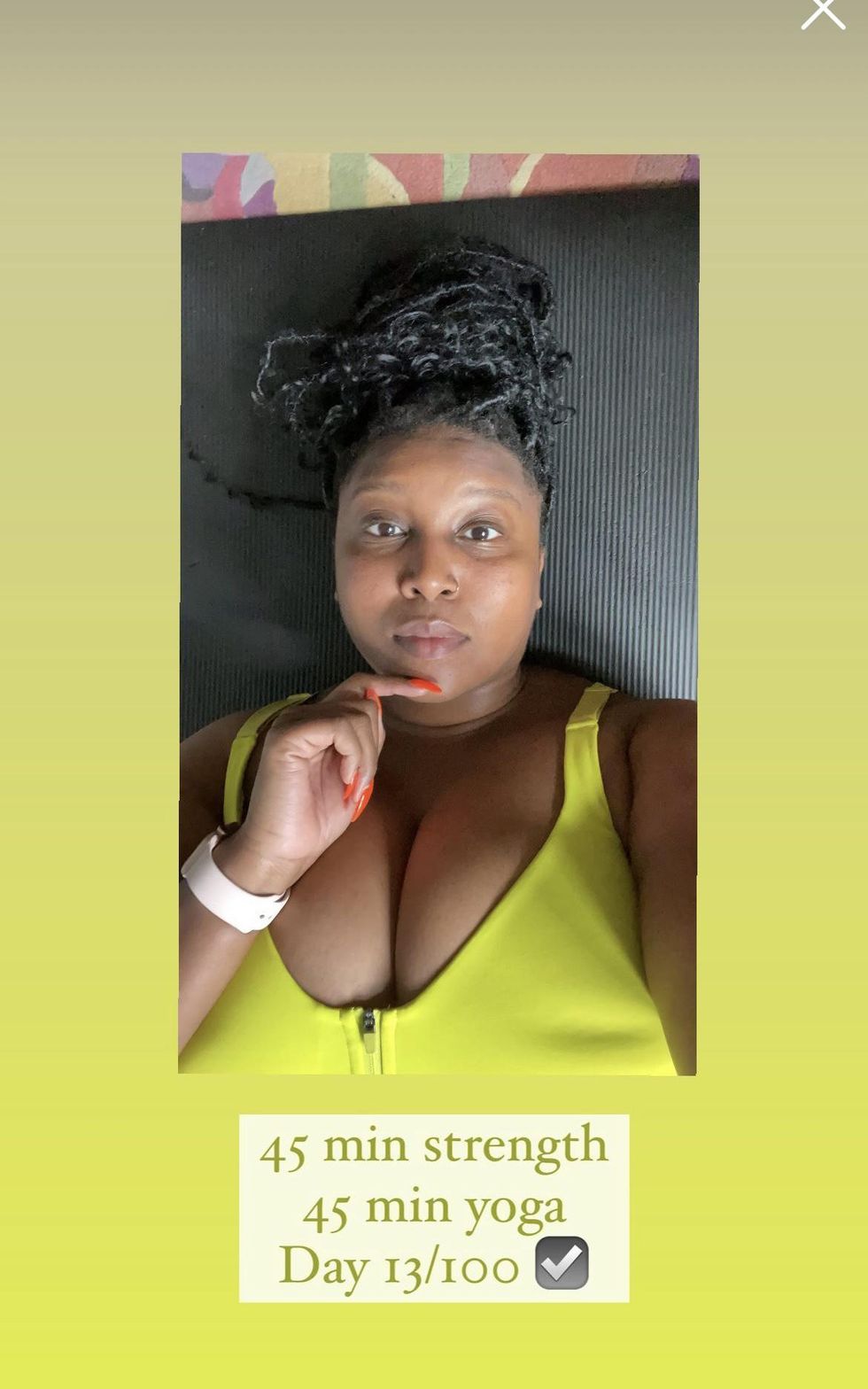 Racquel Coral
I reached my 100th day on May 4th. Now, I could have kept going, but I decided to stop so that I could revel in what I had just done. Over the course of three and a half months, I had gone from four years of no physical activity to successfully completing 100 days of exercise.
I transformed my entire approach to working out to not something that I have to do, but rather, something that I get to do. Not to mention, I went from a size 18/20 to a 14/16. One of my biggest takeaways from that experience was to honor my body by showing it gratitude. For every pushup, plank, down dog, or mile walked, it was a form of gratitude. Gratitude for not breaking down on me. Gratitude for going that extra step. Gratitude for every function that performed the way that it was supposed to.
Another takeaway was that working out is a form of self-care. A tool to help with issues surrounding our mental health. A way to boost our self-confidence. A reminder to find our happiness.
As Black women, we live some of the most sedentary lifestyles, so regular physical activity is paramount. In addition to what we eat, consistent exercise is a form of preventative medicine. So you can't fully practice self-care if you're neglecting to move these beautiful vessels that house and carry us each day.
In the beginning, I said that my weight loss journey was personal. It was more than losing a few pounds and going down a couple of sizes. It was the opportunity to get reacquainted with my body by giving it the grace to move as it saw fit. And to show love to it for never failing me, even at times when I have failed it.
Featured image by Getty Images