---
In About Face, xoNecole gets the 411 on IGers who give us #skincaregoals on the daily. Here they break down their beauty routines on the inside and out, as well as the highly coveted products that grace their shelves and their skin.
Keeping your glow-on-go can feel like a full-time job, but LA-Based creative storyteller, Sammy Approved isn't about to let adult acne steal her shine. The 27-year-old digital content creator recently sat down with xoNecole and spilled the tea on the brightening skincare routine that she can't live without and we have all the details.
With adulthood comes the need for an effective beauty regimen and according to Sammy, although she's somewhat new to the skincare game, she's true to it. Sammy shared, "My view on skincare has changed significantly because as I've approached my mid-late 20's, my skin calls for different products and more attention."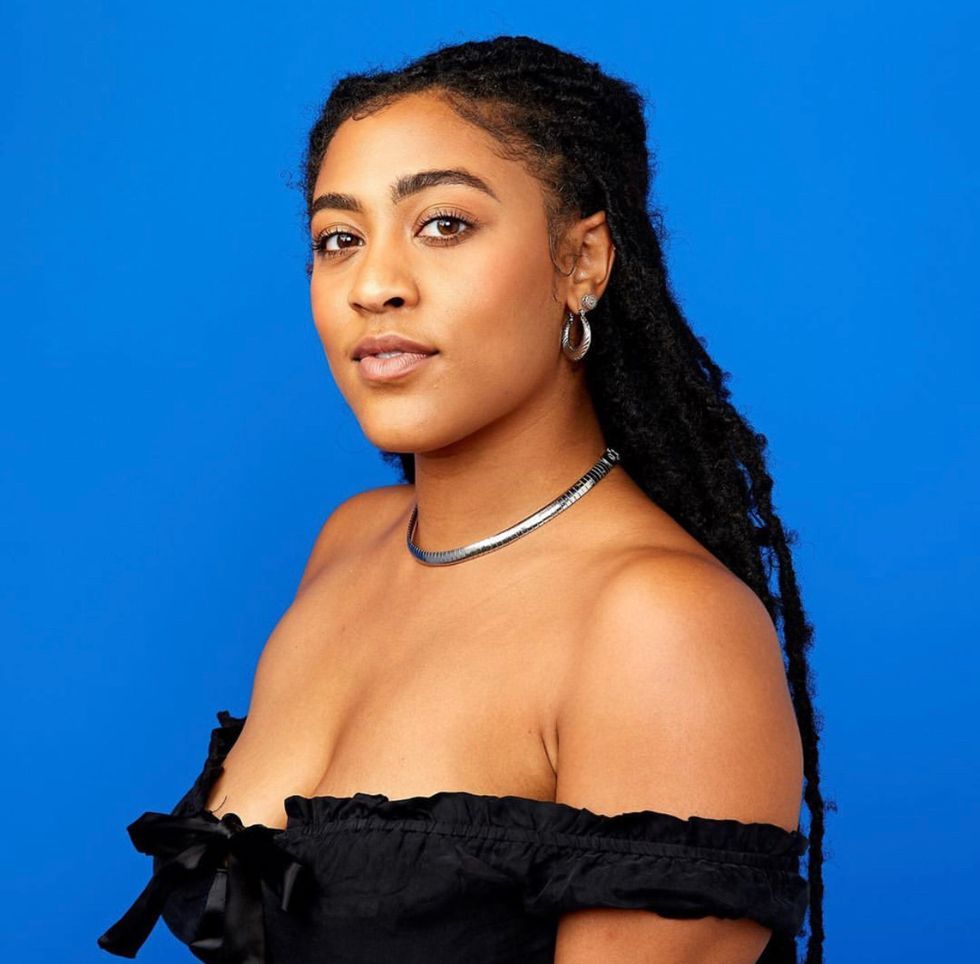 Instagram/@SammyApproved.
With an arsenal of products discovered through trial and error, Sammy says that she has now developed an effective routine that both brightens her skin and gets her hyperpigmentation all the way together. She told xoNecole, "Adult acne is a thing. I never had serious acne breakouts until adulthood. I don't have the luxury of not 'being on' 24/7. When my job calls for lights, camera, action, I have to snap into it and my skin should be the least of my worries. So finding a skincare regimen to practice twice a day has yielded in great results for me."

In our chat, Sammy also broke down why a DIY Aztech Clay Mask, blotting papers, and a fresh set of pillowcases are all essential to leveling up your self-care game.
My earliest beauty memory...
"My earliest beauty memory was when I was 16 years old preparing for senior photos with a local photographer. This was a pretty big deal because I had signed up to be an ambassador for his company to encourage other seniors to book with him for senior photos. I remember my mom taking me to several department stores to find a few different looks to wear. We stopped by the makeup counter in the mall and suddenly it was time to make one of the hardest decisions of my young life: What brand of foundation would I choose for the first time?
"My mom had been using MAC foundation for as long as I could remember but that day she mentioned how heavy it can be on the skin and that I may not need that product as my first product in the makeup game. I agreed and we continued looking. The next counter happened to be Lancôme. I remember being enticed by their makeup stand. It was bright and inviting. Someone matched me for the foundation and I remember my skin looking and feeling so smooth, light, and flawless. It was the perfect first foundation."
My most significant beauty lesson...
"Wash your face! No matter how lit the night was, how tired you become, or if you fall asleep at someone's home without your must-have products, find a way to wash your face. At this point, I carry makeup wipes with me just in case. That pimple will rise to the surface if you don't rid your skin of the sweat, dirt, and makeup you built up throughout the day. Also, it helps to wash your pillowcases often. I'm a natural girl so I use a number of products in my hair. If you don't think that sits on top of your pillowcases and slowly finds its way on your face, you're mistaken."
For my skincare routine in the PM...
"At night, I follow the same morning routine but I use one additional product under my eyes before I moisturize. The Body Shop's Drops of Youth Bouncy Eye Mask reduces puffiness under the eyes and fades dark circles which is something I struggled with from lack of sleep. It's a little on the pricier side but you don't use a lot of the product––just a small dab for both eyes."
What self-care looks like to me...
"I'm an environment person. I need incense, candles and essential oils to create a comfortable and inviting ambiance in my space. I live for a good mask like the Aztec Clay Mask or any other sheet mask I may find in my local grocery store. I must also have my journal and bath salts to soak in."
My approach to beauty from the inside-out...
"I practice meditation. I speak daily affirmations to myself that encourage and motivate me to turn on the light within. You can shine on the outside once you glow internally. I also write often to release any emotions I may hold onto throughout the day. This is also a practice that helps you look and feel less stressed and uneasy. Having control over our emotions translates to how our skin looks and feels so it's important to have an outlet or two to maintain the internal as well."
How I do skincare when I travel...
"Most of my current daily routine I use while traveling because I was on a two-month tour across the country and many of the products I use now were purchased on the road. When traveling, I am just a lot more conscious of how often I wash my face and pillowcases. I definitely would recommend traveling with your own pillowcases. The blotting films are essential when you're moving from place to place on the road to prevent that dirt buildup in your pores throughout the day."
Featured image courtesy of Instagram/@SammyApproved.