---
Of all the years that I have worked in the beauty industry alongside women of color, hyperpigmentation has hands down been one of the more prominent areas of concern. Hyperpigmentation is the overproduction of melanin in the skin that leads to unwanted dark spots and discoloration. For many women, including myself, it can be frustrating and make you feel very insecure about your skin. There's a ton of DIY methods and products that promise to correct hyperpigmentation but compared to other skin concerns, it's something that takes a lot of time and patience to really see results.
For many women, acne and breakouts are the leading cause of hyperpigmentation, so it makes sense that some ways to combat hyperpigmentation is rooted in taking care of the breakouts first. Whether you're the kitchen beautician that prefers using natural ingredients on your skin, or the girl that doesn't mind venturing out to your local department store, there any many ways to combat hyperpigmentation right at home. If getting your skin in check is at the top of your list of priorities, here are 10 ways you can correct your hyperpigmentation and live your best life.
How To Treat Hyperpigmentation
Check Your Diet
Whether you want to accept it or not, your skin a major reflection of everything you put into your body. At the end of the day, your skin is an organ and if you're not eating a balanced diet, drinking plenty of water, etc. your skin will show it. Though a balance diet targets breakouts more so than hyperpigmentation itself, it's sensible to start there. If you get to the root of what is causing your dark spots (i.e. acne scarring), you can stop them from forming in the first place.
Wash Your Face For 60 Seconds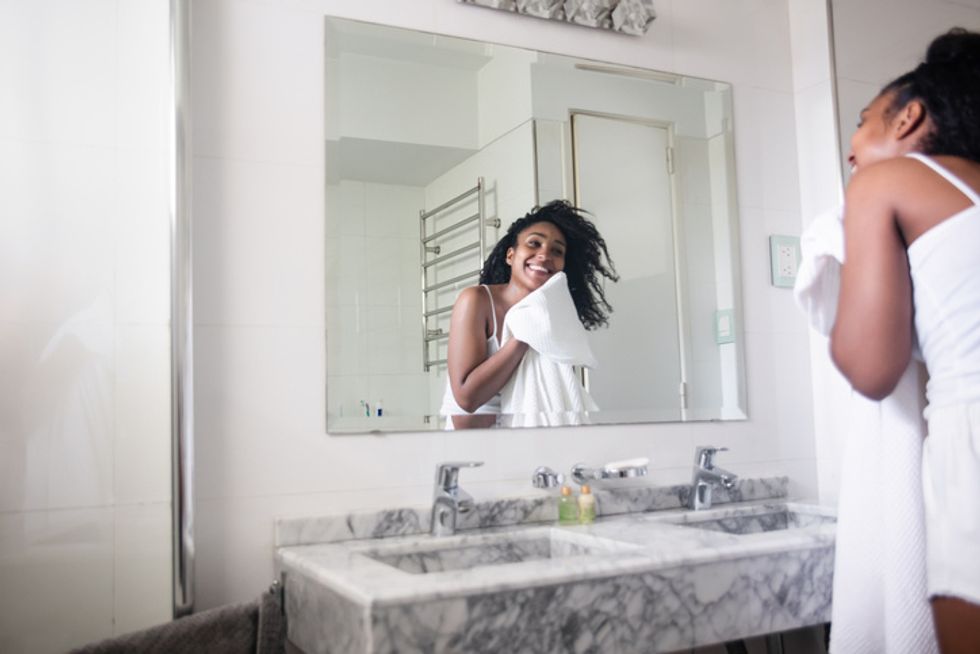 Increase your cleansing routine to 60 seconds
Getty Images
This is another word of advice that pertains mainly to controlling breakouts, but for most women breakouts are the main culprit for hyperpigmentation. According to skin expert and licensed esthetician Nayamka Roberts-Smith of LABeautyologist, washing your skin 60 seconds at minimum is a non-negotiable if you're looking to achieve overall healthy skin--and yes, this includes hyperpigmentation. Taking the time to thoroughly clean you skin will ensure that you're ridding your skin of dirt, bacteria, and other culprits that are clogging your pores, contributing to breakouts and causing hyperpigmentation. 60 seconds may seem like it's such a short amount of time in most areas of your life but to your skin, it's a lifetime.
Exfoliation (Preferably Chemical)
We have heard the word be thrown around pretty often but now is the time to pay close attention. Exfoliation is important in any skincare regimen because it helps to breakdown layers of dead skin that we all have to reveal fresh "new" skin. Specifically when it comes to hyperpigmentation, exfoliating is important because it helps breakdown the excess melanin and speed up the process of the dark spot fading.
If you're suffering from hyperpigmentation as a result of breakouts, it's best to use chemical exfoliants vs. a physical one like a scrub. Chemical exfoliants are non-abrasive and and in some cases do a better job of breaking down hyperpigmentation than physical ones. Also, when you have active breakouts chemicals exfoliators won't irritate them more.
Layer On SPF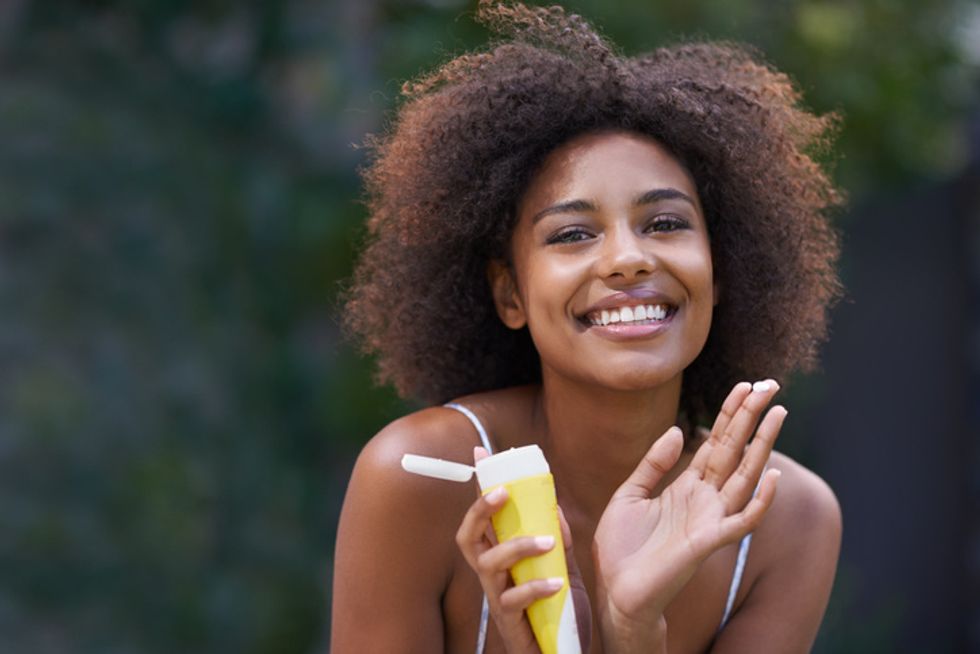 Is there anything better than being in the sun?
Getty Images
We know. You've heard this time and time again but honestly wearing SPF is key if you're on a the road to correcting hyperpigmentation. The sun is one of the biggest if not the biggest skin aggressors. Not only does the sun age the skin prematurely, it can work against you when you're working to correct hyperpigmentation. Most skincare experts would recommend using a SPF on at least 30 anytime you're outdoors. If you're discouraged from wearing sunscreen because of the white ghostly cast it may display on the skin, check out these brands that are perfect for WOC. Also, there are natural products like shea butter that have very mild SPF (about 6-10) if you want to take baby steps into the world of sunscreen.
Correcting Serum
A serum is essentially a lightweight concentrated product that is typically applied directly to the skin (before most other products) to absorb through and really get to the root of your skin concerns. With hyperpigmentation specifically, most serums that are formulated to correct hyperpigmentation contain vitamin C. Though they are highly concentrated, you do have to stay consistent with them and your skincare regimen as a whole to see the desired results.
Probiotics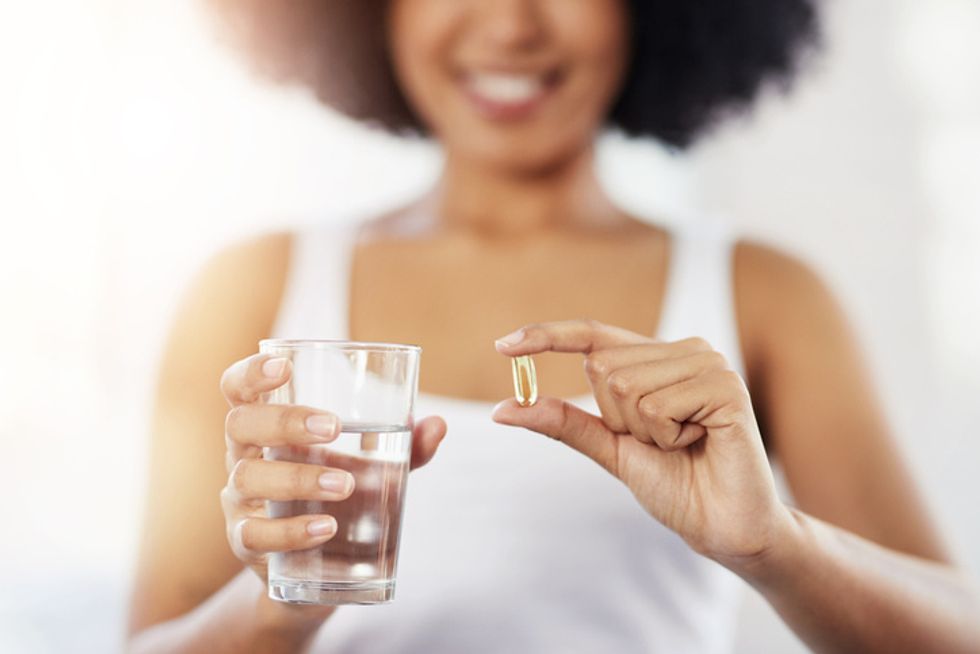 Probiotics have many powerful health benefits for your body and skin
Getty Images
With products such as Kombucha being all the rage, probiotics has been something that more people have become obsessed with. Probiotics are best known for improving gut health but they also have a major effect on your skin and hyperpigmentation. Probiotics are healthy bacteria that in turn kill bad bacteria, including the ones causing breakouts that may be leading to your breakouts. You can incorporate them into your diet by taking probiotic supplements or by consuming food or beverages rich in them.
Aloe Vera
If you ever typed "how to get rid of dark spots" into your YouTube search bar, I'm sure a ton of videos about aloe vera have popped up. Aloe vera gel (specifically from fresh aloe leaves) is known to be a natural skin brightening agent and anti-inflammatory. Most people would recommend rubbing the gel of aloe vera on your skin and leaving it on overnight for five days straight to see an improvement in both hyperpigmentation and breakouts.
Microdermabrasion
If you have the extra cash to spare and really want to jumpstart your road to even skin tone, cosmetic procedures such as microdermabrasions are a great way to go. Microdermabrasion is like a sandblaster for the skin that gets rid of layers upon layers of dead skin to reveal brighter skin--including those areas of hyperpigmentation. I would recommend speaking to a dermatologist beforehand or getting a consultation at medical spa before booking an appointment.
Chemical Peel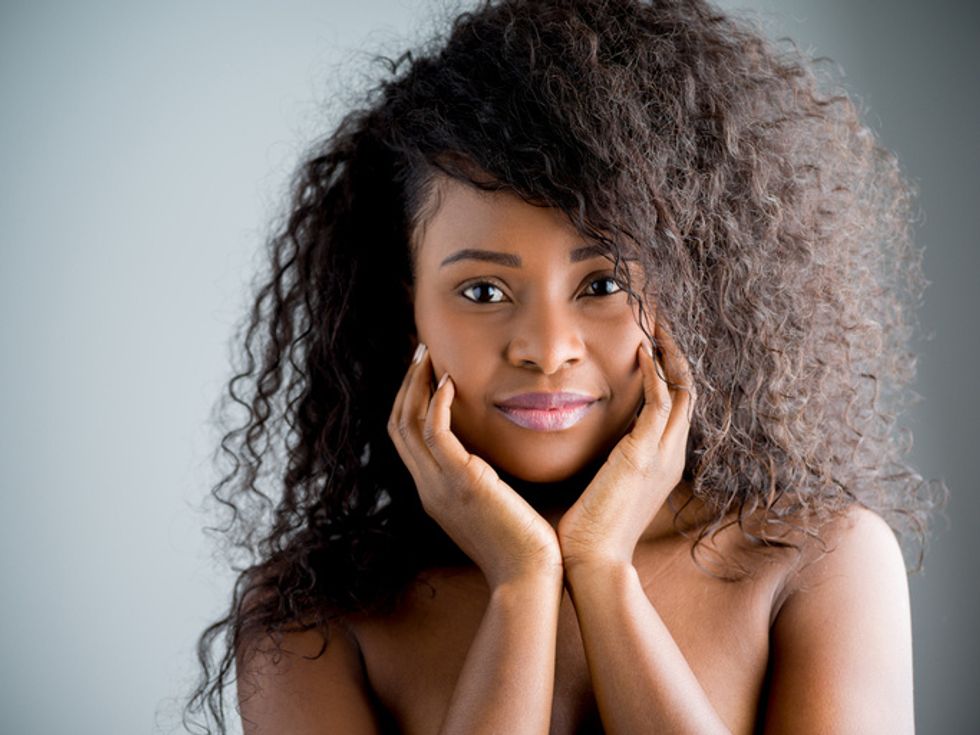 Getty Images
If you're really about that life, a chemical peel is a much more intensive facial treatment that literally uses chemicals to peel your skin. Unlike a microdermabrasion, a chemical peel does require some recover time, however many people swear by its skin renewing capabilities. This is also something you should speak to an expert about before pursuing.
As frustrating as dealing with hyperpigmentation may be, there are so many ways to combat it. There's no need to go out and try every solution on the list but by slowly implementing these tips into your lifestyle, you can and will see major improvements in your skin.
Look For Products With AHAs (Alpha Hydroxy Acids) And Enzymes
You might have seen AHAs and enzymes being the hot new "it" ingredient to hit all sorts of products in the beauty industry. AHAs and enzymes (such a pineapple, papaya, and pumpkin) essentially are exfoliating agents that can help to correct skin texture, tone, and overall health. Try slowly implementing a few products with these key ingredients into your skincare routine to boost the correction of your hyperpigmentation. These can be present in everything from toners to facial creams. My word of advice is to incorporate products containing these ingredients one at a time so you don't over-exfoliate and damage your skin in the long run.
Featured image by Getty Images